Last Updated on February 25, 2023 by Matt
You have probably heard the quote that beauty is in the eye of the beholder. When it comes to electric scooter design, it holds 100% true. Every single electric scooter lover and owner will have their own opinion on what makes a great design.
But there is another great quote that holds true when it comes to design – form follows function. For me personally, at least, this saying is even closer to the truth.
The beautiful design will come out of a reason, out of necessity. Not just out of pomp and flash.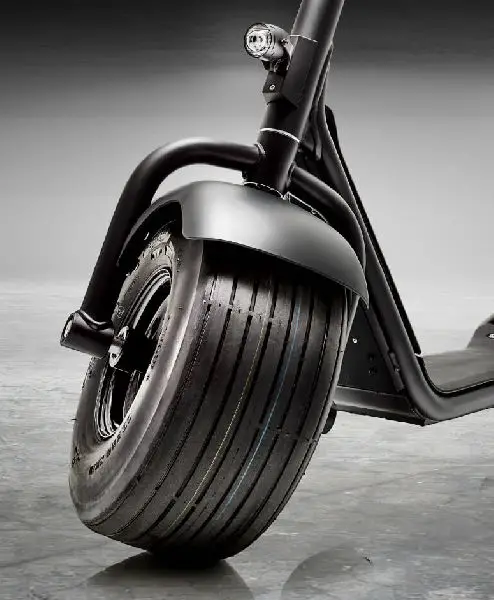 Today we will be going over the most beautifully designed electric scooters. The ones that come out of the box looking great, simple yet functional, hard and tough, yet still looking amazing. Let the feasting for our eyes begin.
In case you'd like to check out the video version of this guide, see our Youtube video on the best-designed electric scooters.
Electric scooter design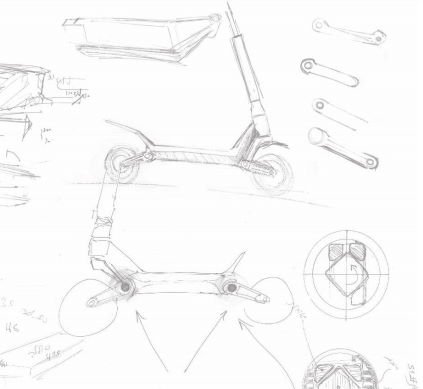 Today's electric scooters source their ideas from the classic Segway models. They were the ancestors of the modern electric scooters, although they were somewhat ahead of their time and didn't find as wide acceptance rate as today's scooters.
The design of electric scooters prioritizes safety, comfort, and performance, likely in that order. The best designers and manufacturers will start their designs by making sure the scooter is safe for use by the owner first, the rides are smooth and the experience is amazing, and only then worry about performance.
Naturally, the brands that can fit all of that in one model will tend to produce winning, popular scooters. And in many cases, because form follows function, the scooter that provides a great balance between these features will look natural, correct.
Today, the best designs take into account many things, like comfortable positioning of the feet, very little shaking like riding, effortless positioning of the arms, easy portability, and much more.
Best looking electric scooters
The following electric scooters are the best-looking, most well imagined and executed electric scooters today. Some of them have the most functional form for maximum rider joy, while others are on the bleeding edge of creativity and challenge the status-quo in electric scooter design.
Ninebot Max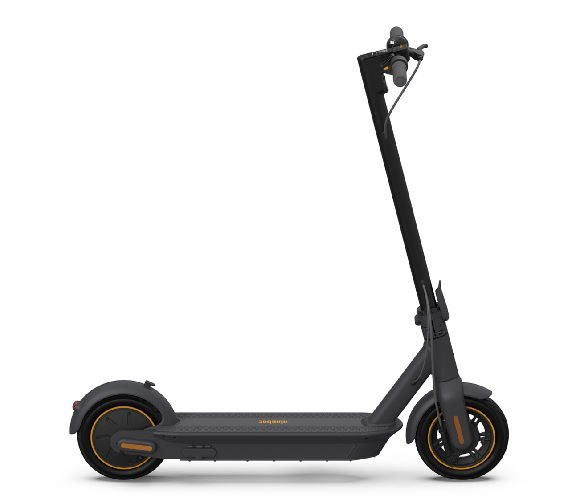 There are many reasons why the Ninebot Max is one of the most popular electric scooters of all time.
Its brilliant, sci-fi look is definitely one of them.
The Ninebot Max looks like how an advanced alien race would design an electric scooter. Black is never out of style, and that statement can be seen in action in this stylish model.
It is an electric scooter in the truest sense of the word. A real people's scooter, maybe a tad on the nerdy side.
It has one of those timeless, classic designs that will always look beautiful.
The Ninebot Max may as well be the best mid-low priced electric scooter today. It costs around $799, and it offers truly great specs for that price. Check out the complete review of this great all-rounder to see why it may be a perfect fit for you.
Levy Plus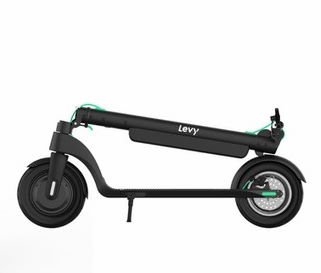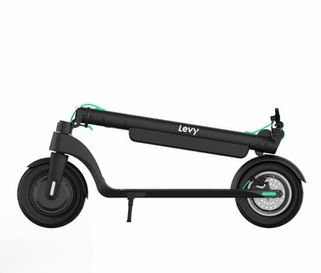 The color choice of the Levy Plus is out of this world. That grounded, elegant matte black, coupled with the turquoise blue details, just works so well. There is something about it that makes you want to keep looking at it.
The stoic look and feel of the scooter make it look serious, powerful, and reliable. There are no wasted movements in its design, no unnecessary exhibitions. All of that gives it a very natural vibe.
The Levy Plus is one of the best budget scooters in the world today. For the price of $699, you get a top-notch, high-tech Israeli scooter that looks amazing. See my complete Levy Plus review if you want to find out more about this scooter.
NanRobot D5+
Besides being one of the most performant electric scooters below $1500, the NanRobot D5+ enjoys a unique look.
A little disclaimer: the NanRobot D5+ will likely be my next scooter of choice as soon as I get the money.
So this review may be a little biased. But I do believe that the NanRobot D5+ has a lot going for itself.
Dubbed "The Nerd's Scooter", it is adored by true electric scooter experts. Its unrivaled performance specs, but also its true, raw look, make this nickname well-deserved.
The NanRobot D5+ just looks real. It has this gritty, pedal-to-the-metal look and feel about it. That makes it one of the most beloved electric scooters ever.
This tough, no-nonsense beast can have a seat installed as well.
Personally, I believe it looks much better without it, and that's how I plan to ride it myself.
For the price of $1380, the NanRobot D5+ is a true bargain, given how much raw power you get.
Scrooser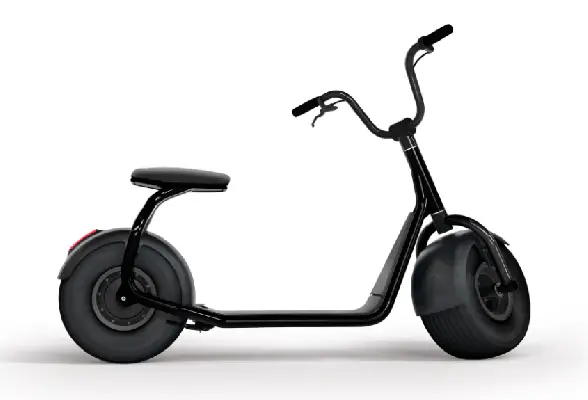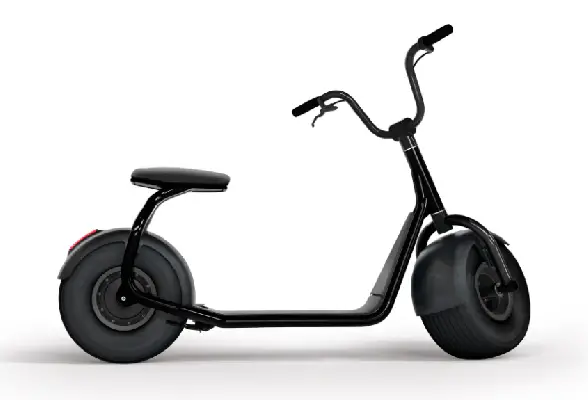 Scrooser was a scooter that was destined to look amazing.
It was designed by a team of German engineers and designers. That already gives it a head start over other electric scooters.
It was funded by a Kickstarter project, which is always a great sign. The community formed around the product even before a single unit was produced. Meaning, passion was always abundant.
The final result is a scooter that looks like no other.
Many electric scooters look similar to each other. But none looks like the Scrooser.
For some reason, it reminds me of the motorcycle that Batman rode in The Dark Knight.
Maybe it's the wide wheels that are just so pleasant to watch. Or maybe it's the overall vibe of a powerful yet elegant vehicle.
Anyway, there is something about it that gives it a very smooth, elegant neo-noir vibe.
The Scrooser definitely belongs in the category of scooters on the pricey side. It costs $3233, a cost that its owners seem to be more than happy to pay.
For one of the most iconic electric scooters out there, I say it's a fair price.
Specs:
top speed: 25 km/h
range: 55 km
power: 500 W (peak)
battery: 720 Wh, 36 V
weight: 56 kg
weight limit: 150 kg
Lehe K1
There is no better example of "form follows function" than the Lehe K1 model. With it, the brand has succeeded in reimagining the complete electric scooter riding experience.
You can easily ride the Lehe K1 while sitting. Its original experience gives it an original look as well, making it look more like a futuristic ride than an electric scooter.
The scooter can be folded into a very compact, very portable neat little rectangle.
If you are after originality, then the Lehe K1 will likely make it into the final cut for you. For the price of $1699, you will get an original ride without a doubt.
Specs:
top speed: 25 km/h
range: 35 km
power: 240 W (peak)
battery: 316 Wh
climb angle: 11 degrees
weight: 18 kg
weight limit: 120 kg
Mercane Widewheel Dual
There is just something about those wide wheels. They make an electric scooter look like it can handle anything.
The wider wheels make the entire deck wider, which is always great support for the rider's feet.
The stem is also in line with the powerful, wide design, giving off the vibe of stability and power, without sacrificing elegance.
Combine all of that with the matte black finish, the lack of redundancy in the details, and the low center of gravity, and you get a brilliant look.
Great design should have no more than one surprising element. The wide wheels are exactly that. It is the distinctive feature that gives the Mercane Widewheel Dual its signature look and feel.
For the price of $999, it is one of the best value scooters today. It will get you a never before seen look, coupled with very solid performance features.
Stator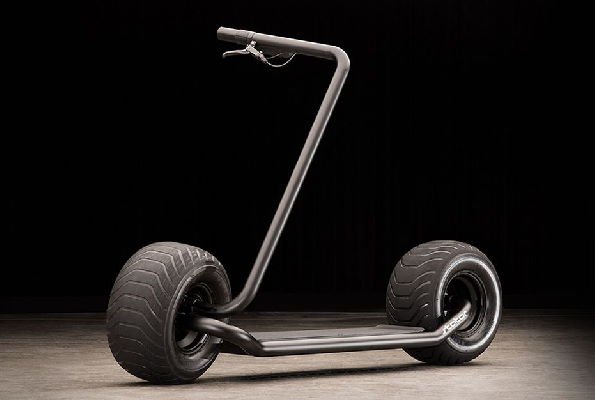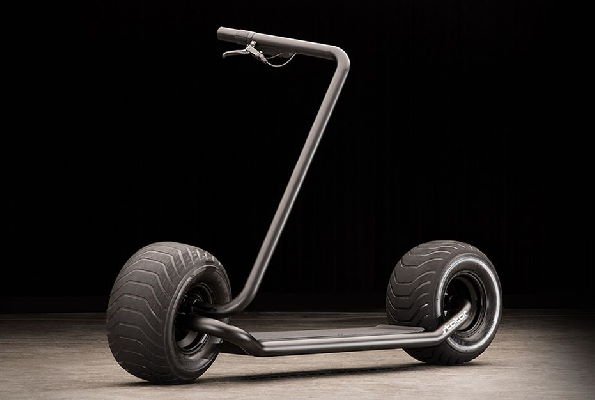 The Stator is maybe the most beautiful electric scooter today.
As we said before, beauty is in the eye of the beholder. Yet, the Stator looks so outlandish, and yet so functional, that you simply can't look away.
It almost even makes you think. Can you design an electric scooter in a simpler way?
There is just no line in it that doesn't serve a purpose, no inch of it that isn't essential.
Just think of all the eyes that will be on you if you ride this majestic scooter through the streets of your city.
The Stator is a bold scooter. It will not be for everyone. Its artistic design may simply be too much for some.
The ones that dare go on such an adventure pay $3995 and get one of the most stylish transportation vehicles ever designed, but also a very formidable set of stats.
Stats:
top speed: 48 km/h
range: 128 km
power: 1000 W (peak)
weight: 41 kg
Ford Ojo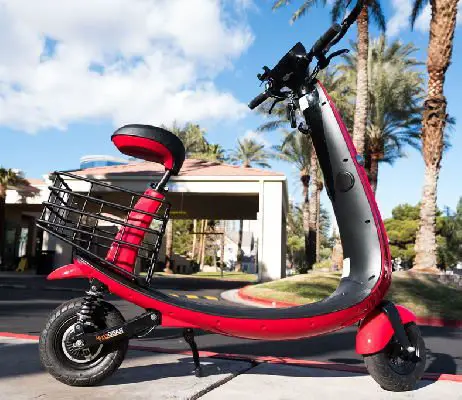 If you want something to be fully functional while still looking cool, leave it to Ford to design it.
Ford only tried to make an electric scooter once, and they nailed it from the first go. The brave, unapologetic lines of the Ford Ojo make it a one-of-a-kind scooter, looking like nothing else on the road.
The whole frame of the scooter is just one decisive, strong curved line. Can't get closer to nature than that. Just one long, beautiful "whuuiishhh".
Beautiful. A design like no other.
The scooter comes with a seat, and a very practical grocery back installed at the back.
For the price of $1999, the Ford Ojo is not just a looker. It offers some serious stats as well.
Stats:
top speed: 32 km/h
range: 40 km
power: 400 W (peak)
climb angle: 18 degrees
weight: 30 kg
weight limit: 136 kg
Inokim OXO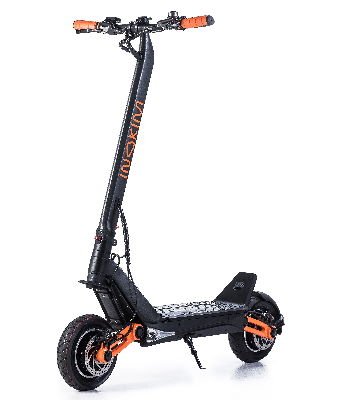 This scooter literally looks like fire. There is just something breathtaking about the beautiful shiny black tied together with the fiery orange details.
Of course, it can come in other colors. But its trademark look is the black-orange combo. I see no reason to go with anything else.
The scooter's look gives off a vibe of strength, confidence, and stability. It is obviously a high-end scooter. A lot of craftsmanship and attention to detail has gone into its design.
For the price of $2490, the Inokim OXO is one of the most powerful scooters under $2500. Check out the full review of this beast of a scooter here.
Apollo City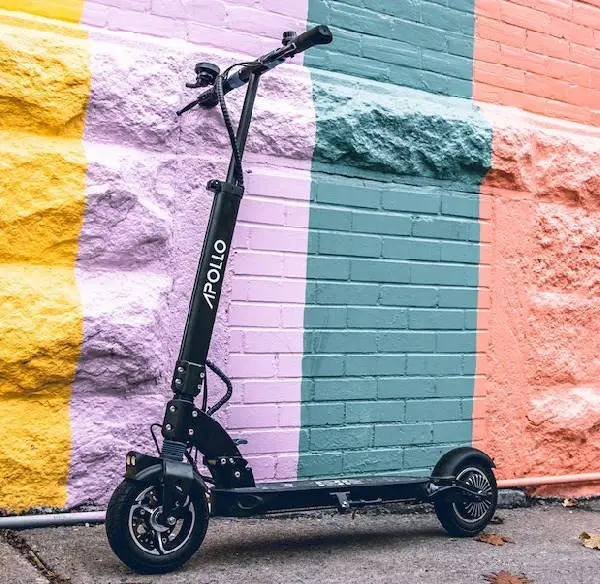 The Apollo City, besides looking great, is also one of the most-balanced electric scooters for adults available today. This scooter has the perfect mix of performance, ride quality, and price.
With that title, great design is almost inevitable. It will always mean that there can be no wasted movements in the scooter, neither in its design nor in its functionality.
Its color scheme is an irresistible, always elegant black, with smooth finishing touches and high-quality attention to detail.
Those looking for a beautiful, balanced scooter can stop looking. The Apollo City will be their choice. You can see my detailed Apollo City review if you're interested in finding out more.
Mua SKRT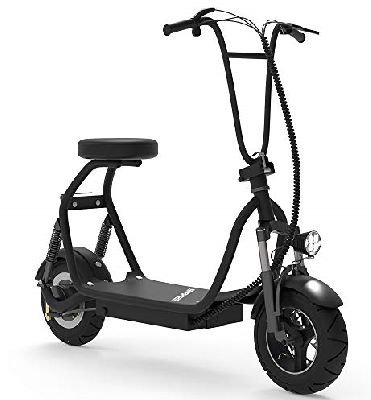 This is an old-school cool scooter. The lines remind me of a high-quality expensive bicycle. The seat and the suspension only contribute to this look and feel.
Obviously a very stylish, very elegant transportation device, that will find its home with those who value comfort and safety. The all-black colors give it that timeless, classic look of elegance.
For the price of $349, it is one of the cheapest good looking scooters today.
Specs:
top speed: 29 km/h
range: 30 km
power: 350 W (peak)
battery: 576 Wh, 48 V
weight: 24 kg
weight limit: 100 kg
WePed GT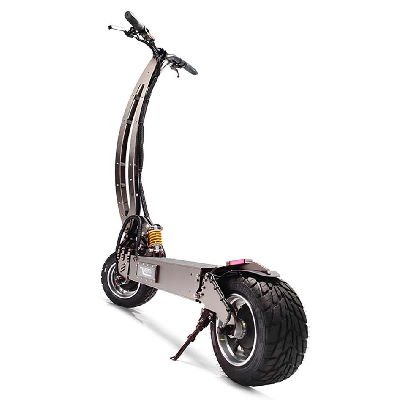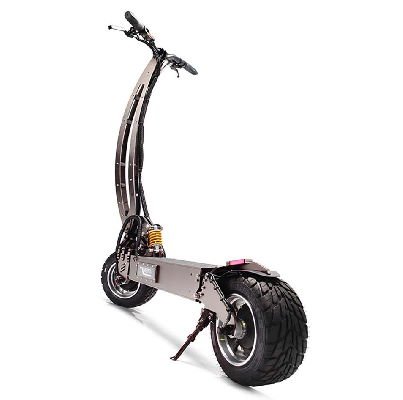 The WePed GT is the cheetah of electric scooters.
Its beautifully curved double-bar stem emanates a feel of elegance, great speed, and smoothness. It gets folded into a very unique-looking, bow-shaped contraption.
The look of the WePed GT screams "off-road". The scooter looks like it can handle literally anything you may throw at it.
Great power features, amazing hill-climbing scooter, a true beast overall.
Not only is the WePed GT one of the most unusual-looking scooters today, but it is also one of the most powerful ones. For the price of $3499, you get a real monster.
Micro Peugeot e-kick X2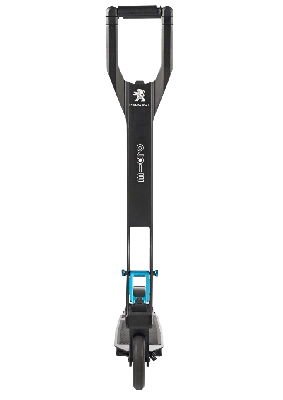 This unique design deserves a place on this list.
Being original is hard. Especially given how much competition there is out there, and how innovation is getting harder and harder.
And yet, the Micro Peugeot X2 has managed to come up with a cool new look.
Its stem is like no other, looking more like another deck than a stem.
The handlebars get neatly folded into a field-goal looking structure. It is very practical for carrying the scooter around and not having it get tangled in something else.
This scooter sure has a unique look. Personally, I believe that the Micro Peugeot X2 design team might be onto something. We may start seeing more similar designs in the future.
Specs:
top speed: 30 km/h
range: 15 km
power: 500 W (peak)
IP rating: IP54
Electric scooter design stickers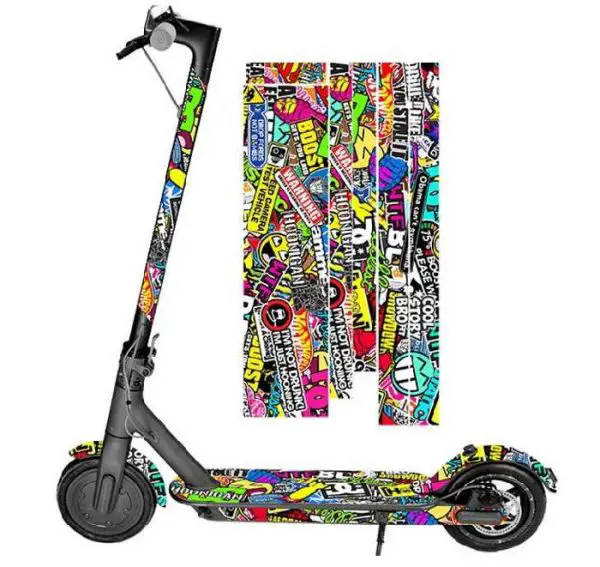 If you already have a scooter and you're not 100% happy with how it looks, you are not helpless in the matter. The same applies if you've found your perfect scooter otherwise, but you're not completely sold on its looks.
The easiest and safest way to change the look of your scooter is with stickers. With a myriad of choices in colors, patterns, and concepts, you can do wonders for your scooter's look.
And the best news is, it will only cost you some pocket change. You can find a wealth of options on Amazon.
Electric scooter design concepts
This is my favorite part about electric scooter design, the new concepts that push the boundaries about how an electric scooter should look and behave.
These futuristic concepts take the norm and go one step further with it. As you may notice, many of them play with the idea of blurring the lines between an electric scooter and an electric bike, which is a very strong blend.
Others go in the direction of the traditional skateboard, but further, enhance it with additional smart features.
And some even look like Batman's bike (which are my personal favorite!).
Why get a beautiful electric scooter?
For me personally, the performances of the scooter will always come first. But the design is never to be neglected.
You will have to look at your scooter possibly every day. Also, you will appear with it in public, and other people will look at you on it as well.
It should not only give you joy, but it should be pleasant on the eye for others.
Like it or not, people form opinions very quickly. If you represent yourself in the best possible way, you will make a better impression with people.
That's why you should get yourself a scooter that looks great.
---
---
Liked this article? It really helps if you share it.
Follow @escooternerds on social media for more cool stuff
---