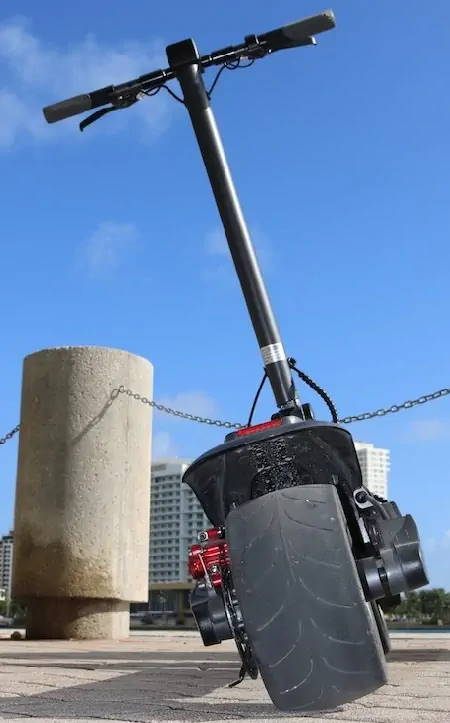 Most electric scooters are a Jack of all trades. That, of course, makes them a master of none.
In my opinion, the Mercane WideWheel Pro is the exact opposite of a Jack of all trades. It clearly knows what it's going for, and it dominates in its intended use cases, through wise design choices but also incredible quality.
Mercane WideWheel Pro Review
The Mercane WideWheel Pro is a specialized scooter that focuses on build quality, robustness, resilience, range, and power. The dual motors give it lots of speed and climb power, and the foam-filled solid tires will never go flat. It is very well-received by scooterists and has very low defect rates and a long lifespan.
Whether to buy the Mercane WideWheel Pro or not is not an easy decision to make. In a way, you need to know what you're trying to do as well. If your desires and needs align with what this scooter was meant to do, then your choice is already made for you, and the Pro will simply be perfect for you. But to figure that out, you need to get to know the scooter first, and figure out what you're after as well.
This review based on my experience with the Mercane WideWheel Pro is here to help with both.
Mercane WideWheel Pro pros and cons
PROS
Good overall quality
Excellent balanace
Sturdy, tough build
Super-cool design and unique look
Good for commutes
Decent performance
Great brakes
Decent suspension
CONS
Rides can be bumpy
Wider turn radius
Small weight limit
Not good for wet environments
Somewhat narrow deck
Wobbly handlebars
Buying, shipping, discounts, and promotions
The best place to buy the Mercane WideWheel Pro will almost universally be FluidFreeRide.
In the US, shipping is free and done through FEDEX. The Pro order will be processed the next day and it will arrive at your home in 2 to 5 business days.
I haven't checked for every other country, but it seems like FluidFreeRide ships internationally and to a large number of countries, not just the US.
One very, very cool thing going on there right now – if you buy a Mercane WideWheel Pro right now, you will get an FFR Horizon scooter for free, which is another amazing scooter from their store that costs around $500! That is simply insane, and I'm not sure how long it will last, so make sure to use this link or the other FFR links in this article and look for this incredible deal.
Warranty, refunds, return policy, customer support
FluidFreeRide has one of the best customer support teams in the industry, and they are available for their customers throughout the entire time, not just through the buying journey but through the entire period of ownership (so, basically, forever).
They proudly stand by all of their products, and the Pro comes with a 15-day return period, and a warranty of 6 months.
Basics
The Mercane WideWheel Pro is an electric scooter that has both the looks and the personality. In a way, this is a scooter for those who know what they want.
One of the coolest, most iconic, most original scooters ever, the Pro is a specialized scooter that will shine in the areas it is supposed to shine in. As always, form follows function (or at least it does in the good scooters), so the engineering and design decisions behind this scooter give away its strong sides: reliability, quality, power, torque, range, balance, and good old-fashioned fun.
This is the improved version of the mega-successful Mercane WideWheel. In a way, it is the next step towards creating the ultimate solid tire scooter. The scooter usually costs around $1249 for the standard version, and $1299 for the keylock version.
Unboxing and assembly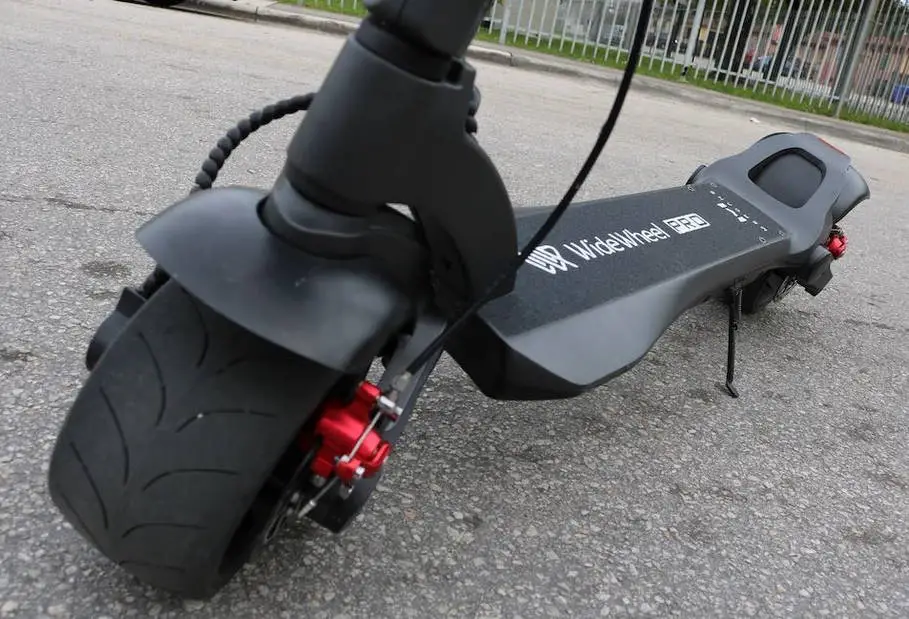 The scooter arrives in a big box, with plenty of styrofoam and protection. The package contains:
scooter
bell
suspension covers
charger
wrench and Allen keys
user manual
The only assembly you need to do is connect the brake cables, install the bell, and attach the suspension covers, which takes about 15 seconds total.
Mercane WideWheel Pro 101 – folding, basics, how to use
You can set whether you like your scooter to start as a regular kick scooter or not, meaning, whether you need to kick it before the throttle accelerates, or whether the throttle works without a kick. That is a nice choice for users, as riders are surprisingly divided on this issue (personally I think kick-start is a bit safer, but no hate for zero-start riders).
Folding the scooter is very simple, and pretty safe. The scooter folds by twisting the fold pin first, pressing it, and finally folding the stem and twisting the pin back in to lock it.
The thumb throttle used for acceleration is, as usual, on the right handlebar.
The scooter has two speed modes: Eco, and Power.
This scooter has one of my favorite features, which I'm not sure why is not the default already, and that's foldable handlebars.
Ok, I actually know why foldable handlebars are not the gold standard yet – they are actually quite difficult to get right, and quick and dirty attempts of implementing them end up with unreliable, wobbly handlebars. Luckily, the Pro doesn't have that problem, and the foldable handlebars both fold very easily and are as stable as regular handlebars while riding.
The bell is, well, a bell. It will notify pedestrians of your presence, but it may not be loud enough for people sitting in cars.
Materials, build quality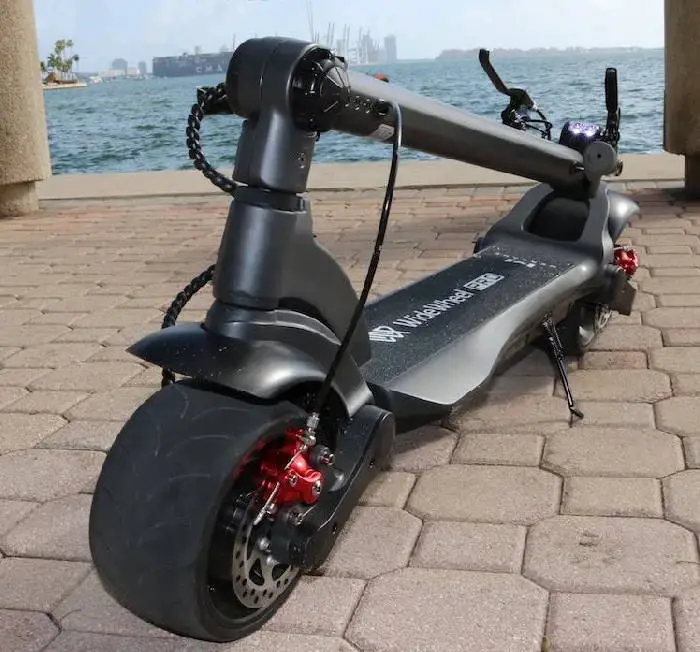 This is one tough scooter, and it looks the part.
The wide, sturdy look is actually authentic – the scooter is sturdy, not just with wide wheels, but also wide stem, big strong fork and neck, wide connectors, and parts that are all tough on their own but also well integrated. The new version comes with reinforced build materials.
The Pro is built to last. It has learned a lot of important lessons from its predecessor, the Mercane WideWheel, and it puts them into practice with great success. Visual comparison, feature-by-feature comparison, and user experience and reports, all point to the fact that the Pro version is a great upgrade to an already high-quality scooter.
Design, colors, look and feel
The Mercane WideWheel Pro has one of the coolest, most distinctive, instantly recognizable looks out of all scooters. Confident and strong lines, original vision and purpose behind the design, and unapologetic swagger in every detail.
Of course, the super-wide wheels play a large part in that. There are simply not that many wide wheel scooters, and certainly none with wheels this wide. The design gives the entire scooter line a lot of points for branding, but also results in owners getting a lot of eyeballs and attention on them.
The Pro is simply a cool-looking scooter. With a sleek yet powerful design, and a low center of gravity, the scooter's focus on balance and control gives it a very robust, very stable look and feel.
Everyday use, riding experience

In my experience, the Mercane WideWheel Pro proved to be quite a powerful scooter. The scooter is very fun, the rides are very enjoyable, and things simply work without stressing out the owner! The two motors accelerate very quickly, and I was able to hit exciting speeds in no time. While it's a real hoot to ride, you should remember to stay alert while riding and wear your helmet.
Beginners often choose this scooter, but it's also commonly bought as a second scooter, or maybe the first scooter for a rider that has used ride-sharing scooters a lot. These groups of owners describe the Pro as unbelievably fun, a lot more fun than their previous budget or rental scooter, mostly because of the build quality and acceleration.
The scooter has a cruise control feature, which is activated after about 5 seconds of holding the throttle. The cruise control can be turned off if you don't like it, which is another great decision to leave to the owner, as scooterists are divided on this one as well.
In fact, I believe that being able to turn the cruise control on and off is the perfect solution, and I definitely got used to it. Sometimes I feel like I need it for the longer, chill rides, but other times I'd rather not have it, like when navigating busy streets and traffic. So, good job here by Mercane.
Commuting, roads, and terrains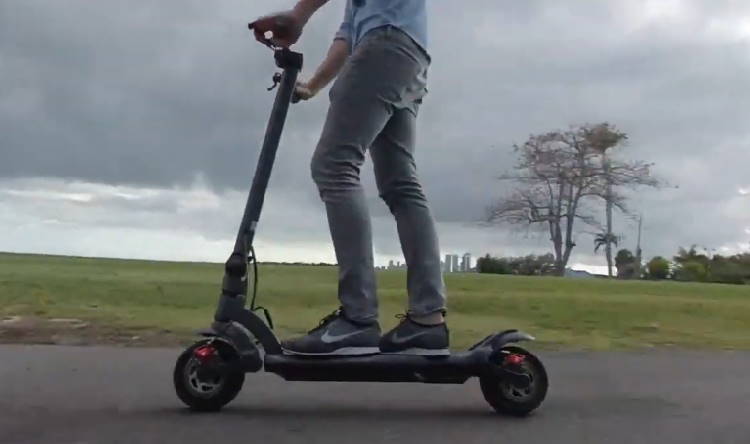 The Mercane WideWheel Pro is great for long commutes, and very good for mixed commutes involving public transport and last-mile scenarios. The long range of the scooter will give you enough juice for almost any kind of commute. The scooter isn't exactly lightweight, but it is very compact when folded, so while fitting it through bus and train doors will not be difficult, carrying it may be a bit difficult for smaller or lighter people. However, given the long range this scooter has, it's better to simply replace the public transport rides with one simple long ride on the Pro for your commute, when that's viable of course.
The slick, smooth tires are meant for urban and road use primarily, and while they will not get damaged or anything if you try offroad, the ride itself will be pretty uncomfortable, as that's not what this scooter was made for. Several owners have tried it, and while both the owners and the scooters have survived without a scratch, they've all basically said the scooter is not meant for offroad rides.
Lifespan
There is a very big likelihood that a Mercane WideWheel Pro will last you at least 3 years, and it will go a year without a single major defect. It may be too soon to tell if the scooter will last 5 years or more, as it's only been released in 2020, but given the super-low defect rates and the great build quality, that seems like a very real possibility.
The previous version of this scooter, which has been around for 2 years, has managed to last exactly that long so far for the majority of its owners, and even though the defect rate was a bit bigger, it was still really low compared to other scooters.
And since this version is an upgrade, things can only get better.
Water resistance and IP rating
The Mercane WideWheel Pro has an ingress protection standard of IP54, and that means it will be reasonably protected against water (or as the IP rating states, protected against water splashes from all angles).
That said, it's still not recommended to ride this scooter in the rain, snow, or any other wet condition. Not just because of the general golden rule of scooters ("avoid riding in the rain as much as you can"), but also because the tires are both solid and also very smooth, which means they will not provide a lot of traction, and you can easily slip.
Balance and turning
The wider the wheels, the better the balance. Great balance, coupled with a low center of gravity, makes the Pro one of the best-balanced scooters out there.
In theory, one consequence of the wide wheels will be an adverse impact on turning and cornering. In the case of this scooter, that is somewhat noticeable, but the Pro turns fine for the most part. The turn radius will be wider, but after you learn some new turning habits and learn how to turn more with your body and less with your handlebars, you will not notice any real difference.
Motor, power, and torque
The motor setup is one of this scooter's strongest sides. With dual hub motors, one integrated into each wheel, resulting in a combined real power of 1000 Watts and a peak power of 1600 Watts, the Pro is one of the most powerful, most torquey scooters in its price range.
Dual motors are one of the best things that a scooter can have. They boost almost every single spec of the scooter – the raw power, the speed, the acceleration, the climb angle, the torque, but they also improve control over the scooter too. Simply a great thing for a scooter to have, and even at this price point not a lot of scooters will have it.
Battery and charging
The key behind the Pro's long range is the rather big 15 Ah, 48 V Li-ion battery, which is one of the major upgrades from the previous version. The battery has a capacity of 720 Wh.
While the battery is 15 Ah, the charger is just 2 Ah, and charging the scooter from zero to full takes about 8 hours. For comparison, many budget scooters with almost half the range take the same time to charge, which means that while the absolute charge time is average, the relative charge time for this scooter is kinda fast.
As expected, a green light on the charger means the battery is fully charged, a red light means it's still charging. The charger port is on the front of the deck, and is protected by a rubber cover.
Charging the scooter fully during off-peak costs 4 cents in the US, 7 pennies in Canada, 20 pence in the UK, and 13 cents in the EU on average. Charging during peak hours will cost 12 cents in the US, 9 pennies in Canada, 23 pence in the UK, and 20 cents in the EU.
Top speed, acceleration
The Mercane WideWheel Pro has a top speed of 26 mph / 42 kmh. From what I could tell during my tests, the scooter could reach this speed even when the battery was not full.
The acceleration is very quick, and the scooter takes around 8 seconds to reach the top speed. If you find the acceleration to be a bit too much fun for you, switch back to Eco mode for a more gentle acceleration.
The advertised top speed, however, can be locked to a lower speed out-of-the-box, usually to 18 mph / 30 kmh for safety or legal reasons. Worry not, however, as unlocking the "ludicrous" mode is pretty simple and is described in the manual.
Range
The official range of the Mercane WideWheel Pro is 22 mi / 35 km in the Power mode, and 30 mi / 48 km or more in the Eco mode. My test results vary a bit in regards to the range, but they mostly confirm both of these ranges.
One time I managed to surpass the range and get up to 25 mi / 40 km of range in Power mode. Other times, however, I got lower ranges, roughly averaging around 19 mi / 30 km in the Power mode.
All in all, that is plenty of range, no matter which speed mode you use, but especially so in the Eco mode.
That is always the story of scooter range – some get less, a lucky few get a bit more, most get about the same as the advertised range.
Expect around 1-2 mi / 2-3 km less if you are closer or above the weight limit and ride in the power mode the whole time.
Climbing hills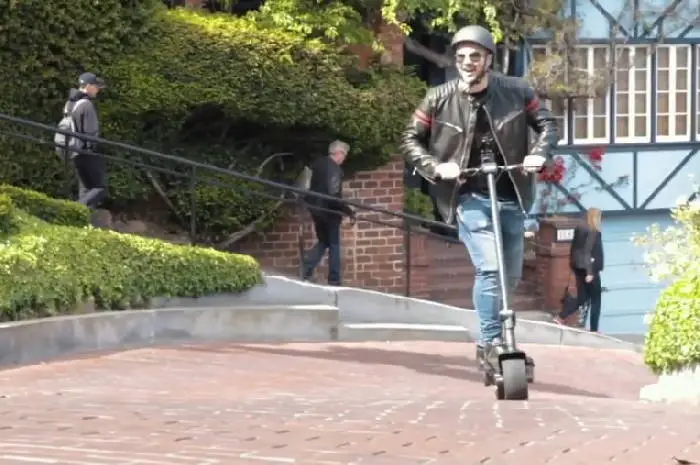 The excellent torque and the powerful dual motors make the Mercane WideWheel Pro one of the best hill-climbing scooters ever. It has an official climb angle of 18°, although I think the hills I tried it on were closer to 25°, and it conquered them fairly easily. I was a bit surprised by this achievement.
This is quite a powerful scooter, and two motors make all the difference for climbing, so if you live somewhere with lots of hills and valleys, the Pro will be perfect.
Brakes and safety
The Mercane WideWheel Pro is equipped with 120-mm mechanical disc brakes on both wheels. Each brake is activated by one of the two brake levers (same as with bikes, left lever – rear brake, right lever – front brake).
The brakes are excellent and will stop the scooter in about 12 feet / 3.5 meters, although this distance can be cut down even further, as the brake strength is adjustable. Make sure to always break with the rear brake first, unless you are in an emergency, in which case you can engage both brakes at the same time.
The brake cables are outside of the stem, which is always a questionable design choice, but they are fairly strong and the brakes are sensitive, so they do their job pretty well.
Wheels and tires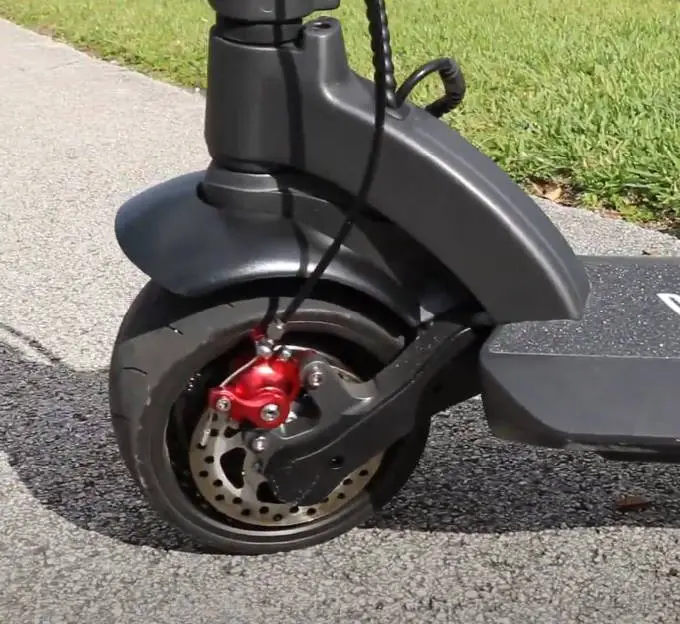 The wide foam-filled airless tires are the Mercane WideWheel Pro's crown jewel, and definitely one of my favorite things about it.
The 8″ x 3.9″ tires laugh in the face of danger – they will never, ever go flat. You can basically forget about the tires entirely – you will never have to worry about checking, maintaining, or replacing them.
These are arguably the best solid tires in the electric scooter world. They are both flat-resistant but also plush at the same time. Naturally, they are the key ingredient that provides the signature look and feel for this iconic scooter.
As the tires are almost without patterns, they will be perfect for road use and faster rides, but offroading and rough terrain will not play well with this scooter.
The one thing that's not great about these tires is the ride comfort they provide. They are both solid and small in diameter, which makes the rides not too smooth.
Suspension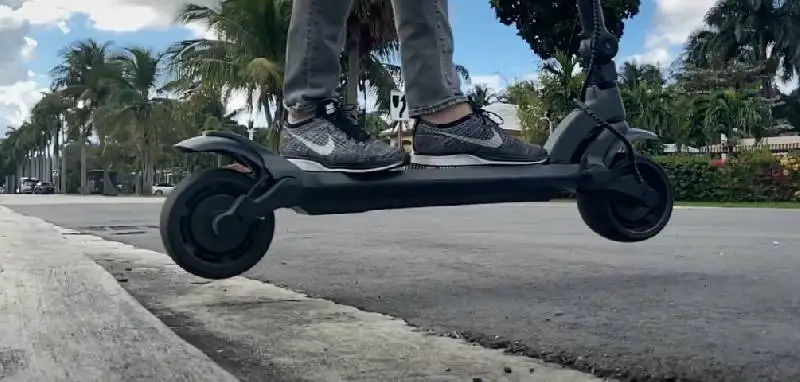 As you might expect from a great solid wheel scooter, the Mercane WideWheel Pro features excellent dual spring front and rear suspensions. Since solid tire scooters have bumpier rides, this is a much-needed feature, and it helps smooth out the rides.
Bigger bumps and cracks in the road may still cause a little shaking, but still, the suspension does a great job overall and the rides are pretty much comfortable the whole time.
Lights and riding at night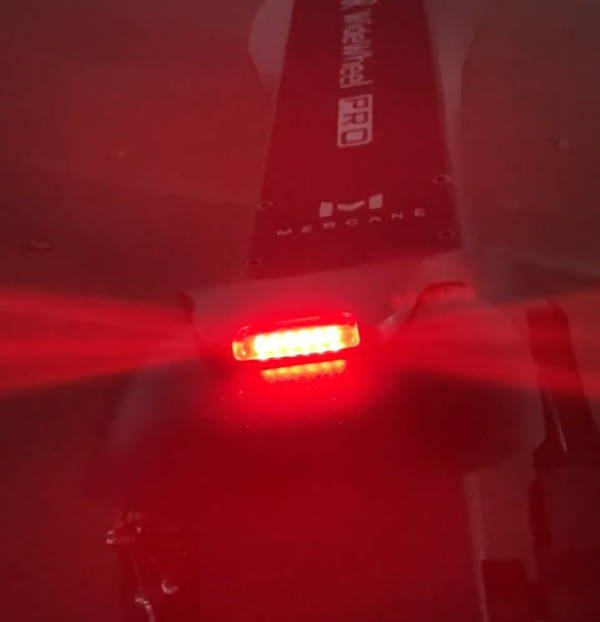 On the top and front of the stem, the Pro hosts the LED headlight, which is quite strong and will cast a light of about 4 meters in the night. I rode the scooter a few times during the night, and it illuminated the road ahead of me well, while also keeping other traffic participants well aware of my presence from the rear.
The rear of the deck holds the red rear brake light.
The lights are good for night rides, and the scooter is street-legal. Still, standard scooter rules apply – try to limit the time and frequency of night rides as much as possible, and if you do this a lot, consider getting stronger lights (a USB-rechargeable bike light set is both bright enough and very affordable on Amazon).
Deck, stem, and handlebars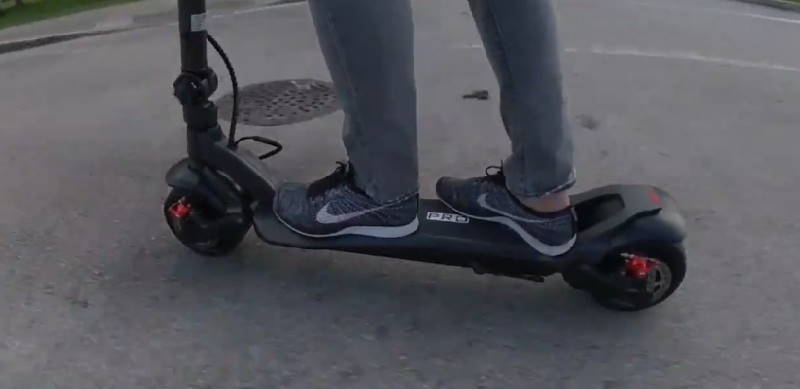 The deck of the Pro doesn't have the typical rectangular shape, and is instead narrow around the middle. That will probably not be an issue for most people, as the front and the rear are wider of the deck and provide a comfortable standing surface.
The stem is very thick, and makes the entire scooter look and feel tough.
The handles have nice rubber covers on them for extra grip even if your hands get sweaty. They are not the usual cylindrical handles, as they are wider on the outside for better control and comfort.
The handlebar height is not adjustable, although the default height should accommodate most people of all heights except the tallest people (check out the best scooters for tall adults for that).
Dashboard and screen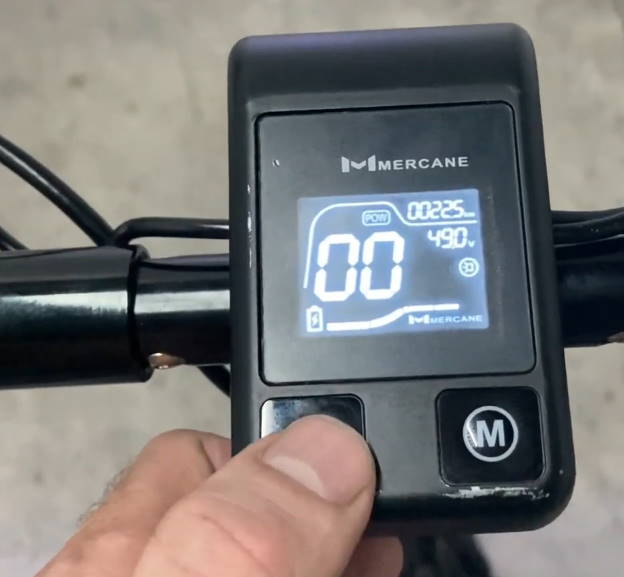 The small dashboard in the middle of the handlebar hosts the display screen and two buttons right under it. Using the first button, you can toggle the scooter on and off and change the speed mode, and use the second button to toggle cruise control and the light.
The proprietary screen is pretty advanced and shines bright, so it will be clearly visible even during the sunniest days.
The screen can display:
current speed
speed mode
distance
voltage
battery level
cruise control
Weight, dimensions, and portability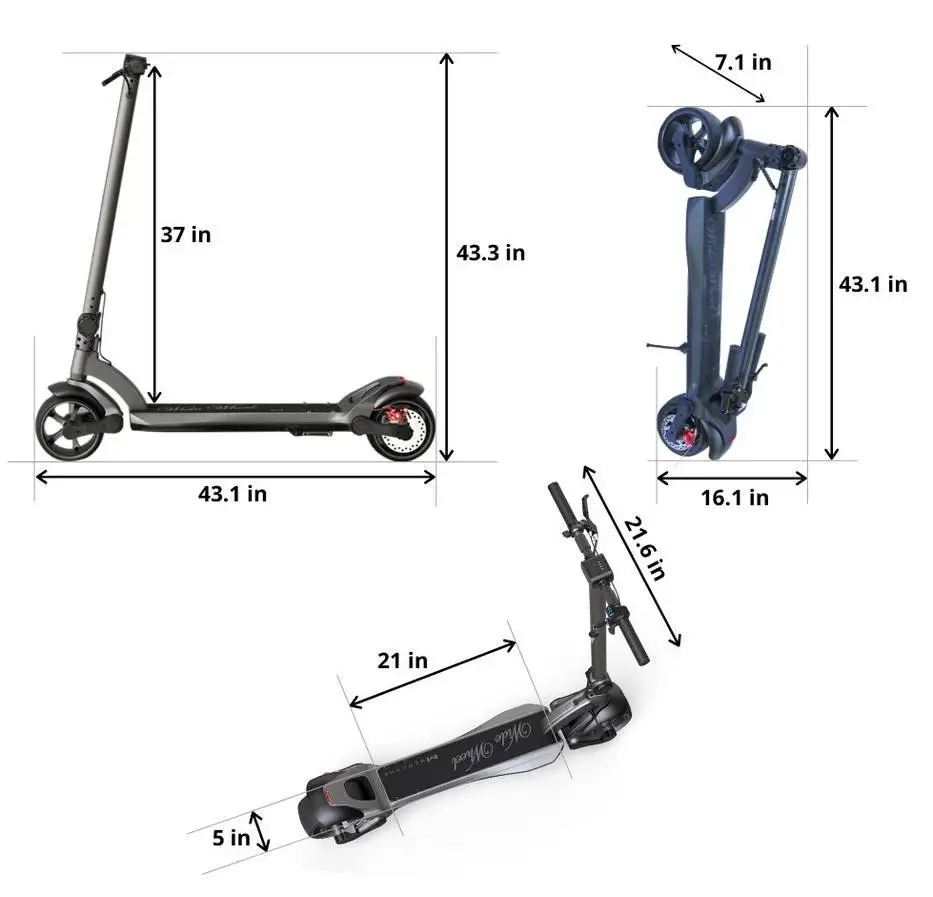 The Mercane WideWheel Pro weighs 54 lbs / 24.5 kg. It has clearly made a choice to be a long-range scooter first, and a lightweight scooter second, so it is not the lightest scooter in the world.
When folded, the scooter is quite compact and has dimensions of 43.1 x 8.6 x 16.1 inches / 109 x 22 x 41 (L x W x H).
The foldable handlebars are a huge win for portability, as the scooter becomes very compact when fully folded and occupies very little space.
The relatively small folded volume and the lack of sticking parts do give this scooter some portability points, but the weight takes most of them away. While it will not be a problem for the average person and in the majority of situations, people after a portable scooter will want to look somewhere else.
Weight limit
The official weight limit of the Mercane WideWheel Pro is 220 lbs / 100 kg. This may be a bit underreported, as the scooter clearly has both the motor power and the build quality to support heavier riders, and owners over that limit have reported almost no problems.
Anyway, it's best to go with the recommendations, and if you are over the weight limit, check out some other scooters made for heavy adults.
Key and lock
There are two versions of the Pro you can buy: the standard, and the keylock version. If you go with the key version, your scooter will only power on with the key. That will make stealing it harder, although not impossible.
The key version costs about $50 more. Consider it if you leave your scooter outside often. No matter which version you get, always lock your scooter with a scooter lock as well, that's even more important than the key lock.
Accessories and customizations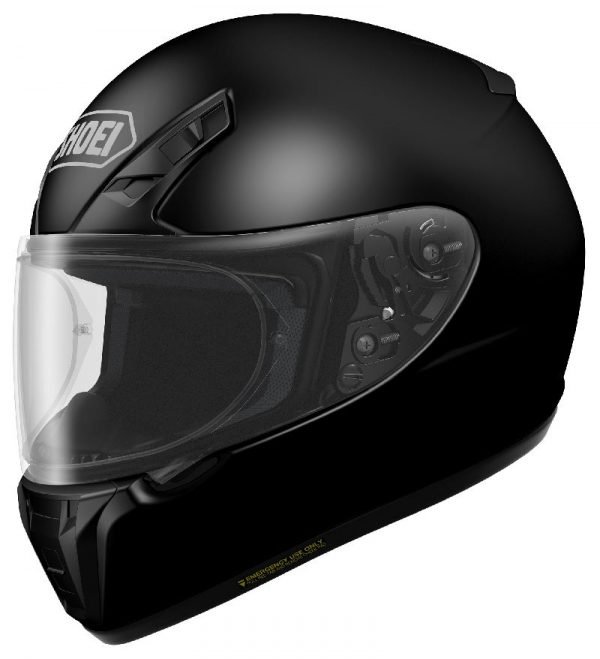 While most budget scooters can support generic accessories, true high-end models like the Mercane WideWheel Pro have their own set of accessories that fit perfectly, which you can also find at the FluidFreeRide page for Mercane WideWheel accessories.
Some of the must-haves include:
Also, see my guides on the best scooter helmets and scooter accessories for some more options.
Maintenance and spare parts
Since the Pro is a solid-tire scooter, there will be even less maintenance involved. Your only job will be to make sure there are no loose screws once every month, and also make sure the brakes are working properly. That's it.
If something goes wrong, you will have the full support of FluidFreeRide, and you can get all the spare parts you need for a great price from the parts page on the FFR store.
Mercane WideWheel Pro vs other electric scooters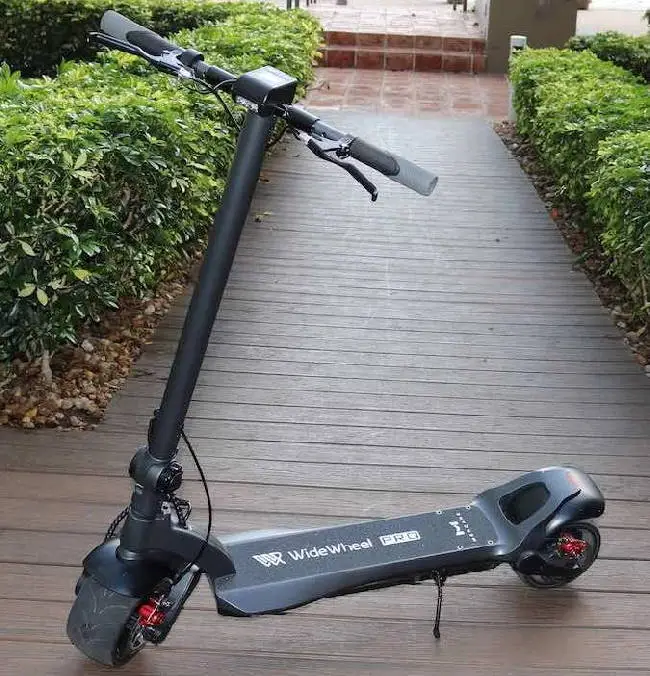 Let's see how the Pro compares against some other similar scooters.
Mercane WideWheel Pro vs Mercane WideWheel
The older version will save you a few hundred dollars, but I really don't think that's a good enough reason to choose it over the Pro version.
It's not just that the Pro is an upgrade, but more importantly, it has ironed out many issues and problems with the old version.
This is just a short list of all the things the Pro improves upon:
2 brakes instead of 1
faster top speed
more range and better battery
better screen
better build quality and robustness
tougher stem
more efficient controller
The upgrade is really worth it.
Mercane WideWheel Pro vs Ninebot Max
This comparison is not exactly fair to the Ninebot Max, as the Mercane WideWheel Pro costs almost twice as much.
Still, there are a few reasons to go with the Ninebot Max.
In general, it is a more versatile scooter, and while it will not dominate in any one particular area, it will be a good choice as a proven general purpose scooter. I'd suggest choosing it if you want to save a bit of cash, trade some top speed for range, and sacrifice some climbing power for a little lighter weight. Check out the complete review of the Ninebot Max if that's what you're after, otherwise stick with the Pro.
Mercane WideWheel Pro vs EMove Cruiser
This is not such a common comparison, but I do believe that it is a good matchup. In a way, these two scooters complement each other, and we can say that the EMove Cruiser is the exact opposite of the Mercane WideWheel Pro in some ways.
They both cost about the same, have similar top speeds, and weigh about the same. That's where the similarities end.
The EMove Cruiser has more range, better waterproofing, and bigger weight capacity.
But also, it comes with air-filled tires, which means it might get flats. It has a single motor, so it will not accelerate as fast, and it will not be as good at climbing. It's not as compact, and it occupies more space when folded. And it probably doesn't look as cool and as fun as the Pro. So, lots of reasons to stick with the Pro.
If for some reason you read this review this far but didn't find the Pro appealing, you may want to check the full review of the EMove Cruiser for a different kind of scooter in the same price category.
Mercane WideWheel Pro vs Apollo City 2022
These are two pretty different scooters in many regards, but they cost about the same and both come from very reputable high-quality brands, which is why a lot of people compare them.
The Apollo City 2022 will come with larger, pneumatic tires, which will make its rides more comfortable and more stable. Also, it will provide better performance in terms of range and weight limit. The water protection level will also be better.
The speed of both scooters will be similar, even though the Apollo has a weaker motor on paper.
The Mercane WideWheel Pro will have its immunity to flat tires as its biggest advantage, as well as a slightly smaller weight and smaller dimensions, making it a bit more portable.
If the advantages of the Apollo City 2022 sound like a good deal to you, check out the scooter at the official Apollo store.
Tradeoffs and downsides
This scooter proved to be great in many areas, but I noticed a few blind spots as well.
One design choice that I'm always not thrilled about is the brake cables sticking out. The good news here is that the cables are well protected, so at least that mitigates the problem, but they will still protrude.
A common nuisance that a few users have reported is that the deck is not wide enough in the middle for them. They were all pretty much able to ride the scooter anyway, but with reduced comfort. That is a valid objection.
A few users have reported wobbly handlebars, and a handful of users have complained about the lights not being strong enough, although most of the other owners are very satisfied with both of those.
The wider turn radius is an obvious tradeoff because of the wide wheels. This has been talked about a bit online, but most owners ease into it and just learn a new way of how to ride the scooter better.
Owner reviews and market adoption
The reviews for the Mercane WideWheel Pro are nothing short of spectacular. Over 91% of owners have rated this scooter with 5-star or 4-star ratings, and are extremely happy with their purchase.
The scooter itself is pretty eye-catching and has spread through the scooter world like a virus. Very few scooter lovers have never heard of this scooter, and every single one of the ones that know it either loves it or respects it, or both.
All in all, the Mercane WideWheel Pro is a massively popular and successful scooter, receiving a lot of love from both owners and admirers from a distance alike.
Mercane WideWheel Pro specifications
Mercane Widewheel Pro Specifications
| | |
| --- | --- |
| Top speed | 42 kmh |
| Top speed | 26 mph |
| Range | 35 km |
| Range | 22 mi |
| Motors | dual motors |
| Power | 1000 W real, 1600 W peak |
| Climb angle | 18 ° |
| Battery | 720 Wh, 48 V |
| Battery type | Li-ion |
| Charging time | 8 h |
| Ingress protection (IP) | IP54 |
| Weight | 24.5 kg |
| Weight | 54 lbs |
| Weight limit | 100 kg |
| Weight limit | 220 lbs |
| Tire size | 8 in |
| Tire type | wide solid, never-flat foam filled |
| Foldable | yes |
| Foldable handlebars | yes |
| Seat | available |
| Build material | aluminum alloy |
| Terrains | urban |
| Brakes | dual disc brakes + rear hydraulic |
| Shock absorbers | front and rear springs |
| Lights | LED front + rear |
| Control | smart display |
| Speed modes | eco, power |
| Cruise control | yes |
| Keys | available |
| Warranty | 6 months |
| Return period | 15 days |
| Folded dimensions (L * W * H) | 109 cm * 22 cm * 41 cm |
| Folded dimensions (L * W * H) | 43 in * 9 in * 16 in |
| Unfolded dimensions (L * W * H) | 109 cm * 55 cm * 110 cm |
| Unfolded dimensions (L * W * H) | 43 in * 22 in * 43 in |
| Deck to handlebar height | 94 cm (est) |
| Deck to handlebar height | 37 in (est) |
| Adjustable handlebar | no |
| Notes | reinforced build; tested 35 miles range; |
Who should not get the Mercane WideWheel Pro?
The Mercane WideWheel Pro is a specialized scooter. When it's good for a certain use case, it will not only be good, but among the best scooters in the world for that scenario. For the other use cases, there will be other, better models around, and there are a few obvious ones of those.
First of all, the Pro is not exactly a lightweight scooter. Its weight will be manageable for most people, but if portability is your priority, you will want to look at other scooters. The guide on the most portable electric scooters is a good place to start.
With wide, smooth, solid wheels, the Pro will not be good for offroading as well.
Even though the actual weight limit of the scooter may be well above the advertised 220 lbs / 100 kg, it is still better for heavier adults to look at other scooters designed especially for them. Check out the guide on the best scooters for heavy adults for those kinds of scooters.
The Mercane WideWheel Pro will not be a good winter scooter. Now, it's generally recommended to not ride in the winter at all, but I know many of us will do it anyway, so if you need a winter scooter, check out the electric scooter winter guide.
Finally, and obviously, if your budget is not between $1200 and $1300, you will probably want to check out some more affordable models. Check out the guides on the best electric scooters under $1000, under $500, under $400, or under $300, depending on your budget.
Verdict – should you buy the Mercane WideWheel Pro?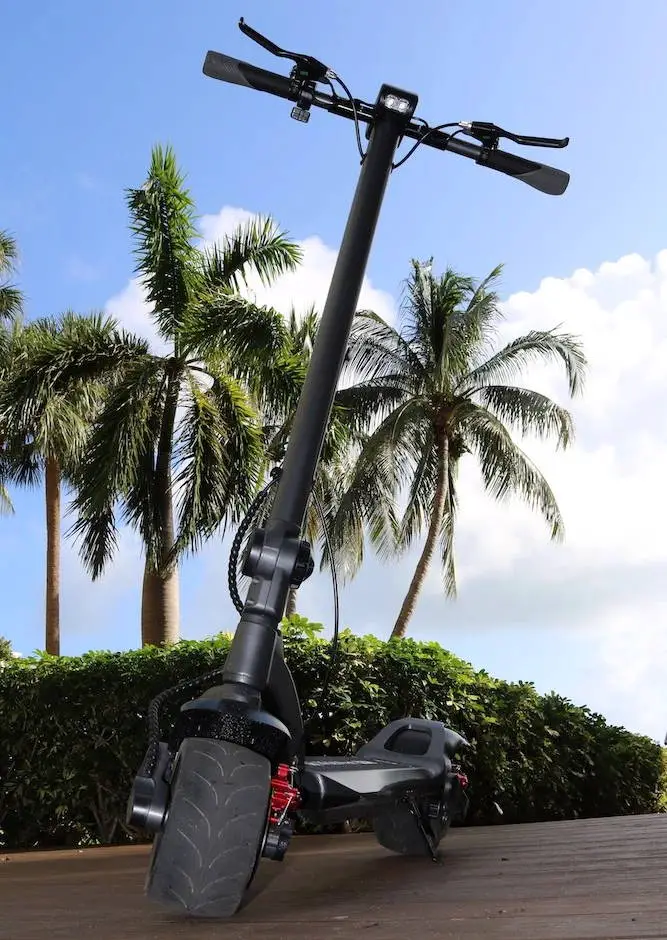 We mentioned several times throughout this review that the Pro is a very specialized scooter. However, that doesn't mean it specializes in just one area. In fact, even though the list of people who may find a better scooter elsewhere is long, the list of people who would find the Mercane WideWheel Pro perfect is even longer.
This is a perfect upgrade or second scooter. Not that it's not a great first scooter, it is, but it's most commonly bought by people that have owned lesser-quality scooters before and are looking for that next level. The Pro is perfect for this group of owners.
Also, for anyone that has been using ride-sharing scooters for a while, and now wants a scooter of their own, the Pro seems to be the perfect upgrade choice as well.
Commuters with long commutes will love this scooter. It has a ton of range and it's quite fast, so it will chew through those long boring trips in a matter of minutes.
One great use case for the Mercane WideWheel Pro that is often overlooked is for people living in places with terrible roads, where scooters and cyclists get a lot of flats. With the Pro, flats are a thing of the past, and anyone that has been getting a lot of those, or suspects they might, should go with the Pro.
Thanks to its dual motors and excellent torque, the Pro is a great climber, so anyone that needs to cross a lot of peaks and valleys and hills on their way, will find the Pro to be amazing at that.
Also, as this is not your typical budget scooter that is limited to 15 mph / 25 kmh, this is a great choice for more adventurous riders that want that next speed level.
Since this is a tough, sturdy, great quality scooter, that will likely last for a long time, riders looking to buy their last scooter may be interested as well. Related, riders looking for a luxury, higher-end model from a reputable brand, should also get the Pro.
Finally, and for many, most importantly, anyone looking for a scooter that is a blast to ride, looks super cool and stylish, and is just an incredibly fun scooter, will fall in love with the Mercane WideWheel Pro.
Where to buy the Mercane Widewheel Pro from?
US
In the US, the best way to get the Mercane Widewheel Pro is through the
FluidFreeRide
store. Your scooter will arrive at your home in 3-5 days, at no additional cost.
---
Canada, Mexico
In Canada and Mexico,
FluidFreeRide
is still the best (and probably only) place to get the Mercane Widewheel Pro from. FluidFreeRide may cover the duty taxes, but additional shipping costs and other taxes will be left to you ($80 – $300).
---
UK, EU, Australia, New Zealand, Worldwide
In the UK, Europe, Australia, and pretty much everywhere else, again your best option for getting the Mercane Widewheel Pro is the
FluidFreeRide store
. As usual, FluidFreeRide will likely cover the duty costs, and you will be left with the additional shipping and taxes, which can range from $0 to $400, depending on where you are. If you're in Sweden (or have the scooter shipped there), you will not pay any additional costs, as FFR have a warehouse in Sweden too.
Frequently asked questions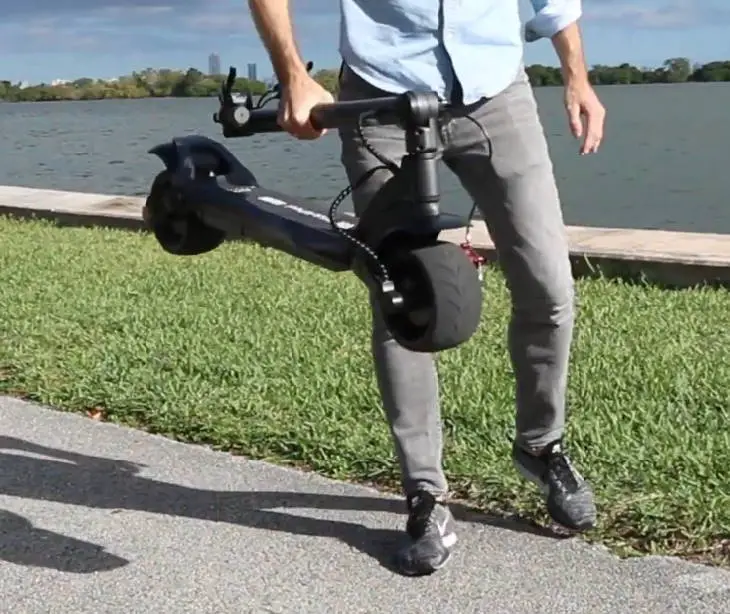 These are some of the most common questions surrounding the Mercane WideWheel Pro.
Is the Mercane WideWheel Pro reliable?
The Mercane WideWheel Pro is a very resilient, high-quality scooter that will last for a long time. It is one of the most reliable scooters of 2020.
Can I ride the Mercane WideWheel Pro in the rain?
Technically, the Mercane WideWheel Pro can be ridden in light rain, as it has an official IP54 rating. However, riding in the rain is strongly discouraged, as the scooter's smooth wheels will be very slippery on wet surfaces.
How to unlock the speed limit on the Mercane WideWheel Pro?
The Mercane WideWheel Pro allows you to unlock "ludicrous" mode and remove the speed limit on the scooter via the settings menu. To unlock "ludicrous" mode, you would need to:
Turn the display on by pressing the power button
Hold the brake lever (either one), power button, and "M" button at the same time
You will now see P0 displayed on the screen, meaning you are in the P-settings menu
Navigate through the menu to the P1 page
Press the mode button once (it should change from 00 to 01 in the top right corner of the screen)
That's it. You can now ride the Mercane WideWheel Pro scooter at the highest speed possible
Is there a fast charger for the Mercane WideWheel Pro?
There is no official fast charger for the Mercane WideWheel Pro. While the battery of the scooter will be capable of supporting a faster charger, it is not recommended to use a charger other than the original, as that will jeopardize the safety of the battery.
Can I put air-filled tires on the Mercane WideWheel Pro?
Replacing the original solid tires of the Mercane WideWheel Pro with air-filled tires will be infeasible and impractical.
Can I add an extra battery to the Mercane WideWheel Pro?
There is no known customization for the Mercane WideWheel Pro to support an extra battery. However, since the original battery is pretty big and the scooter has lots of range already, a second battery is not necessary.
Can I add a seat to the Mercane WideWheel Pro?
The Mercane WideWheel Pro does not come with a seat, but it can support a seat, which can be bought from FluidFreeRide as well.
---
Want to get
FREE SCOOTER
tips, exclusive discounts and promotions, and unseen scooter hacks? Join the
Scooter Secrets club
.
---
Liked this article? It really helps if you share it.
Follow @escooternerds on social media for more cool stuff
---