Segway produced electric transporters before it was cool.
The Segway Ninebot ES2 is now a flagship product.
One of the most widely adopted electric scooters in the price range, it is a top-quality scooter, giving the likes of Xiaomi M365 Pro a good run for their money, and comfortably beating them in several categories.
I've ridden several scooters through sharing apps. Since I decided to buy one for myself, I also borrowed a few from friends to try them out.
In the end, I decided to make the Ninebot ES2 the first scooter I will own.
The Ninebot ES2 is one of the best value-for-money electric scooters of all time. Its performance is more than enough for most scooterists and scenarios, its quality is very decent, and it has been proven as a reliable choice by many owners.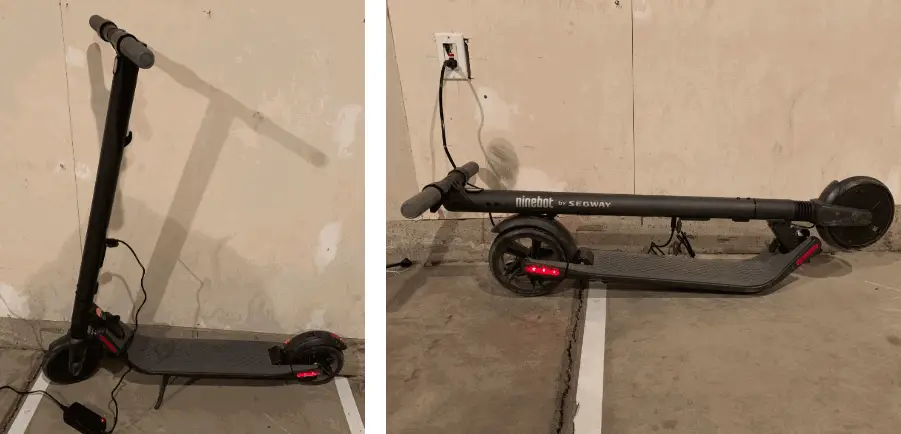 Where to buy the Ninebot ES2 from?
USA
The best place to get the Ninebot ES2 in the USA currently is from
Amazon
.
---
Canada
The above Amazon link can work for Canada too, but for better efficiency, faster delivery, and smaller shipping and tax costs, you can get the Ninebot ES2 from the
Amazon Canada
listing.
---
UK, EU
For European countries, including the UK,
Gearbest
provides the best delivery times and usually doesn't charge for shipping.
After quite a lot of research, I figured the Ninebot ES2 would be the optimal choice for me, and for many others, I believe.
This is why.
Unboxing
The product comes in a nice wide box, containing the following parts:
mainframe (the scooter itself)
handle
battery charger
secondary battery pack
5 flathead screws
M4 hex wrench
warranty
quickstart document
Make sure you have all of the parts (well, it's ok if you're missing the quickstart document, but the other ones are all important). Contact the merchant if you're missing any parts.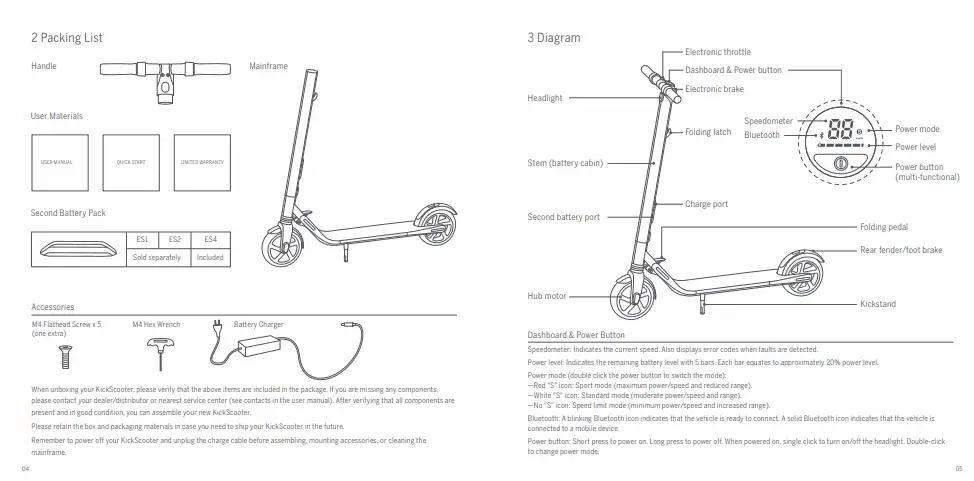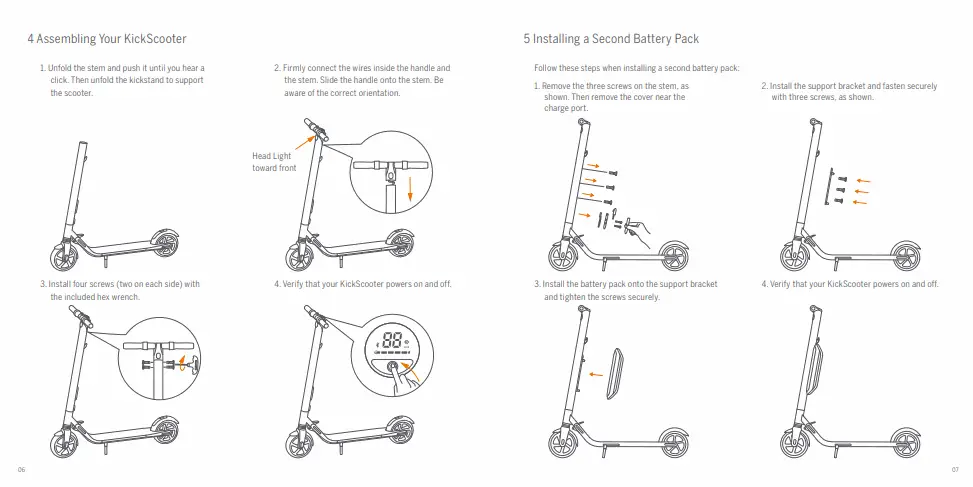 You will need to do very little setup before you can drive your scooter.
Unfold the scooter and push it until you hear a click. Put the handles into the stem, and use the wrench provided to screw four screws, two on each side. After you make sure you can power your scooter on, you are almost good to go. There will be a blinking Bluetooth icon that, showing that the scooter is ready to be connected.
For safety reasons, the scooter is not fully activated yet, and will have a big reduction in the speed limit until done so.
To activate your scooter, you need to install the app (either download it from the Android or iPhone app stores, or scan the QR code included in the manual).
After installation, simply follow the instructions on the app. You need to register or login, and go to "Vehicle" -> "Search Device" to find your scooter. The scooter will beep when successfully connected.
One of the most curious things about the Ninebot ES2 is the ability to install a secondary battery pack. That will even further extend the range you can get from it. It's an idea that I believe many other scooters will start copying soon.
Installing the secondary battery is also easy. It goes right in the middle of the stem. You just unscrew the three screws already in place, install the safety bracket and the second battery there, screw the screws back. Congratulations, you have almost doubled your range.
The scooter itself has a very high-quality, almost high-end feel to it. The material used for the metal parts of the scooter is an industrial-grade aluminum alloy with some parts using steel. That makes the scooter both light and tough. The plastic and silicone parts also have a hard, dense quality to them.
When fully assembled, the main parts of the scooter are:
the wheels (front one has the motor)
the footboard with the kickstand
the stem, with the charge port and the secondary battery port on it, and the latching mechanisms
the handles, with the headlight, dashboard, throttle and brake buttons on them
Folding and unfolding
The folding and unfolding process may be somewhat different than what you would find on other scooters.
To unfold, you need to release the stem from the rear fender. Then you need to push the stem up as you place your foot on the deck, until you hear a click.
There is a special pedal on the stem that you use for folding. While stepping on it, you need to push the handles away a bit. You can then fold the stem until you lock it into the rear fender.
This might be obvious, but I'll go ahead and mention it just in case – you should not step on the pedal while driving.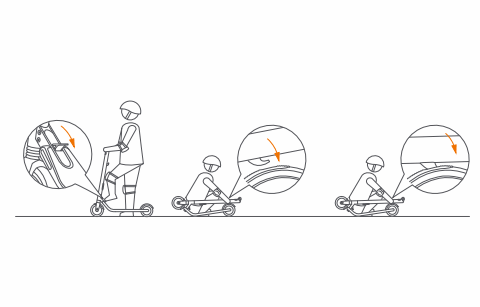 User experience
The price of Ninebot ES2 indicates that it is supposed to be a product for the general public, neither low budget nor high end.
The quality you get far exceeds the price in my opinion. That is the main reason why it has seen great adoption rates and also developed a passionate audience around it.
While traveling, I've often noticed lots of Ninebot ES2s in larger urban areas. That is the main way they're intended to be used, for getting around big city streets choking with traffic. Given how many people in big cities wish to reduce pollution, we can expect this trend to be on the rise and see even more scooters, especially the Ninebot ES2 which has been called the "Tesla of electric scooters".
However, many users from smaller towns, and even the countryside, have expressed great satisfaction with the scooter in online reviews. Which means it's not a one-trick pony and can find its uses in many places.
What Ninebot ES2 is not is a rough-terrain scooter. Most scooters intended for mass adoption are not, and you can't expect the best rides when not on a paved road.
The manual itself refers to the scooter as a kick-scooter, which means it requires some kick action to start. You need usually one, and very rarely two kicks, along with pushing the acceleration, to start the scooter and continue driving without kicking anymore.
The whole process is very simple to grasp and friendly to beginners. If you've never ridden a scooter, just trying it out once or twice may be enough for you to figure it out quickly.
The Ninebot has a fairly smooth, stable ride. Even on not-so-smooth surfaces, like sidewalks with cuts in them, older streets or streets with cracks and bumps in them, brick-like surfaces like city squares, the scooter maintains a nice easy ride.
The main reason for this is because the Ninebot ES2 has one of the best suspensions out of all the popular scooters. I remember the first few times I rode it in Athens, I noticed the difference when transitioning from a street to a sidewalk. Even though those parts are usually just small slopes, they still caused bumps on other scooters, but with the Ninebot I barely felt them.
One thing to note: when hitting bumps or holes, you may hear a sort of a clicking sound. Don't panic – that is just the sound that the shock absorbers make! However, it is louder than the sound of a strong finger snap, go ahead and check your scooter.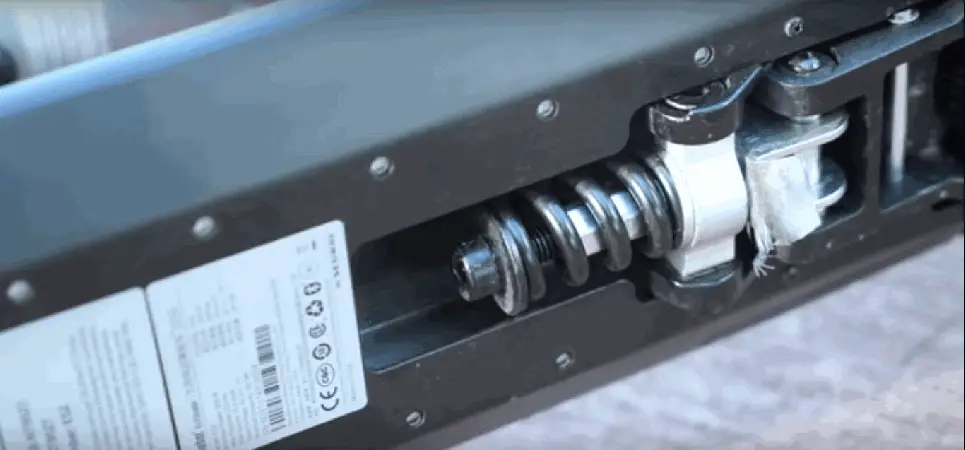 The tires are solid, not pneumatic, which means they don't exactly help to make the ride smoother. But the great suspensions help to remedy that.
One interesting difference with other scooters I've tried is that when accelerating, there are no sudden changes in the speed, where your body suddenly rocks backwards. Speeding up happens smoothly and doesn't catch you off guard, almost no kickback.
Braking has similar properties. You will stop only a few moments after you press the brake pedal, but the scooter will not stop dead in place so that you fall off.
One of the things I love about Ninebot ES2 is that you don't need to carry it all the time. When folded, you can just drag it by the handle and roll it with you. That saved me a lot of back pain.
I used to go out at night with the Ninebot ES2 a lot. It was a great transport option for quickly getting from my place to a friend's place, a cafe or a restaurant. Also, I always did my trips to the office, the grocery runs and trips to the gym with it. It has been my faithful companion pretty much everywhere I go.
I always leave it wherever I am, I just lock it and basically forget about it. I haven't had any problems with people trying to steal it or damage it, but I do try to park it responsibly and not intrude on public space.
I loved how I navigated through and avoided the dense traffic. Before that I always got taxis, and I lost both money and peace of mind when traveling that way.
A few times, I had to take it with me in my friend's car. She has a Fiat Uno, which is not a big car by any means, but the Ninebot ES2 fit in the trunk without any issues. I don't take the bus often, but when I do I noticed that taking the scooter on the bus with me was not an issue as well, I just occupied a bit more space and had to be a little more careful not to bump into small kids.
Ninebot ES2 – 1 year later
I've had my Ninebot ES2 for over a year now. The ride quality hasn't changed at all. The motor still produces that nice, almost soothing buzzing sound that it did at the beginning.
And keep in mind that I'm one of the clumsiest people in the world. I can't even remember how many times I bumped my scooter into something, hit heavy objects, have it fall down, or hit it with something else.
The only damage it took was in the form of scratches. The mechanics or the electronics didn't get impacted at all and still continue to function perfectly.
I should note that I usually only do short rides on relatively well-maintained urban roads. Also, while I've had it for a year, I've only actively ridden it for around 8 months. It doesn't have a ton of distance passed for that period. Still, I can't say I've seen any errors, and that makes it a very reliable piece of equipment.
Funny story – one time I borrowed a Xiaomi M365 Pro from a friend, and I got a flat tire on the first ride. The first one! The great thing about Ninebot ES2 is that it has solid tires, so you don't need to worry about flats at all.
I did ride the scooter in sunny weather quite a lot, and I often left it in the backyard of the house I was staying at. Because of that, the plastic didn't age very well and now looks kind of older than a year. That one is kinda my fault, since the recommendation is to keep your scooter in a cool, dark, dry place to prevent this.
Who is the Ninebot ES2 for?
The scooter is intended for general public use.
It is a cheap, fast, efficient, and environmentally-friendly way to navigate busy urban areas. That's where it has found its user base too – young professionals in big cities.
As per the recommendations, anyone aged 14 or more can ride it, and I've seen younger people ride it with ease too.
It's not recommended that the weight of the driver exceeds 100 kg. Many users throughout the forums and reviews report that they're not seeing any issues even when they're heavier than 100 kg.
Price
The common price for the scooter in most online shops is around $590. Of course, that price can vary greatly depending on a specific location, shipping costs, additional upsells, and equipment that you may choose to buy.
However, you will most likely want to buy the secondary battery as well, since without it, your scooter will be much less powerful and you will get a lot less range and speed. The extra battery costs around $230 separately.
They are usually sold together as a deal, and you can find them for $650 – $700 for both.
Frequently asked questions
Is the Ninebot ES2 reliable?
Many scooter enthusiasts, myself included, have dubbed the Ninebot ES2 as the most reliable scooter in the medium price range.
The solid tires can never go flat.
The range and battery power are not the strongest in the world, but are very formidable.
Mechanical faults are very, very rare.
Since the battery is not below the deck, the center of gravity is much lower, and provides a very balanced ride.
Finally, there is a reason why the biggest scooter-sharing companies like Lime and Bird both rely heavily on Ninebot ES2 in their fleets. They are simply tough, formidable, reliable scooters.
Is the Ninebot ES2 waterproof?
The Ninebot ES2 implements the IP54 standard, which makes it water-resistant.
It's not waterproof in the sense that you can throw it in the sea and expect it to work after that. But it will handle common splashes and puddles of water, rain, and snow.
Still, the company recommends that you do not drive it in wet weather. While I did that a few times and nothing broke, I still think it's a good idea not to push the limits on this one.
Can I ride the Ninebot ES2 in the rain, snow or mud?
I rode mine in both heavy rain and thick snow, and nothing broke. All the online reviews I checked said that they didn't have any issues as well.
So you kind of can ride in the rain or snow, but should you? Probably not. The official recommendation of the company is not to ride in wet weather, and I would go with them on that one.
Is the secondary battery included with the original purchase?
Unfortunately, no, it isn't. You have to buy it separately. Or even better, see if you can get a deal for buying them together, since many merchants are aware that you really need the second battery and are willing to provide a discount if you buy the two items together.
Should I get a secondary battery for the Ninebot ES2?
The short answer is yes, you will need that second battery.
I would recommend getting a second battery to anyone that plans to use the Ninebot ES2 as an actual transportation vehicle.
Without the secondary battery, you have a lot less power and speed, and more importantly, you only have a range of 25 kilometers, instead of the possible 45 kilometers. So if you plan on covering real-world distances frequently, I would say that the second battery is a must.
If you're only a hobby user and don't plan on using the scooter for transport all that much, maybe you can save yourself a few hundred dollars and go without the battery.
If you're not sure what your needs will be, just go ahead and buy the scooter without the battery. Try it out for a few weeks, see if the power, the speed and the distance are enough for your needs. If not, then buy the extra battery.
How fast can the Ninebot ES2 go?
With the second battery, you will reach maximum speeds around 18.5 mph / 30 kmh, on a flat road.
Without the second battery, you will be limited to 15.5 mph / 25 kmh.
How much range does the Ninebot ES2 have?
With the second battery installed, you can expect a range of about 28 mi / 45 km.
Without it, the specs say 15.5 mi / 25 km, but you will likely get a little bit more than that, maybe a kilometer or even two extra.
How long does it take to charge the batteries on Ninebot ES2?
Charging the original battery only took around 3.5 hours (actually, I did 2 almost-full charges, from drained to 100%, and on average it took 3 hours and 33 minutes).
Charging with the secondary battery installed takes a little more than 8 hours (measured this 3 times, from 1-2% to 100%, and it took 8 hours and 19 minutes on average).
How much does it cost to charge the Ninebot ES2?
Charging the Ninebot ES2 during off-peak hours costs 1 cent in the US, 2 pennies in Canada, 5 pence in the UK, and around 3 cents on average in the EU, while those prices during peak hours will be around 3 cents in the US, 2-3 pennies in Canada, 6 pence in the UK, and 5 cents in the EU.
If you have the extra battery installed in the scooter, you simply need to double the prices from above.
How to clean my Ninebot ES2?
Before starting, make sure that the scooter is turned off, the charging port cap is closed, and that the power charging cable is not plugged – otherwise you risk damaging the electronic components.
Use a soft, wet cloth, plain or microfiber one, to clean the mainframe.
Stains that are harder to remove, like dried-out dust or mud, should be gently brushed off with a toothbrush and some toothpaste.
If you have some scratches on the plastic parts, you can use fine grit abrasive paper to polish them.
Do not use any substances containing alcohol, acidic substances like acetone or vinegar, gasoline, or any corrosive solvents to clean the scooter. They may damage both the looks and the functionality of the scooter.
Do not use hoses or power washers.
Motor heating in hot weather
In the hottest of summer months, the motor can get a little hot. Be careful not to touch it when carrying it, especially after a long period of exposure to strong sun.
To be fair though, I was in Greece for a major part of the summer, which is one of the hottest European countries, where temperatures sometimes approached 40 degrees Celsius.
Design and visual appeal
The first impression of the scooter is that it's just… cool! It just looks so cool!
It may be just my preference, but I love modern-looking, shiny metallic colors. The different shades of black are exactly how I think a futuristic transportation device should look like. The few small red elements give it just enough color without sacrificing the coolness of it.
Unlike many other scooters, the battery is not in the footboard, but in the stem. That makes it look much thinner and slicker.
I don't have a big body frame, but I can see how even a larger person might ride the scooter comfortably. The board is wide enough even for people with large feet.
LED Dashboard
The center of the handlebar has the LED control dashboard.
The only input in there is the power button.
Pressing it once while the scooter is off, turns the scooter on.
To turn off the scooter, you hold the power button for 3 seconds.
When the scooter is turned on, pressing the power button once turns on the front light, and pressing it again turns it off.
Pressing the power button two times while the scooter is on changes the driving mode.
There are three driving modes:
eco mode – when in this mode, there is no "S" letter lit up on the screen. This mode has a speed limit of 15 km/h, but it also can provide an increased range. It is very suitable for beginners, getting the hang of the scooter, and in crowded areas.
normal mode – when in this mode, there is a white "S" letter light. This mode has a limit of 20 km/h, and it is the balance between speed and efficiency. I found myself in this mode the most often as it's the best way to get somewhere safely.
speed mode: this mode is marked by a red "S" letter lighted up on the dashboard. When in this mode, there will be no limit on your speed except the maximum one reachable by the scooter, which is 25 km/h without the extra battery, and 30 km/h with it. This mode drains the battery the fastest because of that.
The current speed is shown on the screen. At this time, the speed only shows kilometers per hour and it seems like there's no way to change it to miles per hour, but this depends on the market as well since I've seen dashboards in the US report the speed in miles per hour.
When the charger is plugged in, the screen shows the battery percentage instead of the speed.
There are 5 bars that show the current battery level. Each bar represents around 20% of the battery.
There's also the Bluetooth icon light that lights up when the scooter is connected to the app via Bluetooth.
Lights
The Ninebot ES2 has 4 lights.
The headlight at the front is one of the strongest ones I've seen on scooters. I frequently rode it at night and it provided excellent lighting.
There are two lights on each side of the rear wheel. They serve as brake lights.
Finally, the most interesting light of all is the one at the bottom. It is, in effect a disco light, signaling the world how cool you are with your brilliant scooter. Seriously though, it helps other people spot you at night and avoid accidents, and it does a great job at that. The light is turned on and customized through the app, and you can choose from many colors and patterns. Really cool.
Brakes
The brake system consists of two brakes.
One is controlled by the button on the left handle. It is an electronic brake, and stopping with it is smoother and doesn't happen instantly.
Opinions on that are mixed – some people believe that braking should happen instantly. However, I think that would result in many accidents, especially when driving faster. So the electronic brake works well in my book.
The other brake is a physical one. It is located on the rear wheel, and it is activated by pressing your foot against a pedal back there.
I've found myself using mostly the electronic brake. It's just simpler to use. The rear brake is not difficult to use, but it does take some training and getting used to.
When you need to brake faster, you will use both brakes at the same time.
Batteries and battery life
I'm happy to report that my batteries stood the test of time quite well, even though I wasn't the most disciplined owner.
I installed a secondary battery from day one, and that's how I've been using the scooter almost the whole time, except for testing things out without it.
I often forgot to plug the charger in after every ride, and I came close to draining it many times, and completely draining it two times. I also forgot to bring the scooter in, leaving it out under the strong summer sun. All of that goes against the recommendations for the best battery life.
And still, after a full year of usage, I can't notice the battery life being shorter, or at least not by a lot. I still get pretty much the same range I did at the beginning.
All of that said, the battery is not that powerful. The original battery works at 187 Wh, and if you've ridden more powerful scooters you will easily notice the difference.
I would say that installing the secondary battery is almost a necessity if you want to get a truly great experience with this scooter. Getting those extra 187 Wh is what makes the difference between having a reliable transport vehicle and an expensive hobby gadget. It will add an extra 1.5 kg to the weight of the scooter, but it is well worth it.
Speed
Even though the specs specify the maximum speed as 15.5 mph / 25 kmh, I managed to get it up to 16 mph / 26.1 kmh with just the original battery.
The unofficial limit with the second battery installed is around 18.6 mph / 30 kmh, but I did manage to get it up to 19.5 mph / 31.5 kmh on a flat road.
I haven't tested the maximum speeds when going downhill yet.
Higher maximum speed can be unlocked by installing a custom firmware. Users that have gone that route report reaching speeds of 35 km/h with two batteries.
Range experiment
For the purposes of this review, I did an experiment with my scooter to test out the maximum range I would get. I did the test with the extra battery installed.
I chose a cycling track on the outskirts of the city where I could make long, uninterrupted drives on a fairly flat road with no obstacles.
I charged my scooter to 100% and took a taxi with it that left me right at the start of the cycling track.
I started the scooter and made a few trips back and forth the track. My goal was to get the battery level down to 5%, and then extrapolate the real maximum range I would get.
After more than 3 hours of driving, my battery level hit 5%.
According to the app, I had covered 27.15 miles / 43.7 kilometers. If that's 95% of the total range possible, it would mean that I can get around 28.6 miles / 46 kilometers of range if I drain the battery completely.
Not too shabby at all.
Different terrains and going offroad
You can ride the Ninebot ES2 on somewhat rougher terrains than you might expect.
Even though the company advises using it only on asphalt and pavements, I've tried it on ground, dirt, small rocks and pebbles, and grass. It handled them nicely.
This is due to the great shock-absorbing system of the Ninebot ES2.
However, should you be doing this? The answer is, of course, no. Avoid riding this scooter on anything other than asphalt or pavements. It is not an offroad-specialized scooter and it was not built for hard terrains.
The scooter is IP54 certified, which means it handles the ingress of dirt and small objects well. Still, I've noticed branches and leaves and garbage getting stuck in between the wheels and the fenders when I go through parks or grass. You don't want that to happen too often since it's only a matter of time when you'll get a flat tire or some other defect.
Climbing and going uphill
While generally the Ninebot ES2 handles slopes and hills well, this is not an area where it shines.
I spent a lot of time on the scooter in Athens, which is full of hills and valleys. The scooter does slow down considerably when going uphill. On steeper hills, sometimes it completely stopped.
This is with the second battery installed. I can't imagine how climbing hills would look like without it.
What I like is that Segway are open about this. The manual itself says in the specs that the maximum angle the scooter can handle without issues is 10%. It's not that bad, but some of the direct competitors of the Ninebot ES2, like the Xiaomi M3655 Pro, can chew up slopes of 15% or 20% without any hiccups.
Specifications, size, and measurements
The measurements I took were almost identical with the official specs in the manual, with some minor differences.
Ninebot ES 2 Specifications
| | |
| --- | --- |
| Top speed | 25 kmh |
| Top speed | 15.5 mph |
| Range | 25 km |
| Range | 15.5 mi |
| Motors | single hub BLDC front drive |
| Power | 250 W real, 600 W peak |
| Climb angle | 10 ° |
| Battery | 187 Wh, 36 V |
| Battery type | lithium-ion |
| Charging time | 3.5 h |
| Ingress protection (IP) | IP54 |
| Weight | 13 kg |
| Weight | 28.7 lbs |
| Weight limit | 100 kg |
| Weight limit | 220 lbs |
| Tire size | 7.5 in |
| Tire type | solid |
| Foldable | yes |
| Foldable handlebars | no |
| Seat | no (customization possible) |
| Trunk or basket | no (customization possible) |
| Build material | aluminum |
| Terrains | urban |
| Brakes | anti-lock mechanical and electrical brakes |
| ABS | yes |
| Shock absorbers | dual |
| Lights | front + rear |
| Control | LED display |
| Speed modes | 3 |
| Cruise control | yes |
| Keys | no |
| Alarm | no |
| App | yes |
| Warranty | 12 months (6 on battery) |
| Folded dimensions (L * W * H) | 113 cm * 43 cm * 32 cm |
| Folded dimensions (L * W * H) | 44 in * 17 in * 13 in |
| Unfolded dimensions (L * W * H) | 102 cm * 43 cm * 113 cm |
| Unfolded dimensions (L * W * H) | 40 in * 17 in * 44 in |
| Deck to handlebar height | 99 cm (est) |
| Deck to handlebar height | 39 in (est) |
| Adjustable handlebar | no |
I must say, while I'm aware that there are much bigger scooters out there, I didn't have exactly an easy time carrying the Ninebot around. 12.5 kilograms may not be that much, but with the extra battery, it's already 14 kilograms. I'm 57-58 kilograms myself, and I can't carry it for too long. Being able to roll it behind me makes things a lot easier, but I still need to carry it sometimes.
Phone apps
There is an official app for both Android and iPhone. You can also download the app by scanning the QR code provided in the user manual.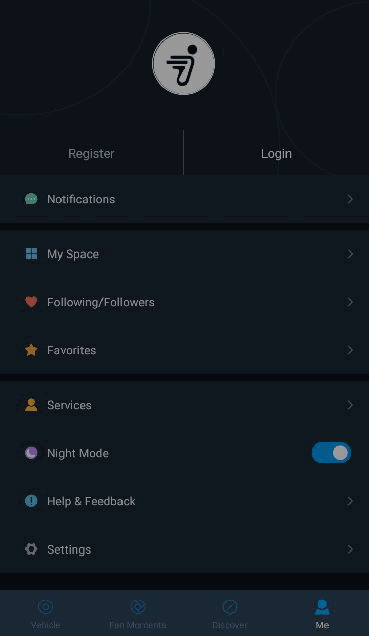 As you can easily see by the ratings and the reviews of the apps, they could both be improved.
Even though the company aimed high, and tried to provide lots of features, including a sort of a social media platform for the owners of the scooter, they have failed to provide even some basic functionalities.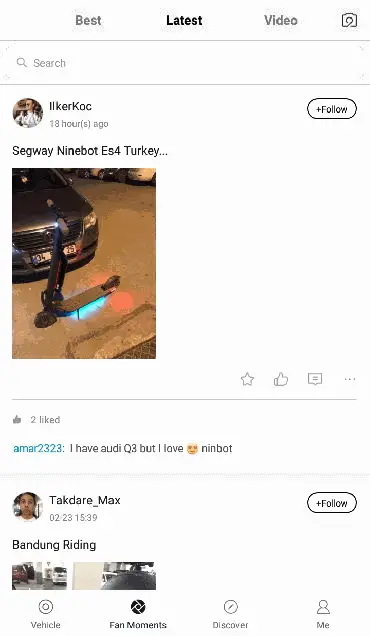 I've often experienced login issues, both the app requiring me to log in all the time or not recognizing my credentials even when I've entered them correctly. I'm using the Android version, but I've seen comments on the iPhone version complaining about similar things as well. I also had trouble connecting to the scooter through Bluetooth at the beginning.
When you finally somehow manage to connect your scooter and log in, there are the standard features you would expect from a scooter app, like scooter driving data, controlling the light, speed and various sensitivity adjustments.
The firmware has failed to update several times as well, and that is something I consider to be unacceptable.
I hope Ninebot addresses this issue quickly and provide an improved app for their users.
Besides the regular Ninebot apps, you may also find the Universal Electric Scooter App by EScooterNerds useful. It has additional checklists, tools, resources, hacks, calculators, and other useful features for managing your scooter. The app is available for both iOS and Android.
Custom firmware
Given how massively popular the Ninebot ES2 is, it is natural that there are ways and hacks to customize it.
You can install custom firmware on it, which can do all sorts of great things for your scooter, mainly increase the maximum speed limit it can go.
I haven't tried this yet, but I may try it in the future and report on my experience.
Accessories, helmet, and gear
The Ninebot ES2 has a fairly standard frame, and doesn't really have any crazy or unusual parts, so the vast majority of the typical electric scooter accessories will fit it without any issues.
Personally, I've never even tried to install the ES2 seat because I've never really felt like I've needed it, but I've seen a lot of people use it and it's probably a very neat addition. I've only used the phone mount and the cupholder with my Ninebot ES2, and they've both been very practical.
Even though I usually leave my scooter in fairly safe areas, I always use a scooter-appropriate lock when leaving it outside. So far, I've only used a very cheap combination bike lock, and I've never had any problems.
I use a half-helmet when riding this scooter, even though my more experienced biker and cyclist friends constantly try to convince me that I can easily get away with a more comfortable and lighter helmet, considering the scooter's top speed. They are probably right, and a typical bike helmet will probably be enough for this scooter, as long as you wear it all the time. See the guide on the best scooter helmets for some excellent choices for any budget and scooter type.
Availability
The Ninebot ES2 is available in almost any country in the world. The US, Canada, the UK, the EU countries, most of the Middle East and Southeast Asian countries, as well as Russia, India, China, and Japan, all have the scooter both online and in retail stores.
Cons, issues and downsides
As with any product, it can't be all good. The Ninebot ES2 has a few cons that you should be aware of if you decide to buy one.
Probably the most important one is that it's not that powerful without the secondary battery. I can't imagine using it without one. In fact, the next model after the ES2, which is the Ninebot ES4, is just the ES2 sold together with the extra battery and some other small improvements. It wouldn't hurt if the extra battery was a little cheaper at least.
Another big issue that I had is that the app simply wasn't a match for the scooter, not even close. Such a shame, they got the much harder part right, which is building an amazing scooter, but failed to do a great finishing touch with an amazing, bug-free app.
Other than that, all the other issues were minor.
I didn't notice this myself, but I saw four users online complaining that the electrical brake system malfunctions. They reported the brake either failed or got locked, and often had defects when the headlight was turned on. This is just four people out of thousands and thousands of satisfied customers, but I think that you should have all the knowledge if you decide to buy. Also, the reviews are all at least 6 months old now, and it's likely that Ninebot have addressed the issue.
Seems like there were other electronic and firmware issues for some users as well. While still a small minority, some people have reported various dashboard malfunctions, most of them benign, but some interfering with the ride in a serious way. Some common ones included the scooter slowing down or stopping when the headlight was turned on.
Those are all the major issues I found with the Ninebot ES2. As you can see, most of them are not a dealbreaker, and the more serious ones only affected a tiny minority of the users.
Also, a big part of the issues concern the software in the scooter, and they are fixed much more frequently and easily than a mechanical fault would be. That is easily noticeable as all the complaints about those are usually at least half a year old already.
What people are saying about the Segway Ninebot ES2
The Ninebot ES2 receives a lot of love online. Even I missed some of the benefits and upsides that this product has.
More than 60% of reviews online are 5-star ones.
Lots of people reported that they were on the heavier side and didn't have any issues riding the scooter.
While some unlucky users have probably gotten somewhat faulty products, the majority of owners describe the Ninebot ES2 as a little tank. Sturdy, tough yet not clumsy, and very well crafted.
Pretty much everyone loves the disco light at the bottom. I saw paragraphs and paragraphs of people going on and on about it.
The headlight also receives a lot of praise since it is really strong.
Of course, the most beloved features of the scooter are its speed and range. With the second battery installed, increasing its capacity almost twice, the Internet has voted the Ninebot ES2 as the Tesla of scooters. Users commonly report that one full charge takes them through three days of usage.
Verdict
As one of the best budget scooters today, the Ninebot ES2 is a great value for money.
I'm proud to call Ninebot ES2 my scooter of choice. I've had it for over a year now, and I can't be happier with it.
I warmly recommend it as a great option for anyone.
Where to buy the Ninebot ES2
Where to buy the Ninebot ES2 from?
USA
The best place to get the Ninebot ES2 in the USA currently is from
Amazon
.
---
Canada
The above Amazon link can work for Canada too, but for better efficiency, faster delivery, and smaller shipping and tax costs, you can get the Ninebot ES2 from the
Amazon Canada
listing.
---
UK, EU
For European countries, including the UK,
Gearbest
provides the best delivery times and usually doesn't charge for shipping.