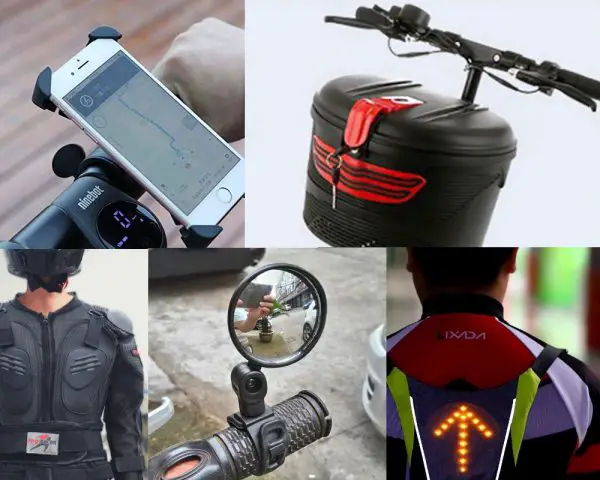 Electric scooters are incredibly fun. But you know what makes them even more fun? Electric scooter accessories!
And not only do they make scooters more fun, they make scooters way more useful. So much so that many items that have began as accessories have become a standard piece of equipment in some scooters.
That means it's possible your scooter may already have some of the accessories out of the box. But some are too big, occupy too much space, or are simply too specific, to be included in the standard models.
Still, the usefulness of some accessories is so great, that even if they can't really be included in the original package, they are almost a must for most scooters. They can sometimes turn your hobby scooter into a powerful ally in your day-to-day tasks and make your life easier.
Take a look at the list of accessories, maybe you will get an idea or two about how to make your scooter even more fun or useful. They will be sorted in order of necessity, starting from the absolute must haves and strong recommendations, to the nice to have ones and the optional ones.
Electric scooter accessories
Helmet (must have)
Safety armor/jacket (strongly recommended)
Knee and elbow pads (strongly recommended)
Fluorescent turn signal vest (strongly recommended)
Lock (strongly recommended)
Alarm (strongly recommended)
Gloves (recommended)
Glasses or eye protection (recommended)
Speedometer (recommended, likely comes with scooter)
Bell or horn (recommended, likely comes with scooter)
Front and rear light (recommended)
Turn signals (good to have)
Mirror (good to have)
Carry handle (good to have)
Bag or cover (good to have)
Phone holder (good to have)
Basket (good to have)
Trunk or storage bag (good to have)
Seat (good to have)
LED strips (good to have)
Bluetooth earbuds, helmet compatible (optional)
Wall mount (optional)
Cupholder (optional)
Stickers (optional)
Helmet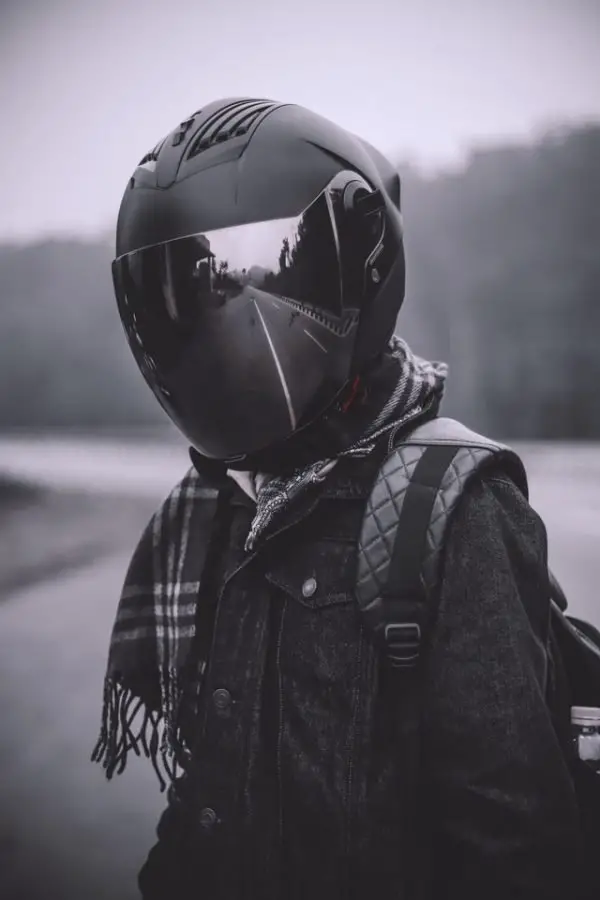 Necessity: must have
As anyone that has been into electric scooters for more than a week will tell you – having a helmet is a must!
In fact, in a way, it doesn't really count as an accessory, it's more like required equipment, both by common sense, and by the law.
If you can only buy one extra item for your electric scooter, it should be the helmet. Its importance cannot be overstated – it can literally be the difference between life or death.
Ok, you have been warned, but it doesn't have to be all loom and gloom. Picking a helmet is actually tons of fun, and there are many, many awesome looking helmets that will make you and your scooter look even further.
You can check out the full best helmet article to learn about the different helmet types, and which one to choose according to your needs and budget.
These are some of the best electric scooter choices in 2020:
Safety armor/jacket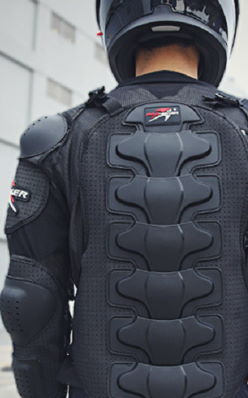 Necessity: strongly recommended
This is part of what is considered the standard safety gear for riding an electric scooter.
It may not be required if you rarely ride over 20 km/h. If you do, and especially if you ride very fast, a safety vest is a very good idea. Not as critical as the helmet, but it can still prevent serious injuries to your torso and arms.
Plus, let's not kid ourselves – these armors are some of the coolest looking things ever made. Essentially, this is motorcycle equipment, and that only means cool, cool, cool…
There are plenty of choices here – full jackets, vests, spine support only. Until I write a full post on this topic, you can check out the best choices on Amazon.
I can only say that I had Herobiker full armor jacket in the past, and I have nothing but good words to say about it. It usually costs around $60 on Amazon. One of my friends has a Fox Racing Titan jacket (Amazon link), which is much cooler and of better quality, but costs a bit more.
Knee and elbow pads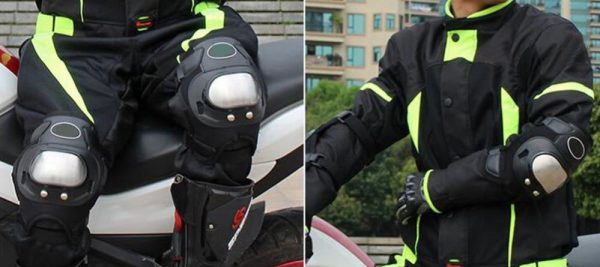 Necessity: strongly recommended
This is another important piece of the safety gear set. While not mandatory, they are a good idea, especially if you ride at higher speeds.
Also, they are a great idea if you're a beginner, since that's when you will likely fall from your scooter the most. Knees and elbows are the most vulnerable body parts when you fall, and the pads might prevent a serious fracture.
And, again, they will definitely add you some extra cool points.
You can find great deals on Amazon for complete 4-piece sets for both the elbows and the knees, often for the price of under $30.
Fluorescent turn signal vest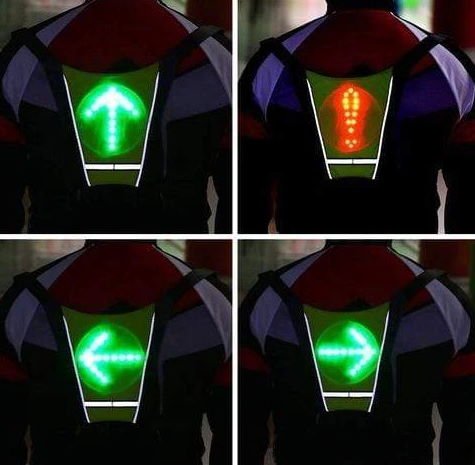 Necessity: strongly recommended (or maybe a must have, depends on where you live)
Fluorescent vests for night riding may be required by your local law.
Even if they're not, they're still a great idea to own. They let other participants know about your position in traffic, and can sometimes play a critical role in road safety, both for you and others.
You can get the regular green fluorescent vest for about $15 on Amazon, but I highly recommend spending an extra $5 or so and getting the ECEEN LED Turn Signal Vest on Amazon, which not only glows in the dark like a regular fluorescent light, but also has a turn signal widget that serves as an extra turning signal for you. Very clever addition that greatly improves upon the old-school vest.
Lock
Necessity: strongly recommended
If you've ever had your scooter or bike stolen, or if that has happened many times (like it has to yours truly), then you will know the importance of a strong, secure lock.
I have some bad news for you here. Every lock can be bypassed. Determined thieves can break it, cut it, freeze it, hack it, use black magic or sweet-talk it… we all know they can be pretty inventive.
Luckily, only a very small proportion of thieves are skilled enough to disable a higher-quality lock. Usually, most will be seriously detered and will probably move on to an easier target and leave your scooter alone.
I recommend investing in at least some lock. The price of the lock will usually be proportional to the quality, and I recommend buying a cheaper lock for a budget scooter (Via Velo is a very solid choice on Amazon), and a premium one if your scooter costs over $1000 (Kryptonite New York LS is the best, you can find it on Amazon).
Don't forget to check the dimensions of the locks and make sure they are big enough for your scooter.
Alarm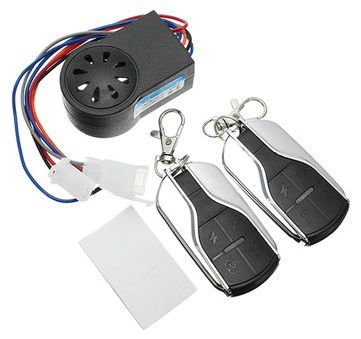 Necessity: strongly recommended
There is a small chance that your electric scooter will already have an anti-theft alarm system built in.
If it doesn't, this is a great cheap investment that can save you a lot of heartache.
There is one bottleneck here, and that's your scooter's controller. It must support remote start for this sort of devices to work with it.
While I haven't done much research on this, my guess is that if the controller has this feature, the manufacturers have already gone ahead and tried to delight their customers with an anti-theft alarm system. It's a very cheap feature to add, especially during production, and it can save owners a lot of trouble.
Still, it's possible that your scooter's controller supports remote start, and yet your scooter still doesn't have an anti-theft alarm. If you don't have an anti-theft alarm, your best move is to contact your manufacturer or retailer and ask them if the scooter can support an anti-theft alarm system as an extra.
If it does, you should get one. Onvian is the top selling one on Amazon, it usually costs less than $20.
Gloves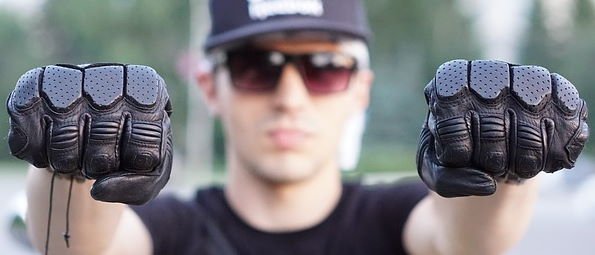 Necessity: recommended
Gloves are not exactly part of the critical safety equipment, but they're still usually recommended as an important piece and can play a big role.
In the event of a fall or a crash, they will protect your hands in fingers, will definitely prevent scratches or cuts, and may even prevent fractures.
During the winter, they will keep your hands warm, and during longer rides, blisters and sweaty hands will not be a problem anymore.
Choose bicycle gloves if you have a slower scooter, or one with a smaller range, and motorcycle gloves for more powerful scooters.
Even for bicycle gloves I like my entire fingers covered, so I'd go with something like CoolChange (link to Amazon).
If you have a powerful scooter or ride for longer periods of times, you can check out the X4 gloves on Amazon, they're even cheaper than most bicycle gloves but come with knuckle protection.
Glasses or eye protection
Necessity: recommended
The reason why I'd consider this piece optional is that most decent helmets should include some kind of a sun shield or a visor.
Still, many bike and shell helmets may not include that.
In that case, you may need additional eye protection, from the sun and wind, but also from dust, bugs, debris, and everything that can interrupt your vision.
Any pair of sunglasses will do a good job here, but bicycle or motorcycle glasses will obviously be a better fit. You can also check something like motorcycle goggles to give you that intriguing fighter-pilot look, Global Vision is one very popular choice here (link to Amazon).
Speedometer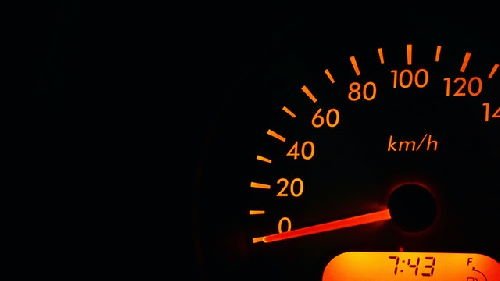 Necessity: recommended (will likely come with scooter)
Chances are, your scooter will include some sort of a speedometer out of the box. Very few scooters don't include this option.
While not essential, it's still good to have. If, by any chance, your scooter doesn't include any, ask your retailer to recommend you the best choice for your scooter.
Bell or horn
Necessity: recommended (will likely come with scooter)
A bell or a horn or a honk of some kind is also included in most scooters, though some lack it (and surprisingly, even some very expensive, otherwise feature-complete and high-quality scooters as well.
Also, sometimes the bell or the horn that comes with the scooter is simply not loud enough. This is actually quite common, and quite annoying.
If any of those is your case, you can consider a good quality, loud horn or bell.
The most popular horn, being described as super-loud, is the Airzound by Data Cycle (link to Amazon).
But something like the Bonmixc bell is cheaper and may do the job as well (link to Amazon).
Front and rear light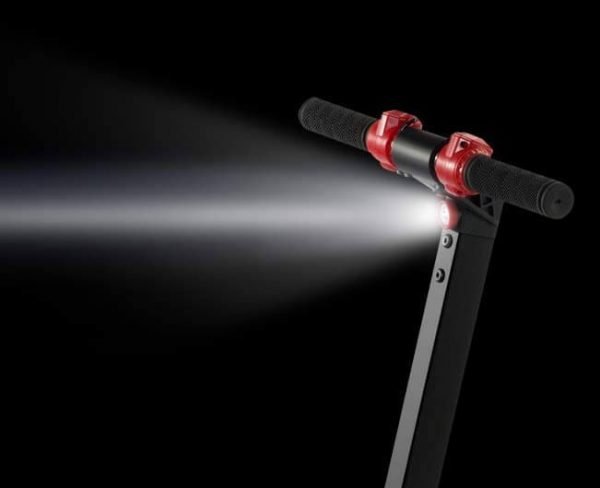 Necessity: recommended (will likely come with scooter)
If you need to buy some of these items, it means something is not right.
Headlights are a standard piece of equipment, and should come with every scooter. There are some scary stories of users buying very cheap off-brand scooters from China and only then noticing they don't have a headlight. But the rule is, your scooter will arrive with a headlight.
Still, two things can, and often do, happen:
your headlight stops working
your headlight is very weak
If your headlight stops working, check if your scooter, and the headlight in particular, is still within the warranty period. You may get issued a new one for free if that's the case.
If the warranty on your headlight has expired, or your headlight is simply to weak to do a decent job, you will need a stronger headlight.
Rear lights can sometimes be lacking from the scooter out of the box. Again, this will never be the case with a popular, high-quality scooter from a reputable brand, but it can still happen.
Luckily, there are quite a few great, cheap options here. You can find some cool sets of front + back light for under $20 on Amazon. The best value for money in my opinion is the Cincred bike light set, with amazing 400 Lumens strong headlight. You can find it on Amazon here.
If you need just the rear light, you can get a standard BV rear light for half the price on Amazon as well.
Turn signals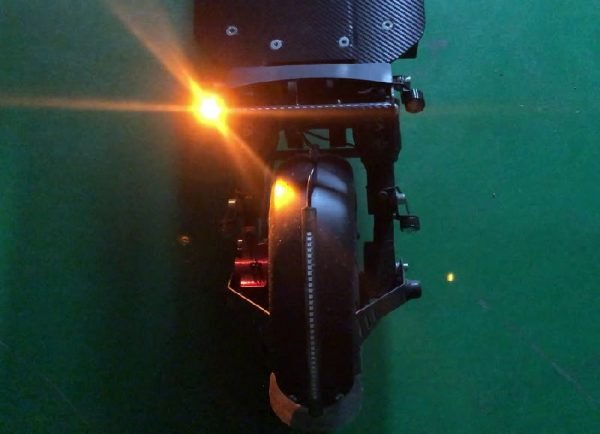 Necessity: good to have (may come with scooter)
Most scooters will not come with turn signals. If this is important to you, and you've made the right choice, you will not have to get additional turn signals.
The reason why I don't include this item in the recommended list is because it doesn't really contribute all that much. Sure, it's great to have as an extra, but truth be told, very few people will ever notice the turn signals on your scooter.
Anyway, if you're all about safety, they are a good addition. Usually, you will get the lights that are easy to install and you put them either on the rear parts of your scooter, or on the sides of your deck, whichever works better, and then you control them by a small controller that you will attach on your handlebar.
As usual, we learn from the bike world, and you can find very affordable bike turn signals by Panapo on Amazon.
Mirror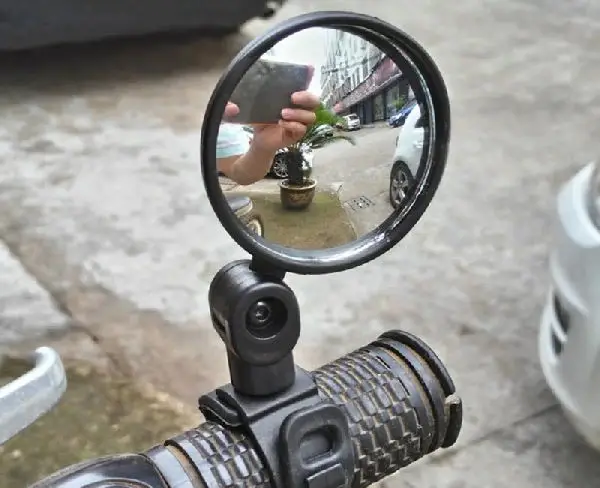 Necessity: good to have (may come with scooter)
A mirror (or two) can be a very useful, yet very inexpensive accessory to your scooter, especially if you navigate through a lot of traffic or commute a lot.
There are some scooters that come with one or two mirrors included. However, most don't.
You don't have to rush with this item. Try out your scooter for a while, and see if you need to constantly turn your head to check your rear. If you do, mirrors will probably be a great investment for your scooter.
As you may imagine, they are very cheap. You can find ones that are easily installable, removable, and adjustable on AliExpress for something like $5.
Carry handle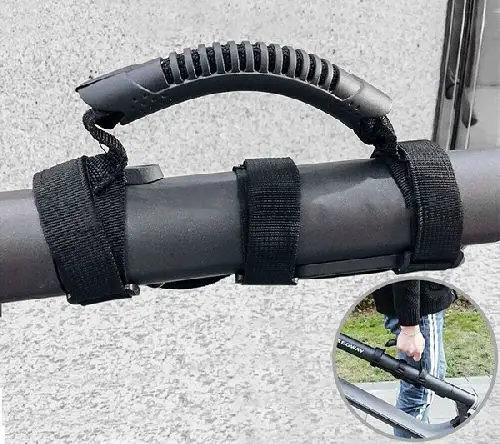 Necessity: good to have (may come with scooter)
Chances are, your scooter will have some built-in way that makes carrying it easy and practical. And if your scooter is supposed to be portable, it will most likely have this.
Some scooters, especially power scooters, have completely sacrificed portability and are not even meant to be carried for more than just few meters.
But some are pretty lightweight and only lack a carry handle or a carry strap.
If that's your scooter, you can consider getting a carry handle that is easy to install but will save you a lot of headaches (and possible backache too).
Interestingly, neither Amazon nor AliExpress had good options for this item. The best one I could find is on Banggood, and it costs less than $10.
Bag or cover (possibly waterproof)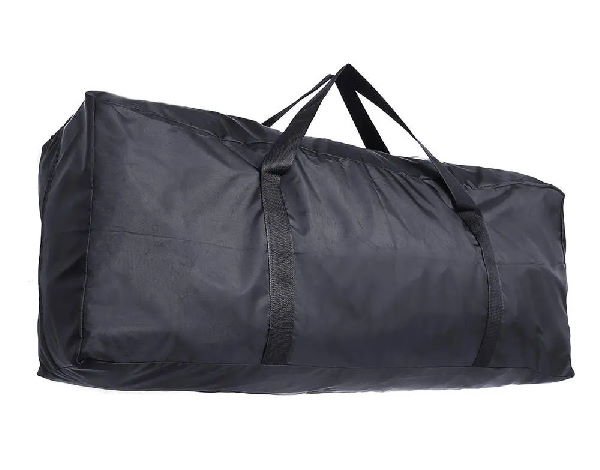 Necessity: good to have (may come with scooter)
Most scooters, especially ones that care about branding, will include some sort of a bag, and some of the time, those bags might be waterproof.
The bag is supposed to be used for transporting your scooter over longer distances, and for storage. If you plan on doing any of those, and you don't have a bag, you can take your pick from a great variety of inexpensive generic choices on Amazon, AliExpress, or Banggood. I suggest going with a waterproof bag, the best one I've found is on Banggood, it's made for Xiaomi and Ninebot scooters, and it costs less than $10.
As an alternative, you may only need a waterproof cover instead of a bag. These are even cheaper, but they have more limited use. You can get one when you need to store your scooter.
Phone holder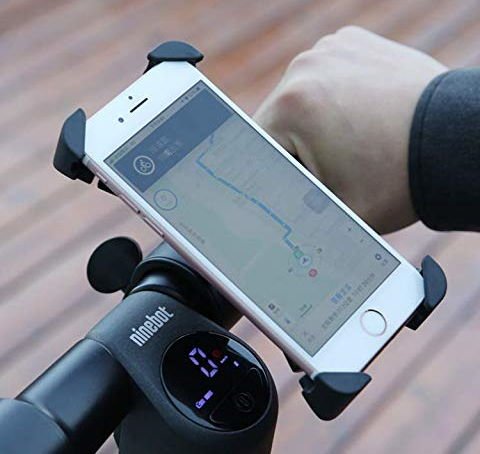 Necessity: good to have
In my opinion, this is a pretty useful accessory that will save you a lot of time, arm movement, and probably prevent your phone slipping away from your hand when you take it out while riding.
First, you should be aware that looking at your phone while riding is a really bad idea. If you are a responsible rider and never do that, good! Move on to the next section, you don't need a phone holder.
However, if you're like most of us and you need 24/7 access to your phone, or you simply want to have a map, the scooter app, or some other app handy while riding, then a phone holder is a lifesaver.
As you can imagine, this is a simple, inexpensive item. You can find the very popular, best-selling IPOW on Amazon for just a few bucks.
Basket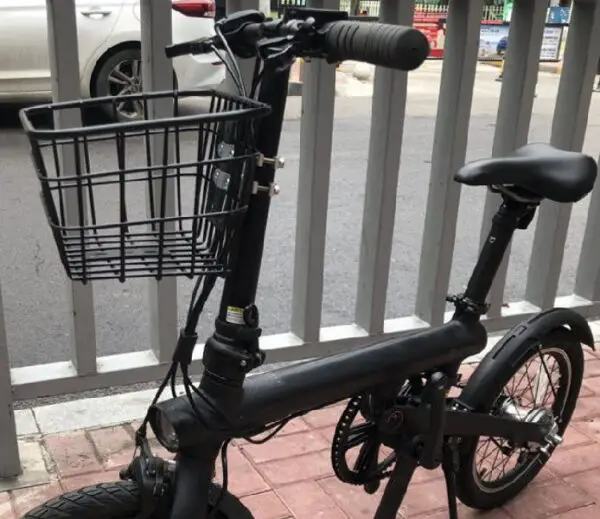 Necessity: good to have (may come with scooter)
This is probably the most useful accessory of all. It can turn your scooter from a toy to a tool and an ally for conquering your daily tasklist.
Some scooters will come with a basket, and those scooters are great.
And sadly, some scooters will provide no easy way for you to install a basket on them. Most scooters can support a basket on the front of the handlebar, and some will support one above the rear wheel. If the scooter has a seat, it will also be a great place for a basket.
Still, double-check that installing a basket on your scooter would make sense and not interfere with the scooter's design and ergonomics.
Anyway, adding a basket to the scooter is one of the most common and most useful customizations, and most scooters support it. You can find really cheap but really tough and spacious baskets on Amazon. They will usually be meant for bikes, but most will fit perfectly fine on scooters too.
Trunk or storage bag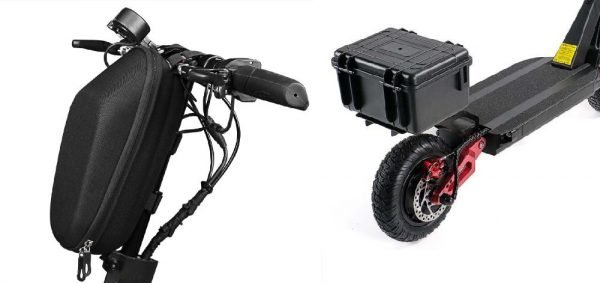 Necessity: good to have (may come with scooter)
In some ways, a trunk may even be better than a basket. It has all the advantages a basket has, but you can also close it for extra safety. It is a very common choices for many popular scooters like the Xiaomi M365 and the Pro version, and all the Ninebot ES scooters too.
Usually, the trunk is installed on the front of the stem. It may be possible to also install a more motorcycle-looking basket on the rear, although this has not been tried as much.
Trunks are usually inexpensive, although some of the better ones can have a higher price. One of the most popular scooters is Epessa, meant for the Xiaomi and Ninebot models. You can find this trunk on Amazon for a great price.
Seat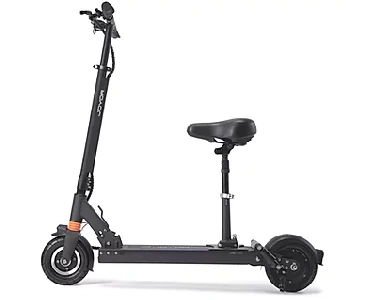 Necessity: good to have (may come with scooter)
If you've chosen a scooter that comes with a seat, you can skip this section.
However, if you've chosen a scooter that doesn't really support the option for adding a seat, you can probably skip this section as well. You may try installing the framework yourself, but you should know what you're doing before attempting that.
Buying a seat as an accessory is reserved for the scooters that can support a seat, but don't have one. Also, you may want to get another seat if your old one has been broken.
In any case, your best bet is to look at the options that your manufacturer is offering. Trying to install a generic seat on your scooter has a greater risk of malfunction.
LED strips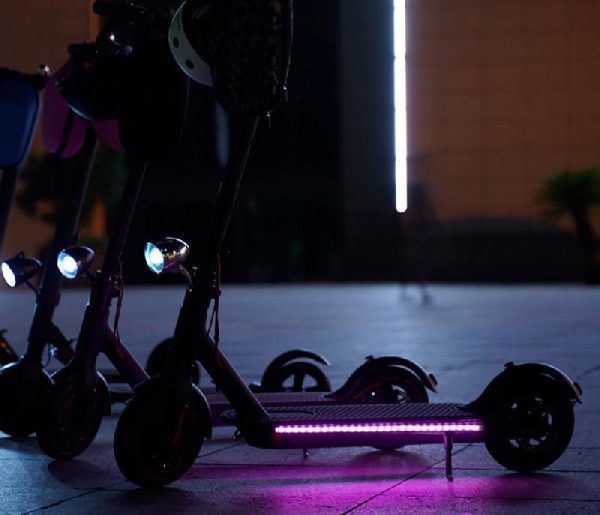 Necessity: good to have (may come with scooter)
Not only does this accessory add you extra cool points, it can also save your life when riding at night.
As you already know, scooters are usually very silent, and not very big or noticeable in the night. Having an extra set of lights placed on the bottom or the sides of your deck will do wonders for your visibility and safety.
You can choose any color, or set of colors, your height desires. Aijiaer are a popular option which you can find on Amazon for just a few dollars.
Bluetooth earbuds (helmet compatible)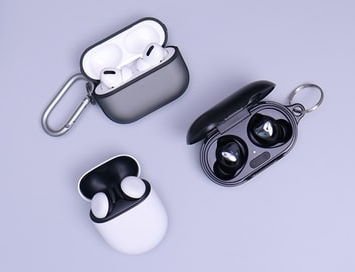 Necessity: optional
The reason why I'm hesitant to recommend these is that they're very fun, so much so that they can become dangerous even. Riding with headphones on definitely means you're not 100% devoted to the ride itself, and the chances for an accident are greater. Not to mention you have one of your most important senses completely blocked.
Still, there are a few situations where you can safely ride with your earbuds on, like when riding in a bicycle lane, or somewhere cars are not allowed.
In that case, you will want to have earbuds that are compatible with your helmet. You can check out some earbuds that are specifically designed to fit in your helmet, or at least have been proven to do so.
One popular high-end, premium option that many helmet owners have is the Sena SMH10-11, which you can find on Amazon.
A more budget-friendly version that is still a quality product would be the SkullCandy Ink'd Plus, or the Edyell wireless bluetooth headphones, also found on Amazon.
Wall mount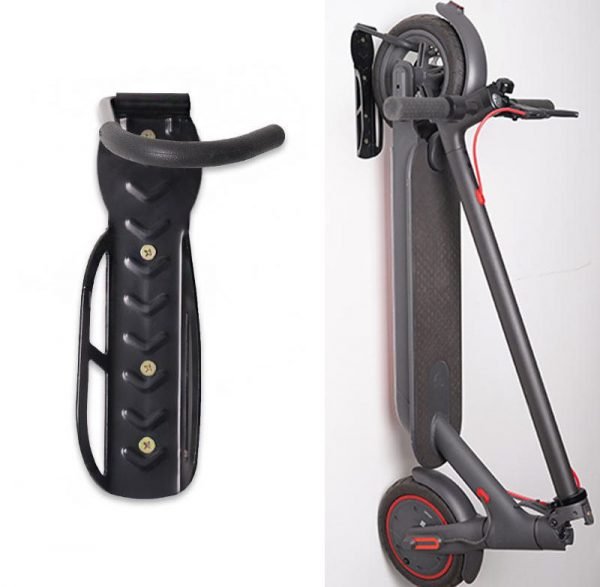 Necessity: optional
Honestly, I don't see a lot of use from this accessory. Why not just leave your scooter on the ground? Why risk putting an expensive, electronic-heavy device above the ground, where it can fall and completely break down?
Anyway, you may have a different view, or a situation where a wall mount is a good solution, and you should be informed about your options. You can check out affordable options on AliExpress in that case.
Cupholder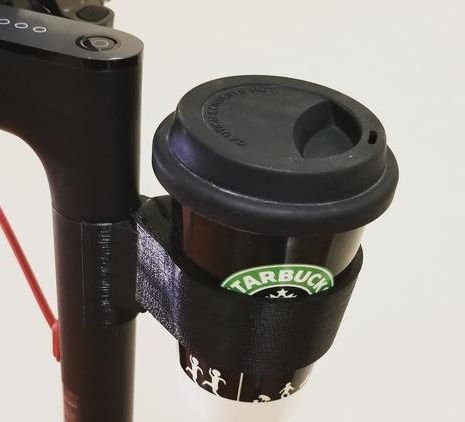 Necessity: optional
In my opinion, this is a completely optional (read: useless) accessory. I'm a firm believer in separating riding and drinking. Even the smallest bumps can result in chokes, stains, or burns.
Still, it's a free world. If you want to drink something while riding, you will want to get a cupholder for your scooter. As with most accessories, this is a cheap item you can easily find on Amazon for under $15, SheerLiving being the most popular choice.
Stickers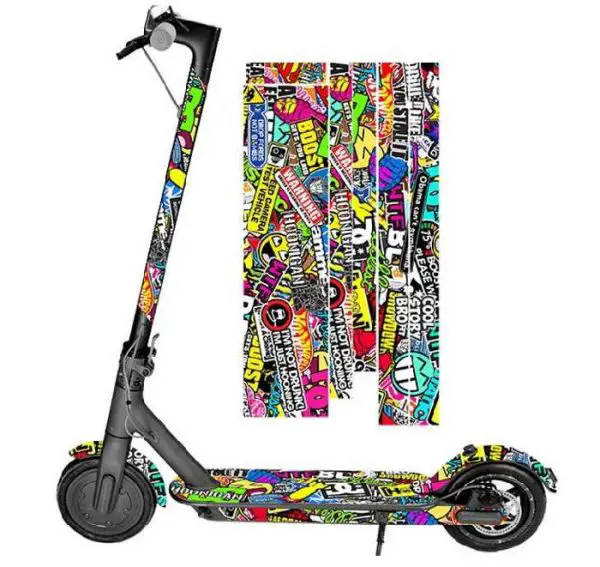 Necessity: optional
Probably the least useful, but arguably most fun accesory. Stickers will do nothing for your productivity, but they can make your scooter look insanely cool.
First, a little side note: it's better to spend a bit more time choosing your scooter's design, than to try to customize it. Still, many scooters come in limited color choices, so it may be your only option.
I would especially suggest this option if you:
don't really like the look of your scooter
want to give your scooter a custom look
want to cover a scratch or some other form of damage
In addition, you can choose reflective stickers, that not only look very cool, but also serve as reflective lights for your scooter too.
I haven't experimented with this option at all. You might want to check with your retailer and manufacturer for stickers, they may have some suggestions about your particular model.
If not, as always, you can go to Amazon and choose the color you like, or pick the reflective stickers for a bit more utility and safety.
---
Liked this article? It helps if you share it.
Follow @escooternerds on social media for more cool stuff
---