Last Updated on April 7, 2023 by Matt
I've tried and tested a lot of electric scooters. While there are many excellent scooters out there, I've found that the EMove Cruiser is the most well-rounded, best-value, best middle-priced electric scooter of our time.
There are not that many electric scooters that can fill some people's needs perfectly. When you want your scooter to be a tool, an ally, instead of a mere toy, you have to look beyond the beginner-level models. This is where the EMove Cruiser shines.
This will be a complete EMove Cruiser review based on my experience with it.
EMove Cruiser Review
The EMove Cruiser is the most waterproof scooter in the world, with an IPX6 ingress protection rating. It provides an excellent mix of range, portability, and value, with a 600W hub rear-drive BLDC motor, and 62 miles / 100 km of range. This is arguably the best electric scooter I've ever tried.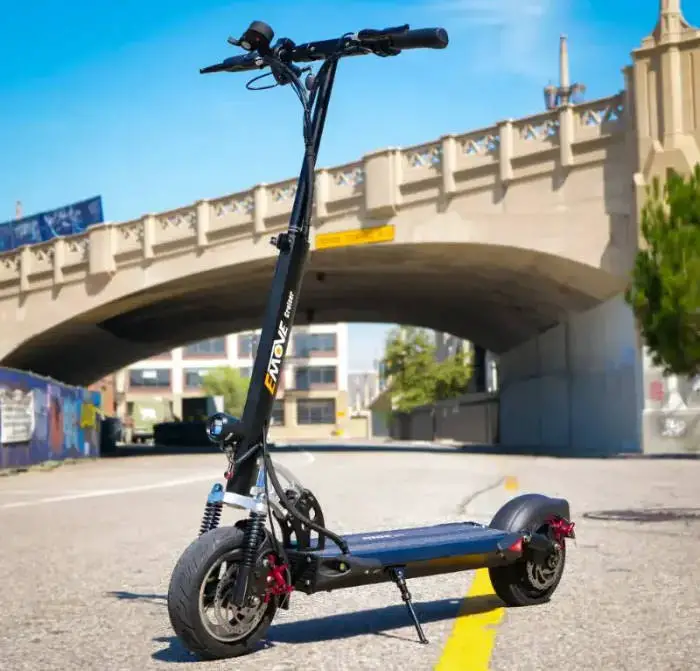 Where to buy the EMove Cruiser from?
Worldwide
The best (and probably only) place to get the EMove Cruiser from is the official
Voromotors store
(make sure to enter the code "escooternerds" without quotes for a $50 discount)
. As one of the most trusted brands in the industry, they do a great job and ship very fast. Shipping is free within the continental US and it will take between 2 and 4 days. For other countries the usual expenses are added to the original price, and the waiting times will be between 3 days and 2 weeks. In the UK, Canada, and most EU countries, you get free shipping on orders above $3000 as well, so if you need two EMove Cruisers, you can add a few cheap accessories to the order as well, and you will get free shipping.
EMove Cruiser overview
The manufacturer of the EMove Cruiser market it as a complete, high-quality scooter. I can confirm and agree with that statement entirely, and the electric scooter community tends to agree with them as well. This is a scooter that is both of great quality and full of features.
Its most popular achievement is its celebrated resistance to water. Rated at IPX6, it is one of the very few scooters that can actually withstand some punishment from water without bursting into flames and fireworks. Naturally, no scooter should be ridden in the rain, and the manufacturer of this scooter recommends against it too. But if there is a scooter that can handle rain or snow, it will be this one.
Other than that, the EMove Cruiser is of great build and robustness, while also not weighing a ton. It is one of those rare scooters that somehow manages to have acceptable weight while providing great performance, and not sacrifice robustness even one bit.
EMove Cruiser pros and cons
PROS
Superb quality
Proven track record
Great range
Great waterproofing
Great value overall
CONS
Flats are possible
Average top speed
Average acceleration
Voromotors store, ordering, shipping, discount
The best, most trusted, most well-known place to buy the original EMove Cruiser from is the Voromotors store. In fact, it's the only place where you can buy this scooter right now.
Their headquarters is in LA, and they are basically synonymous with the EMove Cruiser model. They will offer the lowest price possible, usually $1499, and will have unrivaled stock, support, and shipping time and terms.
When getting the EMove Cruiser from Voromotors, don't forget to use the coupon code escooternerds at checkout for a discount of $50.
Voromotors ship to every country in the world except Israel.
Within the continental US, shipping is free and will take between 2 and 4 business days.
In Canada, there will be additional costs, probably around $100, and it will take between 3 and 6 days.
For the rest of the world, depending on where you want your scooter to arrive, there will also be some additional costs related to customs and taxes, and you will wait between 10 and 15 days to get your scooter.
Keep in mind that Voromotors also offers free shipping on orders over $3000 in the UK, Canada, and most EU countries. So, if you need two EMove Cruisers, like maybe one for you and another one for your significant other, you can order the two, add a few small accessories to the cart so that your order exceeds $3000, and you will receive free shipping as well. This applies to new scooters only, and refurbished scooters or scooters that are already discounted don't come with free shipping.
You can track your package online while waiting. It will be shipped as a high-value item, probably by a courier company like FedEx, UPS, or USPS.
Warranty, return policy, and customer support
If your scooter arrives damaged, you can either refuse to accept the package, or report it to Voromotors and the courier within 7 days, and it is possible you get a new scooter.
The EMove Cruiser comes with a 1-year warranty on the most important parts. Warranty claims within 30 days of ordering will not require you to pay for additional shipping costs, which is pretty cool from Voromotors.
As usual, the warranty is void if the scooter has been modified, misused, or has suffered water damage.
Make sure you don't throw away the receipt, as you will need it in case you need a warranty.
My favorite thing about the Voromotors brand is its transparency. All of their terms, shipping details, warranty, and return policies, are written in a clear and upfront manner, instead of being hidden in the fine print.
I recommend going through the most important warranty and return policies yourself if you plan on buying this scooter, as they can easily change. However, at the time of writing this, the warranty and return policies of Voromotors seem very fair, some of the most customer-friendly I've ever seen in fact.
Voromotors have several services in the US, where you can get your scooter repaired for free if the damage is covered by the warranty.
This company stands behind their product 100%. The customer support they provide is excellent, in fact some members of their team are even kinda famous in the electric scooter community for their professionalism and devotion. They offer the chat on their website, the contact form, support through email, phone, and support on their various social media sites.
Unboxing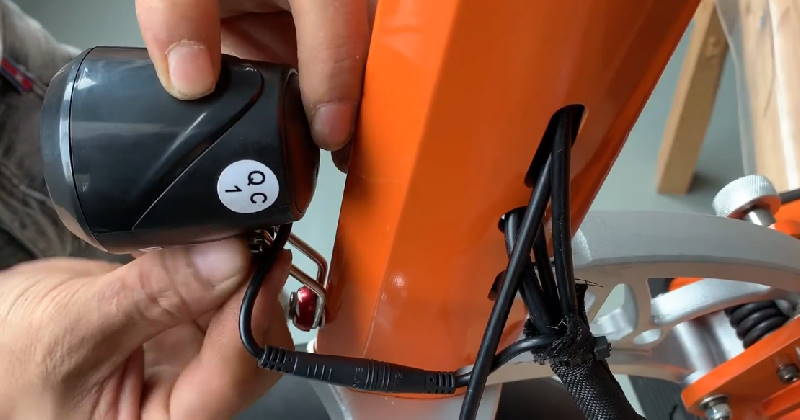 The scooter arrives well-packaged and with lots of protective foam, covers, and layers. The package will weigh about 66 lbs / 30 kg.
The package includes:
folded, assembled EMove Cruiser scooter
charger and charging cable
two keys
tire pump
manual
multitool
You will not need to do a lot of assembling. Tighten the headlight and the voltmeter, adjust the handlebar height to your preferences, lock the handlebars, and make sure every screw is tightly screwed. Shouldn't take you more than 5 minutes for the whole thing.
Manual
The EMove Cruiser comes with a very clear, detailed manual. I'm kind of a manual geek, and I believe this scooter has one of the most useful manuals out there.
You can also find the manual, along with other useful guides, on the product page for the EMove Cruiser on the Voromotors store here, under the Manuals & Guides section.
Basics, folding and unfolding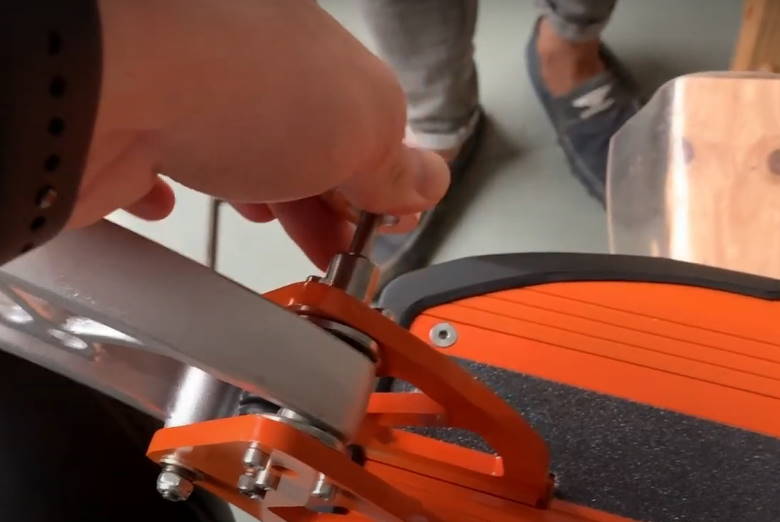 Before riding, make sure the brakes are adjusted to your liking.
The EMove Cruiser is very easy to fold and unfold. It makes use of a pin-style mechanism, which is both very safe and very simple to use. I've never had a problem with the folding mechanism.
You will start the ride with a kick, and then hit the throttle when you have some speed. That's both a safety feature, and it saves you a bit of battery when starting.
Something to be aware of – cruise control may be turned on by default out-of-the-box. Don't be surprised if it turns itself on after a few seconds of hitting the throttle, or disable it if you don't want to use it at all.
Quality, lifespan, and everyday use
This is a very popular scooter. I estimate it has sold at least several dozens of thousand units.
So far, I've only been able to identify two reports of lemons online, or dead-on-arrival EMove Cruisers. That is an excellent, very small defect rate. Even if the chances of that happening are low, you should get a replacement from Voromotors, as that scenario should be covered in the warranty. Personally, I've had absolutely no issues, and from what I've learned from other owners, this seems to be the case for most people.
Other than dead-on-arrivals, there have been several other reports of the scooter breaking down very soon after the first usage. I managed to find two (one broken stem and one water damage defect). There are probably some that are not reported, but overall, the defect rate still seems to be very low, and indicative of great quality.
On the other end of the spectrum, we can see quite long lifespans. The EMove Cruiser is a scooter that will serve you for a long time. I found at least a dozen reports of users riding a lot more than 2.000 miles, and some claim even more than 10.000 miles. It is not uncommon for an EMove Cruiser to go two years without a glitch, and I mean not even one single minor defect of any kind.
Build quality and materials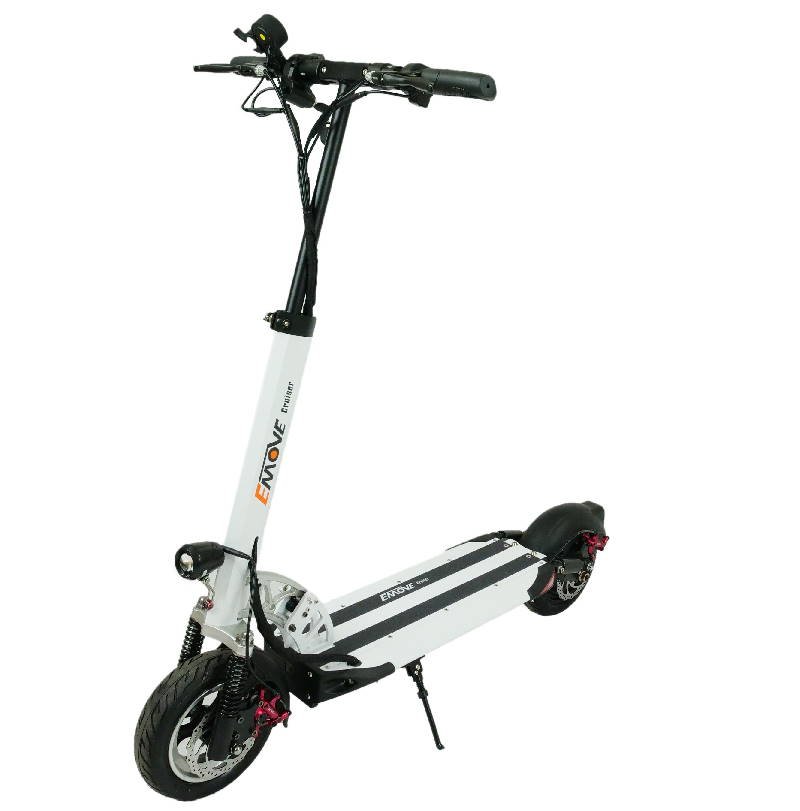 The EMove Cruiser has rock-solid build quality. The entire scooter is well put-together, with a very sturdy and robust look and feel.
The frame is made from aluminum alloy, and the details are made from rubber and plastic.
Waterproofing, water damage
Ok, for many of us, this may be the most important section in this entire review.
The reason why many of us take an interest in this scooter in the first place is its IP rating of IPX6, which makes it almost waterproof.
Remember, when looking for water protection, we need the last digit of the IP rating, which in this case is 6. According to the IP standard, protection level 6 means protection against strong jets. However, what we often mean by "waterproof" is probably closer to a level 7, or protection against full immersion in a 1-meter deep pool (don't try that at home).
So, the EMove Cruiser is not technically waterproof. Still, it is the most water-resistant electric scooter out there. There is just one more scooter with that high of an IP rating, and that's more of an unofficial rating, while the EMove Cruiser has an official one.
All of that means that the EMove Cruiser is the best scooter for riding in the rain or snow in the world.
The wires use waterproof cables, and the deck should be sealed, but damage to the scooter can easily make it less water-resistant. Depending on the version, one of the potential weak points may be the throttle. This should be easy to solve with a plastic cover, but it is still something you should be aware of.
It's interesting to note that a previous version of the EMove Cruiser had an official rating of IP67, which made it waterproof in theory, and the only truly waterproof electric scooter in the world at that time. I'm not sure what happened with the new version, but it has a rating of IPX6. It's still the best in the world, as the next best water-resistant scooters all have IP65 or IP55.
I've tried the EMove Cruiser in light and medium rain several times, and it has never had any problems.
Riding experience, smoothness, control, and turning
Well, it's not called a Cruiser for nothing. The EMove Cruiser is a real hoot to ride, and I've enjoyed every second on it.
The big tires and suspension make it so that very few bumps in the road will be felt. The cruise control can take care of the ride for you, and the smooth brakes will ensure you stay safe. The wide, comfortable deck will provide you with a platform where you can stand naturally.
With such a powerful combination of features, the ride experience is flawless.
Speed and acceleration
The official top speed of the EMove Cruiser is 28 mph / 45 kmh. I can confirm that the scooter can reach this speed easily. The top speed is not something to write home about, and in my opinion, it may be the only point of this scooter that's not exceptional. Don't get me wrong, it's still a top speed that's more than decent and it will be enough for most people, but if you're looking for a faster scooter, the EMove Cruiser may not be it.
The EMove Cruiser takes 3.4 seconds to go from 0 to 25 kmh / 15 mph. That kind of acceleration is in line with its top speed. Overall, it has pretty good top speed and acceleration, certainly better than the cheap scooters.
Not the fastest scooter out there for sure, but that's not its purpose anyway. For me, and for a lot of other owners, this top speed is more than enough.
Motor, power, torque, and climbing
The EMove Cruiser is a classic range-over-power model. Focused on providing excellent range while maintaining a low weight profile, it comes with a single BLDC hub motor in the rear wheel.
But don't get the wrong idea, it has plenty of power anyway, certainly more than enough to give you everything you may ever need. With a real power of 600 Watts, peak power of 1600 Watts (!), and excellent torque, this scooter can do everything you might expect from a high-performance scooter: good speed, great carry loads, solid climbing angles.
With a climb angle of 20 degrees (37%), the EMove Cruiser will handle most hills and slopes without any issues.
Range and commuting
The EMove Cruiser has a range of 62 miles / 100 kilometers, which is nothing short of amazing for a scooter weighing 52 lbs / 23.5 kg. Most scooters with that kind of range either weigh somewhere north of 70 lbs / 35 kg, cost well above $2000, and often both. Personally, I still haven't tested the max range of the scooter, but I've found that it can cover around 33 mi / 53 km by using around 60% of the battery, which suggests that the advertised range is pretty accurate (maybe not 100% accurate, but that's almost never the case for any scooter model).
There is little doubt here – when it comes to range, the EMove Cruiser is not only awesome, but likely provides both the most range-per-cost and range-per-weight out of all other scooters today.
For most commuters, this will be either the perfect choice, or a very strong contender. Some commuters may not need as much range, and would gladly trade some of it for a little less weight. So we can't say this is the perfect commuter scooter for everyone, but it's still a very strong, if not the best, option for most. That range will really take you places.
While scooters are still a long way from replacing cars altogether, the EMove Cruiser can easily fill all the transport needs of a single person living in an urban environment. You can comfortably replace every means of transport for inter-city travel with it, and this is especially true for big cities with lots of traffic jams.
Weight, dimensions, and portability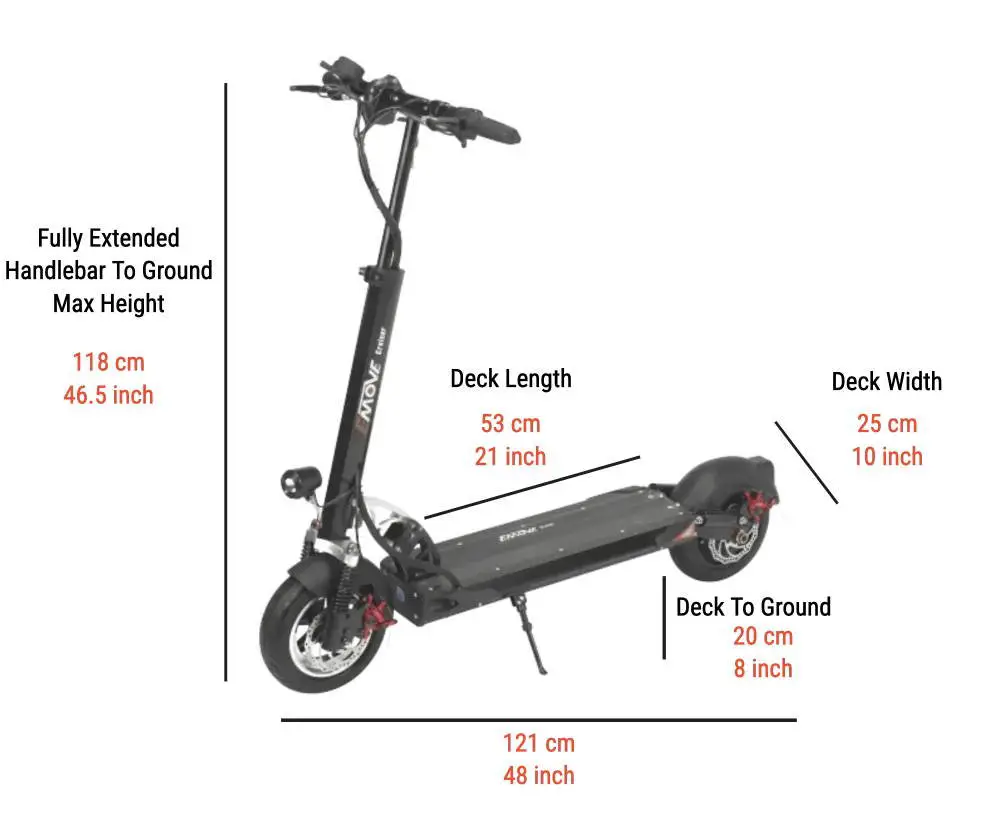 Most people would classify the EMove Cruiser as heavy. It's hard to argue against that, but personally, I do believe that given what this scooter is capable of, its weight is actually not that big.
Battery size is often directly responsible for long range, but is also the biggest contributor to the scooter's weight. So it is pretty unusual for long-range scooters (62+ mi / 100+ km) to weigh under 65 lbs / 30 kg.
This is one of the very few scooters that pulls it off.
The Emove Cruiser weighs 52 lbs / 23 kg. On its own, that weight is not small, but when you take into account the range that the scooter is capable of, that is almost an engineering miracle.
When unfolded, the scooter's dimensions are 48 x 23 x 46.5 in / 121 x 57.5 x 118 cm (L x W x H). But thanks to the foldable handlebars, the scooter's dimensions come down to 49 x 10 x 14 in / 124 x 25 x 35 cm, which will make it fairly portable.
Still, the EMove Cruiser is a bit longer than your typical scooter, and a bit heavier. Most people will be able to carry it for short distances, but not much more than that, and some people will find it heavy. So not the most portable scooter in the world, but not terrible neither. The foldable handlebars give it a lot of extra portability points.
The handlebar height is adjustable. Its maximum height is 46.5 in / 118 cm, and with a ground clearance of 8 in / 20 cm, this scooter will have a deck-to-handlebar height of somewhere around 38.5 / 98 cm. That makes it tall enough for most people.
Weight limit and usage by heavy adults
The EMove Cruiser will come with an extra-large weight limit of 350 lbs / 160 kg. Many heavier users have confirmed that the EMove Cruiser can support them without any difficulties.
That puts it among some of the best electric scooters for heavy adults, as most scooters have up to 300 lbs / 136 kg.
Battery and charging
The battery of the EMove Cruiser is from LG, which means it can't get any better. It's no wonder after all, no other scooter has such a long range while weighing as little as this one.
The battery is ISO certified and has 1560 Watt-hours, 52 Volts, and 30 Amp-hours. The advertised charging time is 9 hours.
The charger light will be red while charging, and green when the battery is full. You can also look at the voltmeter – 41 to 43 V means the battery is almost empty, 58 V or more means it's full.
Charging the EMove Cruiser fully during off-peak hours will cost 8 cents in the US, and 16 pennies in Canada, while charging during peak hours will cost around 27 cents in the US and 19 pennies in Canada.
Brakes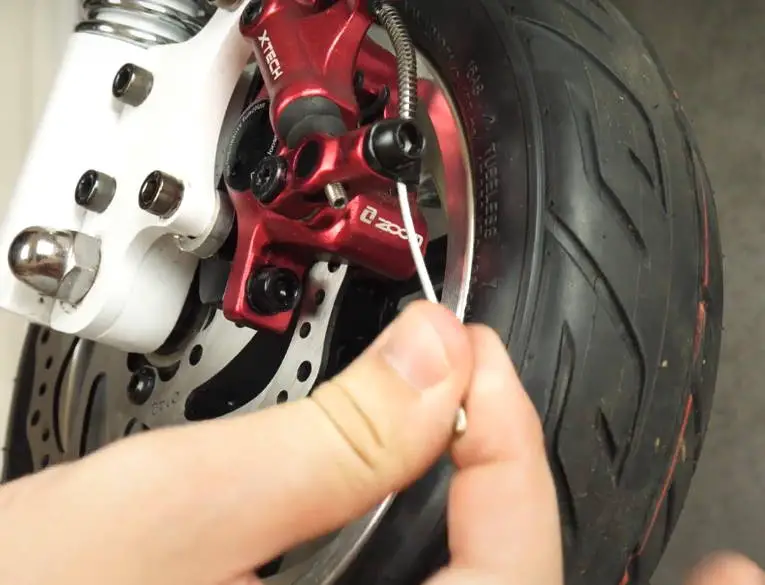 This is a common point of confusion I've noticed online about the EMove Cruiser.
Most people believe that the braking power of the EMove Cruiser is excellent. And that is correct – it can go from moving with an average speed to a full stop in about 3 to 4 seconds. Pretty solid.
However, many people mistakenly believe that the scooter comes with fully hydraulic brakes, and that's not entirely correct.
The reality is, the EMove Cruiser comes with dual X-tech Zoom 140 mm hybrid semi-hydraulic disc brakes, with an internal hydraulic brake caliper, activated with a traditional wire activator. The brakes are great, but they would provide a slightly smoother braking curve if they were fully hydraulic.
Anyway, the most important takeaway here is still that the EMove Cruiser has very safe, very strong brakes, that are semi-hydraulic and get the job done really well. In my experience, the brake setup is one of the best in the game when it comes to mid-price scooters.
Tires, wheels, terrains, and environments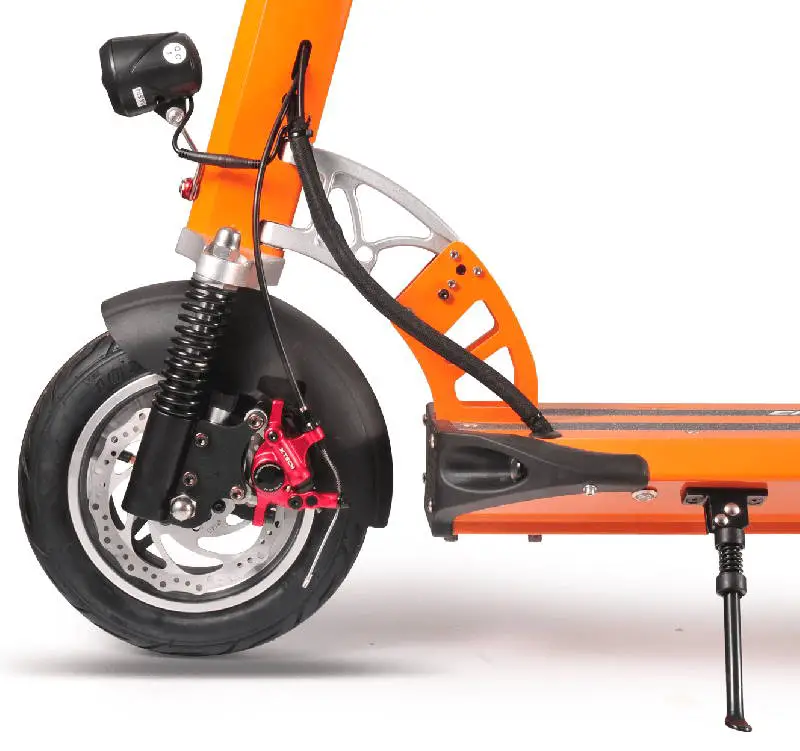 The tires of the EMove Cruiser are another one of its strong suits. The high-quality pneumatic tubeless tires are much less prone to flats than the typical inner-tube tires. The 10-inch tires, with a width of 2.5 inches, are larger than most, providing both better torque and more comfortable rides.
The scooter comes with standard road tires, suitable for urban environments. It may be possible for the EMove Cruiser to support offroad tires, although there is no such product offered from Voromotors, and such customizations don't seem to be common.
Suspension
The EMove Cruiser sports a front dual-form spring-loaded suspension, and a rear dual air suspension. You can adjust both of them with the multitool.
The suspension is very good overall, I would even describe it as excellent.
There have been some reports of the fork hitting the front fender or the wheel for heavier riders when hitting bigger holes or bumps. Luckily, these are very rare, the issue is not serious, and it is easily fixable.
Lights and night use
A pretty strong headlight with two deck lights on the front, and three lights on the back, plus turn signals, give the EMove Cruiser more than enough lighting.
While it's not recommended to ride any scooter at night, you should have little problems with this one. If you do, make sure to get a fluorescent night vest, and possibly an additional light.
Screen, handlebars, and controls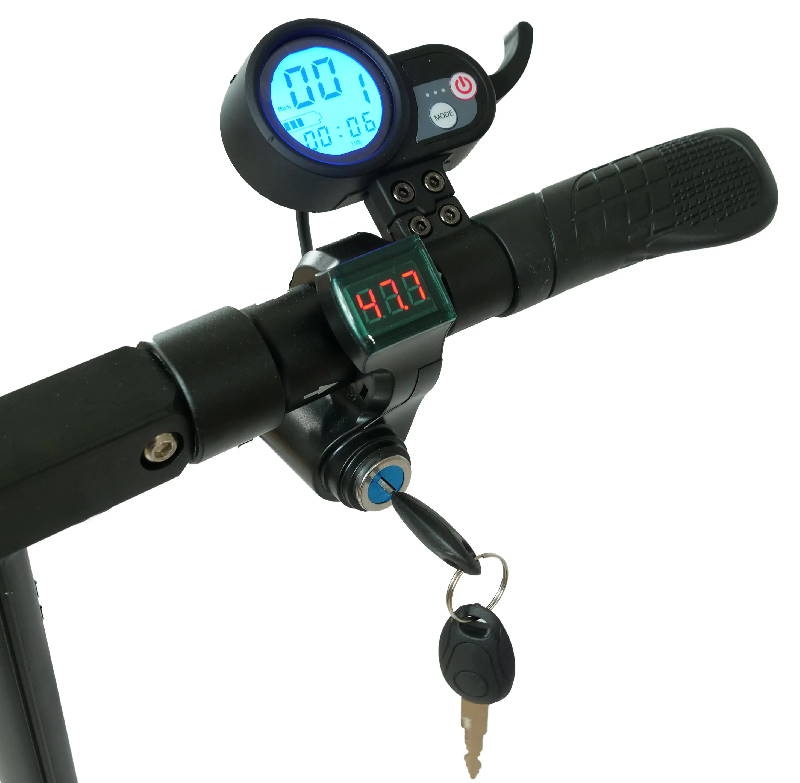 The EMove Cruiser has 3 power modes, controlled by a round LCD display on the right handlebar.
The display shows:
current speed and your selected speed unit
battery level
speed mode (1, 2, or 3)
odometer
riding time
Right next to the display are the power and mode buttons, and the throttle (if you decided on the index-finger throttle). You can choose between an index-finger throttle (default), a thumb throttle (my favorite), and a twist throttle, and the latter two cost an extra $69 each.
Below the LCD screen is the voltmeter, and the key lock is below the voltmeter.
On the left handlebar, there is a small board with two buttons (light button and horn button) and a small lever to control the flickering of the light. The horn is an electric beeping horn, but it's quite loud.
There is one brake lever on each handlebar. Same as with bikes, the left lever is for the rear brake, and the right is for the front brake. Both handlebars have rubber anti-slip covers.
Deck and standing surface
The deck of the scooter is sufficiently large and comfortable for pretty much anyone, with a 23 in / 58 cm length, and 7.5 in / 19 cm width. It has a ground clearance of 8 in / 20 cm.
It features two grip tapes on top of it to prevent slipping. Also, the edges are smoothed out and have protective rubber covers over them so that the scooter doesn't cause damage to objects it comes into contact with.
The deck is able to support a seat.
Key, alarm, and security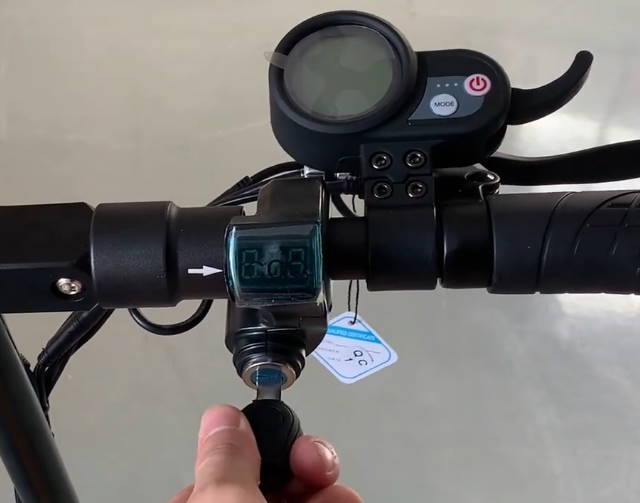 The EMove Cruiser must be started with a key. Since this is not exactly a cheap scooter, that is a much-needed security feature. Also, the scooter features a pretty loud alarm that should further deter theft.
Still, I would strongly recommend not leaving your scooter outside for more than just a few moments. It is instantly recognizable as a powerful, expensive scooter, and it will put a lot of thieves into temptation. Always use a strong and secure lock that works for electric scooters when leaving your EMove Cruiser outside.
Maintenance
As with most modern scooters, the EMove Cruiser is not difficult to maintain. The fact that defects are rare makes maintenance even easier.
Besides cleaning, the only other thing you need to keep in mind is to make sure there are no loose screws every now and then. This will probably be overkill, but just to be on the safe side, check that the screws are tight at least once a month.
The best thing about maintaining this scooter is that Voromotors provide a lot of really helpful, really detailed guides about this scooter, both on their website and on their Youtube channel. Everything but the most serious of defects can be addressed by the owner in just a few minutes.
Design, colors, look and feel
You can order in a black, white, or the signature orange color. Personally, I would go with the orange, as it's the trademark of this scooter and it stands out in a positive way from all the other regular meh scooters. If you live somewhere hot, the best choice would be the white color, as it will retain the least heat and will prolong the life of your battery.
Even on the surface, the EMove Cruiser looks like a tough, high-quality item, and that look is fully backed up by its performance.
Accessories, seat, trunk, and customizations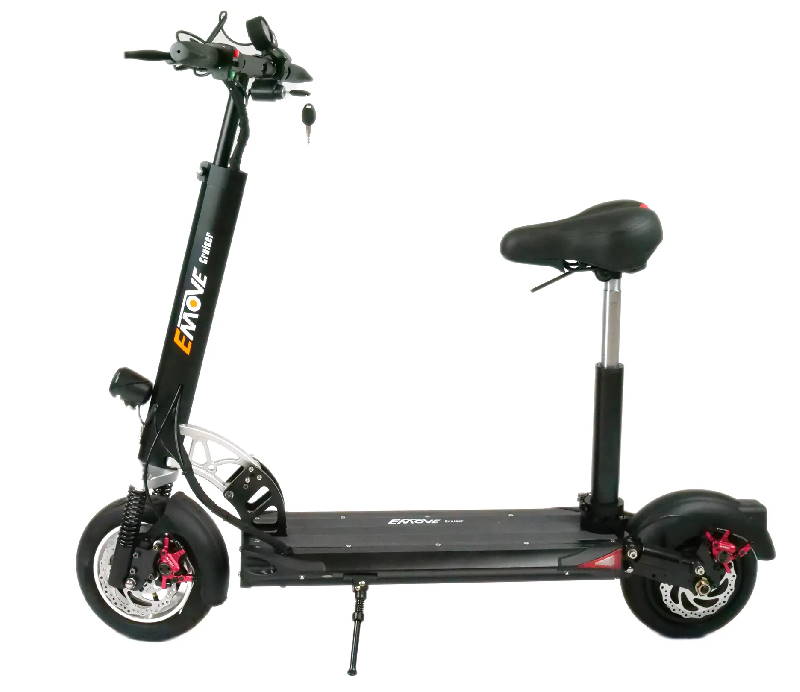 By default, the EMove Cruiser doesn't include any extra accessories. However, the well-thought-of design is able to support a lot of them, and adding extra functionality to the scooter is super simple.
If you are considering getting any of the accessories for your EMove Cruiser, make sure to use the discount code "escooternerds" (without the quotes) at checkout for a $50 discount.
Probably the most popular addition to the EMove Cruiser is the seat. If you need one, make sure to get the original EMove Cruiser seat from Voromotors, as it's likely the only seat that will fit this scooter perfectly.
Another very useful accessory for most adults will be the storage case set, coming with the tow handle and bracket. This one will be a godsend for anyone looking to carry bigger loads, or anyone working in delivery. As a smaller alternative, the storage bag that you can install on the front of the stem is also great.
Other useful accessories that owners frequently get include:
Additionally, some users choose to use a different throttle mechanism than the default index-finger throttle controller:
Personally, I believe there's nothing wrong with the standard throttle, and each of these two can be considered as a nice bonus. They will cost extra, so maybe I wouldn't decide on any of them. However, I do believe that the thumb throttle is the best out of all three, and if you expect to ride a lot, it may make sense for you as it causes the least finger fatigue on long rides.
One very common customization that many users choose for the scooter is cutting the fenders, or removing them altogether. This is, of course, only viable if you live in a dry area, as they are vital in the scooter's waterproofing capabilities.
As you can see, the EMove Cruiser offers a wealth of options when it comes to accessories and customizations.
If buying an accessory from Voromotors, remember to enter the discount code "escooternerds" on checkout, you will get a $50 discount.
In case you don't find a certain accessory made for this scooter in particular, you can take a look at some of the generic scooter accessories, as chances are, many of them will fit the EMove Cruiser.
Also, don't forget that it's strongly recommended you wear a proper electric scooter helmet at all times while riding this scooter. I recommend getting a safer helmet of higher quality for the EMove Cruiser, possibly even a full-face motorcycle helmet like the Shoei RF-SR for a premium choice or the Bell Qualifier for a more affordable yet still very safe choice.
EMove Cruiser specifications
Emove Cruiser Specifications
| | |
| --- | --- |
| Top speed | 52.9 kmh |
| Top speed | 33 mph |
| Range | 100 km |
| Range | 62 mi |
| Motors | single hub BLDC |
| Power | 600 W real, 1600 W peak |
| Climb angle | 9 ° |
| Battery | 1560 Wh, 52 V |
| Battery type | LG |
| Charging time | 12 h |
| Ingress protection (IP) | IPX6 |
| Weight | 23.5 kg |
| Weight | 52 lbs |
| Weight limit | 160 kg |
| Weight limit | 350 lbs |
| Tire size | 10 in |
| Tire type | pneumatic tubeless car-grade |
| Tire pressure | 45 psi |
| Foldable | yes |
| Foldable handlebars | yes |
| Seat | optional |
| Trunk or basket | no (customization possible) |
| Build material | aluminum alloy |
| Terrains | urban |
| Brakes | front + rear semi-hydraulic disc brakes, 140 mm |
| Shock absorbers | front dual-form spring-loaded suspension, and dual rear air suspension, adjustable |
| Lights | front + rear + turn + deck |
| Control | LCD, voltmeter |
| Cruise control | yes |
| Keys | yes |
| Alarm | yes |
| App | no |
| Warranty | 12 months |
| Return period | 30 days |
| Folded dimensions (L * W * H) | 124.46 cm * 25.4 cm * 35.56 cm |
| Folded dimensions (L * W * H) | 49 in * 10 in * 14 in |
| Unfolded dimensions (L * W * H) | 121.92 cm * 58.42 cm * 118.11 cm |
| Unfolded dimensions (L * W * H) | 48 in * 23 in * 46 in |
| Ground clearance | 20 cm |
| Ground clearance | 8 in |
| Deck to handlebar height | 98 cm (est) |
| Deck to handlebar height | 39 in (est) |
| Adjustable handlebar | yes |
| Notes | LG battery ISO certified; foldable handlebars; 3 colors: black, white, orange; tested range; 2-4 bus days shipping; horn; $250 – $350 for shipping |
Problems and what to know
Even though the EMove Cruiser is a great scooter, like any gadget, it's not without issues. Personally, I wouldn't classify any of them as dealbreakers, but you should be aware of them and make your own decision.
I guess what I would see as the biggest problem is the somewhat greater maintenance this scooter may require, in terms of making sure all the screws are tight. The screws might get loose over time, and it will be wise to make sure they are tight at least once a month, if not more often (I do it every two or three weeks).
Some users have reported that the throttle lever is not all that it can be, as it can sometimes get stuck, and it's not very ergonomic. It's not like you will be accelerating permanently – you can get it unstuck, but it will take a flick or two. The thumb throttle is less vulnerable to this problem. I haven't had this issue myself.
A possible issue for riders close to the weight limit may be that the fenders can get either too close or rub against the wheels. Try adjusting the suspensions if that is the case, it may mitigate some of the risks.
Finally, an issue that is unusually common in many scooters is stem instability and shaking. Luckily, Voromotors are aware of this issue and provide a video with very simple instructions on how to fix it.
Those are the most common problems with the EMove Cruiser, and they are pretty rare as well. Other reported problems seem to be more like isolated incidents.
Price and value
The price of the EMove Cruiser, as with every scooter price, is subject to constant change, but currently, it's $1499. With that price, this scooter is easily not only one of the best-value scooters under $1500, but also the one with the longest range, the best waterproofing, and the best riding and ownership experience overall.
EMove Cruiser vs Apollo Explore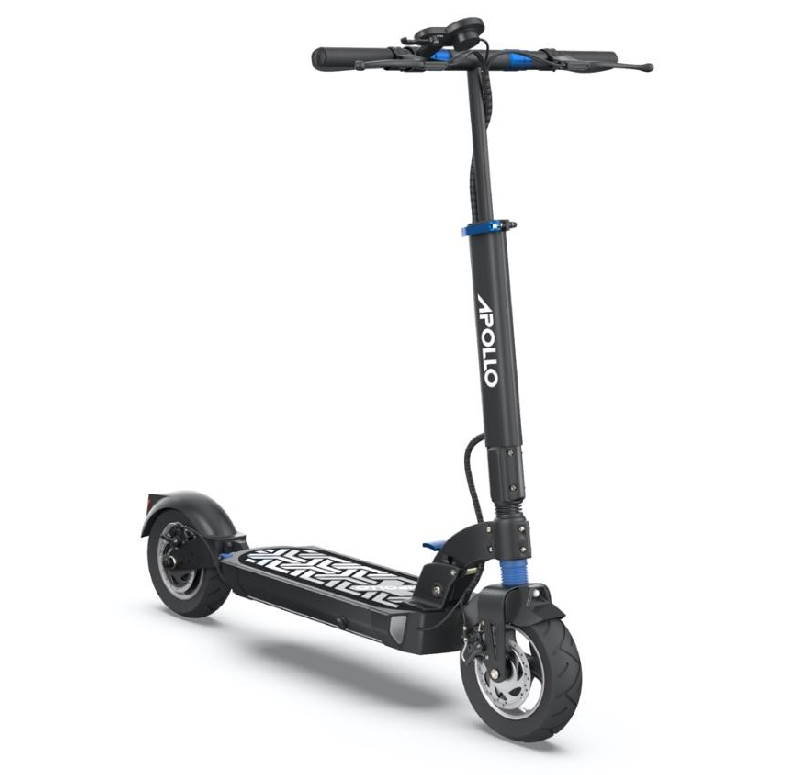 There aren't a lot of scooters that can compete with the EMove Cruiser. It has arguably the best performance levels and feature packages in its price range, and no brand has so far been able to manufacture a scooter that is clear of it.
There is, however, space to save some money and go for a cheaper alternative with a similar, but slightly toned-down build. We are talking about the Apollo Explore, one of the most beloved electric scooters priced under $1500. At a price of around $1000, it fares far better than any budget scooter out there, but still leaves space to save some cash if you don't want to overspend a lot.
The Apollo Explore comes with a single motor with a peak power of 1400W. It provides a top speed of 31 mph / 50 kmh, which is basically the same as the EMove Cruiser. Its range, on the other hand, is around 34 mi / 55 km, which is far less than its competitor, but that's the sacrifice you'll have to make for the cheaper price.
You won't lose much in terms of features though. The scooter has a great braking system consisting of dual disk brakes, pneumatic rubber tires, tons of LED lights and LED strips, as well as dual spring suspension.
This scooter is definitely one of the best cheaper alternatives to the EMove Cruiser. Make sure to visit my complete review of the Apollo Explore if it caught your eye.
EMove Cruiser FAQ
The EMove Cruiser is a very popular choice, so there are tons of questions surrounding it. These are the answers to the most important ones.
Is the EMove Cruiser waterproof and can you ride it in rain and snow?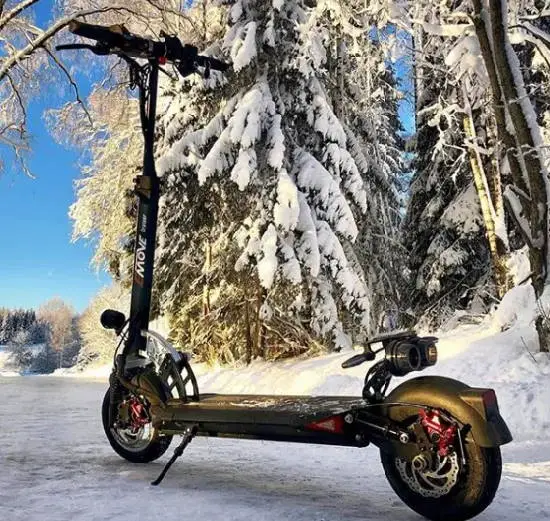 The water protection standard of the EMove Cruiser is the highest in the world. With an official IP rating of IPX6, the EMove Cruiser is not technically waterproof, but should be able to withstand strong jets of water (that's what IPX6 means). While manufacturers warn against riding in the rain (they always do), if there is a scooter that will be able to go through the rain without damage, that will be the EMove Cruiser.
Now, does that mean you can ride the EMove Cruiser in the rain? And should you do it?
The answer is mostly no for both questions. Chances are, most of the time, nothing will happen to your scooter even if you ride in the rain, but also, there is a small possibility that your scooter breaks down, and sometimes completely. And remember, warranties for almost every electric gadget never cover water damage, and the EMove Cruiser is no exception here.
So, avoid riding in the rain, but if you plan on doing it, or you simply must do it (it can happen sometimes), then at least you can be sure that there is no better scooter for the job.
That said, most owners online have reported that riding in the rain has been a walk in the park, and their EMove Cruisers have handled it without any issues. One of the readers here actually reached out to me and notified me that his EMove Cruiser has broken down after a single ride in the rain, and that was the first and only time I've heard of such an incident (Voromotors replaced his controller that was the part damaged by water, even though the warranty didn't exactly cover it and they weren't obligated to do so, so more power to them).
Is the EMove Cruiser reliable?
The EMove Cruiser seems to be one of the highest-quality scooters today, especially in its price category. While large quantities of reliable data are hard to come by for this question, both the available data and anecdotal evidence strongly suggest that the EMove Cruiser has a very low defect rate, and a very long lifespan.
Is the advertised range the same as the real one?
For most owners, in most scenarios, the range of the EMove Cruiser will be very close to the advertised range of 62 mi / 100 km. Heavier riders, owners riding in adverse conditions, or owners whose batteries have been severely degraded and worn out over long periods of time, may see lower ranges.
Does the EMove Cruiser have regenerative braking?
The EMove Cruiser comes with regenerative braking integrated into its battery system. The mechanism is activated once you release the throttle and let the scooter ride freewheel. You can sometimes actually see the voltage of the battery increase if you let the scooter ride downhill without the throttle pressed.
Does the EMOVE Cruiser have cruise control?
Yes, the EMove Cruiser, has a cruise control setting you can enable yourself for when you plan on having a longer ride at a constant speed.
This setting is usually enabled right from the box, so in order to disable it, you would need to:
press and hold the "power" and "mode" buttons at the same time to open up the P-settings menu
scroll through the menu by pressing "mode"
once you've come to P6, which is the "cruise control" page, set the setting to 0
This should turn the cruise control off. If you later want to re-activate it, just follow these same steps and set the P6 page back to 1.
How do I replace the battery on the EMove Cruiser?
The LG batteries that EMove Cruiser scooters use are among the best in the game, and you would hardly ever have any issues with them. But one thing you might notice after a couple of years is a slight drop in range, typically from overcharging the battery and damaging its capacity cells.
Luckily, it is very easy to replace the battery of the EMove Cruiser with a new one. The process takes around 15 minutes and is done only with the tools that come in the box.
In short, you would need to unscrew and open the deck, unscrew the side panels that hold the battery in place, disconnect the battery from the controller, and remove it from the deck. Then, you can simply plug the new battery in following the same steps.
Here is a video from the Voromotors workshop that explains this whole process in under 8 minutes.
When should you get the EMove Cruiser?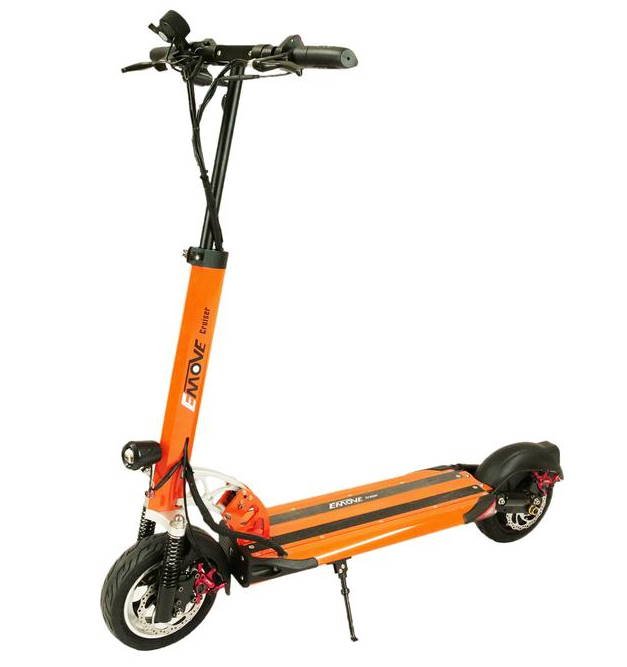 There are several scenarios and types of users for which I would recommend the EMove Cruiser as the best possible option.
Naturally, if you plan to ride in the rain, or possibly during the winter, the EMove Cruiser is likely your only good choice in the world right now. At this point, you probably know you should avoid doing that, but I'm perfectly aware that sometimes you may have no choice. Also, we are all free to do what we like, and many people simply feel that riding in the rain is a risk worth taking. So, for rainy/snowy/wet places, the EMove Cruiser is by far the best, and possibly only choice.
Another big group of potential owners that would find the EMove Cruiser a real treasure is simply anyone looking for a high-quality, or even a luxury scooter. Whether that's a true enthusiast, or someone looking for that upgrade scooter after the Xiaomi or the Ninebot, the EMove Cruiser is also a strong choice.
With a range that is unrivaled in its price category, the EMove Cruiser might be perfect for anyone looking for that kind of performance, or anyone who simply doesn't charge their devices for some mysterious reason (like yours truly). With a range of 62 mi / 100 km, this is a true long-range scooter in every sense of the word, and one of the lightest long-range scooters ever made.
A certain type of commuter, which is the one that doesn't need to carry the scooters too much, will also find a great travel buddy in the EMove Cruiser.
One type of owner that is very close to my heart will find this scooter a great catch, and that's the value shopper. The EMove Cruiser is arguably the best electric scooter under $1500, and certainly one of the best-value scooters pound for pound. So anyone looking for a great bang-for-buck will be very satisfied with this scooter.
Tinkerers and hackers will also find a lot of joy in this scooter, as it supports a lot of interesting options and customizations.
Finally, heavier adults looking for some extra power and sturdiness that can support them should also give the EMove Cruiser a serious thought, as it has a really big weight limit.
When should you not get the EMove Cruiser?
While I wouldn't want to discourage first-time owners from getting the EMove Cruiser as their first scooter, I do believe there might be better choices. Something like the Xiaomi M365 Pro is cheaper, less powerful, and probably more suited for beginners. Check out the full Xiaomi M365 Pro review to learn more.
Another category of people is anyone looking for something lighter. While there are much heavier scooters out there, and personally I don't believe that 52 lbs / 23 kg is terribly heavy, it still may be a lot for some people. You will probably want to look at more lightweight scooters in that case.
Finally, the obvious barrier to getting the EMove Cruiser for many will be its price. This is not exactly a cheap scooter, and while it justifies every cent of its price, some people will simply not be in a position to afford it right now. I often recommend being patient and saving up a bit more to get the scooter you actually like and not compromise, but that still may not be good enough for some people. In that case, you can still look for quality in cheaper scooters, so make sure to check out the full guides on the best scooters under $1000 and best scooters under $500.
Verdict
We've covered everything about the EMove Cruiser. We can now reach the final verdict, which is that this is a brilliant scooter.
Is it the best electric scooter ever?
It is a difficult decision to make. I do believe this scooter has a realistic shot at that title.
Its flaws are very few, and nowhere near being dealbreakers.
Its upsides, on the other hand, are numerous, and so well balanced that it's almost hard to believe. The most water-resistant scooter in the world, a ridiculously long range without weighing a ton, top-notch quality, great value for money… who knows, it may even be the best electric scooter after all. It certainly has been that in my experience.
Where to buy the EMove Cruiser from?
Worldwide
The best (and probably only) place to get the EMove Cruiser from is the official
Voromotors store
(make sure to enter the code "escooternerds" without quotes for a $50 discount)
. As one of the most trusted brands in the industry, they do a great job and ship very fast. Shipping is free within the continental US and it will take between 2 and 4 days. For other countries the usual expenses are added to the original price, and the waiting times will be between 3 days and 2 weeks. In the UK, Canada, and most EU countries, you get free shipping on orders above $3000 as well, so if you need two EMove Cruisers, you can add a few cheap accessories to the order as well, and you will get free shipping.
Where to buy the EMove Cruiser
Worldwide: Voromotors store (discount code: escooternerds for $50 off)
---
Want to get
FREE SCOOTER
tips, exclusive discounts and promotions, and unseen scooter hacks? Join the
Scooter Secrets club
.
---
Liked this article? It really helps if you share it.
Follow @escooternerds on social media for more cool stuff
---