If you're finding yourself carrying your scooter a lot, or you expect to carry it a lot, you will probably know how important it is to be light in weight. Most people, myself included, want the lightest electric scooter possible, without sacrificing other features and performance. That's exactly what we will be looking at in this post.
We will go over the best lightweight electric scooters out there, and which one of them may be a good choice for you, given your own unique circumstances and needs.
Lightest electric scooters
According to my research, testing, and experience, these are the best lightweight scooters for every use case and scenario.
If you'd like to watch this guide in a video format, check out our Youtube video on the best lightweight electric scooters.
Unagi Model One – best lightweight electric scooter
When it comes to lightweight electric scooters, the Unagi Model One is the best one out there.
It weighs 28.5 lbs / 13 kg, but despite being this light, the scooter is still very durable.
The scooter has a top speed of 25 km/h, and a range of 25 kilometers on a single charge. Those stats are enabled by dual motors with a combined peak power of 900 Watts.
While not a great climber (can go only as steep as 6 degrees), the scooter can carry more than the typical 100 kilograms most other scooters here can carry. It has a maximum load of 125 kilograms.
The Unagi Model One is an iconic scooter without a doubt. One of the best scooters that don't cost a fortune but are still of very high-quality. Of all the lightest scooters, it is arguably one of the highest quality.
It is one of the most portable electric scooters that became hugely popular. It has sold many units and it has been tested and proven through time. You can be sure you are getting a very solid scooter.
It comes at a price of $590 (it is discounted now, it's usually close to $1000). Out of all the lightest scooter prices, this is one of the higher ones, but it's well justified as this is the best lightweight scooter under $1000.
Check out my detailed review of the Unagi Model One to find out more about this great scooter.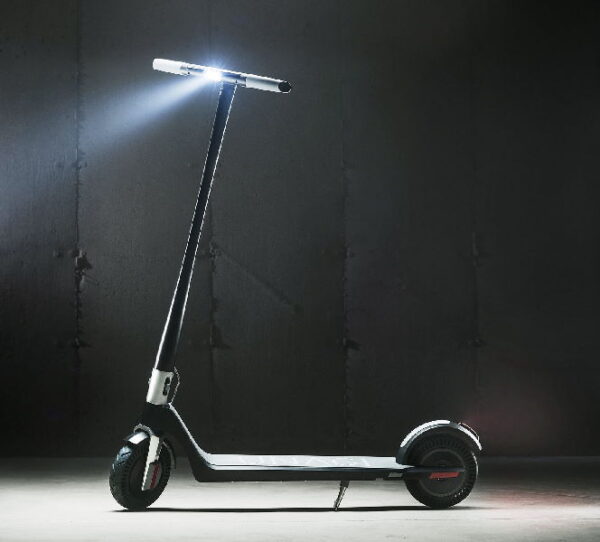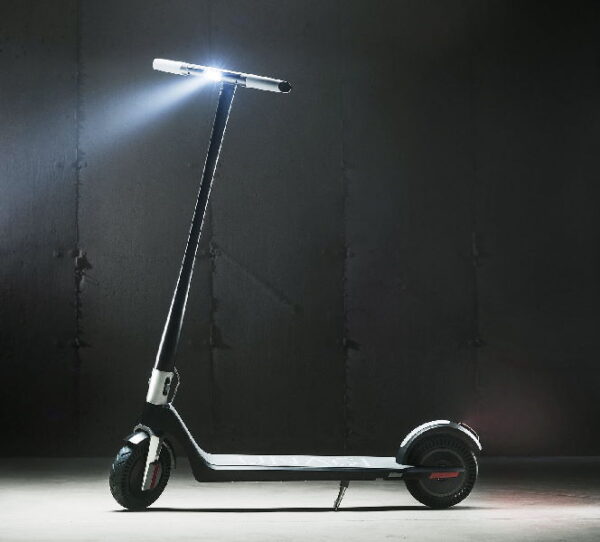 GoTrax XR Ultra – best lightweight commuter scooter
When it comes to commuting, GoTrax are the go-to budget brand, and the XR Ultra is one of their finest scooters for the task.
The scooter is not only light in weight, weighing just 26 lbs / 12 kg, but it also folds down to a quite small package that's convenient to carry around.
For less than $500, the scooter provides a range of 15.5 mi / 25 km on a single charge powered by a 36 Volt, 252 Watt-hour LG battery with a smart battery management system, and a top speed of 16 mph / 26 kmh, enabled by the 430 Watt hub motor.
The scooter also comes with 8.5-inch pneumatic tires, an IP54 water protection standard, and dual brakes.
You can see my detailed GoTrax XR Ultra review if you're curious.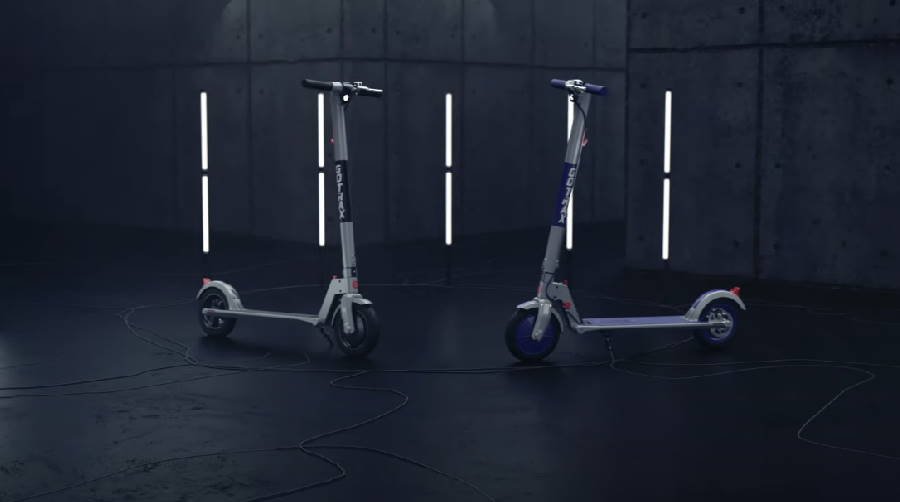 Xiaomi Essential – best lightweight electric scooter under $500
With a weight of 26 lbs / 12 kg, the Xiaomi Essential is a pretty light scooter, just a bit heavier than the lightest electric scooters for adults.
The small weight of this scooter is probably one of the main reasons for its massive popularity, although a large part of its reputation comes from its massively popular predecessor, the Xiaomi M365.
Still, the Essential has learned all the best lessons from the previous version, which is why it is an excellent budget choice.
If you want a lightweight scooter that is a very safe choice, and very few things can go wrong at this point, then the Xiaomi Essential is your perfect choice (see my full review of the Xiaomi Essential if you want to read more). It's usually priced around the $450 mark. That price also makes it the best electric scooter under $500.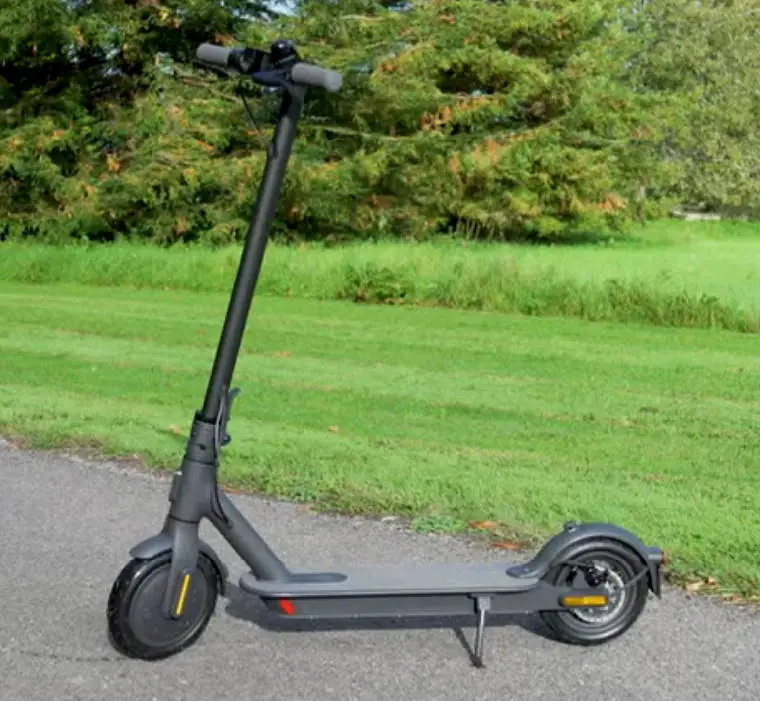 GoTrax G2 – best lightweight electric scooter under $300
Even though we're talking about lightweight electric scooters, most of the models reviewed here are still around the $500 price mark or above.
If you're looking for a great lightweight electric scooter and your budget is around $300 (or, actually around $250), the GoTrax G2 will be your best choice, as it costs just $229.
The scooter weighs just 21 lbs / 9.5 kg, which makes it one of the cheapest scooters on this list. The scooter is still meant for adults, as it has a weight capacity of 220 lbs / 100 kg.
The top speed of the scooter is 15.5 mph / 25 kmh, while the range is just 7 mi / 11 km, which is the scooter's weakest point in my opinion.
You can check out my GoTrax G2 review if you'd like to find out more about this budget lightweight scooter.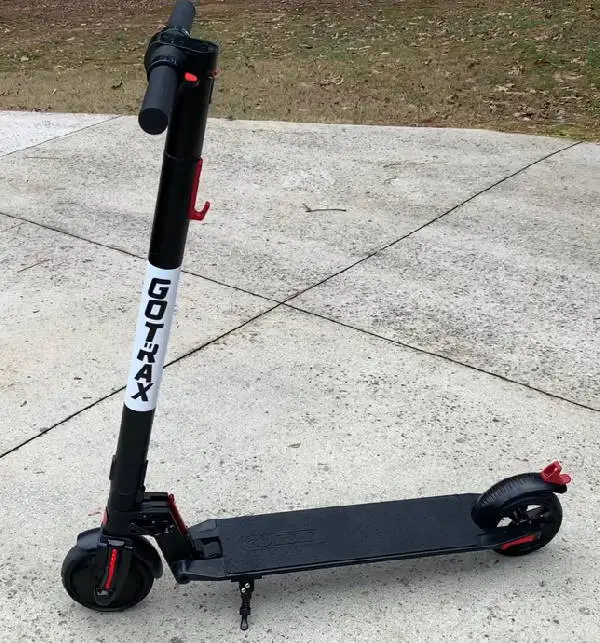 Swagtron Swagger 5 Elite – best lightweight electric scooter for heavy adults
Swagtron is one of the most recognized brands in the industry. The Swagger series is one of the best selling electric scooter series ever. Since a big focus of the brand are kids and teenagers, designing lightweight scooters comes naturally to them. Hence why they have other scooters on the list of lightest scooters.
The Swagtron Swagger 5 Elite weighs in at 26 lbs / 12 kg.
As with most other lightweight scooters, this scooter will be in the budget price category, costing only $399. For that price though, it is one of the best, most performant, and most time-tested scooters in the world. It can reach speeds of up to 18 mph / 30 kmh, and go 11 mi / 18 km on a single charge.
What's interesting about the Swagtron Swagger 5 Elite is that it has the biggest maximum carrying loads out of all the light scooters. It can pull 320 lbs / 145 kg on its deck. When you remember that the scooter weighs so little, it's almost unbelievable.
The battery energy storage capacity is 216 Watt-hours, and the motor has 250 Watts of power.
This scooter also boasts one of the best climbing angles in the lightweight category. It comes with the capacity to climb hills of up to 20 degrees. Users have tested and confirmed this multiple times.
All of this will make the Swagtron Swagger 5 Elite one of the most versatile lightweights in the world right now, and a great choice for heavier adults looking for a lightweight scooter.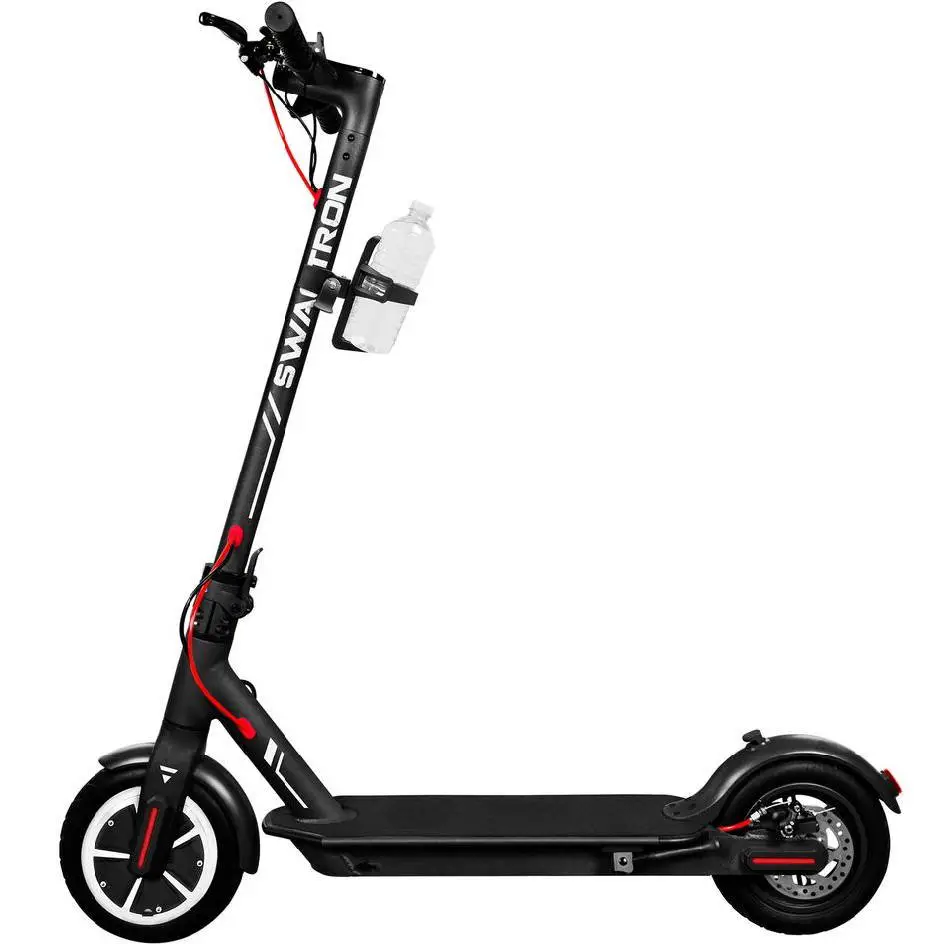 E-TWOW GT – fastest and best climbing lightweight electric scooter
Out of all the lightweight electric scooters, weighing less than 12 kilograms, the best performing one is E-TWOW GT. When it comes to pure speed, climbing angle, motor power, and torque, no lightweight can match it. The specs are simply impossible for a scooter that light.
It weighs 26 lbs / 12 kg, and yet it has a range of 31 mi / 50 km and a top speed of 25 mph / 40 kmh. It has a climbing angle of an unbelievable 25 degrees.
It is not entirely clear to me how E-TWOW has managed to achieve such a big range on such a small scooter. I'm sure glad they have done so.
The scooter can carry loads of up to 100 kg. It has a motor with a peak power of 700 Watts, and a 504 Watt-hour battery.
Not surprisingly, this impossibly good scooter will be one of the most expensive scooters in the lightweight category. It comes at a price of $1089.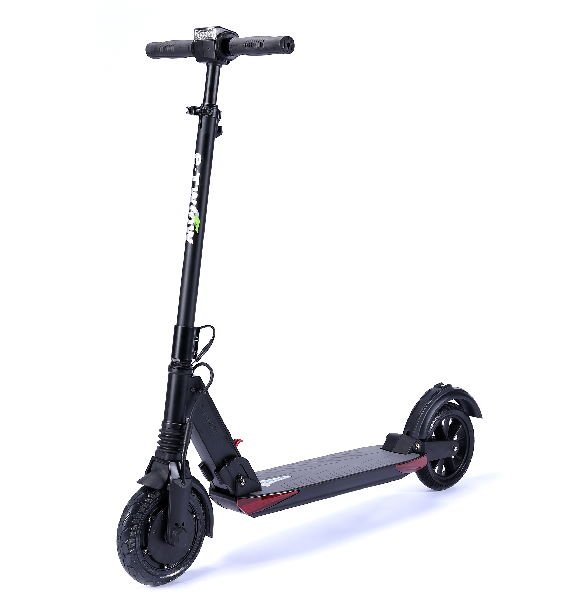 Aovo Pro – best water-resistant lightweight electric scooter
The Aovo Pro is a true lightweight budget scooter. It weighs only 26 lbs / 12 kg, while still being able to carry 265 lbs / 120 kg of load on its deck.
For the price of $399, you will get a good performance, 20 mph / 32 kmh top speed, and 22 mi / 35 km of range.
When folded, the Aovo Pro is 42 in / 107 cm long, 18 in / 46 cm wide and 16.5 in / 42 cm tall. While open, the height goes up to 44.5 in / 113 cm. Those dimensions make it a very portable scooter.
Where the Aovo Pro stands out from the competition is its IP rating. With a protection standard against water damage of IP65, it is a level above every other lightweight.
If you need a lightweight scooter that's also water-resistant, and almost-waterproof, check out my detailed Aovo Pro review.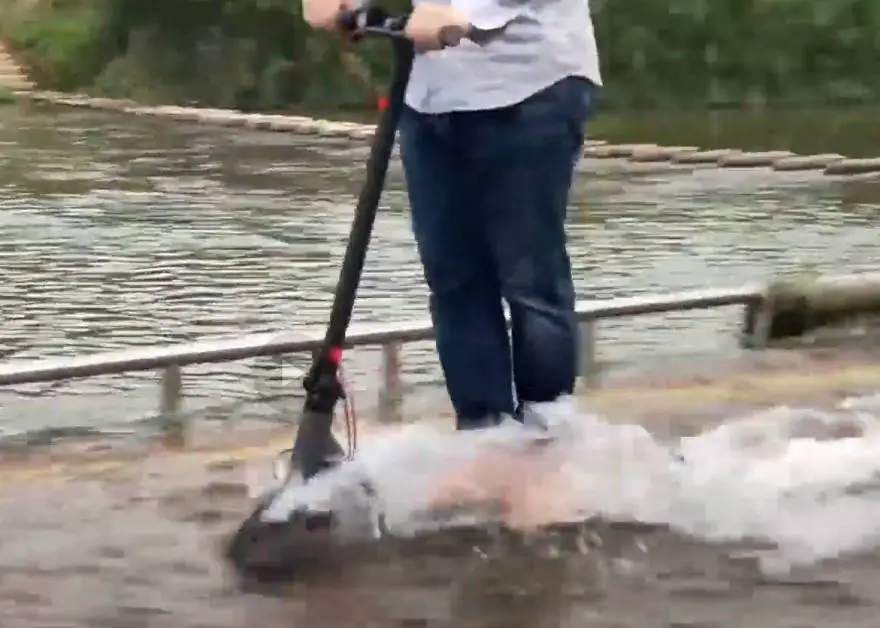 Levy – best lightweight electric scooter with a removable battery
The Levy is the only scooter that's very light in weight and has the option for a removable battery. That feature can be very convenient, enabling scenarios such as leaving your scooter locked downstairs while taking just the battery with you to charge it, or buying a second battery that you carry while riding, effectively doubling the range of your scooter.
The scooter has a range of 20 mi / 32 km, and a top speed of 18 mph / 29 kmh, powered by a front hub motor with 350 Watts of real power and 700 Watts of peak power. An IP54 standard, 10-inch tires that you can customize when buying (choose between tubeless, tubed, and solid), regenerative front and mechanical rear brakes are just some of the features of this very elegant and convenient scooter.
The version of the Levy that comes with two batteries instead of one is called the Levy Plus.
Voyager Proton – cheapest lightweight electric scooter
The Voyager Ion is the cheapest electric scooter for adults at the moment. It only costs $198.
You shouldn't be quick to rule it out because of its low price. This model is probably one of the pioneers in bringing the prices of scooters down. There have been a few models here and there that have flirted with the $200 price tag, but no model has dared to cross below it.
And that is a powerful idea. An electric scooter for adults, for less than $200. What's not to love? My bet is that this will not be the last adult scooter under $200.
With a weight of just 20 lbs / 9 kg, this scooter doesn't pack a big battery, so it will come with a limited range of around 6 miles / 10 km. It has a 250 Watt motor, which is pretty standard for scooters this small.
If you need a lightweight scooter and you can only spend less than $200 for it, take a look at the Voyager Proton.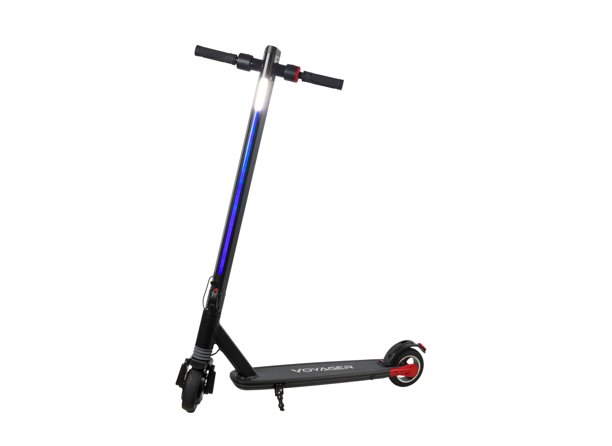 YYD ROBO – best lightweight electric scooter with solid tires
This is a somewhat rare and unusual scooter that made its way on this list because of its good price, light weight, and decent performance. The quality level may not be the best, but the rest of the package is pretty well composed. It's also the best lightweight electric scooter with solid tires.
The scooter weighs 28.7 lbs / 13 kg, which makes it a bit heavier than most of the scooters on this list, but it's still very much a lightweight scooter.
The performance of the YYD ROBO is pretty good for a lightweight scooter, with a top speed of 19 mph / 30.5 kmh, and a range of 13 mi / 21 km.
The scooter also comes with three brakes (drum, electronic, and pedal), front and rear rubber spring suspension, and 8-inch solid rubber honeycomb tires.
See my review of the YYD ROBO if you're curious.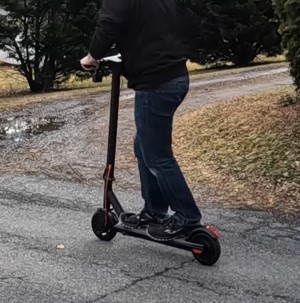 GoTrax GXL V2 Commuter – best lightweight electric scooter alternative
The GoTrax GXL V2 Commuter has been around for several years now, and it has proven to be one of the best general-purpose lightweight electric scooters. Despite newer GoTrax models being released in the same price and weight categories, the V2 still remains one of the best-selling and most popular GoTrax models.
The scooter weighs about 26.5 lbs / 12 kg, pretty similar like most of the lightweight scooters.
It has a top speed 15.5 mph / 25 kmh and a range of 19 km / 12 mi. That obviously doesn't make it the most performant electric scooter ever, but the scooter has good brand recognition, durability, and generally a high level of quality as its strong sides, so it doesn't really need that much performance for its target audience of commuters and hobbyists.
The scooter also comes with an IP54 ingress protection standard, 8.5-inch pneumatic tires, and front electronic and rear disk brake combination. In summary, a pretty good value portable scooter in general.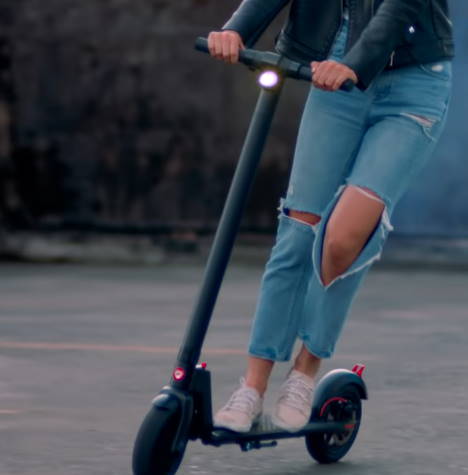 Electric scooter weight vs portability
Weight and portability for electric scooters are related but different things. Weight is probably the most important factor that determines portability, but it's not the only one. Other factors that affect portability are the scooter's volume when folded, its folding capabilities (do the handlebars fold, can it be pulled while folded), whether the scooter has weird pointy things sticking out of it, is its center of gravity natural, does it provide an easy way to be carried, etc.
While light electric scooters will tend to be portable, that may not always be the case. Check out the post on portable electric scooters if you specifically need a portable model, it includes a simple but effective way of measuring portability as well.
Frequently asked questions about lightweight electric scooters
Since everyone wants their scooter to be as light as possible, the interest in these models is expectedly huge. Of course, that means a lot of questions arise. These are the answers to some of the most important ones.
How much do electric scooters weigh?
The typical weight for most popular models is 28.3 lbs / 12.8 kg on average. Averaged across all scooter models, scooters weigh 46.8 lbs / 21.3 kg, but this number is skewed a lot by the heaviest scooters though, which are not very common. Electric scooter weight can vary from 15 lbs / 17 kg all the way up to 155 lbs / 70 kg.
Are lighter electric scooters less stable?
Electric scooters that are lighter in weight will typically not be as stable as heavier scooters. Some light models will do a good job of keeping the scooter more stable than expected, but in the end, the heavier the scooter, the greater the stability.
Stability is usually directly proportional to mass. The more robust and massive an object is, the harder it is to rattle it, shake it, or move it.
But it's not just weight that affects the stability of the ride. Tire size, suspension, and the overall quality of the build and the frame, all affect scooter stability.
Can I make my electric scooter lighter?
Reducing the weight of an electric scooter is possible, although highly infeasible and inadvisable. The biggest contributors to a scooter's weight will be the motor, the battery, and other electronic components, which are best left alone, and trying to modify them for reducing the scooter's weight is a very bad idea. The only low-hanging fruit may be the fenders, which can be replaced with lighter ones, and the result will likely not be worth the effort.
Are electric scooters easy to carry?
Most electric scooter models are not difficult to carry for a short period of time. They fold into a rectangular-resembling shape, and their center of gravity is usually close to the middle of the scooter. While their length is usually not a problem, scooters with large and unfoldable handlebars may be a problem for fitting in car trunks, elevator doors, and public transport.
Some models, however, are not even meant to be carried. They are usually not even foldable, and even lifting them from the ground will be very hard.
For some scooters, the biggest issue for carrying them might be that they don't provide a convenient way to grab them and hold them. Luckily, a great, cheap solution exists for them in the form of a carry handle accessory. The carry handle can help you move the center of gravity of the scooter and make it a lot simpler to carry. See my guide on the best electric scooter accessories for some great and inexpensive carry options.
What are the advantages of a lightweight electric scooter?
Obviously, the biggest advantage that lightweight electric scooters will have over their heavier counterparts is their portability.
For most people, this will be the deciding factor. The same applies to people unable or unwilling to carry heavy loads for longer periods of time.
Other than portability, lightweight electric scooters will have another important advantage. That is their energy efficiency.
The lighter a scooter is, the less mass it has to drag around everywhere it goes. As a result, it means it uses its battery less.
That will also make sure these scooters last longer as well. The less often you charge a battery, the longer its lifespan will be. As a result, the scooter will probably have a longer lifespan too. I guess there's a reason why all the centenarians in the world are light in weight.
What are the disadvantages of a lightweight electric scooter?
The only real disadvantage that comes from the lower mass is the possibly decreased stability of the ride.
Lighter scooters will have less mass to keep them grounded and centered. It is possible that they may shake and vibrate more than a heavier scooter would.
However, this is often a non-issue. Most of the time we ride electric scooters on urban roads, and avoiding potholes is a good idea for every kind of vehicle out there.
The other disadvantages of lightweight electric scooters will not be because of their small weight, but they will typically be present nonetheless.
Usually, lighter electric scooters have smaller batteries. That's where the disadvantages really come from.
More often than not, lightweight electric scooters will not have the greatest range nor top speed.
This is the balance that we are after, should we go for portability or power?
Most of the time, this is where you will need to make your decision, based on your individual needs.
Carbon fiber vs aluminum electric scooters
Many of the lightest electric scooters in the world have frames made out of carbon fiber. Carbon fiber is a material with interesting properties. It is both harder and lighter than the standard building material of electric scooters, which is the industrial or aerospace-grade aluminum alloy. The disadvantage of carbon fiber is that it can be more fragile than aluminum, and that's why it hasn't replaced it as the default material yet.
Check out the article on carbon fiber scooters to find out more about their extraordinary capabilities.
Should I get a lightweight electric scooter?
For most people, the answer will be yes – the less your electric scooter weighs, the better.
This will be especially true if you need to carry around your scooter more than usual. Examples include if you need to change buses or metros, or if you need to climb up or down some stairs. This is especially so for buildings with no elevators.
However, even if you have an elevator, you will likely want a lighter scooter anyway. Carrying it in and out of it will be a problem otherwise.
If you need to go through areas with heavy pedestrian traffic, you will probably need to push your scooter around. That's another scenario where having a lighter scooter will pay off.
The majority of people out there need a smart solution. For getting to and from work or school, a light scooter will be perfect for the job. Any one of the scooters described here is a great choice.
When should I get a heavier scooter?
There are plenty of scenarios where getting a lightweight electric scooter will not be a good choice for you.
Actually, the weight will not be the issue itself. If you need a more powerful scooter, you will need a scooter with a bigger battery. That will usually mean a heavy scooter. These reasons can include:
speed
greater range
top of the line climbing abilities
Also, there are some other secondary reasons why people choose a heavy scooter.
Often, they provide a more stable ride with less shaking and vibrations.
Finally, heavier scooters will typically be able to carry heavier loads. That's why heavier adults frequently choose heavier scooters.
Summary
Those were the best lightweight electric scooters in the world. Here's a list of them one more time for quick reference.
---
---
Liked this article? It really helps if you share it.
Follow @escooternerds on social media for more cool stuff
---