Last Updated on May 17, 2023 by Matt
The absolutely worst thing that your scooter can do is break down after little usage (and by little, I mean less than 2 years!).
As with any technology, electric scooters get more reliable over time, but when you buy an item this expensive, you expect it to work perfectly. You don't want to be the unlucky buyer that has their scooter break down after one hour of unpacking it, or even worse, the scooter is just dead on arrival.
To prevent that, you will want to know which electric scooters are the most reliable, with the lowest defect rates and the longest lifespans. Without a doubt, electric scooters have become a lot more reliable. Let's see what makes them so.
Most reliable electric scooters
The following scooters have few things in common: they all come from well-known brands, have been used extensively by lots of users, and will last for a long time, often without any defects.
Most reliable commuter scooter – Ninebot Max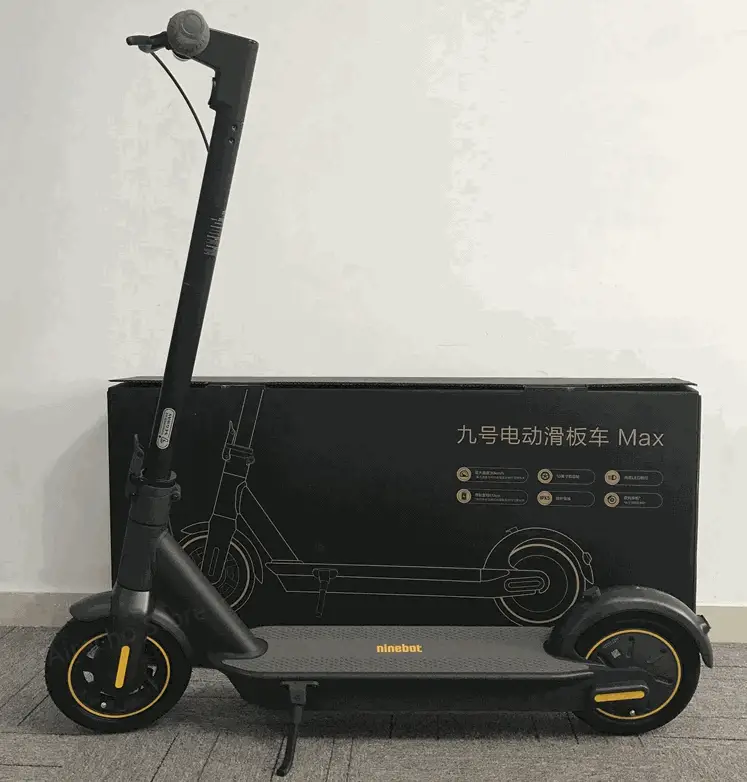 Ninebot has learned a lot from other models, and put all of that knowledge and user feedback into the Ninebot Max. If you want a scooter with "experience", meaning it draws upon the triumphs and errors on many other successful scooters, but also it has already proven its mettle, then the Ninebot will be an ideal pick.
The final release of the Ninebot Max will cost you around $799, and you will be able to go around 60 kilometers on a single charge. The motor has 350 Watts of power, and the battery has a capacity of 551 Watt-hours. The scooter comes very well protected against water damage, with an IPX5 rating.
Probably the biggest lesson learned from the hugely popular Xiaomi models was all the trouble with the flat tires owners were having. Well, with the new self-healing 10-inch wheels, flats will be a lot less common. If you are concerned about flats, you may consider getting a solid-tire scooter, but the pneumatic tires of the Ninebot Max are very tough because of their size, and don't sacrifice ride comfort as most solid-tire scooters do.
This is probably the best electric scooter that you can find for around $800. Even though it's not in the high-end price range, you will still get the high quality associated with those prices. It's no wonder that this scooter sells like crazy, owners are madly in love with it, and is becoming one of the best commuter scooters ever.
Check the full review of the Ninebot Max to find out more about it.
Most reliable budget electric scooter – Hiboy Max3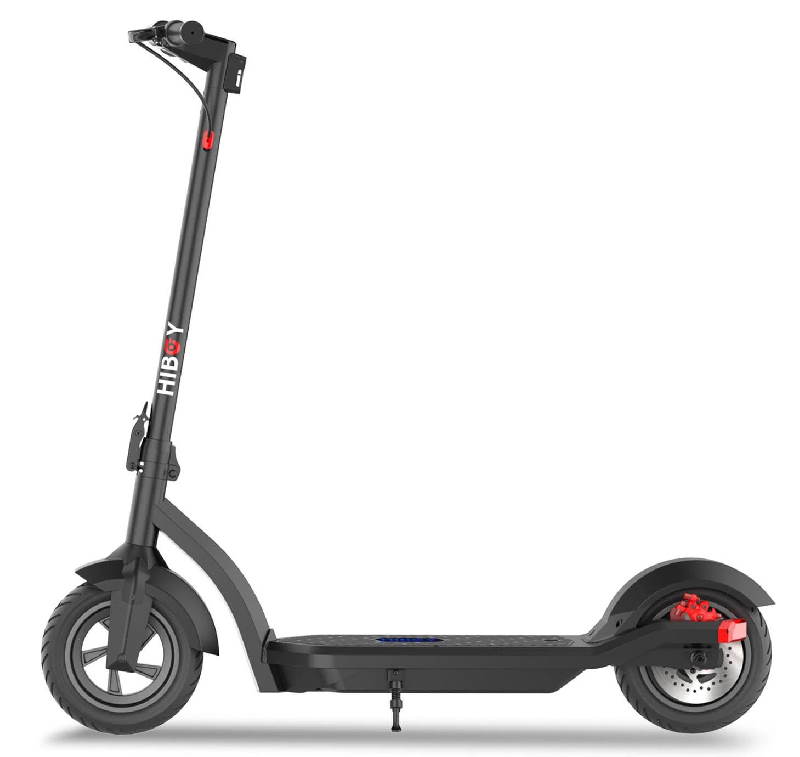 It's simply amazing what the Hiboy Max3 can provide for just $479. It is the cheapest electric scooter that we can still call reliable with a straight face.
The scooter is a successor to the celebrated Hiboy Max, and it has learned a lot from its mistakes, fixing most of them in the next-generation version. Owners love the new version even more than the original, which was pretty well-received as well.
The scooter will almost certainly last at least 3 years, and probably closer to 5. At that time, the battery will start to deteriorate, which is to be expected, but the mechanical parts of the scooter should continue to work without a glitch. You can expect either very few defects, or none at all, and the chances of a dead-on-arrival scooter or a major breakdown during the first few months will be minimal.
All of that for just $479!
There is very little doubt here – the Hiboy Max3 is the most reliable budget electric scooter. If you want the most lifespan and the least defects that $479 can get you, then get yourself the Hiboy Max3. See my complete Hiboy Max3 review if you're curious about this scooter and want to find out more.
Most tested reliable scooter – Xiaomi M365 Pro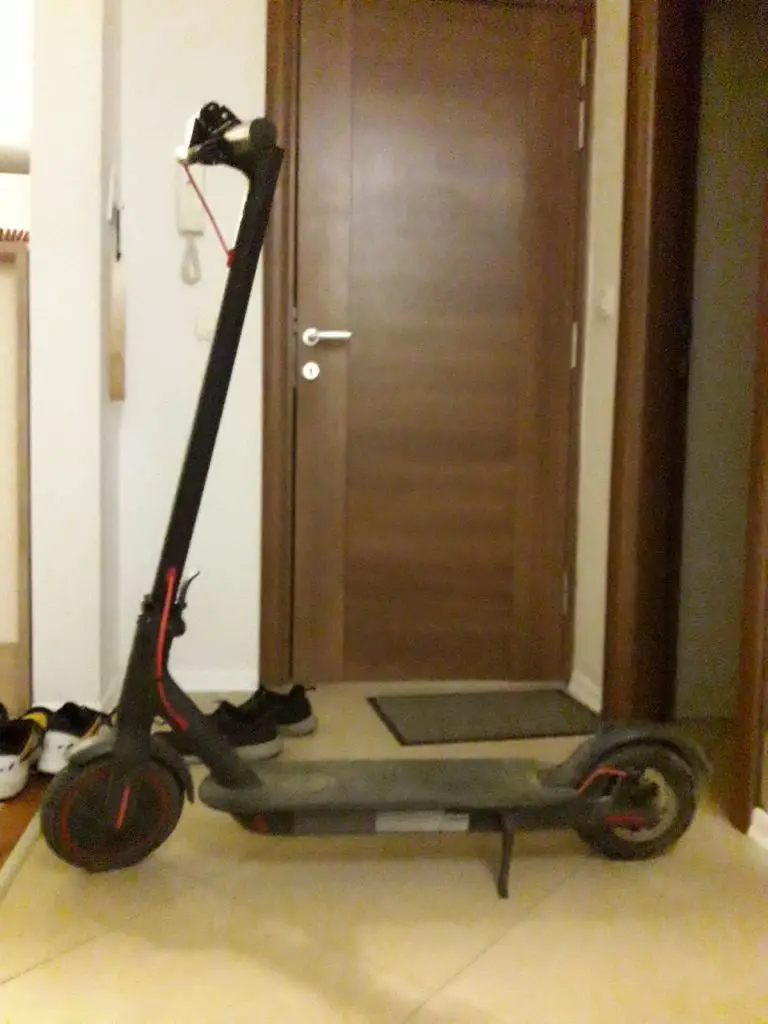 If any scooter has been put through it all and survived, it's the Xiaomi M365 Pro. I don't have the exact numbers, but I'm certain that no other scooter has been more tested than this one, both by its manufacturers and by its users.
The Xiaomi M365 Pro is an upgrade to its now legendary predecessor, the Xiaomi M365 standard model. They are the most popular scooters in the world, and there's a good reason for that. Xiaomi really hit the nail on the head with the Pro model.
As an owner myself for over a year now, I can personally guarantee that you will get a great bang for buck with the Xiaomi M365 Pro.
For around $550, you will get the electric scooter that has been used by the most people ever.
I'm not talking just about commuters and regular riders. This is the most widely-used scooter in the fleets of scooter-sharing companies Lime and Bird.
With all of that in mind, we can safely say that the Xiaomi M365 Pro has been ridden for hundreds of millions, if not billions of miles!
And the good news is, as any brand that wants to create a massively-popular product, Xiaomi makes constant updates to this scooter and always iron-out issues and make improvements.
If you decide to buy the Xiaomi M365 Pro, you can rest assured that you will get a proven, reliable scooter. See my complete review of the Xiaomi M365 Pro for more.
Most reliable waterproof electric scooter – EMove Cruiser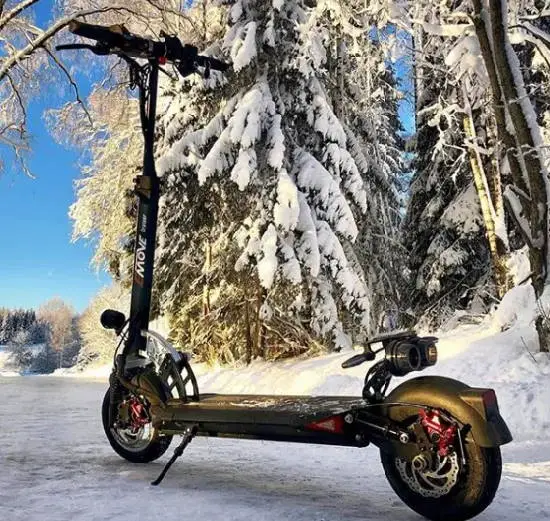 The EMove Cruiser has become my most favorite electric scooter in the last year, and there was one main reason – it has the best protection against water damage, with an official ingress protection rating of IPX6. Every other scooter in the world has something like IP65 at most, or just IP54 or IPX4.
Water resistance is that one critical feature in a scooter that many people don't think about until it's too late. And the reason you want to always have water protection in mind is that literally no electric scooter brand or manufacturer will ever provide a warranty against water damage! Ever!
We can't really blame scooter brands for this. Even an iPhone doesn't come with a warranty against water damage – it's simply too easy for an electronic device to break down because of water. But still, we don't want a scooter that will explode by just coming in contact with a few drops of rain.
And that's the tricky part. Even though many scooters provide some water protection, in many cases it's still not enough – their scooters break down because of riding in the rain, and they're left with this hunk of aluminum worth $1500.
This is where the EMove Cruiser comes in.
It's not just that this scooter has the best protection against water damage, being the only scooter in the world with an IPX6 rating, which means it can sustain strong jets of water and not suffer damage.
One of the best medium-priced scooters ever made, the EMove Cruiser can go as fast as 28 mph / 45 kmh, and has a proven range of incredible 62 mi / 100 km on a single charge!
All of that while being very portable and weighing just 52 lbs / 23 kg (most scooters with similar performances will weight north of 66 lbs / 30 kg).
The EMove Cruiser became my favorite scooter because of the IP rating, but it stayed my favorite because of everything else. If you need the most reliable scooter for rainy days, or the best electric scooter for winter rides, or simply just the scooter with the best protection against moisture ever made, then your only choice will be the EMove Cruiser. You can see my comprehensive review of the EMove Cruiser if you're interested.
Most reliable high-end electric scooter – Inokim OX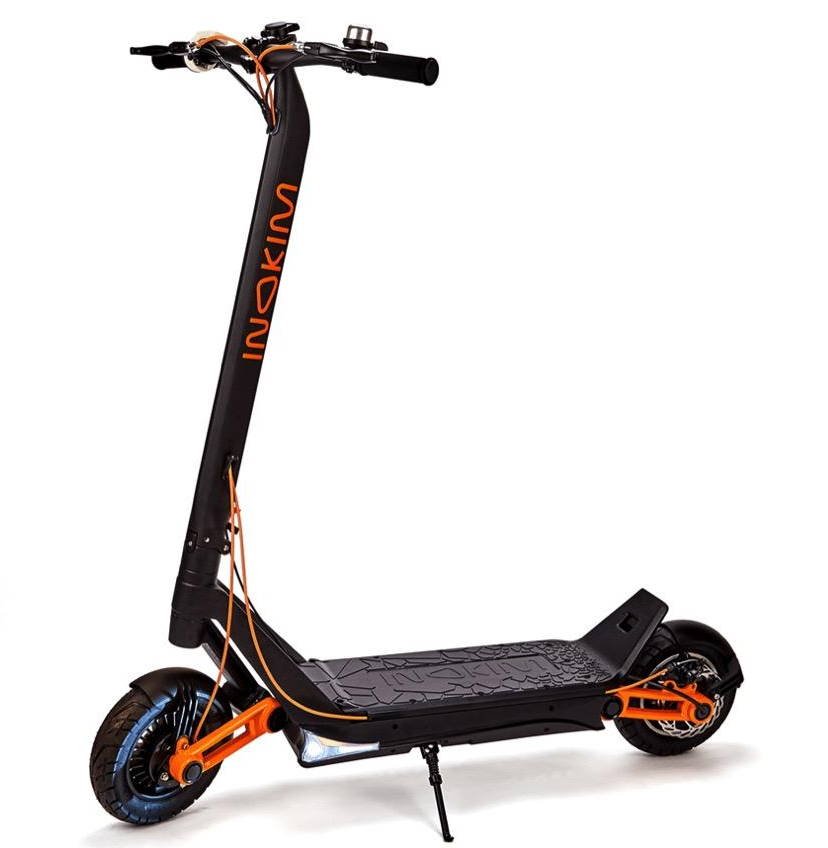 In my opinion, Inokim may be the best manufacturer of high-end scooters at the moment.
It's mostly because of one contrarian but ultimately clever decision the brand has made – while every brand is primarily preoccupied with specs and performance, Inokim chooses to focus on design, execution, attention to detail, and reliability.
The result is scooters that may seem underpowered for their price, but will end up going for years and years without a single issue. And no Inokim scooter is a better reflection of that than the Inokim OX.
The Inokim OX is a customizable, feature-complete, high-end, resilient scooter that will include all the bells and whistles – 10-inch pneumatic tires, front drum and rear disc brakes, adjustable arm suspension, thumb throttle display, and a look of a true dragon scooter, that will serve you for years without a hiccup.
Check out my complete Inokim OX review to find out more about this great scooter.
Most reliable power scooter – Dualtron Eagle Pro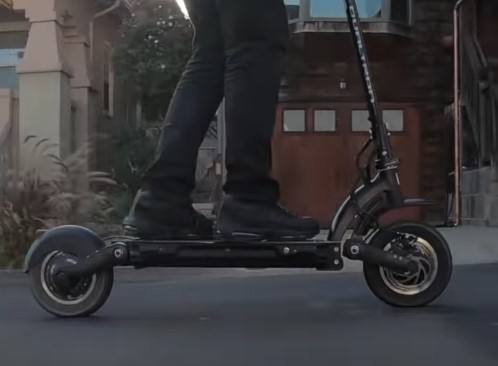 Dualtron makes some of the most high-quality, high-speed, high-power electric scooters in the world today. Several of the fastest electric scooters in the world are produced by them. That tells you a lot about what kind of a brand this is.
The Dualtron Eagle Pro is actually one of their less expensive models, but also one of their most popular ones, probably selling the most units out of all Dualtron models. That means this scooter will be well-tested, and proven time and time again. While pretty much every Dualtron scooter is very reliable and rarely breaks down, that will likely be even more true for the Dualtron Eagle Pro.
Dualtron scooters are adored by their users, and non-owners often drool when watching them in videos and demonstrations.
For about $2300, you will get one of the best electric scooters ever produced. The range of 50 mi / 80 km on a single charge, the top speed of 40 mph / 64 kmh, the 3600 Watt motor with the 1344 Watt-hour battery, make the Dualtron Eagle Pro one of the most reliable electric scooters currently in existence. Add a 25-degree climb angle and an IP54 water protection standard on top of that, and you get the most reliable power scooter ever.
See my complete Dualtron Eagle Pro review if you'd like to find out more.
Most reliable electric scooter for climbing – VSETT 10+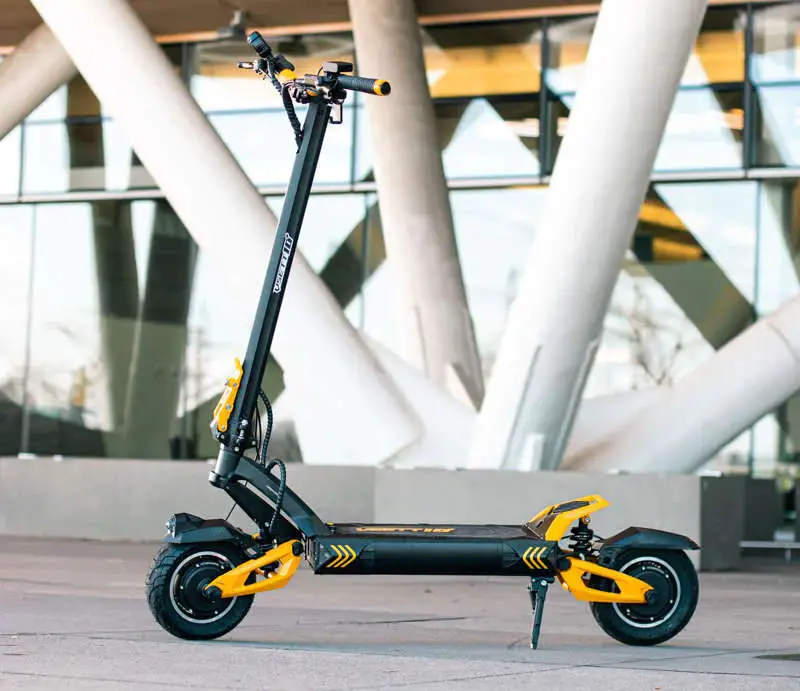 If you need a scooter that's very reliable and also great at climbing hills, you will love the VSETT 10+.
I consider VSETT to be one of the best electric scooter brands in the world today. They produce electric scooters that go toe to toe with the other most powerful models, but at much more accessible prices.
The VSETT 10+ is essentially a power scooter, but it provides great value for the price, and more importantly, it is a scooter of superb design and execution, that is likely to last you for years and years. It's a very well-rounded premium choice, that's more than just a sum of great parts.
Speaking of parts, the VSETT 10+ is one of those scooters that has it all – dual suspension, two motors that provide that amazing traction needed for conquering hills, great brakes with tons of stopping power, a powerful motor and a large battery.
All of the parts make up a strong, balanced whole, and the result is a scooter that can climb hills of 35 degrees.
The VSETT 10+ has an amazing motor configuration with 2800 Watts of power, and a great LG battery of 1680 Watt-hours. Its range of 70 mi / 113 km on a single charge places it among the top long-range electric scooters. You get all of this for around $2700 (similar scooters often cost even more).
Among the higher-end scooters, the VSETT 10+ is the best value for money. You will get a scooter you can trust.
Most reliable electric scooter alternative – NanRobot D6+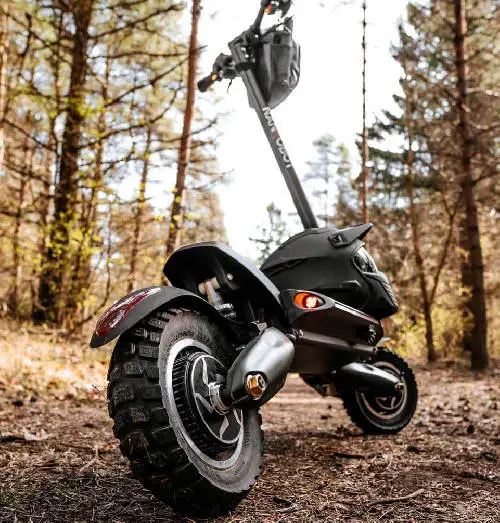 This is one of my favorite electric scooters. I simply love everything about the NanRobot D6+. The ride is one of the smoothest ones I've experienced, even on very uneven surfaces.
For a long time, I was strongly considering getting this as my next personal scooter, and only later did I start changing my mind and leaning more towards the EMove Cruiser (read the complete review of the EMove Cruiser to find out why).
Still, that doesn't mean that the NanRobot D6+ is not an excellent scooter, and I would still recommend it as a wildcard if you just don't love any of the other scooters on this list.
The 40 mi / 64 km range of the NanRobot D6+, coupled with the top speed of 40 mph / 64 kmh, is simply a brilliant combination!
Powered by a 2000 Watt motor and a 1352 Watt-hour battery, it is one of the best electric scooters under $1500. The entire scooter is very well designed, and the finishing touches, in my opinion, are out of this world.
What makes an electric scooter reliable?
The most important components that will determine the reliability of the scooter are:
the material used to produce it
its weight
the brakes and wheels
the attention to detail
the motor
the battery
the ingress protection (IP) standard
Most reliable electric scooter materials
Most electric scooters today are made out of industrial-grade aluminum alloy, often the same type of material used in the aerospace industry. That makes the scooters both tough and durable, but also light and portable.
In general, the less plastic and other brittle materials are used, especially outside of the supportive parts like the fenders and the handlebars, etc, the more durable the scooter will be. Even in those places, high-quality silicone is a much better option than plastic.
An emerging trend lately is using carbon fiber for the bulk of the scooter, in its main parts like the deck and the stem.
Carbon fiber is both lighter and tougher than most materials, including the commonly used aluminum alloys. Its use is still not that widespread though, so you can expect scooters built from it to be at least a bit more expensive.
However, light scooters are generally not as stable when going at high speeds or on bumpy rides.
Electric scooter weight and reliability
The greater the mass of the scooter, the less it will tend to shake and vibrate when you push its limits.
This is a tradeoff that you have to make – you can either have a heavy scooter that's harder to carry but doesn't shake, or a more portable scooter that may make you feel some vibrations while riding.
Details, finishing touches and other parts
Sometimes the finishing touches are even more important than the main elements.
If the nuts, bolts, screws, cables, the small elements are from high-quality materials and well designed and assembled, the scooter will be better prepared for the challenges on the road.
Parts getting loose and starting to wiggle is one of the most common complaints that owners of lower end scooters have, and it's typically because those manufacturers don't care about the product as much and don't put the necessary time into perfecting it.
While still important, the brakes and the wheels of the scooter will play a role in its reliability. But brakes are usually adjustable, and user complaints are rare. Wheels are not that big of a factor, and ultimately, they are more easily replaceable.
Reliability of electric parts
The electronics of the scooter is of equal importance for reliability as the mechanics of it.
The motor is the beating heart of the electric scooter. Its power will be the quickest way to determine the scooter quality, since high-power motors are usually well made. A 250 Watt motor can be good or bad, but a 1600 Watt motor is almost always a well crafted, finely tuned, thoroughly tested piece of machinery.
So if you're not an expert on motors, go for the ones with a higher power to get more reliability in your scooter.
The battery is the final key component of the scooter. It may as well be the most important one when it comes to reliability.
If the battery has low power and capacity, your scooter will not be able to handle any serious distance. Usually, manufacturers list the maximum range, and usually, it's an accurate number. But having a great battery will make you certain that you will have a great range, and more importantly, keep having it as the battery degrades.
Again, if in doubt, go for scooters with batteries from well-known manufacturers, and with higher energy storage capacity. It is a unit expressed in Wh (Watt-hours). It is often included in the manual, but you can easily Google it as well if it isn't. You can also calculate it by multiplying the battery's voltage in V and its charge in Ah – that will give you the energy storage capacity in Watt-hours. Check out our calculators for the battery and motors specs for the easiest way to do that.
Just to give you an example, almost half of all scooter models have batteries between 200 and 400 Watt-hours. Those are not bad, but consider that the higher-grade batteries will typically be anywhere above 500 Watt-hours. For the highest quality scooters, this number will go into the thousands.
The best, highest-quality batteries come from Samsung and LG.
Ingress protection (IP) standard
The reliability of your electric scooter will also depend on whether it has an IP standard implemented, and if yes to which level.
The IP standard is a measurement of how much an electric device is protected from external particles.
It is expressed with two digits, like IP54 or IP67.
The first digit represents how well the scooter is protected from small solid particles, like dust, dirt, and sand.
The second digit represents how water-resistant or waterproof the scooter is.
The higher the number, the greater the resistance, hence better reliability. Typically, water-resistant scooters have the second digit at 4 or 5, while fully waterproof ones have it at 6 or 7.
If you live in a wet climate, this is an important feature to look at. But also, in general, higher-quality scooters will tend to have higher IP standards than lower ones.
What is the lifespan of an electric scooter?
The ever-increasing lifespan that users get from their electric scooters is the clearest sign of how much more reliable they get.
About two years ago, scooters from sharing companies were reported to last from 1 to 3 months on average, while the latest reports state they last more than 10 months now! That is an amazing leap, considering how these scooters tend to get the most abuse possible.
The lifespan of personal scooters has gone up as well.
Five years ago, there were tons of reports and reviews from users online that said they've seen their scooters completely break down in less than a year.
Today, the most common comment about the typical consumer-grade scooters like the Xiaomi M365 and the Ninebot ES2 is that they've already had them for two years and they're still going strong.
How long do scooter batteries last?
This is the Achilles heel of the electric scooters today.
You will likely have to get a new battery after 3 years. Or maybe you won't, but you will be getting noticeably less range.
It is an additional investment in your scooter, but it's not the scooter's fault – all devices with electric batteries suffer from this.
Make sure you never drain the battery fully and charge your scooter frequently to extend its battery life. If you're storing your scooter away, make sure you store it properly.
How electric scooters are getting more reliable
My favorite example that illustrates the growing reliability of electric scooters is the Ninebot series.
Basically, each model is an improvement of the next. The company releases a model, listens to user feedback, and incorporates the fixes and improvements in the next model.
Take a look at the first model, the Ninebot ES1, especially at the one and two-star reviews that users have left on their Amazon page. They account for about 20% of all reviews, and there are many complaints about malfunctions and weak performance.
Then look at the latest model, the Ninebot Max. Its one and two-star reviews are only 5% of the total reviews! Defects are very rare.
This is common for most serious brands. Simply listening to the feedback from the users, combined with the ever-present improvements in battery technology, provide us with electric scooters that get more reliable year over year.
What should I look for when buying an electric scooter?
As mentioned so far, there are a few important things to consider when going for a reliable scooter. Besides the reputation of the manufacturer, these are the most important features to look at:
motor power – it's hard to find a bad scooter with a motor above 600 Watts
battery energy storage capacity – anything above 500 Watt-hours is already a great battery
weight – if you're going after better stability and smoother ride, go for a heavier scooter (the tradeoff is you won't be able to carry it that easily)
materials – this is hard to evaluate online, but look for scooters made out of industrial-grade aluminum alloy at least, or carbon fiber as an even better option. If in doubt, go with a well-known and popular model.
IP rating – the higher the digits in the IP standard, the more reliable the scooter will tend to be. If the IP rating isn't specified in the manual, it's likely that the scooter hasn't been tested for it
Those are the most important things to consider when going for a reliable scooter. You can also go through individual reviews of the model in question to determine how reliable the scooter will be.
Electric scooter reliability over time
The first commercially available electric scooters had very little range and battery life, had very little waterproofing, and broke down quite often. Users reported various screws, latches, and mechanisms getting loose and unstable. Defects in electronics were common too.
Fast forward almost two decades, and we see a completely different picture.
Electric scooters are everywhere. In big cities, they are the most efficient means of transport. Scooter sharing companies leave literally millions of scooters exposed to the weather, negligence, and all kinds of abuse on the streets, and still turn profits.
Most user reviews online say they've had their scooters for years without a single issue. Just a quick glance at the reviews of the most popular scooters shows how satisfied owners are with their scooters.
Summary
We examined all the most reliable electric scooters available today, and touched upon several other topics related to reliability. For reference, the following table quickly summarizes the most reliable electric scooters one more time.
---
---
Liked this article? It really helps if you share it.
Follow @escooternerds on social media for more cool stuff
---