Last Updated on February 10, 2023 by Matt
This is the complete electric scooter winter guide. We will see what you need to know if you ride your scooter during the winter and in the snow, how to prepare your scooter for the winter, and also which scooters are best equipped to handle winter rides.
There will be times when you simply have no choice but to ride during the winter (that has been my experience at least). Emergencies or need may force you to ride through the snow, ice, rain, or some other unfavorable winter condition. For some people, electric scooters are still their best option, even if the weather is not very friendly for that.
Very few electric scooters can withstand a regular winter, and even fewer will withstand a brutal winter.
What type of electric scooter is good for the winter?
Electric scooters that are winter-proof will have:
strong IP water-resistance ratings
pneumatic instead of solid tires
wider, bigger, or more deeply patterned tires that prevent slipping and provide extra traction
dual motors for more control over slippery surfaces
great brakes and anti-lock braking systems (ABS)
high-quality battery that is not impacted by low temperatures
good balance and build quality
Additionally, the scooter not being terribly fast or accelerating too quickly can be a good thing, although that part is also dependent on the rider in large part. An argument can be made for strong lights as well, as winter days are much shorter in most countries.
Best electric scooters for winter and snow
Some of the best scooters for the winter will be highly water-resistant, since snow, rain, and other bodies of water will be the biggest threat to the scooter. An important factor that water-resistant scooters often include is being more resistant to rust, and to corrosion, which can often happen because of the salt that the city administrations spray on the streets to melt the ice.
Also, off-road scooters will make great winter scooters as well. They are often much more powerful than the regular scooters, and come already equipped with great off-road tires and other handy features that make the rides more stable.
These are the best electric scooters designed for winter.
Best electric scooter for winter – EMove Cruiser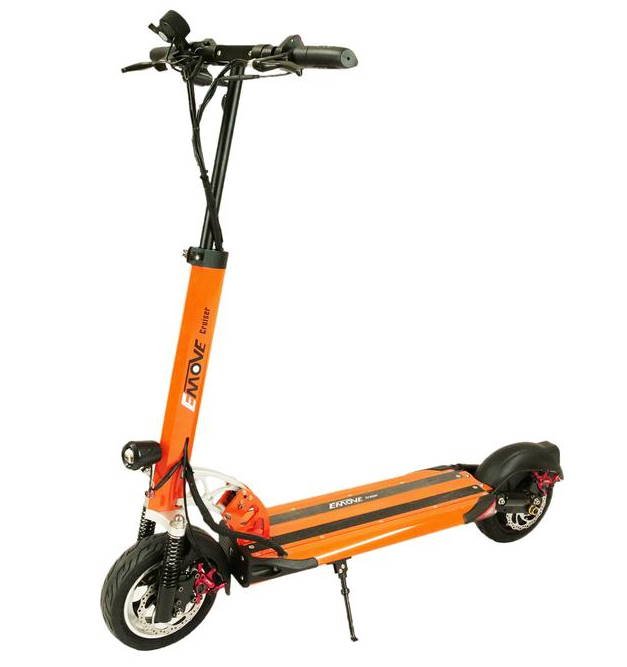 The EMove Cruiser is an excellent, high-end, fairly versatile scooter, and its main highlight is that it's currently the most waterproof electric scooter in the world. With an IPX6 ingress protection standard, the scooter is protected from strong jets of water, which is typically more than enough for a ride through a wet environment.
Pretty much all of its features are winter-ready – strong hydraulic-hybrid brakes, great build and balance, large anti-slip 10-inch tires. However, while these are all strong points, they are not the best we've seen. The primary selling point of the EMove Cruiser is its water resistance, and since that is probably the most important feature for a good winter scooter, the EMove Cruiser earns the crown of the winter king.
If we're being extra-picky, the perfect winter scooter would be a mix of the EMove Cruiser and the second-best winter scooter, the Kaabo Wolf Warrior.
The Kaabo Wolf Warrior is not too much behind, and it beats the EMove Cruiser in some important winter categories, most notably having two motors. However, it's fair to mention that the EMove Cruiser is two and a half times cheaper than the Wolf Warrior, which in my view only cements its throne as the best winter scooter overall.
Check out the full EMove Cruiser review for more.
Best offroad winter scooter, best alternative – Kaabo Wolf Warrior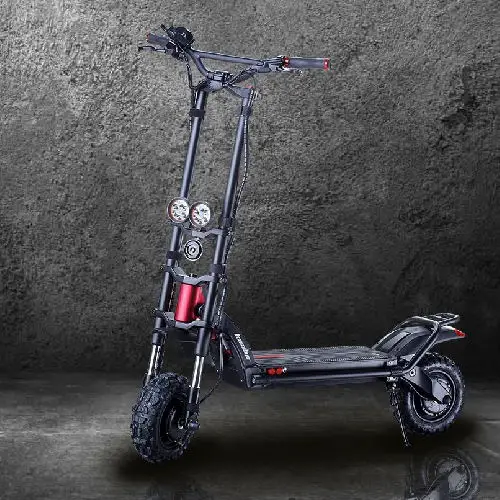 I believe many will not agree with ranking the Kaabo Wolf Warrior as only the second-best winter scooter. That's fair enough, and I accept the argument that for many winter scenarios, the Kaabo Wolf Warrior may actually be the champion.
The Kaabo Wolf Warrior is one of the original off-road pioneers. A true monster, it can develop speeds of 50 mph / 80 kmh and go for 70 mi / 112 km on a single charge.
It has an IP rating of IPX4. That gives it solid water resistance, but I would have loved to see an IPX5 here at least (I would have given it the winter crown if that was the case). Anyway, the scooter should be water-resistant enough for many common winter scenarios.
Even though the Kaabo Wolf Warrior is often considered one of the best offroad electric scooters ever made, it's actually a mix between a racing and an off-road scooter. Its offroad features are what make this scooter a great winter choice and very well prepared for the winter.
The dual engines will be much welcome for slippery surfaces. It comes with gigantic 11-inch offroad tires with extra traction, that will handle ice and snow without too many issues. In addition, it sports excellent brakes and ABS, dual shock absorbers, extra-strong lights, and of course great build quality and reputation.
The price of $3195 may make it unavailable to many, but you will get one of the hardest, toughest scooters on the planet. If some scooter can give you a good winter experience, that will be the Kaabo Wolf Warrior. See my complete Kaabo Wolf Warrior review if you want to find out more about this excellent scooter.
Best value winter scooter, most popular – Ninebot Max
If you don't want to spend thousands of dollars for a scooter that can make it through the winter, and you still want as much quality as possible, you will probably want to check out the Ninebot Max.
For the price of just $800, this is one of the most trusted and loved electric scooters of all time, having learned a lot of valuable lessons from the Xiaomi and other models and implemented a ton of useful features. It is the best-value winter scooter, all things considered.
The strongest weapon the Ninebot Max has against the winter is its IPX5 rating. While we all know that scooters and water don't mix, that is a pretty strong rating, and rides through messy winter conditions may just go without issues.
The Ninebot Max has a few other things going for it when it comes to winter features, including dual brakes, an anti-lock braking system, large 10-inch anti-slip tires which are rarely seen in scooters under $1000, a great battery with a smart battery management system that will tolerate all kinds of temperatures, a strong headlight, and an excellent build quality.
Also, let's not forget that the winter only lasts for a few months of the year. If you get the Ninebot Max, you will not only have a scooter that can handle the winter well, but also a scooter that is excellent throughout the rest of the year!
Finally, this scooter has a reputation so great that it's almost hard to believe. No other scooter has a 4.5-star rating out of more than 2000 reviews, with 80% of them being 5-star reviews. That must be taken into account – you will be leveraging a lot of crowd wisdom when deciding to get the Ninebot Max.
There is no doubt here – the Ninebot Max is the best winter scooter for under $1000. You can read the full review of this scooter here.
Best budget winter scooter (Europe) – Kugoo M4 Pro
Overall, I believe that the Kugoo brand is slowly but surely making a name for itself in the European scooter market. Their value proposition is great performance scooters at value prices, and the market responds to their offerings very well.
The Kugoo M4 Pro is somewhat of an anomaly – it is almost a true offroad scooter, and yet unlike most offroad scooters, it doesn't cost $3000. It doesn't cost even $1000.
With a price of around $675, I believe this is the most affordable offroad scooter in the world right now.
It provides a lot of winter-ready features for that price – a 500 Watt motor stronger than almost any other scooter in the price range, large 10-inch pneumatic anti-skid offroad tires, and strong dual disc brakes and shock absorbers.
And, not to forget, an IPX4 water protection standard, which will be desperately needed in the winter.
Can't really ask for more from a scooter with this price tag. If you need a great value winter scooter, I warmly recommend the Kugoo M4 Pro. You can also check out the full review of the Kugoo M4 Pro.
Best budget winter scooter (North America) – UberScoot 1600W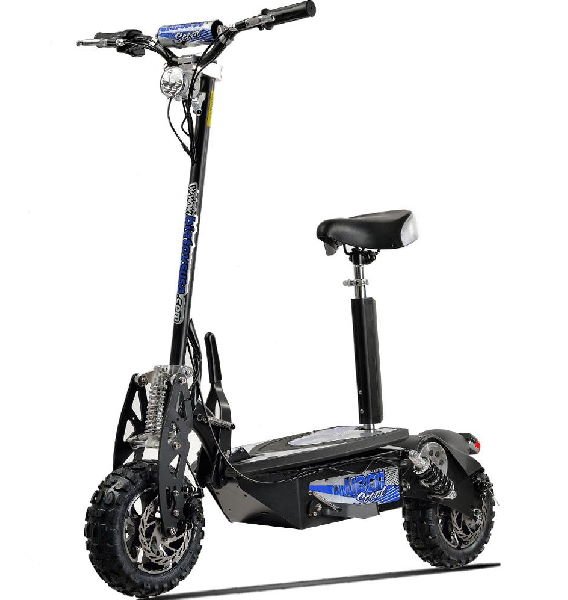 Probably the best budget (or close to budget) option for a winter scooter in the US (and other countries outside Europe) would be the UberScoot 1600W.
It costs only $709, which is the cheapest option on this list.
For that price, you get a very powerful motor of 1600 Watts (hence the name). It gives you a top speed of 25 mph / 40 kmh, and a range of about 12 mi / 20 km.
In terms of winter preparation, this model comes with strong dual disc brakes and dual suspension for well-balanced rides, 11-inch pneumatic tires, and ready for offroading – the true monster-truck tires will get you through anything winter can throw at you.
Best performing, best high-end winter scooter – Dualtron Ultra 2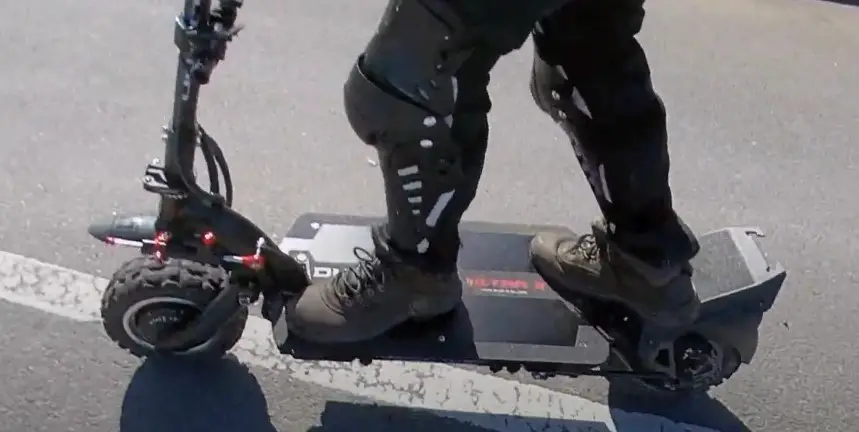 Dualtron makes great scooters, and the Ultra 2 model is its main off-road model.
As with all the other Dualtron models, you pay a hefty sum, usually around $3990 for this scooter. The product you get will be of top quality, possibly the highest quality scooter that has a shot at surviving winter rides. The potential owner that should consider this scooter is precisely the scooterist that wants a winter scooter of the highest possible quality.
The Dualtron Ultra 2 has an IP rating of IP54, giving it a very decent waterproof ability. The powerful dual motors will prevent slipping, and the strong dual disc brakes with a great anti-lock braking system will make sure you stay safe and slip-free.
On top of that, the high-quality design and craftsmanship will make sure this scooter makes it through the winter just fine. Its huge, wide, almost tractor-like 11-inch tires will provide a lot of traction.
As with the other Dualtrons, you get the same great power, with a range of 87 mi / 140 km on a single charge and a top speed of 62 mph / 100 kmh. So, while this is an excellent winter scooter, it is one of those evergreen models that you will also enjoy riding throughout the rest of the year as well.
Honorable mention winter scooter – Kaabo Wolf King GT Pro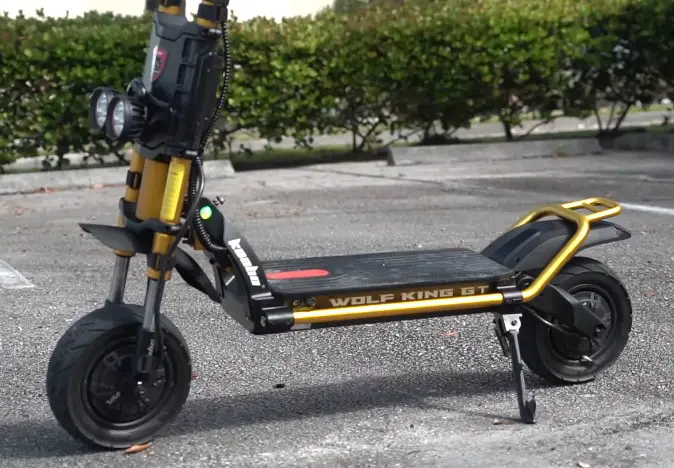 A big, bad, off-road scooter that is perfect for winter rides.
For the price of $3500, you get very strong power and battery life.
With an IP rating of IPX5, it means that it has very good water protection standards implemented.
Its 11-inch tires are very wide as well (3.5 inches). The patterns on them are exactly what you need for the best ride over icy surfaces possible. The dual hydraulic brakes are also a much-needed winter feature.
Kaabo is a premium, heavy-duty brand. We can be fairly confident that the Kaabo Wolf King GT Pro, which is probably their best model in my opinion, will be more than enough to go through the winter.
Can you ride an electric scooter in the winter?
While the recommendation is not to ride electric scooters during the winter, it's possible to do that in a somewhat safe way. Winter-ready or waterproof electric scooters will have little trouble with the snow or puddles of water, but every scooter will struggle with ice or slippery surfaces, and extra care will be required.
Still, riding through wet environments is always a bit of a coin toss. It's worth being aware that even though your scooter may make it through several winter rides, there is a non-trivial chance of a problem occurring.
Can you ride an electric scooter in the snow?
Even though it's not recommended, it is possible to ride an electric scooter over packed snow. Most scooters will be able to handle short trips. Riding over deep layers of fresh snow will be unfeasible though. In any case, you should avoid riding on snowy surfaces.
Can you ride an electric scooter on ice?
You can't ride electric scooters on ice. If you do so, you will probably find it very hard to achieve. If there's one thing that electric scooters absolutely cannot handle, it's ice.
If for whatever reason you are determined to do so, make sure your scooter has high-traction tires that are slightly deflated for even more traction.
Electric scooter winter tips
Winter snows look like the nemesis of electric scooters, but there's one element even worse than the snow. Your biggest concerns with winter rides will be ice and slippery surfaces.
Since we have no power over these circumstances, we can only adjust our riding style for better safety. There are a few things we can do.
1. Slow down and steer more carefully, especially on slippery surfaces
The most important thing you should do is slow down.
Yes, I know, it sounds boring (and, in fact, it really is). But it is the best thing you can do.
When the road is frozen, or wet even, it will be so slippery that riding over those patches is already risky.
Remember, just by riding in winter we are already going against every recommendation out there.
The same applies to snow, especially parts of the road where there are little patches of fresh snow. Those can be very slippery.
As the snow gets more solid, it almost gets less slippery. But if it's still fresh and not dense it can be dangerous.
Driving fast over all of these types of surfaces drastically increases your odds of falling. Avoid driving over deeper snow as well. Your tires might easily get stuck in it.
Besides driving slower, you should also turn slower than usual. As with driving, it is much safer, and harder to slip and fall.
2. Deflate your tires a bit
When winter comes, you should deflate air-filled tires a little. Try deflating them by 3-5 PSIs at first and see how is your ride experience. If you're still slipping a lot but you feel like you can try and deflate the tires more, try that too.
The less inflated a tire is, the more friction it creates with the surface, no matter how slippery the surface is. In winter this is very good for preventing slipping, and it improves braking.
As soon as the snows melt and the winter is over, you can inflate your tires back to the normal level.
3. Replace your standard tires with wider or off-road ones
The tires will be the most important point of your scooter over which you have control. Preparing your tires for winter can make all the difference.
Air-filled tires will always beat solid tires for winter rides.
Fewer scooters come with solid tires out of the box. If possible, it is advisable to replace them with pneumatic ones whenever possible.
Usually though, replacing wheels will not be very simple. You may be stuck with solid tires.
Off-road tires, of course, will be superiors to regular tires.
They have patterns and perforations in them that are much less slippery. That makes riding on wet or icy surfaces not as bad.
Unlike replacing solid tires with air-filled ones, replacing regular tires with off-road ones may be a bit easier. Of course, this will depend on the scooter model.
Also, the wider the tire, the better it will be for winter rides and handling slippery surfaces. That's exactly why off-road tires are often wider as well.
If you can do it yourself, or you can find someone who can do it for you, by all means, go ahead and replace your regular tires with wider or off-road ones for the winter.
4. Tighten your brakes a bit
This is not written in stone, but it may be a good idea to tighten up the brakes a bit in winter.
Ice, snow, and slippery surfaces will make braking trickier than usual. You can expect at least 20-30% more of your standard braking distance.
That's why you may want to adjust your brakes for that difference.
Having more sensitive brakes will make sure you brake as close to normal as possible. Just don't overdo it – then you will brake so fast that you may fly over the front.
5. Plan your route beforehand
Try to avoid riding over the dangerous surfaces as much as you can.
If there's a longer route but it's more clear and doesn't have as much snow or ice on it, choose that route. Choosing a shorter but more slippery one instead will not pay off.
Chances are, you will get to your destination faster anyway. When you don't have to drive so carefully, you will get some extra speed naturally.
In any case, make a plan and stick to it. Avoid making your route longer than it needs to be. That way you decrease your chances of slipping or having an accident.
6. Take better care of your battery during winter
Your battery will be one of the most vulnerable parts of your scooter during winter. It will require more attention and care than in the other seasons.
During winter, the battery life on a single charge will be smaller. Batteries are less efficient during cold weather, they use more power for covering the same distances.
7. Don't charge your scooter immediately after riding in the cold
An eletric scooter battery is best charged at room temperature.
When charged in too cold or too hot temperatures, it is charged slower. Not only that, but the battery will degrade a bit faster too.
The temperature of the battery itself, though, is also important. It doesn't matter if the temperature of the room is moderate, if the battery itself is too hot or too cold, it will have the same effect.
That's why, when you come home with your scooter from outside, give your battery some time to adjust. Let it slowly warm up to the room's temperature. That way you will avoid any possible damage to it.
You should wait at least 10 minutes. To be on the safe side, wait some more. A good rule of thumb is: if your battery is still very cold to the touch – wait.
8. Charge your battery frequently and don't let it go empty
Since your battery will get drained faster, it is important to not forget to charge it frequently.
Electric batteries work better the fuller they are. So keep them as full as you can for the best performance and lifespan.
On the same note, electric batteries, lithium-ion ones especially (the most common ones in electric scooter), should never be fully drained.
That does irreversible damage to them and decreases their lifetime.
Keep this in mind in the winter especially, since the battery will tend to get drained faster.
9. Winter days are shorter – ride for saving power
In most regions, there is less natural daylight during the winter days.
This is more bad news, since you will have to use the lights of your scooter for long periods of time.
Your battery life will already be as low as it can be, and now you will have to use the battery even more.
Do not compromise on safety and always follow the scooter safety tips. Your safety and well-being are more important than your scooter's battery.
But also try to ride for saving power as much as you can.
This already fits with the idea of riding slowly. When riding in the Eco or Smart mode, you use the battery in the most efficient way. This may not be true for every scooter, but usually, it is for most.
10. Winterize your electric scooter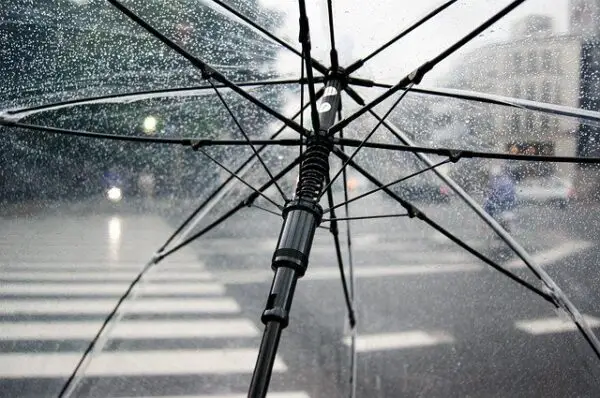 Besides snow, in many places winters include heavy rain.
And, in the end, they both end up the same – puddles of water in the streets.
Which means your scooter needs to be as waterproof as possible.
Many electric scooters are water-resistant already.
Even though every manufacturer will warn against riding in wet environments, most scooters can handle some water just fine.
No matter how water-resistant your scooter is, you can always try to make it a bit more so. Some of the most useful things you could do are:
plug or tape non-functional gaps in the deck
place some o-rings around non-sealed screws, and over holes with wires or cables
add additional protection over the power button, the LED screen, and the throttle
extend the mudguard
waterproof with silicone
grease the motor wheel axles
Check out the full guide to waterproofing your electric scooter to learn more.
11. Clean your electric scooter properly and often
One of the great things about electric scooters is that they don't require much maintenance. You don't need to clean your scooter that often. When you do have to, it's very easy.
During the winter, however, it is recommended that you clean your scooter more often.
The reason for that is two-fold.
First, because of all the water from the rain, snow and ice, and also all the mud, your scooter will get wet and dirty faster.
Water on the metal parts can cause rust or oxidate them. This can be especially bad if water gets inside the battery case.
Dirt and filth can actually hinder performance, both in the motor and in the battery. The reduced performance will already be an issue because of the reduced efficiency of the battery.
Second, in many places, city or government institutions spray salt over the streets to melt the ice. While this is great for reducing slipperiness, it can be very bad for your scooter's chassis. Water can already cause rust and corrosion, and salt makes all of that even worse.
Clean your scooter as often as you can during the winter.
If possible, do it after every ride. This will make sure your scooter doesn't corrode.
Otherwise, clean it whenever it looks dirty.
Using a microfiber cloth should be more than enough.
Never spray your scooter with a hose. Very few scooters can handle strong jets of water.
12. Dress warm and protect yourself against the wind
The cold, the wind, the snow, and the rain will all interfere with your ride.
The colder you are while riding, the more distracted you will be from your ride. That increases the odds of making a mistake and getting injured.
Dress as warm as you can while still being comfortable. Being cold while riding will make you focus on the cold more than on the ride. That's how accidents happen.
The same applies to being too hot and sweaty too, though. Just make sure you are comfortably dressed during the ride.
Some kind of glasses or goggles will be helpful when there is snow, rain, or strong wind. You don't want anything getting into your eyes while riding.
Gloves are a must too. If you are to be able to hit the throttle and brakes in a timely manner, without your fingers freezing out, you will need a good pair of gloves.
Prefer waterproof footwear over regular sneakers. Winter boots will make sure your feet stay warm and dry, and protect you from splashes.
See my complete guide on how to dress for riding an electric scooter to find out the exact tips.
13. Put as much safety equipment on you as you can
You should always wear as much of your safety equipment as possible.
The helmet is a bare minimum. Never ride without wearing a helmet appropriate for an electric scooter.
Besides the helmet, the elbow and knee pads should be a standard part of your scooter safety equipment.
This is especially true for the winter months. The chances of slipping or falling over are much higher. Your knees and elbows will be your most impacted points. Protecting them makes a lot of sense.
Electric scooter accessories for winter
Sadly, I haven't been able to find winter chains for electric scooters online. It may be a product that doesn't exist yet, and honestly, I can't really imagine how that would work on a scooter. I still hope we get to see something like that on the market.
The only real scooter accessories you have for preparing for the winter, are the same things you use to waterproof it.
Get a waterproof cover and a waterproof bag for carrying it.
Try and get the plastic sticker for the screen too.
Other than those few items, there's not a lot of other products you can get for the winter.
How do you store a scooter for the winter?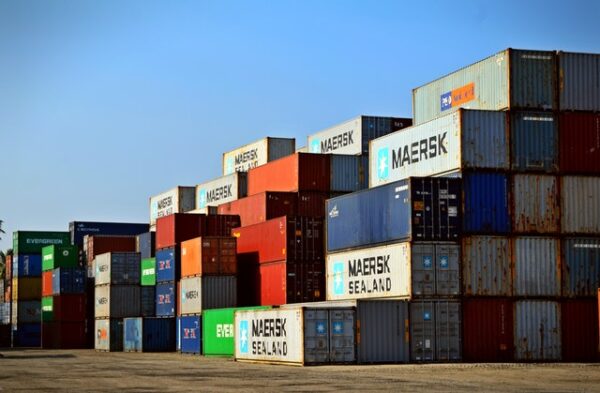 Follow these steps to properly store your electric scooter for the winter:
find a dry, dark place, as close to room temperature as possible
charge the battery to 60%, recharge it to that level once every month
clean your scooter and make sure it has no water on it so it doesn't corrode
make sure the scooter is off
lock it, both with its own mechanisms and with external safety measures
put it in a box and a protective waterproof cover
Check out the full guide on how to store your electric scooter for the exact steps to avoid damaging your scooter while storing it.
What the user manuals say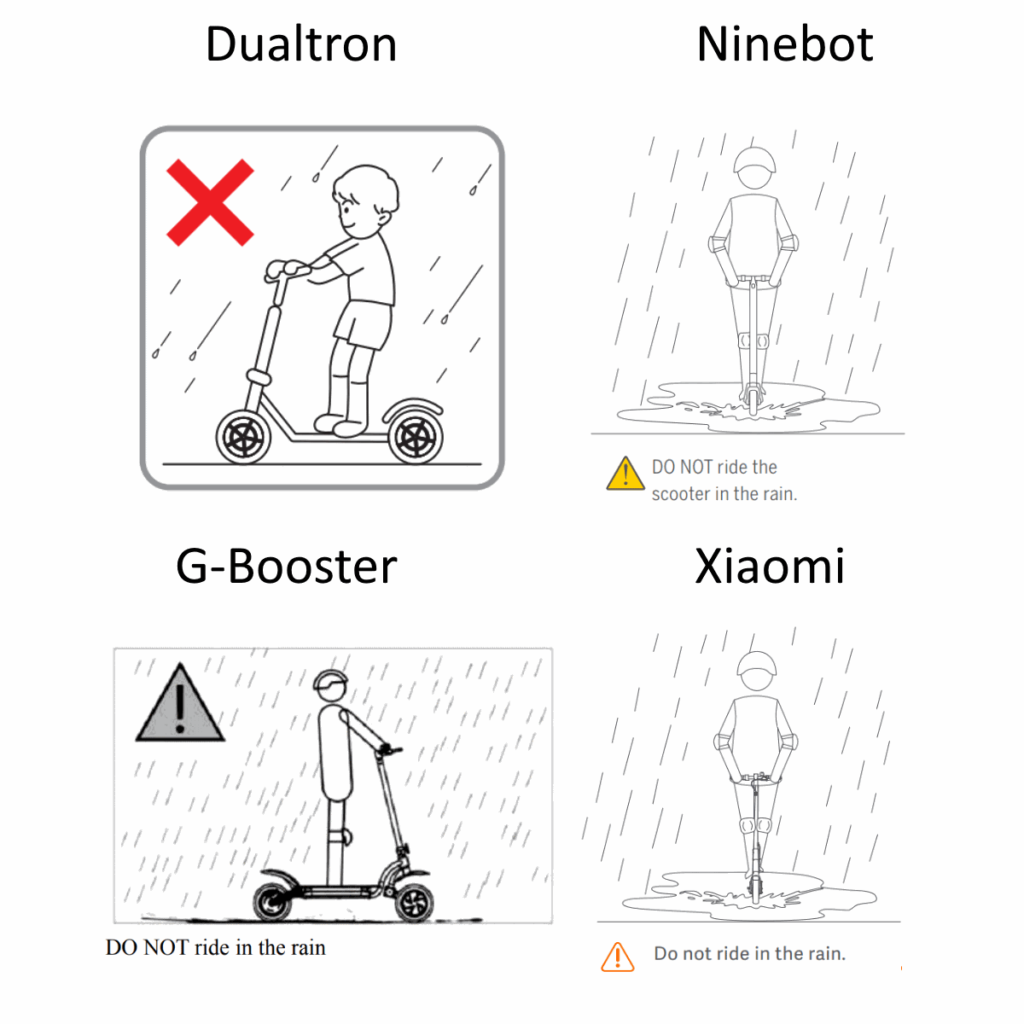 The manuals usually have some warnings about winter rides.
According to them, the primary dangers of riding in the winter are:
ice
slippery surfaces
puddles
other bodies of water
Many consumer scooters not built for off-road rides, may have issues with parts of the road that have ice, snow, or are frozen.
The slipperiness of the road will be your biggest threat during the winter. You can easily fall, which may result in an injury, damage to the scooter, or both.
Apart from that, manufacturers also warn against wet conditions. Many electric scooters are water-resistant, at least to a degree.
But most are not entirely waterproof. Which means they might get damaged from contact with water.
Even worse, manufacturers don't even cover damage from water in the warranties.
That's why manufacturers simply say don't ride during the winter.
Can you ride Xiaomi M365 Pro in the winter?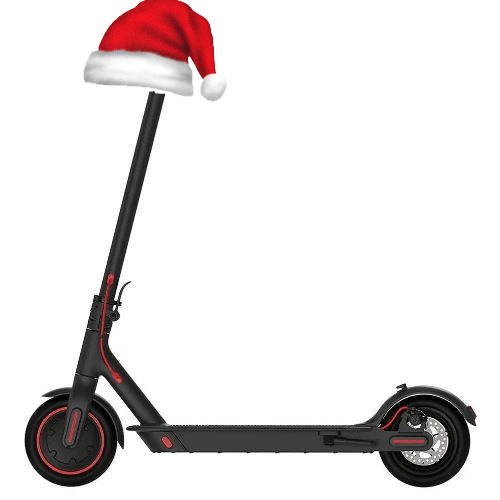 The Xiaomi M365 Pro is not exactly the most winter-ready electric scooter. However, it's still possible to do short trips with it during the winter, as long as you avoid slippery surfaces and too much water. It comes with an IP54 water resistance standard, pneumatic tires that you can deflate or replace with wider ones, and ABS on the front wheel, which makes it able to survive the winter.
Still, you should know that you will be going against the grain if you ride the Xiaomi M365 Pro in the winter. Its tires are not wide enough, and even if you deflate them, they will slip and make you lose control. You will have to get some spare tires, which may not fit the wheels well. Also, the Xiaomi M365 Pro only has one motor, which doesn't help with the slipping. Finally, even though the IP54 rating makes it water-resistant, it doesn't make it fully waterproof, and riding through very wet environments can still damage your scooter.
All of that said, I have ridden my Xiaomi M365 Pro several times in the winter, through light snow, and haven't noticed any issues. I haven't tried it in heavy snow, and I've always avoided frozen surfaces. I always clean it after every ride, since the streets here can have a lot of salt during the winter, and that can damage the scooter.
You can check my ultimate review of the Xiaomi M365 Pro if you are interested in this scooter.
Is an electric scooter or a fat bike better for winter rides?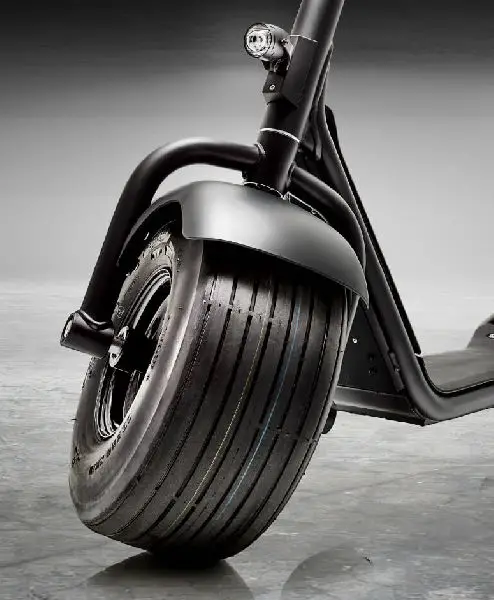 The wider tires of fat-tire scooters can make them better suited for winter rides than electric scooters. Fat bikes can provide better balance and traction on wet and slippery surfaces. Their downside will be the bigger price and energy consumption.
Conclusion
Is riding your electric scooter during the winter recommended, or even wise?
No, not really.
Can you still do it if you have to?
Of course.
Scooters are tougher than they look. They can handle much more than you would think.
Still, try to avoid winter rides. If you can't, follow the tips in this guide. Make sure you are not driving fast. Dress safely and have your safety gear on. Make your scooter as waterproof as possible.
For reference, the table below summarizes the best winter electric scooters once again.
---
---
Liked this article? It really helps if you share it.
Follow @escooternerds on social media for more cool stuff
---