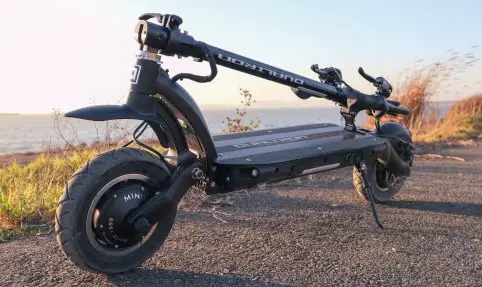 Dualtron Eagle Pro is a newly released electric scooter from the Dualtron brand. In this review, we will go in detail through my experience with it, all of the features, qualities, and performance of this scooter and see what types of riders it suits the most.
Dualtron Eagle Pro Review
The Dualtron Eagle Pro is a premium urban electric scooter. It is the latest addition to the Dualtron family and an upgrade to their best-selling Dualtron 2 model. The scooter is powered by dual BLDC motors that have a combined power of 3600 W and can reach a top speed of 43 mph / 69 kmh. Featuring a 60 V 22.4 AH LG battery, the scooter has a max range of up to 47 mi / 75 km on a single charge. The Dualtron Eagle Pro is packed with numerous features that will make your commutes easier, such as an adjustable rubber suspension, an efficient folding system with a stem lock, and dual charging ports that are compatible with fast chargers.
Dualtron Eagle Pro pros and cons
PROS
Premium quality
Great durability
Perfect for city rides
Pretty light for a Dualtron scooter
Great balance between performance and usability
CONS
A bit pricey (still good value though)
Could use a bit more range
No water resistance rating
Good brakes but not hydraulic
Buying and promotions
I recommend getting the scooter from Voromotors as your best option.
Voromotors are one of the official dealerships for Dualtron products and are currently the best place to buy their products for many reasons. They have great offers on scooters and accessories various discounts, as well as options to pay in installments, and many more.
The Dualtron Eagle Pro will typically cost you around $2290. If you add the 1-year Extend product protection and use the coupon code FreeExtend at checkout, you will get 2 years of warranty for free.
Although this is well into the premium price range when it comes to electric scooters, you can't expect anything less from the Dualtron brand. They are mainly known for manufacturing only premium, high-end scooters with the best performances.
Ordering and shipping
Ordering from Voromotors comes with free shipping in the continental US, and you should expect your scooter to arrive within 2 to 4 days of ordering.
If you live in Canada, the UK, and most EU countries, Voromotors offers free shipping on orders over $3000. So, if you need to get another scooter for someone else, you may get free shipping in other countries besides the US.
If you are in a hurry to get the scooter as soon as possible, you can opt for the fast shipping option instead. That will cost you an additional $160, and you will get the scooter in about a week or two.
Warranty, return policy, and customer support
The scooter comes with a standard 1-year warranty, which you can extend to up to 4 years with Vormotors Extend Protection Plan. Don't forget that if you add the 1-year Extend product protection and use the coupon code FreeExtend you will get 2 years of free warranty.
By purchasing from the Voromotors store, you will also get a lifetime 10% discount on all spare parts and accessories available in their assortment.
In case you didn't quite like the product and want to return it back, you have two options:
if the scooter is unused, you can return it in the first 10 days after it's delivered
if you've already used the scooter, then you must return it back within 3 days and it can't be used for more than 10 mi / 16 km
Both options will grant you a full refund for the money you've paid, excluding a 15%-20% restocking fee.
If you have more questions about Voromotors' policies, you can reach their great customer support team via the chatbox on the bottom right corner of their website, or by sending them an e-mail at [email protected].
Basics
The Dualtron Eagle Pro is one of the lightest and sleekest electric scooters from the Dualtron brand. It's designed as a typical urban commuter, and comes in the signature Dualtron design, with a dark black frame, sturdy build, but lots of flashy details as well.
Unboxing and assembly
The scooter is packed in a huge box, wrapped in bubble wrap and styrofoam for extra protection. Inside the box you will find:
the scooter (folded)
charger
LED controller
user manual
wheel fender
multitool
stem lock
As most of the important parts of the scooter are all set up by the manufacturer, you will only need to assemble and check a couple of things before riding.
First of all, you'll need to unfold and secure the stem, along with the handlebars. The stem uses a clamp for folding, so you'll need to tighten and lock it up in order to keep the scooter standing upwards.
Afterward, you can install the optional stem lock and the front wheel fender. The stem lock will be helpful for carrying the scooter in your arms and is a very handy feature that only takes a minute to install.
The only thing left for you after this is to check the tire pressure, make sure the battery is full and there are no wobbly loose parts, and you are ready to go.
Folding and unfolding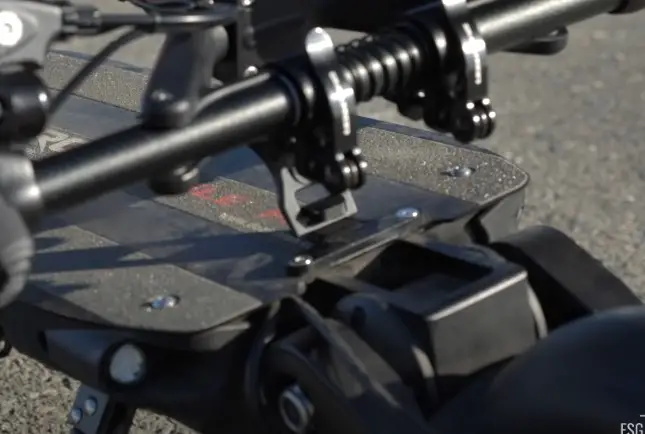 The Dualtron Eagle Pro is foldable at both the stem and the handlebars.
The stem folds onto the deck and can be secured with the lock provided in the box.
The handlebars, on the other hand, use clasps similar to the ones on the stem for folding. This feature found on most Dualtron models is very useful as it lowers the width of the bars to the one of the deck, making it easier for you to store the scooter in your trunk or any place you plan on keeping it in.
Ride experience
Ride comfort is one of the main focuses of the Dualtron Eagle Pro scooter. Thanks to the adjustable rubber suspension, I didn't feel a thing even when cruising through streets filled with bumps and potholes.
The wide deck and sturdy build that has no loose ends add an extra measure of security, resulting in a very smooth and comfortable ride experience.
Build quality
It's almost unnecessary to talk about the build quality of any Dualtron scooter, as they always deliver in this regard.
The brand has shown time and time again how meticulous they are when designing and executing its products, and the Dualtron Eagle Pro is no exception to that rule.
Every part is firmly attached to the frame, so you don't have to worry about any wobbly pieces. It definitely felt like all of the parts were secure and connected, and I didn't notice any loose screws.
Design, colors, and materials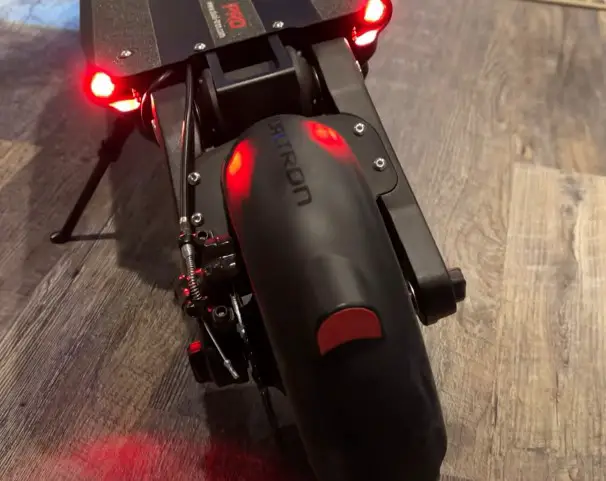 Dualtron has used aluminum alloy for the most part of this scooter's build, along with steel for the scooter's shaft. Each part is colored in matte-black, except for the logo, which is white, and the wheel rims which come in light-grey color.
The scooter is made in the typical Dualtron design, although it is much slimmer and lighter than all of the other Dualtron models. The deck is wide and thick in order to fit the battery inside of it, while the stem and the handlebars are pretty slim and complete the semi-minimalistic design the brand was going for.
You'll find the Dualtron logo in two places on this scooter: on the deck, engraved in the middle, and on the stem where it flashes brightly due to the RGB LED lights used in this model.
Performance
Although it's among the cheapest scooters from this brand, the Dualtron Eagle Pro is no joke when it comes to its performance level. The scooter can reach some insanely high speeds for a vehicle of its type and has some power outputs that rival even much more expensive scooters.
Speed and acceleration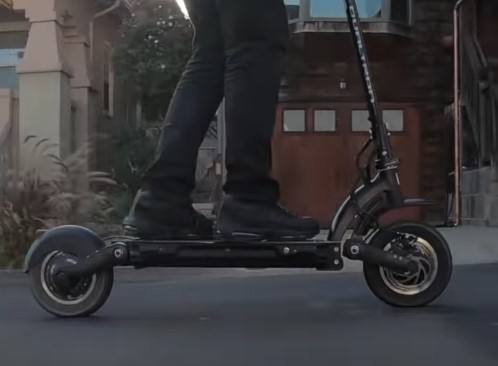 The Dualtron Eagle Pro can reach a top speed of 43 mph / 69 kmh. I reached this speed several times, and even surpassed it by a bit one time when riding slightly downhill.
The scooter is also capable of reaching the 20 mph / 32 kmh mark in just 4 seconds, delivering one of the fastest accelerations in this price range.
Motor, power, torque, and climbing
Reaching such high speeds is made possible by the dual BLDC motors mounted on each wheel. The motors have a combined power of 3600 W.
While riding, you can switch between using a single motor or the dual motor's power. The switch button is found on the left handlebar and is within the hand's reach. You can also choose between two riding modes: eco, for higher range, and turbo, for higher speed.
Using the whole power of this setup will get you a 25° climbing angle, which will take care of pretty much every hill you run into in your day-to-day rides.
Weight limit and usage by heavy adults
The aluminum frame of this scooter can handle a load as heavy as 265 lbs / 120 kg.
While this may seem a bit low for a premium scooter since most of the top-end models can handle a weight of up to 300 lbs / 135 kg, it's still more than enough for most of the riders out there.
As a rider reaches the weight limit, they might notice a slight drop in performance. I weighed around 200 lbs / 90 kg at the time, and it felt like the scooter performed at 100%, but I can't be entirely sure how it would perform if I were 30 lbs lighter.
Range and commuting
A single full battery charge of the Dualtron Eagle Pro will grant you around 47 mi / 75 km of riding range. My tests pretty much confirm this range, although not entirely (I got around 26 mi / 42 km of range, starting with a full battery and riding until it was about 40%).
It should be noted that this range will vary based on many conditions, such as the rider's weight, the riding mode, the level of incline you've mostly ridden on, and many other circumstances.
If you unexpectedly end up with a low battery, yet are still miles away from home, you can simply switch to eco riding mode. The scooter will still go at 15 mph / 24 kmh, which is more than enough for a pleasant yet efficient ride.
Batteries and charging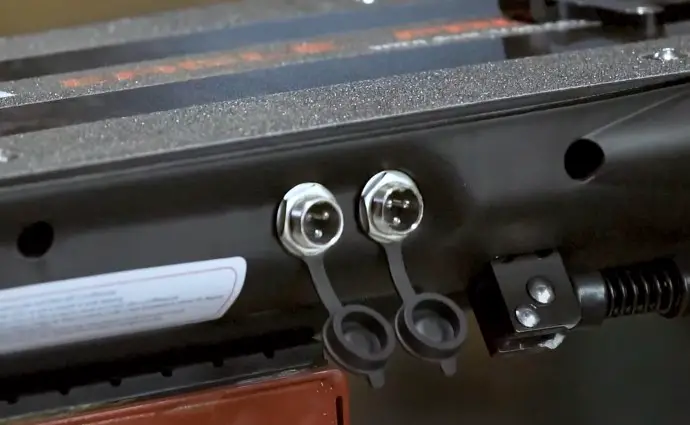 The Dualtron Eagle Pro is powered by a 60 V 22.4 Ah LG 3500 Battery that has a capacity of 1344 Wh.
The battery is fully charged in around 12 hours with the standard charger. This time can be halved if you use 2 standard chargers instead of one. You can also get a quick charger aftermarket and lower the charging time to up to 3 hours.
Features
While many brands sacrifice the number of features they put on their scooter in favor of better performances, the Dualtron Eagle Pro somehow shines in both aspects almost equally.
Weight, dimensions, and portability
The Dualtron Eagle Pro weighs around 66 lbs / 30 kg, which is twice the average weight of an electric scooter.
Some people will find it difficult to carry the scooter around, but the process is made easier thanks to the stem lock you can install at the back of the deck. This will secure the stem in place once it's folded and will help you to use it as a bar to lift and carry the scooter with both your arms.
Still, keep in mind that some Dualtron scooters weigh twice as much as this one, or even more. So, all in all, the scooter is a bit heavy, but nothing too crazy.
Once folded, the scooter has the following dimensions: 46.6 x 9.4 x 19.8 in / 118.3 x 23.9 x 50.3 cm. When you unfold it, these dimensions go up to 46.6 x 24 x 47.2 in / 118.3 x 70 x 120 cm. The scooter might fit in some pickups or larger car trunks, but probably not in smaller car trunks.
In general, I found the scooter to be of mediocre portability, both in terms of weight and storage.
Waterproofing and riding in the rain or snow
Unfortunately, the Dualtron Eagle Pro does not have a proper IP rating, so you will want to ride the scooter as little as possible whenever it rains outside.
Driving through puddles from time to time shouldn't do any damage. I only rode through some light rain once, and once through some medium rain, and the scooter didn't show any signs of problems.
Still, I would definitely advise against longer exposure to rainy weather. This is especially important for snow as well. Besides the lack of waterproofing on the scooter's build and electronic parts, its tires and torque are also designed for dry weather only.
Brakes
It's usual for electric scooter brands to put only a single brake on the motor-powered wheel, or a disc and an electrical brake alongside it. However, when it comes to the speed the Dualtron Eagle Pro can reach, one brake will not be enough to stop you when cruising through crowded traffic.
Therefore, the scooter is equipped with two disc brakes, on both the front and the rear wheel, and it can come to a full stop in only a couple of feet.
The brakes also have an anti-lock braking system (ABS) so the wheels don't end up skidding when making a sudden stop.
To be honest, the brakes were pretty good, but for this price, I would like to see hydraulic brakes.
Tires, wheels, terrains, and environments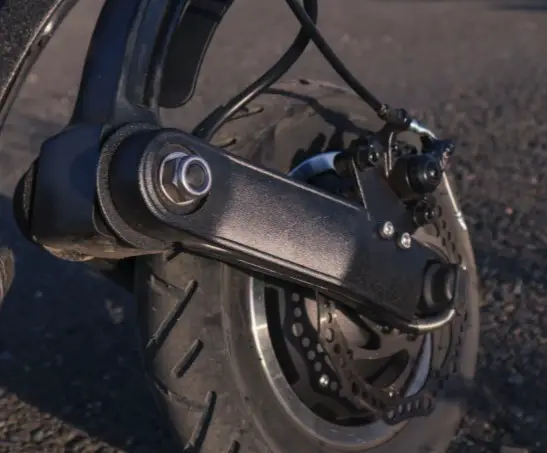 The Dualtron Eagle Pro uses standard 10-inch pneumatic tires with an inner tube for both of its wheels. They are wide enough to provide a comfortable ride and some shock absorption for smaller bumps along the road.
Although the tires have wide treads, they are not exactly designed for rough terrain or a snowy road. The scooter is designed to be ridden in urban environments, and on clean paved streets only. Even though the scooter has a sturdy suspension for handling potholes, any tougher off-road adventures and rough terrains are mostly out of reach for this model.
Suspension
When it comes to shock absorption, the Dualtron Eagle Pro uses an adjustable rubber suspension placed on both ends, near the wheels of the scooter.
Instead of springs, the scooter has rubber blocks that absorb the shocks of road bumps and potholes. These blocks provide a much better ride experience than spring suspension but are only intended for street use.
Off-roads and dirt tracks will feel much less comfortable and bumpier because of this type of suspension. If you were looking for a scooter you can ride on all kinds of terrains, you can check out some of the other Dualtron models designed to withstand such adventures, or see my guide on the best off-road electric scooters.
Lights and night use
The Dualtron Eagle Pro uses the conventional dual LED headlight to light up the road ahead. They are mounted on the front of the deck, with two more taillights on the rear side.
Right beside the taillights, you will also find the brake lights, which flash up whenever you press the brakes to indicate to those behind you that you are stopping.
The stem of the scooter is decorated with lots of RGB lights as well, which light up the Dualtron logo written on it. These lights are regulated with the LED remote controller that's provided in the box.
Screen, handlebars, and controls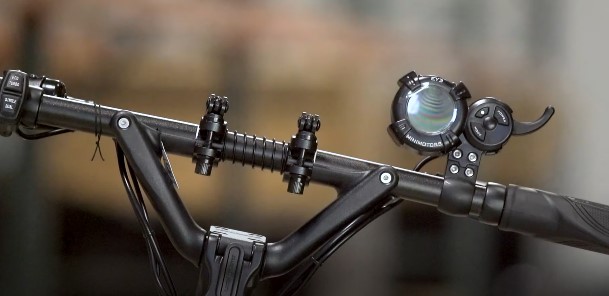 When it comes to the control unit, the Dualtron Eagle Pro uses the standard EY3 Minimotors LCD Display. This circular display is already used in almost all of the Dualtron models and has proven to be one of the best options when it comes to settings control on an electric scooter.
The display indicates:
current speed
odometer
current trip
riding mode
battery remaining
Right beside this screen, on the right side of the handlebars, you will find the throttle and the front brake. The back brake, along with the riding mode switch and the ring bell is placed on the left side.
Deck and standing surface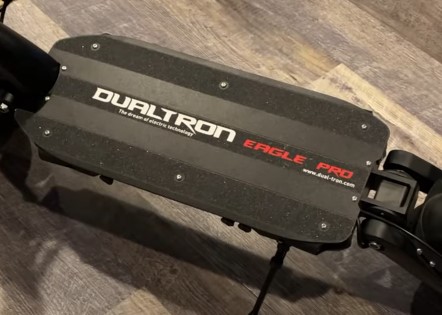 Dualtron is most known for its signature wide decks, which look more like a platform than a scooter deck. You will not only be able to place both of your feet on it, but both of them will be next to each other, instead of the usual scooter stance where one foot is in front of the other.
The deck is 5.7 in / 14.5 cm above the ground. This huge space between your feet and the ground will come in handy when you will try to climb a sidewalk without a ramp, or any other slightly elevated surface.
Maintenance
A big upside of the wheels on the Dualtron Eagle Pro scooter is they can be split up in two parts sideways, meaning you'll be able to easily swap a puncture tired for a new one.
You can clean the scooter with a wet cloth, or you could use rubbing alcohol for spots that are tougher to clean.
Upgrades and accessories
Even though the Dualtron Eagle Pro is full of features, there is still lots of room for customization. There are many useful accessories for the Dualtron Eagle Pro that do not come in the box.
The first thing you should consider is buying a fast charger, or maybe even two. One of the biggest perks of this cooter is that its battery can be charged with two chargers simultaneously, shortening the charging time by half.
Purchasing a removable front headlight might also be a great idea since the front LED lights of this scooter aren't that convenient. The lights are put on the deck of the scooter, right at the bottom, and do lack some brightness. If you plan on riding the scooter a lot at night, on streets with no street lamps, I would say that a brighter headlight is a must.
As this is a very powerful scooter, you must always wear protecting gear no matter the riding occasion. I would recommend buying a strong scooter helmet, and maybe even some knee and elbow protectors if you plan on testing this scooter's speed limit.
Also, since this is quite an expensive item, it may easily be a target for thieves, and I strongly recommend investing in a strong and safe scooter lock.
If you want to make sure you have equipped your scooter with every possible accessory, see my guide on electric scooter accessories, where we go through dozens of different types of useful yet affordable accessories.
Price and value
If your budget allows for you to spend around $2500, there's probably no better scooter you can get than the Dualtron Eagle Pro.
It's worth noting that this is one of the most affordable scooters from the Dualtron brand. And for such a price, it has many upsides that make this scooter well worth the price.
By purchasing the Dualtron Eagle Pro, you get incredible build quality, outstanding design, and probably the best ride experience you can get for this price, so I'd say the scooter is a pretty solid value, even though it's not cheap.
Problems and downsides
Like with any scooter, the Dualtron Eagle Pro has a set of downsides and tradeoffs.
In my experience, the tradeoffs were not too surprising, and there wasn't a lot that you can't expect from a more powerful scooter.
The lack of an official IP rating was the most concerning issue for me. Even though the scooter definitely looks like it can take some splashes, the missing IP rating shouldn't be ignored.
Also, even though this is one of the cheaper Dualtron scooters, the price tag still makes me feel like it should come with hydraulic brakes. Don't get me wrong – the brakes were pretty good, but I think that hydraulic brakes would make this scooter a much more complete package, even if that raises the price a bit.
Finally, and this might be me being a little nit-picky, but I believe that the Dualtron Eagle Pro could have a bit more range for its price.
How does the Dualtron Eagle Pro compare to other electric scooters?
There aren't many scooters in this price range that come close to the quality of Dualtron scooters. Here are some options that you may also be interested in checking out, as they are in a similar price range and have comparable performance and features.
Dualtron Eagle Pro vs Dualtron Victor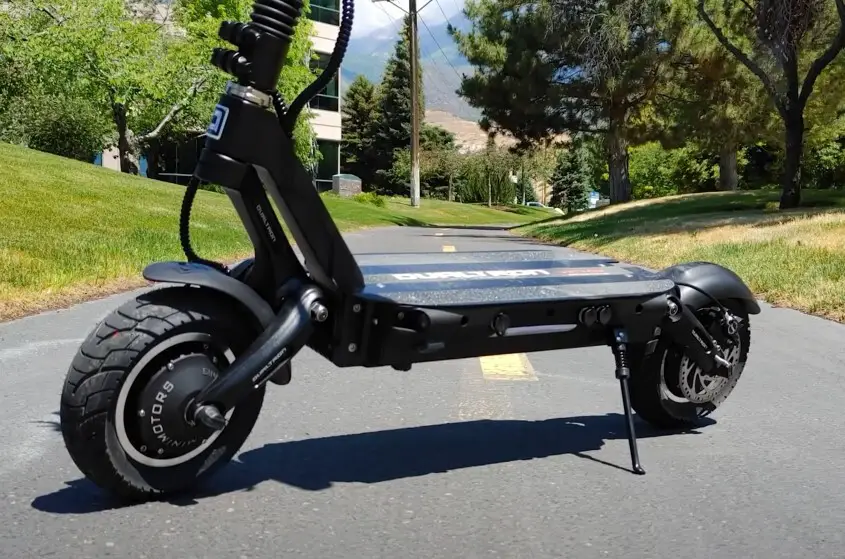 Crowned as the middleweight champion amongst the Dualtron scooters, the Dualtron Victor is an all-around scooter that offers the best of both worlds.
Its price is typically around $2699, often further discounted by a couple of hundred dollars.
The biggest difference between the Dualtron Victor and the Dualtron Eagle Pro comes in their range. The Dualtron Victor has up to 62 mi / 100 km of range on a single charge, whereas the Eagle Pro has about 15 mi / 25 km less.
The power output and the top speed of both scooters are roughly the same, but the ride quality overall is on the side of the more expensive scooter.
Unlike the medium and medium-soft suspension springs found on the Dualtron Eagle Pro, the Dualtron Victor has a 5-step adjustable suspension system for a smoother and adaptable ride feeling. The Dualtron Victor also has a much better braking system as it uses Zoom hydraulic disc brakes, whereas the Eagle Pro has standard mechanical brakes instead.
All of these features and many more are explained in detail in my detailed Dualtron Victor review.
Dualtron Eagle Pro vs Kaabo Mantis Pro
The Kaabo Mantis Pro is as close as a scooter can come to the Dualtron Eagle Pro. The two models are so similar in both price and performance, that it might be hard to choose between them.
Priced at around $2299, but often discounted for as low as $1695, the Kaabo Mantis Pro will cost you roughly the same as the Dualtron Eagle Pro. It will also offer the same speed level, range, and portability, weighing roughly the same as its close competitor.
The small differences between these two scooters come with the suspension and intended use. While the Dualtron Eagle Pro uses a rubber suspension intended for city commutes, the Kaabo Mantis Pro has an advanced swing-arm spring suspension on both of its ends that delivers much smoother rides in both urban and off-road environments.
However, the weaker suspension is well compensated by the wide deck and sturdier design of the Dualtron Eagle Pro. The choice between these two models will come from your ride intentions. If you want an off-road scooter then you should check out my Kaabo Mantis Pro SE review, but if you are here for a smoother city ride and don't intend to go on some dirt road adventures, I believe the Dualtron Eagle Pro scooter will suit you more.
Dualtron Eagle Pro vs Dualtron Spider
Dualtron Eagle Pro and Dualtron Spider are like two sides of the same coin. They are the closest in the price of all Dualtron models and coincidentally come with very similar performances.
The Dualtron Spider is equipped with a motor of 1320W real and 3600W peak power, granting a top speed of 40 mph / 64 kmh, just like the Eagle Pro.
Its range, however, is a bit smaller and comes at around 37 mi / 60 km with a single charge. This can come off as a bit surprising as the two scooters have similar batteries. But due to the demanding build, Dualtron Spider riders will have to sacrifice a bit of range.
You do, however, get a scooter with much better brakes and a stable build than the Dualtron Eagle Pro. So if 12 miles of range don't seem that much, the limited edition of the Dualtron Spider is considered the safer choice.
Dualtron Eagle Pro vs Dualtron Thunder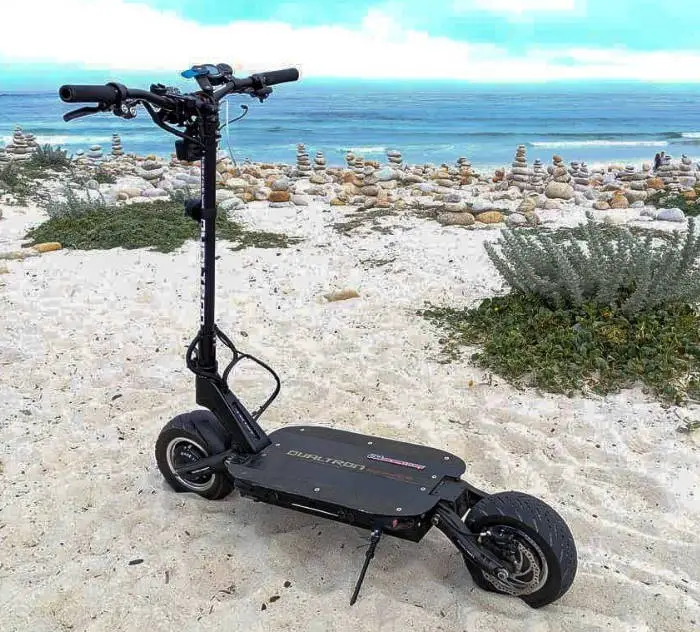 Once you pass the $3000 range, only then you can finally feel the true power of the Dualtron brand. Even though almost all of their models are literal beasts, the Dualtron Thunder is where things start getting real.
Priced at about $3500, the Dualtron Thunder comes with an astonishing top speed of 50 mph / 80 kmh, thanks to the massive 5,400W BLDC motors.
The range you can get from a single charge here can get up to 75 mi / 120 km, which is just beyond anything one might expect from an electric scooter. And not only that, you can actually charge the battery up to full in under 6 hours if you use two quick chargers. You would, of course, have to buy those aftermarket but it will definitely be a worthy investment.
Simply put, Dualtron Thunder is a true powerhouse of a scooter. Even the brand advertises it as "the best performing electric scooter in the world", and honestly, it's hard to argue with them here. It is a great option for thrill riders and those who are willing to pay the extra buck for an insane range.
Dualtron Eagle Pro vs Dualtron Ultra 2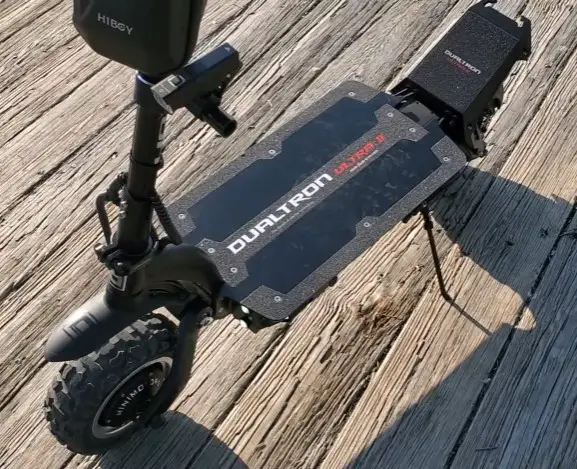 If the above option didn't satisfy you either, the Dualtron Ultra 2 can take things even a step further. With a price tag of around $4000, this is the best Dualtron scooter for off-road rides.
It's kind of hard to compare this with the Dualtron Eagle Pro, as the two models have vastly different uses and are designed for different types of rides. Even the price difference is hard to bear, as the Ultra 2 is almost two times more expensive than its counterpart.
But you do get what you pay for here. The Dualtron Ultra 2 has an overpowering top speed of up to 62 mph / 100 kmh! It is a scooter specifically made for experienced riders who know what they do, as it can be quite hard to endure such high speeds on an electric scooter.
The range is also on par with the price, rounding up to about 87 mi / 140 km with a single charge. It can probably last you up to a full week.
Putting it simply, the Dualtron Ultra 2 trumps the Dualtron Eagle Pro in speed, range, climb rate, tire size, and tough ride endurance. It's the epitome of an ultra-powerful off-road scooter. But you should only consider it if you are an experienced rider with a thrill for adventurous rides.
Dualtron Eagle Pro vs Apollo Phantom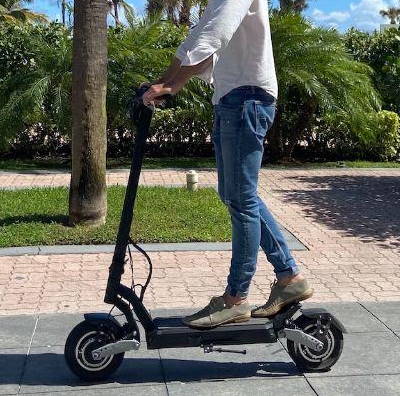 Most riders who shop for premium scooters look for pure power and would be disappointed if the thing they are looking at doesn't provide the absolute top performance. But there is one very interesting option on the market that comes with a great balance of both power, safety, and quality.
We are talking about the Apollo Phantom, the $2400 priced all-terrain scooter with a simple, yet effective design.
Don't get me wrong, this scooter can still go fast. In fact, it can go as fast as 43 mph / 70 kmh, which is even a bit higher than the Dualtron Eagle Pro.
The battery of the scooter is one of its less appealing aspects, as it's manufactured by the Chinese brand "Dynavolt". But it's still a solid 52 V 23.4 Ah Li-ion battery that provides a range of 40 mi / 64 km.
But, as we mentioned above, it's not all about power and speed with the Apollo Phantom. Even though it's far from the most capable model on the market, it still outshines many premium scooters with its well-packed feature package.
This package includes two thick suspension springs on both wheels (note that many scooters have springs only on the front wheel), an IP54 water protection rating, and wide tires with deep treads – great for off-road rides. You can also choose between mechanical or full hydraulic brakes, depending on what type of ride you prefer.
Who should not get the Dualtron Eagle Pro?
The biggest obstacle to getting the Dualtron Eagle Pro for many people will be its price. While it is one of the cheapest Dualtron scooters, it still costs around $2000, a sum that not everybody can afford to pay. If you are on the market for something cheaper, I would suggest going through my guide for the best scooters under $1000 and see if you can find something more suitable for your budget there.
I wouldn't recommend the Dualtron Eagle Pro to people who live in areas where it rains most of the year. Since this scooter lacks any proper waterproofing, riding it in the rain is extremely dangerous and may damage both the electronic parts and the frame. This also applies to countries that see longer periods of snow over the year. If you live in places like these, purchasing the Dualtron Eagle is not the best choice since it will have to be boxed and hidden for most parts of the year, and I suggest taking a look at some waterproof electric scooters instead.
Off-road riders are another type that won't see much use of the Dualtron Eagle Pro. Even though the scooter has a great suspension, it uses rubber blocks instead of the typical steel springs. These blocks are suitable for dealing with small bumps on paved streets but are not good enough for dirt roads as the springs are.
My recommendation – who should buy the Dualtron Eagle Pro?
The Dualtron Eagle Pro is a universal electric scooter suitable for many people.
I would recommend this scooter to anyone who can afford its price tag. If you are ready to switch your average scooter for a premium model (and still don't want to overspend, since there are much more expensive scooters), getting the Dualtron Eagle Pro would be the smartest choice.
People looking for a vehicle to get them through the city, run some errands, or ride to their office and back home are the ideal owners of this scooter. It's powerful enough to quickly handle busy traffic and has a range that will last for days. If you ride this scooter for no more than 10 miles a day, then the battery of the Dualtron Eagle Pro might very well last for a full working week.
Although it's mainly intended for light use throughout the city, the Dualtron Eagle Pro is a great choice for thrill-seekers as well. The power of this scooter is no joke. It can go fast enough to satisfy even those who are looking for a bit of an adrenaline rush from time to time.
Overall, anyone looking for a reliable, great-looking scooter who is willing to pay the above-average price should strongly consider getting the Dualtron Eagle Pro. With its great range and solid power, there is not a lot of competition that can overshadow the scooter in this price range.
Where to buy the Dualtron Eagle Pro from?
Worldwide
The best place to get the Dualtron Eaglo Pro from by far is
Voromotors
. Don't forget to use my coupon code
FreeExtend
after adding the 1-year Extend product protection for 2 years of free warranty!
Frequently asked questions
Here's what users typically asked about this scooter.
Are Dualtron scooters worth it?
Dualtron makes only premium power scooters, and you won't find any entry-level products here. For their price, Dualtron scooters are absolutely worth it and are probably the best scooter brand there is currently on the market. Of course, they do come at significant prices, but if you want the top of the top, Dualtron is what you should get.
How fast is the Dualtron Eagle Pro?
Dualtron Eagle Pro has a top speed of 43 mph / 69 kmh and is one of the fastest electric scooters below $2500.
Will rain damage my electric scooter?
It is not recommended to ride the Dualtron Eagle Pro in rain or snow as it can damage the electronic parts of the scooter. Light rain drops for a few minutes until you get under cover shouldn't cause any problems, but with any longer exposure you risk major damage.
Specifications
Dualtron Eagle Pro Specifications
| | |
| --- | --- |
| Top speed | 64 kmh |
| Top speed | 40 mph |
| Range | 80 km |
| Range | 50 mi |
| Motors | dual hub BLDC |
| Power | 3600 W |
| Climb angle | 25 ° |
| Battery | 1344 Wh, 60 V |
| Battery type | LG 3500 cells |
| Charging time | 12 h |
| Weight | 30 kg |
| Weight | 66 lbs |
| Weight limit | 120 kg |
| Weight limit | 265 lbs |
| Tire size | 10 in |
| Tire type | pneumatic tubeless |
| Foldable | yes |
| Foldable handlebars | yes |
| Build material | aviation grade 6082-T6 aluminum alloy + SCM440 steel + plastic covers |
| Brakes | front and rear regenerative disc brake |
| ABS | ABS |
| Shock absorbers | rear changeable suspension cartridge |
| Lights | dual LED headlights + brake + taillights |
| Control | EY3 LCD |
| Warranty | 12 months |
| Return period | 10 days |
| Folded dimensions (L * W * H) | 118.3 cm * 23.9 cm * 50.3 cm |
| Folded dimensions (L * W * H) | 47 in * 9 in * 20 in |
| Unfolded dimensions (L * W * H) | 118.3 cm * 70 cm * 120 cm |
| Unfolded dimensions (L * W * H) | 47 in * 28 in * 47 in |
Where to buy the Dualtron Eagle Pro
Worldwide: Voromotors (coupon code: FreeExtend for 2 years of free warranty after adding 1-year Extend product protection)
---
Want to get
FREE SCOOTER
tips, exclusive discounts and promotions, and unseen scooter hacks? Join the
Scooter Secrets club
.
---
Liked this article? It really helps if you share it.
Follow @escooternerds on social media for more cool stuff
---