Last Updated on July 4, 2023 by Matt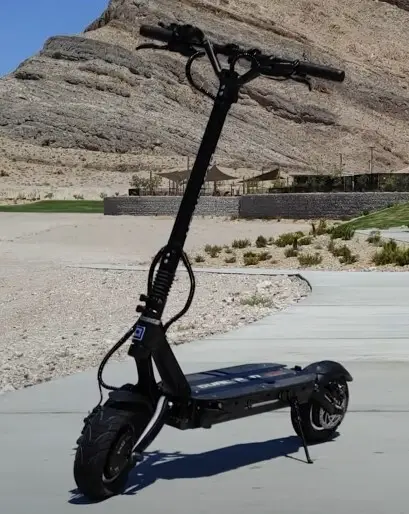 The Dualtron Victor is one of the best value scooters from the Dualtron brand. In this comprehensive review based on my experience with it, we will go through all its features and use cases, its good and bad sides, and its parameters and specifications to help you decide whether this scooter is the right choice for you.
Dualtron Victor Review
The Dualtron Victor is one of the latest Dualtron models, released in the summer of 2021. It comes with dual-wheel motors, a top speed of 46 mph / 74 kph, and one of the fastest accelerations available. It has a range of 50 mi / 80 km, a climbing angle of 23 degrees, and weighs around 72 lbs / 32.5 kg.
Dualtron Victor pros and cons
PROS
Very good quality
Established and trusted brand
Great looks and design
Perfect for advanced users
Excellent performance
Great range
Great for climbing
Comfortable rides
Great suspension
Very versatile and adaptable
CONS
Flats might happen
Not too portable, average for commuters
A bit pricey, average value for money
No official IP rating
No headlight (you will need to get one after-market)
No horn (you will need to get one after-market)
No footrest (you will need to get one after-market)
Good for heavier riders but not great
Should you buy the Dualtron Victor?
If you're looking for a premium scooter that can really perform, then chances are, you will likely choose a Dualtron scooter. Well, if at the same time you're not looking to spend more than 3 grand on a scooter, then you will probably want to check out the Dualtron Victor.
This scooter is definitely a power scooter capable of providing you with rides that are both very thrilling and can last very long, yet still, it's not a scooter that's ridiculously overpowered, as most Dualtron models are.
Buying and promotions
The Dualtron Victor at Voromotors will usually cost around $2700.
As a bonus, by adding the 1-year Extend product protection and using my coupon code FreeExtend, you will get 2 years of free warranty.
There are a few different places where you can buy the scooter, but the Voromotors store is probably the best option out of them all, as they are clearly one of the most trusted brands in the scooter industry. They have recently become an official distributor for Dualtron scooters, and often offer excellent deals, terms, and prices on their scooters, as well as unrivaled customer support.
If you are in the UK or in most other European countries, then you will probably want to see the price for this scooter at Ride And Glide as well, as they will provide free and likely quicker shipping for this scooter, and the whole deal might be better overall.
Shipping
If you order through Voromotors, you have many shipping options at your disposal.
The standard shipping option is always free in the continental US and will get your scooter delivered in a couple of days, or weeks in the worst-case scenario.
However, you can also opt for one of the few fast shipping options and get the product in 1 or 2 business days for additional costs of $85-$100. Make sure to check out all the options shown on the ordering page and choose which one is best for you, or see the Voromotors shipping page to find out more.
Voromotors offer free shipping in Canada, the UK, and most EU countries, as long as the order total is above $3000. So, if you buy the Dualtron Victor and add some accessories (or maybe buy another cheaper scooter for someone else in your life), you should get free shipping in these countries as well.
Warranty
Voromotors provides a 1 year warranty period on all Dualtron products, covering all manufacturer's defects with certain limitations.
Also, as I mentioned above, add the 1-year Extend product protection and use my coupon code FreeExtend for 2 years of free warranty.
You can find out all the details about their policy on the Voromotors warranty page.
Returns and refunds
The Dualtron Victor, much like any other Dualtron scooter, is always eligible for a return and a full or partial refund.
When ordering through Voromotors, there will be plenty of conditions that can affect the refund amount. Those conditions include whether the product is opened and used, how many miles was it used for, what's the reason for the return, etc.
You can check out all these details on the Voromotors return and exchange page.
Customer support
Probably the greatest thing about Voromotors, aside from their prices usually being the best, is their customer support process.
Reaching their team is easy and you can do it at any time with the chatbox, found at the bottom-right of their web page.
You can also contact them through their e-mail address [email protected], or simply give them a call on the number found on their contact page.
Basics
The Dualtron Victor is a very powerful, portable, great-looking urban scooter equipped with some of the best features found in electric scooters in this price range.
Unboxing and assembly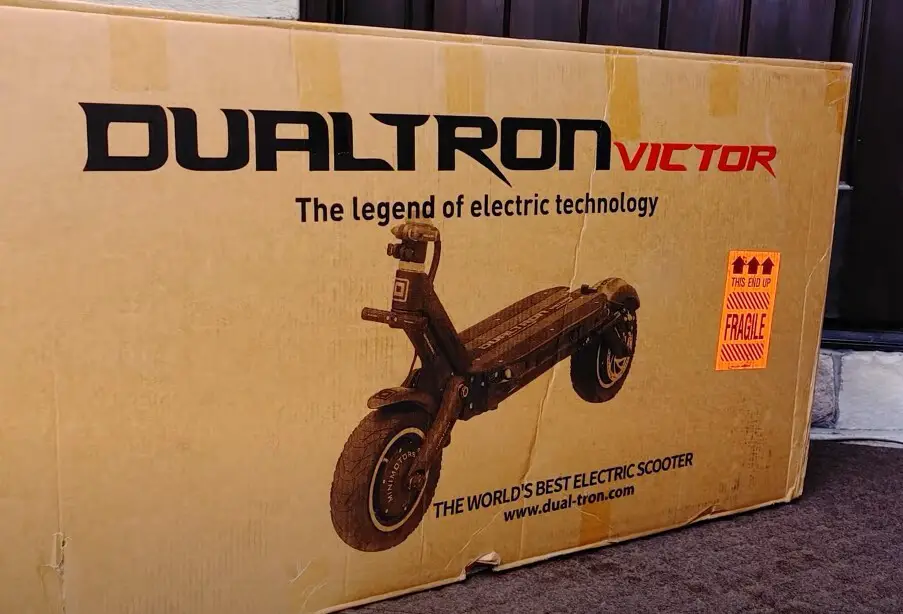 The Dualtron Victor comes folded and safely stored in a typical, big cardboard box. Lots of styrofoam is placed inside to protect it, so damages upon delivery are almost never reported.
Inside the box you will find:
the scooter
charger
multitool
user's manual
The scooter comes completely assembled, ready for a ride right out of the box. You will only need to set up some of the controls, like the riding mode and suspension level, although the factory settings might be suitable as well. Don't forget to check the tire pressure and the brake sensitivity before riding as well.
Folding and unfolding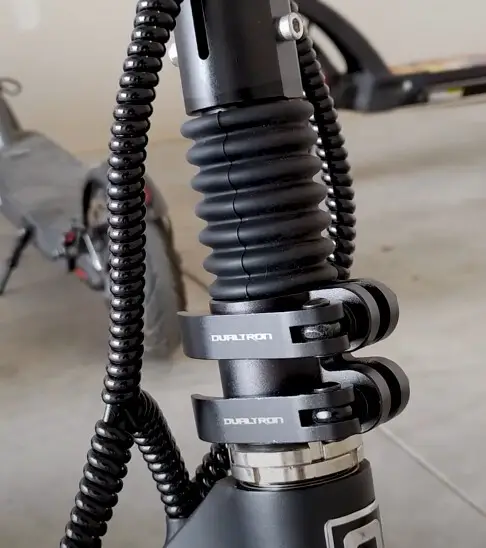 The Dualtron Victor uses the same folding system implemented in all the newest Dualtron models, such as the Dualtron Thunder, the Dualtron Storm, or the Dualtron 3 model.
It uses a latching system with double claps that can be easily untightened when you want to fold the scooter, and tightened back on when it's ready to ride. In my opinion, the folding mechanism achieved a great balance between safety and ease of use.
Additionally, the Victor is foldable at both the stem and the handlebars, as it comes with the traditional Dualtron folding handlebars found on most of their premium models.
Ride experience and intended use
The Dualtron Victor is one of the most powerful and fun to ride scooters priced below $3000 I've ever tried.
The scooter is not exactly a monster, at least not when compared to some of the most powerful Dualtron models. Still, it's built to withstand various terrains, city streets, dirt roads, bumps, and many challenges appearing on the road. During my rides, it handled all of the terrains I tested it on with ease. Its acceleration and speed were also quite powerful and perfect for all those that want some adrenaline rush.
Terrains and offroad
The scooter has a very solid build, great suspension, and wide tires so it can definitely handle some occasional dirt terrain or a bumpy road.
However, it's an overreach to advertise this scooter as an off-road vehicle. It has some boundaries in this regard, and it is largely built as a city scooter, made for the street and urban settings. I tried it on dirt trails a couple of times, and while the experience wasn't terrible, it wasn't great either.
Build quality
As we have grown to expect from Dualtron scooters, the Victor comes with arguably the sturdiest, best-quality build currently available on the market, including all of the expertise and lessons learned from previous Dualtron models.
Materials
The scooter's frame is made from aviation-grade aluminum alloy, which is the same stuff used in almost all of the latest scooters.
The shaft in Dualtron scooters is traditionally made from steel, while the fenders and other covers are made from plastic.
Design
With all the confident lines, near-perfect engineering, and all the RGB remote-controlled flashing lights, the Dualtron Victor keeps up with the Dualtron tradition and comes with an elegant, futuristic design.
The Victor does look a bit beefier than most electric scooters. Its deck has quite some depth and the tires and fenders are pretty bulky. But still, it's quite a nice-looking model, with an elegant style and brave look, and lots of color schemes that look great at night.
The stem is slim and stable, there is pretty much no wobbling, and the scooter is very durable overall.
Performance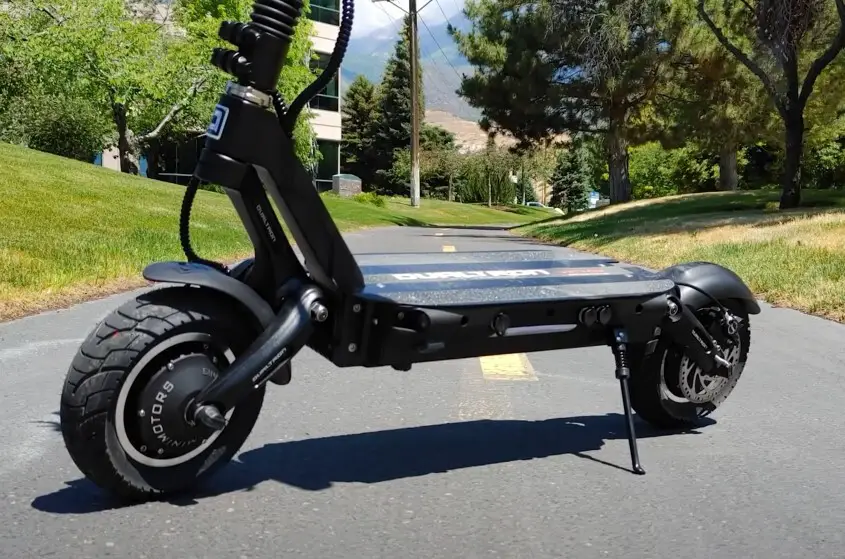 Performance and ability-wise, Dualtron Victor is on par with other premium electronic scooters in this price range, only lagging behind the most powerful models by a bit.
Speed
Officially, the Dualtron Victor can reach top speeds of up to 46 mph / 74 kmh. I usually don't test the top speed of scooters this fast, but reaching 42 mph / 68 kmh proved to be no problem for this scooter, and it definitely felt like it could go faster and reach the advertised top speed.
All in all, this is a quite fast and powerful scooter.
Power and motors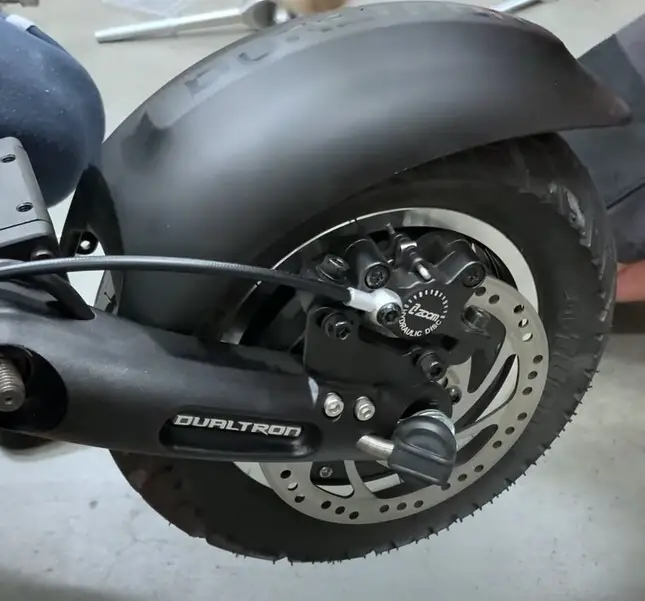 The motors of the Dualtron Victor have a combined peak power of 4000 W. Such enormous power is reached with the cutting-edge dual-motor all-wheel ride technology implemented in the scooter.
Additionally, it offers a speedy acceleration and needs just under 7 seconds to reach the 31 mph / 50 kmh mark. Even with such insane speed, the scooter is pretty stable when ridden on high power and especially when you start it up quickly.
Battery and range
The Dualtron Victor comes with the LG's 21700 cells battery that provides a voltage of 60 V and a capacity of 30 Ah and 1800 Wh. It's an innovative electronic part not found in other Dualtron models that brings some pleasant surprises.
The battery comes with a 50 mi / 80 km range on a single charge. I actually only did some partial range tests, where I got 24 mi / 39 km from half a battery, which is pretty much in line with the official range.
Charging
The scooter will allow you to ride it for days without needing a recharge. This is quite important because the biggest downside with this battery is its charging time.
With the standard charger that comes in the box, charging it to full will take about 20 hours.
The scooter does have two ports however, so you can order an additional charger and use both of them, which will cut the charging time in half. You can also get a fast-charging one that will cut the time down to about 4 hours.
Climbing
The Dualtron Victor has pretty solid climbing abilities, coming with an official climb angle of 23 degrees. The steepest hill I tested the scooter on was around 20 degrees in my estimate, and the scooter climbed it fairly easily.
In optimal conditions, you can safely expect to climb most of the steepest hills in your city with this scooter.
Features
This is one of the latest premium scooters, and it's not surprising in the least that it's packed with a ton of excellent features.
Tires
The Dualtron Victor comes with pneumatic tubed tires that are 10 inches in diameter and 3 inches in width. Those dimensions make them quite larger than the tires found in typical commuter or budget scooters, which is why the rides will be much more comfortable, and the whole ride experience will be more pleasant.
I never really had any issues with the tires, but you should know that flats are one of the most common reasons for complaints from other owners.
Brakes and safety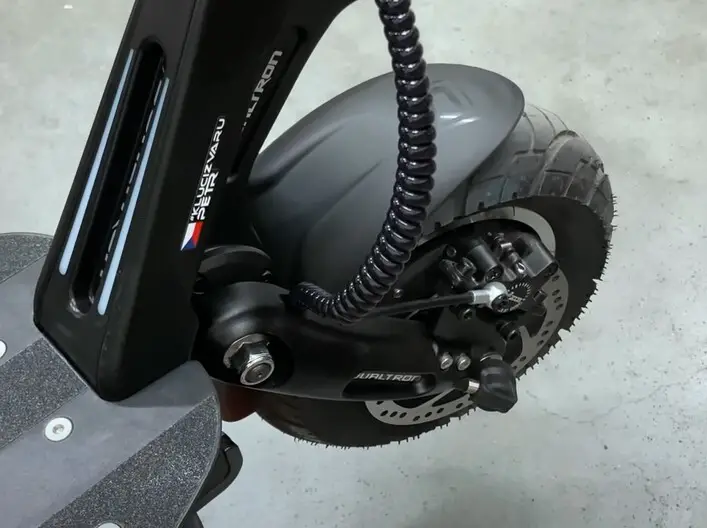 Both wheels of the scooter have hydraulic, 160-mm disc brakes. Manufactured by the Zoom brand, these are some of the best brakes available for scooters today, found in many premium scooters and bikes.
The brakes stop the scooter in less than 3 meters when riding at 15 mph / 24 kmh, which is amongst the shortest braking distances recorded for an electric scooter. To say that I loved the brakes on this scooter would be an understatement.
Suspension
The Dualtron Victor has a 9-step adjustable elastomeric suspension, mounted on both the front and the rear wheel.
Since it doesn't use springs, the shock absorbers aren't clearly visible to those around you. This gives the scooter much better looks than those using chunky suspension springs.
From what I could experience, the scooter offered great riding comfort, even on the bumpiest roads.
Water resistance
Dualtron has provided no official claim about the water resistance levels of the Dualtron Victor.
This usually means that submerging or subjecting the scooter to large exposures of water should be definitely out of the question, but also splashing the scooter's parts with lots of water may cause some defects and issues. Still, the outer build should be fine in the event of a short ride during some wet weather.
Anyways, some users have reported continuously riding in the rain with the scooter, even for a couple of days in a row, and none of them have noticed any damage to the electric parts. A few have even reported opening the deck and finding no water inside.
So, although the Dualtron Victor is not officially waterproof and I wouldn't recommend testing this by yourself, it should still be fine if some unexpected rain encounters you on the way back home.
Lights
The scooter features RGB stem lights displaying the brand's name, rear taillights, and even some deck lighting for extra style and visibility.
Still, the scooter is missing the most crucial part – a mounted front headlight. There are two smaller lights on the front part of the deck that do offer some kind of frontline visibility, but they won't do any good in night rides on unilluminated streets.
Fortunately for those who love the afternoon rides and plan to use the scooter after it gets dark, this is an easily solvable problem. You can always buy a simple yet strong light and mount it yourself. It's still a bit disappointing to have to do this after paying such a hefty sum for a premium scooter.
Deck and handlebars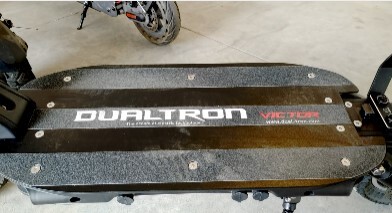 The deck of the Dualtron Victor is large, thick, and basically a spacious platform. It's the trademark deck design for all Dualtron scooters.
The dimensions of the deck are:
length: 21.5 in / 54.5 cm
width: 9.5 in / 24.1 cm
ground clearance: 9 in / 22.9 cm
The deck holds the battery inside of it, hence the large size and depth. It's covered with a gripped surface to prevent slipping and is big enough to hold both your feet comfortably like you are riding a hoverboard.
The only missing part is a footrest at the back of it. It seems like Dualtron thought no one will actually need it because the deck is so big, but some people still find it comfortable to ride with their back foot slightly raised.
Portability, weight, dimensions
The Dualtron Victor scooter weighs 72.2 lbs / 32.7 kg.
Many people will consider this to be a heavy scooter, and probably rightly so, as it may be more than they can handle. However, I found the scooter to be surprisingly portable for a heavy scooter.
The scooter's dimensions are:
folded: 43.7 x 10.9 x 22 in / 111 x 27.9 x 56 cm
unfolded: 43.7 x 23.9 x 49 in / 111 x 60.9 x 124.7 cm
The best thing is that you can easily fold it both at the stem and the handlebars and stuff it even in a smaller trunk or a pantry.
Weight limit and use by heavy adults
The maximum weight limit the scooter can handle is 265 lbs / 120 kg.
Honestly, the weight limit is a bit underwhelming considering the scooter's motor power and overall build. Most people will probably not require weight limits larger than that, but still, heavier adults may easily get discouraged, and they may want to check out other models because of this parameter.
That said, I was about 200 lbs / 90 kg when testing the scooter, and I don't think my weight was even close to cause a drop in performance.
Controls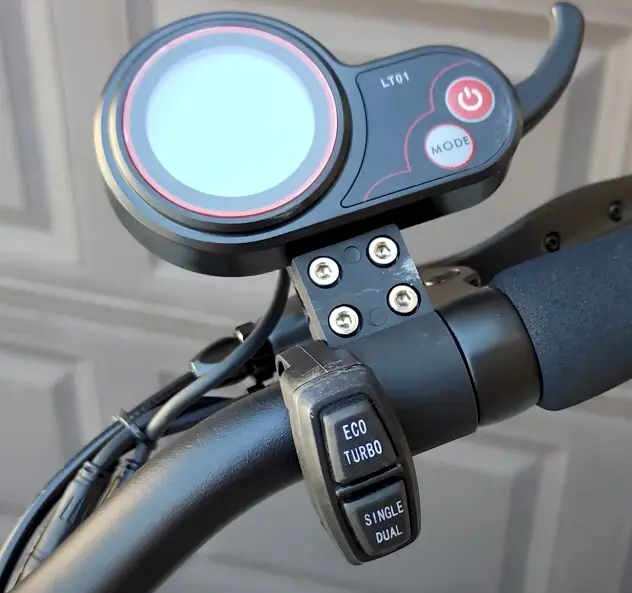 The Dualtron Victor uses the standard EY3 Minimotors LCD display as its main controls part.
The display is mounted on the right handlebar and shows all the important information, such as:
speed
battery level
travel distance
motor riding mode
On the left handlebar, there are two additional control buttons that let you choose the current motor riding modes:
button 1: eco/turbo mode
button 2: single/dual motor usage
Accessories and customizations
Overall, the Dualtron Victor is fairly feature-complete, but it still lacks a few features. Luckily, there's lots of room to customize the Dualtron Victor aftermarket.
The first thing you might consider is a second charger. Based on your budget, you can opt for a second standard or a fast charger. The sole standard charger takes 20 hours to charge the battery, and that will be a huge headache, so a second one is usually a good idea and many owners go for it.
Another functional piece that's missing is a front headlight. If you plan to ride at night, or simply don't want to rely on the street lighting in your area, this is the first thing you should buy after ordering. For this part, you can choose whichever headlight you believe will suit your needs, although you can find some pretty decent ones for a few dozen dollars.
There are a few other optional features that go well with this scooter. A fingerprint lock is one that comes to mind, although I would still recommend getting a strong scooter lock as well, as the fingerprint lock won't prevent theft completely.
Naturally, this is a very powerful scooter, so you will definitely want a safe scooter helmet at all times while riding.
If you want to be 100% certain that your scooter is upgraded to the maximum, check out my electric scooter accessories guide.
Problems and downsides
The biggest issue with this scooter is definitely with its tires. Many users have reported getting a flat tire more than once a month and constantly having to change them. To be fair, I personally never had any issues with this, but other owners seem to struggle with this quite a bit.
Even after getting another model, tubed or tubeless, the problem is still there. And it doesn't help that the Victor has one of the most complex wheel builds found on modern e-scooters.
Now it has to be noted that this problem was not ubiquitous and it might be largely affected by many things: the rider's weight, riding terrain, tire pressure, etc… It's best to just stick to the recommended tire pressure provided in the user's manual and to avoid dirt, rocky terrains, and challenging environments so you won't encounter the same issue.
The second big downside of the Victor model is its battery charging time. We mentioned several times already that it takes too long to charge it. And although this can easily be solved aftermarket, it's still a big issue to have to deal with on your own when you pay more than $2500.
Finally, the scooter is lacking some features that many riders deem important. It has no headlight, no horn, and no footrest, the first two of which are essential safety features that shouldn't lack in a premium scooter.
What users are saying about the Dualtron Victor
Aside from the previously mentioned issues with the tires and the charger, owners still love the newest Dualtron model.
Granted, it has some downsides and the brand has made some sacrifices, but the end result is still a fun, powerful, capable scooter.
Even if you take into account some of the additional costs this scooter will warrant, it's still considered a great model, well worth its price.
Dualtron Victor vs other electric scooters
The Dualtron Victor is a fairly new scooter, but it's still often compared to several other scooters, especially ones from the Dualtron line.
Dualtron Victor vs Duatron Thunder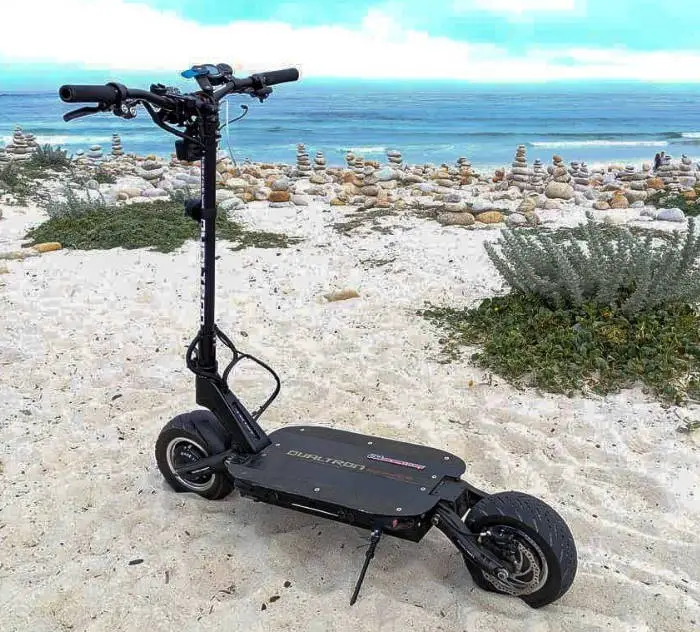 Both scooters look almost the same, have roughly the same speed level, but the Thunder is around $1000 more expensive.
Why?
Well, the first obvious difference is the range of both scooters. The Victor comes with the abovementioned 50 mi / 80 km range, whereas the Thunder offers a much bigger 74 mi / 120 km range.
Another important distinction is the climbing angle, which is around 35 degrees on the Thunder model, and much better than its cheaper counterpart.
But all of this comes at a heavy price – the weight. The Thunder weighs around 95 lbs / 43 kg, which is much heavier than the Victor which comes at around 72 lbs / 32.6 kg.
The choice simply falls on the question: Do you want a bigger range or a lighter scooter for better portability?
Answering this question right will largely help you decide which model is the right fit for you. If you are after even more performance, then you can check out my full Dualtron Thunder review.
Dualtron Victor vs Dualtron Spider 2
Most buyers will have a hard choice to make here, as the Spider 2 is one of the few Dualtron models that's cheaper than the Victor, and will be a lot more accessible to a larger number of people. Coming at about $2000, is it worth saving a few hundred dollars and going for the less expensive scooter?
Simply put, the answer is no.
Dualtron made some seriously big sacrifices on the Spider 2 in order to fit it in the lowest price range they could. The model comes with lots of issues and many users have complained about how big of a mistake buying it was.
Yes, when you take into account all the expenses, the Spider 2 can be almost $1000 cheaper than the Victor. But all of that comes with almost twice less power, a much shorter range, and worse ride quality overall. Still, if you're interested in the Spider 2, you can check it out at MinimotorsUSA.
Dualtron Victor vs Dualtron Victor Luxury
About a year after the release of the Dualtron Victor model, the brand finally listened to the complaints of many users and released the new, much improved Dualtron Victor Luxury.
This upgraded version has all of the specifications from the original model, plus many of the features it lacked – a slip-resistant deck, a footrest, and tons of extra LED panels on the side. All that comes with an extra cost of around $300, pricing the Dualtron Victor Luxury at about $3000.
The main thing that is still lacking even from this version is a proper IP rating, but for just a few hundred bucks extra, I would say this version is a solid improvement on the previous model.
Dualtron Victor vs Dualtron Eagle Pro
The Dualtron Eagle Pro is a slightly cheaper and less powerful scooter than the Dualtron Victor, made for light cautious city rides.
It comes for a price of around $2300, and its most notable drawback is the lack of range. The Dualtron Eagle Pro provides about 15 mi / 24 km less range with a single charge than the Dualtron Victor, which may look like a lot to people who plan on draining the battery every single day.
Another major difference between these two models comes with the tires. The Dualtron Eagle Pro uses tires with smaller treads which are built purely for city streets. This means it won't be able to endure the occasional off-road ride like the Dualtron Victor can, but, at the of the day, neither model is a proper off-road scooter so the difference there isn't as big.
Dualtron Victor vs Apollo Phantom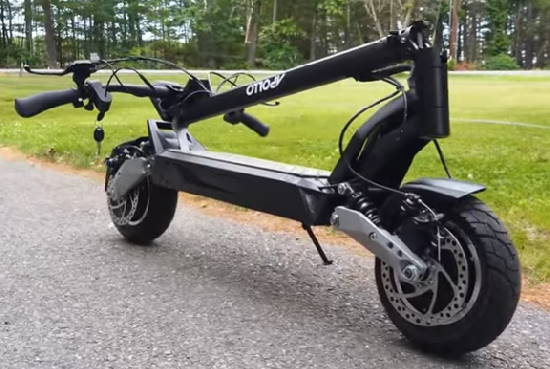 Swaying away from Dualtron, there are only a few companies that produce quality competitors to these premium scooters. One such brand is Apollo, with its top-selling e-scooter – the Apollo Phantom.
Now, while this scooter may not be as quick as the Dualtron Victor, it still reaches speeds as high as 40 mph / 65 kmh. Where Apollo Phantom shines best, however, is its featureful design that comes in an astonishing, modern, matte-grey frame.
This scooter has an insane quadruple spring suspension system, a leg rest tilted at an optimal angle, and an option to choose between regular, ZOOM, or NUTT hydraulic brakes which are some of the best in the industry. For a price of around $2000, this scooter may not provide the fastest ride out there, but that ride would be extremely fun and comfortable.
Dualtron Victor vs VSETT 10+ R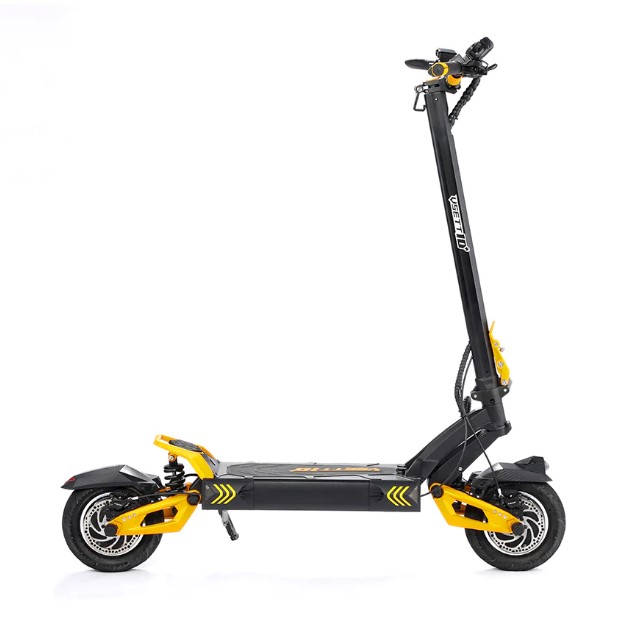 VSETT 10+ R is the second latest scooter released from the VSETT brand and the closest competitor to the Dualtron Victor from their catalog.
The two scooters are quite similar in price and speed, but the VSETT 10+ R actually got the upper hand in terms of performance, thanks to their huge 60V 28.0Ah battery. A single charge on this scooter can take you up to 115 mi / 185 km, which is just insane with the current technology.
Now, you probably won't ever reach the 115 miles mark if you ride the scooter at full speed, but it will still provide a slightly higher range than the Dualtron Victor. The big sacrifice here is the build quality. Simply put, Dualtron is a prime example of what they do, and the quality of their designs is unparalleled even by other big brands, let alone less-known ones like VSETT.
For me personally, the VSETT 10+ R is still a wait-and-see. If I was to spend upwards of $2500 on a scooter, I would go for the established brand instead.
My verdict – should you buy the Dualtron Victor?
The Dualtron Victor is a very versatile scooter, and I would recommend it to many types of riders.
It's a perfect choice for those looking to make the jump from their old, less powerful scooter into something more thrilling. However, don't mistake the Dualtron Victor for something average, you do need some experience in order to fully tame this beast.
It will also come in handy for people who commute more than 20 mi / 32 km a day. You can easily go for 2 or 3 days of riding on just one charge.
And finally, it's a real hoot for the garage geeks. The Victor does have some complicated configurations, but that might only provide some exciting challenges to people addicted to customizing and hacking their scooters.
It really is a great scooter and, honestly, one of the best value-for-money scooters Dualtron has come up with in the past few years.
Where to buy the Dualtron Victor from?
Worldwide
Currently, the only place where you can buy the Dualtron Victor is
Minimotors USA
.
---
UK, Europe
For people living in the UK or in Europe in general,
Ride And Glide
may provide a better deal overall, as the shipping will be free, not to mention quicker.
Dualtron Victor Specifications
Dualtron Victor Specifications
| | |
| --- | --- |
| Top speed | 74 kmh |
| Top speed | 46 mph |
| Range | 80 km |
| Range | 50 mi |
| Motors | dual motors, all-wheel drive |
| Power | 4000 W |
| Climb angle | 23 ° |
| Battery | 1800 Wh, 60 V |
| Battery type | LG 21700 |
| Charging time | 20 h |
| Weight | 32.7 kg |
| Weight | 72 lbs |
| Weight limit | 120 kg |
| Weight limit | 265 lbs |
| Tire size | 10 x 3 in |
| Tire type | tubed solid |
| Foldable | yes |
| Foldable handlebars | yes |
| Build material | aviation-grade aluminum alloy, steel, plastic |
| Terrains | urban |
| Brakes | hydraulic, 160-mm disc brakes |
| ABS | ABS |
| Shock absorbers | front and rear 9-step adjustable elastomeric suspension |
| Lights | Dual LED headlight, taillight, stem RGB |
| Control | EY3 LCD + motor mode buttons |
| Cruise control | yes |
| Keys | no |
| Warranty | 1 year |
| Return period | 30 days |
| Folded dimensions (L * W * H) | 111 cm * 27.9 cm * 56 cm |
| Folded dimensions (L * W * H) | 44 in * 11 in * 22 in |
| Unfolded dimensions (L * W * H) | 111 cm * 60.9 cm * 124.7 cm |
| Unfolded dimensions (L * W * H) | 44 in * 24 in * 49 in |
| Deck dimensions (L * W) | 54.5 cm * 24.1 cm |
| Deck dimensions (L * W) | 21 in * 9 in |
| Ground clearance | 22.9 cm |
| Ground clearance | 9 in |
| Adjustable handlebar | no |
---
Want to get
FREE SCOOTER
tips, exclusive discounts and promotions, and unseen scooter hacks? Join the
Scooter Secrets club
.
---
Liked this article? It really helps if you share it.
Follow @escooternerds on social media for more cool stuff
---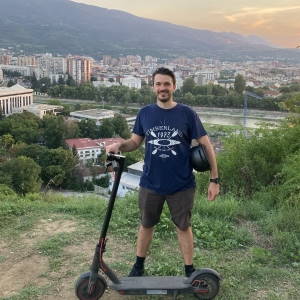 Where to buy the Dualtron Victor