Note: the Turbowheel Hornet has been sold out for quite some time now, and chances are, it is already discontinued, or will become so in the near future. I recommend checking out my detailed EMove Cruiser review for an excellent alternative with similar performance and in the same price range (and probably of higher quality in general).
This is the complete Turbowheel Hornet review. We'll be taking a close look at one of the most underrated, most overlooked, but still very good electric scooters of our time.
Turbowheel Hornet review
The Turbowheel Hornet is a powerful, performing value scooter in the middle price range, with a strong focus on comfort. It is of very good build quality, and is an excellent choice for many types of electric scooter owners.
The competition is pretty stiff in the mid-price range. There are many remarkable models, offering many great features for different use-cases.
And still, the Turbowheel Hornet manages to carve out a space for itself and get established as a solid value offer, with amazing performances and solid safety and security features.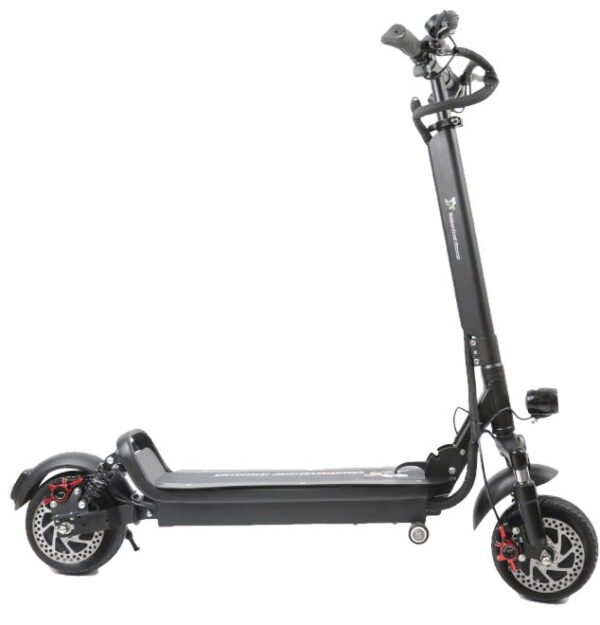 Turbowheel Hornet Overview
The Turbowheel Hornet stands out from its competition by coming from a very reputable brand, having low defect rates, and being great for climbing and heavier adults. It is immune to flats because of its solid rubber tires.
EWheels is the largest distributor of this scooter, and they provide the best possible customer support and the longest warranty and return periods. Jason from the EWheels customer support team, because of his helpfulness and understanding, is nothing short of a legend in the scooter community.
The biggest weaknesses of the Turbowheel Hornet possibly come from damage during shipping, and it often arrives with banged-up suspension, which can make the rides not as stable. This, however, is completely mitigated by the amazing support and warranty that EWheels provide for their products.
You can check out the Turbowheel Hornet at the EWheels store.
If you wish to learn more, go on and read the full review.
The Turbowheel line
The Turbowheel Hornet comes from a long line of great performers.
It is the line that has spawned the likes of the Turbowheel Lightning but also the Turbowheel Swift, which is proof of the brand's versatility and competence.
The biggest online retailer for Turbowheel scooters is EWheels. Besides Turbowheel, they offer a lot of Dualtron models as well.
They distinguish themselves by offering stellar customer support, and the longest and most owner-friendly warranty and return policies I've ever seen. Buying from EWheels is a pleasure. In fact, they are one of the very few brands that offer a full year of warranty.
They ship to North America, and shipping takes between 1 and 7 days.
Design, look and feel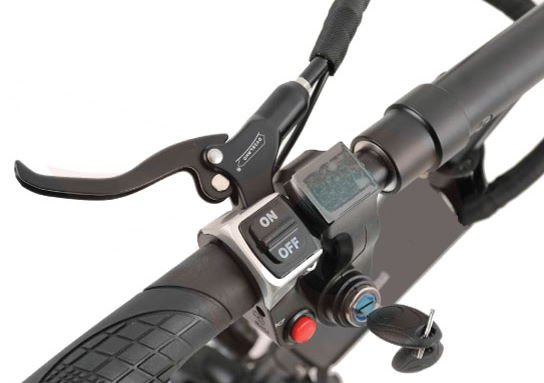 The Turbowheel Hornet looks like an elite-level athlete at their prime. The front of the stem gives it an especially sturdy look.
The handlebar and the control dashboard have a certain touch of a smooth, modern feel to them.
The scooter is almost entirely matte black, with just a few red details. The shiny-black metal fenders have powder coating.
All in all, the Turbowheel Hornet looks like the whole package, both tough and smart.
Folding and carrying
The scooter folds into a compact little package, with both the stem and handlebars being foldable to reduce volume.
When folded, the scooter can be pulled by wheeling it, thanks to the built-in trolley kit. That gives it extra portability points and largely solves the issue that the large weight creates. A very clever approach, we get the increased stability and safety of a heavier scooter, with a smart solution to get more portability as well.
Anyway, at 57 lbs of weight, this is not the heaviest scooter out there, but certainly not the lightest one neither. Thanks to the folding handlebars, this scooter occupies much less space, but its portability is still average.
However, with adjustable handlebar height, and a big deck-to-handlebar height, this is, without a doubt, one of the best scooters for tall adults. Its deck-to-handlebar height is 44 inches, which makes it the tallest electric scooter in the world.
Riding
As a scooter with solid tires, the comfort of the rides will not be like the one of a scooter with air-filled tires.
The dual suspension system takes care of this for us.
The front wheel has a hydraulic suspension fork, while the rear one has an adjustable arm suspension.
There have been mixed reviews about the suspension of the Turbowheel Hornet. Many have said it's of great quality and have no problems at all, even for heavier adults.
Some owners, however, have complained that the suspension system hasn't been good enough. As it turns it, there is a slight chance that some parts will get damaged during the delivery and may not function properly. The suspension is particularly vulnerable to this.
Luckily, EWheels provides the best support and warranties, so even when this happens, it fully supports its customers and makes sure they get their scooter back into shape.
When everything is in order, riding the Turbowheel Hornet is a dream, a real cocktail of power and fun.
Motor, speed, and climbing
The Turbowheel Hornet has a dual motor, each with 500 Watts of real power, and 1200 Watts of peak power, for a combined output of 2400 Watts of peak power.
That gives it some very envious stats.
With a top speed of 28 mph / 45 kmh, this is one of the faster Turbowheel models, and certainly one of the faster medium-priced scooters. The scooter can go even faster, but the limitation is electronically built-in.
The climb angle of the Turbowheel Hornet is 26 degrees. Its excellent climbing capabilities are mostly because of the powerful dual motor, which will eat even the steeper slopes without a problem.
Battery and range
With a high-quality LG battery of 921 Wh (48 V, 13 cells in series & 6 parallels), the Turbowheel Hornet will provide you with a great range of up to 37 mi / 60 km.
However, most users have reported slightly lesser ranges in real-world scenarios, closer to 28 mi / 45 km.
The battery, while not fully waterproof, will come with solid water protection.
The full one-year warranty on the battery is something that you will never see outside of an EWheels scooter. Almost every other store offers 3 or 6 months of warranty on the battery.
You will get two chargers, a regular and a fast-charging one. Using the fast charger will fully charge your scooter in 3 hours.
How much does it cost to charge the Turbowheel Hornet?
Charging the Turbowheel Hornet during off-peak hours will cost around 4 cents in the US, and 8 pennies in Canada. During peak hours, charging the scooter fully will cost14 cents in the US, and 10 pennies in Canada.
Brakes
The Turbowheel Hornet comes with hydraulic disk brakes on both wheels.
While the brakes should be strong enough for most, it's worth mentioning that a few users have described them as not strong enough. Still, that has been the minority of cases, most users have described the brakes as excellent, almost stopping in place, with both of the wheels staying on the ground.
Besides that, the scooter employs regenerative braking, which restores your battery when you brake.
Tires and suspension
Somewhat unusual for a scooter this powerful, the Turbowheel Hornet comes with rather small tires. They are just 8 inches in diameter, and 2.36 inches wide.
And the plot thickens.
The Turbowheel Hornet actually has solid rubber tires. It is the most expensive, and probably the best solid tire scooter today.
While solid tires usually result in bumpy rides, that is not exactly the case with this scooter, since it has a rock-solid suspension system. As mentioned, it has both front and rear wheel suspension, with hydraulic dampers on the front and adjustable spring suspension on the rear.
Lights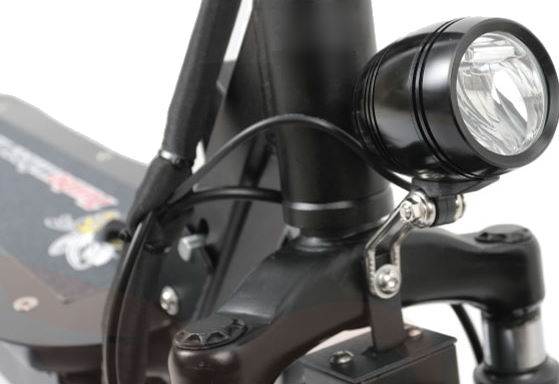 The Turbowheel Hornet comes with a headlight and rear LED lights, activated with a control switch.
Aside from that, the scooter has a rear brake light that notifies other traffic participants of your intentions.
Safety and security
This is an area where the Turbowheel Hornet shines.
Its somewhat large weight and robustness produce a reliable, solid riding experience. When riding at 25 mph / 40 kmh, you want no parts shaking, no wiggling, no screws loose. The Hornet provides exactly that.
The sensitive but strong hydraulic brakes, along with the double suspension system, further enhance safety and comfort.
The scooter offers the option to install a seat, which you can easily remove at any time. The seat is not included in the original price and you pay a little extra for it.
Finally, the scooter has a key security and ignition system. It can't be started without the key, and when you lock it, you drastically decrease the risk of it getting stolen. You should still get the correct lock for your scooter, as the scooter will not be fully protected against theft without it, but the built-in security features will contribute a lot to the security as well.
Accessories and helmet
There's a ton of accessories and parts for Turbowheel scooters, and you can customize your scooter in many different ways. I still recommend seeing my guide on the best electric scooter accessories for all the possible options and really having fun with this scooter.
In addition, the Turbowheel Hornet is capable of some serious speeds, and you will definitely want to ride with a safe scooter helmet at all times. Maybe you don't need a full-face helmet for this scooter, but I believe a cheap bike helmet would offer too little protection as well, so a half-face helmet would likely be the best choice. See my guide on the best scooter helmets for some excellent picks depending on your budget and circumstances.
Turbowheel Hornet weak points
Like every other scooter, the Turbowheel Hornet has a few blindspots.
As a scooter nerd, what bothers me a little is that the scooter has no official manual. Kinda strange for a scooter this good and pricey.
Even more importantly, there seems to be a rather large rate of defects with some of the systems in this scooter, the suspension system in particular. Sometimes, there seems to be some damage from delivery, and the scooter's engineering is not entirely at fault. It is an issue you should be aware of, a few users have gotten duds. Luckily, the support team at EWheels has always been incredible, and they are eager to help if this happens.
Curiously enough, even though the LG batteries are one of the best in the world, a few users have reported a smaller range than expected, and diminished speed and performance as the battery level decreases.
Turbowheel Hornet vs Turbowheel Dart
Interestingly, the Hornet is most often compared to its little brother, the Turbowheel Dart.
Both scooters are great higher-end, high-quality scooters, and have a lot of the same brilliant engineering principles behind them, though it seems like the Dart has found a larger demographic.
It's quite possible that the Turbowheel Hornet is simply too powerful for many people.
At the same time, the Dart is significantly cheaper, and has a similar top speed.
The Hornet is the obvious choice for those looking for extra-long ranges, and great climbing capabilities. If you don't need those, you may check out the Turbowheel Dart for a similar quality, cheaper price, and less power. As well as the Turbowheel Hornet, you can find the Turbowheel Dart at the EWheels store.
Turbowheel Hornet vs Turbowheel Lightning
The fact that Turbowheel models are often compared to other Turbowheel models says a lot. People love this brand so much, that they are reluctant to even consider other brands.
Well, when comparing the Turbowheel Hornet and Lightning, I have to say, I believe the Lightning is a better choice for almost anyone.
The reasoning is simple. If you are prepared to spend north of $1500 on an electric scooter, you might as well throw in an extra few hundred and get an even better one.
True, the Turbowheel Lightning will cost more. Depending on which battery type you choose, it can cost up to $500 more.
Still, personally, I would choose the Turbowheel Lightning if money was not an issue.
It is faster, it has more range, much better climbing angles, a more powerful motor, better weight capacity…
Don't get me wrong – this takes nothing away from the Turbowheel Hornet.
But unless your budget is cemented at $1549, or you want a less powerful scooter, then I would go with the Turbowheel Lightning.
As usual, you can take a look at the Turbowheel Lightning at the EWheels store, or see my complete review of the Turbowheel Lightning / Lightning+.
Turbowheel Hornet specifications
Turbowheel Hornet Specifications
| | |
| --- | --- |
| Top speed | 45 kmh |
| Top speed | 28 mph |
| Range | 60 km |
| Range | 37 mi |
| Motors | dual motors |
| Power | 1000 W real, 2400 W peak |
| Climb angle | 20 ° |
| Battery | 921 Wh, 48 V |
| Battery type | LG |
| Charging time | 3 h |
| Weight | 26 kg |
| Weight | 57 lbs |
| Weight limit | 136 kg |
| Weight limit | 300 lbs |
| Tire size | 8 in |
| Tire type | solid rubber |
| Foldable | yes |
| Foldable handlebars | yes |
| Seat | available |
| Trunk or basket | no (customization possible) |
| Build material | aluminum + steel |
| Terrains | urban |
| Brakes | hydraulic disc brakes, regenerative braking |
| Shock absorbers | front hydraulic + rear spring |
| Lights | headlights + brake light |
| Control | LCD dashboard + readout |
| Keys | yes |
| Warranty | 12 months |
| Folded dimensions (L * W * H) | 115 cm * 23 cm * 39 cm |
| Folded dimensions (L * W * H) | 45 in * 9 in * 15 in |
| Unfolded dimensions (L * W * H) | 112 cm * 59 cm * 133 cm |
| Unfolded dimensions (L * W * H) | 44 in * 23 in * 52 in |
| Ground clearance | 20.3 cm |
| Ground clearance | 8 in |
| Deck to handlebar height | 112 cm |
| Deck to handlebar height | 44 in |
| Adjustable handlebar | yes |
| Notes | trolley wheels |
Should you get the Turbowheel Hornet?
The Turbowheel Hornet is a very good scooter. The thing is, it's kind of like the middle child, in a family of siblings with the same levels of talent.
Its curse is that it's been caught between a very good lighter Turbowheel model, which is the Turbowheel Dart, and an exceptionally good power model, the Turbowheel Lightning.
The Turbowheel Hornet has its perfect use cases anyway.
If you want the most powerful scooter you can get for a budget of around $1500, then it is the right choice for you. Also, if you need a safe yet performing scooter, it can be a great pick.
Also, if the Dart is not powerful enough for you, the Hornet will be just right.
But it feels like most people will be on one of the two ends, and rarely in the middle.
If you are in the middle, you can consider the Turbowheel Hornet.
Where to buy the Turbowheel Hornet from?
US, Canada
If you are interested in taking a look at the Turbowheel Hornet, you can find it at the
EWheels store
. EWheels ship to the US and Canada currently.
If you are on the ends of the spectrum though, you will want to check out either the Turbowheel Dart as a lighter option, or the Turbowheel Lightning as the true monster scooter.
Where to buy the Turbowheel Hornet
---
Want to get
FREE SCOOTER
tips, exclusive discounts and promotions, and unseen scooter hacks? Join the
Scooter Secrets club
.
---
Liked this article? It really helps if you share it.
Follow @escooternerds on social media for more cool stuff
---