Last Updated on May 17, 2023 by Matt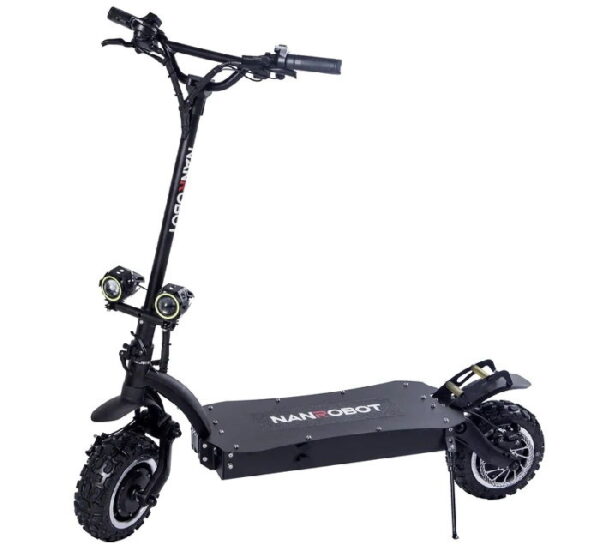 Today we are doing a full review of the NanRobot LS7. Based on my experience and tests, this is one of the most powerful electric scooters today. Let's see why that is so.
NanRobot LS7 review
The NanRobot LS7 manages to pull off a high-power, high-quality package, that ticks all the boxes a true power scooter should tick. At the same time, it comes at a price that is considerably lower than what you might expect from a scooter this powerful.
NanRobot LS7 pros and cons
PROS
Great quality
Amazing performance
Very smooth rides
Great for off-road
Excellent brakes
Very good suspension
CONS
Heavy and hard to carry
Not great for commuting
Not great for beginners
Ordering and discount
The NanRobot LS+ is not often available, and very few legitimate stores have it in stock at all times.
The best place to buy this scooter from will be nanrobot.com.
Warranty and returns
The warranty for the NanRobot LS7 when buying it through ElectricBoardingCo will be 1 week.
In case you wish to return the products, you must return them in the same state you received it in.
The NanRobot brand
NanRobot is commonly referred to as the nerd's brand.
They've earned this nickname by designing and building highly performant, very customizable scooters, that are still very cost-effective compared to most of their peers.
They have offers for literally every price category, starting from the budget NanRobot X4 model for around $600, all the way up to this wild beast we're reviewing today, with a price tag of more than $2200 or $3200, depending on the battery.
Unboxing
The scooter arrives in a huge, simple box, weighing around 95 lbs / 43 kg. Delivery can take anywhere from a few days to 2 weeks (long delivery times are not unusual).
Upon arrival, you will have to attach the handlebar and the front fender. It is also a good idea to double-check that everything is properly set up and every screw is tightly screwed, since this scooter is capable of incredible speeds and can go at insane speeds.
Folding and unfolding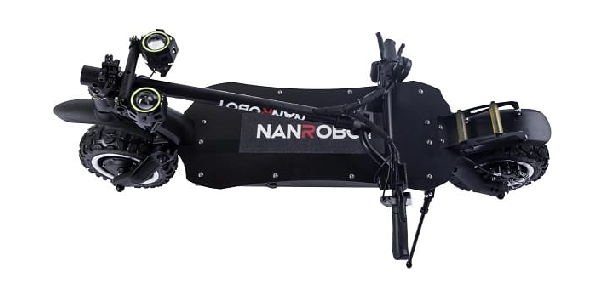 The folding mechanism is very strong and reliable. I don't want to say foolproof, but I guess it's pretty close to that.
The handlebars themselves are not foldable. It's kind of an understandable design decision, since this scooter was not made to be portable in the least.
Basics
This will not be your first scooter. Dishing out a mini fortune on a scooter you are not ready for is a bad idea.
I recommend having at least 6 months, and preferably a year of scooter riding experience before. Even better, experience with more powerful scooters will serve you better.
Since the NanRobot LS7 is almost a spaceship, it will come with a few extra controls and buttons.
This scooter has 3 gears.
However, in addition, you can also activate the dual-motor mode, where both of the powerful brushless in both wheels will be employed for extra power.
And finally, the legendary Turbo mode is here as well.
For those brave enough, riding with dual-motor mode and the Turbo on, you will be able to reach maximum power and top speed.
The left handlebar has the power switch, the rear brake lever, and the horn button.
The right handlebar contains the front brake lever, the single/dual drive mode, and the turbo mode. Be careful not to start with the turbo mode on, as the scooter may start too sudden.
NanRobot LS7 ride experience
This may be obvious, but you don't actually need to kick against the ground to start this scooter. I mean, this thing launched into orbit all on its own – it didn't need my puny little kick at all.
Riding the NanRobot LS7 felt like having full control over a tornado.
Even though the ride itself is smooth and quiet, you can feel that you have insane power at your disposal. Just press the lever a tiny bit more, and you are accelerating like mad.
Check out this footage for proof – the power basically screams at us through the screen.
Besides raw power, this scooter also provides a lot of smoothness in the rides. The motor purs like a kitten while riding, unless you're riding with dual motors and the turbo on, in which case it sounds like the anger of Zeus.
But anyway, the huge off-road tires, coupled with one of the best suspension systems in the world, will make sure your rides as silky at all times.
LCD Display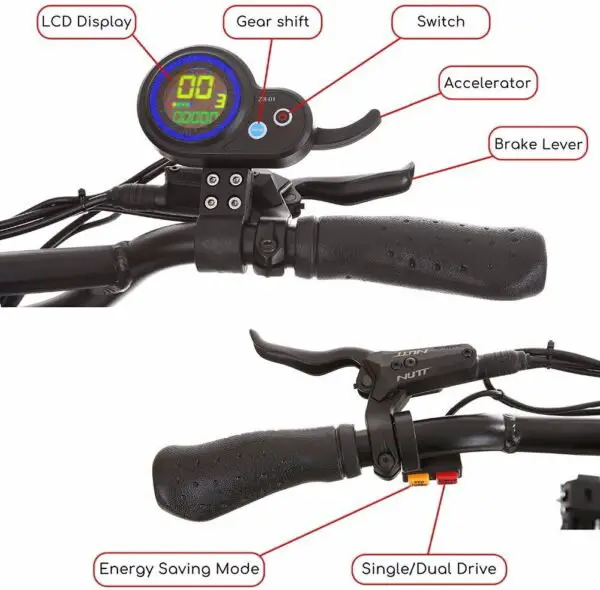 The NanRobot famously have some of the best LCD displays in the game.
The high-quality screen will have no problems displaying the information even on the sunniest days.
The screen displays:
battery level
current speed
ride time
speed mode
turbo mode
Speed
Ok, finally, we got to the fun part.
The NanRobot LS7 is one of the few scooters that have absolutely no problem reaching the top speeds it claims it can reach.
The top speed of the LS7 is 53 mph / 85 kmh. While I was only courageous enough to go as fast as 45 mph / 72 kmh, some people claim they have reached even 57 mph / 91 kmh!
In general, the NanRobot LS7 is more than capable of reaching its official top speed. I mean, this scooter can literally race a motorcycle.
In fact, it even accelerates as a motorcycle. It goes from 0 to 18 mph / 30 kmh in less than 3 seconds, and from 0 to 30 mph / 50 kmh in 5 seconds.
Motor, power, and climbing
The NanRobot LS7 has dual brushless motors, one on each wheel. They each have 1000 Watts of real power, and 1800 Watts of peak power, with a combined peak power of 3600 Watts.
Because of the dual motors, the scooter will perform very well on slippery surfaces or slopes. It will have an excellent grip (not to mention it has offroad tires, which increase it further).
Also, because of that, the torque this scooter has is simply unbelievable.
All of that will make it one of the best climbers ever.
The unofficial climbing angle of this scooter is 65 degrees.
Now, in all honesty, I really doubt that's the exact number. It's just too steep.
Here's what an angle of 65 degrees looks like.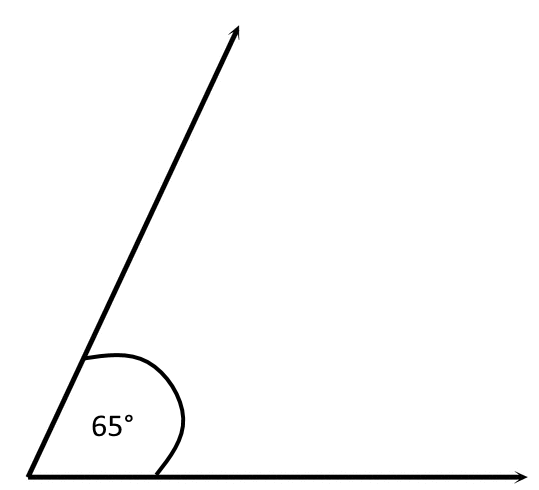 NanRobot will forgive me if I am a little skeptical about this claim.
However, the fact is, NanRobot is the best brand when it comes to climbing. The raw power their scooters have makes sure of that. While I kinda doubt the 65-degree angle, the NanRobot LS7 has been proven to conquer any sort of hill or slope you may encounter in both urban and natural environments.
In summary, the crazy-powerful motor of the NanRobot LS7 gives it what is very likely the best climbing angles an electric scooter can have today.
Size, weight, weight capacity, and stability
It will be no surprise to you when I say you can completely write off carrying this scooter.
Portability will be minimal. With folded dimensions at 53 in / 135 cm in length, 20 in / 52 cm in height, and 24 in / 60 cm in width, even storing it in a car trunk will be problematic unless you have a huge trunk.
This is a conscious design decision, since this scooter wasn't meant for you to carry it, rather the other way around.
It weighs 88 lbs / 40 kg.
While the weight of the smaller battery model is unknown, it's probably at least a few kilograms less than that.
The battery is the heaviest part of any scooter. Since this baby has days and days of battery life, its battery will be really heavy.
Besides the battery, the construction of the chassis, the stem, and the other parts are really sturdy, and further adds to its mass.
But that's a good thing for a scooter like that.
The increased weight makes the rides more stable. When flying at more than 30 mph / 50 kmh, even the slightest shake or wiggle can result in a bad fall. You want your fast scooter to be stable.
Needless to say, the NanRobot LS7 will be able to support pretty much every heavier adult, with a weight capacity of 330 lbs / 150 kg.
Battery, charging and range
The beating heart of the NanRobot LS7 is its top-of-the-line, 60 V / 35 Ah lithium battery (energy storage capacity of 2100 Wh).
It is an LG battery, which is great news for the overall battery lifespan, as LG is certainly in the top 3 battery manufacturers on the planet right now.
The battery life will span over several days, even with heavy usage.
The scooter comes with a Smart lithium battery charger.
Depending on the type of battery you get, and other circumstances, charging the scooter fully will take between 5 and 12 hours. There are two charging ports, and fast charging is possible, although it comes at the cost of somewhat reducing the battery life.
You should be careful not to overcharge the scooter.
This out-of-this-world battery gives the NanRobot LS7 one of the best ranges in the game. It has a verified range of 62 mi / 100 km on a single charge, achieved when riding in the eco mode, with a single motor, and without the turbo on. I was able to obtain around 38 mi / 61 km when riding at somewhat faster speeds, and around 58 mi / 93 km when riding mostly in eco mode.
Even though the scooter has a fairly large battery, charging it during off-peak hours will still cost less than 10 cents.
Waterproofing
The IP rating of the NanRobot LS7 is IP54, which means it's protected against water splashes from all angles.
Coupled with the dual motors, and the incredible torque and offroad tires, this will be one of the best possible scooters for winter or rainy day rides.
Still, common rules apply – it is advised you avoid riding on wet or slippery surfaces.
One issue that users have reported is rust on the headlight bolts after heavy use in rain. You can learn how to waterproof your scooter if you want to prevent those issues.
Tires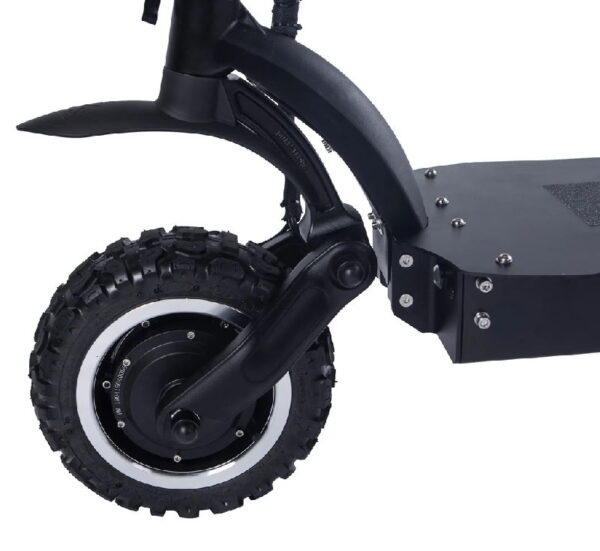 The scooter is made for many different uses, but among other things, it's one of the best off-road scooters ever made, so its tires will be one of its strongest points.
It comes with pneumatic 11-inch extra-tough offroad tires, 3.5 inches wide. These babies will never slip and provide unseen traction for any kind of terrain.
While riding, it felt like the tires were indestructible. I'm sure some riders have suffered flats, but personally I could barely picture that happening.
The tradeoffs of the offroad tires will inlude:
greater noise
lesser control
lesser acceleration and speed
Installing regular tires will fix those issues. You can usually get the road tires as a package deal, and use whichever type you need.
For regular rides in urban environments, you will want the regular tires.
Suspension
Another area where this scooter shines is its suspension system.
With full, adjustable C-type suspension on both wheels, with two hydraulic spring shock absorbers, and 4 springs on the front wheel, the NanRobot LS7 offers one of the best suspensions in the scooter world.
You can literally jump on it as kids jump on beds.
Brakes
The Nutt hydraulic brakes can be a little sensitive. They must be very strong given the scooter's power, so you need to brake gradually.
Luckily, they are easily adjustable.
The NanRobot LS7 has an ABS (anti-lock braking system), which is great for emergency braking on slippery surfaces.
The rear brake pads are the only scooter parts that may get worn out easily and you may need to replace them after a few months.
Lights
The NanRobot LS7 comes with two powerful front LED lights on the stem, and an additional two on the front of the deck as well. I don't think another scooter has that many powerful lights.
The scooter has turn lights, and it has brake lights on the rear, activated when the brake lever is pressed.
Gear and accessories
This is one of the most customizable scooters ever made. Hence, the nerd's scooter.
You can lock the scooter, which is a great safety feature. It can't be started without the key. I still recommend using an additional scooter lock, as this is a very expensive item and you want all the protection you can get, but the built-in safety features go a long way as well.
The scooter comes equipped with a rear-view mirror and a honk.
On the rear left side, there is a very strong, and very long scooter stand.
You can get an installable seat as a great way to increase comfort during long rides. A basket for carrying items is easy to install as well.
Since this is a very fast and powerful scooter, you will definitely want to ride it with the proper scooter helmet. I recommend getting a full-face motorcycle helmet for the NanRobot LS7, and also all the other safety scooter accessories like the armor, the pads, and the gloves, as no amount of protective gear will be too little for the speeds at which the scooter can go.
These are just some of the many interesting customizations and accessories available for the NanRobot LS7.
Finally,
NanRobot LS7 downsides
We saw all the amazing things the NanRobot LS7 can do.
Still, as any other scooter, I noticed some tradeoffs and things I didn't like.
This is definitely not a scooter for anyone. For the majority of everyday commuters, who just want to get to work and home and avoid traffic jams, the NanRobot LS7 will be overkill, both too powerful and too expensive.
Check out our review of the Kugoo S1 Pro for a great budget commuter.
Also, this is not a beginner scooter. As mentioned, you need at least 6 months of experience before graduating to the NanRobot LS7. A full year is even better.
But once you get there…
Who should get the NanRobot LS7
The NanRobot LS7 is literally the perfect scooter for:
speed devils
scooter nerds
offroad enthusiasts
showoffs
I don't think there are better, or even many other options, if you fall into one or more of those categories.
You can consider the smaller battery version if you don't need that much range and you want to save about $1000.
NanRobot LS7 specifications
NanRobot LS7 Specifications
| | |
| --- | --- |
| Top speed | 85 kmh |
| Top speed | 53 mph |
| Range | 100 km |
| Range | 62 mi |
| Motors | dual hub BLDC |
| Power | 3600 W |
| Climb angle | 33 ° |
| Battery | 2100 Wh, 60 V |
| Battery type | LG |
| Charging time | 12 h |
| Ingress protection (IP) | IP54 |
| Weight | 40 kg |
| Weight | 88 lbs |
| Weight limit | 150 kg |
| Weight limit | 330 lbs |
| Tire size | 11 in |
| Tire type | pneumatic offroad |
| Foldable | yes |
| Foldable handlebars | no |
| Seat | available |
| Trunk or basket | no (customization possible) |
| Terrains | all terrain |
| Brakes | Nutt hydraulic brakes front + rear |
| ABS | yes |
| Shock absorbers | front + rear c-type |
| Lights | 4 front + turn + brake |
| Control | LCD display |
| Speed modes | 3 gears * 2 motor modes |
| Keys | yes |
| Warranty | 1-12 months |
| Folded dimensions (L * W * H) | 135 cm * 60 cm * 52 cm |
| Folded dimensions (L * W * H) | 53 in * 24 in * 20 in |
| Unfolded dimensions (L * W * H) | 135 cm * 60 cm * 122 cm |
| Unfolded dimensions (L * W * H) | 53 in * 24 in * 48 in |
| Deck to handlebar height | 102 cm (est) |
| Deck to handlebar height | 40 in (est) |
| Adjustable handlebar | no |
Verdict – should you buy the NanRobot Ls7?
The NanRobot LS7 is a true monster scooter. Everyone that has got one has only had amazing things to say about it.
One of the best scooters ever made, certainly the best in its own areas of focus.
Where to buy the NanRobot LS7 from?
Worldwide
The NanRobot LS7 is sold in several online scooter stores, but is not always in stock. The best place to get it from will be
nanrobot.com
---
Want to get
FREE SCOOTER
tips, exclusive discounts and promotions, and unseen scooter hacks? Join the
Scooter Secrets club
.
---
Liked this article? It really helps if you share it.
Follow @escooternerds on social media for more cool stuff
---