Your electric scooter is an investment. As with any investment, you want to do your best to protect it.
Of course, there is never such a thing as "100% theft-proof", but it's not like Ocean's Eleven will be coming after your scooter. Your job is to deter and seriously demoralize potential thieves as much as possible. They are always looking for the easiest target instead of a challenge, and simply noticing good protection will almost always be enough to prevent your scooter from getting stolen.
There are a few ways you can keep your electric scooter from being stolen, and the best one by far is getting a strong, high-quality lock for the times when you have to leave your scooter outside.
There are quite a few locks that can do a decent job, but if you want to find out exactly which lock type and brand would fit your scooter and your circumstances perfectly, this guide is for you. I examined hundreds of locks and scenarios, and I will help you choose the lock that fits your needs.
These are the best locks for electric scooters.
| Lock | Security Level | Flexibility | Portability | Use cases | Where to buy |
| --- | --- | --- | --- | --- | --- |
| Kryptonite New York Fahgettaboutit 14 mm | Best | Great | Poor | Best overall, best for any high-risk scenario, best for expensive scooters, best deterrence | Amazon |
| Master Lock Street Cuff Locks | Very strong | Very good | Good | Best alternative, great for high-risk, great for expensive scooters, strong deterrence | Amazon |
| Kryptonite Evolution 1016 Mini 10mm Chain Bicycle Lock | Very strong | Great | Mediocre | Best for high to medium risk, strong deterrence, lighter | Amazon |
| Kryptonite Keeper 712 7mm Chain Combo Bicycle Lock | Strong | Great | Mediocre | Great balance between security and value | Amazon |
| Hiplok Gold Wearable Chain Lock | Strong | Great | Good | Good mixture of security and portability | Amazon |
| Kryptonite New York LS Heavy Duty Bicycle U-Lock | Strong | Mediocre | Very good | Good for high to medium risk situations, easy to carry, must fit scooter | Amazon |
| Via Velo Heavy Duty Bicycle U-Lock 14mm | Good | Mediocre | Very good | Solid security to value balance, portable, must fit scooter | Amazon |
| ABUS Bordo Granit XPlus 6500 | Good | Good | Great | Best portability with very good security | Amazon |
| Master Lock 8143D Combination Bike Lock | Mediocre | Very good | Great | Temporary, budget, bandaid solution, for very short periods | Amazon |
Let's briefly go over the proper way to lock an electric scooter, the most important lock types, and see when each may make sense for you and your scooter. We will then look at specific lock models and the perfect use-cases for them.
How to lock an electric scooter?
Make sure the scooter's frame is locked with a chain or U-lock, and the wheels with a cable lock. Don't leave the lock on the ground, that gives thieves an easy way to break it or pick it. Make sure the object you're locking to is stronger than the lock, and that the scooter can't be hoisted.
If using a chain, make sure you leave as little room as possible. The chain may end up with some slack, or you can circle the chain around the stem or the locking object more than once, and have the scooter as close to the locking object as possible. Lock the scooter in a way that prevents it from being moved. Avoid locking on the wheels only, as they can be removed.
Lock types that can protect electric scooters
There are several dozen lock types, all with different features, strength and security levels, unique use cases, and price tags. Let's see which lock types are good enough to secure your electric scooter, but also which ones are not the best idea.
Chain locks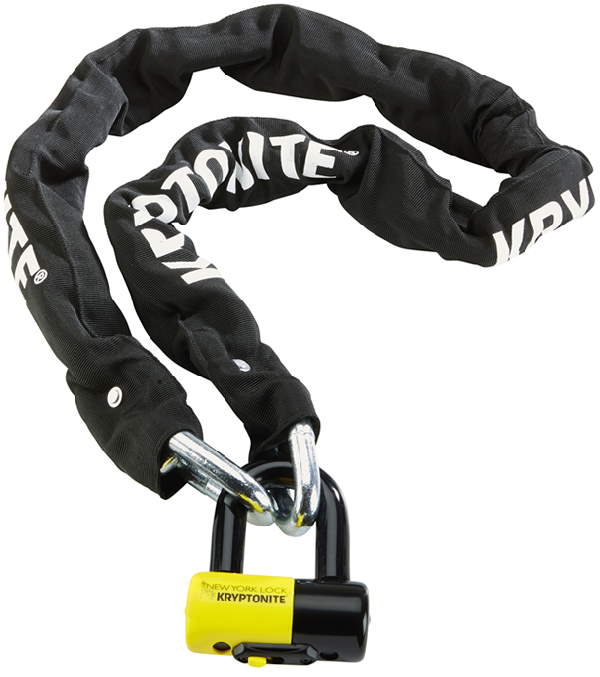 Chain locks are one of the most secure lock types for electric scooters.
They can be very secure, especially the higher-quality ones. They come in two parts – the chain itself, and the padlock. If you use a weaker padlock, the entire system becomes only as strong as the padlock.
While the security of a good chain is probably the best, chains will usually be bigger, heavier, and bulkier. But their size can also be an advantage in situations where you need flexibility and a bigger diameter, like if your scooter itself is bigger, or the object you're trying to lock it against is big.
The reason why chains may be a bit safer than U-locks is that they are more resistant to angle grinders and cutting attacks, as chains are more difficult to fixate and hold steady in most real-world type scenarios.
So, chains are likely the best way to secure your scooter, as they offer both good flexibility and great security.
Cuff locks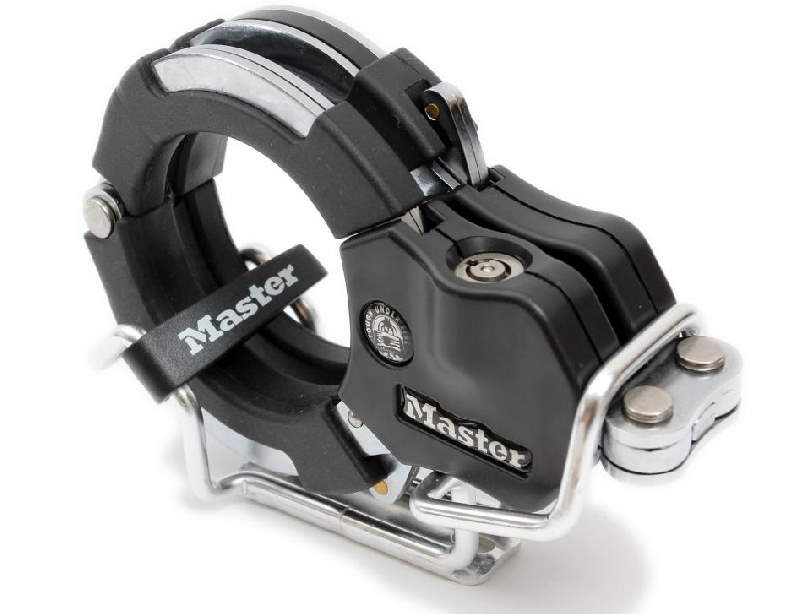 Cuff locks are exactly what they sound like – locks in the form of cuffs.
They come with several interesting advantages. The most important one is that they are not very common, much less common than the typical chain or U-lock. That means many thieves will not be familiar with them, they will probably not know how to defeat them, and will move on looking for another scooter when they notice them on yours.
They are pretty tough and will likely withstand cutting attacks, which is another strong point.
They will be vulnerable to picking (as any lock type is), but they will also be weak at the joints. A thief may break through them with a nut splitter, but how many scooter thieves do you know that carry a toolkit and a unique skill with them?
In terms of flexibility, they will likely be more useful than U-locks, but less so than a chain.
U-locks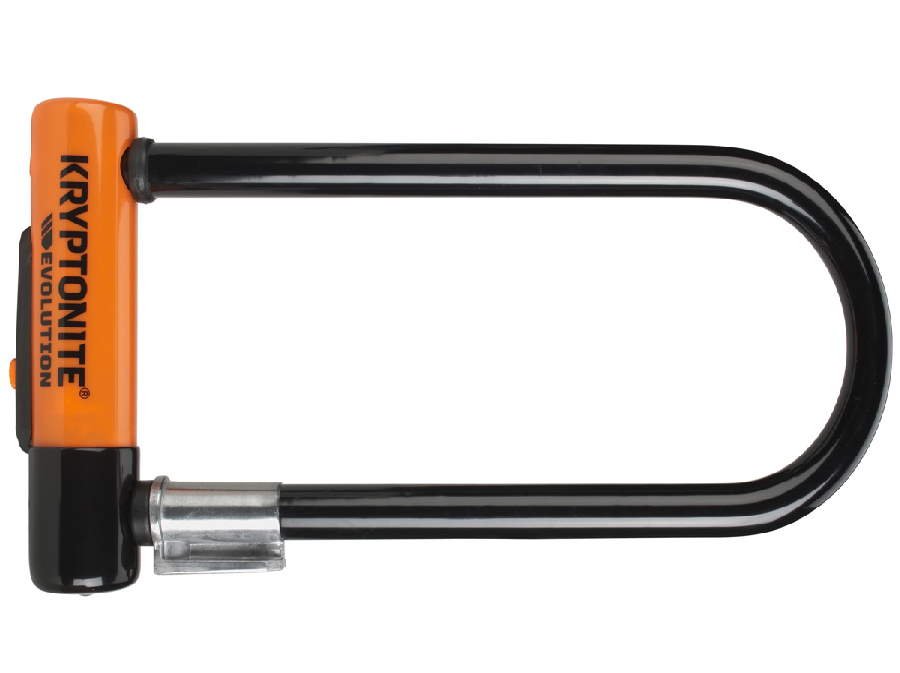 U-locks are a pretty good way to protect your scooter.
They will require either power tools or huge bolt cutters to cut through them. To achieve that, the criminal will need to have the tools, a bit of a skillset on top of that, and they will also have to cause a lot of ruckus, both in terms of noise but also in terms of looking very suspicious for someone trying to unlock their scooter.
U-locks will have shackles made from hardened steel, which makes them very tough. As a result, they will be heavy, but most are still fairly convenient to carry around as their shape is not completely weird. They only consist of one part, and most U-locks are big enough to protect most scooters.
Where U-locks are lacking is flexibility. Unless you have the perfect spot to lock your scooter against, like a strong metal bar, the U-lock will not be of much use. Also, your scooter must be designed to allow for a U-lock to go through it in a way that locks it securely (most scooters will fit, but some may not).
Wearable chain locks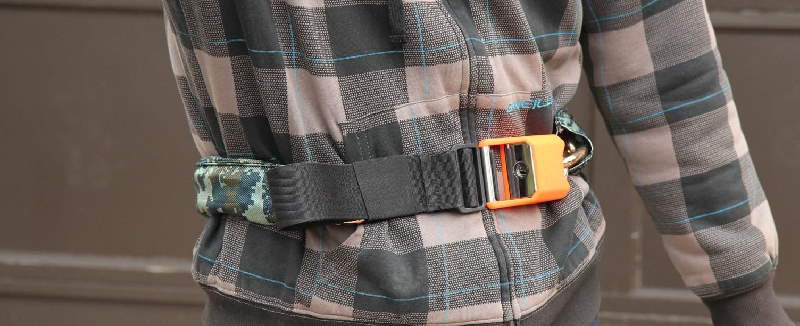 A variant of the regular chain, which you can also wear around your hip as a belt when you're not using it. An interesting idea, that makes the regular chain seem less portable.
With older models, there are several downsides, like the scenario when you lose your key while your chain is locked around your waist. Newer models take into account this possible inconvenience and decouple the actual padlock for the chain and the belt parts.
The usefulness of this lock type will depend on how comfortable you are with being chained (literally). Lighter chains will be no issue, but heavy-duty ones can be a nuissance.
Anyway, I guess you can wear any chain around your waist too, so this is almost the same lock type with an added extra touch.
Folding locks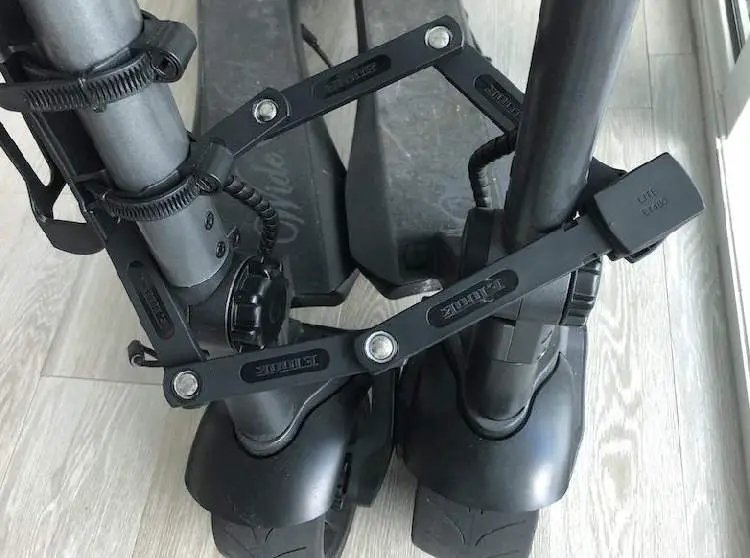 Folding locks are a more modern approach to the problem of securing an object. They are more convenient than most other lock types, as they fold into shapes that are easy to carry.
However, the increased portability comes at the price of weaker security. They will be easier to defeat by most thieves and tools, including being more vulnerable to bolt cutters and even wire cutters in some instances, and the joints are vulnerable to drill attacks.
So, folding locks will tip the balance between security and portability more in favor of portability, and as such are not recommended for high-risk scenarios or expensive scooters.
Alternative lock types for electric scooters (use them rarely or never)
Some lock types will not protect your scooter from getting stolen, but merely prevent the thief from riding it.
Also, some are so weak and easy to defeat in various ways by even the least capable criminals, that they should only be considered in very few scenarios. The following locks should only be considered as bandaid solutions or support to the locks above.
Cable locks and security ties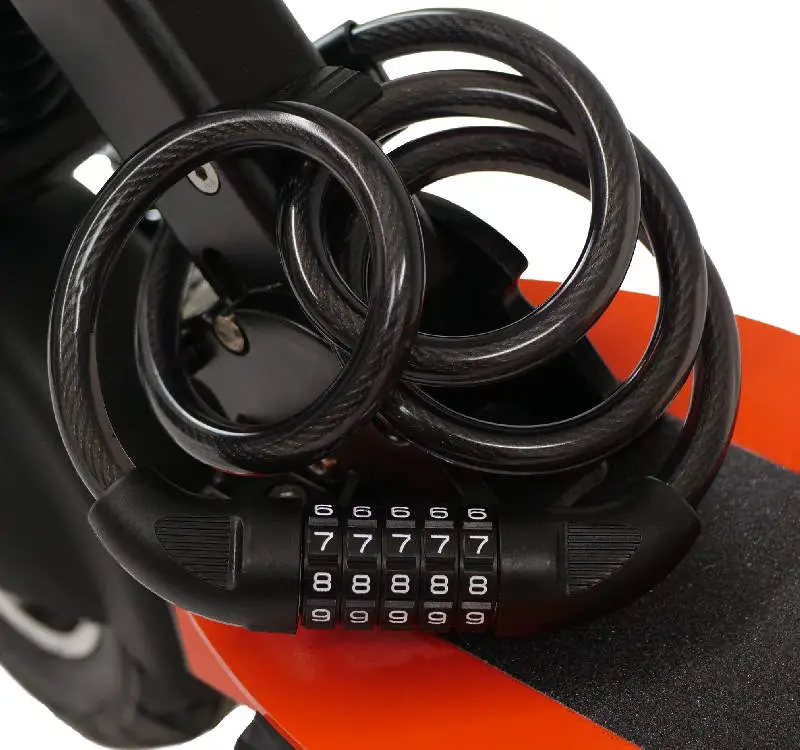 Please only use cable locks and security tie locks in the least risky scenarios, like leaving your scooter unattended for no longer than a minute or two, or leaving your scooter in a monitored or very safe area.
Cable locks are a joke even to amateur thieves. There are plenty of ways they can be defeated, often in less than a minute. We are not even talking about picking attacks, there are probably dozens of ways that a thief can cut through the cable without much effort.
They will be of great use as a supportive lock, especially to prevent the theft of wheels.
Disc locks
Disc locks are almost like regular padlocks with some extra enhancements and features.
Their function is to only prevent movement and riding of the scooter, as they will do nothing to stop someone from carrying it away. That's why I recommend them only as an additional deterrent, and not the primary means of securing your scooter. Plus, many scooters can only be started with a key, or a remote controller, or need unlocking from an app, so they will not be immediately ready for riding by the thief anyway.
Once you insert the disc lock in the wheel, the thief cannot ride the scooter without removing the lock. If they try, the scooter can also be damaged, which is another reason not to rely solely on this type of lock.
Ring locks
Similar to disc locks, ring locks are supposed to make riding the scooter impossible by locking the wheel. As they come from the bike world and are primarily meant for bikes, many models will not be a good fit for scooters at all.
Grip locks
Grip locks come from the bicycle world, and are not exactly meant to be used for scooters. Some scooters with levers may use them as an additional discouragement against theft.
They are locked on the handlebar and the lever if present, usually the brake lever. This will do very little to prevent theft, as the scooter can still be carried away, and the thief will have the lock removed after it has been stolen.
Best electric scooter locks for your specific scenario
Depending on the scooter type you have, the environment, and circumstances where you lock it including the risk of getting stolen, and your budget, we will now determine the best lock (or locks) for your needs.
These are the best locks that can make sure your scooter stays yours.
Best electric scooter lock overall – Kryptonite New York Fahgettaboutit 14 mm Chain & New York 15mm Disc Lock
Since chain locks are the most secure ways to protect your scooter, and Kryptonite has been the best commercial locks company in the world for quite a long time now, it's only logical that the best way to lock your scooter will be one of their signature chain locks, the iconic Kryptonite New York Fahgettaboutit 14 millimeter chain.
When thieves see this thing around your scooter, they will likely recognize it and move along. No lock is unbreakable, but when it comes to everyday solutions for everyday situations, this one is as close as it gets.
The 14 mm six-sided chain made from hardened manganese steel will be more than enough to discourage pretty much any braking attempt. It is covered by a sliding protective nylon dust cover, that extends its durability by protecting it from the elements.
The New York disc lock is even tougher, with 15 millimeters of hardened steel crossbar and the proprietary double-deadbolt technology for extra holding power.
Plus, when you buy a Kryptonite lock, you not only get a lock, you also get a sort of insurance! Kryptonite offer reimbursments of up to $5000 in case your property was stolen when using their locks.
If there is anything that can keep your scooter secure, this is it. You can choose between a few chain lengths, but for most scooters, these should do the trick:
Now, these are the best of the best chain locks, and they will cost quite a lot (around $100 – $120 for a new one, and maybe around $80 for a used one). That's why I recommend getting one of them if:
you frequently leave your scooter outside
you leave your scooter in an unsafe area
you leave your scooter outside for more than several hours or at night
your scooter is expensive
If you don't need that much security, you need something more portable, or your scooter simply costs almost as much as the chain, then you can find other locks here that may be a better fit for you.
Best electric scooter lock alternative – Master Lock Street Cuff Locks
Street cuff locks are pretty similar to chain locks in lots of ways. They may be more flexible in certain situations, as you only need half the size a chain would have to be, although they do require a smaller bar or object to lock the scooter against (you can't use them on a tree for example).
The best cuff locks for electric scooters are the Master Street Cuff Locks. They are a great alternative to the typical Kryptonite chains and U-locks, as pretty much no thief will expect them just yet (although they are becoming quite popular in some places). They are usually just as hard to break as most heavy-duty chains, as they are made from hardened laminated steel.
The length of 22 in / 56 cm should be enough in most scenarios. Remember, you only need half the length you would need from a chain.
Master is one of the most well-known producers of all types of locks, and they offer a $3,500 anti-theft guarantee on this product.
Since this lock is usually both cheaper and also quite lighter than higher-end chains, it will be perfect for a lot of scooter owners. You can find the Master Street Cuff Lock on Amazon, usually priced around $60.
Best smaller chain lock (great security, more portable) – Kryptonite Evolution 1016 Mini 10mm Chain Bicycle Lock
While the first Kryptonite chain is likely the most safe lock on this list, most of us will not need that much power, and we can trade some of it for portability.
Even for a lighter chain, there will be no better option than Kryptonite. With the Kryptonite Evolution Mini 10mm chain, you will get the same exact benefits – reinforced manganese steel, the deadbolt design, and the protective elastic nylon cover, but this time locked with the high-security disc-style cylinder, which will be resistant to most drilling and picking attacks. This chain is about 5 feet / 150 cm long, which is more than enough for pretty much any scenario.
With 10 millimeters of diameter instead of 14, the weight of this chain is much less, while the sacrifice in protection against cutting is not great, as most thieves will not be able to cut through it. So this may be a much more convenient choice for most owners.
You can find the Kryptonite Evolution Mini 10mm on Amazon, it shouldn't cost above $90 – $100.
Best value chain lock (strong security, good price) – Kryptonite Keeper 712 7mm Chain Combo Bicycle Lock
Naturally, 7 millimeters of diameter is not as safe against cutting as 14 millimeters. Still, for most scooters, in most neighborhoods, in most situations, it will be more than enough. Plus, you will save a few dollars, and you will carry less weight around.
This combo lock from Kryptonite comes with a 4-digit resettable lockhead from reinforced steel, for a total of 10.000 possible combinations. As long as you don't set it at four zeros, figuring out the combination will take quite a while.
As usual, the chain is made from the 3T manganese steel, covered with a protective nylon cover. The length of this chain is 47.2 in / 120 cm.
Unless you have an expensive scooter, or the places where you live your scooter are unsafe, this chain would be a perfect balance of security, portability, flexibility, and price. You can find the Keeper 712 7mm Chain Combo Bicycle Lock on Amazon, usually for about $55.
Best wearable chain lock – Hiplok Gold Wearable Chain Lock
This is an interesting idea. I don't see any reason why not to make every scooter chain lock wearable as a belt. It certainly solves the problem of carrying the chain while riding.
The best wearable chain lock right now is the Hiplok Gold.
First of all, don't be blinded by the wearability and think this is some useless fashionable lock – this is a seriously strong chain and lock, and that should be of primary importance. The 10mm chain coupled with the 12mm shackle, both from hardened steel, will give your scooter great protection and deter many potential thieves.
You will get a 33 in / 85 cm long chain, that can be adjusted to any belt size with the speed buckle fastening. That eliminates the need of actually locking your chain while wearing it (as you probably would have to do with a regular chain), and bizarre situations where you lose your keys while your chain is locked around you will never happen.
All in all, a very innovative solution that improves on the regular chain lock. You can find the Hiplok Gold on Amazon.
Best U-lock for electric scooters (strong security, good portability, less flexibility) – Kryptonite New York LS Heavy Duty Bicycle U-Lock
When it comes to securing electric scooters, U-locks are not as good as heavy-duty chain locks because they often don't provide the flexibility needed to safely lock your scooter.
First, you will have to do some visualization, and maybe some measuring, to figure out whether a U-lock would be a good fit for your scooter model. It may turn out that your scooter has no convenient place through which you can put the U-lock. That's why I usually recommend a chain lock.
The Kryptonite New York LS Heavy Duty Bicycle U-Lock is 10.25 in / 26 cm long, and 4 in / 10 cm wide, and that's more locking surface than most U-locks. For many popular scooters, like for example the Xiaomi M365 Pro, that will be enough, and you can lock your scooter by the small part of the stem that's between the stem itself and the deck.
As with any Kryptonite lock, this will be a product of great quality. The 16mm hardened steel is pretty much immune to bolt cutters, and the proprietary double-deadbolt system is here for increased holding power. And of course, the coolest part that makes Kryptonite such a legit brand – they include an anti-theft protection offer for reimbursement up to $4000 in case of theft in the first year.
Still, take a good look at your scooter and see if that would work. Here's a cool little tip to try if you're not sure: take a wide cable or a wire that's about 25-30 in / 65-75 cm, and see if you would be able to lock your scooter against something if that cable was your U-lock.
Anyway, the benefits of a U-lock may be worth the downsides. It will be lighter to carry than most chains, and that is a good enough reason for many. If you want the best, safest U-lock for electric scooters, check out the Kryptonite New York LS Heavy Duty on Amazon. The price is usually around $85.
As this lock can often be out of stock, you can also take a look at the Kryptonite New York Standard Heavy Duty Bicycle U-Lock on Amazon, which is a bit tougher, but also a bit shorter with 8 in / 20 cm of length, usually priced around $105.
Best budget U-lock for electric scooters – Via Velo Heavy Duty Bicycle U-Lock 14mm
Now, not every U-lock has to be from Kryptonite. There are other great lock brands out there, and Via Velo is certainly one of them.
This massively popular U-lock with a cable has sold the most out of every other lock for electric scooters I've seen, and it still maintains a brilliant rating of 4.5 stars. That is not possible with a mediocre product.
The U-lock is about 10 in / 25 cm long, which should be enough for most scooters. The 14 millimeters on the shackle made from hardened HRC50-HRC58 steel is more than enough to withstand cutting attacks, and the cable will be a welcome added layer of security you can use to wrap around the wheels. You can also use it to wrap around the deck, so that you can prevent anyone from unscrewing it and maybe stealing your battery. The lock comes with a debris cover and a PVC protective coating that will protect the lock from the elements and rust. It also comes with a mounting bracket, which may be wide enough to fit your scooter's stem and provide a convenient place to keep your lock.
All in all, this will be an excellent value U-lock. You can find the Via Velo Heavy Duty on Amazon, usually priced around $38.
Via Velo will provide a 3-year warranty on this lock, and can give you a full refund if you are not satisfied with the product.
Best foldable lock for an electric scooter (great portability, good security) – ABUS Bordo Granit XPlus 6500
On the other end of the portability vs security spectrum, we have folding locks. They fold into nicely shaped, easily transportable forms like small rectangles, and typically weigh around 1.5 kg / 3 lbs.
However, while they will still be strong enough to either prevent or deter most theft attempts, they will be a gamble not worth taking for expensive scooters or in risky situations. I strongly suggest going with one of the chains above in those cases.
Anyway, there is a strong use-case for portable protection. Out of all the foldable locks, probably the strongest one today is the ABUS Bordo Granit XPlus 6500. Coming from the long-standing reputable security German brand ABUS, this is the folding lock you can trust your scooter to.
With 5.5mm of plastic-coated specially hardened steel bars, and a total length of 33 in / 85 cm, this lock will be capable of locking most popular scooters in most circumstances.
If you are considering a foldable lock, then this would be your best choice. You can find the ABUS Bordo Granit XPlus 6500 on Amazon, usually priced around $97.
Best cable lock for electric scooters (most convenient, least secure) – Master Lock 8143D Combination Bike Lock
Cable locks are not sufficiently strong to deter potential theft of an electric scooter. They should only be used for very low-risk scenarios, like quickly leaving your scooter out (and even that's a risk, since skilled thieves can defeat these in under a minute).
Also, cable locks can (and should) be used as an additional lock in case you want to protect your wheels from being individually removed and stolen from your scooter.
One of the best cable locks you can use for an electric scooter is the Master Lock 8143D Combination Bike Lock. The 4-digit combination will take 10.000 attempts to crack, which gives you plenty of time to come back to your scooter. The cable is 120 cm / 4 feet long, and 8 mm thick, covered with vinyl coating for protection. That's as good as a cable lock can be.
The Master Combination Lock is doing its job rather well, and the many thousands of five-star reviews bear witness to that fact. If you need a quick-and-dirty, temporary, or ultra-budget way to lock your scooter, check out the Master Lock 8143D Combination Bike Lock on Amazon, it's usually priced at just $9.
How to choose the best locks for your electric scooter?
The ideal lock (or locks) you will use to secure your scooter will depend on several parameters.
I suggest starting with the budget you've set aside for your lock. If you can't spare more than $10 on a lock, there's no point in choosing too much, just get the best cable lock that you can (and btw, the Master combination cable lock on Amazon probably fits that description). If your budget is around $40, you already have some better choices, and if you are prepared to spend around $100 on a lock, you can sleep peacefully as you will know you've done the most you can to protect your scooter. Typically, the price will be strongly correlated with quality.
Now, if your scooter costs $239, there's little logic in getting a $140 lock (as one of my friends puts it, thieves are there more likely to "steal the chain and leave the scooter"). But if your scooter costs at least $500, then it makes perfect sense to invest in a better lock. Not that cheaper scooters don't deserve protection, they do, but thieves will likely recognize the lower cost scooters as well, which may also change their mind at times.
As a general rule, you will probably end up spending at least 10% of your scooter's price on the lock.
Once you what's your budget, you should start thinking about your circumstances.
Start with evaluating the risk of your scooter getting stolen. If any of the following are true, I would consider the risk quite high:
there is a lot of crime where you leave your scooter
there is a lot of bicycle or scooter theft where you leave your scooter
you leave your scooter outside often, and often at the same place
you leave your scooter outside for longer periods of time
you leave your scooter outside during the night or at times when there are very few people around
your scooter costs $1000 or more
For the situations above, it makes a lot of sense to invest in the most secure lock as your budget allows you to. You may need to sacrifice some convenience and portability, and get a heavy-duty chain or a cuff lock, instead of another, more carryable but less secure lock type, like a U-Lock or a folding lock.
In fact, for these scenarios, I recommend going with two different lock types. It may happen that a thief knows how to defeat a chain lock, but a chain lock and a folding lock can be a much harder combo to crack. If your scooter is super-expensive and you've already spent several thousands of dollars on it, there's no harm in using three different lock types as well. Expensive scooters are usually heavy as well, so a chain lock, a folding lock, and a disc lock on the wheel, should really make any thief's life miserable.
The following situations might be considered medium risk:
your scooter is brand new
your scooter is turned on just with the power button and can be ridden immediately
you leave your scooter in a basement or a garage that is not difficult to break into
you often need to leave your scooter outside, but in a very safe area
you need to leave your scooter outside in an area that has other security or surveillance
In these scenarios, you may get away with a more practical lock type, like a U-lock or a folding lock. However, keep in mind that most U-locks, and many folding locks, can often be too small to effectively lock bigger scooters around some objects. So the size of the scooter, and the size and form of where you lock it, will also play a role.
Only consider convenience and portability of the lock last. Your main concern should be protective your expensive scooter, even if it costs you a few extra seconds or some inconvenience while carrying a heavier lock.
While there are many scenarios, as we can see, for most of them, the trusted chain lock is still the best solution, but the U-lock can be pretty good as well.
What is the absolutely safest way to lock an electric scooter?
While the common methods of locking will be enough most of the time, we have to keep in mind that the electric scooter has many valuable parts that can be removed even if the scooter is well locked and secured. No matter how strong your lock is, a thief can always unscrew the deck and steal the battery easily, or do the same for some scooter wheels including their hub motors too.
To fully protect not only the scooter but most of its valuable parts as well, you will have to use a combination of a heavy-duty chain lock for the frame, and entangle the wheels and the deck with a very long cable lock. I don't think there could be another way.
Now, this will not be a common scenario, but it may give the most paranoid of us something to think about. To be honest, I haven't really tried this method, I don't think I've seen it in practice neither, and I believe it may be redundant in many ways.
Getting just the battery may seem like a profitable and easy job, even though I've never heard of this so far. If this starts to happen, we will probably see locked decks pretty soon. The wheels, as we know from the bike world, are often stolen individually, and the only way to protect against that is with a strong cable lock through them.
---
Liked this article? It helps if you share it.
Follow @escooternerds on social media for more cool stuff
---