Last Updated on May 17, 2023 by Matt
There are many scooters that are water-resistant, and some of them can handle riding through some rain or snow quite well.
But when it comes to truly waterproof electric scooters, things are a little different. Today, there's only one truly waterproof electric scooter, and several that provide excellent protection from water but are not exactly 100% waterproof.
In this guide, we will go through all of those scooters, and also go through what you must know about water protection in electric scooters.
Waterproof electric scooters
After trying, testing, and experimenting with dozens of electric scooters, we've narrowed down the choice for the best rain-proof and waterproof electric scooters to the following models.
If you want to see this guide in a video format, check out our Youtube video on the best waterproof electric scooters.
Best waterproof electric scooter overall – EMove Cruiser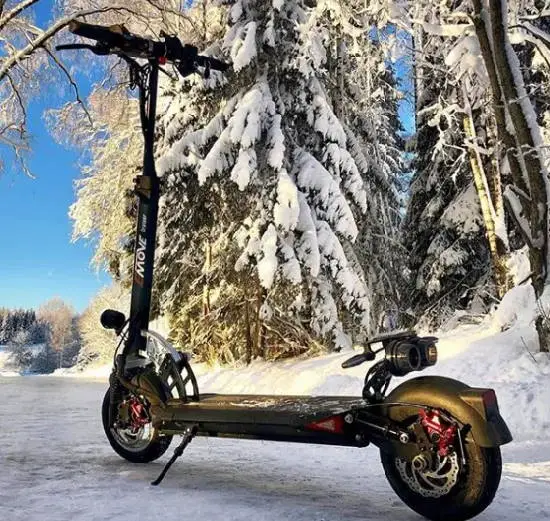 The EMove Cruiser doesn't have the best ingress protection standard in the world right now (it used to hold that title at one point, but it no longer does).
I still believe it is the best waterproof electric scooter you can get today, simply because it is an amazing scooter overall that also has one of the best water protection standards. Its IPX6 rating is still one of the best in the world, and only one other scooter has better water protection (the one mentioned below).
While riding in the rain should be generally avoided, chances are, nothing bad will happen if you do so occasionally. I and many others have witnessed this, so, we can say the EMove Cruiser is a great scooter for riding in the rain.
Besides the IP rating, the EMove Cruiser has great pneumatic 10-inch tires, dual suspension, very good brakes, and what's probably most important for many of us, it doesn't really cost a fortune, which is why I've found it to be the best waterproof electric scooter in general today. You can see my full EMove Cruiser review if you'd like to find out more.
Best water protection and IP rating – Nami Burn-E 2 Max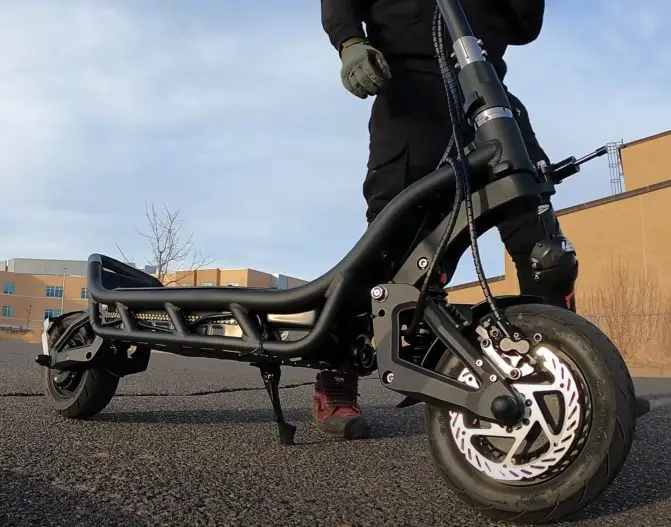 The Nami Burn-E 2 Max has an IP67 ingress protection standard, which is the best in the world currently. That makes it the only truly waterproof electric scooter in existence.
In many ways, the Nami Burn-E 2 Max is the perfect scooter. It has it all – amazing power, great speed, one of the longest ranges in the game, world-class pneumatic tires, excellent brakes, and one of the best suspension systems ever.
The only reason why it won't be the best choice for many people looking for a waterproof electric scooter is its price. It is usually priced above $4000, which is probably too much for most people.
But if that's not the case for you, and you'd like to get the best waterproof electric scooter in the world, and you'd like to be 100% carefree while riding in the rain or snow, then you may want to consider this scooter. See my complete Nami Burn-E 2 Max review if you're curious about it.
Best offroad waterproof electric scooter – Kaabo Wolf King GT Pro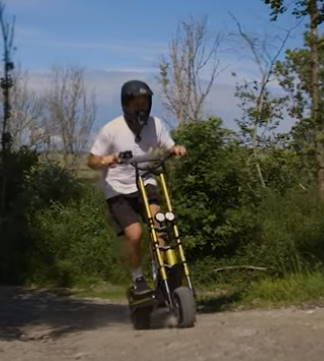 While most of the scooters on this list are all great for riding in the rain, few (or none) of them would be good for riding off-road.
If you happen to need a scooter that won't be bothered by rain but you'd also like a super-powerful monster of a scooter prepared for all kinds of terrains and rough rides, then the Kaabo Wolf King GT Pro will be the best choice.
The scooter comes with an IPX5 ingress protection standard that will make riding on rainy days pretty much effortless, and still, the 11-inch off-road tires with a 3.5-inch width will be great for dirt trails.
Best waterproof electric scooter under $1200 – Apollo City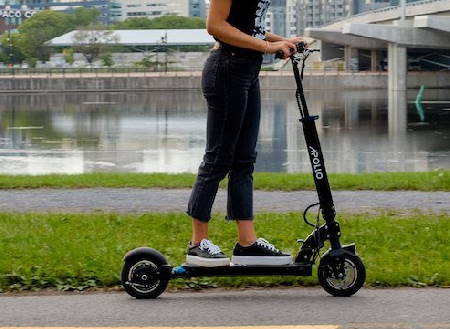 The Apollo City has the second-best water protection standard in the scooter world right now, rated at IP56.
Comparing it with the EMove Cruiser will always be a close call. Personally, I believe that the EMove Cruiser will be more versatile and more useful to more people in more situations, but the Apollo City is still one amazing scooter as well, and it also usually costs quite less than the EMove Cruiser, which is why I believe it might end up being the choice of many people looking for a great waterproof electric scooter on a more limited budget.
See my Apollo City review if you'd like to find out more about this great-value scooter.
Best waterproof electric scooter under $1000 – Ninebot Max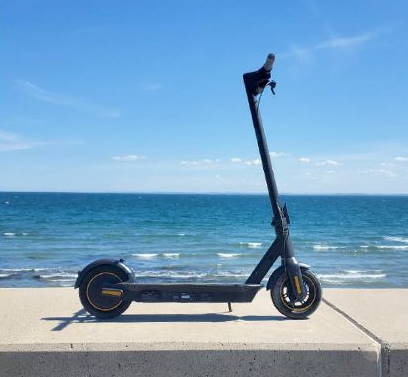 The Ninebot Max is the best waterproof electric scooter under $1000 in the world, currently priced around $950 in most stores.
It has an IPX5 water protection standard, which means it's protected against weak jets of water from any angle, and even if some water manages to reach the critical components, it will still probably have no damaging effect.
With a 5 for the second digit of the IP rating, the Ninebot Max is also one of the most waterproof electric scooters in general.
And when it comes to riding in the rain, snow, or any sort of adverse weather, the results are in – the Ninebot Max has been ridden through the rain by myself and tons of users, and water-related defects are almost never reported!
The 10-inch tubeless air-filled tires, which are also self-healing, are probably the biggest advantage this scooter has over its rivals in the same price category. Not only do they provide much more comfortable rides because of their above-average size, but also they have unique features that make them much less prone to flats, and provide a lot of traction during rides on wet surfaces.
You can check out my complete review of the Ninebot Max to find out more.
Best waterproof electric scooter under $800 – EverCross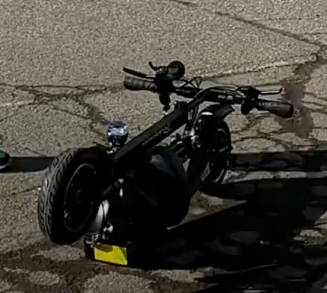 Most electric scooters with great water protection cost $1000 or more.
The EverCross usually costs less than $800, or even less than $700, and it provides an IPX5 rating for that sum, making it pretty safe for riding in the rain or wet environments.
The scooter also has 10-inch pneumatic tires, much larger than the tires found in many of the scooters in this price range.
It comes with dual shock absorbers on both wheels, which is another rare thing in budget-friendly scooters, and coupled with the great dual disk brakes, the EverCross is clearly one of the best mid-price waterproof scooters.
If you'd like to find out more, check out my detailed EverCross review.
Best waterproof electric scooter under $500 – GoTrax G3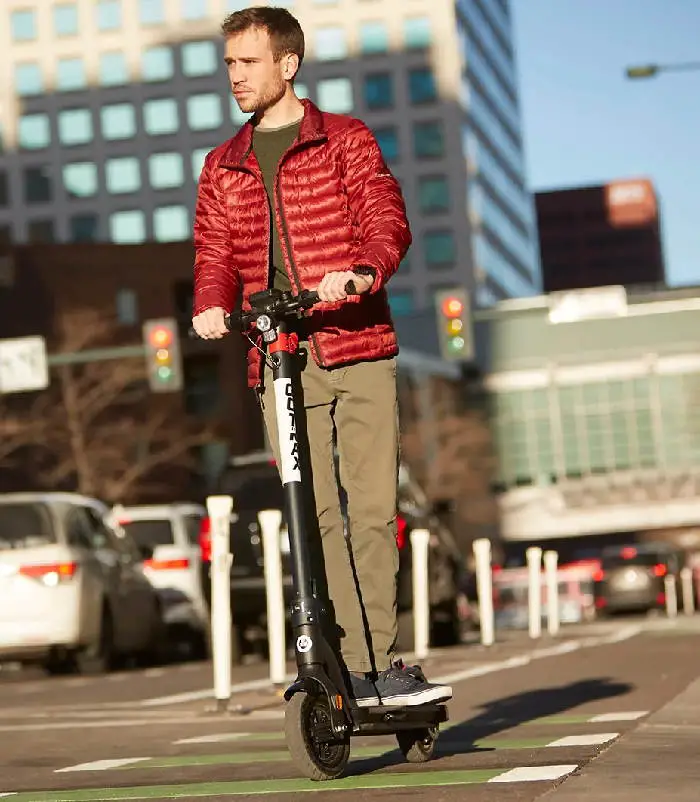 The GoTrax G3 is a miracle scooter.
It is one of the top 5 waterproof electric scooters, coming with an IPX6 ingress protection standard, and it costs only $399.
It also comes with pneumatic 8.5-inch tires and a disk and an electronic brake, which further make it a pretty good scooter for riding in the rain.
In my opinion, there's pretty much no doubt here – this is the best budget waterproof electric scooter.
Best waterproof electric scooter in the UK & EU – Aovo Pro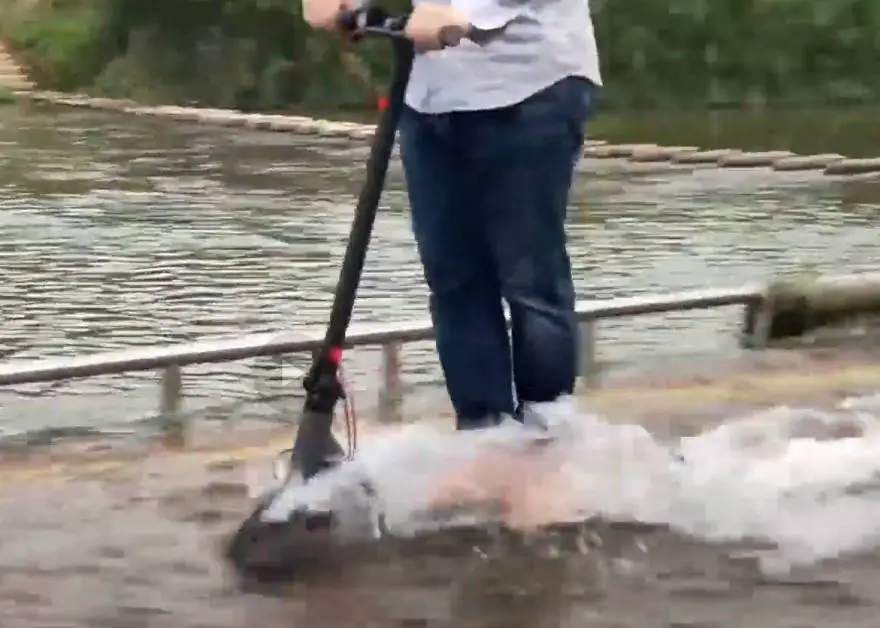 The Aovo Pro is a relative newcomer to the electric scooter scene, and on the surface, it may look like yet another Xiaomi M365 clone.
But under the hood, there's a lot more going on.
The Aovo Pro comes with an IP65 rating, which makes it the most water-resistant scooter widely available in the UK and most European countries.
It comes with solid 8.5-inch tires that never go flat, solid brakes, and good build quality, which further makes it a good choice for rainy days.
Check out the complete Aovo Pro review if you're looking for an excellent water-resistant choice, popular in the UK and the rest of Europe, but available globally and gaining ground in the US as well.
What you need to know about waterproof electric scooters, water resistance, and IP ratings
Almost no electric scooters are truly waterproof today.
When it comes to electronic devices, being waterproof is a standard technical term that has a pretty strict definition, which almost no electric scooter on the market today fully satisfies.
Most of the scooters with the best water protection can still only be classed as water-resistant, and while they can handle some riding through the rain or snow, and won't suffer water damage that often, they're still not technically waterproof.
That's an important distinction, both for how you should use your scooter, and what will be covered by its warranty, as any electric scooter warranty policy practically never covers water damage.
When scooterists say "waterproof", they usually mean "very resistant to water damage", or "if you ride on a rainy day, the scooter will not end up damaged".
Also, when talking about water resistance, you'll hear talk about the IP rating a lot.
IP ratings – how to know if a scooter is waterproof?
There is an international standard called the Ingress Protection standard, commonly known as the IP standard or the IP rating. It is used to determine how waterproof an electronic device is.
IP ratings come in the format of two digits, like "IP54" or "IP67". They provide an answer to how well an electrical device is protected from foreign bodies and moisture, based on the materials used for their build, their manufacturing process, their finishing, and their testing.
The first digit of the IP rating indicates the degree of protection from solid foreign bodies, and it's not of much use to us when we're looking for the water resistance level of the scooter. While it's great to have a higher number for your scooter in general, it doesn't mean much when we're trying to see if the scooter can be ridden in the rain.
Anyway, here's what the numbers of the first digit in the IP rating signify:
X – no data available
0 – no protection against contact and ingress of objects
1 – effective against objects bigger than 50 mm / 2 in
2 – effective against objects bigger than 12.5 mm / 0.49 in, such as fingers or similar objects
3 – effective against objects bigger than 2.5 mm / 0.098 in, such as tools or thick wires
4 – effective against objects bigger than 1 mm / 0.039 in, such as wires, slender tools, large ants, etc
5 – good protection against dust, some dust may enter but not enough to interfere with the effective operation
6 – complete protection against dust
When talking about water resistance, what we're after is the second digit. It shows us how well the electronics are protected from various levels of moisture. These are what the numbers of the second digit signify:
X – no data available
0 – no protection
1 – protection against condensation, or vertically falling droplets, meaning the electronics will not be damaged when the device is upright
2 – protection against water droplets deflected up to 15° from vertical
3 – protection against spray up to 60° from vertical
4 – protection against water splashes from all angles
5 – protection against weak jets of water from any angle, some ingress has no damaging effects
6 – protection against strong jets
6K – protection against strong jets with increased water pressure
7 – protection against full immersion, up to 30 minutes and 1 meter of depth, some ingress has no damaging effects
8 – protection against full immersion at great depths and extended time periods, specified by the manufacturer
9K – protection against strong streams, high-temperature jets, sprays, and washdowns
Anything above 3 for the second digit already means that the device has some protection against water.
A value of 4 is already pretty good and enough to handle rainy weather, and 5 and anything above it basically means strong resistance to water ingress or no damaging effects in the case of water penetration.
Only about 50% of the electric scooters today have an IP standard specified. Since obtaining the rating requires obtaining a license from an authorized scientific organization, it is safe to assume that scooters that have their IP standards would proudly display it as public information, and the ones that don't have it will try and stay silent about it.
Electric scooters rated by water resistance level
These are the most popular water-resistant scooters today, ordered by their IP rating (the second digit).
IP67 electric scooter
There's only one electric scooter with an IP67 ingress protection rating, and that's the Nami Burn-E 2 Max. It is the only completely waterproof electric scooter in the world right now.
IP56/IPX6 electric scooters
These are the electric scooters with an IP56 or an IPX6 rating:
Qiewa Q Power 2 (unofficial)
Qiewa Q Hunter (unofficial)
Qiewa Q Force (unofficial)
IP65/IP55/IP35/IPX5 electric scooters
The following electric scooters have a water protection level of 5 (their IP rating is IP65, IP55, IP35, or IPX5):
Weped F12
Weped Fold D
Weped Fold S
Pure Air Pro LR 2nd Gen
InMotion Lively
Pure Air Pro 2nd Gen
Pure Air 2nd Gen
Aovo Pro M365 ES80
Pure Air Go 2nd Gen
AovoPro 365 Go
AovoPro S3 EW4
Nami Burn-E 2
Hiboy Titan Pro
Inmotion L9
Inmotion S1
Techlife X9
Techlife X7S
Techlife X7
Techlife L5T
Techlife X6
Techlife X5
Kaabo Wolf King GT Pro
Kaabo Mantis Pro V2 Fluid Edition
Kaabo Mantis V2 Fluid Edition
Kaabo Mantis 10 Lite Plus
Uscooters GT Sport
FFR Mosquito
Ninebot Max
Kugoo Kirin M3 (G1)
Kaabo Mantis Lite Plus
Ninebot F40
OKAI Beetle/EA10
EverCross HB24 / H5
Ninebot F30
Ninebot F25
Megawheels A5
IP54 electric scooters
The following scooters have an IP54 ingress protection rating:
Apollo Air 2022
Apollo City
Apollo Explore
Apollo Ghost 2022
Apollo Phantom V2
Blade 10 GT+
Dualtron Thunder
Dualtron X2
Emove Touring
Eskuta KS-350
EVOLV City
EVOLV Corsa
EVOLV Pro
EVOLV Sprint
EVOLV Terra
EVOLV Tour 2.0
EVOLV Tour XL
EVOLV Tour XL-R
GoTrax Apex
GoTrax G2
GoTrax G4
GoTrax GXL Commuter
GoTrax GXL V2 Commuter
GoTrax XR
GoTrax XR Elite
GoTrax XR Ultra
Hiboy Max
Hiboy Max 3
Hiboy S2
Hiboy S2 Pro
Hiboy S2R
Hiboy Titan
Hover 1 Blackhawk
InMotion L8F
Iscooter I9
Kugoo G-Booster
Kugoo G-Max
Kugoo Kirin M4
Kugoo Kirin S1
Kugoo Kirin S2
Kugoo Kirin S2 Mini
Kugoo M2 Pro
Kugoo S1
Kugoo S1 Pro
Levy
Levy Plus
Mercane Widewheel Pro
Micro Colibri
Micro Condor X3
Micro Falcon X3
Micro Merlin X4
Micro Sparrow X4
NanRobot LS7
Ninebot ES1
Ninebot ES2
Ninebot ES3
Ninebot ES4
Ninebot S Max
Niu KQi2
Niu KQi3 Max
Niu KQi3 Pro
Niu KQi3 Sport
Smartkick X7 Pro
Swagtron Swagger 7T
Turboant M10
Turboant V8 Dual-battery
Unagi Model One
Varla Eagle One
Varla Eagle One Pro
VSETT 11+ Super 72 32Ah
VSETT 10+
VSETT 8
VSETT 9
VSETT 9+
Xiaomi 1S
Xiaomi Essential
Xiaomi M365
Xiaomi M365 Pro
Xiaomi Mi Electric Scooter Pro 2
Yadea KS5 Pro
YYD ROBO
Zero 9
IPX4 electric scooters
These electric scooters have an IPX4 rating:
GoTrax G2
Segway GT2 SuperScooter
Kaabo Wolf King
Kaabo Wolf Warrior 11
Inokim OXO
Inokim OX
Inokim Quick 4
Kugoo Kirin G3
E-TWOW GT Smart Edition
Inokim Light 2
Inokim Light 2 Super
Ninebot E45/E45E
Inokim Light 2 Hero
GoTrax GMax Ultra
Hiboy S2 Max
Ninebot Kickscooter Air T15
GoTrax GMax
Kugoo M4 Pro
Hiboy Nex5
Turboant X7 Max
Ninebot E22/E22E
Hiboy KS4 Pro Premium
Inokim Mini 2
Turboant X7 Pro
Swagtron Swagger 7
Hiboy KS4 Advanced
Kugoo ES2
Macwheel MX Pro
1Plus Pro
Ninebot ES1LD
Phaewo FW-H10K-M
Swagtron Swagger 5 Elite
Swagtron Swagger 5 Boost
Phaewo
Swagtron Cali Drift
Swagtron Swagger Pro 3
Swagtron Swagger 3
Swagtron Swagger v1
Swagtron Swagger 2
Which electric scooters are waterproof?
Technically, electric scooters are considered waterproof if they have a value of 7 or higher for the second digit in their IP rating. At the moment, the only scooter that fits that criterion is the Nami Burn E-2 Max, with an IP67 ingress protection rating.
Is the Xiaomi M365 waterproof?
I see this question asked a lot. No wonder, since Xiaomi M365 is maybe the most popular electric scooter in the world.
The second digit of its IP rating is 4, which means it is protected from water splashes from all angles. However, it can't be subjected to jets of water, and it really shouldn't be submerged in water at all.
The user manual advises for the scooter to not be ridden in the rain, but users worldwide report doing that without any significant issues.
See my review of the Xiaomi M365 if you'd like to find out more about one of the most popular electric scooters ever.
Is the Xiaomi M365 Pro waterproof?
Even though the company recommends not riding it in the rain, many users test its limits in adverse weather. It seems to handle rain rather well.
There are some improvements in the water resistance compared to the old model. One of them is the safety cap on the power charger port, which is now magnetic and doesn't fall off that easily. That was a problem for some users in the original version, which Xiaomi handled in an elegant way.
You can read my full review of the Xiaomi M365 Pro to learn everything there is about it.
Is the Ninebot ES2 waterproof?
Our team members and other users ride it in light to medium rain all the time, and they almost never report serious malfunctions.
Besides not riding in the rain, Ninebot advises not riding through puddles or bodies of water deeper than 1 inch (2 cm).
You can read a full Ninebot ES2 owner review from one of our contributors.
Waterproof electric scooters FAQ
Let's address some of the most frequently asked questions about waterproof electric scooters.
Can you ride electric scooters in the rain?
To answer this question accurately, we went through testing and experimenting with many of the scooters, the data and recommendations provided by the scooter manufacturers, and the user testimonials about using their scooters in the rain.
Looking at the advice from manufacturers, you might get the impression that you should rarely if ever ride your scooter in the rain. I went through all of the user manuals that I could get my hands on, and pretty much all said the same thing: avoid riding your scooter in rain or wet conditions.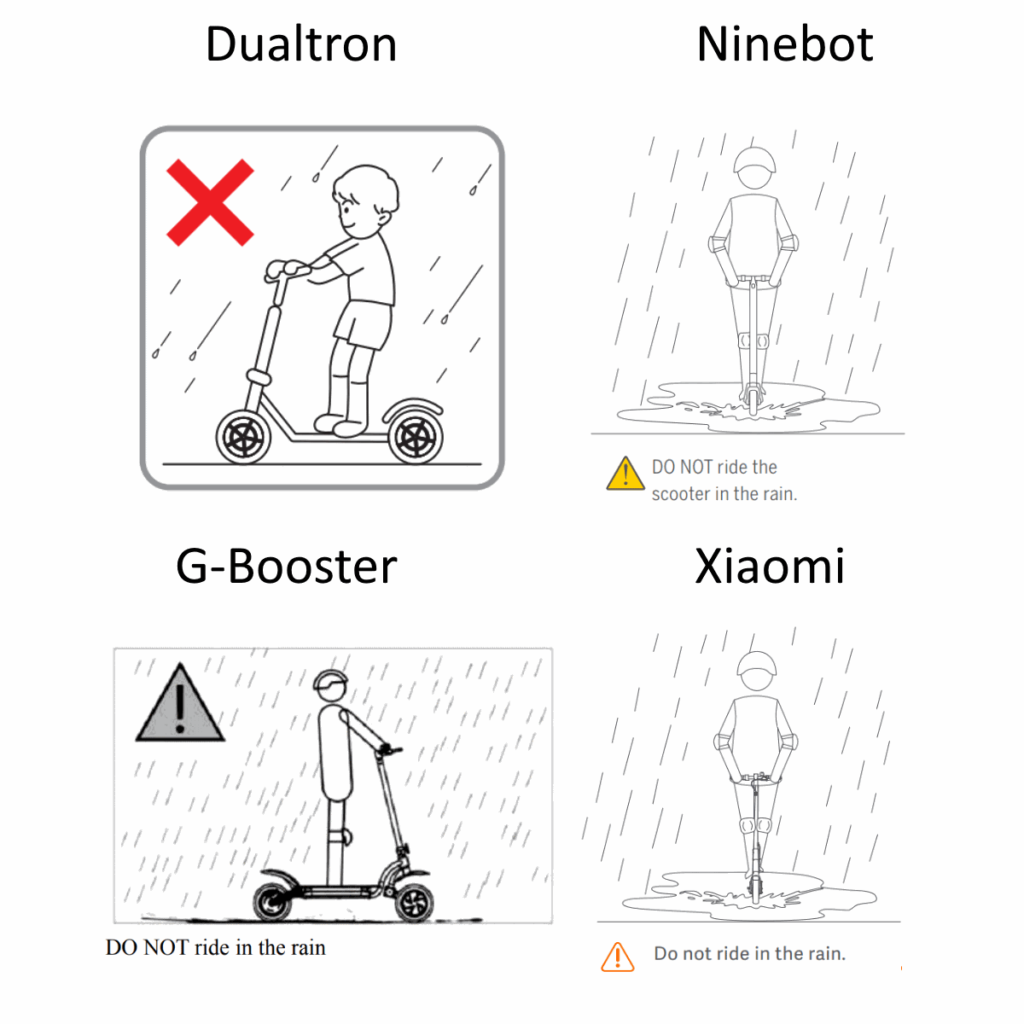 That was the case for scooters across different categories, prices, and countries.
However, what me, our team members, and other scooter owners have observed is almost a completely different story.
Even though most manuals strongly advise against riding the electric scooter in the rain, pretty much all users report doing so without absolutely no issues at all.
I've personally ridden several different scooters through all sorts of wet weather, and have never had any issue.
I've also gone through countless posts, comments, and reviews, and I've found only a handful of complaints from people that have had their scooter break down because of riding in the rain.
The conclusion: all manufacturers recommend avoiding riding the scooter in the rain, but the empirical evidence strongly suggests that electric scooters can handle rain well. So, while you should try and avoid riding your scooter in the rain, chances are nothing will go wrong if you do.
Rain-proof electric scooters
The following scooters have great IP ratings and will typically perform well in the rain and not suffer any damage:
Are electric scooters going to be OK in the rain?
Officially, you shouldn't ride an electric scooter in the rain, but many people still do so and report their scooters not suffering any damage. So, in general, most electric scooters will be OK in the rain, especially if they have an IP rating. That said, you should still avoid riding in the rain as much as possible.
Can I leave my electric scooter outside in the rain?
In general, if a scooter has at least some level of water protection, chances are, nothing will happen to it if you leave it in light rain for a short period of time. Still, you should avoid doing that as much as you can, and you should probably not leave the scooter in the rain for too long, or leave it under heavy rain.
How do you ride an electric scooter in the rain?
If you must ride your scooter in the rain, make sure you follow these tips:
make sure the charging port is closed

if possible, deflate the tires a bit, that will give you more traction
the risk of slipping is greater during the rain, put on all the safety gear that you have
plan your route beforehand, and try to find the shortest route that goes through the best terrain (go for pavements or asphalt over other terrains)
ride as slowly and as defensively as you can
steer slowly and carefully
brake as early as you can
dry off your scooter after completing the ride, use a dry cloth or a vacuum cleaner (don't use a hair dryer)
don't plug in your scooter to charge immediately after completing the ride, wait at least half an hour
Can you ride electric scooters in the snow or in winter?
While it's technically possible to ride some scooters in the snow, you should generally avoid riding in the snow and during the winter as much as you can. That's both a recommendation from almost every scooter brand out there, but also some common-sense wisdom that scooterists have learned over a lot of trial and error.
That said, many owners have still chosen to ride during the winter, often through some serious snow and ice, and while they report a lot of headaches with the ice and the slippery surfaces, the defect rates are not really bad at all (in fact, it seems like they are even rarer than when riding in the rain).
So, same as with riding in the rain, if you must ride through some snow or ice, chances are, your scooter will be just fine. Still, you should avoid doing that as much as you can, and also be extra careful of slippery surfaces (which are the nemesis of electric scooters).
If you have no choice but to ride through some snow (it can happen, snow catches us by surprise at times), you should prepare your scooter for winter rides by following these steps:
Slow down and steer more carefully, especially on slippery surfaces
Deflate the tires by about 2-3 PSI
If you can, consider replacing your standard tires with wider or off-road ones
Tighten your brakes a bit if possible
Plan your route beforehand
Take better care of your battery during winter (don't ride in extreme conditions, and be careful when charging)
Don't charge your scooter immediately after riding in the cold
Charge your battery frequently and don't let it go empty
Ride for saving power, as winter days are shorter
Clean your electric scooter properly and often
Dress warm and protect yourself against the wind
Put as much safety equipment on you as you can
Plug or tape non-functional gaps in the deck
Place some o-rings around non-sealed screws, and over holes with wires or cables
Add additional protection over the power button, the LED screen, and the throttle
Extend the mudguard to prevent snow and mud from getting on you
Waterproof your scooter with silicone and Loctite
Grease the motor wheel axles
Make sure to check out the complete winter scooter guide for how to get all of these steps done in detail. In the guide, we also cover some of the best electric scooters for winter rides (yes, the EMove Cruiser is in there as well).
Waterproof vs water-resistant
Most of the manuals that address the damaging effect that water can have on the scooter say something along the lines of: "the scooter is water-resistant, but not waterproof".
In layman's terms, that means the scooter can handle some rain, or even heavy rain, but it shouldn't be exposed to too much water. This means avoiding riding in the rain, snow, ice, puddles, mud, or other bodies of water.
Are electric scooters waterproof?
Manufacturers are very clear about this – they often say so in their manuals. Electric scooters are not waterproof in general.
Why are electric scooters not waterproof?
Generally, electric scooters are not fully waterproof because of two reasons: there's rarely a need for a scooter to be completely waterproof, and it would be infeasible to design them that way.
Being waterproof means that it can be thrown into a pool and survive without any damage. Nobody really expects that from their electric scooter – people just want to occasionally ride their scooter in bad weather. Plenty of scooters are built to withstand that, which is enough for most riders.
Also, it's not like it's physically impossible to design and manufacture a waterproof electric scooter, it's just that the attention to detail and testing required would be so great that the cost of the scooter would end up being prohibitively high for most consumers.
Are electric scooters water-resistant?
Countless numbers of owners have ridden their scooters in very, very wet conditions, against the recommendations of the manufacturers. Some of them were scooters that you would assume are very fragile because of their lower prices.
And still, the instances of major defects because of rain are very rare (personally I found just a handful after hours and hours of going through reports and comments).
Do electric scooter warranties cover water damage?
The warranty policies for electric scooters never cover any water-related damage. Even if the scooter has a strong water resistance rating, the warranty will still not compensate for any water damage. In fact, most brands strongly advise against riding in the rain, snow, or any other wet environment.
I usually avoid speaking in absolutes, but I've looked at hundreds of warranty policies for all types of scooters, and none, literally not a single one, will cover any damage caused by water.
In a way, I believe that to be somewhat understandable, as electric scooters are still electronic gadgets, and we never expect any other electronic gadget to be fully waterproof (I mean, you don't expect to throw your iPhone in the pool and get it out intact, right?).
The problem here, however, is that, unlike most other electronic gadgets, electric scooters actually might face rain and water in their regular and expected day-to-day use. Maybe they should be held to a higher standard than other electronics.
To be fair though, most electric scooters perform pretty well in the rain, so we can't say that scooter brands are doing a bad job here neither.
How to clean an electric scooter?
If water can be detrimental to scooters, should we use water when cleaning them?
In general, you should try to use as little water when cleaning the scooter as possible. Try to clean the scooter with a dry cloth first, but if you need to use a wet cloth, that's not a big deal neither – just use a soft damp cloth and your scooter will be fine. Also, make sure to dry off your scooter afterwards, as the moisture still might cause some corrosion or vaporize and penetrate the scooter's hull.
Never hose your scooter or subject it to strong jets of water. That is always a bad idea.
Refer to the complete scooter cleaning guide if you want a detailed step-by-step checklist on how to best clean your scooter.
Can I hose my electric scooter when cleaning it?
It is strongly recommended to never hose your electric scooter when cleaning it. Most user manuals strongly advise against using a hose or any sort of water jet or stream when cleaning the scooter, and that goes even for the scooters that actually have protection against water jets from all angles.
How to waterproof your electric scooter?
Many scooters that are not very water-resistant can be beefed up with some extra customizations to handle contact with water better. Users are commonly doing this, especially on scooters that are not that strong in this area.
You should keep in mind that some of these procedures may void your warranty. However, if you achieve better water resistance and can ride in the rain more worry-free, it may be well worth it, and it's certainly wise to do some of them after your warranty expires.
The strategy will be to fortify commonly known weak spots in the scooter that often get wet or allow for liquid to pass through. Here are some steps you can take:
Cover tiny functionless holes in your scooter with silicone. If the hole serves a purpose, leave it alone
Put thick grease on the motor wheel axles (if you don't know what this means, go to a professional)
Get additional waterproof accessories for some vulnerable parts, like the LED screen or the throttle on some scooters
Check out our detailed guide on how to waterproof your scooter to find out all the exact steps required.
What to do if your electric scooter gets wet?
No matter how careful you are, your scooter still might get very wet at times, as it may get subjected to very heavy rain or even a flood.
If you believe your scooter has been subjected to more water than it can handle, or if you notice defects after riding it in the rain, these are the steps you need to take:
power off your scooter – electricity and water don't work well together
remove the battery
don't let the battery and electronics dry out naturally – they can corrode
dry the battery and the electronics – pad them dry with a towel or napkins, and then suck the water out with a vacuum cleaner (don't hold the vacuum too close since it may create static electricity). Don't use a hairdryer – that pushes the water further inward. Don't put anything in a microwave
put the battery in uncooked rice
wait – one day should be enough
reassemble and turn your scooter on. If it doesn't turn on immediately, try plugging in the charger and see how it responds.
If following those steps still doesn't solve your defects, you may need to get a new battery, or get your scooter looked at by a mechanic.
Summary
That's probably everything you need to know about waterproof electric scooters, how much "waterproof" they truly are, which ones handle rain and water the best, and how to make your choice. Remember, it's recommended to avoid riding in the rain or wet conditions as much as possible, but if you pick a water-resistant scooter, chances are, some riding in the rain will not harm it at all.
Here's a quick summary of the best waterproof electric scooters and their use cases for reference.
---
---
Liked this article? It really helps if you share it.
Follow @escooternerds on social media for more cool stuff
---