Last Updated on May 17, 2023 by Matt
In this review, we will go over all of the details and features of the Nami Burn-E 2 Max electric scooter, the latest power scooter from the Nami brand.
Nami Burn-E 2 Max Review
The Nami Burn-E 2 Max is a premium, high-performance, power scooter and one of the fastest scooters ever made. It has dual motors, each with a base power of 1500W, and 8400W peak combined power. The scooter features a huge Li-ion cells battery with a capacity of 2304 Wh that grants it a range of 90 mi / 144 km. The battery is charged in 8 hours and supports a fast charger. The Nami Burn-E 2 Max is one of the most feature-complete scooters, with full hydraulic 4-piston disc brakes, dual coil-shock hydraulic suspension springs, 11-inch tubeless tires, and a bright 2000 Lumen headlight on the front. It also has one of the best display systems with tons of settings and adjustment options for the most optimal ride experience.
Nami Burn-E 2 Max electric scooter overview
The Nami Burn-E 2 Max was released just recently in 2022. It is an upgraded version of the original Nami Burn-E scooter, with tons of improvements.
While many brands that manufacture power scooters focus on the performance, motor, and battery, Nami has put equal attention to the features as well. The Nami Burn-E 2 Max has a rare high-level braking system, very strong water protection, an exhaustive lighting system, and a sleek design made from a mix of welding frame, carbon fiber, and steel.
By buying this beast of an electric vehicle, you not only get a smoothly designed long-range commuter, but one of the strongest contenders for the best electric scooter ever made.
Buying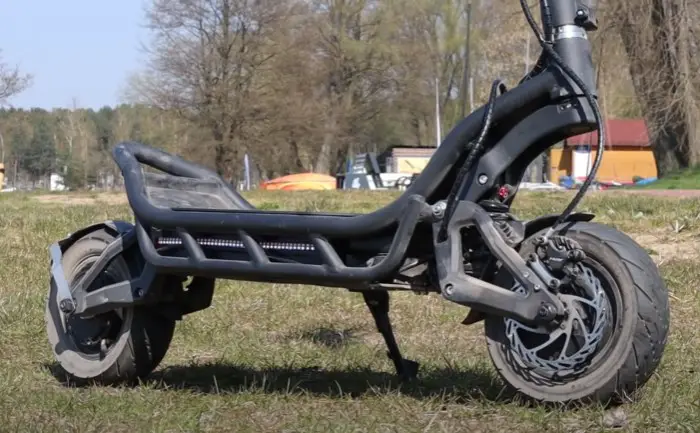 The best place to buy the Nami Burn-E 2 Max will almost always be FluidFreeRide.
You can get the Nami Burn-E 2 Max for around $4900, which will probably be the best price you can get for this scooter.
Even more so, they often put their products at a discount, so make sure to check regularly for any sales and discounts available for this scooter.
Ordering and shipping
The Nami Burn-E 2 Max is a fresh new model, released just this year. As such, it's often out of stock and it may be hard to get your hands on it, at least in the next few months.
However, you can always pre-order the scooter if it's not available at the moment, or subscribe to Fluidfreeride's e-mail newsletter and get a notification when the scooter is back in stock.
Orders within the continental USA come with free shipping and fast delivery, as long as the scooter is in stock at the moment of ordering.
International shipping is available for Canada, Mexico, and the EU as well, but the shipping fees for these orders will vary based on your residence. All orders are dispatched from the US, so fees, as well as delivery periods, will be higher for the more distant countries.
Warranty and return policy
Fluidfreeride has one of the best customer service programs out of all stores in the e-scooters industry.
Scooters purchased from their store come with a 12-month warranty and a membership to their Lifetime Service Program. With this program, you will get a 50% discount on all spare parts and repairs for your scooter for life.
Additionally, you are granted a 15-days free return period in case the scooter didn't work out for you. In general, only unused scooters will be accepted for a return. However, an exception may be made for scooters that are used but are still in perfect condition.
You can apply for a warranty activation or a return by filling out the form on the Help Center at the Fluidfreeride website.
Customer support
Fluidfreeride has a great and very responsive customer support team you can contact and ask any questions about their products or policies. You can reach them through these channels:
Basics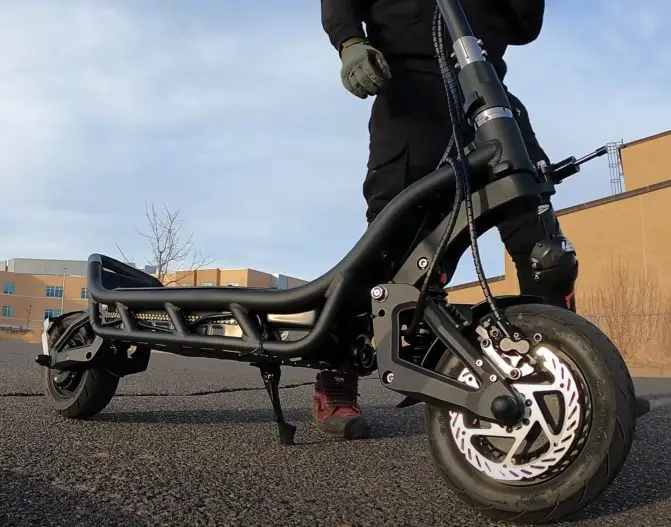 The Nami Burn-E 2 Max is a huge, beefy scooter made for high speeds and wild rides. It's built with a thick frame, a wide bulky deck, and high-quality materials like aluminum, carbon fiber, and steel.
Unboxing and assembly
The scooter comes packed in two boxes that better keep the product intact. Inside, it is not secured with the foam but with lots of cardboard instead. Nami uses cardboard for their packaging largely for environmental reasons, since cardboard can be recycled while foam cannot.
Inside the box you will find:
scooter
charger
set of Allen keys
multitool
steering dampener
instructions manual
The scooter comes fully assembled, with both the stem and the handlebars installed. I would still advise you to check if they are somewhat loose and tighten them up if you need, but this is rarely the case.
Other than that, you will only need to do a little bit of assembly, part of it optional.
There are lots of things you can adjust with this scooter, so start with the riding mode, then go on with tinkering with the P-settings to your preference in the menu on the display. After this is all done, you can adjust the desired level of suspension, and check if the tires are inflated at the right air pressure.
The steering dampener provided with the box is optional, so you can choose whether you want to install it. This dampener will help will smoothing up the steering on sharp corners, but many people opt out of it since it's a matter of riding preference.
Finally, check if the battery is fully charged, plug in the charger if it's not, and after it has gotten to 100% – you are ready to go.
Folding and unfolding
Folding the stem is a little bit slow compared to most other scooters. It can take up to a minute to fold it down and takes some work. The handlebars are not foldable at all.
The scooter uses a clamp system that tightens or loosens up by spinning a chunky wheel on the bottom of the stem. The wheel has a lever, which you'll have to open up before loosening the wheel.
It's a unique system that provides unparalleled security, which is much needed for such a fast and powerful scooter, at the expense of only a minute needed to fold the scooter down.
Ride experience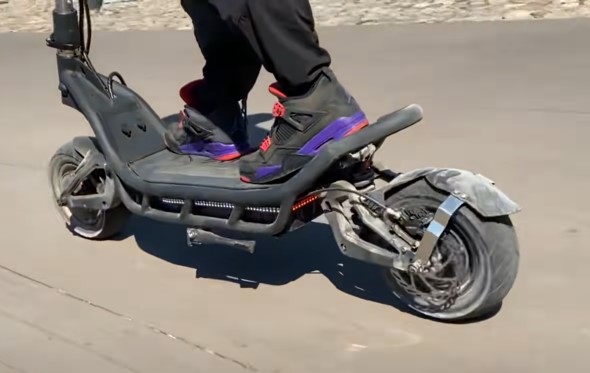 This is, without a doubt, one of the most fun you will ever have while riding a scooter. The Nami Burn-E 2 Max is a strong contender for being the king of the e-scooters world.
Its whole package, the immense power, the amazing range, adjustable suspension, brakes, lights, and all of the features packed in it deliver one of the best rides you'll ever experience.
Gripped rubber handlebars, along with an optional steering dampener deliver great handling even when going full speed. If you are looking for range, power, but most of all – some extreme fun and an increased heart rate, then the Nami Burn-E 2 Max is arguably the best scooter you will find right now.
Build quality
The first thing you'll notice once you get the scooter out of the box is how robustly it's built. Each part of the frame is made from the highest quality materials designed to withstand the toughest challenges and conditions.
Even though the scooter comes with a great warranty, chances are, you'll never end up using the service.
Design and materials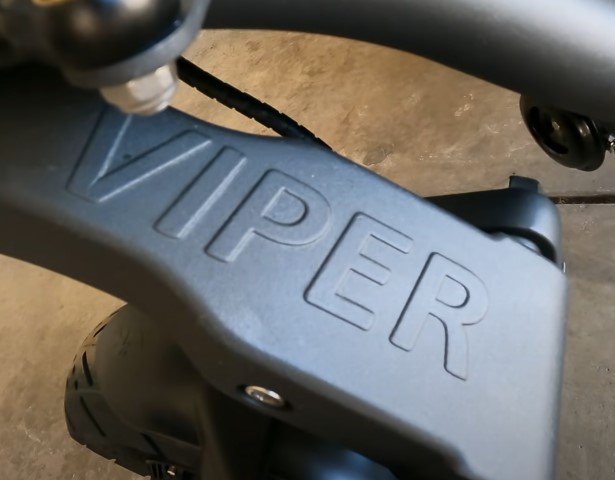 It's customary for all premium power scooters to be built with a wide frame, a thick deck, and an overall bulky design. This is also the case with the Nami Burn-E 2 Max, which needs a substantially strong design to handle the power of the motor.
The frame of the Nami Burn-E 2 Max is made from a heat-treated aviation-grade welding frame. It is constructed in one piece so there are no joints, screws, or any other connecting points to worry about.
The steering column, on the other hand, is made from a full carbon fiber material which is much stronger and more durable even than aluminum. All of the electronic parts, brakes, suspension, and hydraulics are made from stainless steel, as that has proven to be the most practical material for this purpose.
Colors and looks
For the moment, the scooter is only available in an all-black design. Only the rear brake discs, some screws, and bits of the stem are in silver, due to the steel materials used for these parts.
Nevertheless, the black color looks superb because it adds a lot of sleekness and style to the already great-looking scooter. The carbon weaved design of the stem completes this stylish look as it melts into the curved frame that connects it with the deck.
Performance
There is no doubt this scooter has one of the strongest builds and high-quality designs ever manufactured. Still, nearly all of its features are completely overshadowed by the sheer power the Nami Burn-E 2 Max possesses.
Speed and acceleration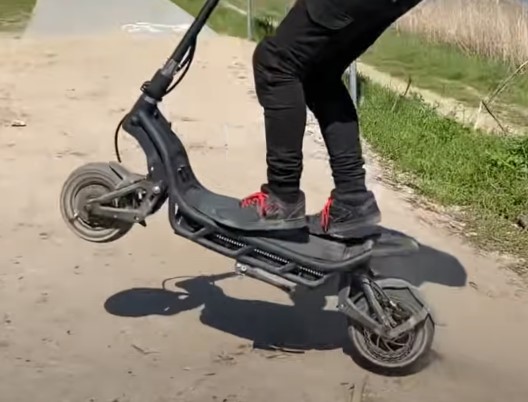 Officially, the Nami Burn-E 2 Max can reach a top speed of 60 mph / 96.5 kmh.
Many users that have managed to get the scooter in the past few months have confirmed this speed, with some even reportedly reaching faster speeds. This puts the Nami Burn-E 2 Max at the top of the game as one of the fastest electric scooters ever produced.
In addition to its speed, the scooter has one of the quickest accelerations as well. It can go up to 25 mph / 40 kmh in just 3 seconds on a straight road.
Motor and power
Reaching these insane speed levels is made possible by the two powerful 1500 W motors that have a peak power output of 8400 W.
Riding on such a powerful beast is no joke. In order to deflate the speed of the Nami Burn-E 2 Max a bit, the scooter has 5 different ride modes integrated into its motors. This will help new users (especially those not accustomed to riding power scooters) to slowly adjust to the speed of the scooter and gradually elevate the pace of their ride.
You can also switch between single or dual motor usage and control the power of the front and the rear motor independently, thanks to the separate settings for each of them.
Weight limit and usage by heavy adults
The bulky design of the Nami Burn-E 2 Max is not only there for wielding its powerful features.
The robust frame is also able to support a weight limit of up to 330 lbs / 150 kg, meaning anyone can ride this scooter worry-free.
Range and commuting
With the help of its huge battery, the Nami Burn-E 2 Max has a max riding range of up to 90 mi / 144 km with a single charge.
It needs to be noted that this is a tested range for 160 lbs / 72.5 kg rider, riding at a constant speed of no more than 20 mph / 32 kmh.
If you want to test out the scooter's limits and ride it at a higher speed, you will probably get around 50 mi / 80 km of range, which is still a lot and close to the top of the industry's standards.
Batteries and charging
The Nami Burn-E 2 Max is equipped with a huge 72 V 32 Ah battery that has a capacity of 2304 Wh. The battery is composed of Li-ion cells manufactured by Panasonic, Samsung, or LG, depending on the scooter's manufacturing series.
However, charging this huge battery is refreshingly quick. It takes about 7 to 8 hours to fully charge with the charger included in the box. The battery also supports a quick charger and has a total of two charging ports which can halve this time to around 3 hours.
Features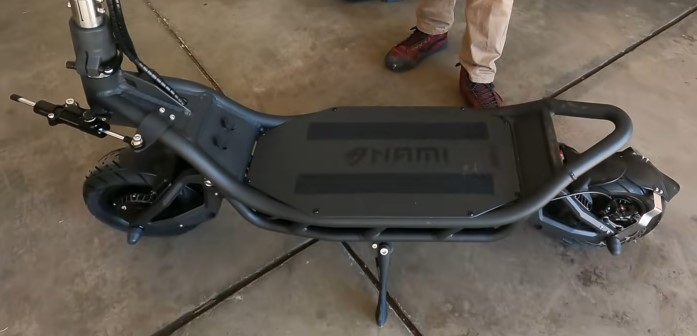 Although power is the primary focus of the Nami Burn-E 2 Max, you won't be paying the premium price tag for pure speed only. This is also one of the most feature-full scooters ever put to market, with tons of useful parts that make it an all-rounder.
Here is a quick rundown of all the features the Nami Burn-E 2 Max comes with.
Weight, dimensions, and portability
Without trying to downplay the utter size of this chunky beast, the Nami Burn-E 2 Max is a surprisingly light scooter when compared to the other models in its class.
The scooter weighs around 103 lbs / 46.7 kg. Although this is far too heavy for most people, it's still a lot lighter than the Dualtron X2 for example, which is its closest competitor.
Carrying the scooter in your arms is made easier with the helping bar at the rear side of the deck. The bar is conveniently placed at the far rear edge to help you pick the scooter up and carry it upstairs, or in some other places where you can't ride it.
In terms of size, the Nami Burn-E 2 Max is on par with most of the other power scooters. Its precise dimensions are:
53 x 24.5 x 25 in / 134.6 x 62.2 x 63.5 cm (folded)
53 x 24.5 x 57 in / 134.6 x 62.2 x 145 cm (unfolded)
Waterproofing and riding in the rain or snow
Having a proper waterproof rating is relatively rare, even on some premium scooters. There are lots of power scooters out there with exposed parts that are vulnerable if used in wet conditions.
However, this is not the case for the Nami Burn-E 2 Max, whose frame comes with an IP55 waterproof rating. The frame is protected from rain, water sprays, and dust intake. Other key components like the display, controllers and connectors have a much stronger IP67 rating instead, which is one of the strongest water protection standards in the game.
This makes the scooter viable for safe riding in both rain and snow, as well as on dirt tracks and rough terrains. It's a perfect choice for people who live in rainy areas and even for those who like to go on an occasional off-road ride.
The scooter is still not completely waterproof and will be damaged if you submerge it into the water, but riding it in rain won't cause any problems.
Brakes
One of the major upgrades from the previous Burn-E model is the braking system found in this scooter.
The new Nami Burn-E 2 Max comes with a full hydraulic 160mm 4-piston disc brakes mounted on both wheels. This type of braking mechanism is rare in the e-scooter market but is also one of the most powerful ones.
Having 4 pistons instead of the typical 2 gives more braking power to the discs, which stops the wheels almost immediately even when going at high speeds.
Regenerative electric braking is also available, which adds a bit of extra range to the scooter on top of its original one.
Tires, wheels, terrains, and environments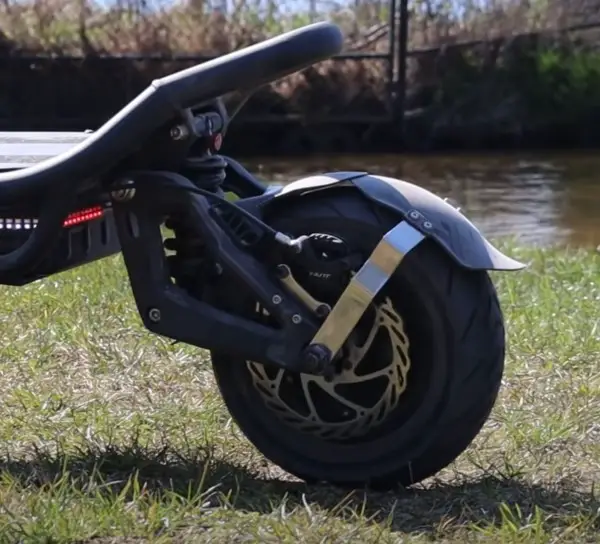 The Nami Burn-E 2 Max is made for all kinds of terrains and environments. You can ride this scooter on paved streets, dirt roads, muddy tracks, and all kinds of rocky or bumpy areas.
In order to support all of these terrains, the scooter is equipped with 11-inch tubeless tires. These are one of the best tires for riding in different environments as they get punctured way less often and still give a more comfortable ride than solid tires.
If you want higher durability for your off-road adventures, you can always switch these for off-road tires instead. This option is also available right when you order the scooter.
Suspension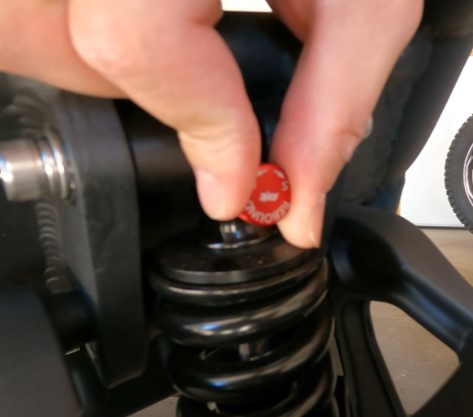 Each scooter, in order to be a complete all-terrain model, needs a strong suspension.
When it comes to shock absorption, the Nami Burn-E 2 Max uses dual adjustable hydraulic suspension. The mechanism uses 165 mm coil-shock springs mounted on both the front and the rear end of the scooter.
You can adjust the desired level of suspension by turning the small red dampening knob placed on the rear side of the deck. The knob has all of the suspension levels written on it and can be easily adjusted in a second.
Lights and night use
The Nami Burn-E 2 Max has one of the best light systems I have seen in a scooter so far.
The scooter has a bright 2000 lumen headlight mounted on the front, right on top of the stem. The light can illuminate a wide area in front of you and will make any rides at night comfortable and safe.
For better visibility of the scooter to those around you, the Nami Burn-E 2 Max uses side LED strips, as well as a rear brake light and turn signals mounted on the back of the deck.
Screen, handlebars, and controls
Unlike most other e-scooters that have a small circular screen that shows the important ride info, the Nami Burn-E 2 Max uses a much bigger color smart display.
The screen is placed in the middle of the cockpit and resembles a mini-tablet that is loaded with tons of features. On it, you can see the current:
speed
range
mode
distance traveled since the last start
total distance traveled
Using the display, you will also set the ride mode and all of the other adjustable settings.
Besides the display, on the handlebars, there is the display controller, throttle lever, two brakes, the turning signals, and a horn.
Deck and standing surface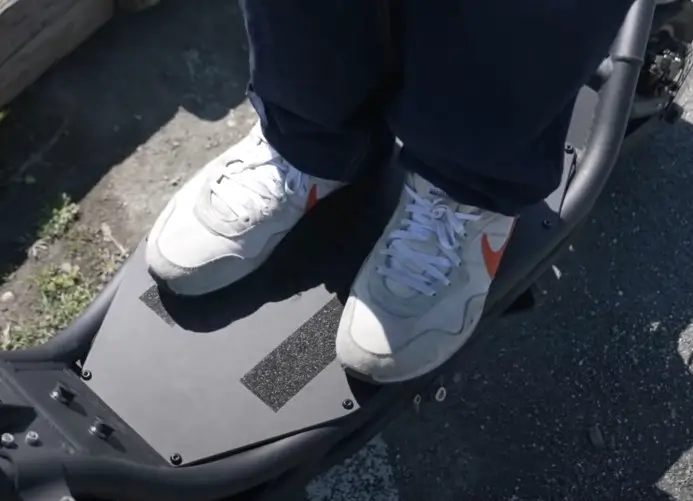 Stability is key when riding such a powerful scooter and going full speed. That's why the Nami has a wide platform-like deck with an area size of 22 x 12 in / 56 x 30.5 cm.
The deck has two gripped lines along its length which allow you to lock in both of your feet on it and fully stabilize before you start riding.
Accessories and customizations
The Nami Burn-E 2 Max is one of the most feature-complete scooters ever released. It would almost be a shame to customize the looks of this elegant beast, and there isn't a lot of space for accessories seeing how packed with features it is already. If you are still determined to enhance your scooter to the maximum, check out my detailed guide on all of the possible electric scooter accessories.
However, there are some minor additions you can get aftermarket that will improve the overall quality and safety of your rides.
A fast charger is one of the first things you should consider buying for this scooter. The huge battery can take up to 8 hours to fully charge, a time which can be significantly lowered if you use a faster charger instead. Depending on the version of your Nami scooter, you should get either the fast charger with the 2 pins or the fast charger with the 3 pins.
You would want to secure the scooter as much as you can. It's not a cheap vehicle, and I'm sure you wouldn't want to leave it unlocked on the streets. A strong lock is a must-have for scooters in this price range, and I suggest you pick the strongest and most secure locks you can get your hands on. See my guide on electric scooter locks for the best picks.
Wide off-road tires with deep threads are another great addition if you plan on riding the scooter on rougher terrains. The Nami Burn-E 2 Max comes with typical tubeless street tires, which are great but offer much lower ride comfort when going off-road.
And finally, you must not forget about your own safety and protection. A strong and safe scooter helmet, as well as professional riding gloves, should always be on you, especially when riding such a powerful scooter that can reach an extremely high speed.
Problems and what to know
Design-wise, you will instantly notice that the footrest on the Nami Burn-E 2 Max is like nothing you've seen before. It's an integrated footrest with an opening in the middle, designed more like a holding bar. Because of its design, the footrest might be a bit uncomfortable to step on and keep your foot on for longer periods. However, this is widely compensated with the huge deck which can hold both of your feet on it.
The scooter is also very, very heavy. Not as heavy as the heaviest models out there, but will still be a burden for lots of people. There is a fair tradeoff with the footrest which can be used as a bar to pick the scooter up, but know that you won't be carrying it in your arms a lot.
All of the other problems I've encountered with the Nami Burn-E 2 Max come with the display and the settings menu.
The menu itself is a bit too complicated to use and you might need a few weeks of usage (and some re-reading of the instructions) to fully get the hang of it. There are also a ton of adjustments that can and should be done with the mode, suspension, and P-settings in order to hit the best riding settings suitable for you.
There are also some issues with the accuracy of the display. This is mainly with the speedometer which is not fully precise and the mileage on it appears a bit off. This issue was also reported by a couple of users, so it might be a sort of software bug found in a specific series of this scooter. It won't affect your riding whatsoever, but it's good to know the exact speed you are going with.
How does the Nami Burn-E 2 Max compare to other electric scooters?
There aren't a lot of powerful racing scooters out on the market. Most of the brands stick to manufacturing models they can offer at a reasonable price. That's why it's vital for you to inspect all of the possible options before committing to spending several thousand dollars on an electric scooter.
Here are some of the best alternatives that are on par with the Nami Burn-E 2 Max scooter.
Nami Burn-E 2 Max vs Dualtron X2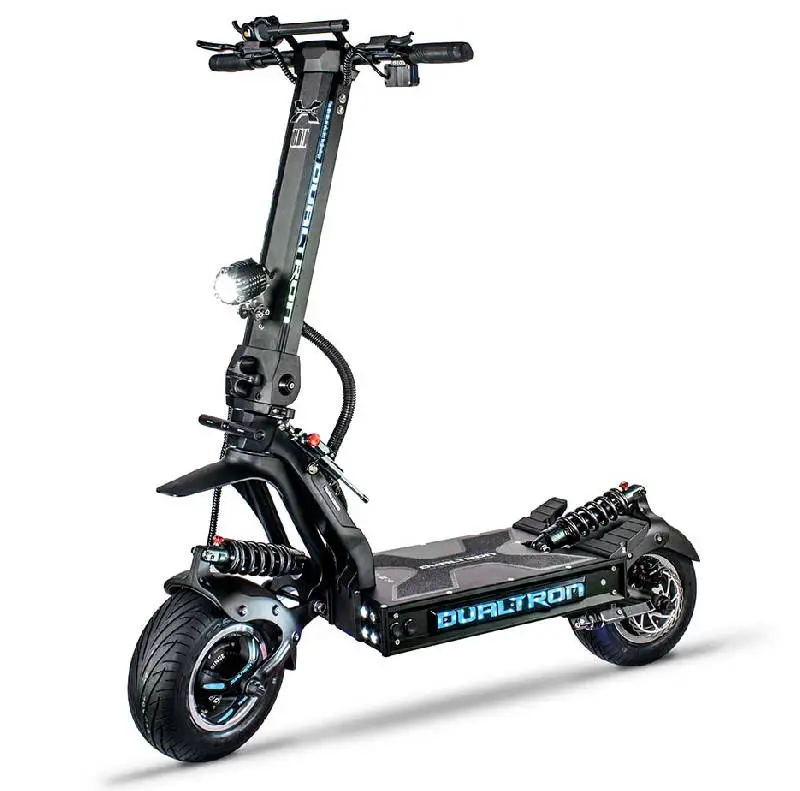 It's nearly impossible to talk about the best scooters out there without mentioning Dualtron. The brand specializes in manufacturing premium racing scooters with insane power levels and stunning designs.
The Dualtron X2 is priced at around $6500 and is one of the most expensive and most powerful scooters out there.
Equipped with dual BLDC motors, the scooter can reach up to 68 mph / 109 kmh and has a range of 93 mi / 150 km. It exceeds both the power output and range of the Nami Burn-E 2 Max scooter, although not by that much.
Both scooters also have vastly different designs. While both have a bulky frame with a wide deck, the Dualtron X2 comes with lots of rectangular parts and sharp edges, contrary to the smooth and curved frame of the Nami Burn-E 2 Max.
The major upsides of the Dualtron X2 are its 19-step adjustable spring suspension and the 13-inch wide tires. These features make it a much better scooter for off-road rides, unlike the Nami Burn-E 2 Max which requires a switch to off-road tires to handle such rides.
You can check out my detailed review of the Dualtron X2 if are interested in it.
Nami Burn-E 2 Max vs Kaabo Wolf King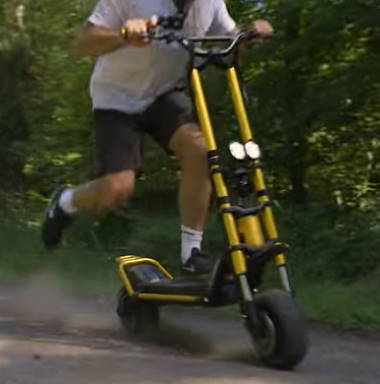 The Kaabo Wolf King is arguably the true king of the off-road scooters to date. Known for its unique design and high endurance, the scooter provides a great alternative for experienced riders looking for an upgrade.
Priced at around $2999, the scooter is quite cheaper than the Nami Burn-E 2 Max. Powered by two motors, it can reach a top speed of 60 mph / 96.5 kmh, similar to its competitor.
The range of the Kaabo Wolf King, on the other hand, is much lower – up to 50 mi / 80 km on a single charge.
However, where this scooter shines is its usability and versatility. The Kaabo Wolf King is built as an off-road scooter, with dual suspenders on both wheels, and one of the best braking systems on the market.
If you were looking for a durable scooter made to withstand wild off-road adventures, you should strongly consider this model as it's one of the best in its category. You can check out my thorough Kaabo Wolf King review to find out more.
Nami Burn-E 2 Max vs Kaabo Wolf King GT Pro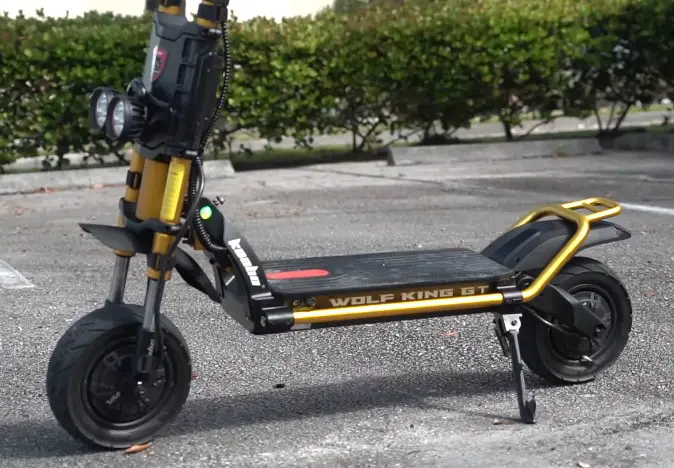 The Kaabo Wolf King GT Pro is the upgraded version of the Kaabo Wolf King off-road scooter mentioned above. With a price of around $3600, it's a bit closer to the Nami Burn-E 2 Max than its predecessor but still comes more than $1000 cheaper.
In this upgrade, the Kaabo brand improved the range of the original Kaabo Wolf King scooter to up to 75 mi / 120 km. It also got a suspension upgrade, making the off-road rides smoother.
The power of the scooter hasn't gotten increased by much, and it's still on the level of the Nami Burn-E 2 Max. With that being said, Kaabo still hasn't managed to create a scooter that can outperform one of its biggest competitors, which makes its lower price somewhat justified.
Obviously, you would still prefer this version over the basic Kaabo Wold King model, but if you want the best of the best, it's hard to overlook what Nami Burn-E 2 Max brings to the table.
Who should not get the Nami Burn-E 2 Max?
The Nami Burn-E 2 Max is one of the fastest scooters out there. As such, it won't be a good choice for any new riders that are yet to gain the experience of riding scooters. The scooter might appear too powerful and complicated to use, and there's a chance that beginner riders won't get to utilize its full potential. If you are looking to buy your first scooter, I would recommend checking out my guide on the best scooters for beginners, where you can find something much more suitable for first-time owners.
I also wouldn't recommend this scooter to casual riders who are looking for a simple city commuter. The Nami Burn-E 2 Max is not a very portable scooter as well, which is one of the main features of urban commuters.
On a similar note, this scooter will not please those who prioritize portability over high-level performance. The Nami Burn-E 2 Max is designed with numerous features that make it an all-around scooter, but there was a huge tradeoff made with the lack of portability in it. The scooter is huge, folds slow, and weighs far too much to be carried around in your arms.
And finally, the price of the Nami Burn-E 2 Max can be a substantial downside one must consider before buying the scooter. Even though the scooter justifies every cent of it, it can cost a small fortune for some people.
Who should get the Nami Burn-E 2 Max Electric Scooter?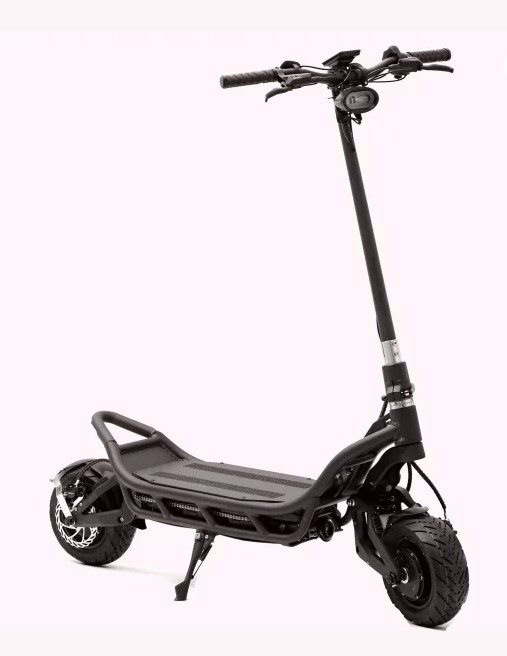 I would only recommend the Nami Burn-E 2 Max to experienced riders who can handle a high-performance electric scooter without an issue. With the sheer power this scooter has, it should only be used by those who know how to wield it. Even though it can be tamed and adjusted for less turbulent rides, I still think this is not an ideal scooter for first-time owners, but only for those who have spent a couple of months, or even years, on an electric scooter beforehand.
The Nami Burn-E 2 Max is the best pick for thrill-seekers and riders who are after adrenaline-filled adventures. There are only a handful of scooters quicker than this one out there. But all of these other options have some notable downsides, mainly with their features, that the Nami Burn-E 2 Max has more than covered.
People who have a geeky side to them and who love to play with the settings of their devices would love this scooter as well. The unique and multifunctional display, along with the numerous adjustment options, will be an amusement for those who love to customize things.
Overall, the Nami Burn-E 2 Max is among the leaders of the electric scooter market, competing for the first place as the most powerful and best electric scooter overall.
Frequently asked questions
Let's take a look at some of the most frequent concerns about the Nami Burn-E 2 Max scooter.
Does the Nami Burn-E 2 Max ship to Canada?
You can order the Nami Burn-E 2 Max from Canada, as well as the US, Mexico, and EU, and have it delivered right to your home.
Is the Nami Burn-E 2 Max waterproof?
The Nami Burn-E 2 Max has one of the best waterproof ratings of IP55 for its frame, and IP67 for the electronic parts. You can safely ride the scooter in rain, snow, dirt, and mud, and have no worries about damage or water intake.
Where to buy the Nami Burn-E 2 Max from?
Worldwide
It is very unlikely that you will find the original Nami Burn-E 2 Max somewhere other than
FluidFreeRide
.
Specifications
Nami Burn-E 2 Max Specifications
| | |
| --- | --- |
| Top speed | 96.56 kmh |
| Top speed | 60 mph |
| Range | 144.84 km |
| Range | 90 mi |
| Power | 3000 W real, 8400 W peak |
| Climb angle | 35 ° |
| Battery | 2304 Wh, 72 V |
| Battery type | Li-ion cells (Panasonic, Samsung, or LG) |
| Charging time | 8 h |
| Ingress protection (IP) | IP67 |
| Weight | 46.72 kg |
| Weight | 103 lbs |
| Weight limit | 150 kg |
| Weight limit | 330 lbs |
| Tire size | 11 in |
| Tire type | pneumatic tubeless |
| Foldable | yes |
| Foldable handlebars | no |
| Build material | heat-treated aviation grade welding frame, full carbon fiber steering column, polished stainless steel parts |
| Terrains | all terrain |
| Brakes | 4-piston LOGAN full hydraulic 160mm disc brakes |
| Shock absorbers | two adjustable 165mm hydraulic coil-shock suspensions |
| Lights | 2000 lumen headlight + side LED strips + rear brake light |
| Control | multifunctional color smart display |
| Speed modes | 5 |
| Warranty | 12 months |
| Return period | 15 days |
| Folded dimensions (L * W * H) | 134.6 cm * 62.2 cm * 63.5 cm |
| Folded dimensions (L * W * H) | 53 in * 24 in * 25 in |
| Unfolded dimensions (L * W * H) | 134.6 cm * 62.2 cm * 145 cm |
| Unfolded dimensions (L * W * H) | 53 in * 24 in * 57 in |
| Deck dimensions (L * W) | 56 cm * 30 cm |
| Deck dimensions (L * W) | 22 in * 12 in |
| Ground clearance | 22.86 cm |
| Ground clearance | 9 in |
| Deck to handlebar height | 109 cm (est) |
| Deck to handlebar height | 43 in (est) |
| Adjustable handlebar | no |
---
Want to get
FREE SCOOTER
tips, exclusive discounts and promotions, and unseen scooter hacks? Join the
Scooter Secrets club
.
---
Liked this article? It really helps if you share it.
Follow @escooternerds on social media for more cool stuff
---