Last Updated on June 7, 2023 by Matt
Power and endurance are everywhere in today's electric scooter industry, but not many brands can pride themselves on making one of the best-designed scooters ever.
While some brands often prioritize performance over aesthetics, in this article we will see how Unagi has creatively mixed all of it together to deliver the Unagi Mode One, one of the sleekest electric scooters I've ever tried. Let's dive into my complete Unagi Model One review, based on my tests.
Unagi Model One Review
The Unagi Model One is a slim, lightweight, electric scooter made for the urban environment. It's powered by dual 250W motors that have a combined power of 1000W. The scooter features a 72000 LG battery with a range of 15.5 mi / 25 km that is fully charged in 4 to 5 hours. It has tons of useful features for city rides, such as dual electronic brakes, solid rubber tires, front and rear lights, and a kickstand unnoticeably tucked on the side of the deck. The Unagi Model One is a portable scooter whose focus is put on its design, smooth aesthetics, and futuristic outlook.
Unagi Model One pros and cons
PROS
Great quality to price ratio
Very light and portable
Great for commuting
Cool looks
Good water resistance
Great brakes
CONS
Average performance
Not the best option for heavier people
Range could be bigger
Small solid tires, mediocre ride comfort
Buying
The Unagi Model One can be bought on various web stores, but usually, the best place to buy it from will be Amazon.
The price of the scooter will be around $999.
Shipping
Shipping on Amazon will usually be free, although delivery time might be longer.
Warranty and return policy
The scooter comes with a 1-year warranty that covers any factory defect.
If the warranty is activated in the first three months, then the company will exchange the scooter for a new one. If three months have already passed, then they will first try to repair it before offering you a new one.
If you have tried the scooter and didn't quite like it, you can return it back and get a full refund in the first 30 days.
The scooter can be returned even if you've already unpacked and ridden it. The only thing you will have to watch out for is the original packaging, which must be returned together with the scooter, or otherwise, the policy is void.
Basics
The Unagi Model One is a slim, lightweight urban electric scooter with one of the sleekest modernistic designs you have probably seen so far. The scooter looks like a prop of a futuristic movie, strongly resembling the aesthetic approach of many modern technology brands, such as Apple and Tesla.
It's a slim, portable electric scooter, with a neat, uncluttered design made for those who appreciate minimalist aesthetics.
The scooter is great for beginners, as well as people who need a reliable vehicle they can take anywhere. It is charged quickly, requires almost no maintenance, and has a strong metal build that will last for ages.
Unboxing and assembly
The scooter comes in a standard box, roughly the size of the folded scooter itself. Inside you will find all the essential parts:
scooter frame
scooter handlebar
user's manual
charger
Since the handlebar is boxed separately inside the package, you will need to attach it yourself before riding. All you will need to do here is simply connect the cable of the handlebar to the frame, and mount the piece onto the stem.
It is also recommended to charge the battery fully, and check the breaks before you are ready to go. After you've set all of this up, you are finally ready to ride the scooter outside.
Folding and unfolding
Out of all the innovative features Unagi has come up with, their new folding mechanism is probably the one that deserved the most appreciation.
The Unagi Model One uses a one-click folding system, which consists of a simple hinge mechanism mounted in the bottom part of the stem. In order to fold the scooter down, you just click the button that is popping out of the stem and the scooter folds down onto itself in a matter of seconds.
This method is not only quick but very easy as well, requiring nowhere near as much effort as most of the lever-based folding systems found on other scooters do.
Ride experience and intended use
With the lack of suspension springs and full-rubber tires without air tubes in them, riding this scooter was only possible on straight roads and city streets. I didn't even think about riding it off-road.
The rides were bumpy at times, especially on unsustained roads, so you will want to avoid any potholes, bumps, and especially dirt tracks.
Build quality
I found the build quality of the Unagi Model One to be its strongest side.
The design team behind the Unagi Model One has truly delivered one of the sturdiest, most stylish electric scooters. They've put just as much thought into its durability too, combining only the finest materials in order to make sure that the scooter will last for ages. This was arguably my favorite part about this scooter.
Design and colors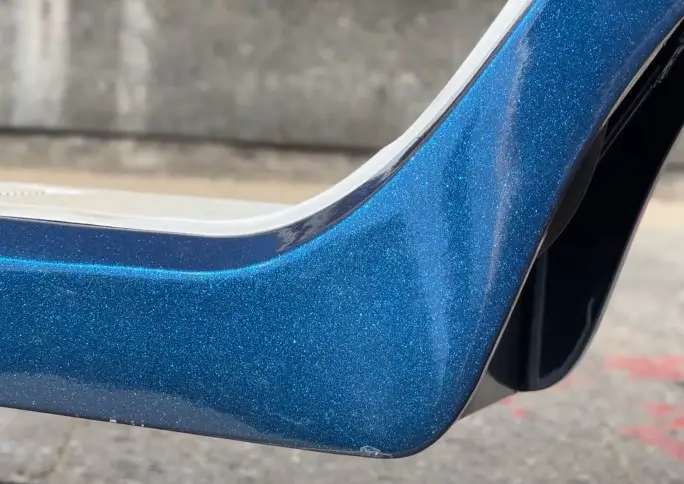 The scooter has an ultra-slim build, with clean lines and a straightforward design without a single out-of-place detail that might clutter the surface. It has no wiring on the outside, as all the wires are neatly tucked inside the stem bar.
Its bright and clean colors, mainly the white and matte black variation, give off a strong futuristic feeling, making the scooter look like some contemporary art piece and not just a simple commuter vehicle.
The Unagi Model One comes in several different colors:
white
moss (green)
blue
matte black
scarlet fire (red)
Materials
The Unagi Model One has one of the most unique combinations of materials I have managed to encounter in an electric scooter. The materials used to manufacture the scooter are:
aluminum, for the chassis
carbon fiber, for the stem
magnesium, for the handlebars
It's common to see aluminum in budget and medium-priced scooters, as it has proven to be one of the best materials for the frame. However, Unagi has opted to go for the even sturdier magnesium, making the parts that you control very light and easy to maneuver, without sacrificing any quality (and probably improving it).
Performance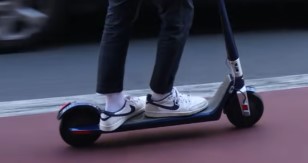 Although the Unagi Model One looks like the most typical urban commuter, it can deliver a great and fun ride.
Speed and acceleration
Officially, the Unagi Model One can reach up to 17 mph / 27.3 kmh while ridden in urban areas, on paved roads. I was able to reach this top speed without an issue every time.
While riding, you can customize the power output of the motor by setting it to one of the three riding modes, each with a different top speed:
eco mode- 11 mph / 17.7 kmh
standard mode – 13 mph / 20.1 kmh
sport mode – 17 mph / 27.3 kmh
The most fascinating part here is the acceleration. The scooter can reach its top speed in around 5 seconds on a straight road, making it quicker than most scooters with similar weight and size as this one.
However, the top speed officially advertised by the brand is not even the final form of this scooter. The Unagi Model One also has an additional secret mode that, when enabled, can get the scooter up to 20 mph / 32 kmh. In order to enable this mode, all you need to do is press the button in the center of the LED screen in front of you 10 times while holding both of the throttles down. After you hear three beeps, the mode is turned on and you can now use the true full potential of the scooter.
You should also be aware that riding in this mode will decrease the maximum range of the scooter by a lot, down to around 60% of its originally intended mileage. Chances are, you will not ride in the fastest mode at all times because of this, or at least not at the fastest speeds.
Motor, power, and climbing angle
The scooter has dual 250W motors mounted in each wheel, that have a combined max power of up to 1000W.
This type of motor is not made to reach some insanely high speeds, but its design is instead focused on functionality, efficiency, and stable long usage. But don't let this sway you away, the Unagi Model One has more than enough power to provide a quick ride on par with any other scooter in its price range.
With its powerful torque of 32 N.m, the scooter can easily handle inclines of up to 15 degrees, making it suitable even for those living in a hilly area or often commuting uphill.
Weight limit and usage by heavy adults
Even at the first glance, you will definitely notice how small and slim this scooter is. However, you will be surprised to know that despite its size, the scooter can comfortably carry up to 275 lbs / 125 kg of weight on its deck. That weight limit has been tested and proven, so people that weigh close to it should not suffer a terrible drop in performance.
Range and commuting
A moderate ride with a fully charged battery usually got me up to 15.5 mi / 25 km of range on the Unagi Model One.
It's not the greatest range out there, and is probably one of the biggest sacrifices you are going to have to make if you choose to buy this scooter. In order to fit the battery into the thin deck and not let it overshadow the overall sleek design of the scooter, Unagi has opted for a more limited battery.
Note that this range will also largely vary based on the riding speed, mode, terrain, and the rider's weight, so make sure to often recharge the scooter when you plan on going on longer rides.
Batteries and charging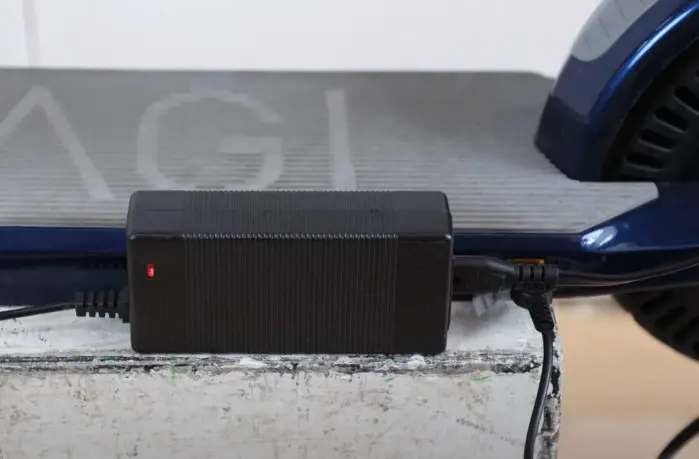 The Unagi Model One features a 72000mAh LG lithium-ion battery mounted in its deck. The battery has a 33.6 V, 9 Ah power output, and can be fully charged in around 4 to 5 hours.
The charging port is a standard USB type-A port and is placed on the rear left side of the deck, which is another atypical feature of this scooter. The port is additionally covered with a small rubber cap on top of it, protecting it from any water or dust intake.
Features
Here is a quick rundown of all the features found on the Unagi Model One electric scooter.
Weight, dimensions, and portability
Besides its style, the one thing the Unagi Model One definitely has going for it is portability. The scooter weighs just around 26.5 lbs / 12 kg and is among the lightest dual-motor scooters ever made.
With the one-click folding system, anyone will be able to quickly pick up and carry the scooter around. The light frame and compact build frame make this vehicle barely heavier than a couple of grocery bags.
Once folded down, the scooter has the following dimensions: 37.80 in x 16.54 in x 14.96 in / 96 cm x 42 cm x 38 cm.
When it is unfolded, these dimensions go up to 37.80 in x 16.54 in x 43.31 in / 96 cm x 42 cm x 110 cm.
The scooter can easily fit into any car trunk, or smaller storage unit, and is easy to store when you don't plan on using it for a longer period. You will only need to remember to fully charge the battery whenever you plan to store it for a couple of weeks or months since it can wear out faster if it's left empty and unused.
Waterproofing and riding in the rain or snow
The Unagi Model One comes with an IP54 rating. This means that all its parts are protected from any smaller water splashes from any angle, but not from longer exposure to rain or snow. I rode the scooter through rain several times, and the only issue I noticed was the tires being slippery, which I expected.
It's not the end of the world if you get stuck outside while it starts raining, and you will be able to safely ride the scooter home. Just try to keep these situations to a minimum and thoroughly wipe and dry the scooter once you get back.
Brakes
Braking with this scooter is a piece of cake. There are dual electronic brakes mounted on both wheels that fully stop the scooter in 5 – 8 meters if it runs at the highest speed.
The breaks are equipped with an ABS system and provide smooth stops without gliding.
Additionally, there is a foot brake on the rear wheel, at the far backside of the deck, which has been put there in case you need to come to a complete stop in a matter of seconds, or if some of the other brake malfunction.
Tires and wheels
In order to trouble the rider with as little maintenance as possible, Unagi has put one of the most unique types of tires on their Model One scooter.
The scooter features full 7.5" solid rubber tires, safe from any punctures or flats. You won't ever need to worry about the tire pressure since there's no air tube in the tires.
The tires also have multiple air pockets placed all around the wheel which provide shock absorbance and a smoother ride experience. This is also known as the "honeycomb" tire design, and it provides an excellent balance between ride comfort and tire durability.
The only thing you will have to watch out for is the damage to the rubber. While the tire cannot be punctured or deflated, it can still be worn out or torn apart by negligent rides. In case part of the rubber tears apart, you will have to order a new tire to replace the damaged one.
Suspension
In order to keep the design uncluttered, the weight small, and the overall design as minimalistic as it can be, the brand has opted to go without suspension on this model.
This does make the ride experience less pleasant, but the air pockets found on the tires make the situation a bit better. Nonetheless, you will want to avoid any potholes or bumpy roads, as you will definitely feel their impact on your ride.
Lights and night use
Riding in the night with this scooter will be as great as during the day, thanks to the bright headlight placed at the top of the stem. The light will illuminate the road ahead for up to around 30 ft / 10 m.
On the backside, you will find a blinking LED light, as well as two reflectors placed at the rear side of the deck that will signal people behind and around you of your presence.
Screen, handlebars, and controls
The Unagi Model One has one of the best-looking cockpits ever designed. It's the epitome of the futuristic design and looks like some steering wheel of a spaceship.
Everything on it is smooth, symmetrical, and conveniently placed in reach of your thumbs. In the middle, you will find the bright screen that displays the current riding mode, battery level, and speed at which you are going.
Right beneath the screen are the two control throttles. The one on the right is the motor throttle, while the one on the left is for the electronic brakes. Above them, besides each handlebar, there are two buttons – one for the horn, and one for the switching between modes.
Deck and standing surface
The deck, although thin, is quite sturdy and almost unbreakable thanks to the machined aluminum it is made of.
In order to prevent sliding and keep your feet stable, Unagi has put embedded silicon on the surface of the deck. This surface is a bit better than most rubberized grips found on other scooters but will require a bit more maintenance and regular cleaning in order to wipe off the dust from it.
Problems and what to know
The Unagi Model One is a great scooter, but I found some drawbacks you should be aware of if you are considering buying it.
In my opinion, one of the biggest downsides of this scooter is its battery. The max range presented on the website is only achievable while riding on eco mode. Using the scooter on sport mode, and riding at the highest speed all the time will only get you around 9 mi / 14.5 km of range. With a relatively fast 5 hours charging time, this issue is not that notable if you can simply recharge the scooter in your office or at a place you are staying for a few hours. But if you have nowhere to recharge it, then you might end up without enough battery to take you back home.
Furthermore, the front motor has a lot of resistance which is not allowing you to push the scooter far when the battery dies. Riding the scooter yourself without using the motor will be pretty hard.
Another problem is the lack of suspension. The air pockets on the tires do not cover nearly enough for the lack of shock absorption. As a result of this, the ride experience is a lot less pleasant than with most of the other similar scooters.
Finally, it's worth noting that the tires are pretty small, which can make the rides quite unstable and uncomfortable. With a diameter of 7.5", the tires of this scooter are definitely on the smaller side, since most of the tires even on budget scooters are 8.5".
Accessories and customizations
There is a large number of custom-made accessories for the Unagi scooters, and you will probably find at least one or two of them that can be quite useful or solve a problem for you (the carry satchel and an extra light are some of my top recommendations).
However, the assortment of custom-made accessories for this scooter still doesn't include all the possible options. To see the complete palette of all the possible options, check out my guide on the best electric scooter accessories.
Further, even though the scooter is not too expensive, you will still need to make sure it doesn't get stolen when you leave it outside. See my guide on the best electric scooter locks for the best options for your budget.
And, finally, even though the scooter is far from a strongly performant model, it's still highly recommended (or even required by law) that you wear a high-quality electric scooter helmet at all times while riding.
Price and value
Overall, the Unagi Model One is a decent, stylish, quality scooter.
It's one of the best designed electric scooters I have ever seen, and feels like riding a vehicle from the future. Everything, from its handlebars and frame, up to its wheels is so sleek and elegantly crafted that the aesthetics alone make it worth its price.
Its performance, while not on the highest level possible, is still decent enough to take you around the city, to your workspace, grocery store, and back home. With such a slim and easily portable figure, you could very well fold it whenever you want and take it up on the bus or metro if you are tired of riding it on a long distance.
Unagi Model One vs Ninebot Max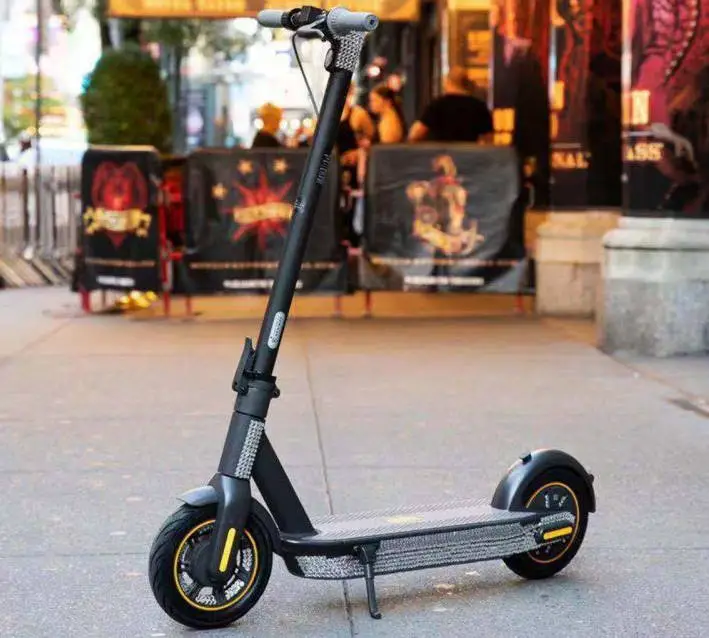 One of the biggest competitors to the Unagi Model One on the market is the Ninebot Max – the most praised scooter in this price range. Coincidentally, the two scooters cost basically the same, which made the competition between them even bigger.
Like yin to yang, the Ninebot Max comes as the polar opposite of the Unagi Model One in terms of design. Unlike the futuristic slim white approach of the Unagi brand, the Ninebot Max has a darker bulky design with a thick deck and stem. Its size can sometimes make the scooter harder to carry but with a weight of around 42 lbs / 19 kg, it's still manageable by most adults.
With a 350W to 700W peak motor power, the Ninebot Max has a pretty modest top speed of 18 mph / 30 kmh.
But the aspect where this scooter whines the most is its range. Its 36V 15.2 Ah battery grants up to 40 mi / 64 km range, more than double what you get with the Unagi Model One. This makes the verdict between the two models quite clear – unless you care about looks and are attracted by the clean Unagi design, the Ninebot Max is one of the best-valued scooters you can get at the moment.
Who should not get the Unagi Model One Electric Scooter?
For starters, this is not the greatest scooter for people who are commuting over long distances a lot. If you are looking for something you can ride on during the whole day on a single charge, you should maybe look at some of the long-range scooters out there, some of which come at an even cheaper price than the Unagi Model One.
I also wouldn't recommend this scooter to those living in places with bumpy, unmaintained roads, as the lack of suspension can make most rides quite unenjoyable.
Experienced riders, who've already had their fair share of riding an electric scooter and are now looking for something more thrilling will also not see much benefit from the Unagi Model One's performance. This scooter has a fairly low power level, and can never be ridden outside of urban areas. You should definitely check out some of the more powerful electric scooters if that's your thing.
If you are on a lower budget, and can't quite afford to spend around $1000, there are many other great choices that can fit your budget. Check out my guide for the best electric scooters under $500, as I believe you will find some of the scooters there just perfect for your budget and needs.
My recommendation – should you buy the Unagi Model One?
The Unagi Model One is the perfect scooter for those who love a modern minimalist aesthetic and are looking for something elegant and stylish to ride on. The scooter has one of the sleekest designs in the industry, and is rightly called "The Apple of electric scooters".
People that often use public transport and want to be able to take the scooter on with them are also a type that will appreciate the portability of the Unagi Model One.
Another type that will find this scooter convenient is those who don't want to deal too much with maintenance, especially flat tires. The solid rubber tires require almost no maintenance at all, and you will not have to fix a flat ever again.
Finally, I would recommend the Unagi Model One to anyone who can afford the price tag it has, and want to buy a high-quality electric scooter for the urban environment that will serve them for a long time.
Where to buy the Unagi Model One from?
Worldwide
The Unagi Model One may be available on several different stores, but usually, you will find the best deal on
Amazon
.
Frequently asked questions
These are the most common questions regarding the ultimate Unagi Model One scooter.
How fast does the Unagi Model One go?
Unlocking the secret speed mode by pressing the power button 10 times while holding the throttle down will make the Unagi Model One go up to 20 mph / 32 kmh.
Does Unagi Model One have GPS?
The latest version of the Unagi Model One can connect to its own app via Bluetooth, available for both iOS and Android.
Can the Unagi Model One go uphill?
The official climbing angle of the Unagi Model One is around 15 degrees, which covers most slopes and ramps throughout your city. Riding with a low battery will cut this angle by half, so make sure to not leave the steepest streets for the end of your ride.
Specifications
Unagi Model One Specifications
| | |
| --- | --- |
| Top speed | 32 kmh |
| Top speed | 20 mph |
| Range | 25 km |
| Range | 15.5 mi |
| Motors | dual hub BLDC neodymium magnets |
| Power | 500 W |
| Climb angle | 15 ° |
| Torque | 32 Nm |
| Battery | 302.4 Wh, 33.6 V |
| Battery type | high quality + smart BMS |
| Charging time | 5 h |
| Ingress protection (IP) | IP54 |
| Weight | 13 kg |
| Weight | 28.5 lbs |
| Weight limit | 125 kg |
| Weight limit | 276 lbs |
| Tire size | 7.5 in |
| Tire type | solid honeycomb |
| Foldable | yes |
| Foldable handlebars | no |
| Build material | aluminum + magnesium alloy + carbon fiber |
| Terrains | Cement, tarmac, no more than 2 cm stairs, no more than 2 cm bumps |
| Brakes | dual electronic + rear foot, 4m braking distance |
| ABS | E-ABS |
| Shock absorbers | no |
| Lights | flush-mounted 47 lumen LED front light and a rear blinking red LED |
| Control | digital LCD |
| Speed modes | 3 |
| Warranty | 2 years |
| Certificates | UL2272 |
| Folded dimensions (L * W * H) | 96 cm * 42 cm * 38 cm |
| Folded dimensions (L * W * H) | 38 in * 17 in * 15 in |
| Unfolded dimensions (L * W * H) | 96 cm * 42 cm * 110 cm |
| Unfolded dimensions (L * W * H) | 38 in * 17 in * 43 in |
| Deck dimensions (L * W) | 19 cm * 5 cm |
| Deck dimensions (L * W) | 7 in * 2 in |
| Ground clearance | 8.3 cm |
| Ground clearance | 3 in |
| Deck to handlebar height | 96 cm (est) |
| Deck to handlebar height | 38 in (est) |
| Rider height | 152-198 cm |
| Rider height | 60 – 78 in |
| Adjustable handlebar | no |
Where to buy the Unagi Model One
Worldwide: Amazon
---
Want to get
FREE SCOOTER
tips, exclusive discounts and promotions, and unseen scooter hacks? Join the
Scooter Secrets club
.
---
Liked this article? It really helps if you share it.
Follow @escooternerds on social media for more cool stuff
---