Last Updated on May 17, 2023 by Matt
One of the few unwritten rules in the electric scooter world has been that budget scooters can't be good for offroad.
And then, the Kugoo M4 Pro happened.
As usual, this bold brand tries to shake things up again and challenge what was believed to be the unshakable status quo.
Let's go through a full Kugoo M4 Pro review, and see how this scooter will try to do the unthinkable.
Quick summary
The Kugoo M4 Pro is the latest, maybe greatest scooter from the Kugoo brand. It is an improvement over its predecessor, the Kugoo M4.
For almost a budget price, the Kugoo M4 Pro will try to establish itself as the first affordable power scooter, prepared for offroad as well. By the looks of it, it seems like it will succeed.
It is one of the most performant budget scooters, a range of 60 km / 37 mi is not something you often see for around $675.
As usual, Kugoo offers solid quality, tons of value and features, all for a great price.
Where to buy the Kugoo M4 Pro from?
EU, UK
The best place to buy the Kugoo M4 Pro in Europe and the UK is
Geekbuying
by far. Your scooter will arrive in a matter of days, with no additional costs for most countries. It currently has a 17% discount on the price if you buy through the link, although I'm not sure how long will that last. Make sure to check the
Kugoo M4 Pro listing on Amazon UK
to compare the prices as well.
Brand
Kugoo is slowly but surely establishing its dominance as the best affordable electric scooter brand in many European countries.
The brand is massively popular in Eastern Europe, and while it is well-known in Western Europe too, I expect its popularity there to grow even more, as Kugoo provides excellent models for great prices.
Pretty much all of their scooters are tough and built to withstand harsh conditions, poor infrastructure, and lots of punishment.
They typically ship from GeekBuying and AliExpress and usually only to Europe, but lately, they are also starting to ship to the USA and other locations through Amazon as well.
Warranty and return policy
When ordering through GeekBuying, you will get a generous warranty and return period. Usually, all parts will have a 12-month warranty. The battery and the charger will have 6 months of warranty, while the parts that can wear off, like the seat, for example, will only have 2 weeks of warranty.
If you're not satisfied with the product, you can return it in 14 days for a full refund.
Unboxing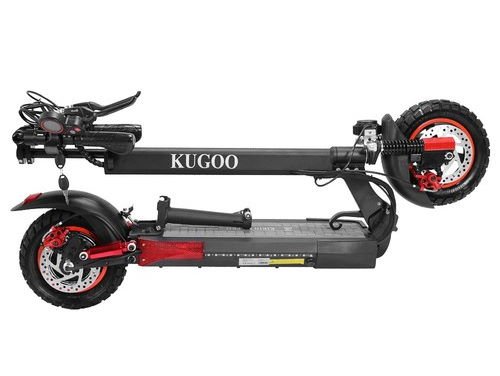 The scooter will arrive in a large box, with lots of protective foam and plastic covers.
The package will include:
the scooter
tire pump hose
artificial leather seat
seat bar with suspension
charger, with both European and UK cables
manual
warranty
toolkit with two Allen keys and a wrench
There will be little need for assembly. Your only job is to install the seat, and to install the headlight.
As standard practice, use the Allen keys and the wrench to make sure all the screws are well tightened, although this is more for precaution since nearly always the case out of the box.
Basics
The scooter has a very strong, sturdy look and feel to it.
Everything looks very stable and reliable, and well put together. The majority of the frame is made out of industrial-grade aluminum alloy.
The folding mechanism is much simplified than the one of the Kugoo M4 standard model, which has been a big source of complaints.
The handlebar has adjustable height and direction, and you can set it up so that it fits your frame perfectly.
The Kugoo M4 Pro is secured by a key and can't be started without it.
It is a self-starter, you don't need to kick off the ground in order to start.
It has three speed modes, limited to 15 kmh, 30 kmh, and 45 kmh (9 mph, 18 mph, 28 mph) respectively.
User experience
Here's a video showing the overall user experience of the Kugoo M4 Pro.
The Kugoo M4 Pro runs like a well-oiled machine. It is heaps of fun, as the quality of the rides is silky smooth. This even applies to rougher terrains as well, as the Kugoo M4 Pro is a great offroad scooter as well.
Its extra-wide tires, originally designed to handle offroad terrains, will provide a steady, stable ride. The 23 kg / 51 lbs of weight will make sure the scooter develops enough momentum while riding so that you don't really feel the bumps and vibrations.
The wide deck will provide you with a comfortable place to stand. And the best thing? You can always sit down, which is nothing short of amazing for longer rides. This is especially true if you, like myself, had back pain or similar problems.
The deck is high enough from the ground to enable you to go up and down from a regular sidewalk (although you should still avoid doing this as much as possible).
Motor and climbing
The Kugoo M4 Pro is powered by a single drive brushless hub motor of 500 Watts. It is made for a balance between traction and speed.
It gives the scooter very strong climbing abilities, which makes it a great choice for hilly cities. The official climb angle of the scooter is 12 degrees, but many users have reported climbing 15 degrees without any issues.
The controller of the scooter is even more powerful than advertised, and makes the scooter perform very well.
Speed
The official top speed of the Kugoo M4 Pro is 45 kmh / 28 mph.
Various speed tests have provided different results here. Some users have gotten maximum speeds of 42 kmh / 26 mph, while some have managed to get 47 kmh / 29 mph.
Either way, both are close enough to the top speed specified by Kugoo, and we can safely say the 45 kmh / 28 mph is the actual top speed.
Kugoo M4 Pro speed hack
There have been rumors circulating around an alleged speed hack for the Kugoo M4 Pro, suggesting that the speed limit of the Kugoo M4 Pro can be increased through the P-settings menu. Sadly, the rumors are not true, as they only discuss changing the values for the magnets and the wheel diameter, which don't actually result in higher top speeds, even though the scooter may technically show higher speeds in the dashboard.
The following video explains that in detail.
Battery and range
The battery can differ depending on where you order the scooter from.
The model I'm reviewing here, which has a 13 Ah battery with 48 V, has a capacity of 624 Wh, and a maximum range of 60 kilometers on a single charge.
There are models with stronger, 17 Ah batteries, that give the scooter a range of 65 km / 40 mph.
The battery is of high quality, it basically never overheats, and is placed in a very sturdy battery case that protects it from damage and humidity.
The charging time is rather long, and it takes 12 hours for the scooter to fully charge.
Charging the scooter fully during off-peak hours costs around 15 pence in the UK, and 10 cents in the EU, while charging it during peak hours costs 19 pence in the UK and 15 cents in the EU (averaged accross most EU countries).
Weight, dimensions, and portability
With a weight of 23 kg / 51 lbs, this is a medium-heavy scooter. Most people will be able to carry it for short distances.
While its folded length is not exactly small at 116 cm / 46 in, the foldable handlebars are a huge portability win and give this scooter extra portability points. It will fit in the trunks of most cars, and will have no problem going through narrow passages, hallways, elevator doors, etc.
Seat
One of its signature features, the seat of the Kugoo M4 Pro is very convenient and comfortable.
It comes with spring suspensions, so that you don't feel the bumps when sitting.
If you don't need the seat, you can always remove it entirely by just unscrewing a few screws. As usual, I always give a lot of extra points to scooters that come with removable seats, so the M4 Pro gets all the credit here.
Tires and offroad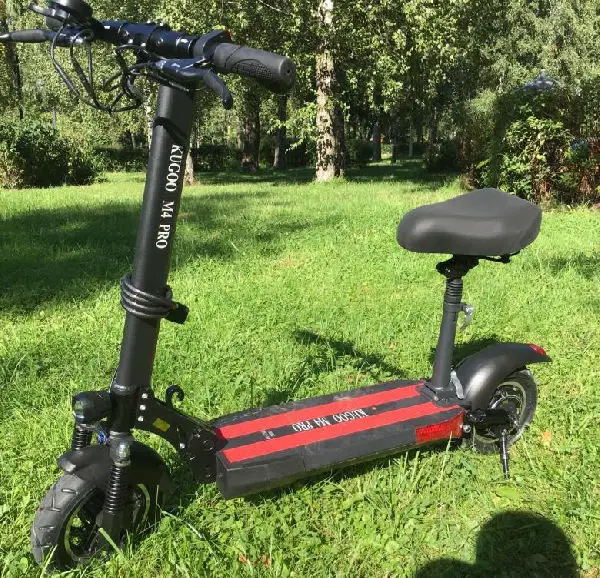 Both of the tires on the Kugoo M4 Pro are anti-skid, high grip tires, designed for offroad. They will provide excellent traction on all types of terrain, including grass, bad roads, and rocky terrain. Also, they will handle slippery and wet surfaces very well, and will be great for climbing.
They are 10 inches in diameter, and 4 inches wide, likely making them the biggest tires on a scooter priced below $1000.
Brakes
The two mechanical disk brakes, one on the front and one on the rear wheel, will be strong enough to give the Kugoo M4 Pro a braking distance of just a few meters. They can be adjusted if needed, but mostly they will come perfectly prepared out of the box.
Suspension
The Kugoo M4 Pro has a strong dual suspension system.
On the front, it has a double spring suspension, while on the rear it will have an arm suspension. The combination will provide comfortable, enjoyable rides.
Lights
This scooter has a lot of strong and useful lights, pretty much everywhere you would expect a great scooter to have.
The head light is a strong LED light that will be perfect for night rides.
The sides of the deck have yellow lights that will serve as turn signal lights.
The back of the scooter has a bright red brake light, both to inform other people in traffic when you're stopping, and to increase your safety during the night.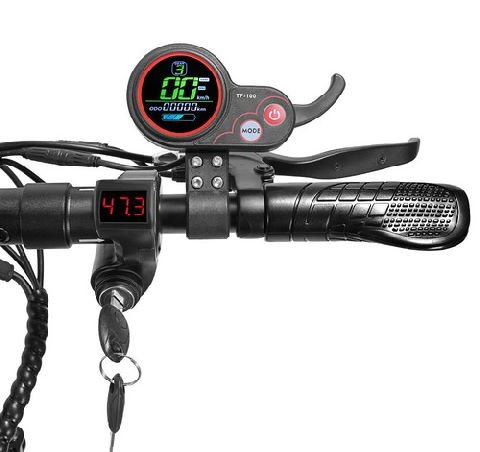 The Kugoo M4 Pro has a very cool, high-contrast round display screen that shows:
gear
current speed
battery level
odometer
To its right side, there are two buttons – the power button, and the speed mode button.
The voltage is displayed above the keyhole, also on the right handlebar.
Water resistance
This is another very strong point of the Kugoo M4 Pro.
It comes with an IP protection standard of IPX4, which will make sure you don't suffer any damage during rainy days.
The scooters made for the Russian and Eastern European markets can even have an IP rating of IP66, since we all know what the weather can be like over there. That means it is fully waterproof!
Simply put, this scooter has been made to soldier through any harsh conditions you throw it into. That's always a huge plus.
Interestingly, the scooter can be made even more waterproof. Check the following video to learn exactly how.
Gear, accessories, customizations
This is a seriously powerful scooter, so you will definitely want a strong helmet for it. I recommend going with the safest helmet you can tolerate. Even a motorcycle helmet might be the right choice. See my guide on the best scooter helmets to find out the right pick for you.
There are some accessories for the Kugoo M4 Pro available on its store listing, as the seat for example. But most of the other useful accessories like a phone mount or a trunk will not be available custom-made for this scooter. You will probably have a better chance of finding some cool ways to customize it by checking out the generic electric scooter accessories.
Finally, if you leave your scooter outside often (which, given its weight, you probably will), you should consider getting a proper scooter lock. A medium-priced lock from a brand like Master or Kryptonite will do the trick.
App
There seems to be no official Kugoo app yet.
There are a few apps for Kugoo, but unfortunately, none of them seem to be working well, and all 4 of them have very poor ratings. Still, some of them may be worth a shot, as they can still work for a good number of users. Check them out here:
In addition to these, I recommend checking out the Universal Electric Scooter Helper App by EScooterNerds. It is meant to work alongside the regular scooter apps, and provides additional features such as checklists, calculators, guides, hacks, tools, etc. It is available for both iOS and Android.
Problems
Like any scooter, the Kugoo M4 Pro is not without issues.
The biggest issue I have with the Kugoo M4 Pro is the few cables that are visible and stick out of it, especially the one going from the stem to the deck. While the scooter is very water-resistant, I would feel much better if these cables were covered.
Also, with its somewhat big mass and dimensions, the scooter is not exactly portable. Not everyone will have an easy time carrying it. While the scooter is perfect for long commutes, any last-mile type of scenario that would require lots of transitions in and out of public transport, may be better solved by a lighter scooter.
Luckily, those are all the major problems, and as you can see, none of them are true dealbreakers.
Kugoo M4 vs M4 Pro
In some ways, it's not quite fair to compare the M4 and the M4 Pro. It's obvious that the Pro version will be a lot better, since it literally learned from the mistakes of the M4.
While the scooters share much of the same features, they do differ in some ways, a few of them pretty important.
One of the biggest improvements is the wider, more patterned tires. This may be a bit subjective, but I believe wider tires are almost always better, and the M4 Pro is definitely better in this regard.
Obviously, the bigger range of the M4 Pro is always welcome. In my opinion, every extra kilometer of range counts, and 15 km / 9 mi more is simply brilliant.
One smaller improvement is the suspension system. The standard model had decent suspension, but the Pro version improves upon it even further.
Another small improvement is the rubber mat on the deck. It is not more than a minor hack, but it means a lot for increasing the stability and grip of the deck surface. This can be critical on rainy days.
I would not recommend upgrading to the Pro version if you already have the standard model. The standard model is still a great scooter and can continue serving you for a long time.
However, if you're buying your first scooter, or thinking about picking one from the two, then there is no doubt – the Kugoo M4 Pro is a much better deal, totally worth the $70 or so extra.
Kugoo M4 Pro vs Kugoo M5
Comparing the Kugoo M4 Pro and the Kugoo M5 mostly comes down to the old range vs speed debate.
The Kugoo M4 Pro has the range advantage, with 37 mi / 60 km, against the 31 mi / 50 km of the Kugoo M5. Interestingly, scooters with longer range tend to be heavier because of the larger battery size, but in this comparison, the opposite is the case, and the Kugoo M4 Pro has more range but still manages to be lighter, with 50 lbs / 22.5 kg of weight, compared to the Kugoo M5's 75 lbs / 34 kg.
That's why I belive the Kugoo M4 Pro to be a better choice for most situations.
The Kugoo M5 is designed for more power, speed, and acceleration, and if that's what you're looking for, you can see the complete Kugoo M5 review.
Kugoo M4 Pro vs Kugoo G2 Pro
In my opinion, while Kugoo G2 Pro is certainly more performant in some aspects than the M4 Pro (range, top speed, climbing), the price difference is not worth it, as the performance advantages are not really that great. The G2 Pro is just 3 mph / 5 kmh faster, and climbs just a little bit better, while costing an extra $400. Not a good deal in my book.
Plus, the M4 Pro even has a better range by about 6 mi / 10 km, and is more popular and trusted overall. For most people, I would recommend sticking with the Kugoo M4 Pro, and only considering the G2 Pro more seriously if speed and climbing are very important to you.
Kugoo M4 Pro vs Ninebot Max
I'd say that the biggest threat to the Kugoo M4 Pro comes from the Ninebot Max, and the two are often compared against each other.
The super-popular Ninebot scooter will have a bit more range while also having a faster charge time, better water protection, and, probably most importantly, better build quality overall, which entails fewer defects and more comfortable rides.
The Kugoo M4 Pro still has more raw power as an advantage, which translates into a higher top speed (although the Ninebot Max can be hacked for similar speeds), a bigger weight limit, and better off-road capabilities.
It's a tough choice, and it comes down to specific needs. If you want a more tried-and-tested scooter that is loved by millions all around the world, you may want to check out my detailed Ninebot Max review.
Kugoo M4 Pro specifications
Kugoo M4 Pro Specifications
| | |
| --- | --- |
| Top speed | 45 kmh |
| Top speed | 28 mph |
| Range | 60 km |
| Range | 37 mi |
| Motors | single BLDC |
| Power | 500 W |
| Climb angle | 12 ° |
| Battery | 624 Wh, 48 V |
| Charging time | 8 h |
| Ingress protection (IP) | IPX4 |
| Weight | 22.5 kg |
| Weight | 50 lbs |
| Weight limit | 150 kg |
| Weight limit | 330 lbs |
| Tire size | 10 in |
| Tire type | pneumatic, anti skid, offroad |
| Foldable | yes |
| Foldable handlebars | yes |
| Seat | yes (optional) |
| Trunk or basket | no (customization possible) |
| Build material | aluminum alloy |
| Terrains | all terrains |
| Brakes | dual disc brake |
| Shock absorbers | dual spring |
| Lights | front LED + safety taillight + red night light |
| Control | high-contrast round display |
| Speed modes | 3 |
| Keys | yes |
| Warranty | 12 months (6 on battery) |
| Certificates | CE & MSDS verification |
| Folded dimensions (L * W * H) | 116 cm * 22 cm * 35 cm |
| Folded dimensions (L * W * H) | 46 in * 9 in * 14 in |
| Unfolded dimensions (L * W * H) | 115 cm * 56 cm * 120 cm |
| Unfolded dimensions (L * W * H) | 45 in * 22 in * 47 in |
| Deck to handlebar height | 95 cm (est) |
| Deck to handlebar height | 37 in (est) |
| Adjustable handlebar | yes |
Who should get the Kugoo M4 Pro?
The Kugoo M4 Pro is a crystal-clear indicator of how much better yet more affordable scooters get over time. 5 years ago, a scooter like this would cost at least double the cost of this scooter.
I can confidently say that this is one of the best affordable electric scooters on the market today. With a price tag of around $675, it doesn't exactly fall in the budget category, but it's far from the middle price range as well. Considering the quality, value, and safety this scooter offers, it is a perfect choice for budgets in the area of $700.
With its great range and performance, it is a smart choice for commuters and value shoppers alike.
The reliable, sturdy build, great suspension, and water-resistant features, make it the perfect choice for anyone who lives in an environment that is not so friendly to electric scooters (frequent rain and snow, bad roads, lack of dedicated lanes, etc).
Where to buy the Kugoo M4 Pro from?
EU, UK
The best place to buy the Kugoo M4 Pro in Europe and the UK is
Geekbuying
by far. Your scooter will arrive in a matter of days, with no additional costs for most countries. It currently has a 17% discount on the price if you buy through the link, although I'm not sure how long will that last. Make sure to check the
Kugoo M4 Pro listing on Amazon UK
to compare the prices as well.
Who should not get the Kugoo M4 Pro?
As I already mentioned, if you need to carry your scooter a lot, the Kugoo M4 Pro may not be your best choice. You can check out our list of most portable electric scooters to find your ideal choice.
Also, if you live in the USA, Canada, Australia, or another country where GeekBuying doesn't deliver, you will have a tough time finding a distributor for this scooter. Sometimes AliExpress has a few items in stock, but oftentimes it doesn't.
The closest thing to the Kugoo M4 Pro for these countries, with comparable prices and similar performances and features, and great quality, would be the Ninebot Max (you can see the full review of the Ninebot Max if you want to find out more).
Where to buy the Ninebot Max from?
Worldwide
The best, most reliable way to get the Ninebot Max is through
Amazon
, although the
official Segway store
is also a place you should check to compare prices.
---
Canada
For Canada, the fastest and most reliable way to get the Ninebot Max would be through
TekTrendy
. Your scooter will arrive in a matter of days, sometimes even the next day, and there will be no other costs, neither shipping nor taxes.
---
UK, EU
In the UK, and some other EU countries, the best place to get the Ninebot Max from is
Amazon UK
.
Frequently asked questions
Let's go over some of the most frequently asked questions about the Kugoo M4 Pro one more time.
Is the Kugoo M4 Pro good?
Overall, I've found the Kugoo M4 Pro to be a pretty good scooter, especially in terms of performance and value for the money paid.
How fast does Kugoo M4 Pro go?
The top speed that the Kugoo M4 Pro is capable of reaching is 28 mph / 45 kmh.
Can you make a Kugoo M4 Pro faster?
It is not possible to increase this speed without modifying the scooter's internal parts, despite what some popular "hacks" that some guides or videos might suggest (the "hacks" only show faster speeds in the display, but the scooter doesn't actually move faster).
How long does Kugoo M4 Pro take to charge?
Charging the Kugoo M4 Pro will take around 8 hours.
Does the Kugoo M4 Pro have an app?
There is no official app for the Kugoo M4 Pro.
Is Kugoo M4 Pro waterproof?
Out of the box, the Kugoo M4 Pro has an IPX4 water protection standard, which makes it quite resistant to water damages, but not entirely waterproof. The scooter's water resistance can easily be increased through some custom modifications.
Where to buy the Kugoo M4 Pro
---
Want to get
FREE SCOOTER
tips, exclusive discounts and promotions, and unseen scooter hacks? Join the
Scooter Secrets club
.
---
Liked this article? It really helps if you share it.
Follow @escooternerds on social media for more cool stuff
---