Last Updated on November 15, 2022 by Matt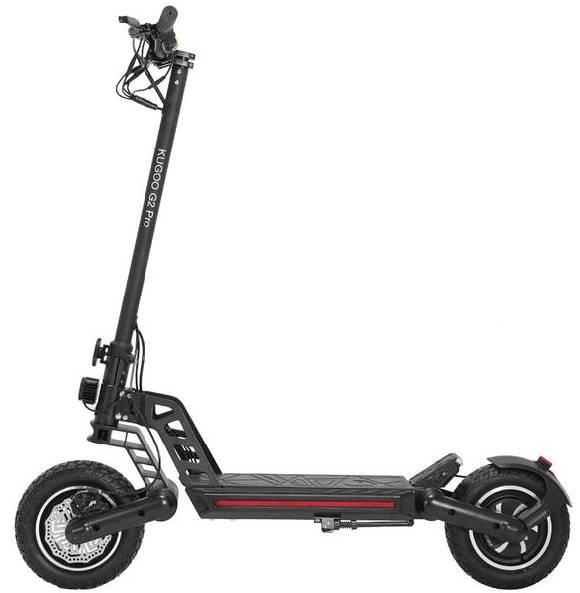 This is a comprehensive review of the Kugoo G2 Pro, arguably the best value-for-money scooter in terms of performance, specs, and sheer power, but also comfort, safety, and feature-completeness.
Who should buy the Kugoo G2 Pro?
Unlike most Kugoo scooters, the G2 Pro, while still being insane value for money, is not exactly a budget model.
The scooter is very tough, versatile, of solid quality, and has a well-balanced set of features and specs. Still, the scooter probably leans more towards the advanced end of the spectrum rather than the beginner end.
I's say that the Kugoo G2 Pro will be perfect for anyone looking for some more of that raw Chinese firepower, without having to sell a kidney to afford it. Scooters with similar specs and performances will probably cost double, so the Kugoo G2 Pro can certainly be described as a budget medium-powered scooter.
The tires of this scooter will be able to handle offroad rides without any issues. The scooter can take a lot of punishment, so besides offroading, any kind of rough terrain, bad roads, or other trouble you throw at it, will not be a big deal for it.
The biggest selling point of the Kugoo G2 Pro is the fact that it has a big range of 50 km / 31 mi. This means the scooter will be a very good commuting companion as well, but also anyone looking for endless fun rides will find this scooter to be great for them.
Where to buy the Kugoo G2 Pro from?
Europe
There is no better place to buy the Kugoo G2 Pro from than
GeekBuying
. You will get the best price, free shipping in 3-10 business days, great warranty, return period, customer support, and a discount if you don't have an account with them yet.
---
Canada
The Kugoo G2 Pro has become available in Canada as well, through the
Amazon Canada
.
The Kugoo brand and story

It's almost impossible for a scooter enthusiast in Europe to have never heard of the Kugoo brand. Their scooters are some of the most widely used scooters ever, and that's mostly thanks to the value-for-money their models provide.
That wasn't always the case though.
A few short years ago, if you said Kugoo to someone, they would probably just look at you funny and wonder what sort of noise did you just make with your mouth. Xiaomi and Ninebot had a global stranglehold on the scooter market in general, and the same was true in Europe.
But Kugoo patiently released model after successful model, hitting the nail on the head with every next release. All of their scooters make sense, have a clear vision of who they're made for, and always, always come at affordable prices.
Today, Kugoo shares the throne with the two old brands, possibly even pushing one of them out (or both). The G2 Pro is one of their best offerings, and that says a lot for this model.
Ordering, shipping, and discount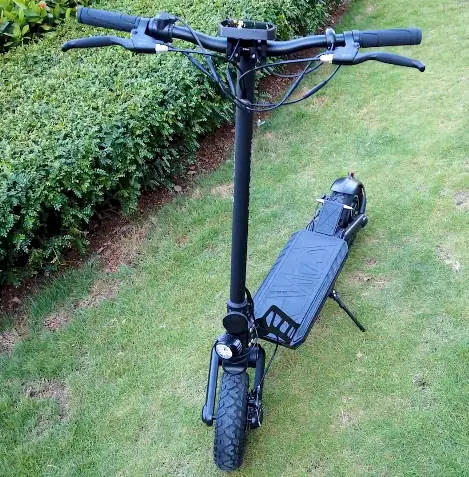 It's almost a blasphemy to even think of ordering a Kugoo scooter from a place other than GeekBuying. The online store is almost synonymous with the brand, and while the scooters are available at other places, none will match the prices, delivery terms, and customer support of GeekBuying.
Shipping is free in Europe, and it takes between 3 and 10 business days.
Pro tip to get a discount: once you're on the GeekBuying website, try to hover your mouse over to the top of the browser – you will probably activate the "exit-intent" trigger and you might see a popup that will offer you a 5% discount in exchange for your email address.
Warranty and returns
The Kugoo G2 Pro has a generous warranty period of 12 months on most parts, and 6 months on the battery and charger. Some of the wear-and-tear parts will have a warranty of 14 days.
There is a return period of 14 days in case you're not satisfied with the scooter, or if it has arrived damaged.
Unboxing and assembly
The package weighs 26 kg / 57 lbs, and it includes:
Kugoo G2 Pro scooter
handlebars
toolkit and screws
charger
user manual
warranty card
To assemble the scooter, you only need to install the handlebars into the stem and screw the two screws. Still, it's strongly recommended to run a quick check of several other things and make sure there hasn't been any damage on delivery, including making sure there are no loose screws, the battery is full, the tires are inflated, and the brakes are operational and strong enough for your needs.
How to use and ride the Kugoo G2 Pro?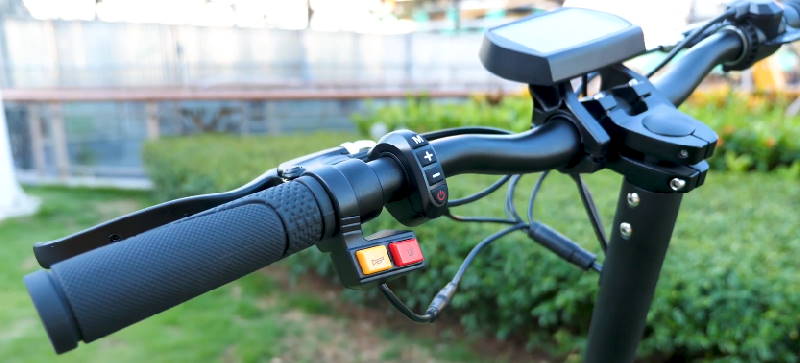 Riding the Kugoo G2 Pro can't be simpler. This is a zero-start scooter, and the two things you need to do to start riding are turning the scooter on and hitting the throttle.
The Kugoo G2 Pro has 3 speed modes (Eco, Standard, Turbo), each with its own speed limit.
The scooter is quite powerful, so you will need to stay focused on your ride the entire time. Also, always remember to wear your helmet, and preferably one that provides more protection (you can find some great picks in the guide on the best electric scooter helmets).
Folding and unfolding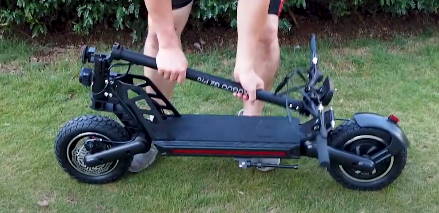 The folding mechanism of the Kugoo G2 Pro is probably the safest folding mechanism available in scooters today.
To unlock the folding mechanism, you need to unscrew the locking pin on the front of the stem, and then pull it towards the front. Only then can you fold the stem down. The handlebars don't lock to the rear of the scooter.
Folding the scooter is simple, yet secure, so the few extra seconds it may take when compared to other less secure folding mechanisms are very well worth it.
Build quality and design
This scooter is one tough cookie. Like all true offroad scooters, it is built to withstand a lot of abuse without making a beep. You will likely get a lot of mileage and fun out of it, and you will use it for a lot of time without a major defect.
Since form follows function, the scooter's engineering for durability translates into its design and gives it an assertive, confident, dominant look and feel. The scooter is a powerful all-terrain vehicle, and it looks that way, too.
Intended use, terrains, and offroad
The Kugoo G2 Pro is a true multi-purpose scooter. Thanks to the great suspension and the large offroad tires, it can be used on any type of terrain. While not primarily an offroad scooter, it can tackle pretty much all kinds of rough terrain – dirt, dust, pebbles and rocks, ground, grass, gravel, sand, you name it.
Also, the scooter is pretty powerful and full of features that make it a great ally in anyone's daily commute or casual ride.
User experience
Owning and riding the Kugoo G2 Pro feels like having a superpower. Just standing on the tall, mighty deck, pressing the throttle, and feeling a jolt of energy as the scooter motor makes a powerful purring sound, is an experience of its own. The scooter has large air-filled tires, excellent suspension, and lots of power, and that is a combination for a smooth and rich ride.
Speed and acceleration
The Kugoo G2 Pro has an official top speed of 50 kmh / 31 mph.
The official top speed is obtained in ideal, lab conditions, but it has been confirmed by user tests and reports several times. The average from the several data points seems to be somewhere around 48-49 kmh, but a few owners report speeds of above 50 kmh, so we can safely say that the actual top speed will be the same or close to the advertised one. There have been a handful of heavier riders reporting top speeds of 45 kmh / 28 mph or less.
The acceleration is pretty good, the scooter gets up to speed quickly, but it does take some time to reach the full speed as the acceleration is gradual.
Climbing
The scooter climbs well, but not as good as you'd expect judging by the other specs. The climb angle is 15 degrees, which means the scooter should tackle most of the common hills you may encounter on your daily rides without any issues. If you want to conquer steeper hills, you will need to develop some momentum.
Range
The official range of the Kugoo G2 Pro is 50 km / 31 mi, and that range has been confirmed in few independent user tests.
Now, keep in mind that all of the owners were within the weight limit of the scooter with a healthy margin, and also, there have been a few user tests that report ranges closer to 47 km / 29 mi. This is common with scooter specs no matter the model, but I believe it is something you should be aware of – the scooter will provide a range close to 50 km / 31 mi, but it may not be exactly that much.
Motor and power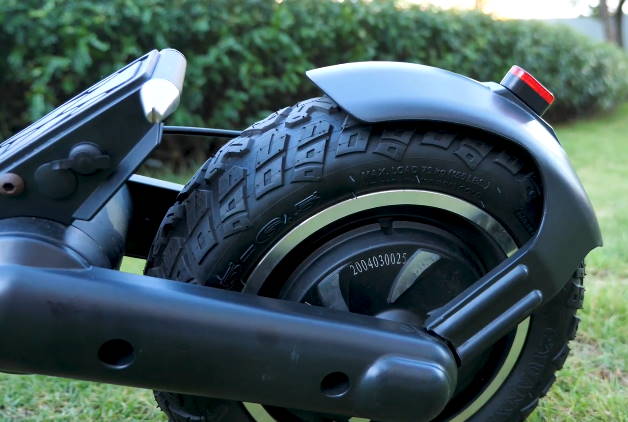 The Kugoo G2 is a rear-drive scooter, and the hub BLDC motor is integrated into the rear wheel.
It has a power level of 800 Watts. Kugoo hasn't specified if that's the real or the peak power, but judging from the performance of the scooter and when compared against specs of other scooters, that's likely its peak power level.
Battery and charging
The 18650 lithium battery of the Kugoo has a voltage of 48 V, and a capacity of 13 Ah, 624 Wh. It is situated in the deck of the scooter, and is well-protected against the elements.
The charging port is situated on the rear left end of the deck. It is protected by a plastic cover cap, but still, I must say that it's an unusual choice for a charging port location, as all the dust, dirt, and even liquid, that the spinning of the rear wheel throws, can easily end up around it. Make sure to regularly clean it, and don't charge your scooter immediately after riding.
Kugoo says that the scooter should charge in 4 to 6 hours, but the empirical data and user reports suggest a charging time between 5.5 and 6.5 hours. Charging the scooter during off-peak hours will cost 16 pence in the UK and around 10 cents in the rest of Europe on average, and around 20 pence in the UK and 15 cents in Europe during peak hours.
Lights and night riding
The main headlight is situated at the bottom of the stem, right above the front wheel. It casts a strong light at a distance of about 8 meters / 26 feet, and it will be strong enough for riding at night. This is a very welcome feature, as most scooters come with weak placeholder lights which you have to upgrade if you plan on riding at night, and luckily that's not the case with the Kugoo G2 Pro's light.
The side of the deck features red LED strips, which look pretty darn cool if you ask me.
On top of the rear fender, there's a red brake light that shines whenever you use the brakes.
Brakes and safety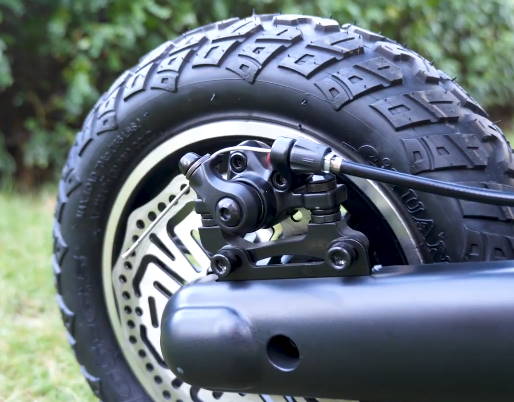 The Kugoo G2 Pro has a very safe, very strong dual-brakes system. Both of them are disk brakes, and they will usually come already set at high sensitivity and responsiveness. Naturally, you can easily modify their sensitivity, just by tweaking the screws on them a bit.
With a redundant and easily adjustable braking system, the Kugoo G2 Pro can be labeled a very safe scooter. It has a braking distance of 4 meters / 13 feet.
If you've ever had a bike or another scooter you probably know this already, but always try to use the rear brake first, especially when stopping from a high speed, as braking with the front brake first can easily cause the scooter to tip over.
Suspension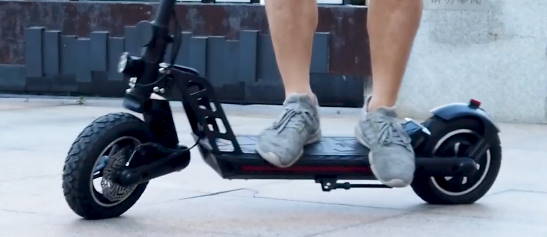 The suspension is one of the strongest features of the Kugoo G2 Pro. The scooter features a dual spring suspension system, with shock absorbers on both wheels.
That makes this scooter very comfortable to ride. Any type of street or road, no matter how bad or how deep the potholes are, will be a joke for this bad boy. In fact, both the suspension and the tires of the scooter come prepared for offroad rides, and some sidewalks or cracks in the street will be nothing for the G2 Pro.
Tires and wheels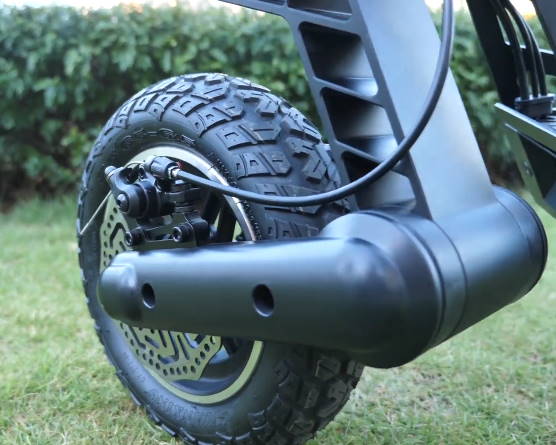 The pneumatic tires are another strong point of the scooter. With 10 inches in diameter, a wide profile, and deep patterns, the Kugoo G2 Pro is practically an offroad scooter, even though it doesn't present itself as such.
Also, the quality of the tires is really good, and flats are almost unheard of with this scooter. The brand of the tires is Yuanxing, and their ideal tire pressure is 30 PSI.
All in all, the tires are another huge win for this model.
Controls and screen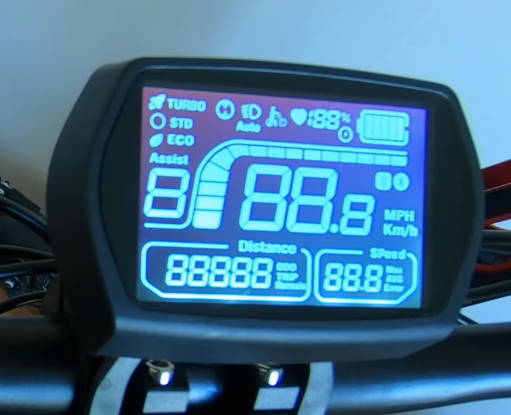 The LED screen is fairly big, and it's quite easy to see the information displayed on it. It takes the central place on the handlebar. It is well lit, and has a high contrast, which makes the information visible even on bright days.
The screen displays a myriad of information:
current speed (with your preferred unit system)
speed mode
top and average speed of the trip
battery level and percentage
odometer (distance and trip)
lights status
error codes
voltage
The left handlebar of the scooter hosts the rear brake lever, and all the controls and buttons:
power
settings and menu button
plus and minus buttons
horn button (yellow)
light button (red)
The right handlebar has the thumb throttle for acceleration, and the brake lever for the front brake.
Deck and handlebars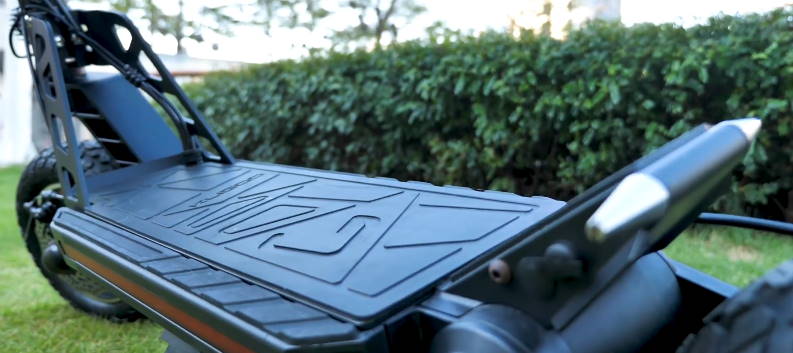 The deck of the Kugoo G2 Pro is fairly wide and comfortable. Sure, there are bigger decks out there, but this one will be pretty big even for bigger people.
In the back, the deck extends upwards into a footrest, which also serves as a mudguard as well. That gives the deck a bit more length, and makes the entire scooter more ergonomic and more fun to ride.
The scooter has a large and robust kickstand.
Waterproofing and IP rating
It seems like the Kugoo G2 Pro has no official IP rating. If it does, then it's not specified.
That means it's best to avoid riding in the rain and in wet weather. Few owners have reported no damage after riding through some rain, but it's still best if you avoid that as much as you can.
Weight limit
The scooter can handle weights of up to 130 kg / 287 lbs on its deck.
Riders up to 110 kg / 243 lbs will have almost no drop in performance. Riders closer to the weight limit may see a smaller range by a kilometer or two.
Still, the official weight limit of the scooter is accurate, and that makes this scooter one of the best choices for heavier adults.
Weight, dimensions, and portability
The weight of the Kugoo G2 Pro is 23 kg / 50 lbs. That puts it in the category of pretty heavy scooters. Much of the weight goes into the battery, which, to be fair, does provide quite a lot of range, and is a worthy tradeoff. But still, the scooter will not be easy to carry for long distances.
When folded, the scooter is still not exactly small, and does occupy a lot of space.
With both of those points in mind, we can say that the Kugoo G2 Pro is not a very portable scooter, and that's because it doesn't even try to be one.
Accessories and customizations
It seems like there are not that many specialized accessories available for the Kugoo G2 Pro yet.
Luckily, the scooter's design is fairly standard in a lot of the points for customization, and chances are, many of the common and generic electric scooter accessories will fit perfectly. For this scooter, I recommend getting a storage bag or a trunk that you can hang on the front, and potentially a carry hold or a strap.
Also, the scooter doesn't come with any native locking features, and you will need to buy an additional lock if you plan on leaving it outside. Since the scooter looks pretty expensive (even though it isn't), many thieves might be tempted to try their luck, so a stronger lock would make more sense. See my guide on the best scooter locks for the ideal picks for every budget and use case.
App
Kugoo does have an app for its scooters, but the Kugoo G2 Pro can't connect to it.
The Universal Scooter Helper App, made by EScooterNerds, while not a complete replacement for the regular app, will still be useful to the owners of this scooter. It comes with more than 30 features like calculators, tools, resources, guides, hacks, and much more. You can use it on both Android and iOS.
Specifications
Kugoo G2 Pro Specifications
| | |
| --- | --- |
| Top speed | 50 kmh |
| Top speed | 31 mph |
| Range | 50 km |
| Range | 31 mi |
| Motors | hub BLDC |
| Power | 800 W |
| Climb angle | 15 ° |
| Battery | 624 Wh, 48 V |
| Battery type | lithium |
| Charging time | 6 h |
| Weight | 23 kg |
| Weight | 51 lbs |
| Weight limit | 130 kg |
| Weight limit | 287 lbs |
| Tire size | 10 in |
| Tire type | pneumatic offroad |
| Tire pressure | 30 psi |
| Foldable | yes |
| Terrains | all terrain |
| Brakes | electronic + disc |
| Shock absorbers | front + rear shock suspension |
| Lights | headlights + rear |
| Control | digital display |
| Warranty | 12 months |
| Folded dimensions (L * W * H) | 120 cm * 62.5 cm * 53 cm |
| Folded dimensions (L * W * H) | 47 in * 25 in * 21 in |
| Unfolded dimensions (L * W * H) | 120 cm * 62.5 cm * 114 cm |
| Unfolded dimensions (L * W * H) | 47 in * 25 in * 45 in |
| Deck dimensions (L * W) | 45 cm * 19 cm |
| Deck dimensions (L * W) | 18 in * 7 in |
| Ground clearance | 21 cm |
| Ground clearance | 8 in |
| Deck to handlebar height | 92 cm (est) |
| Deck to handlebar height | 36 in (est) |
Tradeoffs and downsides
There are a few things you should be aware of when thinking about buying the Kugoo G2 Pro. While it doesn't have any major faults or design errors, it does come with a few tradeoffs, and there are some small issues present as well.
One engineering decision that baffles me is the lack of a locking mechanism for when the scooter is folded. I guess the engineers predicted that the scooter will rarely be carried in one hand (which I guess is correct), but still, for such a basic feature to be missing is not something I can easily understand.
Speaking of carrying, the Kugoo G2 Pro will not be the easiest scooter to carry and fit into places. There's the issue of not being able to lock the scooter when folded, which means you must use both your hands to carry it, but then there's also the weight of 23 kg / 50 lbs, and a fairly large volume even when folded. Luckily, the scooter has a lot of range and you will not have to carry it that much, but still, when you do have to, it might be a chore.
Another small issue is the location of the charging port. I believe something as crucial and as vulnerable as the charging port should be placed as far away from the tires that spray dirt and garbage all over and can potentially damage it. It just sounds like a more elegant solution. To be fair, there haven't been any problems reported because of this, so this may not be a huge issue after all.
Finally, there have been a few reports of the screen readings and some of its statuses not being accurate, most notably the battery level being inconsistent. Kugoo has stated that this has only been an issue in older versions and should be fixed now.
Kugoo G2 Pro vs other electric scooters
Interestingly, the main competitors of the Kugoo G2 Pro come from within the Kugoo family. Let's see how the sibling rivalry plays out.
Kugoo G2 Pro vs Kugoo G-Booster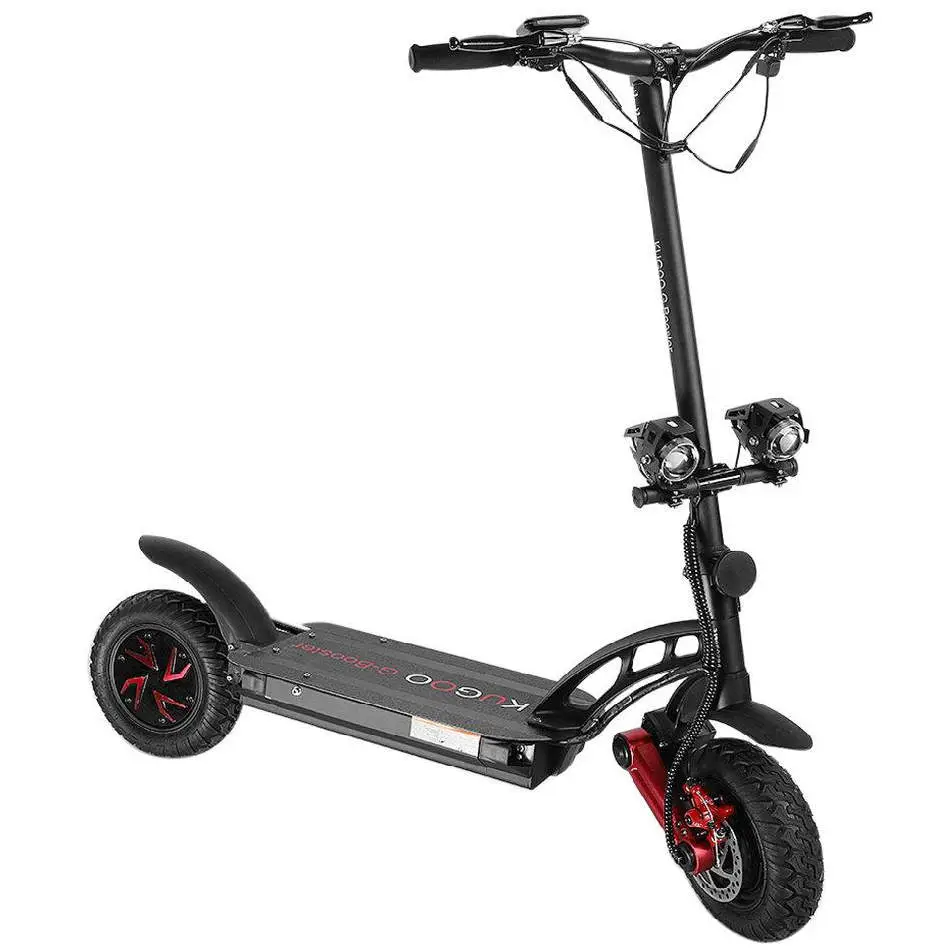 The Kugoo G-Booster is the only Kugoo scooter that is even more powerful than the G2 Pro, no matter how ridiculous that sounds.
The top speeds will be very similar with both scooters, but the G-Booster will have a lot more range (85 km / 53 mi). Its motor will also be more powerful, in fact, the Kugoo G-Booster has dual motors.
The G2 Pro will still be better for heavy adults as it has more weight capacity, and it will be about 7 kg / 15 lbs lighter, which is half the weight of a regular commuter scooter, so that's something to take into account as well.
I'd recommend the G-Booster over the G2 Pro only if you're after crazy levels of power. If that's what rocks your boat, then you should see the Kugoo G-Booster review. As that's not the case for most scooterists, I would recommend going with the G2 Pro.
Kugoo G2 Pro vs Kugoo M4 Pro
The Kugoo M4 Pro is, in some ways, pretty similar to the Kugoo G2 Pro.
The M4 Pro is also a strong performer, with 45 kmh / 28 mph top speed and a range of 60 km / 37 mi. So, in a way, the M4 Pro is the option with more range, but the G2 Pro is faster. Also, the M4 Pro has a weaker motor at 500 Watts.
Both of the scooters have comparable weights and dimensions, so portability is largely the same as well. The M4 Pro also has large 10-inch pneumatic tires, although they're more like standard road tires than offroad ones.
I'd say it comes down to the primary specs here. If you prefer a bit more range and are ready to sacrifice some power, then check out the Kugoo M4 Pro. You can see the full review of the Kugoo M4 Pro if you are curious.
Kugoo G2 Pro vs Kugoo G-Max
The G-Max is a level below the G2 Pro in terms of performance. With a top speed of 35 kmh / 22 mph, and a range of 32 km / 20 mi, it is no match for the G2 Pro.
While it also has large, 10-inch pneumatic tires, it comes with a weaker motor, smaller battery, and less weight capacity.
Of course, the Kugoo G-Max will be much more affordable, ligther and easier to carry, while still offering decent features and performance for the more casual riders. If that sounds like something you might be after, see the Kugoo G-Max review. Otherwise, I recommend sticking with the G2 Pro.
Kugoo G2 Pro vs Dualtron Mini
You don't see Kugoo and Dualtron mentioned in the same sentence quite often – one is a brand of mostly budget scooters sold mostly in Europe, while the other one is a power brand of premium scooters mostly found in North America.
Still, people have found these two specific models to be comparable, so it's worth seeing how they compare.
Even though the Dualtron Mini is typically about $500 more expensive, the performance of both scooters is very similar, with the Dualtron Mini having a slight advantage in top speed, range, and climb angle.
The Kugoo G2 Pro even has bigger tires, and quite a bigger weight limit, making it more comfortable and better suited for heavier adults.
The Dualtron Mini has a better suspension, and probably a higher level of quality overall, since it comes from one of the best electric scooter brands in the world. If that's worth $500 to you, check out the Dualtron Mini at Voromotors.
Use cases and benefits
There is nothing preventing beginners and first-time scooterists from getting the Kugoo G2 Pro and having heaps of fun with it. That said, I wouldn't recommend this scooter for them (see the guide on the best electric scooters for beginners if that's the type of scooter you're after).
Make no mistake – the Kugoo G2 Pro is not a scooter for everybody. It is still insane value for money (as all Kugoo scooters are), but it will be the type of scooter you either obsess over, or don't look at twice.
While the Kugoo G2 Pro is a truly excellent, well-rounded scooter that can play a lot of roles, I believe it is made primarily for a specific type of scooterist.
The adventurer.
The thrill-seeking, trouble-making speed-demon.
The outlaw, looking to conquer both the asphalts of the urban jungle, and the wild and untamed outdoors.
If that sounds like you, here's how to make the final decision.
Verdict
I'd suggest starting with your analytical brain and thinking about your needs and scenario first. Obviously, don't make rash and emotional decisions from the get-go, and consider whether you'd have either utility or fun out of this scooter.
But then, after you've thought about it for a while and probably narrowed down your options, I'd suggest following your gut and instinct to make the final decision. This is a powerful scooter, and chances are, you probably already know if you're gonna buy it and start a very exciting journey with it, or live to fight another day.
Where to buy the Kugoo G2 Pro from?
Europe
There is no better place to buy the Kugoo G2 Pro from than
GeekBuying
. You will get the best price, free shipping in 3-10 business days, great warranty, return period, customer support, and a discount if you don't have an account with them yet.
---
Canada
The Kugoo G2 Pro has become available in Canada as well, through the
Amazon Canada
.
---
Want to get
FREE SCOOTER
tips, exclusive discounts and promotions, and unseen scooter hacks? Join the
Scooter Secrets club
.
---
Liked this article? It really helps if you share it.
Follow @escooternerds on social media for more cool stuff
---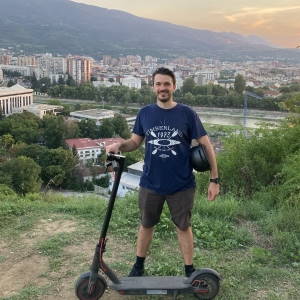 Where to buy the Kugoo G2 Pro