I've tested a lot of the best electric scooters in the world, and many of them are in the $2500 price range.
Let's go over my list of the best electric scooters under $2500 and see what each has to offer.
Best Electric Scooters Under $2500
These are the best electric scooters under $2500 with their use cases.
Best For Commuting: Apollo Phantom
The Apollo Phantom is a premium, high-performance electric scooter with all the features you could ever want. It's an ideal commuting electric scooter that gives the rider a refined riding experience. With its quadruple suspension system and 10-inch tires, the scooter can handle off-road terrains, but only moderate ones. 
What really makes the electric scooter stand out from the other options is its sporty, sleek design that adds to its premium appeal.
Another unique thing about this model is that you can personalize your riding experience through its HEX display. The display has 20 adjustable settings that you can use to customize it according to your preference. 
Check out my comprehensive Apollo Phantom review for more details.
Who should get the Apollo Phantom?
In my experience, this is the best expensive scooter that's great for commuting (if you spend even more, you will end up in power/off-road category, and those are often not convenient for commuting).
The model has everything you usually see in other high-end electric scooters, but the features are often much better to enhance your riding experience.
With a powerful 2800 W dual hub motor paired with a high-capacity battery, the scooter is reliable and can give you about 40 miles on a single charge. If you're looking for a classy electric scooter that delivers both performance and looks, you can't go wrong with the Apollo Phantom.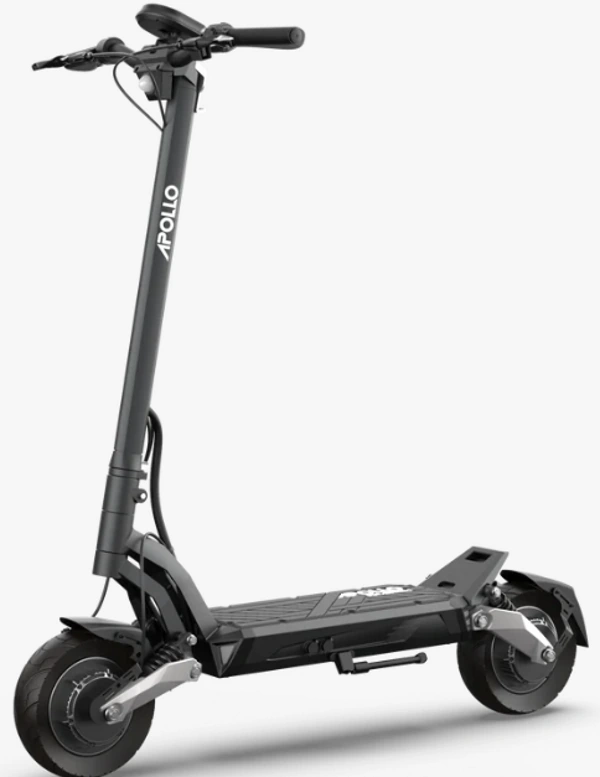 Who should not get the Apollo Phantom?
If you want an absolute beast of a scooter that can ride smoothly over tough terrains, I wouldn't recommend the Apollo Phantom. The somewhat more delicate design is more suited for commuting and wouldn't cut it for a rugged off-road adventure.
Also, if you're looking for truly amazing performance, there are much more powerful scooters on this list.
Best For Off-road: Wolf Warrior X 
With its durable build and sturdy frame, the Wolf Warrior X is the perfect electric scooter for off-road terrains. The vehicle's front hydraulic + rear springs are usually found in more advanced, even more expensive electric scooters. Getting them for $1999 is actually a great deal.
In addition to the suspension system, the scooter's wide deck and 10-inch, knobby pneumatic tires make it a smooth ride for even the most challenging off-road terrains. 
The Wolf Warrior X boasts exceptional off-road capabilities with its high traction tires, and is powered by a 2200W dual motor system. This means you'll be prepared to handle unexpected obstacles on off-road terrains.
Who should get the Wolf Warrior X? 
If you're an avid off-road rider looking to upgrade to a higher-end electric scooter that has more capacity for challenging terrains, Wolf Warrior X may be exactly what you need.
The scooter is also one of the fastest scooters in its price range and can serve as an affordable entry option to the world of premium electric scooters.
Its high and wide handlebars are ergonomic, making the scooter a comfortable option for taller riders.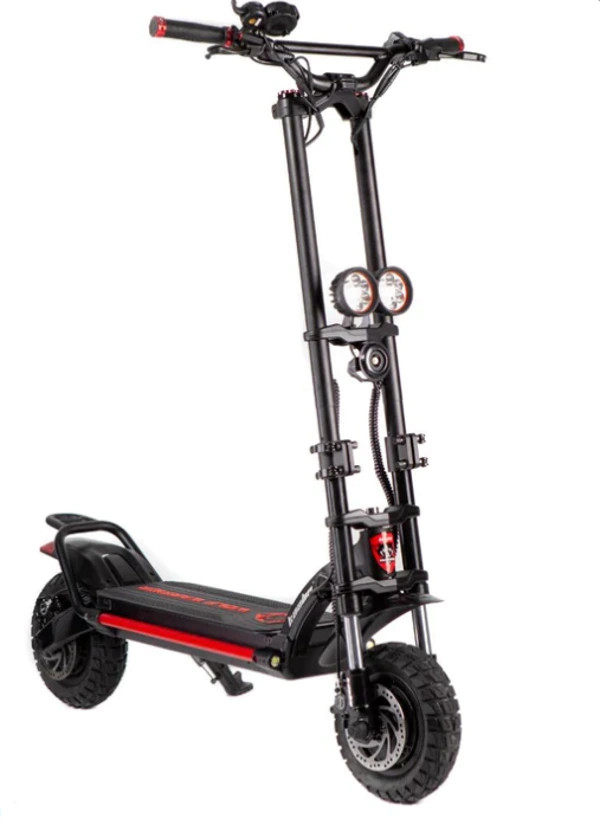 Who should not get the Wolf Warrior X?
If you live a rainy city and need a more waterproof electric ride that won't get damaged in the rain, the Wolf Warrior X may not be for you, as it seems to lack an IP rating. The scooter hasn't been tested for water resistance, and at a price this high, you shouldn't risk buying it if you aren't sure about its IP rating.
Best Value: Kaabo Mantis Pro
I know the price of this electric scooter is one of the higher ones on this list, but the value you get makes it worth it. The Kaabo Mantis Pro packs a punch with both its performance and design. 
You get a powerful 1000W dual-drive hub BLDC motor, a large battery, and a dual suspension system. The scooter also has ABS, which adds to its value by increasing its safety.
The design stands out among other scooters because of the gold accents on the handlebars and the strip of blue LED mood lights running along its deck's length. In short, the electric scooter is a full package.
Who should get the Kaabo Mantis Pro?
The Kaabo Mantis Pro is for riders looking for a bit of everything in their electric scooter. It stands out in terms of design, has excellent performance, and is a good premium electric scooter to ride until you work your way up to more advanced models (if you ever need them, which will be the case for very few super-advanced users).
It can be used for both off-road riding and as a commuter electric scooter, adding to its value-for-money factor.
In summary, it performs great, looks exceptional, and isn't limited to one kind of terrain. A pretty good deal if you ask me.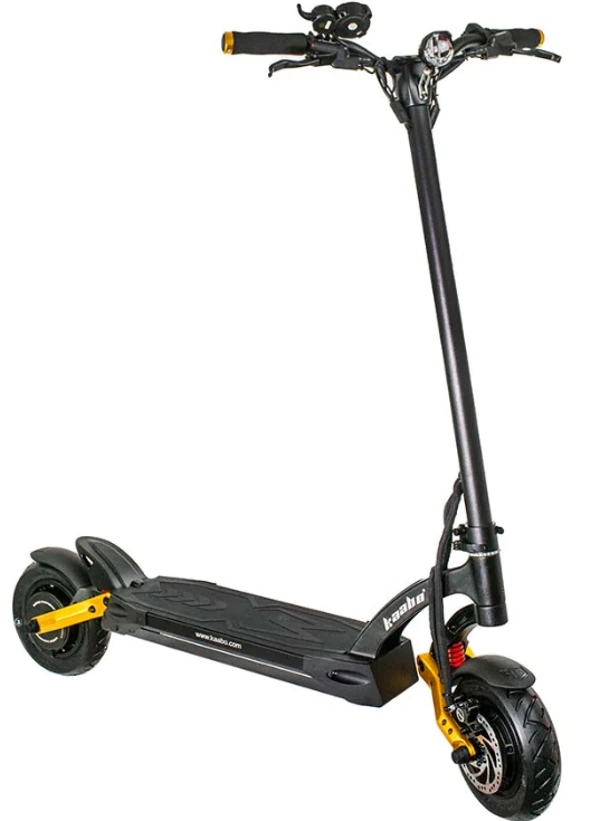 Who should not get the Kaabo Mantis Pro?
In my opinion, the Kaabo Mantis Pro isn't the most beginner-friendly electric scooter. You need some prior scooter experience to handle this monster. 
While its tires are good enough for moderate off-road trails, I wouldn't say they're the best for the obstacles found on more challenging terrains. If you're looking for something that can handle difficult terrains, see the previous scooter.
For more on the Kaabo Mantis Pro electric scooter, check out my detailed review here.
Longest Range: EMove Cruiser
The EMove Cruiser can take you up to 62 mi / 100 km on a single charge, while weighing only 52 lbs / 23.5 kg, and costing less than $1500!
This is impressive because most electric scooters with this range either weigh too much or cost more than $2000.
The scooter also has an exceptional weight limit of 352 lbs, another specification you won't commonly find at this price point.
Another feature worth mentioning about the EMove Cruiser is its IP rating of IPX6. The rating's last digit represents the electric scooter's water protection level. In this case, the last digit is "6", which means the electric scooter can tolerate being subjected to jets of water without being damaged.
While that doesn't make the model completely waterproof, it is still one of the most water-resistant electric scooters in the market.
Here's my thorough review of the EMove Cruiser if you want more information.
Who should get the EMOVE Cruiser?
If you like taking long trips on your electric scooter, the Emove Cruiser has a range that outdoes some of the more expensive models as well. Its weight limit and wide deck also make the electric scooter comfortable for heavier riders and those who can't avoid riding with extra baggage.
If you live in an area where it rains or snows a lot, there isn't a better electric scooter than this. I've ridden the scooter in medium rain plenty of times, and it's always worked great. 
Who should not get the EMOVE Cruiser?
As someone who appreciates a good fast electric scooter, I was a bit disappointed with the 33 mph / 53 kmh top speed of the Emove Cruiser. While it's a decent top speed, I was expecting more, considering its price. So, if you're looking for something fast, then this model isn't for you.
Other than that, this scooter is pretty much complete, and is kinda my all-time favorite, so I can't really find a lot more downsides.
Fastest: Blade GT+
The Blade GT+ is a great everyday scooter thanks to its moderate weight and robust build. It's also very comfortable, with a wide deck and adjustable stem to suit both tall and short riders.
But that's not what makes this scooter special.
The model is powered by 3000 W dual hub motors but is also easy to control. In addition, it has a top speed of 52 mph / 83.7 kmh, which makes it the fastest scooter in this price range.
Who should get the Blade GT+?
The Blade GT+ is for anyone who wants an electric scooter that's great for everyday use and commuting, but also for someone who occassionaly wants to ride at faster speeds. It's comfortable, powerful, and easy to control.
Who should not get the Blade GT+?
There isn't much to hate about the Blade GT+. The few things that disappointed me about the model are the steering damper and the indicator lights.
The steering damper offers more control to the rider but also limits the turning radius.
The indicator lights aren't that visible during the day, which kind of defeats the purpose of the feature.
Also, users have complained about the electric scooter not being that portable (although in my view, it's not the least portable scooter out there for sure). So, if any of these cons are a dealbreaker for you, it's best to avoid the Blade GT+. 
Most Portable: Dualtron Mini
The Dualtron Mini is a combination of good looks and durable build. The electric scooter may not be the most powerful scooter on this list, but it offers a decent performance for commuting and everyday use. You can count it as an entry-level scooter, but with very high-quality components.
It has a built-in ABS, which is why it beats other entry-level scooters when it comes to safety. Plus, with a weight of 48 lbs / 21.7 kg, it's quite light in weight, especially compared to the other scooters in this price range. You can easily carry it around wherever you go.
You can switch between three speed modes, and with the quadruple suspension system, you will enjoy comfortable rides while easily controling the scooter even when riding at top speeds.
The rippling LED lights on the deck and stem look pretty cool, and the white-on-black finish makes it stand out among other scooters.
Who should get the Dualtron Mini?
If you're someone who needs an electric scooter that is easy and light to carry, yet solid in terms of performance, the Dualtron Mini can be the right choice for you. The electric scooter is also great if you're a beginner but don't want to start out with one of the cheaper electric scooters.
Who should not get the Dualtron Mini?
The handlebars of the Dualtron Mini don't fold, which kind of messes with the whole portability aspect, but it isn't that much of a deal breaker for most people.
Also, I feel the deck could be wider and that the electric scooter could have more features considering its price. However, that would take away portability points, which is one of the primary features of this scooter.
All in all, if you want a big, bad, powerful scooter, the Dualtron Mini may not be your best choice, but otherwise, I suggest you consider it strongly.
Best Alternative: NanRobot N6
The NanRobot N6 is a powerful electric scooter for a fairly decent price of around $2200. It folds three ways and has two charging ports. While you only get one charger with the scooter, you can buy one more to significantly reduce its charging time.
The scooter offers more power, battery capacity, and speed modes than most scooters on this list. You can use it as a regular commuter electric scooter, but its suspension system and high-traction wheels also make it great for off-road riding.
Who should get the NanRobot N6?
The NanRobot N6 is pretty versatile and can wear a lot of hats.
You get a high-powered electric scooter that is easy to control and has an ergonomic design. This model is great for riders who want a commuting electric scooter but also want to enjoy off-road riding.
Overall, if you're looking for an electric scooter that can do a bit of everything, the NanRobot N6 fits the bill. Pretty good for its price if you ask me.
Who should not get the NanRobot N6?
The 3-fold feature of the electric scooter may make it seem like the electric scooter is easy to carry around, but users have experienced the opposite because of its 88 lbs / 40 kg weight.
Also, its IP rating is only IP53, so I wouldn't recommend getting the electric scooter if you live in a humid area.
What can you expect from a $2500 electric scooter?
With electric scooters under $2500, you can expect premium features, most notably powerful motors and great batteries. This is what separates them from cheaper, low-end escooters. You get high-quality components and better performance, including higher top speeds, better climbing angles, extended range, advanced braking systems, and excellent hydraulics.
You also get a larger range of design and color options which users find worth the extra money.
Is an electric scooter under $2500 worth it?
If you're an experienced electric scooter rider, who knows exactly what type of features you want in your electric scooter, investing in an electric scooter under $2500 is definitely worth it. 
You get premium performance and features, and you can elevate your overall riding experience thanks to more powerful and advanced components.
Summary
That's a wrap for my list of the best electric scooters under $2500. Now that you know the strengths and weaknesses of each scooter, you probably have a clearer idea of which one to get or at least shortlist.
Here's a summary of the best models one more time for reference.
---
---
Liked this article? It really helps if you share it.
Follow @escooternerds on social media for more cool stuff
---