Like with all electronic devices, the integration of Bluetooth technology in electric scooters has taken the vehicle's riding experience to new heights. In this electric scooter Bluetooth guide, I'll discuss everything you need to know about the potential of Bluetooth in your electric scooter.
We'll explore its features, capabilities, and connectivity to different apps. I'll also teach you how to connect your electric scooter with Bluetooth through a step-by-step guide.
Electric scooter's Bluetooth
Electric scooter Bluetooth is a connectivity feature that allows a wireless and seamless connection between your electric scooter and any Bluetooth-enabled device. This can be your phone, tablet, smartwatch, etc.
A wide range of apps and software is available that you can connect with your electric scooter to enhance its functionalities. These include scooter-native apps, apps for navigation, fitness tracking, electric scooter performance, security alerts, etc. You can also monitor your riding stats and share them on different escooter forums to connect with the electric scooter community.
What does Bluetooth do on an electric scooter?
Bluetooth integration with your electric scooter increases the range of things you can do while riding. Here are some of the most popular things you can do with an electric scooter Bluetoot.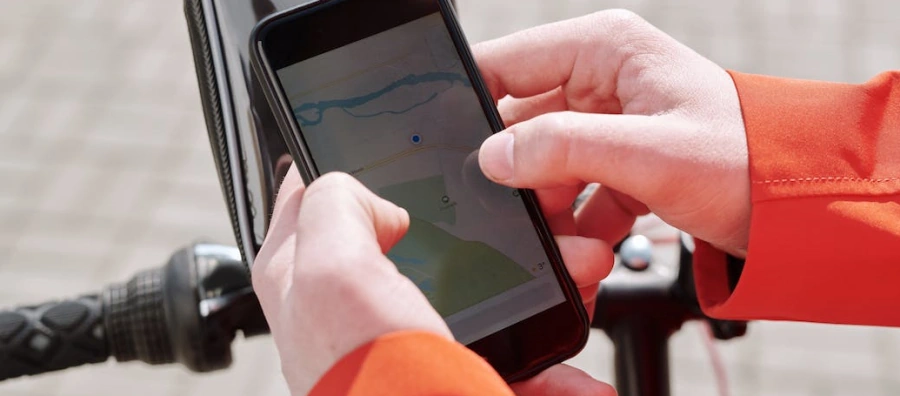 With Bluetooth on your electric scooter, you can connect the vehicle to your phone and use GPS and navigation apps. This can be done by turning on the Bluetooth settings, both on your phone and the electric scooter.
Once paired, the app will detect your location and allow you to set your desired destination. The route, with live turn-by-turn GPS instructions, will be shown on your electric scooter display. You can look at your phone without distractions and can navigate the streets more safely and efficiently.
Some popular GPS apps you can use are Google Maps, Waze, etc. Some electric scooter brands also have their own developed apps that you can use for GPS.
Wirelessly stream audio
Who doesn't like listening to music while traveling? In some scooters, the electric scooter Bluetooth can connect with your phone or other Bluetooth-enabled devices to stream audio directly through the electric scooter's speakers.
After pairing the device and electric scooter through Bluetooth, just open your playlist on the music app on your phone. Your phone will send an audio signal to the escooter's speakers and they'll start playing.
Audio streaming isn't just limited to songs. As long as it's an audio file on your phone, you can play it on your electric scooter. You can listen to audiobooks and podcasts while you ride.
Though you can control the audio playback directly through your phone, some electric scooters also let you change the settings through their display.
Connectivity with various apps 
Popular electric scooter brands usually have their own apps that you can download from the Google Play Store or Apple Store. 
These apps have real-time monitoring features to record different electric scooter parameters e.g., battery temperature, riding statistics, anti-theft alarms, etc.
There are also third-party apps that you can connect to your electric scooter, but they have to be compatible with your electric scooter model.
Many electric scooter rental companies have their own applications through which you can book rides, make payments, and track your location.
See my guide on the best electric scooter apps for a complete list of all the possible scooter apps out there.
Firmware updates for the electric scooter
An electric scooter's firmware is the software code embedded in its hardware that controls the vehicle's operations. These codes are updated regularly to fix any bugs, improve features, introduce new features, etc. So, for optimal performance, your electric scooter's firmware must always be updated.
Usually, electric scooter manufacturers announce these updates on their website and also notify users through email, their app, etc. 
To update your electric scooter's firmware, you'll need to connect the vehicle via Bluetooth to your smart device with the manufacturer's app. After opening the app, you can check for any new firmware updates and install them. After the update is complete, you'll get a verification message, and the scooter will reboot so that the new code can take effect.
Data monitoring
With Bluetooth, you can monitor and transfer data regarding your riding performance from your electric scooter to your phone. There are many available apps that can be installed on your phone or another smart device to monitor and record your riding performance. You can record your route history, traveled distance, battery performance, etc.
Some apps will also give you a complete performance analysis of the recorded metrics so that you can examine riding patterns and observe how they affect the battery life of your electric scooter. 
Having all this valuable information, you can make data-driven decisions to improve your riding experience.
Features of electric scooter Bluetooth
While the vast majority of electric scooters usually allow pairing with one device at a time, some advanced scooters support multi-device pairing. Bluetooth also enables alerts and notifications to be delivered directly through your electric scooter so that you don't have to take your phone out while riding. These notifications can be low-battery warnings, riding statistics, etc.
With Bluetooth, you get access to customizable settings:
cruise control settings
toggling lights
locking the scooter
top speed limits
battery settings
motor settings
brake sensitivity
acceleration levels
scooter location and scooter alarms in case the scooter gets too far away from the app
How to connect your electric scooter to Bluetooth
The method of connecting your electric scooter to Bluetooth can differ depending on your electric scooter model and its associated app. The connection steps are usually easy and can be found by reading the electric scooter's user manual.
For this guide, I'll be explaining how to connect a Xiaomi M365 Pro electric scooter to your smartphone via Bluetooth. Here are the steps:
Install the Mi Home app from Google Play Store or Apple Store on your phone.
Launch the app and go through the preliminary setup process of choosing your language and accepting the required terms and conditions. Authorize any permissions the app needs on your phone.
Next, you'll be asked to create a Mi account by signing up through your email and creating a password.
To verify the account, you'll be sent an activation link to your registered email address.
After activation, the app will open the Xiaomi Home page on your phone. To connect your phone to the electric scooter Bluetooth, click the plus sign (+) in the top right corner.
From the given options, tap on "Add device." You'll then be asked to turn the Bluetooth of your phone on. Once that's on, the app will start scanning for any nearby Mi electric scooters to connect to. Make sure your electric scooter is powered on for this step so the app can detect it.
Tap your electric scooter model from the options detected by the app and then authorize the connection.
To complete the pairing process, press the power button on your electric scooter. Once complete, the phone app will display the metrics of your electric scooter.
In general, the process will be similar for most scooter models.
Here's a video to give you a clearer idea of how to connect your phone to your electric scooter via Bluetooth.
Limitations of electric scooter Bluetooth
You can't deny the benefits you get with electric scooter Bluetooth and how it's made owning an escooter so much more fun and efficient.
However, there are some limitations that you should keep in mind.
Compatibility issues
Not all electric scooter apps are compatible with every scooter app out there. An app might work for one brand of electric scooter and not for the other. Many electric scooter brands do have their own apps to avoid this issue, but many don't.
Battery usage

To maintain connection between the electric scooter and your phone, the Bluetooth of both paired devices must remain on throughout your ride. Having Bluetooth on is known to drain battery charge quicker than normal, which means that your phone and e-scooter batteries will both start draining at a faster pace.
This makes it important to make sure that you have enough charge to power the e-scooter. If you need to make a long commute with Bluetooth on, make sure you start your ride with full charge in both your electric scooter and phone.
Dependency on your smartphone
For a continuous Bluetooth connection between your device and your electric scooter, both should always be near each other. The farther your phone and electric scooter are, the weaker their pairing will be.
This can be annoying for riders who don't like to carry their phone on them while riding their electric scooter.
Connection disruptions
With Bluetooth, a common problem is interference signals disrupting the connection between the paired devices. This throws a wrench in the electric scooter ride, especially if you rely heavily on GPS and navigation to get to your destination.
It also messes with the real-time monitoring of riding statistics, which can mess up your data record.
---
Want to get
FREE SCOOTER
tips, exclusive discounts and promotions, and unseen scooter hacks? Join the
Scooter Secrets club
.
---
Liked this article? It really helps if you share it.
Follow @escooternerds on social media for more cool stuff
---