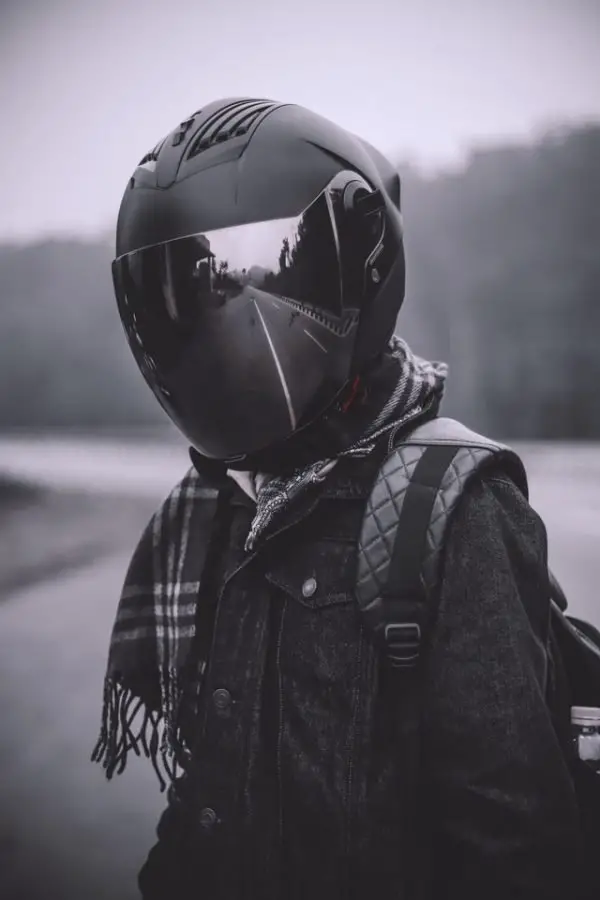 The first rule of electric scooter safety is – always wear a helmet!
It is the most important piece of electric scooter equipment, and the only one that is truly mandatory, both as good riding form and required by the law.
If you only buy one piece of gear, it should be the helmet. It can literally be the difference between life and death!
There are a few different types of electric scooter helmets, each with an ideal use case and scenario. Also, you will very likely want your helmet to look cool, something which many helmets achieve.
Best electric scooter helmets for your needs
Shoei RF-SR – Best Quality Full Face
Bell Qualifier – Best Value Full Face
HJC IS-MAX II – Best Quality Modular
Bell Revolver Evo – Best Value Modular
Bell Custom 500 – Best Quality Open Face
HJC CL-JET – Best Value Open Face
Vega Warrior – Best Quality Half Helmet
ILM Half Helmet – Best Value Half Helmet
6D ATR-1 Switch – Best Quality Offroad Helmet
O'Neal SIERRA II – Best Value Offroad Helmet
Giro Register MIPS – Best Quality Bike Helmet
Schwinn Thrasher – Best Value Bike Helmet
Let's check out the best electric scooter helmets today, and how to choose the right one for you. Then we will address the most common questions and everything else you need to know before buying a helmet for an electric scooter.
Best Electric Scooter Helmets
We will look at the best choice in each category of helmets:
full face
modular
open face
half helmet
bike
offroad
Then, we will pick two options from each: best quality, and best value. That will give us a total of 12 best helmets for electric scooters.
Best Quality Full Face – Shoei RF-SR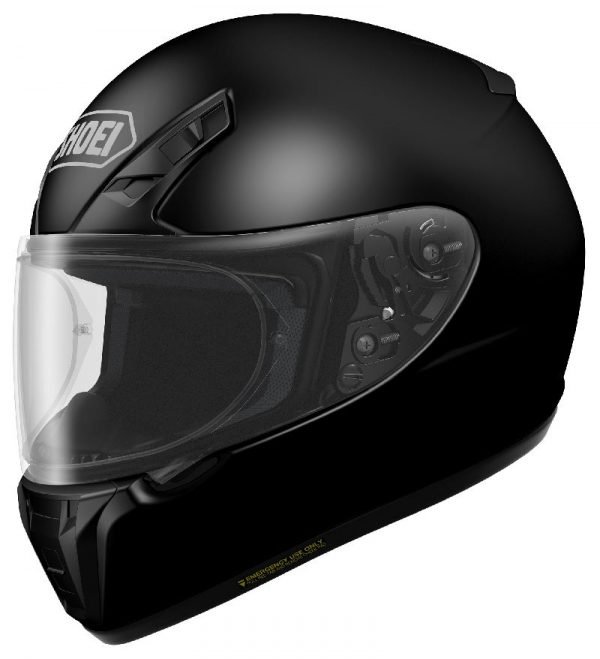 Shoei are a Japanese manufacturer of premium, high-quality helmets. This comes with all the famous perks that many Japanese products come with – fanatic devotion to making the best possible product. They have been a market leader for more than 50 years.
They manufacture helmets for motorcycles primarily. That's great news for us scooterists, as those types of helmets are the safest, most carefully tested, and always conform to the established safety standards.
The Shoei RF-SR is one of their top helmets.
As a full face helmet, it will provide you with maximum safety. It can't get any better and safer than this.
And since this is a Shoei helmet, you can rest assured that comfort and experience will not be sacrificed.
This helmet comes with all the features you can think of, all the bells and whistles.
It has an aerodynamic shell design, Multi-Ply Matrix AIM+ shell, dual-layer multi-density EPS liner, fully removable interior, chin curtain, breath guard… this helmet has it all. Its proprietary ventilation mechanism provides the perfect balance between constant airflow and silent rides.
With a weight of only 2 kg / 5 lbs, this tough helmet is also pretty light at the same time, given all its features.
It has a very strong, smart, aggressive look, and you can pick from an array of colors.
The Shoei RF-SR is compliant with the US Federal Motor Vehicle Safety Standard 218, and is Snell M2015 Rated and DOT certified. Incredible warranty period of 5 years!
It can't get any better than this. If you want the best electric scooter helmet (that still doesn't cost an arm and a leg as many other helmets do), the Shoei RF-SR is a perfect choice.
You can find this helmet on Amazon here.
Best Value Full Face – Bell Qualifier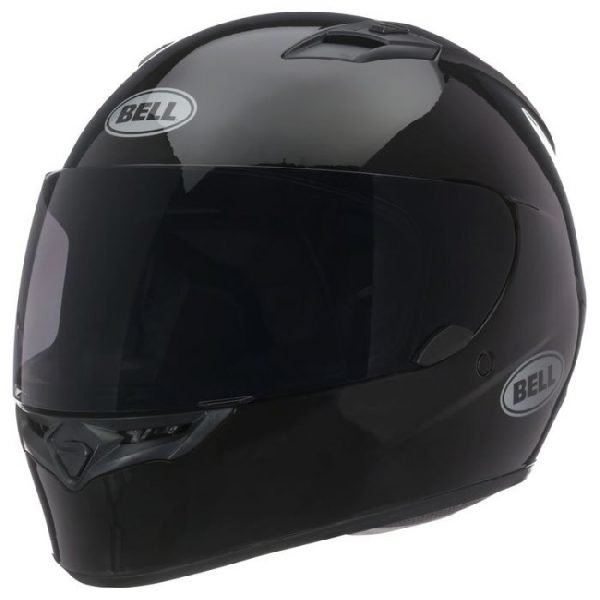 Bell are a legendary helmet manufacturer that have been in the game for more than 60 years.
They make some of the best helmets for bikes, motorcycles, and rideables. At the same time, they have the experience and know-how to craft great safe helmets and still not have the price point too high.
The Bell Qualifier is an amazing value full face helmet for fast rides and motorcycles. It is lightweight, but also very, very tough. I wouldn't be surprised if people go to war with this thing.
It's made with a polycarbonate ABS composite outer shell, and a comfortable mesh innards and anti-bacterial liner. The padded wind collar will help a lot with reducing noise, and you also have integrated speaker pockets. The click-release shield system enables a very fast shield swap. Great fit, great comfort, all without sacrificing safety.
This helmet looks like something you'd want to wear if you're trying to Kill Bill. In all seriousness, it's a very cool-looking helmet, with a classic bad-boy look. It weighs 2 kg / 5 lbs.
The Bell Qualifier complies with the US Federal Motor Vehicle Safety Standard 218. It's DOT certified, however it seems it's not Snell rated. It comes with a 5 year warranty.
All in all, this is one of the best value full face helmets on the market today. Coming from a very reputable and established brand, it will provide you with the best safety for the lowest amount possible.
You can find the Bell Qualifier on Amazon.
Best Quality Modular – HJC IS-MAX II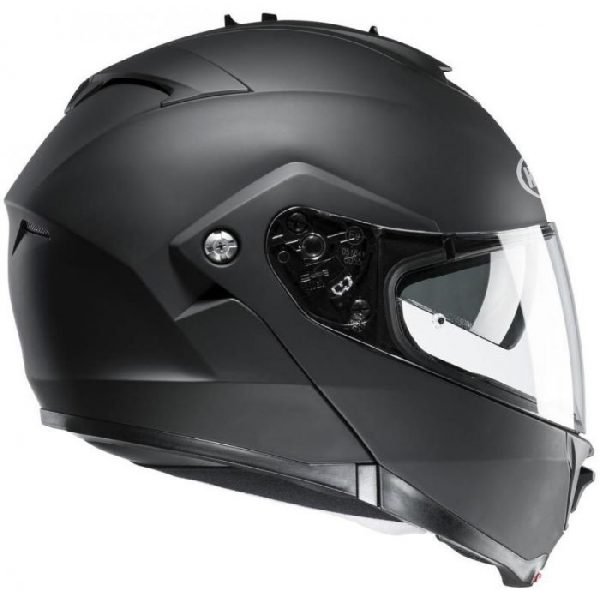 Modular helmets are somewhere between full and open face helmets. HJC is one of the best helmet manufacturers when it comes to this types of helmets.
They are based in South Korea and have many factories in Korea and Vietnam, producing more than one million helmets every year. They have been perfecting their 40-step process for over 50 years now.
The HJC IS-MAX II is one of their most popular, best-selling helmets. It's made primarily for motorcycle riders.
The material used for the shell is an advanced polycarbonate. It has an adjustable chin bar, and thanks to the CAD technology it provides great comfort and fits perfectly. The shield release mechanism is very simple, it's just one button.
The optically superior pinlock faceshield will give you a 95% UV protection. You can choose between several different shield shades, and the smoke shade is definitely the coolest one.
You will get great ventilation and airflow at all times, all the heat, steam and humidity will be expelled with the channeling ventilation system. The interior is constantly kept cool, and has anti-bacterial protection.
The helmet weighs about 2.5 kg / 5.5 lbs.
The noise from the wind is almost entirely gone, except for riding at very high speeds.
The HJC IS-MAX II is DOT certified, and fully compliant with the US Federal Motor Vehicle Safety Standard 218.
While there are many modular helmets for motorcycles available, this one is certainly one of the best. You can check it out on Amazon here.
Best Value Modular – Bell Revolver Evo
Another great helmet from Bell, which serves as a proof to the brand's versatility and expertise.
The Bell Revolver Evo is one of the best helmets around the $200 price point, and it's certainly one of the best modular helmets in that price range. A very popular, very battle-tested and time-proven helmet, great value for money.
It has a very powerful, strong, tough-guy look and feel to it.
The shield has a quick-release mechanism, that enables the screen to be easily replaced. The shield also has a dropdown sun protection screen, and uses the Nutrafog 2 anti-fog coating technology. That makes this helmet ready to handle all types of weather.
The construction is from lightweight polycarbonate ABS, and the interior liner is fully removable and easy to clean. On the inside, the adjustable cheek pads will give you a perfect fit.
It comes with integrated speaker pockets, eyeport seal built to cancel the noise, and a Magnefusion magnetic strap keeper. As usual with Bell helmets, it has a full 5-year warranty.
If you are interested in the Bell Revolver Evo, check it out on Amazon here.
Best Quality Open Face – Bell Custom 500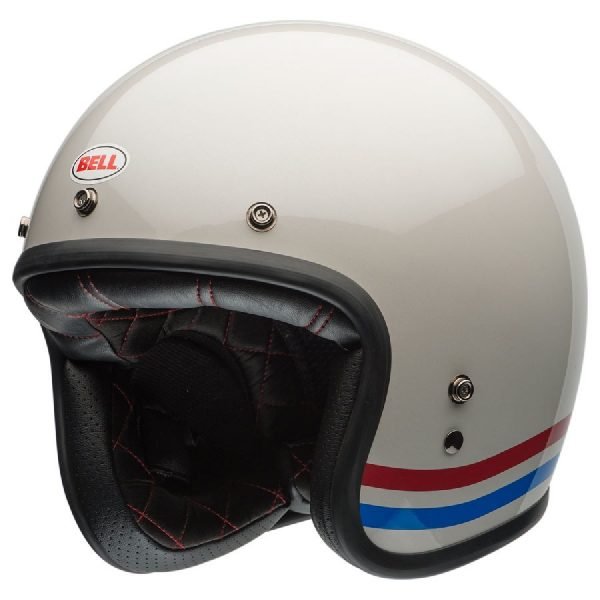 Yes, one more Bell helmet. What can I say, they are a truly great brand.
The modern Custom 500 comes from a great lineage. Its predecessor, the classic Bell 500, is somewhat of a superhero among open face helmets, and has been protecting motorcycle riders for more than 70 years.
The Bell Custom 500 is in many ways the standard for open face helmets. It provides a hard-to-beat quality and safety, and still doesn't cost a fortune.
It comes with an integrated 5-snap pattern that makes replacing visors a breeze. It as a low-profile fiberglass composite shell, while the EPS liner provides anti-bacterial protection.
The value this helmet provides is rarely seen. No wonder is one of the most popular and widely used open face helmets of all time.
You can find the Bell Custom 500 on Amazon.
Best Value Open Face – HJC CL-JET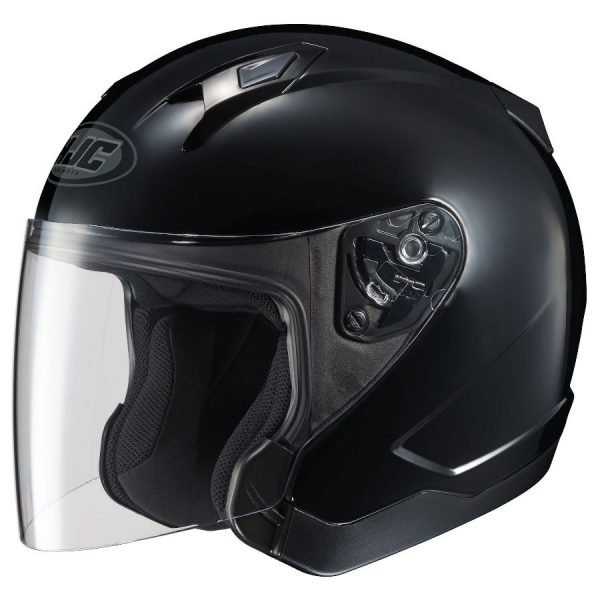 Since HJC are a very strong helmet brand, it's only natural they will qualify for many helmet categories as one of the best choices.
If you want an even greater value for money open face helmet than the Bell Custom 500, consider the HJC CL-JET.
Usually, this helmet will cost under $100 on Amazon.
A very modern-looking helmet with an awesome design, this slick item comes with many safety and comfort features built-in.
By using the CAD technology, this helmet achieves both lightness and hardness at the same time. The composite outer shell is made from advanced polycarbonate, and the inner liners are very fitting, and it comes with bluetooth connectivity options.
The full face shield will provide great protection from wind, bugs, sand, dust, pretty much everything that makes your life miserable when riding a scooter at great speeds.
The RapidFire II shield replacement system enables owners to replace shields without any tools.
In summary, HJC CL-JET is a great value open face helmet. You can find it on Amazon here.
Best Quality Half Helmet – Vega Warrior
Half helmets are a great compromise between safety and comfortable user experience.
They are a very popular option, as they are lighter and easier to put on, take off, and store.
One of the best half helmets of our time is the Vega Warrior. This helmet has sold hundreds of thousand of units, and the miracle is that the vast majority of its owners have nothing but good words for it.
The Warrior is small, very light in weight, and has adjustable size.
The drop-down inner sun shield provides great protection from the sun and the other natural elements, without compromising on safety too much. With the dial system for size adjustment, it will fit everyone, no matter the size or shape of their head.
Since this is not a closed helmet, you will enjoy even greater ventilation. The comfortable EPS inner linings will not interfere with that in the least.
As all other great helmets, it comes with a 5 year warranty. It is DOT approved, compliant with the US Federal Motor Vehicle Safety Standard 218.
If you need this helmet, you can find it on Amazon here.
Best Value Half Helmet – ILM Half Helmet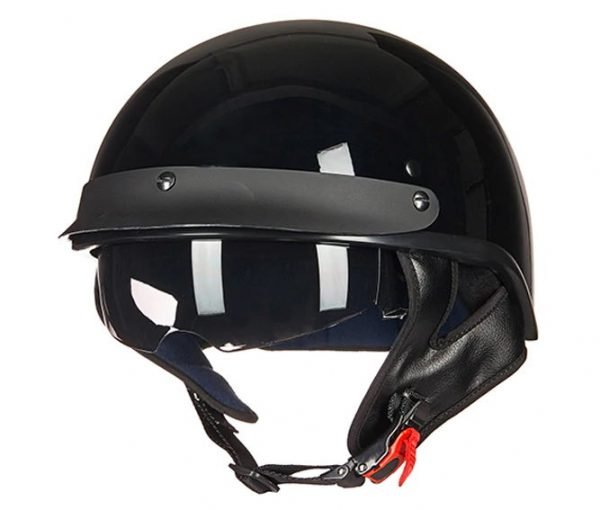 Half helmets are usually cheaper, but we can push the envelope further and go for even better value.
The best value half helmet today is the ILM Half Helmet.
For a very affordable price, you will get a very safe, popular, tried and tested helmet.
Weighing only 1.2 kg / 2.7 lbs, this is one of the lightest helmets around.
It comes with a quick release chin strap, removable and replaceable drop-down sun visor with UV protection, and an ABS shell that is DOT approved (FMVSS Standard 218). The inner liners are made from a high density EPS foam.
The glossy-black dome design is one of the slickest looks in a half helmet ever.
You can check out the ILM Half Helmet on Amazon.
Best Quality Offroad Helmet – 6D ATR-1 Switch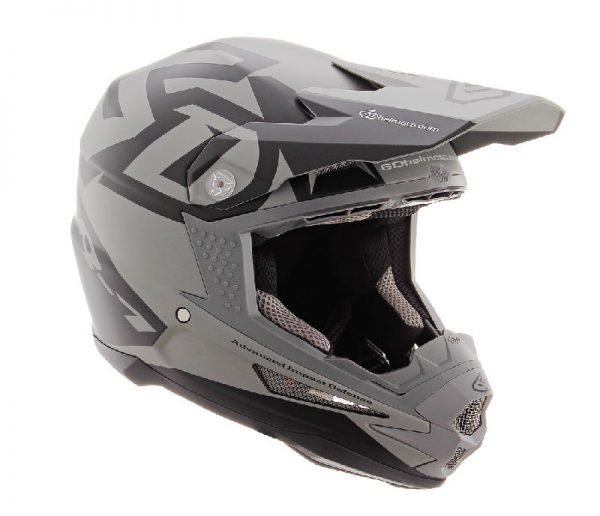 Ok, we're in offroad territory now. It contains some of the coolest, shiniest, best looking helmets ever made.
6D are one of the top dogs in the helmet game. Their scooters are out of this planet.
The 6D ATR-1 is one of their flagship products. It not only complies with most of the international standards, but it even exceeds them. Here's just a quick list of some of the standards that this helmet complies with:
US DOT FMVSS 218 and ASTM F3103 (US)
ECE 22.05 (47 Countries World-Wide)
AS 1698 (Australia)
ACU (UK) standards
This helmet has been around since 2013, and it has improved a ton over the years. It's one of the few helmets that provide angular acceleration and low-threshold impact energy transfer to the brain during crashes and impacts. This proprietary 6D technology, called the omni-directional (or multi-angle) suspension system, is very rarely found in cheaper scooters, and it can literally save your life, or a few billion of your brain neurons at the least.
It makes sense, since this is an offroad helmet. It must provide the best safety and comfort, and be prepared for the worst.
The shell materials include aerospace carbon fiber, composite fiberglass, and kevlar. That's right, this helmet may even be bulletproof.
Air flow and ventilation is incredible, thanks to the many ports. The liners are made from the CoolMax anti-bacterial fabric.
We can go on and on about this helmet. It is, without a doubt, one of the best helmets ever, and possibly the best offroad helmet today. You can find it on Amazon here if you're interested.
Best Value Offroad Helmet – O'Neal SIERRA II
O'Neal are primarily a manufacturer of motocross helmets.
The brand is somewhat legendary. The founder, Jim O'Neal, was a teenager enamored with motorcycle racing. In a classic case of scratch-your-own-itch, he realized that the current racing equipment, most notably helmets, were not sufficiently good. So he started his own brand, which has now been in business for more than 50 years.
The O'Neal SIERRA II model is their offroad motorcycle offering, usually priced very affordably on Amazon.
The helmet has an ABS outer shell, an air channeled comfort liner that is easy to remove and wash, and a double-D padded chin safety lock. It weighs only 1.6 kg / 3.6 lbs. The only downside is that it can be noisy when riding at faster speeds.
You can check out this great value offroad helmet on Amazon here.
Best Quality Bike Helmet – Giro Register MIPS
If you're not really riding at great speeds, a bike helmet can be a more comfortable option for you. While I don't advise skipping on safety, it may be a worthy compromise for some. Not only are bike helmets easier to wear, they are also cheaper too.
Giro are a very famous, very reputable bike helmet brand, producing all kinds of helmets for various use case.
The Giro Register MIPS is a very strong shell helmet, made to fit any head size. You can simply tune the size with the dial to make sure it's a perfect fit for you.
Some Giro helmets have a multi-angle impact protection system built in, that redistributes the shock from an impact and greatly reduces the chances of a serious injury. The Giro Register MIPS comes with that feature.
The polycarbonate shell is reflective, and the interior uses quick-dry liners.
Make no mistake, this is one of the best bike helmets around. If you don't ride that fast and you believe a bike helmet will provide you with enough protection, you can check out the Giro Register MIPS on Amazon.
Best Value Bike Helmet – Schwinn Thrasher
Bike helmets are cheaper, but as a value shopper, I'm always interested in the best possible deals.
And from this entire list, the Schwinn Thrasher helmet fits that criteria the best. You can literally get a decent protection for low or medium speed rides, for as little as $20 (usually, sometimes it can be more expensive, but not by a lot).
Coming from one of the giants of the bicycle industry, Schwinn has been crafting bikes and equipment since 1895. That's more than 125 years in business!
And this is precisely one of those cases where low price doesn't mean low quality. This helmet has received more than 3300 ratings on Amazon, and 93% of them have been 5-star or 4-star ones. We can safely assume that this helmet has been sold in the millions. Wow.
The Schwinn Thrasher comes with a dial adjustable fit system, and with a full range padding to give you a perfect fit and solid comfort levels. The helmet is CPSC approved.
It weighs less than half a kilogram / 1 lbs, the three-piece microshell increases its lifespan without weighing too much. It has 20 air vents for those brutally hot summer days.
If you want the cheapest, simplest solution for your electric scooter safety, you can check out the Schwinn Thrasher on Amazon here.
How to choose an electric scooter helmet
The best helmet for you satisfies two criteria:
it offers you enough protection for your speed and ride types
you always wear it
While wearing a helmet is mostly a matter of habit, you still need to get a helmet that you will actually wear the whole time. This is critical. That's why there's a huge safety vs comfort debate going on the whole time.
First, start by finding out what the law requires you to do. Depending on your country, this will mean your helmet has to satisfy a certain standard. Pretty much all of the helmets listed here should be fine for every country, but double check before buying to make sure.
Next, consider the type of scooter you have and the type of riding you perform. This means, if you have an offroad scooter, or ride offroad a lot, you will need an offroad helmet.
If you only ride offroad some of the time, you can go with either an offroad helmet or another type of helmet. However, offroad helmet will be unmatched for offroad riding. If you can afford it, maybe you can get one helmet for regular rides, and an extra for offroad. If not, I recommend getting the offroad helmet only, since it will definitely provide the best protection.
If you never ride offroad, you can consider the speeds that you ride, and only then take into account your own personal safety vs comfort balance.
If you ride very fast (40 km/h / 25 mph, or more), then a full face helmet is your only choice. You may be able to get with a modular helmet, but full face will be a lot safer and can make a big difference if you suffer a serios accident.
If you ride with medium speeds most of the time (30 km/h / 18 mph), you should still consider a full face or a modular helmet, since those speeds are no joke neither. However, with this speeds, you may think about an open face helmet as well.
Half helmets can only be considered if you rarely ride faster than 25 km/h / 15 mph, and bike helmets are a good choice if you ride at 20 km/h / 12 mph most of the time.
Remember, the perfect helmet is the one you wear at all times, not just the one offering the most protection. While it's great to get the most protection you can, there's no point in getting a super-expensive, feature-full helmet that you will never wear because it's too much work.
Still, if you're after the most protection possible, and can get used to any helmet, the obvious choice is a full face helmet. For me at least, everything is more fun when I know I'm doing everything I can to be as safe as I can.
Finally, you will pick your size, your fit, and your color.
---
Liked this article? It helps if you share it.
Follow @escooternerds on social media for more cool stuff
---