Last Updated on April 3, 2023 by Matt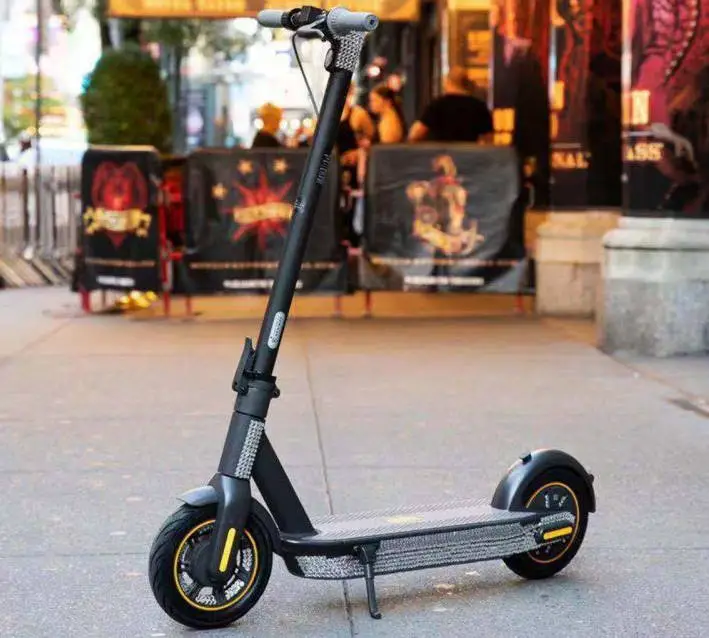 In this article, we are doing the complete Ninebot Max G30P review based on my tests and experience with it. We will carefully go through everything about this scooter, and take a detailed look at every spec, feature, nook and cranny, but also a more big-picture view of the results and benefits this scooter provides for its owners, and when it might be a great choice for you.
The Ninebot Max is not your grandfather's scooter, but it's still a scooter with a lot of "experience". It has been patiently learning from the triumphs, but also from the mistakes, of the most popular, most battle-tested scooter models in the world, like the Xiaomi M365 / Pro, and the other Ninebot models.
Ninebot Max Review
The Ninebot Max has implemented much of the wisdom of the Xiaomi models in the form of practical features, wise engineering choices, and bug and redundancy reductions. The low defect rate and high quality make it extremely popular and adored by owners, and today it is arguably the most popular commuter scooter in the world.
Ninebot Max pros and cons
PROS
Very good quality
Trusted brand
Experienced design team
Great value
Excellent range
Decent portability
Good brakes
Great water protection
Good ride comfort
Popular and accessible
CONS
Speed is good but not great
App connectivity may be problematic at times
Flats are possible (but not too common)
Not too good for heavier adults
Ordering, shipping, availability, and discounts
Typically, the Ninebot Max is priced somewhere around $800.
Depending on where you order from, shipping can take from a few days up to a week or more.
It is available in most countries in North America, Europe, and Asia.
Where to buy the Ninebot Max from?
Worldwide
The best, most reliable way to get the Ninebot Max is through
Amazon
, although the
official Segway store
is also a place you should check to compare prices.
---
Canada
For Canada, the fastest and most reliable way to get the Ninebot Max would be through
TekTrendy
. Your scooter will arrive in a matter of days, sometimes even the next day, and there will be no other costs, neither shipping nor taxes.
---
UK, EU
In the UK, and some other EU countries, the best place to get the Ninebot Max from is
Amazon UK
.
Warranty, return, refunds
The Ninebot Max has a fairly standard warranty policy when purchased through an authorized reseller:
critical components have a full year of warranty
battery and its related parts have half a year
wearable parts like grips, tires, etc have 3 months
As usual, the warranty is void in case of abuse, water damage, and modifications.
The scooter may be eligible for a refund or a replacement if it has arrived damaged, or the order is incorrect, but it's also possible that the restocking fee and additional shipping charges are paid by the customer.
Basics
The Ninebot Max is loved by its masses of owners because it is, ultimately, a simple scooter to be chosen and loved. It feels like the team behind it has made some strategic decisions and specialized the scooter, so its advantages make it an obvious choice for many.
Would-be owners only need to make one decision – would they sacrifice some portability for great range and established quality? Anyone willing to make that tradeoff (and scooter choice always involves a tradeoff) is usually very happy with the Ninebot Max.
This scooter is in a uniquely favorable position, probably the most privileged scooter model ever. It practically has both the Xiaomi and the Ninebot textbooks at its disposal, and it takes full advantage of that. No other scooter in the world right now has that much wisdom built into it. Since Xiaomi and other Ninebot models have been sold in the millions, and used by ride-sharing companies also in the millions, that gives the Ninebot Max a great edge compared to other models.
Without a shadow of a doubt, the Ninebot Max is one of the best electric scooters of our time that is still reasonably affordable for lots of people. This latest release from Segway is a serious commuter scooter that is versatile, feature-complete, high in quality and durability, with most of the problems that plague other scooters ironed out.
Unboxing and assembly

The Ninebot Max will arrive in a large, branded box.
The box will include:
the scooter
the scooter's handlebar
the charger
the hex wrench
the manual
the warranty card
the valve stem extension
You will need to do some minimal assembly:
connect the cables near the top of the handlebar
install the handlebar into the stem
tighten the screws
You will notice that the charger is just a cable, and there's no brick thingy for it. The brick is built in the scooter itself, and the scooter charges fast by default.
Owner's manual, instructions, and error codes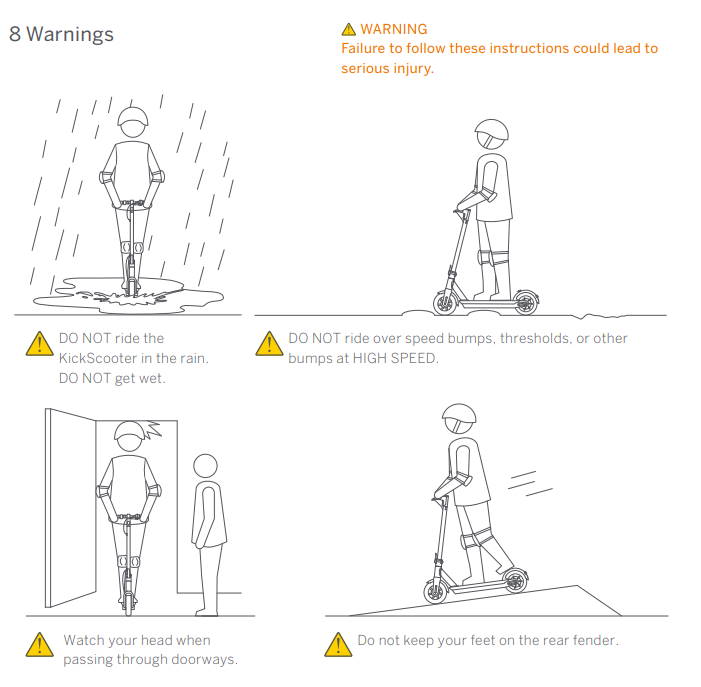 The package arrives with your scooter's specific manual.
I know, I know, the manual includes all the usual hoopla about how you should not ride with your hands in the air and not ride in the rain and not have fun with your brand new scooter, but I really recommend at least quickly going through it, as it may contain information about your specific version of the Ninebot Max that may not be available elsewhere.
Interestingly, the manual doesn't include the potential error codes you may see on your screen if something goes wrong. They should be available here.
How to fold and unfold the Ninebot Max?
The folding mechanism is simple, fast, and secure. As with many other scooters, you:
turn and unlock the first latch
pull down the second latch
fold the stem until the little plastic frame on the right handlebar locks in the rear fender
How to ride the Ninebot Max?
The Ninebot Max is as easy to ride as any other modern electric scooter.
You need to connect your scooter to the mobile phone app before you can ride it, as the app is needed to unlock it and enable it to be used in the first place.
The Ninebot Max is a typical kick-start electric scooter, which means it will require a light kick off the ground before it can accelerate. This is sort of like a safety feature, as you probably don't want your scooter making a run for it just when you accidentally press the throttle while not riding. The kickstart requirement can be removed through the custom firmware for those that hate starting by a kick.
The speed modes are toggled by a double-press on the power button. The Ninebot Max has 3 speed modes:
Eco, 10 mph / 16 kmh
Drive, 15 mph / 24 kmh
Sport, 18.6 mph / 30 kmh
The app has a feature for energy recovery, which determines how much the battery gets regenerated after braking. Setting this to the maximum level will also regulate the brake sensitivity, and make the scooter slow down after releasing the throttle the most.
Build quality
Maybe the Ninebot Max reminds me of the Xiaomi models in its looks a bit, and the natural reflex is to view them in a similar way. But when it comes to overall size and strength, the Ninebot Max is a larger, stronger (and maybe a bit meaner) scooter, and that is also reflected in the build quality. This is not a small scooter, no matter its looks.
A lot of the parts of the Ninebot Max are quite big, and also quite robust. The stem, which is probably the part that usually suffers the most from vibrations and bumps, is pretty thick, and it is capable of taking a lot of punishment. Luckily, the tires are bigger as well, and they will provide a lot of shock absorption.
For the most part, the Ninebot Max is made from aluminum alloy, with steel, plastic, rubber, and silicon for the auxiliary parts.
Ride quality, stability, and balance
In my view, the ride quality of the Ninebot Max is one of its strongest feats, and was definitely one of my favorite things about it. The experience it provides is much, much better than almost any scooter under $1000 I've seen, despite its lack of suspension out-of-the-box. Only the biggest bumps, cracks, holes, and road imperfections will be felt.
The reason for that is two-fold.
First, unlike the Ninebot ES line, the Ninebot Max comes with pneumatic (air-filled) tires. Pneumatic tires are much better at absorbing shock, and the rides are very stable. Since the tires are also self-healing, they will be much less prone to flats than the standard pneumatic road tires and capable of sustaining small punctures of up to 6 mm. That means the Ninebot Max gets the best of both worlds.
In addition, the Ninebot Max has 10-inch tires, while most scooters priced similarly will have 8.5-inch ones. That may not seem like a big difference, but the difference in the smoothness, stability, and balance, will be huge.
In my view, the Ninebot Max went where the Xiaomi M365 Pro stopped and hesitated. I've often thought about my Xiaomi, specifically that if it had larger tires that were less vulnerable to flats, it would be twice the scooter it is. By betting heavily on the tires, the Ninebot Max not only addresses one of the most common pain points of the Xiaomi models (flats), but it also makes the rides to be joyful glides. Well played, Segway.
Aside from the ride smoothness, the turning and the control of the Ninebot Max are pretty good as well.
While riding, the scooter produces a semi-quiet noise.
Cruise control
The Ninebot Max has cruise control, which can be turned on and off through the mobile phone app. It is activated by holding the throttle and riding at a certain speed for 10 seconds.
I guess most of you already know this, but for those of you who don't, after your scooter enters cruise control mode, you don't have to hold the throttle anymore, and the scooter will continue riding at the same speed. Activating the brake stops the cruise control.
Everyday use and riding experience
One word that is common across many user reports about the Ninebot Max is "fun". The scooter is "fun", "a blast", "a hoot", "a joy to ride", and of course, the usual "my son/daughter can't get enough of it".
And no wonder. As the Ninebot Max is the latest iteration in the Xiaomi/Ninebot models, it has the lowest defect rates, fewer flats, a bigger range, and enough power and features to provide a truly fun riding experience.
Commuting
We can divide commuter needs into three categories:
commuters that need to cover a lot of distance with their scooter
commuters that need to carry their scooters through different modes of transport a lot
commuters that need both of the above
The Ninebot Max will be perfect for the first type, as it has a crazy long range. The second type of commuters may not exactly love it because of its larger weight. The third type, I believe, will still love it, as long range is more important than portability when you need them both.
In summary, the Ninebot Max is a great choice for commuters, although probably not ideal for commuters that have a heavy last-mile scenario as part of their commute, where they need to carry their scooter often as part of their commute.
Lifespan
It is not uncommon for the Ninebot Max to go many months without a single major defect. Some users online report not paying any attention to it, and the scooter continues to run smoothly.
As we mentioned before, the Ninebot Max has iterated a lot upon the mistakes of its predecessors, and is the final iteration up to this point in the affordable scooter category. It makes sense that it will last for a long time, and from what owners say about it, it certainly does.
IP rating, waterproofing, and riding in rain or snow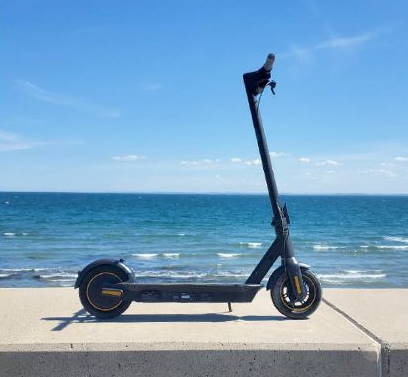 The water protection standard of IPX5 is a huge win for the Ninebot Max. Some critical components are even more waterproof and have an IP rating of IPX7.
With that kind of IP rating, it is not waterproof in theory, but it still has tons of protection against water, and is one of the most water-resistant scooters in the world right now. In fact, that kind of standard means protection against weak jets of water from any angle, so this scooter should not have any issues with riding through wet weather and environments.
Many of the key components that are usually the most vulnerable to water, like the charging port, screw holes, the brake cable, and the battery, are all well secured against water ingress.
User tests and reports have strongly confirmed this. The Ninebot Max has been ridden through a lot of rain, snow, and puddles. From my research, there has been just one defect because of water damage. One single water-related defect, out of possibly thousands of rides through water!
So, we can say that in practice, the Ninebot Max is capable of withstanding rain and wet environments.
That said, it's still not recommended to ride through water and rain. Segway themselves warn against that, even though the IPX5 standard is sufficient. If you have no choice but to ride through some rain, you can roll the dice, and most likely nothing bad will happen. Still, you should know that the risk of water damage is always present in any type of electronic device, and the warranty doesn't really cover water damage, so be careful and try to avoid riding through the rain as much as possible.
Cleaning and maintenance
As with most good electric scooters, the Ninebot Max requires minimal maintenance and care.
To clean the scooter, use a soft, wet cloth to wipe the mainframe, and use a toothbrush with some toothpaste to scrub off hardened dirt. Do not use any stronger solvents or water jets when cleaning.
Probably your only real job will be making sure all the screws are tight and secure once every month. My advice is to devote a bit more time to the screws in and around the folding point, as this is historically a common point of failure in a large number of scooters. This has proven to be true for most scooters, no matter how high-quality or expensive they are, as the vibration and shaking from the road can gradually unscrew some screws.
Simply make sure there are no loose screws and you are good to go. You can also use some Loctite if you want to make your life a bit easier.
You will also need to make sure the tires are in good shape, and the brakes and the electronics work, although you do this basically with every ride.
Repairs and parts
The Ninebot Max comes with all the advantages that massively popular scooters have, including a wide availability of parts, and potentially repair shops with mechanics that are familiar with the Ninebot Max. A simple search on Ninebot Max parts on Amazon will provide you with the most common spare parts and repairs you need.
Motor, power, and torque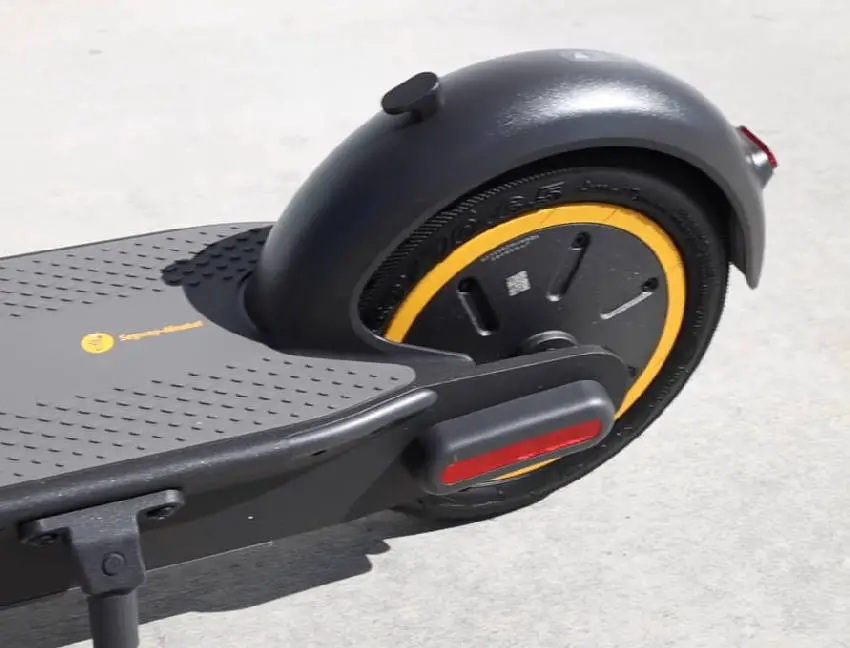 The Ninebot Max has a single BLDC hub motor, integrated into the rear wheel. Personally, I prefer it when the motor is in the rear wheel, as it seems to provide better balance and weight distribution, a lesser chance of understeering, and probably more torque and acceleration.
The real power of the motor is 350 Watts, and the official peak power is 700 Watts. Firmware updates and hacks, however, suggest that the actual peak power may be closer to 750 – 800 Watts.
Speed, speed tests, and acceleration
The official top speed of the Ninebot Max is 18.6 mph / 30 kmh.
I confirmed this speed multiple times. I even rode a bit faster, without unlocking the top speed, at around 19.5 mph / 31.4 kmh (going slightly downhill).
One very important thing to note here though – the Ninebot Max is actually capable of going faster. Installing the custom firmware can enable owners to reach speeds of even up to 24 mph / 38 km in some instances. We will see exactly how to unlock the top speed below.
Also, it is likely that the scooter will come prepared for your country's traffic laws, so in some European countries where the top speed for scooters is 15 mph / 25 kmh, the scooter may come with a limitation at that speed.
As with most electric scooters, your top speed may decline as you drain the battery, and the top speed may be somewhere around 15 mph / 24 kmh when your battery is almost empty.
The acceleration is pretty good, and the scooter takes around 4.5 – 5 seconds to develop the top speed in Sport mode and with a fully charged battery. The acceleration is slower in the lower speed modes.
Going uphill, climb angle, and climb tests
When it comes to reporting official climb angles by manufacturers, I've noticed a strange shift in trends.
A few years ago, many scooter brands and manufacturers clearly overreported the official climb angles of their scooters (one brand even claimed their scooters can climb slopes of 65°, which I'm pretty sure is impossible for any electric vehicle).
Now, with the scooters that were released this year, it seems like the opposite is true, and most brands, and the more reputable brands especially, seem to underreport the climb angles of their models, often by quite a lot.
I believe that is the case with the Ninebot Max.
The official climb angle of the Ninebot Max is 11.3°, or 20%. However, I was able to climb somewhat higher climb angles in real-world scenarios, and sometimes quite a lot higher, probably around 25° in my estimation. The Ninebot Max climbed most hills easily, and only struggled on steeper hills.
Battery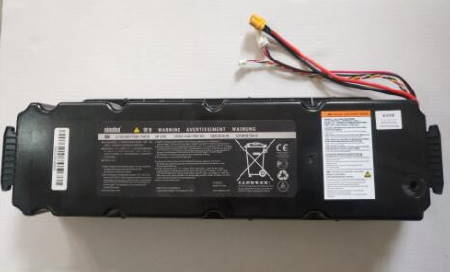 The battery of the Ninebot Max is fairly big, and possibly the heaviest element of the scooter. It is situated inside the deck.
The battery specs of the Ninebot Max are:
551 Watt-hours
36 Volts
15.2 Amp-hours
The battery includes an SBM (smart battery management) system, that protects it from overcharging, extreme temperatures, and short circuits, and essentially extends its lifespan.
When fully charged, the battery will retain power for 120-180 days, which is another proof of this battery's greatness.
Charger, fast and slow charging
The specified charge time for the battery is 6 hours, and that is in line with the real world charge times that users report (from 5 to 7 and a half hours).
The scooter has two charging ports.
One is for fast charging, and it's performed with your out-of-the-box charger (3 Amps). Unlike most scooters, the charger itself is just a cable and there is no brick thingy part on it. That part is built into the scooter.
There are pros and cons to that decision. It's definitely a plus that you only need to worry about one cable instead of a bulky charger. However, most of the charger weight is now added to the scooter weight (and this is already not a light scooter).
Also, if that particular part breaks down, you will have to dig inside the scooter's deck, or go to a repair shop, instead of simply getting a new charger.
Now, this is where the second charging port of the Ninebot Max comes in. You can actually charge the Ninebot Max with a conventional charger in case your built-in charger breaks down. This will not be as fast, but will still get the job done.
A clever solution, there's no denying that, although a regular, fast-charging old-school charger would be a simpler solution from an engineering standpoint (less moving parts and less complexity).
The charging port is protected by a large cap with rubbery parts that fit right into the charger holes, and that does a great job of protecting the entire scooter against liquid and water ingress.
How much does it cost to charge the Ninebot Max?
The cost of charging the Ninebot Max fully during off-peak hours is around 3 cents in the US, 5 pennies in Canada, 13 pence in the UK, and an average of 9 cents in the EU countries. During peak hours, a full charge costs 9 cents in the US, 6 pennies in Canada, 16 pence in the UK, and 13 cents in the EU.
Range and range tests
The official range of the Ninebot Max is 40 mi / 64 km. I did several range tests, and usually ended up getting around 35-37 mi / 56-60 km while riding in slower modes.
My friend, however, reported a range of 43 mi / 70 km (she weighed 146 lbs / 66 kg).
Anyway, this is the strongest point of the Ninebot Max, and one of my favorite features. It is what separates it from the herd of other $800 scooters. It is one of the longest-range electric scooters under $800, and probably the only good long-range $800 scooter.
You will not find many other scooters in this price range that are of the same quality, with the same brand recognition and reputation, and have the type of range that easily eats up any type of commute. You will probably have to charge the Ninebot Max once every 3 or 4 days if you use it for commuting predominantly.
Lights and riding at night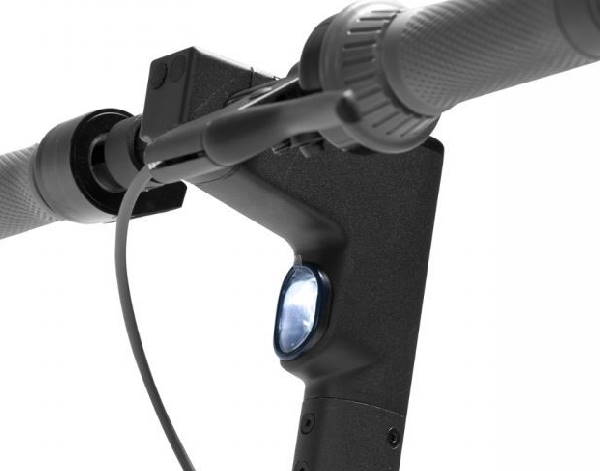 The headlight is a strong point of the Ninebot Max. The 2.5 Watt LED headlight outshines many other similarly priced scooters. Located on the top of the stem and directed downwards, it shines forward about 30 feet / 10 meters.
As usual, night rides are not recommended, but if you must do it, you can be fairly confident that your scooter is prepared for that. Consider getting yourself a fluorescent vest if you plan to ride at night.
There is also a bright red tail light on the that helps other traffic participants notice you at night. By default, it's activated when you engage the brake.
Using the app, you can turn on Pedestrian mode, which makes the tail light blink for when you need to push the scooter (or just want your rear light to blink for any other reason). Also, you can turn the tail light to be always on through the app as well.
Offroad, terrains and environments
This is one of those scooters that are primarily meant for road use and commuting, but may be able to handle some offroading as well. I tried riding it on challenging terrains a bit, and the lack of suspension was felt, but again, it seemed like the big pneumatic tires were pretty capable of replacing suspension. I have ridden the Ninebot Max through dirt, grass, gravel, sand, and all kinds of primordial terrain, and the scooter hasn't complained that much.
Anyway, even though the scooter can take it, riding offroad should not be practiced liberally. You can take on the occasional patch of land through the park if you really must, but that's not how this scooter was meant to be used.
Weight, dimensions, and portability
The Ninebot Max weighs 42 lbs / 19 kg. For me, this weight was more than manageable, and I think the majority of adults will find the weight manageable, especially if you consider what you get for it in return.
The dimensions of the folded scooter (45.9 x 18.6 x 21.0 in / 117 x 42 x 53 cm for L x W x H) are not exactly small but are still on the regular side, and the center of gravity, while not in the middle of the stem, still doesn't make the scooter too awkward for carrying.
Both the weight and the dimensions aren't the smallest, but the upside is increased ride stability and build quality. Also, the biggest culprit for this kind of weight is the battery, which is the same factor behind the scooter's long range.
Still, if portability is your number one priority, or if 42 lbs / 19 kg is just too heavy for you, you may want to check out other models (the posts on the most portable electric scooters and the lightest electric scooters are great starting points).
Weight limit and usage by heavy or overweight people
The weight limit of the Ninebot Max is 220 lbs / 100 kg. It is not exactly built for heavier adults.
That said, people weighing much more report riding the Ninebot Max with seemingly no serious issues and defects, apart from the lower top speeds and ranges.
While I was testing the scooter, I was around 200 lbs / 90 kg, and I believe it still performed at 100%.
One heavy user has reported that the folding mechanism has gotten quite loose and insecure because of what he believes to be the large pressure he exerts on the handlebars (he weighs 280 lbs / 127 kg). Defects like that may be more common for users that are closer to or above the weight limit.
Brakes and ABS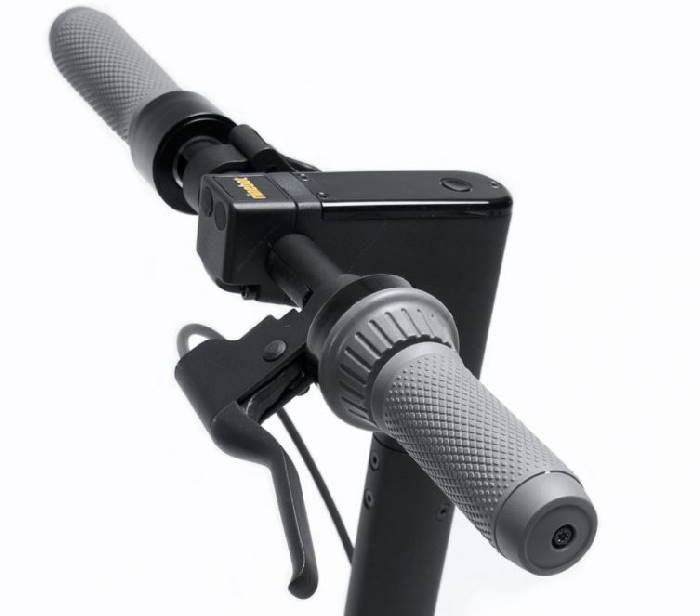 The brakes are activated by a brake lever located on the left handlebar. There is no redundant spacing from the brake lever, meaning the brake is activated even with the slightest pull of the lever.
The Ninebot Max sports a dual-brake system, with a mechanical drum brake on the front wheel, and an electronic regenerative brake on the rear wheel.
The rear brake will recycle some energy and refill your battery juice (also, the same happens when you push the scooter).
The front brake, while not as powerful as a disc brake, will still provide more than enough stopping power, and will have the advantage of not requiring any extra maintenance. As a drum brake, it is possible to adjust it, although the process is not as simple as many of us would like it to be.
A great, smart feature of the brakes is the gradual activation. Pressing the lever slightly only activates the rear brake, and you need to press harder for both brakes to be activated. As anyone who has ridden a scooter or even a bike knows, this is awesome, since you always want to brake with the rear brake first to avoid tipping over to the front.
The brake sensitivity can be set through the app, and there are three levels with significant differences between them. Actually, the setting is for energy recovery, but in a way, it greatly affects the brakes as well. That is quite neat, as you can easily switch between your desired or needed brake strength without doing messy manual brake adjustments.
When the energy recovery is set to the highest level and the brakes are the strongest, the brake distance (top speed to a full stop) is about 4.5 – 5 meters.
The scooter has an anti-lock braking system, and the wheels never lock up when braking.
Suspension and suspensions upgrades
The Ninebot Max has no suspension. The huge pneumatic tires play that part, and they are not half bad at that too.
In my opinion, if the Ninebot Max had suspension, it would be an absolutely perfect scooter. Don't get me wrong, it's still amazing even without it, but I believe that's the last missing piece of the puzzle.
Wheels, tires, and tire pressure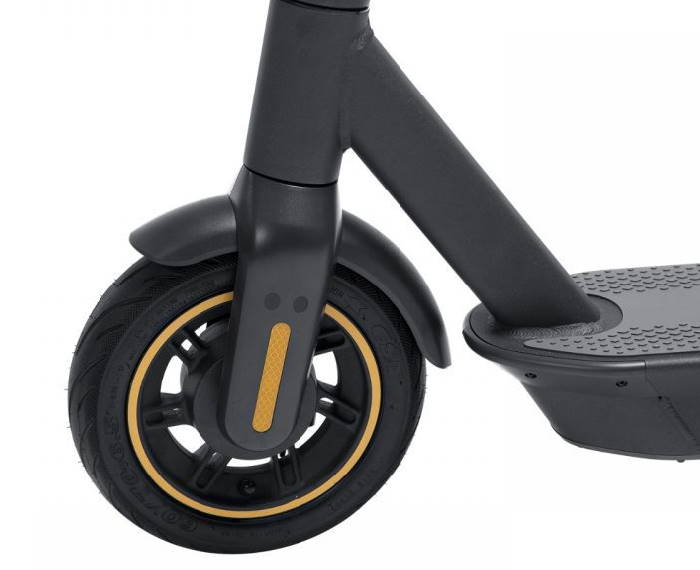 The 10-inch, tubeless, pneumatic, self-healing tires, are one of the main reasons why the Ninebot Max has been so popular.
The difference in size between a 10-inch tire and a more common 8.5-inch tire may not seem so big, but the ride comfort is significantly better with the bigger tires. Plus, bigger tires means more torque, and this is good for climbing.
The tires have lines, patterns, and small vent spews to prevent slipping.
The recommended tire pressure is between 32 and 37 PSI (but check your specific manual that came with your scooter for the exact number).
The tires, however, usually have their own recommended tire pressure imprinted on them. In the case of Ninebot Max's tires, that value is 55 PSI. It's always better to go with the brand's recommendation, but you will probably be able to experiment with tire pressures a bit above 37 PSI if you need more suspension, better ride quality, and you want to avoid flats. As usual, reduce the tire pressure if you need more traction or if you often ride on slippery surfaces.
Flats, tire pump, and tire replacement
In many ways, the Ninebot Max is almost like an upgrade to the Xiaomi M365 Pro. Probably the biggest pain point that this scooter solves is the notorious tendency for the Xiaomi to get flat tires.
The Ninebot Max has air-filled tires, so flats are still possible. However, the tires are, as mentioned, tubeless and self-healing, and they are also of much higher quality. So, while flats are possible, they will be much less common.
Also, if a flat does occur, the replacement process is simpler than the one of the Xiaomi, and users having to replace their tires will not run into that much frustration.
Fenders
The fenders are, well, ok. They could be better, especially the rear fender, which is just a mere plastic fender. It's not very secure, and it shakes quite a lot when hitting bumps or cracks (although it still may be sturdier than the ones on the Xiaomis).
The bright side of the rear fender is its length. As it covers half of the wheel, it will do a good job of preventing mud splashes.
The fender is one of the biggest points of customization, as users love the Ninebot Max as a whole and feel like getting a better rear fender would be a great investment.
Dashboard and controls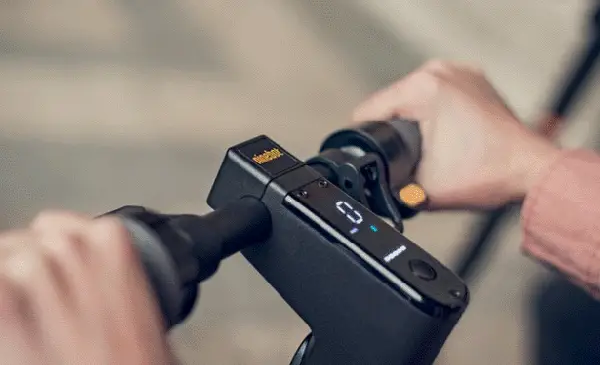 The dashboard is really just the screen and one button, situated on the top of the stem between the handlebars.
The screen is fairly bright and visible even on sunny days. It can show:
current speed
current speed mode
bluetooth status
lights status
battery level, 5 bars total
potential error codes
Pressing the power button while the scooter is turned on toggles the LED headlight. Pressing it twice changes the speed modes.
The acceleration thumb throttle and the little plastic frame used to lock the scooter when folded are on the right handlebar, while the brake lever and the bell are on the left.
The bell uses a turning knob integrated on the left handlebar. I've never seen this type of bell before, and it is an interesting little innovation by Ninebot, as the bell is easy to use. There is a downside here, in that the bell will ring quietly when you hit a bigger bump. The bell is semi-loud, meaning most people nearby will hear you and probably not be annoyed too much. It is possible that people inside vehicles do not hear you from far away.
Stem and handlebars
The stem is thicker and more robust than the stems of most other scooters, and there is almost no wobbling and wiggling when riding.
Most scooters have kinda short handlebars, and controlling and turning them is not as good as it can be, and this is a very, very common complaint from owners. At the same time, this may be one of the easiest fixes possible – all the manufacturer has to do is make the handlebars longer.
This is something that has puzzled me personally for quite a while. My best guess is that manufacturers err on the side of portability and don't want the scooter to be huge when folded. Valid concerns, but I believe wider handlebars are a worthy tradeoff. Foldable handlebars are the obvious answer to this, but surprisingly, many scooter manufacturers manage to mess up the mechanism.
So, in my opinion, one very smart design choice that the team behind this scooter has made has been making the handlebar wider. That gives me, and tons of other users, great joy, and it gives all of us better control and stability.
The handlebars are covered with rubber gripped bumpy covers, and they are pretty wide, which indicates this is a true adult scooter.
The deck-to-handlebar height is 40 in / 102 cm, which is slightly higher than most scooters. This will be great news for most people of average height, and for taller people too, as that handlebar height can suit people up to 6'5 / 200 cm well enough.
Deck, deck clearance and ride comfort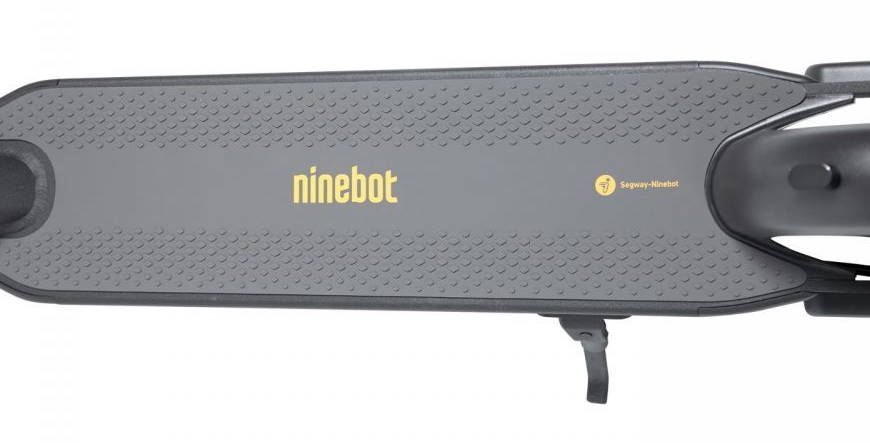 Many scooters have either small deck surfaces, handlebars that are too low for the majority of people, or both. That is often literally a major pain point, since it forces poor posture while riding, and results in back pain and other aches after long rides.
The Ninebot Max doesn't seem to have that problem. It has quite a big, wide deck, 7 in / 18 cm wide, and 20 in / 51 cm long, and that is enough standing surface for anyone except the actual BigFoot.
The clearance of the deck is 3.5 in / 8 cm, which means riding over larger sidewalks will not be wise, but smaller curbs will not be a problem for the huge tires.
The deck features a grey rubbered anti-slip surface with small bumpy squares, and it showcases the Ninebot logo in the middle. The deck itself doesn't have sharp edges, which is great for not damaging objects that you may accidentally hit with your scooter while carrying it.
The entire scooter is built with ergonomics and efficient body stance in mind, so the result is a natural, relaxed posture while riding.
Design, look and feel
In many ways, the Ninebot Max has paid attention in class and done its homework. It learns a lot from both the Ninebot ES line, but also the Xiaomi M365 and Pro models, and successfully puts together those hard-earned lessons in a smart, efficient design.
The matte-black (or dark-grey) base color, is a scooter classic. The orange details are an interesting small yet stylish touch, plus they are a little reflective and will shine in the dark.
All in all, the scooter has that evergreen look about it. Yes, it does look suspiciously similar to the Xiaomi models, but as a Xiaomi owner myself, I see that as a plus when it's executed correctly.
App and bluetooth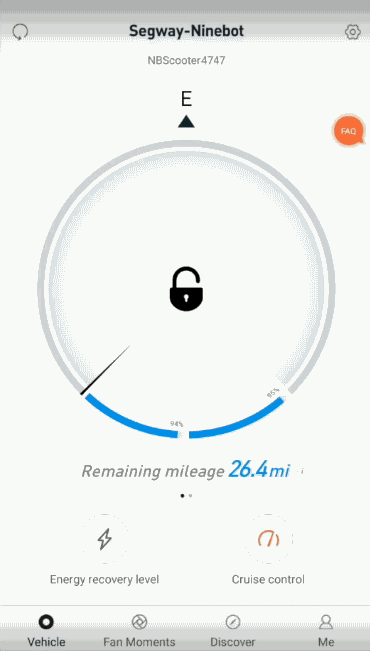 The Ninebot Max can be paired with the Segway-Ninebot app through bluetooth. This is the same app for all Ninebot scooters, available on the Apple Store for iPhone, and Google Play for Android.
The app greatly simplifies setting the preferences of your scooter, as scooters without an app have weird, complex, arcane controls and button sequences that you need to perform exactly right to change a setting.
Some of the things you can see and control through the app include:
locking the scooter
current speed
remaining mileage
current mileage
average speed
current riding time
total mileage
vehicle temperature
cruise control
energy recovery level (regenerative brake level)
pedestrian mode
tail light always on
While the app looks pretty nice in my opinion, and works good enough to get the job done, the user base doesn't seem to like it all that much. We can see that the app has pretty poor reviews, both on Google Play and on the Apple store. Common complaints range from basic functionality not working (mostly for rare Android versions though) to the app being too cluttered with unnecessary features.
This is another case of a company doing the hard part right, and maybe not paying attention to some details. Sure, it's much more important for the scooter itself to be awesome, and Ninebot pulls that one off with flying colors, but the app, which is usually an easier thing to get right, is not quite there yet. I hope Segway improve the app soon, it's quite a shame that a scooter as good as the Ninebot Max doesn't have an app that matches its quality.
I also recommend checking out the Universal Scooter Helper App by EScooterNerds, which is designed to work in tandem with the original Ninebot app and provides more than 30 complementary features, like resources, calculators, tools, guides, checklists, etc. The app is available for both iOS and Android.
Lock, security, and anti-theft alarm
There are several features that are big wins, but the locking functionality is my favorite.
It will not completely secure your scooter from theft, as it will still be fairly easy for a thief to simply lift it and take it away, but using the scooter will not be possible and that's a great security feature.
However, if your scooter is locked through the app, you will get a notification if your scooter is being moved, and that is a brilliant security feature. The downside here is that your phone and scooter need to be close to one another so that the bluetooth connection is strong enough.
To fully secure your scooter when leaving it outside, you will still want to get a higher-quality scooter lock. Something like the ViaVelo U-lock is a good mix of power and strength and will match the Ninebot Max's price (you can find it on Amazon).
Custom firmware, mods, hacks, and speed unlocks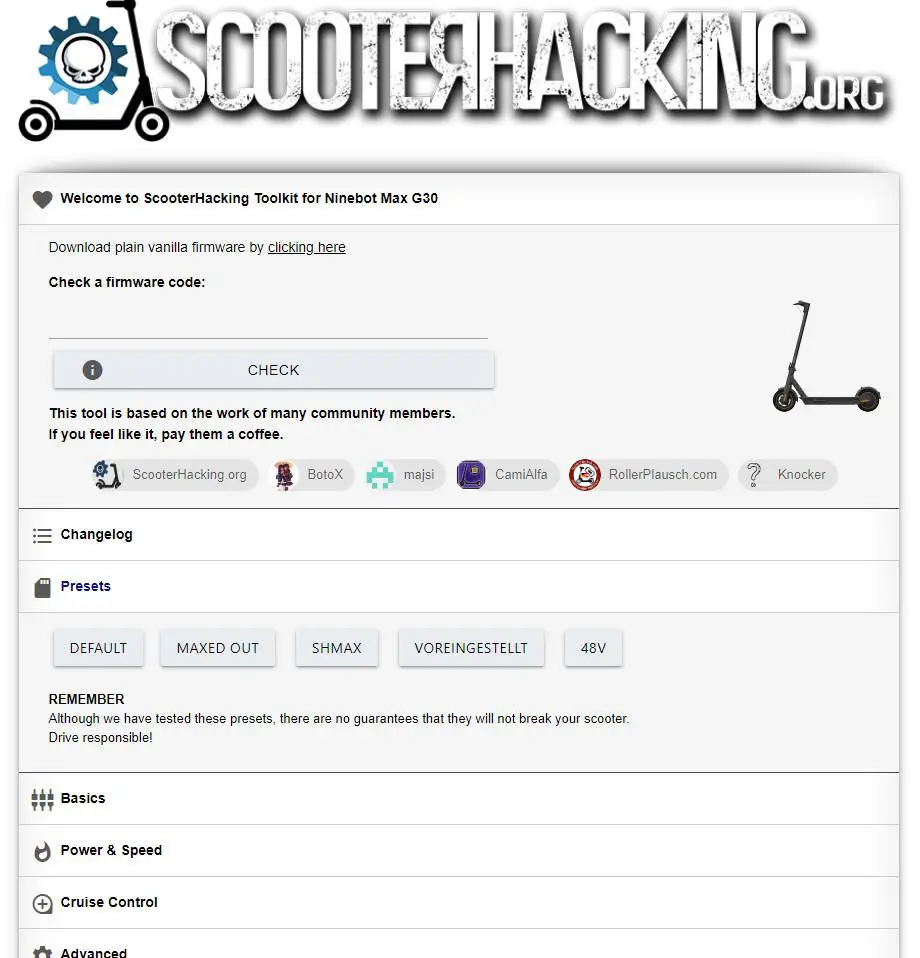 Hacking the Ninebot Max is one of the first things that many users do on their scooters.
Before you continue, a warning – modifying your scooter may cause it to stop working, and may void your warranty.
If you choose to proceed, you will need:
The app itself is enough for simple tweaks, like unlocking the top speed of 18.6 mph for the US for example (the scooter ships locked at 15 mph). It will inform you that the changes may be irreversible, although they will most likely not be.
After installing the app, craft the custom firmware for your scooter as you want. If you don't know what to do, select one of the ready-made firmware, the Maxed Out for example will unlock the highest speed that your scooter is capable of. I still suggest going over the settings after choosing a preset and making sure everything makes sense.
When you are ready, download the firmware as a zip archive to your phone. Using the XiaoFlasher app, select your firmware file to flash, and voila, you will have leveled up your scooter.
The most common firmware update, which is something similar to the Maxed Out, will release the peak motor power of up to 800 Watts and unlock speeds possibly up to 25 mph / 40 km. It will come at the cost of less range.
You can also disable the starting with a kickstart feature, the time it takes for cruise control to activate, and a lot of other tweaks and settings.
Accessories and customizations
Usually, the more popular a scooter is, the more options there are for customizing it, and the number of accessories available for it is bigger.
On top of that, the Ninebot Max is very similar to the Xiaomi models, and a lot of the accessories and customizations that were designed for them will fit perfectly. Make sure to check out the post on electric scooter accessories for ideas on how to beef up your scooter.
Seat
The Ninebot Max doesn't come with a seat by default. However, several seat options are available for it, with the best option available on AliExpress.
Trunk or basket
There seems to be no trunk or basket option for the Ninebot Max specifically. Your best bet would be to try the same accessories for the Xiaomi (Xiaomi/Ninebot trunk on Amazon, bicycle basket on Amazon).
Hook
One very useful accessory for any scooter, that can replace the need for a trunk or a basket, is a hook you install on the stem and which you can use to hang bags on. There is one specifically made for the Ninebot Max available on Amazon.
Helmet
The Ninebot Max is not a fast, nor a dangerous scooter, and you may get away with a bicycle helmet. The Giro Register MIPS on Amazon would probably be a good fit for the Ninebot Max as it has all the necessary certifications. If you are after something safer (and cooler looking), a half helmet like the Vega Warrior on Amazon or the ILM Half Helmet on Amazon may be good choices.
I believe better or safer helmets may be an overkill for the Ninebot Max, although honestly, nothing looks as cool as a full-face motorcycle helmet, and it's as safe as it gets. Check out the full post on the best electric scooter helmets if you are after something like that.
Rear fender
Since many owners consider the fender to be insufficient, or maybe they have problems with it, they often look for a better one. Of course, since this is a very in-demand customization, there is a higher-grade rear fender made specifically for the Ninebot Max. You can find it on Amazon.
Known issues and problems
Both myself and other owners have noticed a few common problems with the Ninebot Max.
It is, among other things, a bug-fixing version for the Xiaomi models. It addresses many previous lessons and learns from a lot of mistakes, so it has very few serious issues. There are a few though, so if you are considering getting this scooter, you should know about them.
Probably the most common issue reported, and the one that's the most valid concern in my opinion, is the discrepancy between the advertised range and the range that owners get in the real world. Some of those reports are by riders that are close to, or over the weight limit, but still, in a few cases, the range is just two-thirds of what Segway promises. Even that is still a lot of range, but it can be misleading. Luckily, this is not as common as reviews may make it to be, and many owners get ranges close to the advertised one.
As we mentioned already, the app, and the bluetooth connectivity needed for it, is another source of complaints. Most users have no problems with this, but there is a small chance that you can't get your scooter to even turn on because you can't connect it to the app. This is a weird issue that shouldn't be that difficult to solve, at least not as difficult as building a great scooter, so I'm kinda optimistic about seeing it resolved in the near future. But it is still here, and a very tiny percentage of users may experience some trouble because of it.
Those are mostly the bigger issues. It should be mentioned that all of these issues are quite rare. There is at least a 90% chance you will love your purchase, and if something goes wrong you will get a chance to return it or get a new one. Also, many of the issues were reported a year or more ago, and likely concern the first generation of Ninebot Max, which you will not find in stores anymore.
So, in summary, the Ninebot Max is not without issues, but that's true of literally every scooter, and the number and seriousness of the issues is much lower than for most other models.
Reviews and user satisfaction
When choosing a scooter, it can (and often should) come down to what existing owners are saying about it.
With thousands of reviews on Amazon, tons of 5-star reviews, praise, glory, and sagas and verses and stories about its greatness, this is the most loved electric scooter ever!
The defect rate, especially the major defect rate in the first year of usage, is so small it's almost negligible. We can only speculate how many units this scooter has sold, but it's likely in the millions, and with only a handful of dead-on-arrivals and breakdowns within a month of usage (both scenarios that are covered by return and warranty policies), this is one of the highest-quality, most error-free scooters ever produced.
Legality
Since the top speed of the Ninebot Max is within the speed limits for scooters of most countries worldwide, or very slightly above it, the scooter will be road legal. In countries where the speed limit is less than its top speed, like some European countries with a 25 kmh limit, the scooter will likely arrive prepared for those roads and laws.
Ninebot Max specifications
Ninebot Max Specifications
| | |
| --- | --- |
| Top speed | 30 kmh |
| Top speed | 18.6 mph |
| Range | 64 km |
| Range | 40 mi |
| Motors | single BLDC hub in rear wheel |
| Power | 350 W real, 700 W peak |
| Climb angle | 11 ° |
| Battery | 551 Wh, 36 V |
| Charging time | 6 h |
| Ingress protection (IP) | IPX5 |
| Weight | 19 kg |
| Weight | 42 lbs |
| Weight limit | 100 kg |
| Weight limit | 220 lbs |
| Tire size | 10 in |
| Tire type | pneumatic self-healing |
| Tire pressure | 32-37 psi |
| Foldable | yes |
| Foldable handlebars | no |
| Seat | no (customization possible) |
| Trunk or basket | optional |
| Build material | aluminum |
| Terrains | asphalt/flat pavement: obstacles under 0.4 in (1 cm); gaps under 1.2 in (3 cm) |
| Brakes | Front mechanical drum + rear sheel regenerative electric brakes |
| ABS | yes |
| Shock absorbers | no |
| Lights | 2.5w high-brightness LED light + brake light |
| Control | LED screen |
| Speed modes | eco, standard, sport |
| Cruise control | yes |
| Keys | no |
| Alarm | yes |
| App | Android & iOS |
| Warranty | 12 months (6 months on battery) |
| Certificates | CAN ICES-3 (B)/NMB-3(B), UN/DOT 38.3, ANSI/UL 2271 |
| Rider age | 14+ |
| Folded dimensions (L * W * H) | 117 cm * 42 cm * 53 cm |
| Folded dimensions (L * W * H) | 46 in * 17 in * 21 in |
| Unfolded dimensions (L * W * H) | 117 cm * 42 cm * 120 cm |
| Unfolded dimensions (L * W * H) | 46 in * 17 in * 47 in |
| Deck dimensions (L * W) | 51 cm * 17.8 cm |
| Deck dimensions (L * W) | 20 in * 7 in |
| Ground clearance | 8 cm |
| Ground clearance | 3 in |
| Deck to handlebar height | 102 cm |
| Deck to handlebar height | 40 in |
| Rider height | 120 – 200 cm |
| Rider height | 47 – 79 in |
| Adjustable handlebar | no |
| Notes | smart BMS; regen brakes; one cord charger; anti-slip deck; |
Ninebot Max vs other electric scooters
As with any massively popular scooter, the comparison against other models is both inevitable and useful. This is how the Ninebot Max compares against some other scooters, similar either in price or in the intended use.
Different versions and generations of the Ninebot Max
The Ninebot Max has two different versions. You don't really need to worry about this too much, as right now, if you order from the recommended stores, you will definitely get the latest, better version.
You can tell them apart by looking at the inscription on the rear wheel. In the second row under the QR code, take note of the first digit. If it's a 6, that's version 1 of the Ninebot Max, and if it's a 9, then it's version 2.
The differences between the versions are not that big, but they may be important for some use cases.
One difference is that version 2 has a slightly better battery, and you will get a range that is closer to the one advertised. Also, it is less prone to errors and will not show error codes on the screen that much. Finally, version 2 has an IP rating of IPX5, and version 1 has IP54, which means the second version is more water-resistant, and this is actually a pretty big deal for a lot of people living in rainy places.
Ninebot Max vs Xiaomi M365 Pro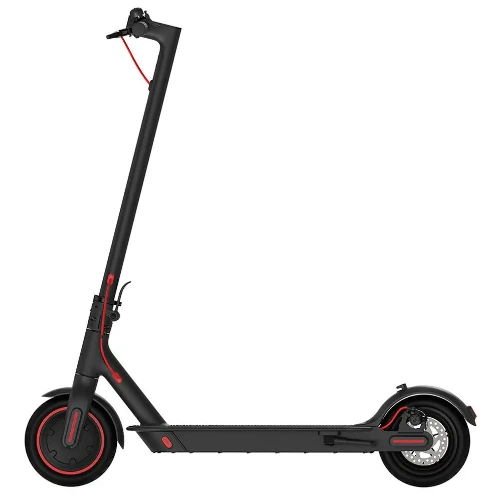 The natural reflex many of us have is to compare the Ninebot Max with its sensei, the Xiaomi M365 Pro.
That is not a fair comparison though.
Obviously, the Ninebot Max will be superior in almost any regard except portability, with several important features like top speed ending up in a draw.
No wonder – the Ninebot Max costs as much as one and a half Xiaomi M365 Pro.
The Ninebot Max does justify its higher price. In a way, it's a serious upgrade of the Xiaomi M365 Pro, and it tackles some of the challenges that the Pro didn't manage that successfully.
But still, the value proposition of the Xiaomi M365 Pro is going strong, even today.
The decision-making process here is simple. Is your scooter budget around $800? Then go with the Ninebot Max. If your budget is around $500 – $600, the Xiaomi M365 Pro is still an evergreen choice.
Ninebot Max vs Ninebot ES4
I don't think there is a strong argument for choosing the Ninebot ES4 over the Ninebot Max today.
This is not official scooter dogma, but the Ninebot ES4's key feature was probably the puncture-proof solid tires, which may have been meant as a counterweight to Xiaomi's frequent problems with flats.
The Ninebot Max comes with bigger, better tires, that are much less prone to flats. That eliminates the key advantage the ES4 had, but the added benefit of the Max is much more comfortable and stable rides.
Their prices are almost the same, and at the same time, the Ninebot Max has a better battery, water resistance, and overall build quality. The Ninebot Max is a clear winner here.
Ninebot Max vs Zero 8
This is a fair fight between two similarly priced scooters, although they may be targeting slightly different demographics.
They pretty much have the same weight, weight limit, and charge times.
The Ninebot Max will be the winner for those preferring range over speed, need better waterproofing, and want more comfortable rides.
The Zero 8 is a better choice for those that want speed over range, or need a bit more climbing power and torque.
The regular scooterists will want to stick with the Ninebot Max.
Ninebot Max vs Turbowheel Swift
This is another fair comparison, and there are a few good arguments for each scooter.
These two scooters will have similar weights and weight limits. The Turbowheel Swift is slightly smaller in dimensions and has foldable handlebars, so it will be more portable.
The Turbowheel Swift will have a more powerful motor, better top speed, and more torque. Its climb angle is uncertain, but with a more powerful motor, it will likely be better.
The Ninebot Max clearly wins on range and battery, but also probably on water-resistance, as the Swift's IP rating is unknown. Ride comfort also goes to the Max, because even though the Swift has suspension, it also has one solid wheel, which is what produces the need for suspension in the first place. The Max's 10-inch tires provide more suspension. Ride comfort, feature completeness, and probably build quality are also on the side of the Ninebot Max.
For the regular scooterists or commuter, the Ninebot Max is a better choice.
Ninebot Max vs FFR Horizon
The Ninebot Max is the safe bet.
The Horizon will usually be a little cheaper, and it still succeeds in stealing some points like a bigger weight limit and a higher top speed (although not that much higher if the Ninebot Max is hacked).
But the Ninebot Max will probably be the go-to choice for anyone looking for range, reputation, water resistance, and bigger tires for more comfortable rides.
Ninebot Max vs Kugoo M4 Pro
Now, this is a scooter that may give the Ninebot Max a run for its money.
First of all, most Kugoo models, including the M4 Pro, are not available in the Americas, so scooterists living there don't need to bother with this comparison.
The Kugoo M4 Pro has a lot of parameters on its side, and it will be the better choice for a lot of people.
Sometimes discounted at $675, the Kugoo M4 Pro is cheaper. But much of the time, it costs about the same as the Max, and sometimes even more.
With 37 mi / 60 km of range, it effectively neutralizes the Max's biggest weapon, as their ranges are almost the same. Also, since its tires are 10-inch as well, the ride quality will be comparable, and that's another advantage that the Max typically had over scooters in this price range.
And it hits the Max where it hurts the most – with a speed of 28 mph / 45 kmh, it provides exactly what many Max fans would love to see more of in their scooter.
The Kugoo M4 Pro will also be a clear choice for heavier adults, as it has a weight limit of 330 lbs / 150 kg.
Finally, the Kugoo M4 Pro is basically an offroad scooter, and will beat the Ninebot Max in this category, even though the Max is not as bad for offroad as most commuter scooters are.
The Ninebot Max has strong brand recognition and reputation on its side, and in this case, that may mean better build quality overall. It's not that Kugoo models are not good scooters, but they are not as established yet, they likely don't have as much experience and data to draw from as Ninebot, and there may be some details where the Ninebot Max will have an advantage.
The Max's IPX5 is better than the M4 Pro's IPX4, so again, the wise choice of making the Max very water-resistant pays off.
Also, since the M4 Pro packs more power, it will weigh more, and by a healthy margin (9 lbs / 4 kg). There are not that many scooters under $1000 that are less portable than the Ninebot Max, but the Kugoo M4 Pro is one of them.
Ultimately, this is a great matchup, and we can probably consider ourselves lucky that we can choose between these two scooters. If you live in Europe and want a similar scooter to the Ninebot Max but with more power, speed, and weight limit, check out the full review of the Kugoo M4 Pro.
Ninebot Max vs Apollo City
One of the biggest threats to the Ninebot Max lately comes from the Apollo City.
In the last few years, Apollo scooters have become one of the best electric scooter brands in the world, and the Apollo City is their excellent mid-price option that has sold thousands upon thousands of units.
As often happens with two great rival scooters that are in the same weight class, the Ninebot Max will have about 12 mi / 19 km more range than the Apollo City, but the latter has about 6 mph / 10 kmh extra top speed.
The Ninebot Max will come with better water protection, but the Apollo City will be better suited for heavier people.
The Ninebot Max will have bigger tires and provide more comfortable rides, but the Apollo City will be a bit lighter, smaller in dimensions, and more portable in general.
Both are amazing scooters in my opinion, and you can't go wrong with either of them. Stick with the Ninebot Max if you prefer range over speed, and see my complete review of the Apollo City if it's the other way around.
Ninebot Max vs VSETT 8
The VSETT brand is one of the more recent additions to the scooter world, but they sure have given the bigger and more established brand names a lot to think about.
The VSETT 8 specifically is one of the cheaper VSETT models, even though it still costs around $1000, and just about $50 more than the Ninebot Max. The scooter will be quite a bit faster than the Ninebot Max, 7.5 mi / 12 km specifically, although the Ninebot Max can make up some of that difference if you decide to install some custom firmware.
The Ninebot Max has the bigger range on its side, better water protection, bigger and more cushy tires, all of that while being 2 lbs / 1 kg lighter.
In general, I would probably recommend most people stick with the Ninebot Max, but if you want a bit more speed at the expense of some range, feel free to check out the VSETT 8 at EWheels.
Ninebot Max vs Niu KQI3 Pro
I've seen this comparison made quite often lately, although I'm not really sure the Niu KQI3 Pro has a lot to offer, except the lower price possibly.
The Ninebot Max has more range, climbs better, has better climbing ability, bigger tires, a more spacious deck, and, of course, better brand recognition, which almost certainly results in better quality overall. The top speeds of both scooters are almost the same, which is why I recommend sticking with the Ninebot Max.
Price and value for money
Usually, the Ninebot Max will be priced at $799.
The value of the scooter will mostly depend on what you're looking for. If range, quality, and brand recognition are some of your priorities, then the Ninebot Max will be unmatched value for its price.
Frequently asked questions
There are a lot of questions regarding this line of scooters from Segway, so here are some of the major concerns buyers have with the Ninebot Max.
Can you make a Ninebot Max G30 faster?
The official top speed of the Ninebot Max G30 is 18.6 mph / 30 kmh, but you can unlock this limit to make the scooter go faster. In order to do that, you would need to connect to the Segway phone app, navigate to the "speed settings" menu, and push the slider to the max. You can also check if you're riding in third gear, which is the highest gear of the Ninebot Max G30 electric scooter.
Is Ninebot Max G30 too heavy?
Weighing around 42 lbs / 19 kg, the Ninebot Max G30 can be a bit too heavy for some people. It's not the heaviest scooter out there, but this amount of weight is simply unmanageable for a lot of folks. Carrying the scooter up a flight of stairs, or taking it up onto public transport are some of the trickiest situations which you might find too difficult.
Can I ride Ninebot Max G30 in the rain?
With an IPX5 rating for its frame, and an IPX7 rating for some of the electronic parts, the Ninebot Max G30 is one of the best scooters under $1000 for riding in the rain. Although this rating does not make the scooter fully waterproof, there is more than sufficient protection from weak water sprays and raindrops.
Can 2 people ride Ninebot Max G30?
The weight limit of the Ninebot Max G30 is 220 lbs / 100 kg, so it's not recommended for two adults to ride on it at the same time. Even though the deck is fairly long and can fit two people on it, don't let this fool you. Overloading the scooter can result in serious damage to its frame and wheel forks.
Verdict – should you buy the Ninebot Max?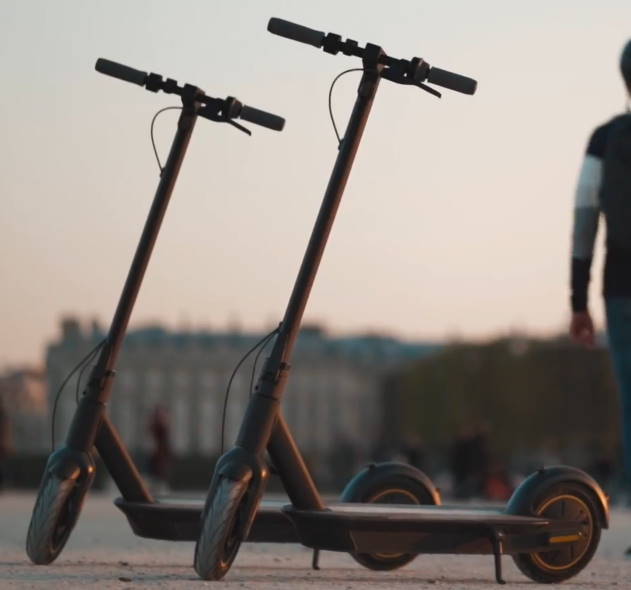 The Ninebot Max is an excellent choice for quite a few people, and I would definitely recommend it as a great choice for the regular rider, if not the best choice currently.
I would exclude four categories of would-be scooterists, and anyone not in one of those can make the Ninebot Max their scooter of choice without much hesitation.
First, the baby elephant in the room, aka the weight. Honestly, this is not such a heavy scooter, and it will only be heavy if you compare it against cheaper scooters with less range. I mean, there are scooters that literally weigh 155 lbs / 70 kg. After that, 42 lbs / 19 kg does not look like much, does it?
Anyway, when talking about the Ninebot Max, we will instinctively compare it against the Xiaomis and the Ninebot ES models, which are at least 11 lbs / 5 kg lighter. And that is not unfair, we are looking for a scooter for the regular person after all.
So, ask yourself – how much would you mind carrying 42 lbs / 19 kg for short intervals every now and then? If the answer is "a lot", there are better scooters for you out there. Maybe try something like the Xiaomi M365 Pro (full review here), or maybe go with something even lighter like the GoTrax GXL V2 Commuter (full review here). Personally, I believe that in the case of the Ninebot Max, the extra weight is a worthy tradeoff considering the range you get in return, but you should make your own conclusions.
The second category of people that may want another scooter is the speed demons, or speed demons wannabes at least. With the Ninebot Max's 18 mph / 30 kmh top speed, you will not be breaking the sound barrier any time soon, so you will probably want to check out some of the fastest electric scooters, or at least something like the 2000W electric scooters or the 1000W electric scooters. Some interesting options for you may be the Speedway Leger (mostly meant for the North American market, full review here) or the Kugoo G-Booster (usually sold in Europe only, full review here). However, keep in mind that the Ninebot Max's top speed is usually the same as the legal speed limit for scooters in many countries, so getting a faster scooter if commuting is your main priority may not be a good idea.
The third category is people heavier than 220 lbs / 100 kg, and especially people heavier than 256 lbs / 120 kg. First of all, scooter weight limits are more like guidelines than hard and fast rules, and people well above those weights have ridden the Ninebot Max mostly without issues. But the scooter is not built for that, and its lifespan will likely be shorter and mechanical defects may appear sooner. So, if you are somewhere above 220 lbs / 100 kg, you can take a chance with the Ninebot Max, but you will be rolling the dice. I recommend taking a look at something like the EMove Cruiser (full review here), and checking out the best scooters for heavy adults.
Finally, the fourth, and obvious category of people that will want to find another scooter for them, will be people with a budget smaller than $800. If your budget is somewhere around $300, check out the best $300 scooters, or again, take a look at the GoTrax GXL V2 Commuter (full review here). If your budget is around $500, then, once more, the Xiaomi M365 Pro is very similar to the Ninebot Max and would be a great cheaper alternative (full review here). You may also want to look at the other best $500 scooters as well. If, however, your budget is around $600 – $700 and you are convinced that the Ninebot Max would be a great choice, then I suggest saving a bit more or earning some extra cash and going for it.
If you don't find yourself in any of the four categories above, you are in for a treat.
The Ninebot Max is an excellent scooter.
It has several key advantages that make it a very well-balanced scooter, with a few clear user avatars in mind.
Naturally, anyone looking for tons and tons of range will be head over heels in love with the Ninebot Max. This includes all types of commuters no matter their commute distance, hobby riders, and people who just don't like to charge their scooter that much.
Another great category of people who may find this scooter perfect are the "eternal scooterists", or scooterists that want to buy one scooter that will last for a very long time (unlike people who buy junk $250 scooters every three months). Being the last and best scooter from Ninebot comes with many perks and benefits, and longevity and quality are certainly some of them. The Ninebot Max will last. If you are the type of person that shops for quality first and expects not to think about a new product in the foreseeable future, you will like this scooter.
If you live somewhere rainy/snowy/northern-y/UK-y/Canadian-y/Eastern-European-y, the Ninebot Max is a very safe bet. No scooter is meant to be ridden through rain or snow, but as all scooterists know, sometimes you will have no other choice, and you will want a highly water-resistant scooter then. Very few scooters today are more water-resistant than the Ninebot Max.
With a top speed that is not really that big, good brakes, and high build quality, the Ninebot Max can be ideal for anyone looking for a scooter on the safer side, and especially beginners. The price may exclude it from the entry-level category, but it is a scooter that is simple enough and meant for wide-spread use, so that a lot of new owners will quickly get a handle of it.
Finally, related to the above, the Ninebot Max is a very versatile, modern scooter, with many features and customizations available, and a bright future ahead. It may not exactly be a scooter for everyone, but it will be a scooter that deserves strong consideration for people that don't know exactly what they're looking for but want a trusted scooter and have a good gut instinct when they see the Ninebot Max.
Where to buy the Ninebot Max from?
The Ninebot Max is widely available throughout the world.
In general, the best place to get it from is Amazon, as you will get the fastest and free shipping, and you will find the lowest price possible. Of course, the official Segway store is a great place to check as well, although, strangely, the price there is often more expensive than the price at Amazon.
In Canada, the above link may work, although TekTrendy will probably be a better choice as they're optimized for faster deliveries in Canada, and there will be no additional taxes and fees, etc. Amazon Canada can be a good alternative too.
In the EU countries, and in fact most of Europe, the best place to get the Ninebot Max from is GearBest, as it provides the fastest delivery for free and usually the lowest price. GearBest will be great for UK shoppers too, but they may want to check the PureElectric store, as they also have the Ninebot Max in stock and have a great reputation, delivery times, and all the taxes and fees should be taken care of.
Where to buy the Ninebot Max
---
Want to get
FREE SCOOTER
tips, exclusive discounts and promotions, and unseen scooter hacks? Join the
Scooter Secrets club
.
---
Liked this article? It really helps if you share it.
Follow @escooternerds on social media for more cool stuff
---