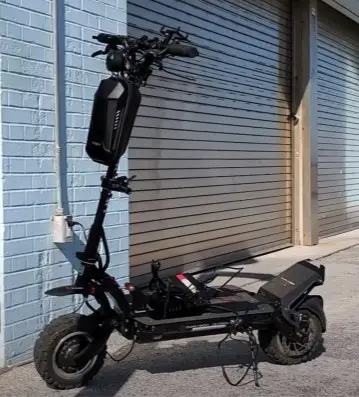 The Dualtron Ultra 2 is one of the best electric scooters I've ever reviewed, especially for off-road rides.
If you want a powerful scooter with a long-range, durable build, able to handle all types of terrain, and that can truly stand the test of time, there aren't a lot of options to look at outside of the Dualtron brand, and the Dualtron Ultra 2 will probably end up being your best choice.
Dualtron Ultra 2 Review
The Dualtron Ultra 2 is a high-end off-road electric scooter with a sturdy build and a strong design. It's equipped with a 6640W dual hub motor that can reach a top speed of 56 mph / 90 kmh. The scooter has a turbo mode for faster performance and an eco mode for a bigger range, and can cover up to 64 mi / 103 km on a single charge. With a big weight limit, dual adjustable suspension, and a climbing angle of 35°, the Dualtron Ultra 2 is a true monster of a scooter that can withstand even the roughest terrains.
Dualtron Ultra 2 pros and cons
PROS
Premium quality
Great for off-road rides
Excellent speed and acceleration
Great range
Great climb angle
Perfect for heavy adults
Great tires and suspension
Full hydraulic brakes brakes
CONS
A bit pricey
No water resistance rating
Somewhat heavy and unmanageable
Buying and promotions
When purchasing the Dualtron Ultra 2 at Voromotors, the scooter will typically cost around $3990. If you use my special coupon code FreeExtend and add the 1-year Extend product protection, you will get 2 years of warranty for free.
Voromotors is one of the best sites where you can order this scooter (and one of the best electric scooter sellers in general), as they often offer large discounts and various payment options for all buyers. They have recently become an official dealership for Dualtron products as well.
If you live in the UK, or in Europe in general, then you should also take a look at the Dualtron Ultra 2 at Ride And Glide, as they offer free shipping for this scooter in most European countries, and you may end up getting a better deal overall.
Ordering and shipping
Ordering from Voromotors comes with free shipping within the continental US, but with an unspecified delivery time. You will get the scooter delivered to your doorstep for no additional costs, but it may take up to a month.
Voromotors also offer free shipping on orders over $3000 in Canada, the UK, and most EU countries, which means you should get free shipping in those regions as well.
If you are in a hurry and want the scooter delivered as soon as possible, you have many expedited shipping options at your disposal as well, which start from $80 upwards.
Warranty, return policy, and customer support
The Dualtron Ultra 2 comes with a standard 1-year warranty which can be further extended. You can extend the warranty by up to 2 years for an additional $330, or up to 3 years for $460 extra.
Of course, as I already mentioned, by adding the 1-year Extend product protection and using the coupon code FreeExtend, you will get 2 years of warranty for free.
In case you changed your mind or weren't altogether pleased by the scooter once it arrives, you can always just send it back and get a full refund. Voromotors have a return period of 10 days for unopened and 3 days for opened products. There are several steps you will have to take and things to watch out for when you apply for a return. You can find the details of this policy of Voromotors return and exchanges webpage.
Any additional questions you might have about the scooter, the return policy, or other concerns can be sent to Voromotors' customer support team. You can reach their team via the chatbot found at the bottom right corner of their website.
Basics
Simply put, I love the Dualtron Ultra 2.
It is a powerhouse of a scooter. It has an astonishing performance level, can reach some high speeds, and is built with a bulky, futuristic design with sharp edges which further adds a strong feeling of power whenever you hop on to it.
It is the latest off-road scooter from the Dualtron series. The improved version of the older Dualtron Ultra model comes with enhanced performance and some added features.
Compared to its predecessor, the newer model has much better motor power, a bigger battery, wider tires, and a mode switch button for better control of your cruise. Leg rest, better headlights, and flashier design are just a few of the novelty features the brand has enhanced this scooter with.
The Dualtron Ultra 2 is one of the most powerful scooters in its price range. It can reach speeds unparalleled in this category while offering a wild and fun ride experience on all kinds of terrains.
Unboxing and assembly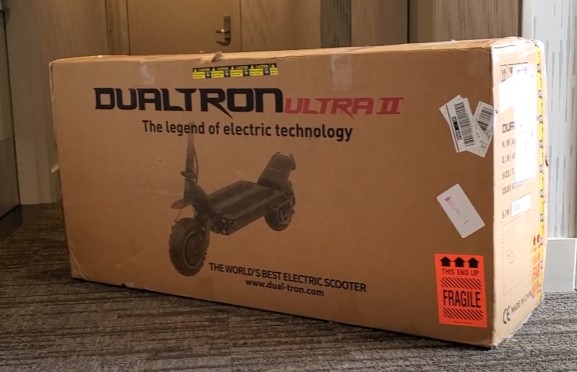 The Dualtron Ultra 2 comes packed in a large branded box, roughly the size of the scooter itself when folded.
The box contains the following items:
scooter
charger
user's manual
multitool
Since the scooter comes almost fully assembled, there won't be much you will need to do before riding.
You will first need to mount and tighten the folding clamp at the bottom of the stem. The clamp comes unattached in the box, so you will need to screw it in yourself.
Afterward, you will need to check the breaks and controls to see whether they are tight and safe. I would also advise checking the tire pressure, as sometimes the tires can deflate a bit during the delivery process.
That's practically all there is for the assembly part. After you have checked and tightened all the parts, the Dualtron Ultra 2 will be ready to roll.
Folding and unfolding
The Dualtron Ultra 2 is a fully foldable scooter, with the same folding system found in all other Dualtron models.
It uses a folding clasp with a latching system, placed at the bottom of the stem. The clasp has a small lever that releases the whole stem bar when it is pushed, folding it onto the deck.
Furthermore, as with all recent Dualtron models, the Ultra 2 has foldable handlebars as well. They use latches that fold the handlebars and shorten their length in half.
Ride experience
The Dualtron Ultra 2 can reach some truly marvelous speeds and will make you feel like you're flying at moments. The rides felt very smooth, even at somewhat higher speeds.
The scooter is made for all kinds of terrains, and its motor can withstand even the toughest challenges you present to it.
But even when riding in urban settings, the scooter will offer some of the most fun experiences you ever had. Each ride will be filled with lots of adrenaline rushes, so be warned that you may not be able to get enough from this beast of a vehicle.
Off-road riding
I took the Dualtron Ultra 2 for a few off-road rides on a mountain with a few dirt trails near my city. All I can say is, the scooter exceeded my expectations.
It felt like the tires did a great job, but the suspension was also pretty good, considering it's not hydraulic. The brakes in particular were very good as well and provided a short stopping distance even on very uneven terrains.
Build quality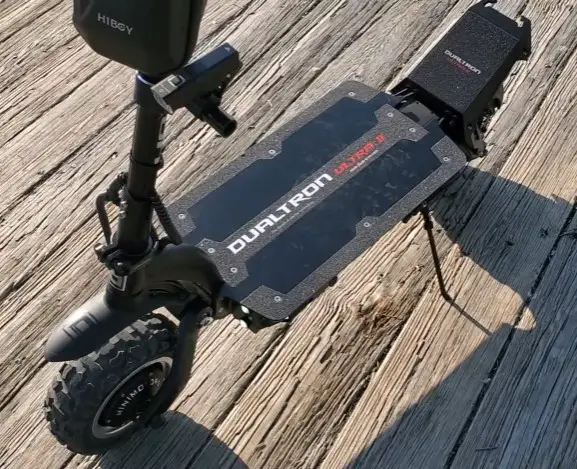 As you can already judge by the looks of it, the Dualtron Ultra 2 has one of the sturdiest, most durable builds found in electric scooters. It is designed to withstand rough terrains and high speeds, and Dualtron is not a brand that will let you go on such adventures with some substandard scooter. It definitely felt like the scooter can take a lot of punishment, as even after some challenging rides, nothing was out of place, not even a single screw was loose.
Design and materials
The scooter has a rather futuristic design, equipped with modern metallic aesthetics and smooth shades of black found all over its surface. It has lots of sharp edges, flashy details, and bulky parts, especially its thick deck that holds the powerful battery inside it.
The frame and all the main outer parts are made out of aviation-grade aluminum, which time after time has proven to be one of the most durable materials when it comes to manufacturing electric scooters.
Colors, look and feel
The Dualtron Ultra 2 is available only in metallic black color, as are most of the Dualtron models. However, it's colored in many different shades and accessorized with RGB lights on the stem and the deck, making it look flashy and modern.
Overall, the scooter feels very comfortable and spacious. It has a wide standing surface on its deck, offering a smooth ride no matter what the rider's position is.
Performance
Performance-wise, the Dualtron Ultra 2 is on par with some of the most powerful scooters on the market.
Speed
Officially, the scooter has a top speed of 56 mph / 90 kmh. I didn't dare to test that speed (I got up to around 41 mph / 66 kmh, and it already felt too exciting, even though the ride was very stable).
Although numbers like these will probably never be reached by some users, it's good to know that some people have managed to go even faster. Lighter users could very well go over 60 mph / 96 kmh on a downhill slope.
The speed will also depend on the current riding mode and battery level.
Motor, power, torque, and climbing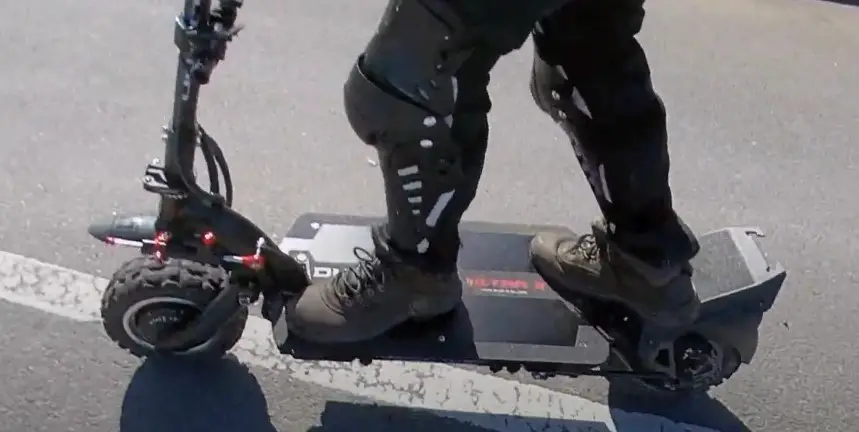 In order to manage the high speeds and rough terrains it's made for, the Dualtron Ultra 2 uses a dual hub motor with a max power of 6640W. The motors are mounted on each wheel, providing a smooth and stable power output throughout the whole ride.
With such powerful torque, the scooter has a steep climbing angle of 35° / 70%. Naturally, a lot of these numbers will vary based on the rider's weight. However, an average adult should have no problem climbing even the steepest streets and most of the hills near your city.
Weight limit and usage by heavy adults
The Dualtron Ultra 2 has a max load limit of 330 lbs / 150 kg.
With such a high weight limit, the scooter will not only endure some of the heavier adults but almost anyone considering buying this model. It can even support some heavier accessories as well, such as a seat on the back of its deck.
For testing purposes, I tried riding the scooter with a friend of mine (don't do this btw!), and our combined weights were probably around the weight limit. I almost didn't feel any drop in performance.
Range and commuting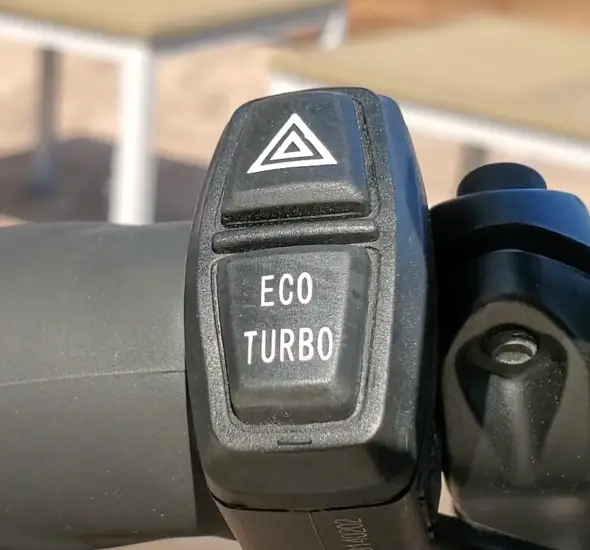 Officially, a single charge of the Dualtron Ultra 2 will give you a range of up to 64 mi / 103 km.
The precise mileage will often vary based on the mode you are riding and the pressure you put on the motor. Riding on Eco mode will get you the highest mileage at the expense of some power while riding on Turbo will get you the highest speed but only for about 30 mi / 48 km.
Nevertheless, even 30 mi / 48 km is not a small number. Even for those of you looking for a scooter you can ride the entire day and push it to its limits, you can probably still get a full day's worth of riding out of a single charge.
I managed to go from a full battery to almost empty and cover around 58 mi / 93 km in three separate rides, although I was riding a bit fast at times. I think that if you ride more conservatively, you may even get more range out of it.
Batteries and charging
The LG M50LT battery of this model comes with a voltage of 72 V, and quite a large capacity of 2520 Wh and 40 Ah.
It takes around 23 hours to fully charge the battery using the standard charger and a single port. This time can be shortened significantly if you use the two charging ports and a fast charger which you can buy aftermarket. That way, you can fully charge the battery in 6 hours.
Features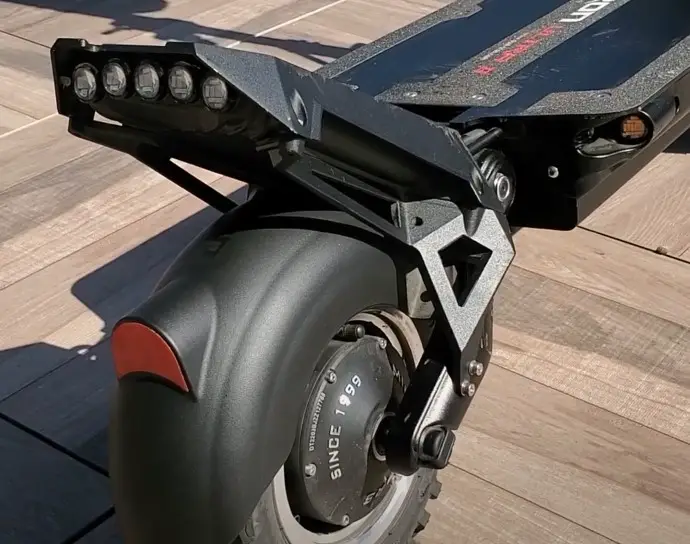 The Dualtron Ultra 2 is a high-end scooter, best described as a power/off-road model. It does come at a premium price, among the highest on the market, but has lots of functional features as well.
Weight, dimensions, and portability
The Dualtron Ultra 2 weighs around 88 lbs / 40 kg.
For most people, this weight makes the scooter fairly unportable and moveable only by riding. Carrying such a heavy load, especially upstairs, is troublesome even for many adults. It's not the heaviest scooter ever made, not even the heaviest of the Dualtron assortment, but does weigh more than twice what the usual portable e-scooters do.
This is one of the biggest sacrifices you are going to have to make to get a powerful off-road beast that can handle most terrains with high speeds. Putting all those powerful electronics and a huge battery takes its toll on the scooter's portability.
When unfolded, the scooter measures 47.6 in x 23.6 in x 48 in / 121 cm x 60 cm x 122 cm. When you fold it down, these numbers go down to 47.6 in x 12.5 in x 20.7 in / 121 cm x 32 cm x 52.5 cm.
Waterproofing and riding in the rain or snow
Officially, the IP rating of the Dualtron Ultra 2 is marked as TBD (to be determined).
However, given that its predecessor, the Dualtron Ultra, had an IP54 rating, it's highly unlikely that the upgraded version will come up short and have less or no water protection.
In any case, you will want to keep the golden rule of electric scooters in mind at all times, which is to avoid riding in the rain or snow whenever you can.
Brakes
The Dualtron Ultra 2 is equipped with dual full hydraulic disc brakes, mounted on each wheel. The brakes have an ABS as well, helping you maintain the scooter's balance and preventing the wheels from skidding when making a sudden stop.
Added to this efficient system is a regenerative braking mechanism, installed in the very same electronic disc brakes. This mechanism uses the full potential of the scooter's force when it's braking, charging the battery for a bit, and extending the cruise distance for a short while.
Tires, wheels, terrains, and environments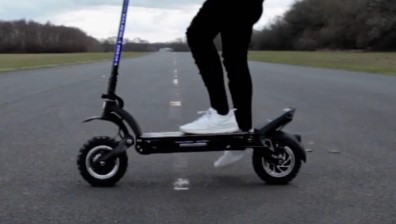 Aside from the motor power and battery capacity, the third biggest upgrade from the Dualtron Ultra to the Ultra 2 model is the wheels and tires used in this scooter.
The Dualtron Ultra 2 comes with much wider 11" x 3.5" off-road tires, ready to withstand all kinds of terrains. The tires are not only much chunkier than most urban scooters but come with large, thick, protruding tread patterns, looking ready to drill into the ground and force their way through the harshest grounds.
We already mentioned that the Dualtron Ultra 2 is an all-terrain scooter, suitable for both urban and off-road environments. The eco mode is great for commuting the busy streets and making your way through crowds, while the turbo mode and strong motor power offer a sturdy performance along the dirt roads near you.
Suspension
The scooter comes with a fairly standard dual rubber suspension. The rear suspension can be further adjusted to your liking, making the scooter adaptable to your current needs.
Depending on which type of ride you are looking for, you can adjust the suspension to one of the 5 levels offered for the rubber springs.
If you plan on riding lightly throughout the city, you probably won't need a high suspension level, as long as you don't plan on hitting a pothole every minute. Riding on a dirt track, or a mountainous road, on the other hand, will require a stronger suspension, and level 4 or even 5 will be in accordance.
Lights and night use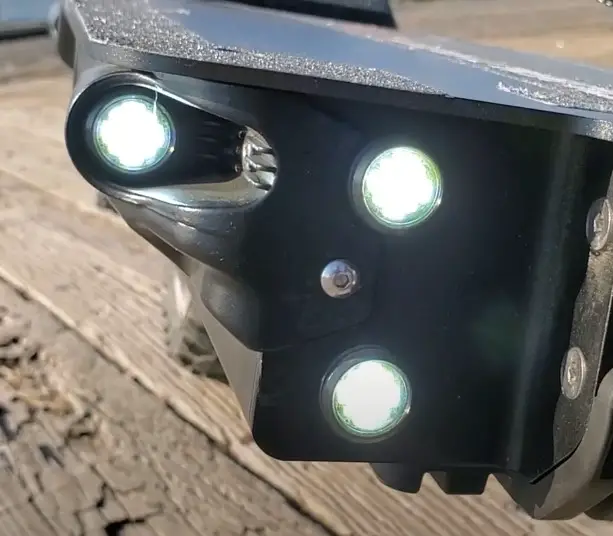 While it doesn't have a traditional headlight mounted on the stem upfront, the Dualtron Ultra 2 has 6 smaller bright lights placed at the front side of the deck. 3 lights are placed on each edge of the deck, left and right of the cockpit, lighting up the road ahead.
Additionally, 2 rear lights are mounted at the backside of the deck, right next to the two brake lights that signal those behind whenever you are slowing down or fully stopping.
It's evident that although it comes without a headlight, the scooter has more than enough vision provided from the lights on the deck and can be safely ridden during the night. However, if you plan on riding the scooter on roads where there are no lamposts at all, I would advise getting some stronger lights aftermarket. You can never be too sure about what you can see in front of you, especially when you ride on high-speed vehicles such as the Dualtron Ultra 2.
Screen, handlebars, and controls
The scooter has the standard EY3 LCD mounted at its right handlebar.
This display is found on all the latest Dualtron models and has proven to be one of the most efficient systems for reading information and control on e-scooters. It features a small circular screen, three buttons for powering and navigating the system, and a throttle used for acceleration.
The circular screen shows the following information:
speed
odometer
trip
mode
battery remaining
In the cockpit, you will also find all the other standard controls: the throttle, the two brakes, and the mode switch button. This model supports two modes which can be regulated via the button found on the left handlebar. The button is easily recognizable with the words "eco/turbo" written on it, referencing the two modes available for the scooter.
Deck and standing surface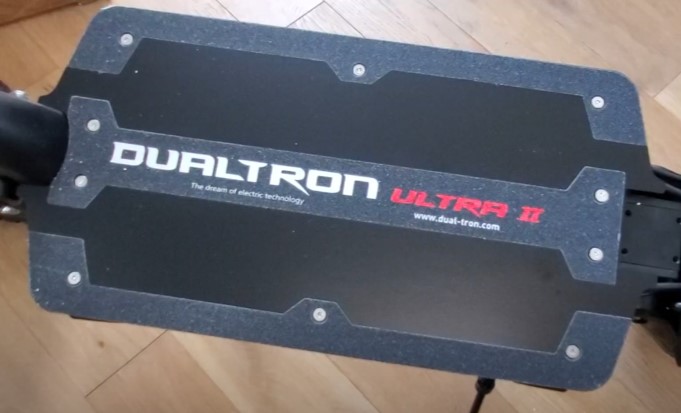 Wide, large, thick decks have become a signature feature of all Dualtron scooters. The Dualtron Ultra 2 is no different than the rest here, featuring a gripped deck wide enough to comfortably hold both your feet on it.
Additionally, this model features a big footrest placed at the back of the deck, large enough to place your whole foot on it and provide you with the perfect ride balance.
Maintenance
Since you won't be able to clean this scooter with a water hose, it's important to often brush its surface and electronic parts with a dry cloth and metal polishers. I would advise cleaning the scooter once every week, or two weeks at longest if you can't find the time in between.
Accessories and customizations
The first thing you need to purchase along with this model is a very safe scooter helmet and some protective gear for your knees and knuckles. These things should be on you at all times when you hop on any open vehicle, but especially when riding such powerful scooters that can reach insane speeds.
When it comes to aftermarket customization, however, Voromotors have nicely sorted out their accessories by which scooter they go with. Check out their Dualtron Ultra 2 accessories page to see all the upgrades you can get for this scooter.
There you can find some upgraded Magura MT 7 Pro hydraulic brakes, motorcycle gloves for better grip, and even a phone holder if you like to keep a map of the road in front of you.
In addition, I also recommend checking out some other general electric scooter accessories, as chances are, they will fit the Dualtron Ultra 2 even though they are not custom-made for it. And, of course, since this is a very expensive scooter, you will definitely want to secure it with a strong and safe electric scooter lock.
Finally, I would strongly recommend buying a tire sealant as one of the best aftermarket upgrades to your scooter. It's nothing new, nor revolutionary, but it can save some time and nerves to a lot of people who ride on unmaintained streets and often puncture their tires.
Problems and what to know
When it comes to the Dualtron Ultra 2, I've noticed are a couple of issues and shortcomings in its build.
The lack of official waterproofing is arguably the most notable one. The scooter might be vulnerable to water splashes.
There are some inconveniences around the battery efficiency as well. The huge LG battery is non-removable and cannot be charged remotely, away from the scooter. Add to this the fact that it can take up to a whole day to fully charge, and you can see why there's a lot of room for Dualtron to improve here. Granted, all this can be solved by buying two fast chargers and using them simultaneously to shorten the charging time up to 6 hours, but that's an aftermarket solution that will cost you a bit more.
Finally, this scooter wasn't the easiest to carry around and fit inside places. Sure, there are much bigger and heavier scooters, and given how powerful the Ultra 2 is, the weight and the dimensions are not surprising. Still, expect some difficulties when carrying or storing this scooter. For that reason, it won't be a very practical choice as a commuter as well.
Price and value
Overall, the Dualtron Ultra 2 is one behemoth of an electric scooter, made for fast rides and wild adventures.
As we mentioned, it does have some minor shortcomings you need to be aware of, but for what it offers, I would confidently say there isn't another scooter that comes close to its performance level, at least not in this price range.
I wouldn't go so far as to say this is the best scooter ever made, but it's definitely among the best ones I've reviewed. Unless you are willing to pay way more than what this scooter costs, the Dualtron Ultra 2 is one of the most powerful and multifunctional scooters you can get.
How does the Dualtron Ultra 2 compare to other electric scooters?
Let's take a quick look at how the Dualtron Ultra 2 fares against other popular e-scooters with similar builds.
Dualtron Ultra 2 vs Dualtron Thunder 2
Dualtron Thunder 2 is the next model in the Dualtron scooters line. It is a slightly more expensive model, coming at about $4300, but with a higher range that often exceeds 105 mi / 170 km.
Besides a bigger range, the Dualtron Thunder 2 offers a heavier build than the Dualtron Ultra 2, as well as higher ground clearance and some minor differences in the stream and footrest design. You can also notice a difference in the front wheel design, but this doesn't really affect the ride comfort.
What makes the Dualtron Thunder 2 distinct is the upgraded suspension system, whereas with the Dualtron Ultra 2 you only get a hard front suspension. Whether this justifies paying around $300 extra is up to you, but the difference in ride quality between the two models is definitely there.
Dualtron Ultra 2 vs Kaabo Wolf King
If you are looking for premium scooters, the Kaabo brand is probably your second-best choice after Dualtron. Their signature product is the Kaabo Wolf King, a bulky high-speed scooter and one of the biggest competitors of the Dualtron Ultra 2.
Priced at around $3000, it comes way cheaper than the Dualtron Ultra 2, although it does still cost a heavy penny. As you can expect from the price difference, the Kaabo Wolf King comes with a significantly smaller range of up to 50 mi / 80 km. It's not at all a small range, but nowhere near what Dualtron offers in their scooters.
The feature packages of both models are quite similar, they both have solid suspension systems, hydraulic brakes, hefty tires, but it's hard to ignore the fact that the Dualtron Ultra 2 just looks better to the eye. The elegant black design is incomparable with the awkward yellow-ish frame with two bars on the front of the Kaabo Wolf King.
But looks are a personal preference after all, so if you like the unique design of the Kaabo Wolf King, I would say it is one of the best ways to save up to $1000 on a scooter.
Dualtron Ultra 2 vs Dualtron Storm
Dualtron Storm is the second most expensive scooter from the brand. It is priced at around $4500 and comes with one of my favorite features found on an electric scooter – a removable battery.
This power scooter has roughly the same specs as the Dualtron Thunder 2, with similar speed, range, design, and features. However, its battery, which is stored below the deck, is fully and easily removable, allowing you to recharge it wherever you want without bringing the whole scooter inside.
This feature also allows you to buy a spare battery and double the range of the scooter by swapping the batteries once the first one drains out. It is truly one of the most functional features you can ask for, especially on a high-performing scooter like the Dualtron Storm.
The only issue you can have with this scooter is off-road rides, as it comes with standard city tires which might not endure tough road conditions as well as the Dualtron Ultra 2. It can still hold on well on the occasional grass path, but I wouldn't guarantee the same for muddy tracks and hill rides.
Who should not get the Dualtron Ultra 2?
I wouldn't recommend this scooter to first-time owners and people who are just now jumping on the e-scooter train and looking for their first ride. If you still haven't tried an electric scooter, this powerful machine might be a bit too much for you. There are many high-quality electric scooters for beginners, with slightly tuned-down performances that will better get you going.
On a similar note, cautious people who don't indulge much in adrenaline-rushing activities would also see the Dualtron Ultra 2 as inadequate at best. There are many safer alternatives out there, such as the EMove Cruiser, which offer great mileage and ride experience without the extra torque that you probably won't need anyway.
Finally, given this scooter's weight, I would recommend people that can't or don't want to manage a rather heavy scooter to take a look at some other lightweight electric scooters.
In conclusion, if you are only after a light city commuter you plan on riding through the city, often in crowded places, the Dualtron Ultra 2 is not the best choice for you. Using it like that will never realize the true potential of this beast, and you are always better off with some lighter, more affordable, and more portable city commuter.
My verdict – who should get the Dualtron Ultra 2?
All in all, I fell in love with the Dualtron Ultra 2 the first time I saw it, and I would generally recommend it to anyone looking for a thrilling ride.
The first types that pop to mind are adventurists. People who love to visit the nearby wildlife and often go on off-road trips are the perfect owners of the sturdy Dualtron Ultra 2. With a top speed of 56 mph / 90 kmh, it's crystal clear that this scooter was made for hotheads and thrill-seekers who are fond of high-speed rides and breathtaking adventures. Riding on this powerful piece of technology would give you an electric feeling unmatched by any other model.
People living on a hilltop, or any other place with inclined streets would also need a scooter that can handle said roads with ease. With an unparalleled climbing angle, Dualtron Ultra 2 is one of the best when it comes to this issue.
Heavier adults who are looking for a sturdier model would also appreciate the high max load limit this scooter can carry.
Finally, any electric scooters admirer who is after a top-notch premium quality product, and is ready to invest in a long-term product must consider the Dualtron Ultra 2, as it can offer some of the best performance levels you can get in this price range.
Where to buy the Dualtron Ultra 2 from?
Worldwide
Since Voromotors started to sell Dualtron scooters, they became the best merchant for the brand almost overnight. So, without a doubt, the best choice will be to get the
Dualtron Ultra 2 from Voromotors
, as you will get unrivaled customer care, and of course, 2 years of free warranty if you add the 1-year Extend product protection and use my coupon code
FreeExtend
.
---
UK, Europe
In the UK and many European countries,
Ride And Glide
may be a great alternative for buying the Dualtron Ultra 2, as the prices will be similar but you will get free shipping.
Frequently asked questions
Let's look at some of the most frequent questions about the Dualtron Ultra 2 scooter.
How fast is a Dualtron Ultra 2?
Dualtron Ultra 2 has an insane top speed of 56 mph / 90 kmh, so make sure you know what you do before hopping to ride this scooter.
Is Dualtron Ultra 2 waterproof?
Although the Dualtron Ultra 2 doesn't have an official IP rating, it looks like it has IP54 like its predecessor. This is good protection from small water splashes but doesn't make the scooter rideable in rain. The company has pointed out their scooters aren't made for rides out in wet weather, and any damage caused by excessive exposure to rain will void their warranty.
Can I do stunt jumps on my Dualtron Ultra 2?
It is not recommended to do any jumping and acrobatics with this scooter. Although it might be tempting to test the build quality and the suspension, it falls under improper use and can result in a voided warranty.
Can two people ride the Dualtron Ultra 2?
The Dualtron Ultra 2 is made for one adult only, and it's prohibited for two people to ride on board, even if they don't surpass the weight limt.
Specifications
Dualtron Ultra 2 Specifications
| | |
| --- | --- |
| Top speed | 100 kmh |
| Top speed | 62 mph |
| Range | 140 km |
| Range | 87 mi |
| Motors | dual BLDC |
| Power | 6640 W |
| Climb angle | 35 ° |
| Battery | 1920 Wh, 60 V |
| Battery type | LG 3200 cells |
| Charging time | 20 h |
| Weight | 40 kg |
| Weight | 88 lbs |
| Weight limit | 150 kg |
| Weight limit | 330 lbs |
| Tire size | 11 x 3.5 in |
| Tire type | pneumatic off-road |
| Foldable | yes |
| Foldable handlebars | yes |
| Build material | aviation grade 6082-T6 aluminum alloy + SCM440 steel + plastic covers |
| Terrains | all terrain |
| Brakes | 160 mm front + rear disc |
| ABS | ABS |
| Shock absorbers | swing arm suspension |
| Lights | stem lighting + dual LED headlight + taillight + brake light |
| Control | EY3 LCD |
| Cruise control | yes |
| Warranty | 1 year |
| Return period | 3/10 days |
| Folded dimensions (L * W * H) | 121 cm * 32 cm * 52.5 cm |
| Folded dimensions (L * W * H) | 48 in * 13 in * 21 in |
| Unfolded dimensions (L * W * H) | 121 cm * 60 cm * 122 cm |
| Unfolded dimensions (L * W * H) | 48 in * 24 in * 48 in |
Where to buy the Dualtron Ultra 2
---
Want to get
FREE SCOOTER
tips, exclusive discounts and promotions, and unseen scooter hacks? Join the
Scooter Secrets club
.
---
Liked this article? It really helps if you share it.
Follow @escooternerds on social media for more cool stuff
---