Last Updated on May 16, 2023 by Matt
Greatly improving on their previous series, Pure Electric have recently put out to market their second generation of the Pure Air Pro electric scooter, and there are a lot of reasons we should be excited about this.
Pure Air Pro 2 Review
The Pure Air Pro 2nd generation edition is a long range, urban, medium-priced electric scooter. It is powered by a 500W motor that offers a top speed of 15.5 mph / 25 kmh, as well as a huge battery with up to 31 mi / 50 km range with a single 8.5 hours charge. The scooter has an IP65 waterproof rating, and is perfectly capable to ride in the rain. The Pure Air Pro 2 features a bright front headlight for night rides, strong double brakes, Bluetooth connection, LED display, and an online app you can connect the scooter to and get a detailed dashboard with all the useful information you need for the ride.
Pure Air Pro 2 electric scooter overview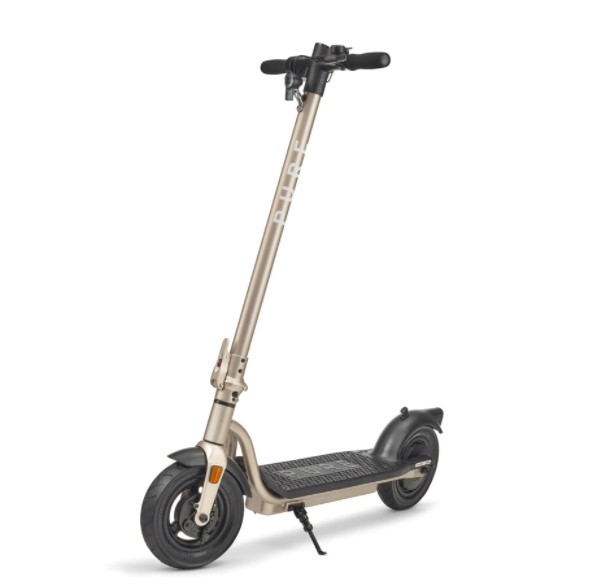 The Pure Air Pro 2 is part of the second generation of the Pure Electric scooters brand.
If you are looking for an efficient, waterproof electric scooter that can easily last a whole day or two on a single charge, this is one of the best options currently available on the market in the UK and some European countries.
The Pure Air Pro 2 is designed as a portable urban commuter, built in a minimalist fashion with a slim stem bar and curved edges all around its frame.
Buying
Pure Electric's web store is currently the only place where you can order the Pure Air Pro 2 scooter, where it will usually be priced at around £449.
The store is one of the largest electric scooters and bikes retailer in the UK and Europe, ensuring quality service and satisfaction to all of its customers.
Ordering and shipping
Pure Electric currently offers its products and services only to a few countries in Europe, such as the UK, France, Belgium, and Spain.
Orders delivered to these countries come with free shipping on all products, with an estimated delivery time of 3 business days.
Warranty, return policy, and customer support
The Pure Air Pro 2 electric scooter comes with a 12-month warranty that covers manufacturing defects to all parts of the product, excluding the wearable parts (tubes, tires, handlebar grips, cables…).
If you have changed your mind and want to give the scooter back, the brand offers a 30-day free return policy as well. Standard rules apply for this policy, as the product has to be in a new condition, unridden, and returned in the same package it was delivered in.
For more information about their products and policies, you can reach the company's customer support team through the contact form on Pure Electric's website.
Basics
The Pure Air Pro 2 is an urban commuter designed for efficient daily rides with a stable performance. It's a portable electric scooter able to withstand longevous regular usage with the fast-paced modern lifestyle in mind.
Unboxing and assembly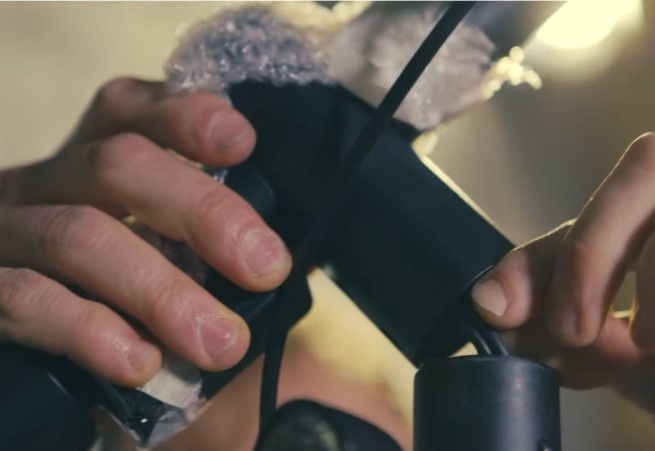 The scooter comes delivered in a huge wide box, neatly packed and coated in styrofoam. Inside the box you will find the following contents:
scooter
user's manual
charger
screws
tool
Although the bigger portion of the scooter is already set up, you are going to need to do some assembling before your first ride.
First of all, you will have to attach the handlebars, which come dismounted from the stem. The handlebars go directly on top of the stem, where you are going to need to screw them in with the screws and tool provided in the box.
After this part is done, it is recommended to check the tire pressure and inflate the tires up to the recommended 36 PSI if they've got deflated in the meantime. It's also recommended to fully charge the battery before your first use of the scooter.
When all of this is done, and you've got your protective riding gear on, you are ready to try the Pure Air Pro 2 electric scooter out on the streets.
Folding and unfolding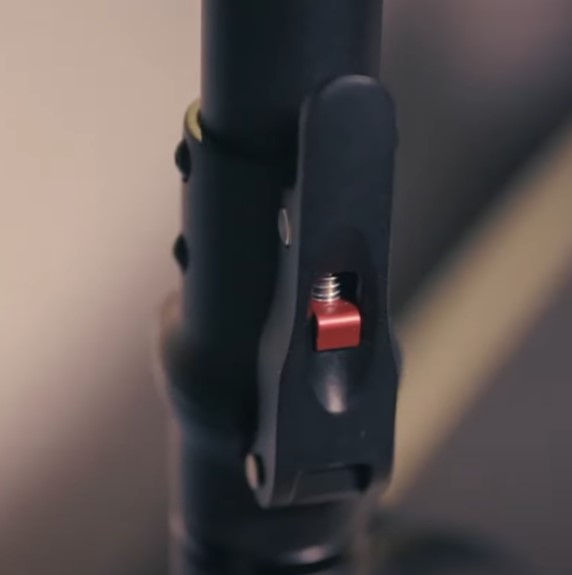 As with most models in this price range, this scooter is only foldable at the stem.
The Pure Air Pro 2 scooter uses a click-lock latch placed at the front side of the stem as its folding mechanism. It allows you to quickly pack the scooter, halving its size and aiding you to store it in your trunk or carry it around with a single hand.
The handlebars, on the other hand, cannot be folded and will add some width to the scooter, but not too much. They can always be dismounted and separated from the rest of the frame if you really need to do that, but it will take a couple of minutes and some unscrewing in order to do that.
Ride experience
With its conveniently placed cockpit, air-filled tires, and a deck long enough to keep both your feet stable on board, you won't feel any major disturbances while riding this scooter.
That is, as long as you stay on paved roads and bike tracks. The lack of suspension will keep you from riding it on dirt tracks and any rough terrains, but won't cause any troubles while you are on the road.
Build quality
The Pure Air Pro 2 is the second-generation scooter from the Pure Air family. It's made out of higher quality materials, with a reliable and durable build, and is able to reach significantly higher performance levels than the older, first-gen model.
Design and colors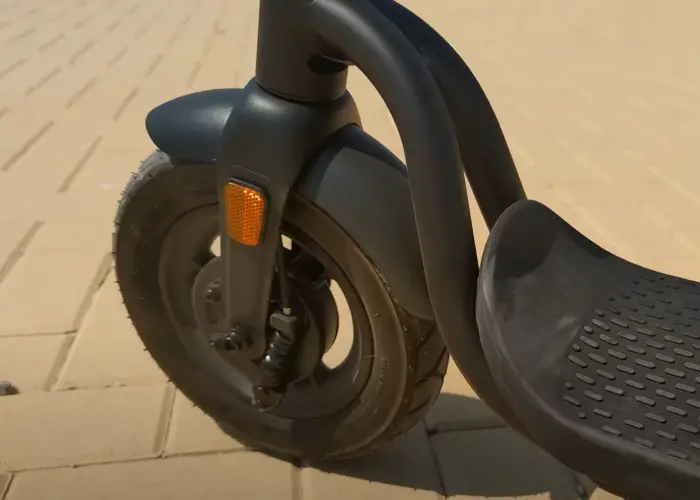 The scooter is designed in a standard minimalist fashion, with a slim, "L" shaped frame, and a stylish curved slope at the front wheel area. The battery is stored inside the deck, allowing for all of the wires to be tucked inside the stem, which helps create a neat and polished look on the outside of the scooter.
All of the electronic parts, mudguards, controls, wires, and the deck come in a dark black color. For the steel frame, on the other hand, you have a few color choices:
black
grey
gold metallic
blue metallic
grey metallic
Materials
In terms of materials, Pure Electric has made some notable changes in this second iteration of the Air Pro electric scooter. Unlike its predecessor, which was built from aluminum alloy, the frame of the Pure Air Pro 2 is made out of steel, a material quite heavier than aluminum, but also a lot stronger.
However, the brand has still kept awareness of the popularity of lightweight scooters and has made an extra effort to keep the scooter around 1 lb / 500 g lighter than the 1st gen model.
Performance
Efficiency is a strong point of this scooter, and performance, while decent for a commuting scooter, takes somewhat of a backseat.
Speed and acceleration
The Pure Air Pro 2 can officially reach a top speed of 15.5 mph / 25 kmh.
On a straight empty road, the scooter will be able to reach its top speed in about 7 seconds. It's definitely not among the fastest scooters out there, not by a long run, and is mainly designed as a city commuter, aiming for a long and stable ride among crowded streets in the city center.
Motor and power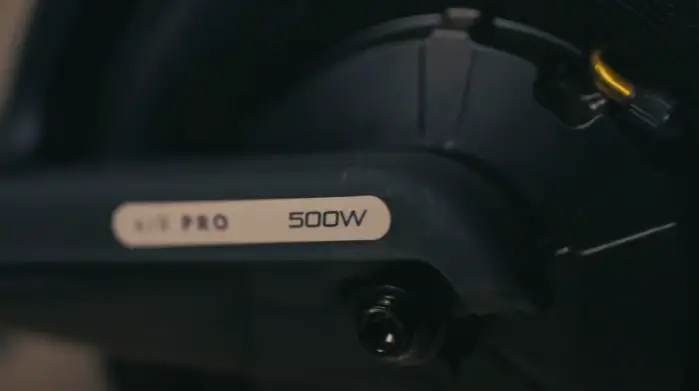 The Pure Air Pro 2 features a single 500W motor mounted in its rear wheel.
The motor has three riding modes you can set up to regulate the speed of your ride:
pedestrian – 4 mph / 6.4 kmh
medium – 12 mph / 19.3 kmh
fast – 15.5 mph / 25 kmh
When set on its highest mode, the scooter can climb most city hills and uphill roads, although a lot of its ability to achieve this will largely vary on the rider's weight. The brand hasn't specified the precise climbing power of the scooter, but other users have suggested it can handle 15-degree inclines with a battery at least half full.
Weight limit and usage by heavy adults
Thanks to its strong steel frame, the Pure Air Pro 2 can be ridden by adults weighing up to 265 lbs / 120 kg. This load limit is among the highest in this price range, allowing for even some heavier adults to ride this scooter without losing much performance.
Range and commuting
With its large battery, the Pure Air Pro 2 has a range of 31 mi / 50 km with a single charge.
The range is one of the biggest improvements of the 2nd gen Pure Air Pro 2 electric scooter. It's almost twice larger than the previous Air Pro model, and the battery may not require charging even for several days in some cases.
People looking for a scooter ride to their office and back, as well as a couple of hours of usage in the evening, will be more than satisfied with this range.
Batteries and charging
The battery has a 36 V, 12.8 Ah, 460.9 Watt-hours capacity, and can be fully charged in around 8.5 hours.
It is mounted inside the deck of the scooter, with the charging port placed on the left side, right beside the front wheel. The battery is fairly thin and flat, thus not making the deck too bulky and keeping the figure slim.
Unlike most other scooters that use unique charging ports for their battery, the Pure Air Pro 2 uses a USB port. This allows you to charge other electronic devices, such as your smartphone if you are in need of it and can spare a negligible part of the scooter's range to keep your phone running.
Features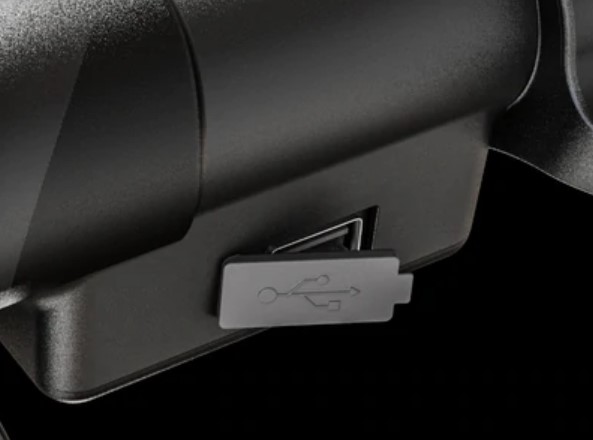 From its bright lights, portability, and great water protection, up to the online app that shows tons of ride information, this scooter is stacked with useful features not found in any other model.
Weight, dimensions, and portability
The Pure Air Pro 2nd Gen scooter weighs around 36.3 lbs / 16.5 kg. When compared to other scooters priced below £500, you'll notice this one is a bit heavier than most. This is mostly thanks to the larger battery and the steel frame.
Still, the scooter is still fairly lightweight, all things considered, and will present no portability issues even for people of a smaller frame that can't carry a lot of weight.
The scooter's dimensions measure 45.6 x 19.6 x 46.8 in / 116 x 50 x 119 cm when unfolded, and 45.6 x 19.6 x 20.1 in / 116 x 50 x 51 cm when you fold it down.
Waterproofing and riding in the rain or snow
Pure Air's second generation is probably the best waterproof electric scooter priced below £500.
It's almost as if the UK brand has manufactured this scooter specifically for the notoriously bad weather that the countries in that region have.
The Pure Air Pro 2 model has an IP65 rating, meaning it is heavily protected from water splashes and can be safely ridden while it's raining or the streets are still wet. None of the vital parts will be damaged even if you storm through the occasional puddles on the roads, which can be hardly avoided during rainy days.
Much of the same principles apply to riding in snow as well. The scooter can be safely ridden when it's snowing, or after, when the roads are all white. The tires, however, are still not a great asset for handling snowy or slippery roads, so it's best to keep riding in the snow to a minimum.
If you would like, you can change the tires aftermarket, and put some with wider grips instead, but this would have to be done at an extra cost and is not something that the PureElectric service team offers as an option, so you will have to do it on your own, thus risking voiding the warranty.
Brakes
The scooter functions with two types of brakes, a rear electric and a front drum brake.
The electronic brake, which stops the motor's power output, additionally has a kinetic energy recovery system (KERS) integrated into their design, which uses the braking force to charge the battery for a small amount.
Drum braking, on the other hand, will usually be used only when you need to make a full stop. It would be the wisest to use it only after you've slowed the scooter down with the electronic brake, or when something (or somebody) pops out of nowhere in front of you and you need to immediately cut the ride off.
Suspension
Unfortunately, this scooter has no suspension in its build and is heavily tied to riding on even and maintained roads without bumps.
It's not uncommon to see scooters in this price range without any kind of shock absorbers. Putting steel or rubber springs will heavily affect the scooter's minimalist aesthetics, and the frame is pretty thin overall to be able to support an efficient suspension system.
Tires, wheels, terrains, and environments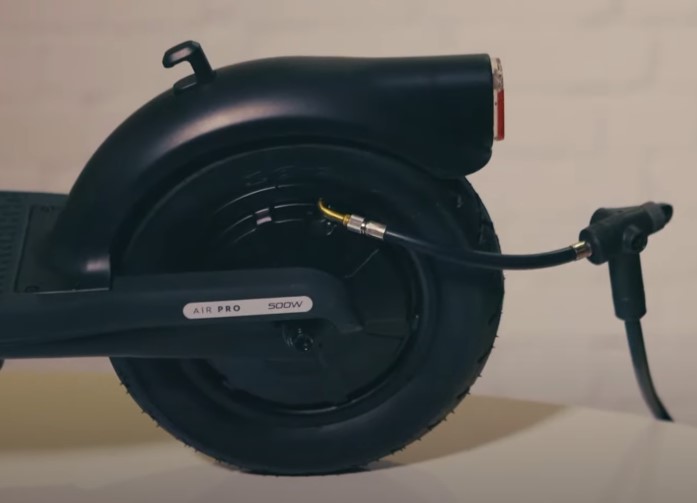 The Pure Air Pro 2 scooter uses wide tires with a 10-inch diameter, filled with air and puncture-prevention fluid. The fluid keeps your tire from instantly deflating when you puncture it on the road, allowing you to safely ride the scooter home instead of pushing it the last few miles.
The fluid is preemptively installed in the tires when you order the scooter, but you can (and should) also buy a spare one to refill the tires once you've changed them for new ones after puncturing.
Although the tires allow you to have a free ride and not worry much about potholes and such, you still won't be able to ride the scooter anywhere except on paved roads. Off-road rides and rough terrains are pretty much out of reach, as the Pure Air Pro 2 is designed solely as a city commuter, with the urban areas in mind.
Lights and night use
Pure Electronics have done an exceptional job when it came to lightning with their Air Pro model.
The scooter has ultra-bright front and rear LED lights, mounted on the stem in front of the cockpit, and on the rear mudguard. It also has two reflectors on the side, making you as visible as a lighthouse during night rides.
Screen, handlebars, and controls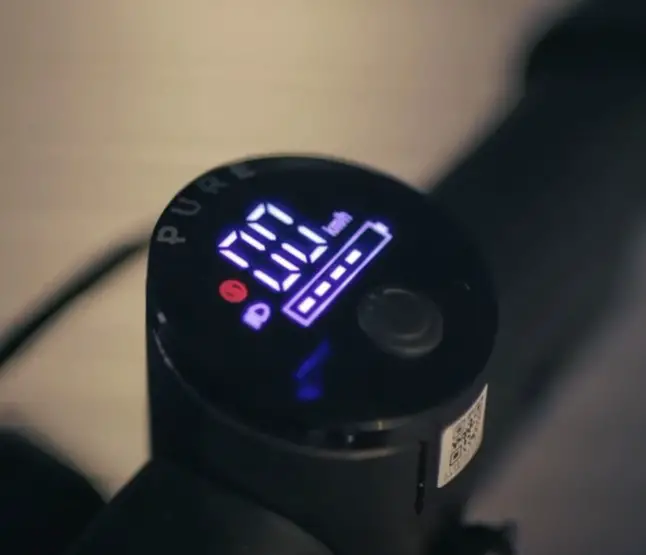 The scooter features a multi-functional LED screen placed on top of the stem bar, in front of the rider's view. The screen shows your current speed and battery level.
However, you can also download the Pure Electrics online phone app, which shows an extended ride dashboard, such as range, mileage, CO2 emissions, and other information. The app is available for both iOS and Android and can be connected via Bluetooth as well.
Aside from the screen, you will also find two more controls in the cockpit of the scooter: a throttle button for the motor, and a lever on the left-hand side for the front drum brake.
Deck and standing surface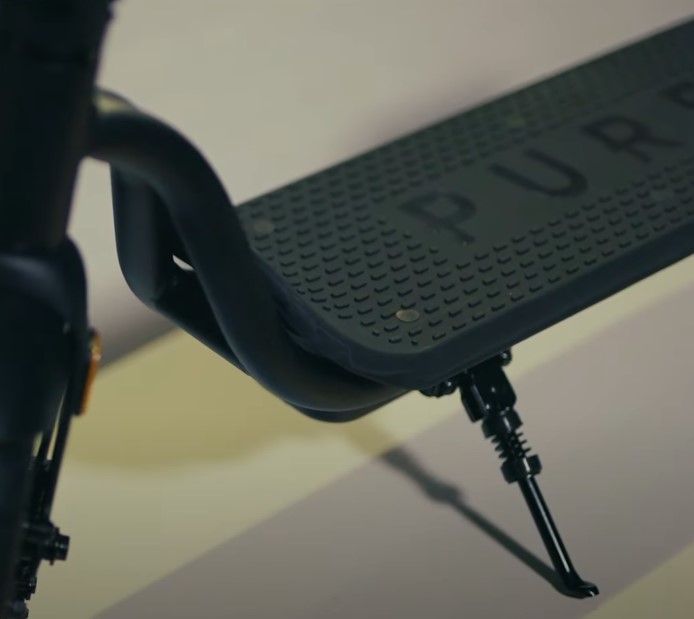 The Pure Air Pro 2 scooter has a standard, long, rectangular deck, completely filled with rubber grips that prevent sliding and help you keep your balance. It also has the "PURE" logo engraved in the middle.
Since the deck has a long and narrow design, you probably won't be able to keep your feet next to each other, but one behind the other instead. Still, you should have no problem keeping your feet on deck as it is long enough to fit them both.
Maintenance
There are no concerns about cleaning and washing this scooter, mainly due to its strong waterproof rating. You can easily wash it with water or wipe it with a wet cloth once every few weeks to maintain its shine.
Of course, as always, you should be very careful around the electronic parts. I still would recommend not hosing the scooter down, despite its high water protection level.
Problems and what to know
I was pleased to notice how few factory issues this scooter came with. It seems as though Pure Electrics has truly hit the nail on the head with this model, creating a durable electric scooter for everyday use.
However, you should know of a few problems before buying the Pure Air Pro 2 scooter.
The main thing I had a problem with was the range. It seems as its max range advertised on the website is only reachable if you tune down your ride a bit, and only cruise on average speed and on flat roads. Going full speed in sport mode, or climbing a lot of inclined hills will only end up getting you around two-thirds of the 31 mi / 50 km range.
The lack of suspension can also be an annoyance, as it may cause you to feel every single pothole you don't manage to avoid. Luckily, the 10-inch tires are bigger than the regular commuter tires (usually 8.5 inches), and they will mitigate a lot of the shocks and impacts.
Another thing I and lots of other users have found lacking is that the scooter has no cruise control. Now, this is not some groundbreaking feature that can make or break the deal around this scooter, but it is something you expect to see in modern scooters. Keeping the throttle button pushed for the whole ride can be troublesome for some people, and if you are one of them, be aware that the scooter simply lacks this feature.
Accessories
There are quite a few proprietary PureElectric accessories that will enhance this scooter. I recommend the tire sealant and puncture prevention accessories as must haves, but definitely check out the other products there, as there are truly a ton of excellent ways to customize your scooter.
Aside from that, I also recommend checking out my general guide on the best electric scooter accessories. Chances are, you will find at least one great item there that will be very inexpensive but make your scooter a lot more useful and fun. Related to that, you will also want to see some scooter locks (you can probably just get some of the cheaper ones, as this is not really an expensive scooter).
And, of course, to ride the scooter safely (and to simply obey the law in most countries), you will need to wear a proper electric scooter helmet at all times while riding.
Price and value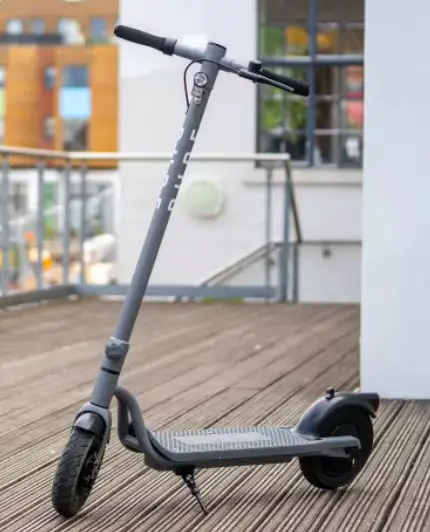 Seeing how this scooter is advertised as a waterproof urban commuter, it has solidly stood the test of time and has proven itself as one of the most efficient models priced at around £450.
For such a price you get a durable, long-range scooter that can get you near two days worth of riding with a single 8.5 hours charge.
It also looks very eye-pleasing and has one of the smoothest minimalist aesthetics out of all scooters I have seen so far. The metallic colors and the elegant design make this one of the sleekest scooters out there, especially the gold version that looks quite luxurious too.
Pure Air Pro 2 vs Xiaomi Pro 2
Xiaomi Pro 2 is one of the most popular and best-selling budget scooters in the game. It's a big name with tons of direct competition, mostly with other affordable scooters like the Pure Air Pro 2. And, as you might have guessed, they have a lot of similarities between them.
The two scooters provide the same, street-level top speed and an almost identical build. The Xiaomi Pro 2 fares better in range, with up to 25 mi / 40 km on a single charge, and comes with better anti-puncture tires, but its water protection rating is slightly worse.
There is a financial factor to consider as well. These feature disparities come with a price difference of around $250, which can be big if you're on a tight budget. And since you're here, shopping for budget-priced scooters, you probably want to save some money where you can.
In short, the Pure Air Pro 2 comes a bit cheaper, but with a lower range, less durable tires, and a slightly better IP rating. Naturally, not everything is so black-and-white, so I would still recommend checking out my detailed Xiaomi Pro 2 review before making the final choice.
Who should not get the Pure Air Pro 2 Electric Scooter?
The Pure Air Pro 2 is a universally adaptable scooter, but it still might not work for some people.
I wouldn't recommend it to people who are looking for a long-range scooter, especially if you constantly ride the scooter at its top speed. With such a riding style, the battery simply won't last for the whole day and might leave you stranded a few miles away from home if you don't have a place where you can recharge it.
Additionally, the Pure Air Pro 2 is not the best option for people who can't ride without suspension. There are tons of lowly maintained roads with numerous bumps and potholes out there where you simply can't allow to ride seamlessly without proper shock absorption.
Overall, I believe this is a great beginner scooter but might just feel a bit underwhelming to some more experienced riders who are looking for something more powerful.
Who should get the Pure Air Pro 2 Electric Scooter?
The IP65 waterproof rating is one of the biggest selling points of this scooter. It's one of the best options with strong water protection priced below £600.
The scooter is great for people that live in cities where it rains most days of the month. If the streets around you are constantly wet and you need to ride in the rain more often than not, the Pure Air Pro 2 is the most reliable electric scooter you can get for its price. In fact, it's one of the best waterproof electric scooters available in Europe in all price ranges.
With its strong climbing angle, it is a great option for people that live or often commute uphill.
I would also recommend this scooter to people who know how to appreciate a good-looking metallic color. The shiny surface, sleek design, and modern look guarantee that you can ride in style.
One particular type that comes to mind when talking about the Pure Air Pro 2 is people that always end up with a low phone battery during the day. Those will find the option to charge your phone directly from the battery of the scooter one of the most useful features of this model.
In the end, the Pure Air Pro 2 is one of the most reliable medium-range daily urban commuters, and one of the best options for people who only need a small, portable vehicle to take them around the city.
Where to buy the Pure Air Pro 2 from?
Specifications
Pure Air Pro 2 Specifications
| | |
| --- | --- |
| Top speed | 25 kmh |
| Top speed | 15.5 mph |
| Range | 50 km |
| Range | 31 mi |
| Motors | rear hub BLDC |
| Power | 500 W real, 700 W peak |
| Battery | 460.9 Wh, 36 V |
| Charging time | 8.5 h |
| Ingress protection (IP) | IP65 |
| Weight | 16.5 kg |
| Weight | 36 lbs |
| Weight limit | 120 kg |
| Weight limit | 265 lbs |
| Tire size | 10 in |
| Tire type | pneumatic |
| Tire pressure | 36 psi |
| Foldable | yes |
| Foldable handlebars | no |
| Build material | steel frame |
| Brakes | front drum, rear electronic KERS |
| Shock absorbers | no |
| Lights | front and rear LED, reflectors |
| Speed modes | 3 |
| Cruise control | no |
| App | yes |
| Warranty | 1 year |
| Return period | 30 days |
| Rider age | 16+ |
| Folded dimensions (L * W * H) | 116 cm * 50 cm * 51 cm |
| Folded dimensions (L * W * H) | 46 in * 20 in * 20 in |
| Unfolded dimensions (L * W * H) | 116 cm * 50 cm * 119 cm |
| Unfolded dimensions (L * W * H) | 46 in * 20 in * 47 in |
| Adjustable handlebar | no |
---
Want to get
FREE SCOOTER
tips, exclusive discounts and promotions, and unseen scooter hacks? Join the
Scooter Secrets club
.
---
Liked this article? It really helps if you share it.
Follow @escooternerds on social media for more cool stuff
---