We will go over the best electric scooters for climbing hills now, review their climbing angles and capabilities, and see what makes them great climbers.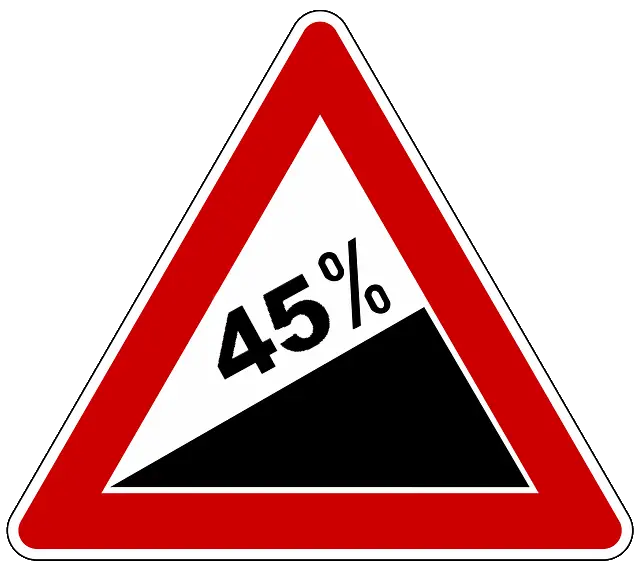 Best electric scooters for climbing hills
The ability to climb hills is one of the most important and sought-after features in an electric scooter. If you've never owned a scooter before, know that you will definitely want your scooter to climb well. If you've owned a scooter that's poor at climbing, you already know how frustrating that experience can be, especially if you live somewhere with a lot of hills.
To figure out which scooters are the best climbers, we need to look at the climb angles specified by their manufacturers, but at the same time, we want to know that the climb angle has been confirmed in independent user tests (otherwise, manufacturers can claim whatever they want, right?).
These are the best electric scooters for climbing hills.
Best electric scooter for climbing hills overall – Kaabo Wolf King GT Pro
Kaabo Wolf King GT Pro really is "the king" when it comes to climbing scooters, and not only because of its name.
A climb angle of 50 degrees, reached through dual motors with a peak power of 7200 Watts, makes Kaabo Wolf King GT Pro the best climbing scooter on this list.
Costing around $3595, the Kaabo Wolf King GT Pro is almost two times cheaper than the second-best scooter for climbing listed here.
Now, don't get me wrong, I know that is still a substantial amount. But for that sum, you get one of the best electric scooters in the world. Ever.
Now, in my opinion, I believe that the 50-degree climb angle is a sort of purposeful mistake on the brand's behalf. 50 degrees is simply too steep for any vehicle, and it's quite possible that what the brand has meant to state is a climb angle of 50 percent, which translates to about 27 degrees. That's still an insanely good climb angle, and the scooter is definitely capable of climbing hills even steeper than that.
The Kaabo Wolf King GT Pro is not just made for casual hill rides on urban asphalt. It can withstand much, much tougher conditions than that. Made of fortified forged aluminum, coupled with dual hydraulic suspension, hydraulic brakes, huge 11-inch tires, and a waterproofing rating of IPX5, nothing can stop this scooter, no matter if there is a paved road ahead or not.
It is simply a vehicle that can be trusted.
Not only that, but the Kaabo Wolf King GT Pro also comes with a range of 75 mi / 120 km and reaches a top speed of 63 mph / 101 kmh on a flat road. All while handling up to 330 lbs / 150 kg of load on its deck, which also makes it the second-best scooter for heavy adults on this list, only behind another model from the Kaabo brand.
Getting all these features, for the listed price, deservedly makes the Kaabo Wolf King GT Pro our best electric scooter for climbing hills, overall.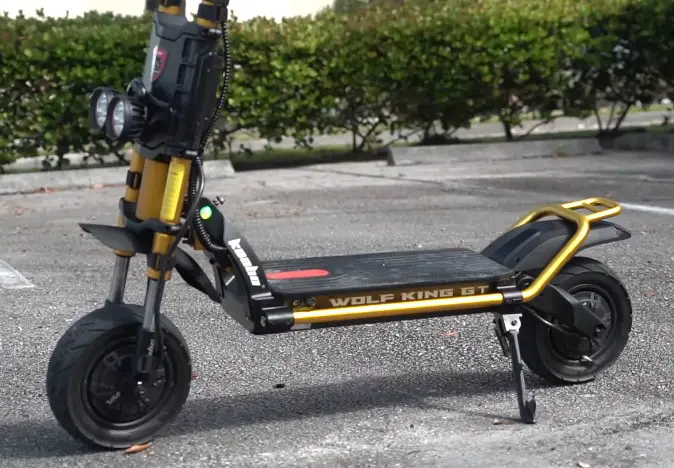 Most comfortable electric scooter for climbing hills, largest tires – Dualtron X2
Climbing hills is not always all about power. You also want to be standing comfortably and not get your legs torn apart from the ride.
That means a wide deck, large tires, and excellent suspension. And the one scooter that we can truly label as the most comfortable one for climbing is the Dualtron X2.
The Dualtron X2 costs $6490, and while it's a huge price, it is more than justified.
The scooter has an amazing climb angle of 35 degrees, which has been confirmed in tests by many owners.
Among other world records, the Dualtron X2 has the most powerful motors in the world, packing an astonishing 8300 Watts of power. With that kind of power, I believe that this scooter can climb even better than claimed, and the climb angle of 35 degrees may even be underreported a little.
But its best selling point is definitely the comfort features. The Dualtron X2 has 13-inch tubeless pneumatic tires, by far the biggest tires out of all climbing scooters, coupled with two large adjustable hydraulic suspension springs with 19 levels.
This is undoubtedly one of the best tires+suspension combos I've ever seen on an electric scooter. The ride comfort with this one is truly impeccable.
The Dualtron X2 weighs more than 143 lbs / 65 kg, and that may be one of the reasons why the manufacturer doesn't claim angles higher than 40 degrees. Its great mass provides it with better stability and robustness, but hill climbing will suffer because of that.
Anyway, an angle of 35 degrees is still very impressive, and I believe this scooter is easily capable of more. You can see my complete Dualtron X2 review if you wish to find out more.
For many scooter lovers, the Dualtron X2 is the best electric scooter in the world in all categories. Even if you don't agree fully with that statement, the Dualtron X2 must get recognition – it is a mighty machine, and hills will not be a challenge.
The Dualtron Thunder (full review here) also has a climbing angle of 35 degrees, and it costs almost half of what the Dualtron X2 costs.
Other Dualtron models, like the Dualtron Ultra 2, the Dualtron Raptor, and the Dualtron 2, have a climbing range of 30 degrees, while the Dualtron Compact, Dualtron Spider and the Dualtron 3 have climbing angles of 25 degrees.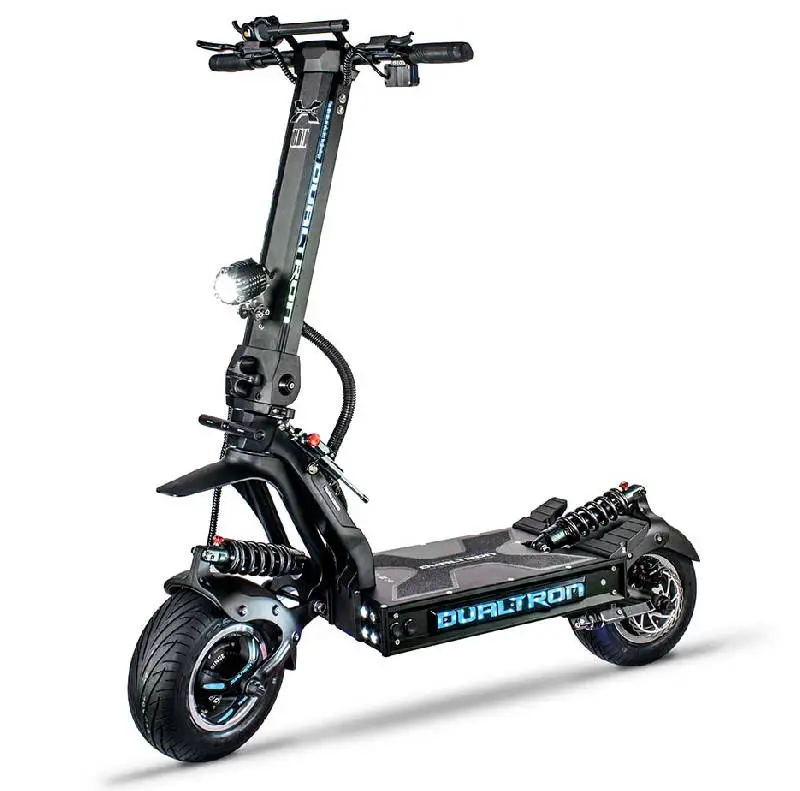 Best electric scooter for climbing hills under $2000 – Apollo Pro
Apollo is one of the most exciting relatively new electric scooter brands, and they are making huge splashes in the scooter world right now.
Their most powerful scooter, the Apollo Pro, comes in two different flavors, the regular and the Ludicrous version, and both versions have a climb angle of 40 degrees. This climb angle has been confirmed in a few user reports online.
The exact specs will vary based on the scooter version you choose, as there are both 52V and 60V versions, and you can also choose between regular and fully hydraulic brakes, plus the Ludicrous version as the truly ludicrously powerful choice. In any case, both the 60V and the Ludicrous versions will have the claimed great climb angle, and the 52V version will not be too far behind.
The 60V and the Ludicrous versions are powered by dual 1200-Watt motors, with a combined power of 2400 Watts (3600 Watts peak). This is a seriously powerful scooter that you can find for a pretty good price, $2299 for the regular version, and $3299 for the Ludicrous version.
If your budget is under $2000 and you want the best possible climbing scooter that you can get, simply get the Apollo Pro 52V version. It will have the same awesome climb angle as the other models with the bigger batteries, and it will cost around $1800.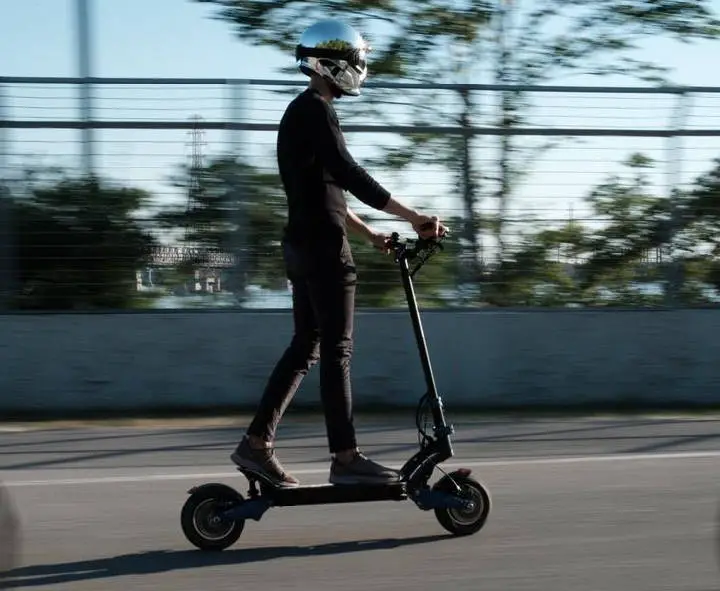 Best electric scooter for climbing hills under $1500 – Kugoo G-Booster
This is one of the best climbers in the world right now, and it costs surprisingly little.
For a price of $1279, which is dirt cheap compared to the other top climbers described here, you will get a very solid, well-crafted scooter with 1600 Watts of power packed in its motor.
It is pretty obvious that Kugoo aimed to make this scooter especially good at climbing. Their other models mostly have angles of about 15 degrees.
But the Kugoo G-Booster is a different story. See the full review of the Kugoo G-Booster to understand exactly why.
Most electric scooters lack rigorous hill climb testing. There is good footage of the Kugoo G-Booster swallowing up a pretty steep slope with ease around the 4 minute 45 second mark in the video below.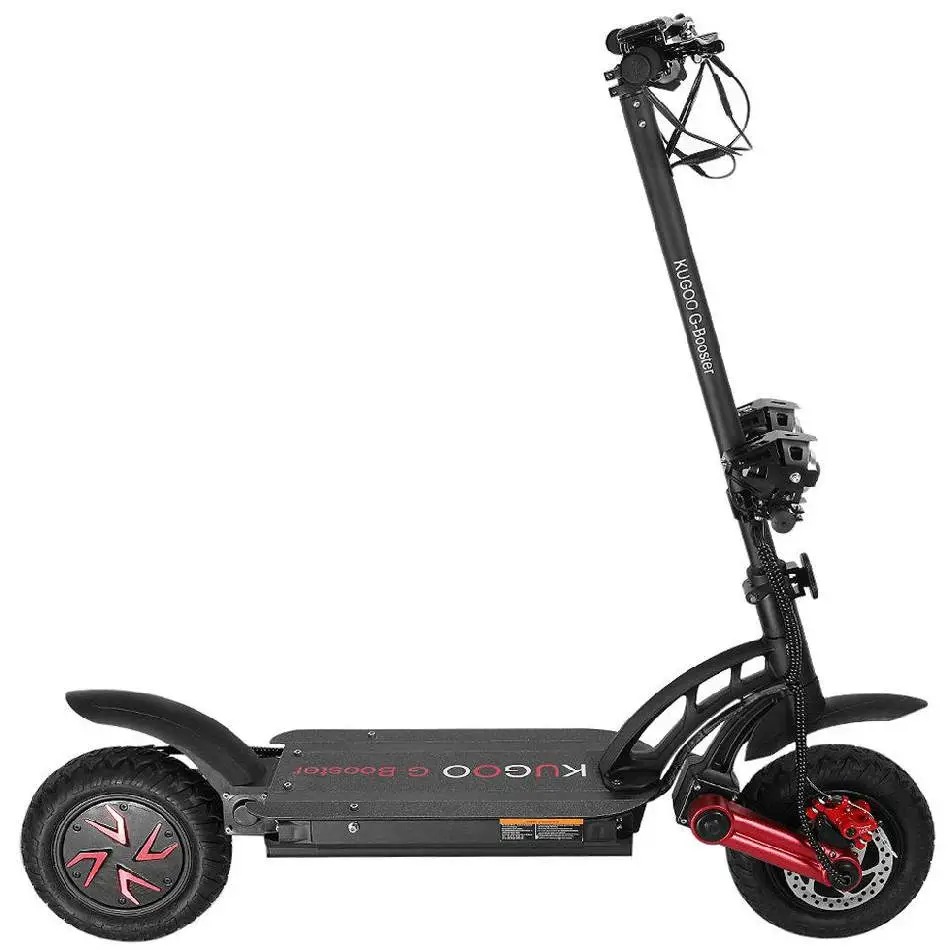 Best electric scooter for climbing hills under $1000 – Apollo City
The best electric scooter under $1000 that will take you across hills and valleys will be the Apollo City.
Priced at $999, it comes with a solid 800 Watt motor, and can handle slopes of up to 15 degrees. While there are a few other $1000 scooters that claim this climb angle, the Apollo City has user tests confirming this angle.
Apollo makes excellent climbers and has a few more entries in this list, like the Apollo Pro above. Since very few scooters under $1000 will handle slopes as well as the more powerful scooters, I suggest choosing one of the better performing scooters if hills are a big part of your commute, and the more powerful Apollo scooters are a great choice here. You may have to add a few extra hundreds to your budget, but I believe it will be a worthwhile investment.
Anyway, as with all Apollo scooters, the Apollo City is a solid climbing scooter, and probably the best one you can get for under $1000. The climb angle of 15 degrees, while formidable, is not that astonishing, but it is confirmed at least. You can check out my complete Apollo City review if you are curious about this scooter.
Best electric scooter for climbing hills under $500 – GoTrax G4
As we move down the price range, we are slowly exiting the category of amazing climbers. Also, the number of scooters that have their climb angles confirmed by owners becomes smaller. Luckily, we have the GoTrax G4 here.
For the price of $499, the GoTrax G4 can handle slopes of 15 degrees. That's as good as it gets, pretty much every other scooter in this price range has less than that, and that already means that many hills can be troublesome.
GoTrax produces and sells a lot of good budget scooters, and the G4 is one of their latest models. Of course, you can't expect performances as the top climbers, and a 350 Watt motor can only climb so much.
But 15 degrees is still something to be respected in this category. If you're on a budget and you still need as much climbing power as you can get, the GoTrax G4 is your choice. If you want to find out more, see my complete GoTrax G4 review.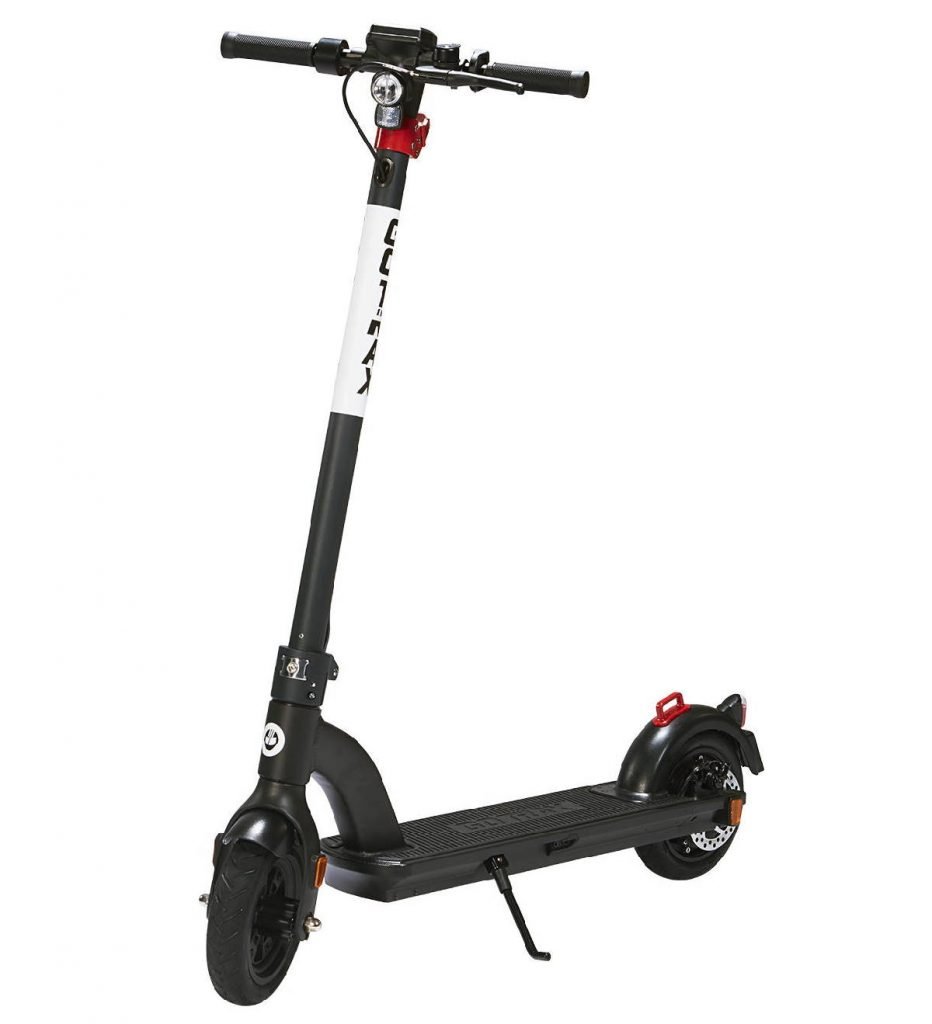 Best electric scooter for climbing hills under $300 – GoTrax GXL V2 Commuter
The GoTrax GXL V2 Commuter can climb slopes of 14 degrees, and it costs just $269. And what's even better, this scooter has established a great reputation so far and this climb angle has been confirmed in lots of user tests, so we can safely say it's the best climbing scooter for under $300.
While only a budget scooter with a motor of 250 Watts, it's still the best climber you can get for that amount. Every other scooter around or below $300 will have a hill climb angle of 10 degrees or less. Be aware that any scooter with 10 degrees or below will likely struggle on every type of hill.
So if you're really really on a budget and you need all the climbing power you can get, go for the GoTrax GXL V2 Commuter. Given the price, you really get a great angle.
If you are curious to find out more about one of the best budget scooters of all time, check the full GoTrax GXL V2 Commuter review.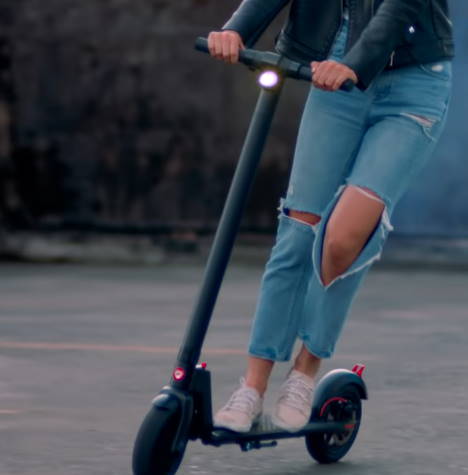 Electric scooter for climbing hills with the longest range – Dualtron Storm Limited
As you can see from some of the models listed above, Dualtron is a premium-only brand, with some of the best, most powerful, and most expensive scooters in the game. Unsurprisingly, they also claim the title for the longest-range climbing scooter with the Dualtron Storm Limited.
This $5399 priced electric scooter packs an unbelievable range of up to 136 mi / 220 km, with an even more amazing charging time of 11 hours!
That is roughly double the range of the Kaabo Wolf King GT Pro, for the same charging time.
The Dualtron Storm Limited, while being a real range hero, is also an insanely quick scooter. With dual hub motors of 11500 Watts, the scooter has a top speed of 70 mph / 112 kmh. These extremely powerful motors can tackle hills of 37 degrees without any problems.
What more is there to say about this monster of a scooter?
A record-breaking range, insane speed, and a huge 330 lbs / 150 kg weight load will make sure the performances won't suffer from a heavier rider.
If you loved everything about the above-mentioned models, but were always skeptical of their range, the Dualtron Storm Limited has got you covered.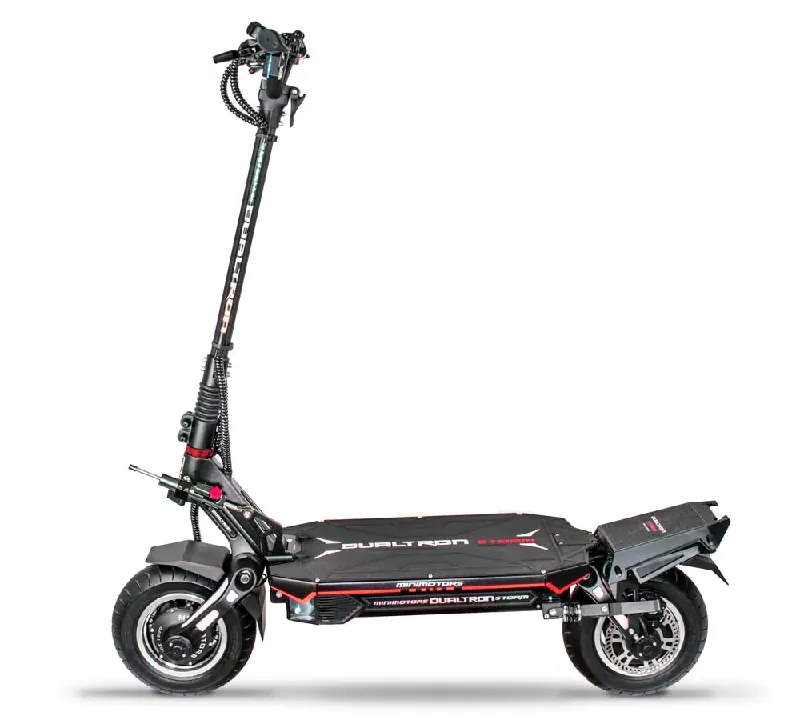 Best waterproof electric scooter for climbing hills – Nami Burn-E 2 Max
Many of you who live in rainy areas (looking at you, UK readers) are rightly worried about protecting your scooters from water damage.
Luckily, most power scooters have some form of waterproofing in their designs, at least in theory. But if you plan to regularly ride in the rain, or use your scooter for off-road hill rides, you will need much more than the basic coverage.
In short, waterproof ratings show two numbers, labeled as "IPXX". The first X is the scooter's protection level from dust intake, while the second X is for water. What we are looking for is the second number, which has to be at least 5 or higher for sufficient protection. For a detailed explanation of IP ratings read my detailed guide on waterproof scooters.
So how does the Nami Burn-E 2 Max fare here?
This scooter takes things to a whole new level with its ingress protection rating of IP67 – the best of all scooters I've managed to find so far.
The Nami Burn-E 2 Max is an endurance power scooter. Its frame is made of heat-treated aviation-grade aluminum, while the steering wheel hides the electrics, and the wires are made of carbon fiber. This high-grade material combo gives the scooter incredible protection from all kinds of environmental damage, ideal for extreme tests in rough conditions.
There are tons of reviews and reports on this scooter labeling it as the "king of the hills", due to its great climbing abilities. Many owners have tested and proven the 35-degree angle.
The scooter packs a huge 2304 Wh battery with a range of up to 90 mi / 145 km, while two adjustable coil-shock suspensions will take care of the bumps on the road.
I could go on and on about the beauty of this scooter. Nami really hit the nail on the head with this one. It just sells itself. If you need the best waterproof climbing power scooter at the moment, the Nami Burn-E 2 Max, priced at around $4800, is the best thing you can get.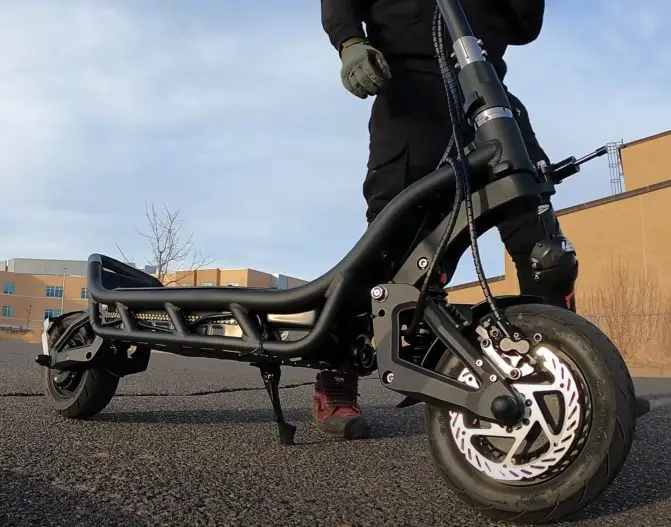 Best electric scooter for climbing hills for adults – Kaabo Wolf King
There are two things that affect a scooter's climbing abilities the most – current battery level and rider weight.
While a low battery may significantly lower the speed of the scooter once it reaches a certain incline, with a heavy load on its deck it may not even start climbing at all. And if you are anything like me, and weigh somewhat more than the average adult, you will find yourself in trouble.
On average, e-scooters have a weight limit of 265 lbs / 120 kg. Some of the cheaper models go lower than that, while premium scooters go as high as 330 lbs / 150 kg.
And then you have the Kaabo Wolf King with an astounding weight limit of 400 lbs / 181 kg!
That is more than two times heavier than the average adult out there.
This scooter can reportedly climb hills of up to 45 degrees of steepness.
Here we can see one owner who managed to climb what seems to be around 35 degrees slope with this monster of a scooter.
The Kaabo Wolf King is the first-gen model in the Kaabo Wolf series. And even though the Kaabo Wolf King GT Pro, the best scooter overall in this category, has gotten the edge in almost every aspect, the one thing it lacks is weight limit.
With a 60 mph / 97 kmh top speed and 50 mi / 80 km of range, the Kaabo Wolf King is not the fastest nor the longest-range climbing scoter out there. But its 400 lbs / 181 kg weight limit definitely makes it the best climbing scooter for heavy adults in the world.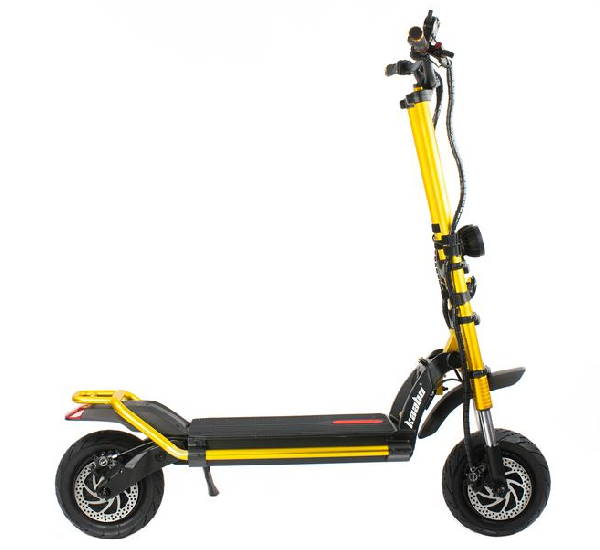 Best value electric scooter for climbing hills – Kaabo Wolf Warrior X Pro
The third scooter from the Kaabo brand on this list comes in as the best value-for-money climbing model – the Kaabo Wolf Warrior X Pro.
As you can see from all the other premium scooters above, to get a sufficiently powerful scooter, you have to pay the big bucks. That is, except for this model right here.
The Kaabo Wolf Warrior X Pro is the perfect choice for value shoppers who want to get the greatest deals at half the price. Costing around $1895, it is much cheaper than the Kaabo Wolf King GT Pro, while still delivering great performance.
Thanks to the two hub motors with a peak power of 2200 Watts, the Kaabo Wolf Warrior X Pro provides a tested and confirmed climb angle of 35 degrees.
So, that is a premium-level climbing angle for a mid-range price. Quite a decent deal, if you ask me.
Of course, you will have to make some sacrifices if you decide to go for this value scooter. The Kaabo Wolf Warrior X Pro doesn't have a reported waterproof rating, and its suspension system is not the best in the world.
But those downsides will have to come with any scooter that is trying to break through at a cheaper price. And if you do decide to go for one like that, there is hardly a better choice than the Kaabo Wolf Warrior X Pro.
Best alternative electric scooter for climbing hills – Zero 11X
Zero may be the most serious challenger for the title of best electric scooter manufacturer. The way things are going, I personally believe they will produce scooters that will surpass the most expensive scooters in many parameters, and overall quality in general, while maintaining a more competitive price.
Their current best scooter, the Zero 11X, can climb slopes of up to 35 degrees. Priced at $3499, it has a motor with 3200 Watts and it is no wonder that hills are not a problem at all.
Other Zero models, like the Zero 10X, the Zero 10, the Zero 8X, the Zero 9, and the Zero 8, all claim the same climbing angle, 35 degrees.
The best part about these models? We can see real-world proof of them achieving this.
Here's a really cool video showing how the Zero 10X handles a 30-degree slope from a cold start at the very start of the slope, with no previous acceleration at all!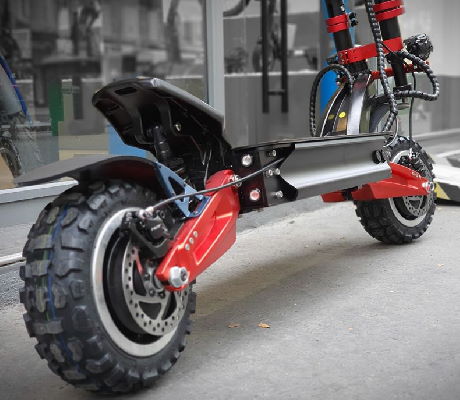 What is a good hill climb angle for an electric scooter?
Based on the list above, any climb angle above 25 degrees will be good enough for all street ramps, while scooters with climb angles above 35 degrees are some of the best there ever are.
We have the Kaabo Wolf King GT Pro model claiming to be able to cross hills of 50 degrees, and other scooters claiming 35 degrees or higher.
However, you will rarely encounter slopes steeper than 30 degrees.
Just to give you an idea, here's what a 30 degree slope looks like.
Slopes this steep are only common in few cities, or in very few parts of a city.
Meaning, if your scooter has a climb angle of 35 degrees, it can already handle almost every slope out there.
By this definition, any scooter that has a climb angle higher than 35 degrees is a great climbing scooter. With the handful of models that claim to have climb angles of 35 degrees or above, you will likely have absolutely no issue going uphill 99% of the time.
It's also safe to say that any scooter that has a climb angle below 10 degrees will likely cause you trouble on many hills.
Can electric scooters climb steep hills?
We can finally provide a data-driven answer to one of the most burning questions in the electric scooter community.
The majority of modern electric scooters can handle the majority of slight to moderate hills.
At the same time, the majority of the common scooters will struggle with the steeper hills.
There will be a lot of factors when it comes to climbing. The power of the motor will be the dominant factor, but its battery, its weight and the weight it is able to carry will also be very important. Scooters with dual motors will have much better traction, which is also very important for climbing.
There are also a few things you can do to try and improve the climbing performances. These are the most useful tips you can apply to try and increase that:
ride with as fully charged battery as possible
add an extra battery if possible
reduce the load that the scooter carries
gain acceleration and momentum before going uphill
Other lesser factors that will affect the type of angle you get from your scooter will be:
whether your scooter has suspenders, and how good they are
the type of tires, with wider or off-road tires making it climb better
the technique and the stance of the rider, especially for scooters that struggle
Check out our detailed guide about how well can electric scooters go uphill, as well as detailed instructions on how to improve performance when going uphill.
Electric scooter motor power and climbing angle
There is a quite strong correlation between a scooter's power in its motor, and the climb angle it is able to achieve. The number of the motors is also directly related to that as well, as two motors will always provide more torque and better climb angles.
There are some exceptions to this though. Some scooters have very powerful motors, but they are either too heavy or have batteries with very small voltages, that prevent the scooters to fully utilize their motors and climb easily.
Also, there are some scooters that can achieve greater angles than what their motors would suggest. More often than not, they will tend to be light in weight and their battery voltage will be almost the same as the motor voltage.
So, while there is a strong link between motor power and climbing ability, it's not the only factor.
Manufacturer-reported and user-reported hill angles
Many of the manufacturers of electric scooters will include an approximation to how steep a hill can the scooter climb, expressed in degrees.
Typically, the more expensive and more powerful scooters will tend to have this number specified. Lower end scooters with less power will not be very proud of their hill climb angles, and not reporting that number will create a better image for the model.
Still, even when the degrees are reported, we should keep in mind that the numbers that the manufacturers put out are obtained under lab settings. The scooters are likely brand new, and their batteries will usually be full since that always gives the scooter a little more degrees. Also, the rider either has an average weight or sometimes a bit lower, and there's no extra load on the scooter.
So while useful, these numbers will not always represent how your scooter will behave in real-world hills.
That's why angles obtained through user testing, reported by owners that have had and used the scooter for a while in the real world, will usually be more accurate representations of the scooter's hill climbing abilities.
However, there are two big problems with user-reported climb angles.
First, they can also be very inaccurate, probably even more so than the numbers from the manufacturers. Many people will try and test the uphill capabilities of the scooter, but we can't be sure with how much rigor they will test it.
Second, these measurements are quite rare. Many reviewers skip trying to measure this. Only the most popular scooters have reviewers trying to measure and report this number.
That means we're stuck with the numbers provided by the manufacturers in a lot of cases. Which is a lot better than nothing, but still relatively little information.
Average climbing angle of electric scooters
A common number thrown around is 23.4 degrees as the average of the climbing angle of electric scooters.
I'm not sure how that number was obtained.
All I can say is that, out of around 313 different scooter models, only 211 have hill climb angles reported by their manufacturers.
The average reported climbing angle accross all electric scooters is 19 degrees.
Those values are pretty close, and the difference may be largely because of different methodologies.
The answer is around here somewhere – the average climb angle of electric scooters is between 18 and 25 degrees.
Measuring slopes – degrees vs percentages
A slope can be measured either in degrees (°) or percentages (%).
Both are frequently used, but degrees is a more official unit.
Keep this in mind when looking at the climbing capabilities of a scooter.
If you need to compare two scooters that have their maximum angles expressed in different units, you can convert one into the other. The formulas are very simple.
Degrees = Tan-1 (Slope Percent/100)

Formula for calculating the degrees of the slope from the percentage
Slope Percent = Tan (Slope Degrees) * 100%

Formula for calculating the percentage of slope from the degrees
Here are the angle calculators you will need to do the conversion.
Summary
Those were all the best electric scooters for climbing and hilly areas. The following table summarizes the best climbing scooters.
---
---
Liked this article? It really helps if you share it.
Follow @escooternerds on social media for more cool stuff
---