Last Updated on November 14, 2022 by Matt
The GoTrax GXL V2 Commuter is the best-value budget electric scooter today (and I rarely make absolute statements like this).
With a level of quality and features that are rarely seen in a scooter this inexpensive, I truly believe this scooter is pushing the envelope and strongly prompting other scooter brands to drive their costs down as well.
This comprehensive review of the GoTrax GXL V2 Commuter will help you find out if it's the right scooter for you.
GoTrax GXL V2 Commuter review
GoTrax GXL V2 Commuter is an affordable, fully-featured electric scooter of very solid quality. It has low defect rates for its price, and its owners swear by it. It is an upgrade to the original GoTrax GXL Commuter scooter, which was also massively popular and well-accepted. Usually priced around $269, it is definitely one of the best scooters under $300.
Let's see why this scooter may be the absolutely perfect choice for a huge number of value shoppers, people on a limited budget, but also anyone looking for a fun scooter that's not of poor quality.
GoTrax GXL V2 Commuter summary
The GoTrax GXL V2 Commuter is a big improvement to the already solid and also hugely successful previous version of this scooter, the GoTrax GXL Commuter.
This is one of the best-selling scooters in the United States and Canada, and its owners are in love with this model. It's simply hard to go wrong with it.
With a price tag of $269, and a complete set of features that any modern scooter should have, this scooter is, without a doubt, one of the best budget scooters ever made. It does a good job of providing admirable performance for the price, while not sacrificing durability and user experience.
If your budget is under $300, or you're looking for a great beginner or entry-level scooter, or if you simply want a scooter that's amazing bang-for-buck, I truly believe you will be very satisfied with the GoTrax GXL V2 Commuter.
Where to buy the GoTrax GXL V2 Commuter from?
---
Canada
GoTrax currently don't ship to Canada. Fortunately for Canadians, the GoTrax GXL V2 Commuter can sometimes be available on
Amazon Canada
.
---
UK, EU alternative
As GoTrax scooters are not available outside the US, the best equivalent to the GXL V2 in Europe would be the
Kugoo S1 Pro on Geekbuying
. As usual, shipping is free and takes about a week.
The GoTrax brand
There are many budget electric scooter brands. Only a few of them are half-decent, and only a handful are actually good. GoTrax is one of the latter, they are a budget electric scooter brand that doesn't suck.
They are very popular and have a good reputation. Their scooters are widespread throughout the US, with some models being available in Canada as well. They are known for providing quality that far outmatches the price they charge.
Ordering and shipping
The GoTrax GXL V2 Commuter, like all GoTrax scooters, is only available in the US for now.
The order of the GXL V2 will be processed in 1 or 2 days, and your scooter will be at your doorstep within 3 to 5 days. The shipping is free and will be done through FedEx, UPS, or USPS.
When buying through GoTrax, you have the option to pay $27 per month and spread out the full cost over several months.
Warranty and return policies
Every unused GoTrax scooter can be returned 30 days after the purchase, although as usual, the shipping and restocking costs will be covered by the customer.
The warranty covers 90 days on most scooter parts that are defective because of the manufacturer. As usual, the product must not be modified, and water damage is not covered.
Unboxing and assembly
The packaging of the scooter is custom-made, and the scooter arrives intact because of it.
The box contains the scooter parts, the charger, the manual, the pump hose, and the tools you will need to assemble the scooter.
There will be some basic assembly you need to do, the manual includes all the instructions you need. You need to insert the handlebar into the stem first, and you do that by using the Allen wrench that came with the package to unscrew the two screws near the top of the stem and take the cap off. Then, you insert the handlebar into the stem, secure it and make sure it doesn't wiggle, and finally connect the brake cable.
Make sure to charge the scooter to 100% before riding it for the first time.
Basics and how to use
The red power button on the top of the stem is the only button this scooter has, and it's used to power the scooter on and off, change speed modes, and toggle the headlight.
This is a typical electric kick-scooter, which means you will have to use a kick and then hit the thumb throttle to start moving.
Unlike most scooters that have 3 speed modes, this scooter has only 2. In my opinion, this is a breath of fresh air, as it means less complexity. In fact, I think we're pretty close to a point where we might see less powerful scooters like this one with just a single speed mode (although that will not be without some downsides).
The first speed mode limits your speed to 10 mph / 16 kmh, and the second unlocks the scooter's full speed of 15 mph / 25 kmh.
Folding and unfolding
The folding mechanism is more secure than what you would expect from a scooter under $300.
The GoTrax GXL V2 Commuter features a folding mechanism activated by unscrewing a safety pin first and then pulling a lever to be able to fold and unfold it. The rear fender has a locking part that you seal the stem into to secure the folded scooter.
One of the unique features of the scooter is that unlike most models, it folds at the deck instead of at the stem, which makes it more portable for most situations.
Make sure the pin is tight when you unfold the scooter and lock it into position for riding.
Materials, design, and colors
What I respect about this scooter the most is that a careful design process was obviously involved in its creation. This is not just another Xiaomi/Ninebot/"Whatever is hot right now" clone, where all the design ideas and decisions are just stolen from already proven scooters. The fact that this scooter executes quite a few things differently than your typical Xiaomi copycat is proof of that, and it's what makes it easily distinguishable.
Sure, some things will be the same as with most scooters, but mostly because doing them differently just for the sake of being different would just be a silly, spiteful, and ultimately wrong choice.
The GXL V2 follows a unique vision of how a commuter scooter should look and work. As an engineer myself, I have nothing but respect for that courage and process.
The scooter's frame is made from aluminum alloy. The frame is reinforced, and it's much stronger and improved compared to the old version.
The GoTrax GXL V2 Commuter sports a modern, clean, sleek look, and feels very robust and sturdy. It manages to be both minimalistic in the way it looks, yet still be feature full, to the point where it can go toe-to-toe against much more expensive scooters.
Typically, the scooter comes in black, with red details, but sometimes a silver color is available as well.
Quality
This scooter manages to pull off what very few, if any, scooters have done before – it is actually a good-quality, well-designed, well-thought-out scooter, which you can afford to buy without selling a kidney.
As with any scooter, there have been some DOAs (dead-on-arrival), and some complete breakdowns after a few months of usage. But there has only been a handful of those, and given how many units this scooter has sold, that is an achievement.
The build quality, the attention to detail, and the execution are all very impressive for a scooter this inexpensive, and even for any beginner-level scooter in general.
The scooter is very quiet, the parts are so well integrated that none of them have to work extra hard to achieve the desired performance.
Ride experience, commuting, and everyday use
The GoTrax GXL V2 Commuter provides a nice, smooth, comfortable ride. The scooter's design is ergonomic, and owners can maintain a fairly natural posture and stance while riding.
This scooter is not named "Commuter" for nothing. It is perfect for one particular type of commuters, and that's people that use their scooter in combination with another mode of transport, like a bus, metro, subway, or a car. The scooter is both portable and easy to carry, doesn't have any weird parts sticking out of it when folded, and fits into car trunks, trains and subway station doors, hallways, elevators, doors, under your office desk… pretty much anywhere you may need to put it or carry it through.
Turning, controlling, balance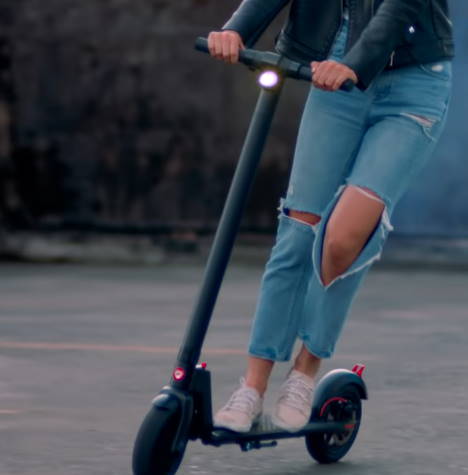 Since the scooter is well designed and well made, it provides a good balance (although the battery, which is located in the stem, does make the scooter heavier on the front side). The handlebars are not exactly wide, so turning and controlling the scooter, while easy, will not be the best.
The scooter comes with the cruise control feature, which is activated by holding the throttle for more than 10 seconds.
GoTrax GXL V2 Commuter, one year later
The GoTrax GXL V2 Commuter has been available for a while now, and there are users that have had it for well over a year without any issues.
As we mentioned several times during this review, this scooter provides unusually high quality for its price, and so the number of serious defects that have resulted in the scooter being rendered useless is pretty low. There is a big chance that this scooter will last well over 2 years, and renewing the battery is likely to be the only additional purchase needed.
Motor, power, speed, and acceleration
The scooter comes with a single 250 Watt brushless DC hub motor, integrated into the front wheel. Since this is a super-value scooter, I feel like it doesn't deserve to be described as underpowered, but still, that kind of motor power will not give you eye-blurring acceleration (roughly 6-7 seconds to reach full speed).
The top speed of 15.5 mph / 25 kmh is solid, almost standard in budget scooters (and it's the speed limit for scooters in most places anyway).
Users get varying top speeds in the real world, ranging from 13 mph / 21 kmh for heavier riders, all the way up to 18 mph / 29 kmh for lighter riders, or riders riding in more ideal conditions.
Climbing
The official climb angle of the GoTrax GXL V2 Commuter is 14 degrees. In and of itself, that is not a bad climbing angle, considering the price, motor power, and torque of this scooter.
Sadly, some owners have not managed to achieve those climb angles, or at least not without difficulties.
The scooter can slow down when going uphill. On the steepest inclines, the scooter will start struggling, and may even stop altogether.
Mild, and possibly moderate hills, however, will not be that hard for this scooter to overcome, especially for riders that are not too close to the weight limit.
All in all, the scooter is a pretty decent climber, and the advertised slope rate of 14 degrees is more than realistic.
Range (real vs advertised)
There have been many range tests for the GoTrax GXL V2 Commuter, with various riders and in various conditions.
Generally, the advertised range of 12 miles is almost correct for riders weighing about 160 lbs / 70 kg. Heavier riders have had problems hitting that range, with range tests resulting in 8 to 10.5 miles on a single charge.
To be fair, GoTrax does specify that 12 miles is the maximum range in ideal conditions, and the true range will be anywhere between 9 and 12 miles.
Battery and charging
The GoTrax GXL V2 Commuter comes with a 187 Watt-hour, 36 Volt, 5.2 Amp-hour, lithium-ion battery.
The charging port is near the top of the stem, close to the screen itself. It is protected by a silicon cap.
The charger is another feature where this scooter kinda stands out, as it's much smaller and lighter than other scooter chargers, almost the size of a laptop charger. And yet, it doesn't take forever for the scooter to charge. Sure, the battery isn't huge, so it will charge faster, but having your scooter fully charged in under 4 hours is pretty amazing.
The charger follows the established indicator light convention, so the light will be red if the scooter is still charging, and green if the scooter is fully charged.
How much does it cost to charge the GoTrax GXL V2 Commuter?
Charging the GoTrax GXL V2 Commuter during off-peak hours costs just 1 cent in the US, and 2 pennies in Canada. During peak hours, a full battery charge will cost around 3 cents in the US, and 2 pennies in Canada.
Tires, wheels, and fenders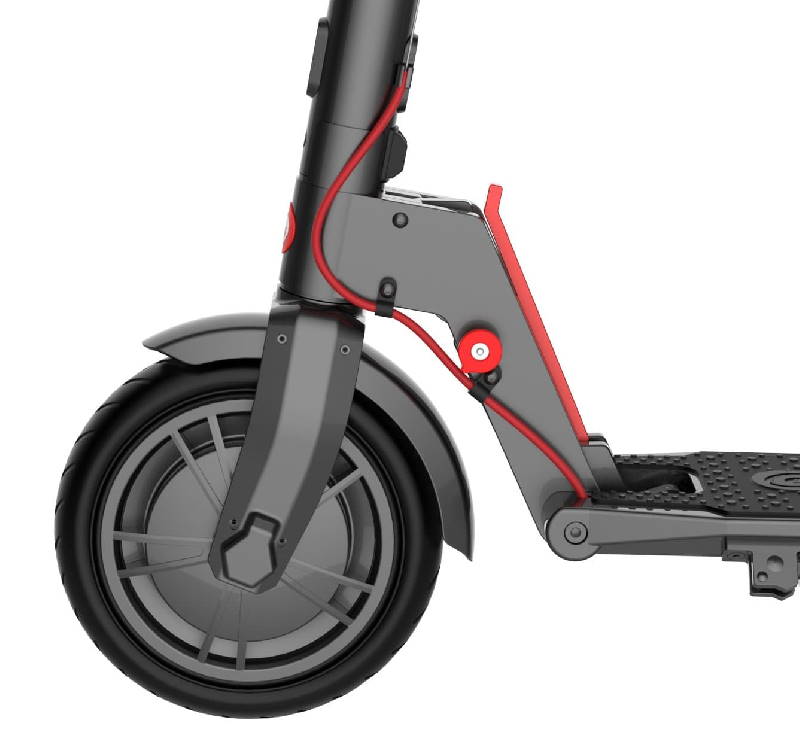 The 8.5-inch air-filled tires are one of the best things about this scooter, and are so good that the scooter's engineers have decided to not include a shock absorption system at all.
They provide a comfortable, smooth ride, and judging from all the user reviews, they don't go flat as often as with other popular scooters (yes, I'm talking about Xiaomi).
If, however, you do get flats often, you can consider switching to the honeycomb tires, GoTrax provide custom-made ones for their GXL models.
The fenders are reinforced and stronger than the ones of the previous version.
Brakes and safety
The scooter has two brakes: a front regenerative electronic brake, and a rear 11 mm disc brake.
Both of the brakes are activated by the lever on the left handlebar. The braking power is perfect for the scooter's speed, and we can easily say that the scooter has great brakes. Braking distance is somewhere around 4 m when riding at full speed.
The cable for the rear brake goes through the deck instead of being weirdly attached on the outside, which is a smart design choice.
Since the top speed of this scooter is very much on the safe side, this is a very safe scooter. That shouldn't give you an excuse to not wear a helmet, but you can ride without too many headaches about safety (see my guide on the best electric scooter helmets to find your ideal pick).
The folding mechanism, which is a common point of failure in many scooters, is very safe and secure, and that makes this scooter even safer.
Suspension and handling different terrains
The GoTrax GXL V2 Commuter, like most scooters in this price category, has no additional suspension, other than the one provided by the pneumatic tires, which luckily, is pretty good. Because of that, the ride quality does not suffer terribly and urban rides are smooth.
As the name suggests, this is primarily a commuter scooter, meant for use in cities and on roads. Bumps and cracks in the road will not feel that bad, although you will feel the bigger ones. You can't expect any offroad adventures to go smoothly, although the tires will do as good of a job of absorbing the shocks as they can, and some small patches of grass or gravel will not be too horrible.
Waterproofing and water resistance
The scooter is water-resistant, with an official IP rating of IP54. That means it will be protected from water splashes from all angles. Still, water-resistant doesn't mean waterproof, and the brand recommends avoiding riding in wet conditions.
Of course, riding through some rain will happen sometimes, and the good news here is that the GXL V2 has a pretty low defect rate because of water damage, lower than most other budget scooters. Anyway, stay away from water as much as you reasonably can.
Lights and riding at night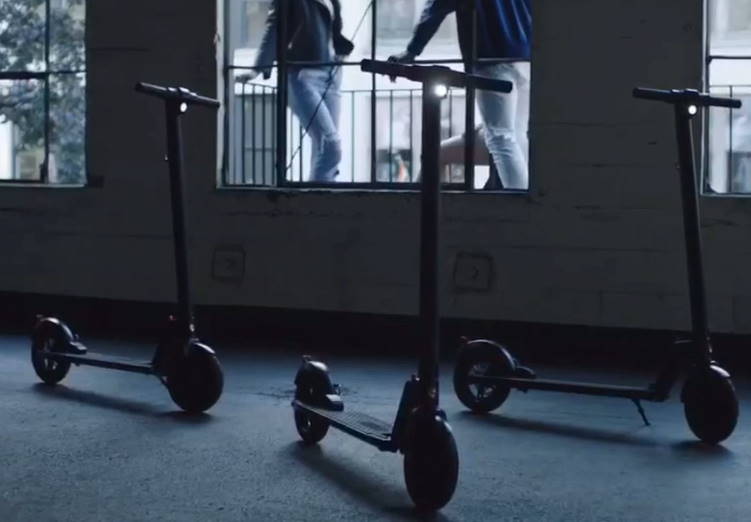 The GXL V2 has a front LED light on the handlebar facing down, and a rear reflector light. The front light is not terribly bright, but it will get the job done. If you plan on riding at night, consider getting a stronger headlight and a fluorescent vest. Check the full post on electric scooter accessories to find out some good inexpensive choices.
Weight, dimensions, and portability
The scooter weighs 27.4 lbs / 12.4 kg, which means it's pretty light, especially when compared to other scooters.
The scooter is not very big in size, and it's comparable to other budget scooters. When folded, it is a bit longer than most scooters, as it folds at the deck and not at the stem.
Overall, the GoTrax GXL V2 Commuter is very portable, having low weight and folded dimensions. When folded, it is easy to carry, handle, and grab, as its center of mass is near the middle of the stem, where you would grab it when carrying it. Its folded length is the only dimension that stops it from being super-portable.
Weight limit and use by heavy adults
The 250 Watt motor can carry loads of up to 220 lbs / 100 kg.
User reports confirm this. While there have been some types of reports like "me and my girlfriend ride it at the same time without any issues", most of the real-world reports have been of the opposite. Owners that weigh close to the weight limit start to see reduced performance, and people weighing more than 200 lbs / 90 kg may not be able to get the maximum top speed and range.
LED screen, handlebar, and controls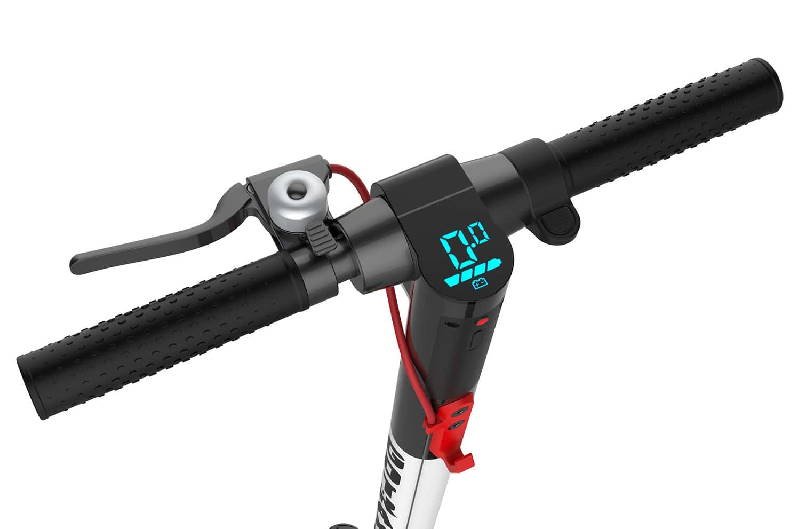 The handlebar has the thumb throttle on the right, the brake lever and the bell on the left, and the LED screen at the center. It comes with extra-grippy rubber handle covers that will prevent slipping even with sweaty hands.
The LED screen can display:
current speed
battery life
light status
cruise control
The screen is fairly bright, and will display the stats clearly both during the day and the night.
The bell is useful for getting annoying pedestrians out of your way while you're being super cool on your scooter. It is loud enough for most situations, but it would be good if it was a bit louder (you can take a look at the extra-loud Airzound horn on Amazon if you ride in a louder or busy environment).
Deck and kickstand
The deck is actually a bit stronger than this model's predecessor, although that is not easy to notice.
The deck is not very big but will be comfortable enough for most riders, with 19 inches in length, and 6 inches in width, and a ground clearance of 4 inches. It comes with an extra-grip bumpy rubber surface to prevent slipping.
Since the battery is in the stem and not inside of the deck, the deck is pretty thin compared to most scooters. Bumps and hits won't shake the battery as much, which should give it a longer lifespan.
A number of times, I've seen other scooter models simply standing still for a moment, and then suddenly tipping off and falling down. That's why I believe most kickstands are short today. This scooter doesn't have that problem. The kickstand is very long, and the scooter will never tip over on its own.
Security and app
The GXL V2 doesn't have an app, nor a key ignition system. You will have to use a lock if you want to leave it outside. Since this is not an expensive scooter, you may not need a very expensive lock to protect it. Check out the post of the best locks for scooters to find one that would fit your budget.
Something like the Master cable lock (link to Amazon) for basic protection, or the ViaVelo lock (link to Amazon) for increased security but also at a higher price, would both be good choices.
Without an original app, I recommend the Universal Scooter App by EScooterNerds as the next best thing. It will not connect with the scooter, as it has no bluetooth, but it will provide you with other useful features for owning and maintaining your scooter better. You can find the app on the Apple App Store and the Google Play Store.
Customizations, accessories, and additions
A common customization that users choose is honeycomb, solid tires over the default pneumatic ones. This is a great choice if you live in a place with bad roads, or where flats are a common occurrence.
I haven't seen any seat customizations for the GoTrax GXL V2 Commuter, nor for the previous version for that matter. I don't think the scooter can support a seat really, it just doesn't seem to be built for it.
Quite a few other customizations are possible though, including a phone mount, a basket or a trunk on the stem, rear-view mirrors, and a ton of other options. Check out the full post on electric scooter accessories for some inspiration.
GoTrax GXL V2 Commuter specifications
GoTrax GXL V2 Commuter Specifications
| | |
| --- | --- |
| Top speed | 25 kmh |
| Top speed | 15.5 mph |
| Range | 19 km |
| Range | 12 mi |
| Motors | single BLDC |
| Power | 250 W |
| Climb angle | 14 ° |
| Battery | 187 Wh, 36 V |
| Battery type | Li-ion |
| Charging time | 4 h |
| Ingress protection (IP) | IP54 |
| Weight | 12 kg |
| Weight | 26.5 lbs |
| Weight limit | 100 kg |
| Weight limit | 220 lbs |
| Tire size | 8.5 in |
| Tire type | pneumatic |
| Tire pressure | 50-75 psi |
| Foldable | yes |
| Foldable handlebars | no |
| Seat | no |
| Trunk or basket | no (customization possible) |
| Build material | reinforced aluminum alloy |
| Terrains | urban |
| Brakes | dual, front electronic regenerative + rear disc |
| ABS | EABS |
| Shock absorbers | no |
| Lights | headlight + brake lights |
| Control | Digital display |
| Speed modes | 2 |
| Cruise control | yes |
| Keys | no |
| Alarm | no |
| App | no |
| Warranty | 12 months |
| Return period | 14 days |
| Certificates | UL2271 certification |
| Folded dimensions (L * W * H) | 112 cm * 43 cm * 41 cm |
| Folded dimensions (L * W * H) | 44 in * 17 in * 16 in |
| Unfolded dimensions (L * W * H) | 109 cm * 43 cm * 107 cm |
| Unfolded dimensions (L * W * H) | 43 in * 17 in * 42 in |
| Deck dimensions (L * W) | 48 cm * 15 cm |
| Deck dimensions (L * W) | 19 in * 6 in |
| Ground clearance | 10 cm |
| Ground clearance | 4 in |
| Deck to handlebar height | 97 cm |
| Deck to handlebar height | 38 in |
| Adjustable handlebar | no |
GoTrax GXL V2 Commuter vs other electric scooters
The GoTrax GXL V2 Commuter is very popular, and it often gets compared against other high-profile budget scooters, especially other GoTrax scooters. Let's see how those comparisons look like.
GoTrax GXL V2 Commuter vs GoTrax GXL Commuter
It almost makes no sense to make this comparison. The V2 has improved brakes, reinforced stem, deck, and fenders, and has ironed out many subtle bugs that owners have complained about in the original version.
The original version of the GoTrax GXL Commuter is still available for purchase, but since it's only about $20 cheaper, I really don't see why anyone would go for it. The GXL V2 is the obvious path forward.
GoTrax GXL V2 Commuter vs GoTrax XR Ultra
Even though the XR Ultra is a newer version of the GoTrax line, and comes with a motor that's quite a lot more powerful than the one of the GoTrax GXL V2 Commuter (almost twice, in fact), their top speeds are still the same. The only difference when it comes to motor power is that the XR Ultra will climb just a bit better.
The XR Ultra will have about 4 mi / 7 km extra range, and it's debatable if that justifies the price difference of about $100. If that sounds like a good bargain to you, see my GoTrax XR Ultra review.
GoTrax GXL V2 Commuter vs GoTrax XR Elite
The differences between the XR Elite and the XR Ultra are not that great, which is why this comparison will look quite a lot like the last one.
The XR Elite has the same top speed as the GXL V2 Commuter, the same weight limit, the same water protection, the same tire diameter, pretty much the same brakes, and almost the same climb angle.
The only major difference is in the range, with the XR Elite having 18.6 mi / 30 km of it, while the GXL V2 Commuter has 12 mi / 19 km. Typically, the XR Elite will cost around $120 more than the GXL V2 Commuter, and if that sounds like a fair deal to you, you may want to see my GoTrax XR Elite review.
GoTrax GXL V2 Commuter vs GoTrax Apex
In some ways, the GoTrax Apex is the next version of the GXL V2 Commuter.
Pretty much all of their stats and specs are the same, and their quality level is comparable.
The most important difference is in the battery. The voltage of both batteries is the same at 36 V, but the capacity of the Apex is 6 Ah with 216 Wh, while the capacity of the GXL V2 Commuter is 5.2 Ah with 187 Wh. That results in the Apex having a range of 15 mi / 24 km, about 3 mi / 5 km more than the GXL V2 Commuter, but it also weighs around 7 lbs / 3 kg more.
The Apex is usually just $30 more expensive, so if you want a bit more range and don't mind the little extra weight, you may want to see the GoTrax Apex.
GoTrax GXL V2 Commuter vs Xiaomi M365
This is, of course, an unfair comparison. The Xiaomi M365 costs almost double, and the Pro version costs even more than double.
And still, even as an underdog, the GXL V2 manages to punch above its weight and score some points. It does fall behind on range, but the top speed is comparable out-of-the-box. The quality of the brakes, the weight capacity, and the water resistance are about the same, and the GXL V2 even steals a few rounds on portability, possibly better tires, and faster charge times.
Sure, we can't really say the GoTrax GXL V2 Commuter is better than any of the Xiaomi models with a straight face. However, we can confidently say that it can compete with them and give them a good run for their money, even beating them on some features. Given its price, I'd say the GXL V2 will be a much better fit for many.
GoTrax GXL V2 Commuter vs Hiboy S2
The Hiboy S2 is about $150 more expensive, which almost puts it in a different price category, but you sure get a lot for that price difference: 3 mph / 5 kmh extra top speed, 5 mi / 8 km extra range, and about 44 lbs / 20 kg extra weight limit.
The Hiboy S2 will weigh about 5 lbs / 2 kg more, and will have a slightly worse climb angle.
So, if you are considering a bit more performant scooter and could increase your budget a little, you may want to check out my Hiboy S2 review.
GoTrax GXL V2 Commuter vs Swagtron Swagger 5
I'm not exactly sure why, but I often like to compare GoTrax and Swagtron models in the same price ranges against one another. Maybe because they are the leading budget scooter brands in the US.
I believe comparing the GoTrax GXL V2 Commuter and the Swagtron Swagger 5 is a fair comparison.
The gist of it, in my opinion, may go something like this.
The GXL V2 is generally a bit higher in quality, it may have lower defect rates, slightly longer range, and better waterproofing.
The Swagtron Swagger 5 will have a more powerful motor, better suited for climbing, for heavy adults, and it will be slightly faster.
The cost is slightly in favor of the GXL V2, as it's often priced at $269, while the Swagtrong Swagger 5 usually costs around $300.
In the end, I would go with the GXL V2. The level of quality is just better.
Owner reviews, market adoption, and love from users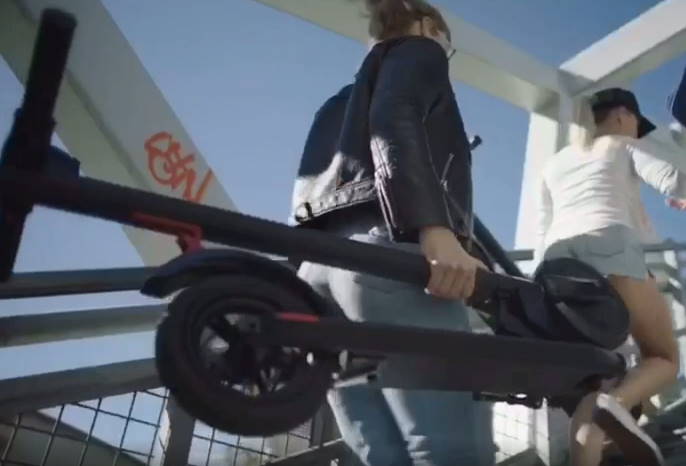 It's hard to talk about what the electric scooter market thinks of the GXL V2 model, without touching upon what it thinks about the first version. They are, in many ways, the same scooter, and obviously, the first version was here first, so we can learn a lot by looking at the response owners had to the first version as well.
Generally, while some owners have gotten lemons here and there, and have had to return or replace their GXLs, most of them seem to be very happy campers. This is especially true for users that have known what to expect, and have kept in mind the very low price they have paid for this scooter.
All in all, both models are very well accepted by scooter lovers as great budget options, with the GXL V2 obviously being even more beloved because of its improvements.
Bang for buck and value
This is where the GoTrax GXL V2 shines in my opinion.
I mean, come on. That many units sold, such great user satisfaction, and minimal defect rates, for just $269? Really? That's pure value in my book.
Honestly, I don't think there is a scooter under $500 that can provide better value per dollar.
User complaints, issues, and weak points
While there is some criticism about the GXL V2, a lot of it is not really justified. This scooter costs half as much as the most popular scooters, and it really does far more than expected for that price.
Still, no scooter is perfect, and some of the criticism is probably valid .
One issue that seems to be a common source of complaints is the quality and the speed of the charger. While charging the scooter is not slow, the charger seems like it's cheap and does not match the quality of the scooter. A few owners have complained about the charger breaking down very fast after the purchase, and in some cases even starting to spark. This shouldn't be that hard to address, and I hope GoTrax do so, as they shouldn't let a bad charger ruin a perfectly good scooter.
Another flaw, although not really a critical one, has been the speedometer. Many have found it to be imprecise. Now, the scooter's top speed is 15 mph, and you will not get any speeding tickets with it any time soon. As an auxiliary part, it's not really that important. It's still something that may happen and you should know about it.
I'm sure the design and engineering team has had a good reason to make the scooter fold at the deck, and the folding mechanism is actually pretty secure. It does result, however, in a pretty long length when folded, which kinda takes away a few portability points. Still, this is more like my own personal observation, and interestingly, users have not really complained about this.
On a similar point, you might also have some issue locking the stem into the footrest. This is because the small red plastic piece which the stem locks on to can sometimes be misaligned. You can easily solve this issue by unscrewing the screws that hold the plastic piece and move it up or down by an inch or two until you find the golden spot where the stem can lock onto it.
Probably the biggest issue I have with criticism towards the GoTrax GXL V2 Commuter is comments of the type "it's too slow/it can't climb/it can't carry me and my wife and my two children and my dog and all of my furniture at the same time". Yes, this scooter is not very powerful. But! It costs under $300, often even $269! And the specs are all fairly accurate and upfront about its performance.
I'm an entrepreneur and I'm all for satisfying users, but sometimes it feels like some users do have unrealistic expectations. The GoTrax GXL V2 Commuter does have some flaws, but not being powerful enough shouldn't be considered one of them.
Frequently asked questions
Given how popular this scooter is, lots of questions arise about it. These are some of the most common ones.
How long will the GoTrax GXL V2 Commuter last?
Many owners have had their GXL V2s for a long time. A year without defects is common, and a year and a half is very realistic. It is not likely that the scooter will go 5 years without a problem, but 2, or even 3 years, might be entirely possible.
How long does the battery of the GoTrax GXL V2 Commuter last?
The battery of the GoTrax GXL V2 Commuter will last at least one, and probably one and a half to two years, before its performance starts to degrade severely. After that, the battery should be renewed.
Can I leave my GOTRAX scooter charging overnight?
You should never leave the scooter charging overnight as it can significantly lower the battery's capacity. Overcharging the battery for more than the recommended amount can damage the battery cells which in turn will lower the lifespan of the battery itself.
What are the actual top speed and range you will get from the GoTrax GXL V2 Commuter?
People weighing around 160 lbs or below will get close to the advertised 12 miles of range and 15 mph top speeds. Heavier adults (close to 220 lbs) will get somewhere around 9 miles of range, and 13-15 mph top speed.
Is the GoTrax GXL V2 Commuter waterproof, and can it be used in rain or snow?
The GoTrax GXL V2 Commuter is water-resistant, but it's not waterproof, and it has an ingress protection rating of IP54. Still, many users have used it in light rain and have reported no issues at all.
Can I get the GoTrax GXL V2 Commuter in the UK or Europe?
Currently, the GoTrax GXL V2 Commuter is only available in the US and Canada. For UK and EU countries, a scooter that is very similar in many regards to the GoTrax GXL V2 Commuter is the Kugoo S1 Pro. Check out the full review of the Kugoo S1 Pro if you live in the UK or another European country.
Can it be used like a regular kick scooter when out of battery?
It is possible to ride the GoTrax GXL V2 Commuter manually, like a regular kick scooter. However, it will not be easy, nor practical, to do so.
Is the GoTrax GXL V2 Commuter road legal?
The GoTrax GXL V2 Commuter is road legal. Its top speed of 15 mph is within the maximum allowed speed limit for this type of vehicle in the majority of states.
Do you need a license to ride the GoTrax GXL V2 Commuter?
The GoTrax GXL V2 Commuter does not require a license to be ridden in most states. Some states may require insurance or the obligatory wearing of a helmet.
Does GoTrax GXL V2 have Bluetooth?
Unfortunately, the GoTrax GXL V2 does not have Bluetooth, nor any other type of connection that can connect the scooter to your phone. This is one of the biggest downsides of cheap electric scooters, as you will only rely on the display to tell you all that it can about your current ride.
When to not buy the GoTrax GXL V2 Commuter?
The biggest drawback of this scooter may be its lack of power. The good news is, it's not quality, safety, or other more important features. But if you need some extra kick, you may want to check out other scooters.
The 250 Watt motor will do a good enough job for most casual owners and commuters. However, heavier adults, and people living somewhere with a significant number of steep hills, will likely have to look at a more powerful alternative. If you still don't want to spend a fortune on your scooter and get a model with a bit more hutzpah, I would suggest checking out the Xiaomi M365 Pro (full review here). It is more expensive, and not by a trivial amount, but there is no other scooter that can be as cheap and as good as the GoTrax GXL V2 Commuter, so you will have to pay a bit more if you want both quality and more power. If you need a more specialized scooter, check out the best scooters for heavy adults or the best scooters for climbing.
Also, while the range will be enough for short to medium commutes, 12 miles may not be enough range for some owners. If you are looking for a budget scooter with a bigger range, check out the review of the Macwheel MX Pro, it has quite a lot of range, and it will be about $100 – $150 more expensive.
When to buy the GoTrax GXL V2 Commuter?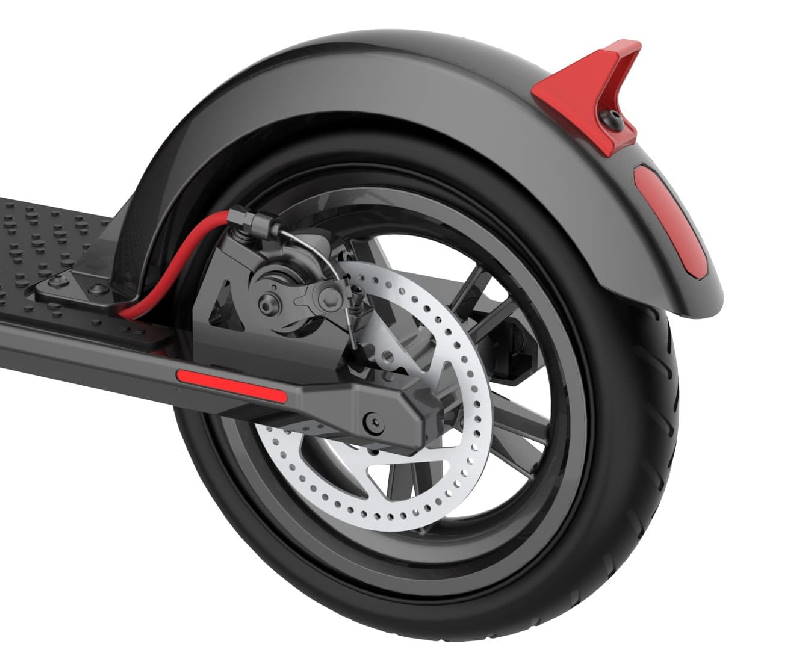 I believe there are quite a few scenarios when the GoTrax GXL V2 Commuter is simply the ideal choice.
First of all, I'll just go ahead and say it – I don't think you can find a better scooter, or at least a better-value scooter, for under $300. There are some other cool choices, but none as reliable and versatile as this one. If your budget is between $250 – $300, I don't think you can go wrong with the GoTrax GXL V2 Commuter.
Further, this is a great beginner scooter, as it's very safe, well-made, and durable. As such, it's perfect for a first scooter, potentially a scooter for your child or relative, or as a gift for someone.
Many types of commuters will find this scooter perfect. Since scooter commutes rarely cover above 10 miles (or 5, for that matter), the GoTrax GXL V2 Commuter is a great, inexpensive option for every urban commuter.
Anyone looking for a portable, modern, feature-full, very fun commuter or hobby-ride scooter, can safely choose this excellent budget option. Many people have, and almost nobody has regretted their decision.
Where to buy the GoTrax GXL V2 Commuter from?
---
Canada
GoTrax currently don't ship to Canada. Fortunately for Canadians, the GoTrax GXL V2 Commuter can sometimes be available on
Amazon Canada
.
---
UK, EU alternative
As GoTrax scooters are not available outside the US, the best equivalent to the GXL V2 in Europe would be the
Kugoo S1 Pro on Geekbuying
. As usual, shipping is free and takes about a week.
Where to buy the GoTrax GXL V2 Commuter
---
Want to get
FREE SCOOTER
tips, exclusive discounts and promotions, and unseen scooter hacks? Join the
Scooter Secrets club
.
---
Liked this article? It really helps if you share it.
Follow @escooternerds on social media for more cool stuff
---