The lowest price point at which you still have at least a shot of finding a decent electric scooter is $300. And in the case of some cheap scooters, cheap does not equal bad.
Today we will be looking at exactly those scooters.
If your budget can't exceed $300, and you really want as good of a scooter as that kind of money can buy you, this article will present every solid scooter in the world under that price.
These are the best electric scooters under $300 today.
Each one of them has one or several use cases where they absolutely shine. If a scooter's strong suit aligns with what you're looking for, it will be a great choice for you.
Also, many of them will have one or a few weak points, and if that happens to be something you need, you will see what is a better alternative for you.
Can you buy a good electric scooter for $300?
Let's address the burning question first.
Chances are, your $300 scooter will be decent, especially if it's one from this list. It will still be a $300 scooter, which means it will not be the biggest, baddest, coolest scooter around. However, it will get its job done, and it may serve you for a long time.
Best $300 electric scooters
Based on what you need out of your electric scooter, these are the best choices under $300 for each use case.
Best electric scooter under $300 (US) – GoTrax XR Ultra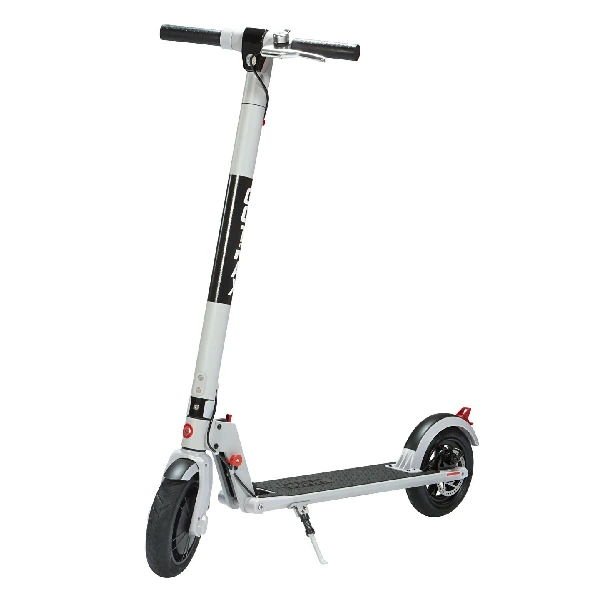 Several important facts and features make the GoTrax XR Ultra the best electric scooter under $300.
For starters, it comes from GoTrax, which is arguably the best brand when it comes to budget scooters. They have several inexpensive options, most of which are well-adopted, and they clearly have a focus on the budget demographic.
But the GoTrax XR Ultra does not simply hitch a ride on brand recognition. In fact, it is probably the brand's best scooter, and what makes the brand popular.
For the sake of full transparency, a little caveat here – putting this scooter here may be cheating, or at least may be cheating at some times and not at others. Its price varies, and while it's sometimes around the $300 mark, sometimes it can go up to $360, and maybe even more. The good news is, you can often find refurbished or used but good as new units, that will really be priced around $300, and thus satisfy the criteria of this post.
The GoTrax XR Ultra is one of the better performers in the budget category. Its 300 Watt motor, with a peak power of 430 Watts, is the best, and it is the determining factor that gives this scooter an edge over the rest of the scooters here. With a top speed of 15 mph, range of 17 miles on a single charge, and a climbing angle of 15 degrees, this scooter is everything the regular owners/commuter/enthusiast needs.
Even more importantly, this scooter really has built a reputation for itself. It sells very well, maybe in the tens of thousands, and the number of complaints about serious defects are very low for this price category. The aluminum-alloy frame, the simple and foolproof folding mechanism, and the long lifespan it provides its users with, all place this scooter on a level of quality above most of the other similarly priced models.
While there are other very good $300 scooters, the GoTrax XR Ultra is the best overall. If you just want the best $300 scooter and don't have any specific need in mind, the GoTrax XR Ultra can be your choice.
Currently, it seems like the GoTrax XR Ultra is only available in the US, through the official GoTrax store, and through Amazon. If you are outside the US, the following scooter is the best UK/EU/Asia alternative.
Best electric scooter under $300 (UK, EU, Asia) – Kugoo S1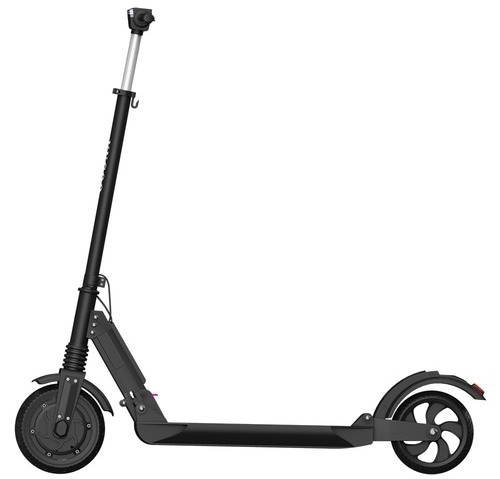 The Kugoo S1 is very similar to the GoTrax XR Ultra in some ways, although different in a few as well. Since GoTrax scooters are usually only available in the US, while Kugoo scooters are usually only available in Europe and sometimes Asia, we can split the crown between these two scooters, since both are excellent models for their price category.
The Kugoo brand is possibly the best budget scooter brand in Europe, and that's not solely because they kinda lack competition in that price category (although they really do). They can, and do, go toe-to-toe with Xiaomi and Ninebot when it comes to the next price category of around $500, since they have many good models around that price tag. But when it comes to cheaper scooters, like the ones we're looking at today, I haven't seen many other serious contenders for the European market. Kinda strange, since it's a bigger market than the US several fold, and scooters are huge in Europe too.
Anyway, with a few possible exceptions, Kugoo will be your most popular, viable choice for an electric scooter under $300 in Europe. But, as I said, that's a good thing, since Kugoo know their product and their audience, and they have very good offers.
The Kugoo S1 is a true $300, usually priced at $299. This super-value scooter has a 350 Watt motor, top speed of 30 kmh, a climb angle of 15 degrees, a range of 30 kilometers on a single battery charge, and a weight limit of 120 kilograms. A truly lethal combination for the price.
It comes with an IP54 water protection standard for those wet European winters, 8-inch solid tires that never go flat, and a very portable weight of 11 kilograms, with small dimensions when folded.
Beyond the stats, which are pretty impressive, the user reviews and satisfaction is probably even better. We can see a lot of positive feedback and stellar reviews, rising popularity, and lots of units being sold to new satisfied users.
Overall, the Kugoo S1 is the best electric scooter under $300 in the UK, Europe, and most other countries outside the US. And not just because there is not that much competition, but because the scooter is awesome.
Razor E300 – most reliable, great quality
The Razor E300 has good performance, with a top speed of 15 mph / 24 kmh, a range of 10 mi / 16 km. It's powered by a 250 Watt motor (one of the few scooters with a chain-drive motor), and a 168 Watt, 24 V battery.
It can also support cool features and interesting customization options, most notably the seat in the form of the Razor E300S model.
But that's not what makes this scooter spectacular.
The fact that this scooter has sold hundreds of thousands of units, has an impossible 4.3 star rating out of 5, with only 8% of 1-star reviews, and a very low defect rate with less than 100 users reporting a major defect in the first year, is what makes this scooter the most reliable scooter under $300 in the world.
Even more, Razor are a very reputable scooter brand, especially when it comes to budget scooters, and the Razor E300 is definitely one of their most popular options.
All in all, if quality, reliability, and super-long lifespan are your priorities, then the Razor E300 is clearly the best $300 scooter for you.
GoTrax GXL V2 Commuter – best value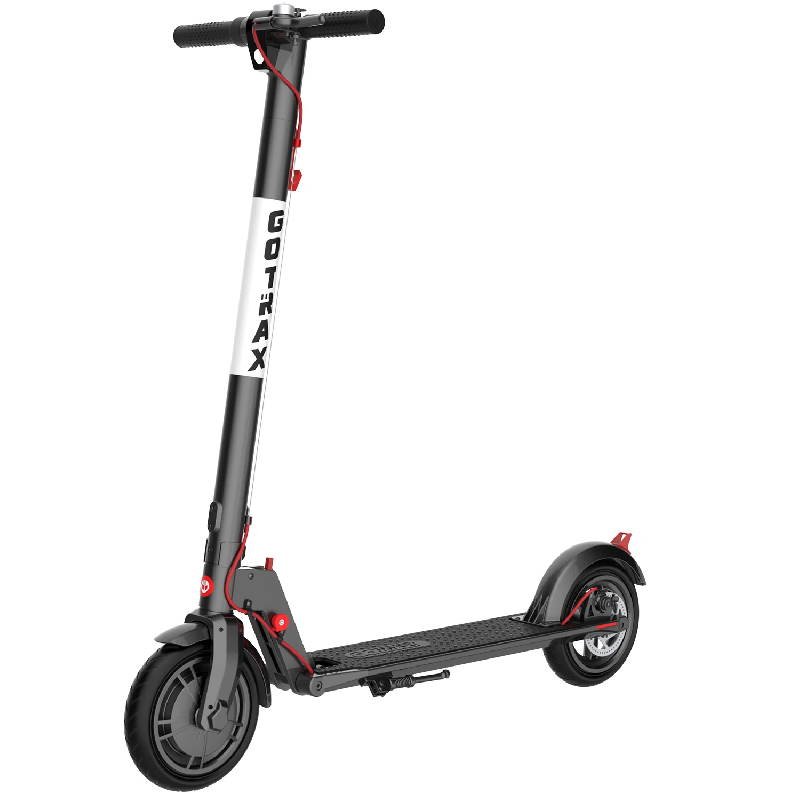 There may be several ways to calculate "value" for an electric scooter, but the simplest one is to take a look at the reliability and overall quality along with a strong consideration for the performance, and then simply divide it by the price of the scooter.
And the champion that such a formula will produce will be the GoTrax GXL V2 Commuter.
The very respectable rating of around 4.0 stars out of 5 is a huge improvement over its predecessor, the GXL V1, which had just 3.5 stars. GoTrax have clearly learned a lot, and applied it.
With almost 2500 reviews (potentially implying millions of sales), this is one of the most popular electric scooters in the world, and it doesn't have anything left to prove.
A top speed of 15 mph / 25 kmh, range of 12 mi / 19 km, backed by a 250 Watt motor, takes care of the performance side of things.
And the final touch that makes this scooter amazing value is the price. Usually priced around $248, the GoTrax GXL V2 Commuter is without a doubt the best-value $300 scooter currently.
Swagtron Swagger 5 Elite – best for heavy adults, great performance and motor power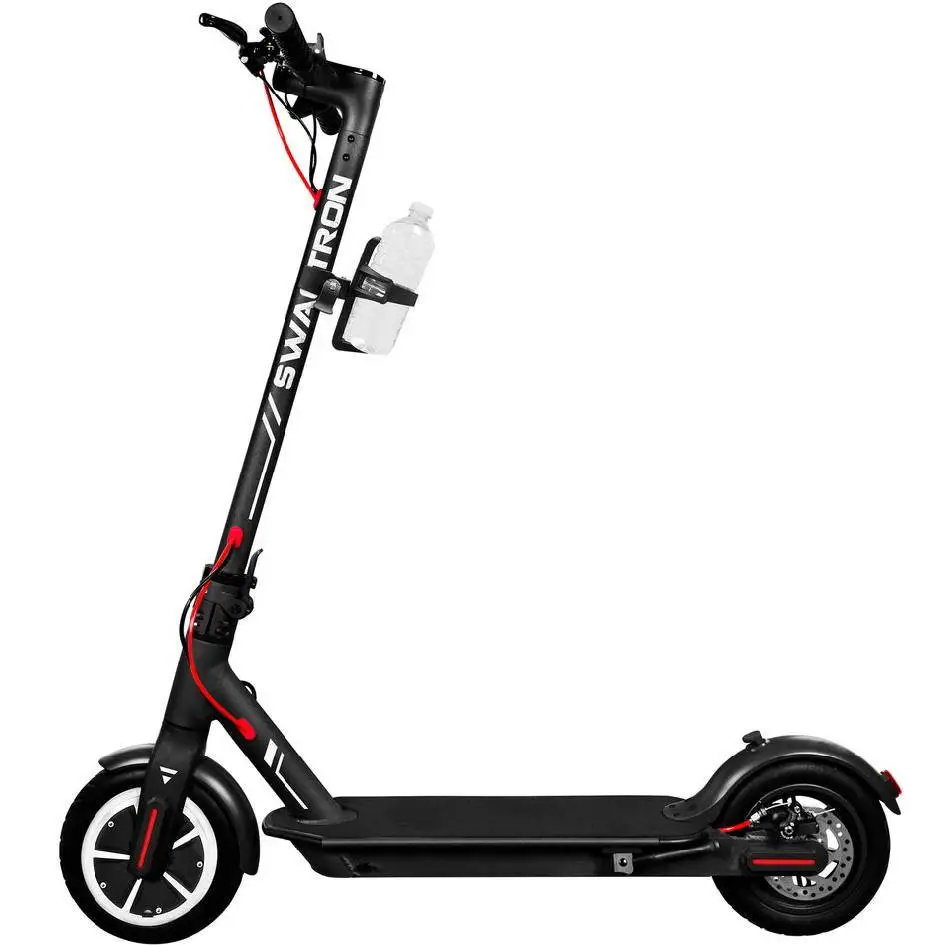 The Swagtron Swagger 5 Elite, besides being a popular, tried-and-tested, solid scooter, stands out from the crowd by being the only $300 scooter that can support adults of up to 320 lbs / 145 kg. Other scooters in this price category usually have only 220 lbs / 100 kg. With that feat, it is the natural best choice for heavier adults (check out the post on the best electric scooters for heavy adults if you need some more weight limit).
The large weight limit is thanks to the overall strong performance capabilities of the scooter. 18 mph / 30 kmh top speed, 12 mi / 19 km of range, a great climb angle of 20 degrees, all powered by a 250 Watt motor and a 216 Watt-hour 36 Volt battery, make the Swagtron Swagger 5 Elite one of the top performers in the under $300 category.
The versatility of this scooter is further enhanced by the IPX4 water resistance standard, the 8.5-inch pneumatic front + honeycomb rear tires, the great portability with a weight of 26 lbs / 12 kg, and the fact that it's one of the few inexpensive scooters that support an app.
The quality of the scooter is solid, sporting a cool ergonomic design.
All of that for a price of $299. No wonder the scooter is massively popular.
In summary, the Swagtron Swagger 5 Elite is the best under-$300 choice for heavier adults, but also for anyone looking for great power and performance in that price category.
Megawheels S5 – best for climbing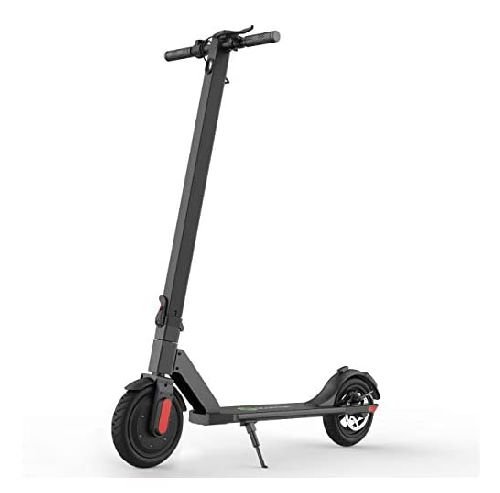 Megawheels are not yet a very famous brand, and as any good brand that is trying to build their name, they aim to provide great performance and value while not charging a ton for their scooters.
With an official climb angle of 20 degrees, and an unofficial proven one of more than 25, the Megawheels S5 is the hill-climbing specialist in the $300 category.
Powered by a 250 Watt motor, with a top speed of 15 mph / 25 kmh, and a range of 13 mi / 21 km, this scooter provides everything the regular commuter needs, and coupled with the great climbing angle, it is the best choice for anyone living in a hilly area.
Swagtron Swagger Pro – lightest, most portable
The Swagtron Swagger Pro is one of the lightest, most portable electric scooters for adults in the world. Weighing just 16 lbs / 7.25 kg, and basically miniature folded dimensions of 39 x 16 x 9 in / 100 x 41 x 24 cm, this scooter can be taken anywhere, and it can fit anywhere, from the smallest car trunks, to the narrowest hallways, to the tiniest elevator and subway doors.
And this is clearly one of those cases where size can fool you. The Swagtron Swagger Pro is a vicious carbon-fiber lightweight, with a top speed of 15 mph / 25 kmh, 17 mi / 29 km range, 220 lbs / 100 kg weight limit, and an IPX4 water protection rating.
The Swagtron brand is one of the most famous budget scooter brands, and they know their market well. If you need a small, ultra-portable scooter under $300 that is not shy on the stats as well, you will want to take a look at the Swagtron Swagger Pro.
Voyager Ion – cheapest, best waterproof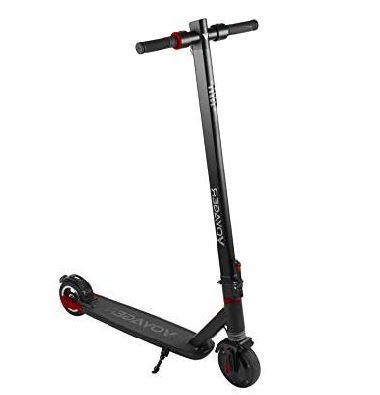 This is a very intriguing budget model that I don't see discussed too much. It deserves more attention because it has some very interesting selling points and value propositions.
First of all, this is the cheapest electric scooter in the world for adults. With a regular price of around $189 usually, there are cheaper electric scooters than this one, but they are almost always labeled as scooters for kids. In contrast, this is a true adult scooter, and the weight capacity of 220 lbs / 100 kg is evidence for that.
Furthermore, the Voyager Ion throws another curved ball by being the only under-$300 scooter with a water-resistance level of IP55. There are quite a few models with IPX4 or IP54, that kind of standard only guarantees protection against water splashes, while the IP55 rating already provides some protection from water jets. The difference is not trivial, and can make the difference between your scooter surviving a wet autumn and a muddy winter, or simply quitting on you after a ride in the rain.
With a weight of just 18 lbs / 8 kg and very small and portable dimensions, this scooter can be great if you need portability in the mix as well.
So, the Voyager Ion clearly gives us something to think about. Not one, but two, and maybe even three, very strong reasons why we should pay more attention to it. If you want the cheapest possible scooter for adults, or the most waterproof scooter under $300, then you should seriously consider it.
Hiboy Max – best higher-price alternative ($399)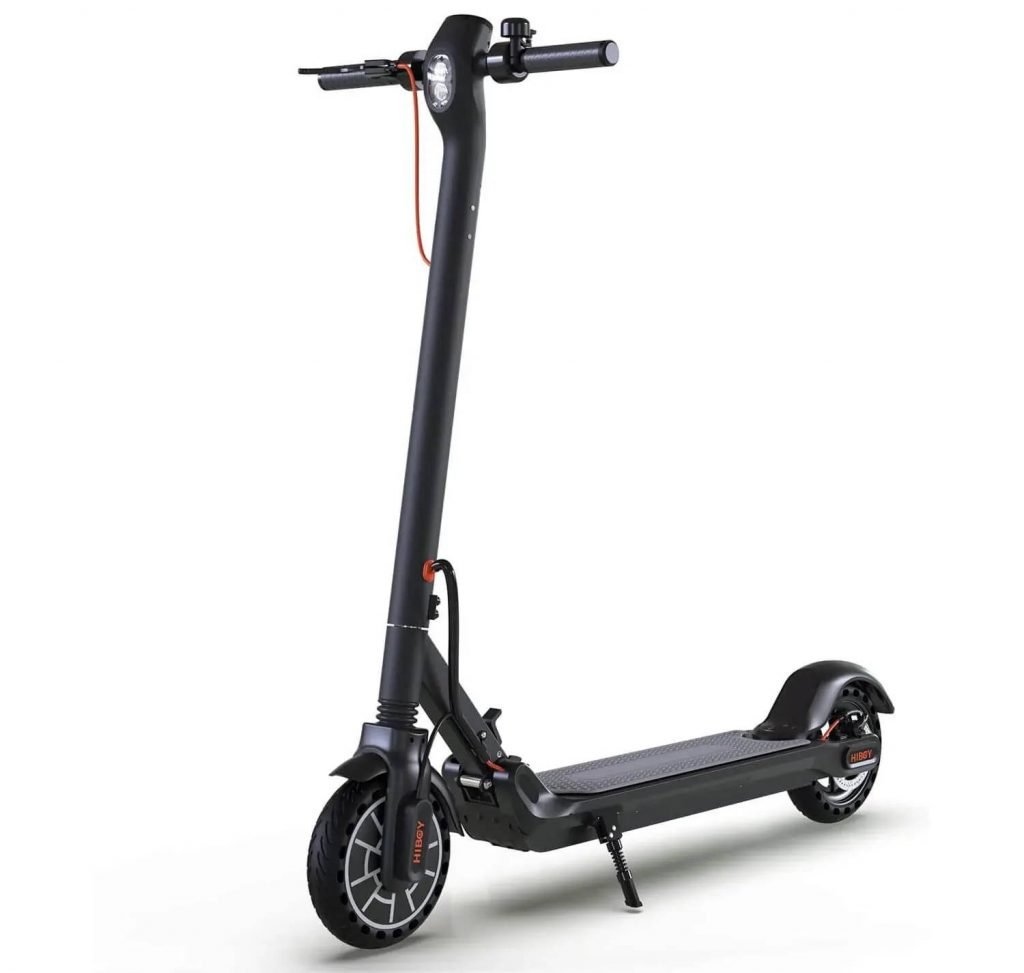 The Hiboy Max is one of those scooters that are very versatile and very good overall, but don't necessarily dominate one particular category or use case.
Also, this scooter's regular price is usually above $300 (closer to $400), and you'll have to buy a used-like-new or a refurbished model to not break the bank, if you only have around $300.
Anyway, this is an excellent budget scooter with lots of great things going for it, that you technically still can get with a $300 budget. I would recommend it as a good choice if you went through all the scooters above and didn't exactly find any one model that spoke to you.
This great-performing budget scooter will have a top speed of 18.6 mph / 30 kmh, 17 mi / 27 km of range, powered by a 350 Watt motor and 270 Watt-hour 36 Volt battery.
This cool scooter has a unique, brave design, very simple folding mechanism, shock absorbers that work well with the 8.5-inch solid tires, and an app for iOS and Android.
Possibly the strongest achievement this scooter can boast is its impressive user satisfaction, with a 4.1 star rating on Amazon out of more than 1000 reviews that testify for the scooter's reliability.
In summary, if your budget is around $300, and you didn't find any of the above scooters to be a perfect fit for you, take a look at the Hiboy Max, it can be the perfect wildcard scooter and delight you with its quality, value, and performance.
What to look for in a $300 electric scooter?
The safest bet is to go with a reputable brand.
When it comes to budget scooters, the following brands are all well-established and have some good offers:
GoTrax
Swagtron
Razor
Cityrider (FFR)
Megawheels
Kugoo
Hiboy
Macwheel
Voyager
In addition, brands like Xprit, Viro Rides, Joyor, RND, Evo, and Phaewo, are not as well known, but seem to be hard at work trying to build a name for themselves as well. They may try to compete on price and value, and if that's how you shop, you may be interested in them.
What to expect from a $300 electric scooter?
The quality of most $300 scooters will not be the same as the quality of more expensive scooters, but in most cases, they will be well-built and solid, especially the more popular models. Most of them will motor power between 250W and 350W, and will have top speeds of 15 mph / 25 kmh (which is the speed limit for them in most places anyway). They will have an average range of 12 mi / 20 km, although some will have ranges as high as 18 mi / 30 km.
These are all scooters for adults, so their weight limits will be between 220 lbs / 100 kg and 256 lbs / 120 kg. Interestingly, quite a big part of them have a water-resistance IP rating of either IPX4 or IP54, something that can't be said of many more expensive scooters.
How long do $300 electric scooters last?
There will be a big factor of chance involved here, but the typical $300 scooter should go at least one year without any issues or serious degradations in performance.
There is a pretty good chance your scooter lasts up to 3 years without any major defects, but at that time (and probably sooner), you can expect the battery of your scooter, which may not be the best to begin with, to wear out quite a lot. That will diminish the performance of your scooter to a point where the speed and range are very low, and you will likely have to get a new battery.
What are the downsides of $300 electric scooters?
While these scooters are great for their price, and pretty good outside of that as well, you will still get what you pay for in many ways.
The biggest downside I've noticed is the defect rate.
Roughly speaking, the typical higher-quality scooter has about a 3% chance of having a major defect that renders it useless in the first year of usage, and that number is probably 7%-8% for the regular medium-price or commuter scooters.
With the $300 scooters, that percentage is closer to 12%, or maybe even 15%.
These percentages include dead-on-arrival scooters too, which are usually replaced or the money is refunded to the customer, so the realistic number of users having their scooter break down and having to repair it in the first year is even lower. Plus, the warranty period is usually one year, so there should be little to no additional cost in this case anyway.
But still, this is an issue, and it is the unavoidable reality of cheaper scooters.
The second issue, although not nearly as serious as the first, is the increased chance of the battery getting weaker fast.
Batteries are still kinda unpredictable. Sometimes, some super-expensive scooters simply arrive with faulty batteries that just expire after a month, and other times, cheap scooters have their batteries last for years.
But on average, the cheaper the scooter, the faster the battery will degrade. This is probably because better scooters have bigger batteries in general, and it takes longer to notice the degradation.
Should I buy a $300 scooter?
Personally, I would strongly advise trying to save up at least $100 more, and if possible, $200. That would unlock the $500 electric scooters for you, and with that kind of money, you are already choosing from some of the best budget scooters in the world. Your chances of finding a scooter that is simply perfect for you increase greatly, and you will likely not have to upgrade for a long time.
But that's just my opinion, and I'm perfectly familiar with situations in which the budget is what it is and there's no increasing it. In that case, you can go ahead and get a scooter from this list based on what your needs are, and you can be confident that you are getting the best possible $300 scooter you can find.
What is the best cheap electric scooter?
The best cheap electric scooter right now is Xiaomi M365. It has the best reputation, has sold the most units and has iterated on its features and bugs the most, and provides excellent value, performance, and fun.
Of course, this depends on what we consider to be "cheap", but since most scooter models cost well above $500, and the Xiaomi M365 is usually priced around $450, I believe it qualifies as a cheap scooter.
---
Liked this article? It helps if you share it.
Follow @escooternerds on social media for more cool stuff
---