This is a full review of the Macwheel MX Pro, a scooter that aims to be a good budget option that will appeal to many different value shoppers.
Macwheel MX Pro Review
The Macwheel MX Pro is a stronger, faster, better version of its direct predecessor, the well-known Macwheel MX 1. The old version is still alive and well, but beyond 2020, there is no reason for anyone to consider getting it over the new, improved version.
We will see all the improvements, all the features, and why this scooter can make a lot of sense for anyone looking for a good budget option. Also, we will look at the downsides, the flaws, and when it might be better to look at a completely different scooter brand.
Macwheel MX Pro overview
While still not as popular as its older brother, the Macwheel MX Pro is definitely the way forward. With a more powerful motor, a bigger battery, a new app, and many other improvements in important details, there are no second thoughts on which model is better.
Its biggest weakness, in my opinion, is that it doesn't even try to hide the fact that it has made a lot of the same design decisions as the Xiaomi scooters. I'm not exactly sure Macwheel does enough to encourage anyone picking it over the more popular, proven models.
Still, for its price, it's good value for money, and the Macwheel MX Pro is a good choice for urban commuters, students on a budget, or young professionals.
Where to buy the Macwheel MX Pro from?
The Macwheel brand
Macwheel is better known as a manufacturer of electric bikes, and they have a larger offering of bikes over scooters. While they don't have that many scooter models available right now (used to be 3 models, now it seems to be just one), they make good use of their knowledge and expertise in electric bikes to come up with interesting scooter concepts and offers as well.
The brand is headquartered in Wenzhou, China. The name of the scooter manufacturer is Shenzhen Aukeyhi Technology Co., Ltd. Macwheel is quite active on social media, especially on Facebook.
Ordering and shipping
Macwheel scooters are currently available only in the US through the official iMacwheel store.
Shipping is free and takes between 5 and 8 days.
Warranty, returns, and refunds
The Macwheel MX Pro has a warranty of one year, covering all material and workmanship defects. You can also get a 90-day extended warranty if you register an account on the website. As usual, the warranty doesn't cover water damage.
In the case of a defect, you can return the scooter within 30 days for a refund or a replacement, although you may have to pay the shipping costs, in both directions.
Unboxing
The whole package weighs about 35 lbs / 16 kg. The package should include:
the scooter
the charger
the warranty card
the manual
2 wrenches for adjusting the scooter
The scooter requires no complicated assembly, and you only need to make sure there are no loose screws, the brakes work, and that the electronics function properly.
Folding, unfolding, basics, riding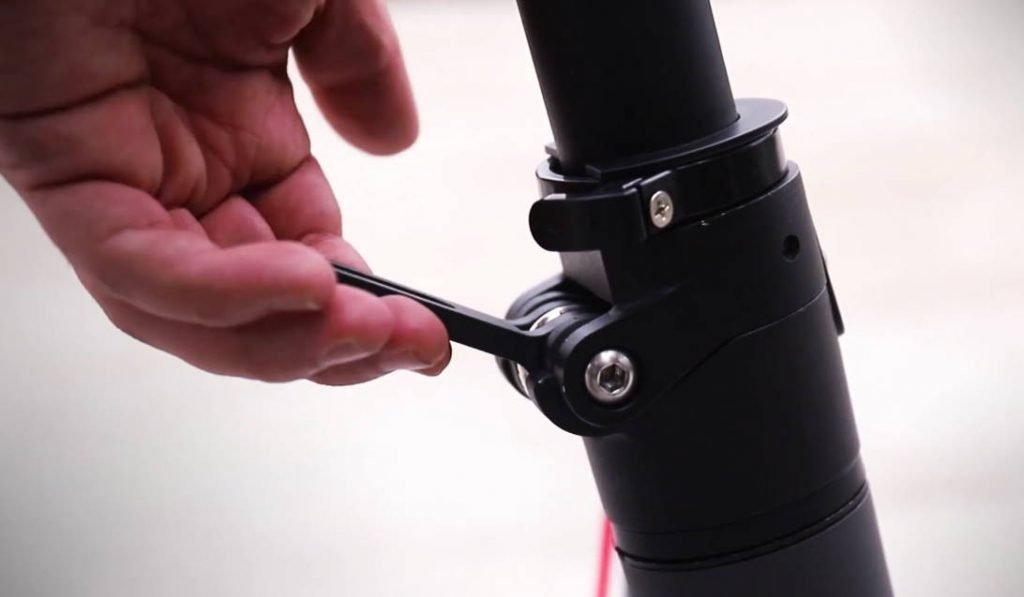 As usual, the scooter is powered on and off by holding the power button.
The folding mechanism is similar to the one on Xiaomi scooters, and it's pretty easy to fold and unfold.
Even though the small lever for the bell is present, the bell is actually not where you would expect, and the lever is used to lock the scooter when folding it, just as in the Xiaomis.
This is a true electric kick scooter, which means it's best started with a light kick off the ground to gain some momentum first, and then hit the throttle. This helps conserve the battery and prolongs its life as well.
Design, build quality, and materials
This scooter is very similar to the Xiaomi M365 in many design aspects and color choices. There are some differences, like the handlebars, the bell, and possibly the shades of grey/black/red, although that may vary depending on which Xiaomi model and market you're looking at, as they can differ quite a lot.
The frame of the scooter is made from industrial grade aluminum alloy, and the details and finishes use steel, rubber, and plastic.
With a 16-inch long and 6-inch wide deck, this scooter provides enough standing platform for pretty much everyone. The deck has an anti-slip rubber tape with bumps on it, which will provide the rider with some extra grip and stability.
The kickstand is ok, but it would be a lot better if it were longer, as the scooter is not very stable when leaning on it.
Most units have been reported as sturdy and robust, and even though some users have complained of wobbly and insecure parts, most owners are happy with their purchase. Overall, the build quality is pretty good, especially given the low price of the scooter.
Everyday use, commuting, and terrains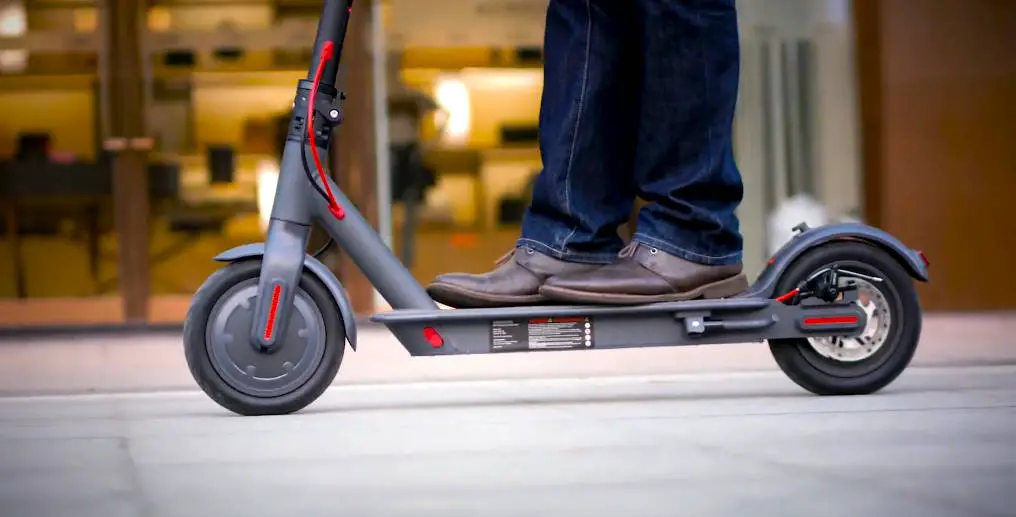 The Macwheel MX Pro has a nice smooth ride, and can be a good commuting gadget for most modern cities, especially if the infrastructure is good.
This is a really quiet scooter, and all you and others will hear while riding is the gentle "zzz" sound.
Even though the Macwheel MX Pro has solid wheels, and no suspension, which is usually a recipe for very bumpy rides, the scooter handles small bumps, holes, and cracks, surprisingly well. Of course, it's not the same as a more expensive scooter, and medium holes will be felt, but the ride smoothness is better than what you would expect.
If holding the throttle for more than 5 seconds, the scooter will activate the cruise control, and you can let go of the throttle and the scooter will continue running. Cruise control is not available if you go faster than 10 mph.
The scooter is meant for use in urban environments only, and will not be good for offroad.
Water resistance
The Macwheel MX Pro has an IPX4 rating, which is a much welcome addition compared to the old model that seemed to have no IP rating at all, or maybe had an unofficial one of IPX4.
IPX4 means that the scooter should be protected from water splashes against all angles. In practice, this means the scooter should be able to withstand some light rain, although it is strongly recommended to avoid contact with water as much as possible (something which holds true even for the waterproof scooters).
Speed, motor, and power
The motor power of the Macwheel MX Pro is 350 Watts, which is enough for most casual riders. It is a big upgrade compared to some versions of the older model, which had only 250 Watts.
The hub motor is located in the front wheel. It gives you a top speed of 15 mph / 25 kmh on paper. Some users have reported reaching top speeds of around 17 mph / 28 kmh in some conditions, although others have reported the opposite, with the scooter not being able to develop even 12 mph / 19 kmh.
Range, battery, and charging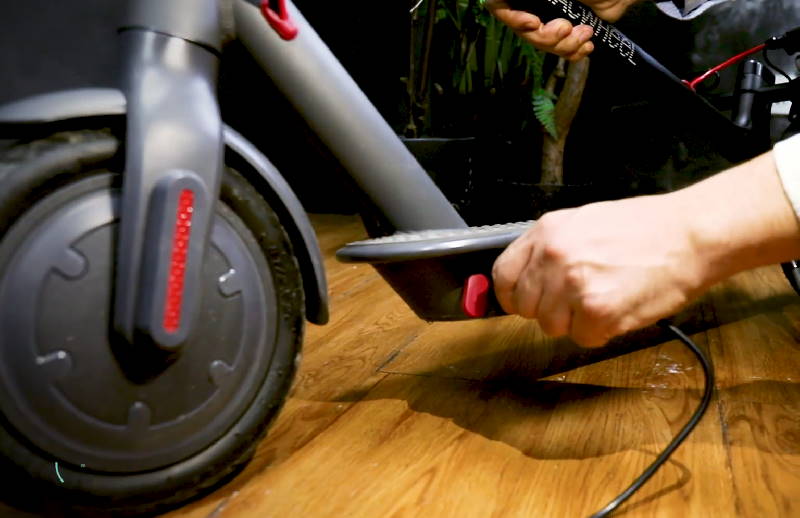 One of the best things about the Macwheel MX Pro is its range. For a scooter under $400, the range of 25 mi / 40 km is pretty big. This is another big improvement over the old model, which had a range of about 18 mi / 30 km.
This range is thanks to the bigger 360 Wh, 36 V battery. The scooter takes between 6 and 7 hours to charge fully. Charging the scooter will cost around 2 cents in the US during off-peak hours, and around 7 cents during peak hours.
The charging port has a protective rubber cover cap, same as with the Xiaomi models, which is good for protecting the battery from dirt, dust, and liquid.
As usual, the indicator light on the charger will be red while charging, and green when the battery is full.
Climbing hills
This is not an area where the scooter shines. It will climb some mild hills without issues, but it may start to cough a bit even on moderate hills. Steep hills will likely be a battle, as this is a 350 W front-drive single motor scooter and doesn't really pack that much torque.
Portability, weight, and dimensions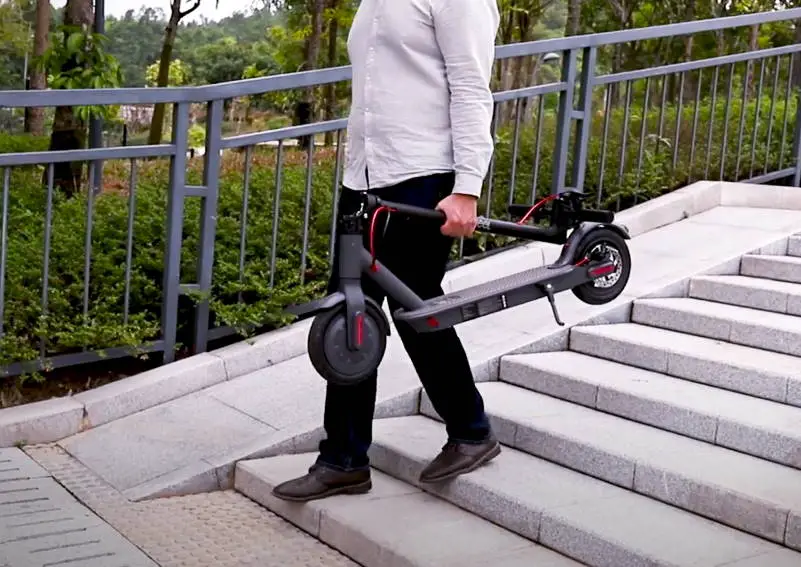 With a weight of 28 lbs / 12.7 kg, the Macwheel MX Pro is not a heavy scooter. Coupled with the folded dimensions of 41.1 x 16.5 x 18 inches / 104 x 42 x 46 cm, it is a very portable scooter.
It will fit into almost any car trunk, door, and public transportation. It doesn't have any awkward parts when fully folded, and has no sticking objects. The stem is not too thick, so it can be fully gripped, and the center of gravity when folded is close to the middle of the scooter, so it's easy to carry.
Weight limit
Interestingly, the weight limit is one of the specs that has actually been reduced compared to the older model.
While the MX1 had an official weight limit of 265 lbs / 120 kg, the MX Pro has it at 220 lbs / 100 kg. That is unusual, since both the motor and the battery are more powerful. Very likely, the weight limit of the initial scooter has been overreported.
Brakes
The scooter has one brake lever on the left handlebar, which activates the dual 120 mm disc brakes. They also refill the battery when active, as the scooter has the regenerative braking feature.
The brakes are safe and strong enough for the scooter's top speed, and the only thing they may need is a little adjustment, which should be easy to do.
Some users have reported that the rear brake may make some friction noises and may need further adjustment.
Tires, wheels, and suspension
This is where the Macwheel MX Pro stands out from the Xiaomi M365, and I believe it is its strongest value proposition over the scooter to which it is most often compared.
The Macwheel MX Pro sports 8.5-inch solid, airless, foam-filled tires. That means they are completely immune to flats. That's almost like a slap in the face for Xiaomi, as the M365's biggest weakness was actually flats (although that has been improved a bit in the M365 Pro version).
However, I wouldn't be so quick to go down that road, as it may be a bumpy one. Literally.
Solid tires will, almost by definition, significantly worsen the ride stability and experience. That is not something to be dismissed, and it's no wonder that the majority of scooters still employ air-filled tires.
To make matters worse for the Macwheel MX Pro, it comes with no suspension at all.
And even though the ride experience is not bad, it will not be as good as the one of a scooter with air-filled tires, or a scooter with suspension, or both.
The Macwheel MX Pro makes a strong case for a solid-tire scooter, but boy, I would love to see some suspension on it as well.
Control and screen
The right handlebar only has the thumb throttle.
The left handlebar has the brake lever, and the bell.
The LCD screen is in the middle. The screen is not particularly bright, and it is a little difficult to read in stronger sunlight. It has just the power button at the bottom of the screen, through which you control everything on the screen.
The screen can show the current speed, the battery level, the bluetooth status, and the light status.
There are three speed modes, each limiting the top speed to 5 mph, 10 mph, and 15 mph.
The handlebars have gripped rubber covers on them. Same as with other similar scooters, I would love for the handlebars to be a bit wider, so that you can control the scooter more easily.
Lights and riding at night
The scooter has an LED headlight and a brake light. Both of them are pretty good for a budget scooter, although if riding at night, you may need to consider getting some extra lighting power, and certainly a fluorescent vest.
Check out the post on electric scooter accessories for recommendations on the best lights and vests.
Care, maintenance, and lifespan
You can expect about 500 full charge cycles from the battery before its performance starts to degrade.
Besides regular checkups and cleaning, and possibly the occasional tightening of some screws that might get loose, there is not much else you need to do. By doing regular cleaning and check-up routines, your scooter will last you quite a long time. Three years are not unusual, and you can probably expect up to five years without any major breakdowns.
App and security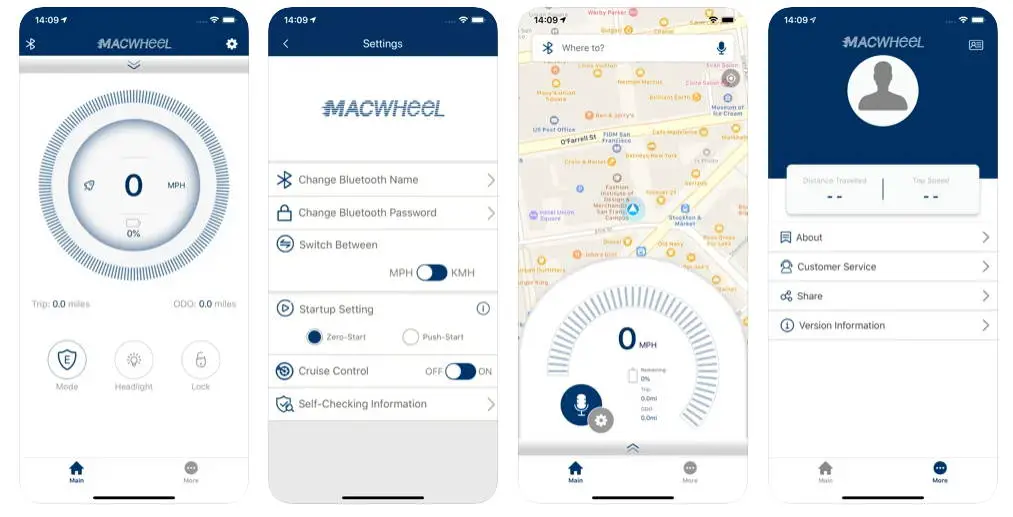 The app is one great improvement over the older model, which didn't have one.
The app is available for Android and iOS. Unfortunately, the app is not all that it can be, as it has some bugs and users have some difficulty connecting it to the scooter.
You connect the scooter with the app through bluetooth, and you can use the app to:
lock the scooter
see battery life and different statuses about the scooter
set the speed mode
turn the headlight on or off
settings and error codes
The ability to lock the scooter is the biggest benefit of the app, as it can't be started without it. It will still be susceptible to theft, as someone can easily just carry it away, so make sure to use a safe and strong lock designed for scooters to secure it when leaving it outside.
Accessories and customizations
Macwheel doesn't offer specific customizations and accessories for this scooter.
Luckily, since it's very similar to the Xiaomi M365, a lot of the same accessories will fit. Same as the Xiaomi, this scooter does not come with a seat, a trunk, a basket, or a phone holder, but there are custom parts available that can be installed.
Check out the post on the best accessories for scooters to find which ones would work great on this model.
Also, don't forget to get a proper scooter helmet for Macwheel MX Pro as well. The scooter is not very fast, but you should still follow the golden rule of electric scooters and wear your helmet all the time. I would generally recommend a half-face helmet even when riding slower budget scooters such as this one, but you may be able to get by with a bike helmet if that's all you have lying around your home at the moment.
Macwheel MX Pro specifications
Macwheel MX Pro Specifications
| | |
| --- | --- |
| Top speed | 25 kmh |
| Top speed | 15.5 mph |
| Range | 40 km |
| Range | 25 mi |
| Motors | single hub in front wheel |
| Power | 350 W |
| Battery | 360 Wh, 36 V |
| Charging time | 7 h |
| Ingress protection (IP) | IPX4 |
| Weight | 12.7 kg |
| Weight | 28 lbs |
| Weight limit | 100 kg |
| Weight limit | 220 lbs |
| Tire size | 8.5 in |
| Tire type | solid, airless foam-filled |
| Foldable | yes |
| Foldable handlebars | no |
| Seat | no (customization possible) |
| Trunk or basket | no (customization possible) |
| Build material | aluminum |
| Terrains | urban |
| Brakes | dual 120 mm disc + electronic regenerative brakes |
| ABS | E-ABS on front wheel |
| Shock absorbers | no |
| Lights | headlight + brake lights |
| Control | LCD screen |
| Speed modes | 3 |
| Cruise control | yes |
| Keys | no |
| Alarm | no |
| App | yes |
| Warranty | 1 year |
| Certificates | UL2272 |
| Rider age | adult |
| Folded dimensions (L * W * H) | 104 cm * 42 cm * 46 cm |
| Folded dimensions (L * W * H) | 41 in * 17 in * 18 in |
| Unfolded dimensions (L * W * H) | 104 cm * 42 cm * 113 cm |
| Unfolded dimensions (L * W * H) | 41 in * 17 in * 44 in |
| Deck dimensions (L * W) | 41 cm * 15 cm |
| Deck dimensions (L * W) | 16 in * 6 in |
| Ground clearance | 9 cm |
| Ground clearance | 4 in |
| Deck to handlebar height | 100 cm (est) |
| Deck to handlebar height | 39 in (est) |
| Rider height | 120 – 190 cm |
| Rider height | 47 – 75 in |
| Adjustable handlebar | no |
| Notes | 17 mph tested speed |
Macwheel MX1 vs Macwheel MX Pro
This is an easy choice.
The Macwheel MX Pro has more range, better battery, more powerful motor. Plus, it has learned a few valuable lessons from the mistakes of its predecessor, like solving the issues with the range and top speed diminishing only after a few rides. Minor problems with brakes still may occur, but they are much less frequent.
The best news is, the MX Pro is really just a few dollars more expensive than the MX1 ($399 vs around $360-$370).
So, the Macwheel MX Pro is clearly better than the Macwheel MX1, and I don't see a good reason for choosing the older model at this point.
Macwheel MX Pro vs Xiaomi M365
For this comparison, I believe I have to go with the Xiaomi M365.
I always love an underdog, but the Macwheel MX1 Pro simply doesn't offer enough improvements to justify the small cost savings. In fact, I don't think it offers any real improvements at all.
One possible scenario when I may consider the Macwheel MX Pro over the Xiaomi M365 is if you live somewhere with really bad roads. If you know scooter owners that complain a lot about flats, or you yourself have gotten a few with other scooters, you may give the Macwheel MX Pro priority, as the Xiaomi M365 is notorious for both being vulnerable to flats quite a lot, but also requires lots of patience, skill, and black magic for fixing the flats as well.
While you can install solid tires on the Xiaomi M365, the process will not be simple. So, as a shortcut, if you need the Xiaomi M365 but with solid tires (and pretty good ones at that), you should pick the Macwheel MX Pro.
But apart from possible environments with terrible roads, I believe the Xiaomi M365 will always beat the Macwheel MX Pro in pretty much every scenario except when you need a solid-tire scooter. You can check out the review of the Xiaomi M365 Pro for the upgraded version of the Xiaomi to learn more.
Macwheel MX Pro vs GoTrax XR Elite
The Macwheel MX Pro often gets compared against the GoTrax XR Elite, one of the latest and greatest GoTrax models.
The scooters are similar in many ways, including the price, which is almost identical for the two.
The most notable difference is in the range, with the Macwheel MX Pro having around 6 mi / 10 km more range than the GoTrax XR Elite. Interestingly, the GoTrax XR Elite is also about 5 lbs / 2 kg heavier, which is somewhat strange because usually, the scooter with the more range is the heavier one.
The GoTrax XR Elite has somewhat better brand recognition and popularity as its key advantages, as well as a bit better build quality and design team behind it. If those sound like key properties to you, see my complete review of the GoTrax XR Elite.
Reviews and known issues
Just one glance over the Amazon reviews of the Macwheel MX Pro and Macwheel MX1, and we can instantly see that the newer version has some very important, much-needed fixes and improvements. With a much better rating for the new one and just a few 1-star reviews, it is clear that the Macwheel MX Pro is much better accepted by consumers.
However, some issues, even though improved, still persist, and some new ones seem to have popped up as well.
I don't think any of the problems of the MX Pro are serious enough to be dealbreakers, but you should be aware of them.
Probably the biggest possible problem is the build quality. While similar to the Xiaomi M365 in many regards, it's not exactly at its level. There have been a few reports of broken handlebars, wobbly folding mechanism, and shaking when riding with speeds closer to the limit.
There have been some reports of the scooter arriving dead, or dying because of an electronic malfunction just weeks later. However, this is actually not unusual, especially for budget scooters, and in most cases, the customers can get a refund or a replacement.
One minor issue that seems to have survived from the days of the MX1 is the brake friction, and the weird sound it makes sometimes. Also, the fender can bend or break and also cause some friction. Luckily, these are rare occurrences, which plagued the previous model a lot more.
All other problems with the Macwheel MX Pro are either isolated incidents, or nothing out of the ordinary that much. The support team of Macwheel will be able to help in some instances, and for serious defects, you can revoke the refund or the warranty policies.
Price and value for money
The Macwheel MX Pro is usually priced at $399, or potentially somewhere around $430 when not on a discount.
For that price, it is a pretty good choice, and good value for money.
Who should get the Macwheel MX Pro?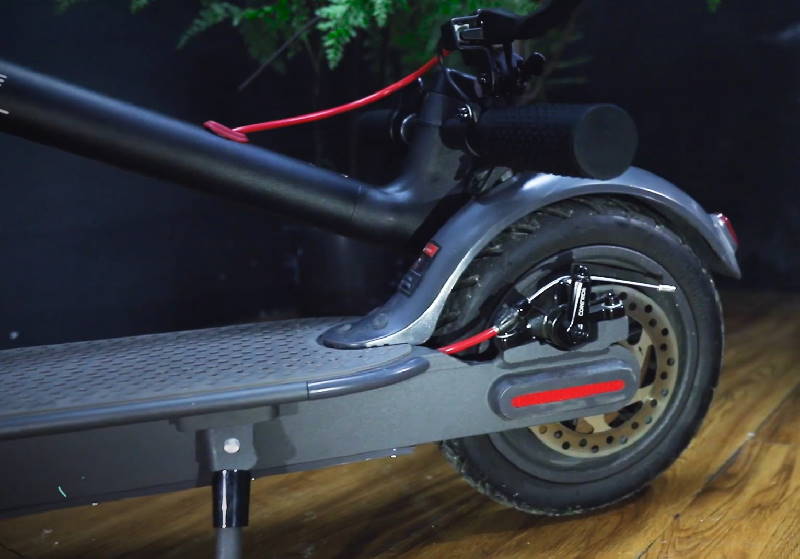 Several types of potential owners will find the Macwheel MX Pro to be a solid option, and should give it a good look.
For starters, anyone with a budget of $400 or less can really consider it, as it is one of the best scooters under that price point.
Commuters with short to medium commutes will find this scooter useful too. In particular, commuters that have a last-mile transport situation, where they need their scooter to be portable so that they can easily carry it in and out of buses and subways, will find this scooter even more useful.
Also, since this is a pretty portable scooter, both in terms of weight and dimensions, anyone looking for that kind of feature can take a look.
I also believe this can be a great gift for a loved one. It's not crazy expensive, it's very fun, and younger people will love it.
Where to buy the Macwheel MX Pro from?
Who should not get the Macwheel MX Pro?
Generally, I try to avoid discouraging people from making their own decision in the end. The Macwheel MX Pro is a decent scooter, and it's certainly not expensive, while offering good quality for that price. If you have your mind set on it, you can pull the trigger without that much hesitation.
Still, I believe for many of you, there may be better options depending on your specific needs and scenarios.
The biggest downside I see in the Macwheel MX Pro is that it's hard not to label it as another Xiaomi clone. You may save a few bucks by choosing it over the Xiaomi, but I don't think the savings are big enough to justify swimming against the current here.
Another big reason why not to buy would be the potential quality issues. I never want to attack cheaper scooters for this, as they do all of us consumers a favor by constantly driving the prices down, but there seem to be some issues with quality that may be important for someone looking to buy a scooter that will last them for years and years. Don't get me wrong, this is not a low-quality scooter, but it is not exactly a high-quality one neither. Check out the post on the most reliable scooters if you are after a scooter like that.
The other reasons for not buying this scooter are not as big.
Obviously, this is not a power scooter, and if you need something like that, you can start your research by looking at the best 1000W scooters or maybe even the best 2000W scooters.
Also, if you live somewhere hilly, this scooter will not be for you. I recommend taking a look at some good climbing scooters instead.
If your determined budget for a scooter is around $1000, then you can get a much better scooter. Check out the post on the best $1000 scooters for that.
Conclusion
Honestly, while the Macwheel MX Pro is not a bad scooter, and is certainly a huge improvement over the Macwheel MX1, I don't believe it offers enough to differentiate itself from the Xiaomi models, from which it obviously has, khm, "borrowed", a few ideas.
For the price, it is a decent scooter, but I would still suggest going with a more reputable scooter like the Hiboy Max (full review here), which is just a little more expensive, or even better, the Xiaomi M365 or the Xiaomi M365 Pro (full review here).
If you think otherwise, you can go ahead and get the Macwheel MX Pro. As I said, I love an underdog, and I would love to be proven wrong here.
Where to buy the Macwheel MX Pro from?
Where to buy the Macwheel MX Pro
US: iMacwheel
---
Want to get
FREE SCOOTER
tips, exclusive discounts and promotions, and unseen scooter hacks? Join the
Scooter Secrets club
.
---
Liked this article? It really helps if you share it.
Follow @escooternerds on social media for more cool stuff
---