Last Updated on October 5, 2022 by Matt
Electric scooters are fairly safe, or at least as safe as the rider's behavior.
That said, some models will be inherently safer than others. Electric scooter accidents can, and do, happen, and while often the rider is at least somewhat at fault, there are times when the scooter itself could have done a better job of keeping the rider safe.
These are the safest electric scooters.
Let's see what makes a scooter safe, which scooters tick all of the boxes, and further, precisely which safe scooter may be a good choice for you based on your needs other than safety.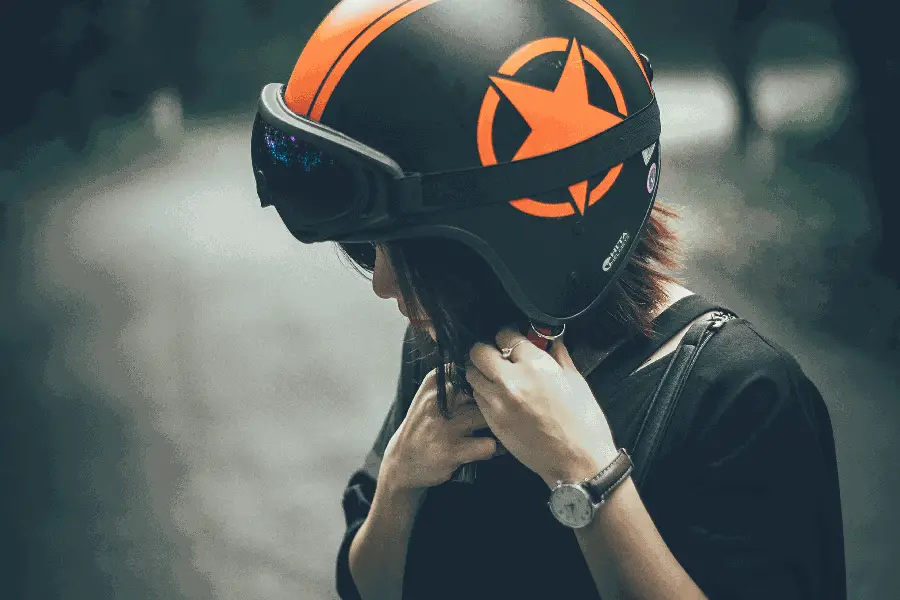 What is a safe electric scooter?
There are a few objective criteria we can look at to evaluate the safety of a scooter, regardless of how responsible its rider is. Since safety is paramount, we will go deep here and evaluate an unexpectedly large number of parameters.
The crucial factors when it comes to electric scooter safety are:
defect rate (especially serious defect rate)
build quality and quality of materials used
quality of electronics
quality of the folding mechanism
brake strength, sensitivity, and redundancy
suspension quality and ride stability
speed and acceleration (or rather, the lack of them)
tire size and type
Other important factors, although probably not as important as the ones above, are:
number of lights, their positions, and their strength
balance, turning, and design
horn or bell, and their volume level
grip tape on the deck
In addition, there are a few other important parameters that will play a role, but they will not be one-size-fit-all and will have to fit the rider individually:
weight capacity
handlebar height
deck size
These additional parameters can make a difference for some categories of riders, like heavy or tall riders, and should be considered too.
How we determine whether a scooter is safe?
This article is an in-depth look, taking into account both features and empirical data about electric scooters.
The great news here is, for many of these parameters, we have quite a lot of data, and we can make valid comparisons and choices.
There is some bad news for this research.
In my opinion, one of the most important factors is the defect rate of the scooters, or more precisely, the serious defect rate (like the stem breaking in half, for example). We might even say that's the final bottom line – the general quality of the scooter will likely have the strongest impact on the scooter's safety overall. These kinds of defects can be the cause of a serious injury if they occur mid-ride.
The bad news is that we only have little data on these defect rates. The most popular scooters tend to have more data about these sorts of defects. So, we can probably keep in mind that this case study may be a little biased against the more popular scooters, as their defects will be more public. Also, we may have to look at the rest of the data more when determining whether a scooter is safe.
Anyway, even with an imperfect methodology, we can still make good arguments as to what makes a scooter safe, and which scooters can be considered the safest.
Safest electric scooters
After looking at the data, some scooters clearly stand out as safer than others. These are the scooters that have the smallest number of serious defects, while also sporting the biggest number of safety features.
EMove Cruiser – safest electric scooter overall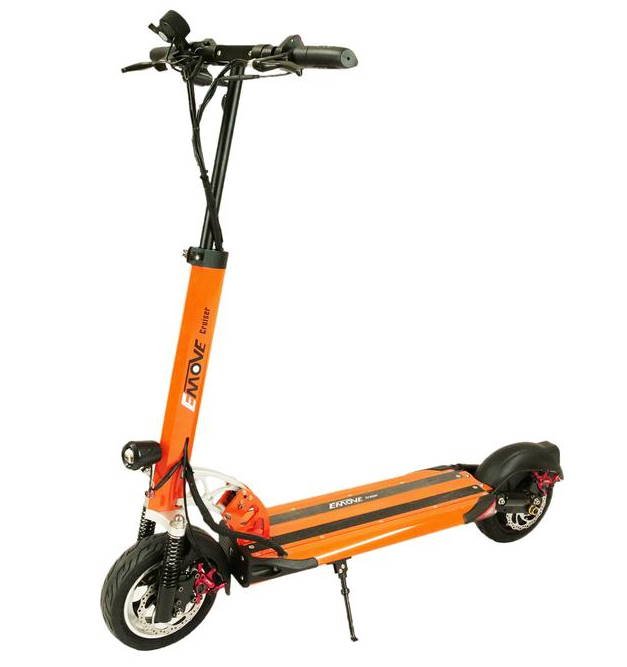 Crowning a scooter as the safest is kind of a responsibility. These are my reasons for why I believe that the EMove Cruiser is the safest electric scooter in the world.
First of all, it is a very high-quality, well-made scooter. The fact that thousands upon thousands of owners have been delighted by it only confirms this, and with only a handful of reports of serious defects online, it has a very low defect ratio.
But probably of equal importance, at least in my opinion, is the fact that, even though this scooter is kinda powerful, it doesn't have crazy top speeds and acceleration that will knock you off the scooter. With a top speed of 28 mph / 45 kmh, there is still a lot of room for irresponsible riding, but it's nowhere near what the fastest scooters are capable of.
It may be strange to think of the lack of speed as a safety feature, but in reality, we all know it is much harder to get injured riding at lower speeds. And we don't want to always equate power with danger, as many of us are responsible riders who know what they're doing. But the bottom line is, if your scooter is physically incapable of reaching 60 mph / 100 kmh, your safety will be much higher.
The folding mechanism of the EMove Cruiser is very reliable, and that's always great news for safety, as cheaper scooters often have problems in this area, and sometimes those problems come up even while riding.
With dual semi-hydraulic brakes and a braking distance of between 3 and 4 meters, the EMove Cruiser has a lot of stopping power, without being jerky or sudden in its stopping. This is probably the only 9/10 that the EMove Cruiser gets in terms of safety, as full hydraulic brakes would have been better. But still, the brakes are great and more than strong enough, especially given how the scooter is not capable of crazy speeds anyway.
The scooter has an excellent suspension system. The dual front spring suspension and the dual rear air suspension, coupled with the large 10-inch pneumatic tubeless tires that are less vulnerable to flats, will make all the urban rides comfortable and stable. As both tire size and suspension play an important role in safety, the EMove Cruiser gets maximum points here.
Other safety features include a large number of powerful lights (3 front, 3 rear, turn signals), the loud electric beeping horn, and the large, comfortable, ergonomic deck with the grip tape to prevent slipping on top.
With a weight capacity of 350 lbs / 160 kg, this scooter is also the best choice for any heavy adult looking for a safe scooter, as that's the highest weight limit out of all the safe scooters on this list.
And, of course, not to forget, this is the most water-resistant scooter in the world right now. While you shouldn't ride in the rain or snow, if you plan on doing so, this scooter is likely your safest bet.
Finally, the reason why I love this scooter is that it doesn't cost an arm and a leg. It is possible that there are higher-quality scooters out there, but they will almost certainly cost at least double. Sure, this scooter is on the pricey side too, but if safety is your priority, the usual price tag of $1499 will be a good deal, and using the coupon code "escooternerds" on checkout will give you a discount of $50 on that price.
All in all, while it's hard to objectively say which scooter is the safest, I believe the EMove Cruiser has the best reputation, with the least number of defects, coupled with the most safety features, and with speed and power levels that don't really allow for that much to go wrong. You can read the full review of this scooter here.
Ninebot Max – best value safe electric scooter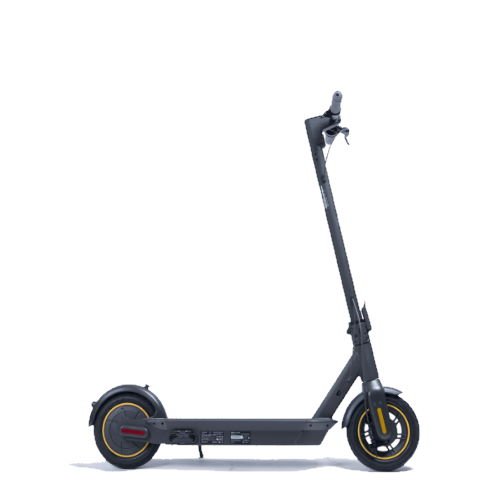 Honestly, even though I consider myself a value shopper primarily, I don't think that safety and value go together hand in hand exactly. Usually, for a scooter to be cheaper, it has to make some sacrifices in the build quality, and that always affects safety in a negative way.
With that said, I do believe that the Ninebot Max is the scooter that strikes a really good balance here, in that it's both not prone to serious defects, and also it's affordable to most people.
Of course, there will be tons of people saying that their Ninebot Max has had a really bad defect, but we have to remember that this scooter is probably used by millions of people worldwide. If you look at the one-star ratings on Amazon this scooter has, which are actually not that many to begin with, it is obvious that only a few dozen of them are because of severe defects.
True, the Ninebot Max will not be a scooter of the absolute highest quality. But still, it is a good quality scooter, especially when you take its price into account.
For the price, the Ninebot Max is a great mix of value and safety. It is a proven, reliable, reasonably strong scooter, battle-tested by masses of people every day. As I said, in many ways, that may be the only real data we have in looking for the safest scooter, and owners predominantly say good things about the Ninebot Max.
The safety features of the Ninebot Max far exceed what you would expect in this price category.
The mechanical front and rear regenerative electric brakes will provide more than enough stopping power. Also, since the scooter can only reach speeds of 18.6 mph / 30 kmh, there's not that much to worry about in terms of getting injured because of crazy speeds.
The pneumatic, 10-inch, self-healing tires provide much safer and more stable rides than the other Ninebot scooters, and also more stable than most scooters in this price category, as most other scooters will have 8.5-inch wheels. Sadly, the scooter doesn't have suspension, but again, very few scooters with this price tag do.
Other safety features include the anti-slip rubber deck, the bell, and the head 2.5W high-brightness LED + brake lights.
In summary, for the price of around $710, the Ninebot Max is probably the safest, most reliable, most tried-and-tested scooter you can get. You can read a full review of the Ninebot Max here.
Inokim OXO – safest high-end electric scooter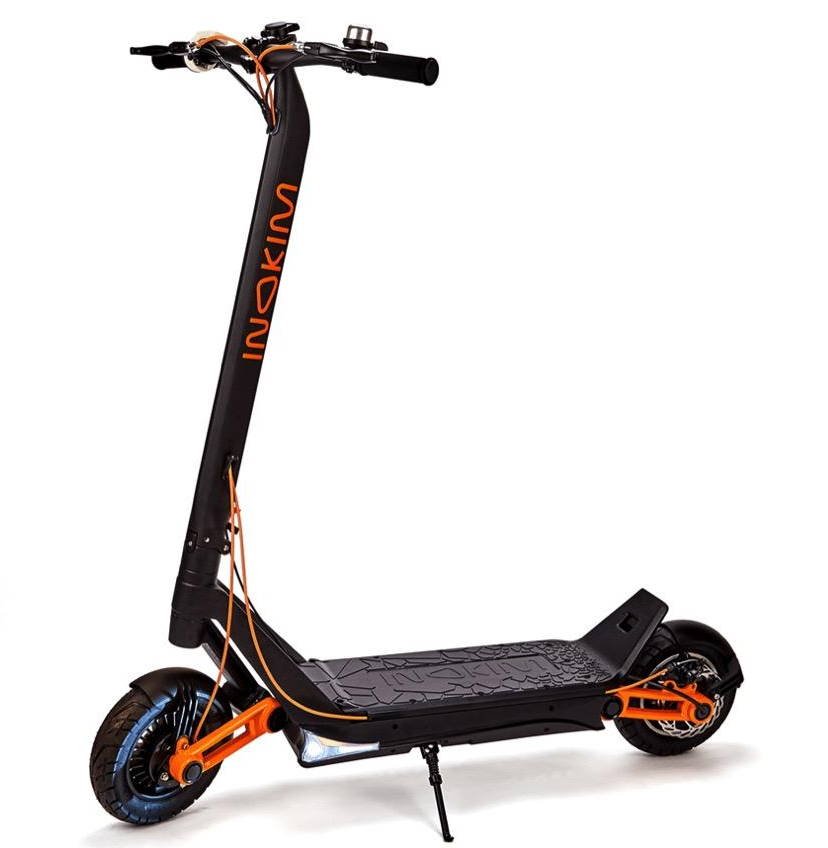 We should start with the caveat here – the Inokim OXO is kinda fast to be considered safe. With a top speed of 40 mph / 65 kmh, it is one of the fastest scooters that we may still consider safe.
The reason why I'd include it in the list of very safe scooters is its build quality. It does come from Inokim after all, and they are arguably one of the leading manufacturers of premium electric scooters.
What makes this scooter safe is its reliability, its very low defect rate, and very high user satisfaction. If you need the highest-quality safe scooter, and you ride responsibly and don't speed too much, this may very well be the safest scooter on this list.
Plus, this is the flagship scooter of the brand, which means it will include all the bells and whistles. And that means tons of safety features.
With full hydraulic disc brakes, this scooter has one of the safest brake systems in the world. Coupled with the dual adjustable arm suspension, and the 10-inch pneumatic tires, the lower half of this scooter is covered when it comes to safety. It comes with front + rear LED lights, and a wide deck covered with anti-slip rubber.
So, if you are after the safest scooter and money isn't an issue for you, you may want to take a look at the Inokim OXO. You can read the full review of it here.
Speedway Leger – safest mid-price electric scooter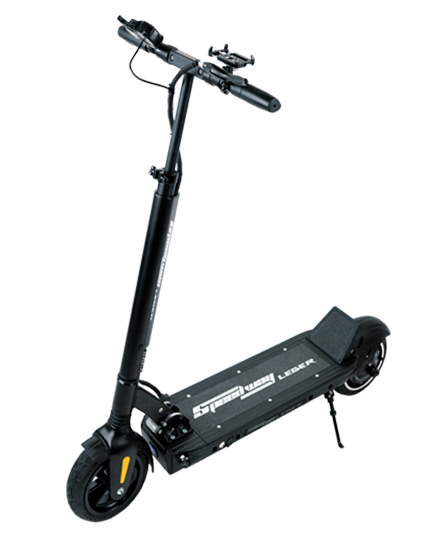 If your budget is around $1000 and you are looking for the safest scooter possible, the Speedway Leger is a very good choice.
First of all, even though it comes from Minimotors, the same brand behind crazy-fast scooters like Dualtron, this scooter is limited to 28 mph / 45 kmh. That is a great start when looking at a powerful but safe scooter.
More importantly, this is a well-designed, carefully crafted scooter of solid quality, that is a level or two about the typical commuter scooter. You can expect a bit more in terms of reliability and lifespan.
The 8.5-inch pneumatic tires, with the electric regenerative rear drum brake, and the front spring and rear hydraulic suspension systems, will provide owners of the Speedway Leger with comfortable, safe rides.
All in all, a scooter of strong quality, probably purposefully not too powerful, with good safety features, at an affordable price tag. You can read the full review of the Speedway Leger if you are interested.
Glion Dolly – safest budget electric scooter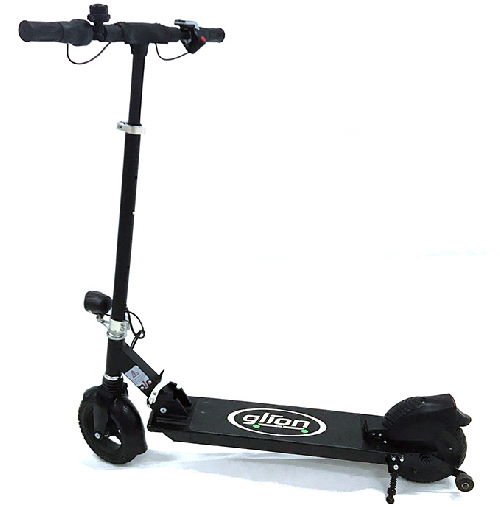 When we talked about the safest value scooter, we already mentioned that lower prices typically reduce the safety of the scooter.
In the case of budget scooters, that can be even more true. But still, the available scooter budget for many of us will be limited, and we may still need the safest scooter possible.
The Glion Dolly is likely the safest, most reliable budget electric scooter.
This is the result of another research that looked at how long do electric scooters last. In that research, we saw that from all the scooters for which lots of data was available on their lifespans and defect rates, the Glion Dolly was the champion when it comes to reliability.
Now, we have to keep in mind that this scooter, while excellent and much beloved by its owners, is still in many ways a budget scooter. We shouldn't have unrealistic expectations from it, although it will surpass most of the expectations anyway.
For starters, the top speed of 15 mph / 25 kmh doesn't leave much to chance. You can still get hurt at these speeds, but it's half than what most other scooters here are capable of.
The Glion Dolly has solid 8-inch wheels, and doesn't have any suspension, so the ride quality will not be very good compared to the other scooters here. The rear electronic anti-lock brake does its job very well, so at least that part is covered.
With a front LED and rear brake light, very good balance and design, a loud ringing bell, and a comfortable deck size, it offers plenty of safety features.
Probably the main safety feature of the Glion Dolly is its build quality itself. It is a tough, reliable, proven scooter, that has stood the test of time for many owners.
With all of that in mind, and the fact that it has a super-low defect rate (only 2.94% of owners have had serious defects in the first year of ownership!), we can safely say that this is a very safe budget scooter. It's usually priced somewhere around $430.
If you are interested, see the full review of the Glion Dolly.
Kaabo Wolf Warrior – safest offroad scooter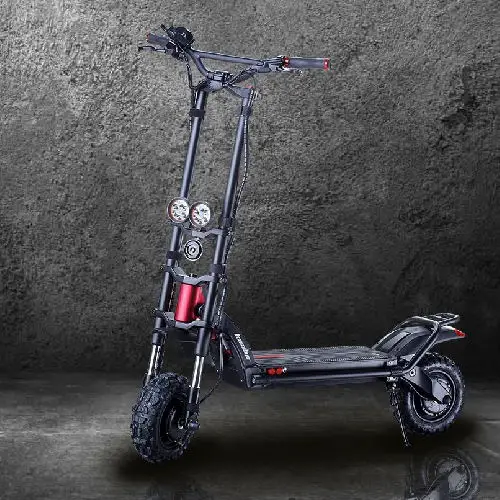 Let's start by stating the obvious first – the Kaabo Wolf Warrior is not the typical "safe" electric scooter. It can never be – its top speed is 50 mph / 80 kmh, and that is simply not a safe speed for an electric scooter.
But it is still very safe because the build quality and reliability are amazing, and the defect rates are very low.
Plus, we rightfully label it as a safe scooter for offroad instead of a typical safe scooter, since when it comes to offroad, this is the best scooter there is.
Also, with a weight limit of 330 lbs / 150 kg, this is another good choice for heavier adults looking for a safe scooter that can easily support them.
So, as long as you don't ride at crazy speeds, a lot of the features of this scooter will make sure you stay in one piece. The huge 11-inch pneumatic tubeless tires with the world-class dual hydraulic suspension will provide very stable rides, and the hydraulic + electronic brake combo will make sure that braking is more than covered.
Other safety features include the signature LED headlight, the rear and sidelights, and a very loud horn.
Going offroad with your scooter carries a certain additional risk (that's the point, right?). That's why offroad scooters need to be of extra-high quality. Since the Kaabo Wolf Warrior is an excellent scooter in general, and probably the best offroad scooter ever made, it is the obvious choice for the safest offroad electric scooter. See my complete Kaabo Wolf Warrior review if you're curious about this beast of a scooter.
Mercane Widewheel Pro – safest solid tire electric scooter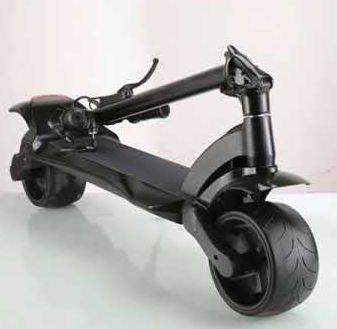 While the solid vs pneumatic tire debate in the electric scooter world is alive and kicking, there is one scenario when scooters with solid tires are a better choice for safety. That is, of course, for environments with terrible roads, where flats are very common, and a bad flat may even cause an accident or an injury.
Now, keep in mind that this choice will not be without consequences. Solid tires will not suffer flats and that will make them a lot safer in some scenarios, but the rides will be much less stable. That's why it's critical that the scooter is both of high quality, and has very good suspension.
The first such scooter that will come to mind for many is the Mercane Widewheel Pro. This famous solid tire scooter comes with front and rear spring suspensions that greatly mitigate the shocks that a solid tire scooter sustains.
The Mercane Widewheel Pro is popular for a reason, and that's its very good build quality. It is easily one of the best and most high-quality solid tire electric scooters ever, which implies that it is one of the safest solid-tire scooters too.
The dual brakes are also much welcome, and other safety features include the LED front and rear brake lights, and the top speed of 26 mph / 42 kmh, which while still potentially dangerous, doesn't leave as much space for serious injuries as with faster scooters.
If you live somewhere with terrible roads, or if your scooter owner friends frequently complain about flats, then the Mercane Widewheel Pro may be a great safe choice for you. You can check out the full review here.
Turbowheel Hornet – safest electric scooter for tall adults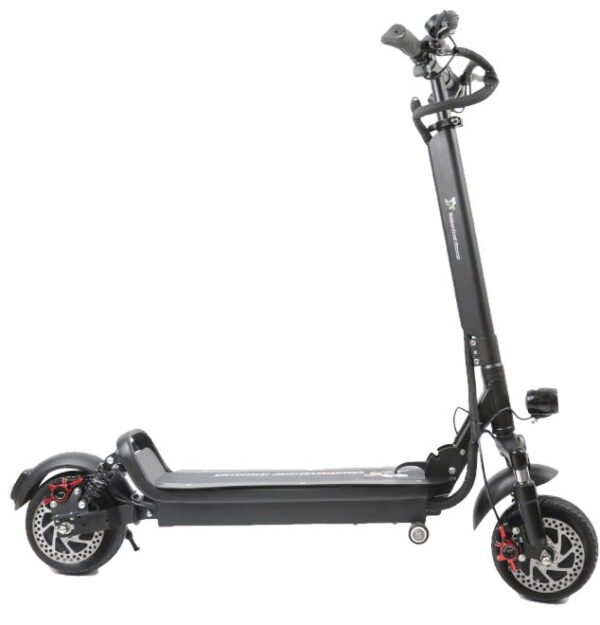 It is very important for your scooter to fit your build, and tall people often have trouble finding a scooter that will be tall enough for them.
This is where the Turbowheel Hornet comes in.
On its own, it is a pretty safe scooter, but it's also the tallest scooter in the world when it comes to deck-to-handlebar height (44 in / 112 cm). That combination makes it the clear choice for tall people looking for a safe scooter.
The speed is limited to 28 mph / 45 kmh, so the scooter is not dangerously powerful. The scooter has 8-inch solid wheels, which don't provide as comfortable rides as larger pneumatic tires, but the front hydraulic and rear spring suspension improve the situation quite a lot. Great hydraulic disc brakes, headlights and brake lights, and the elevated rear footrest, are all very cool extra safety features.
You can check the full review of the Turbowheel Hornet to learn more.
How safe are electric scooters?
Electric scooters are reasonably safe, especially when used responsibly.
A study from the Austin Public Health organization found that 1 out of every 5000 riders of rental scooters has had a serious injury. There are several things to unpack here:
those were rental scooters, which means most of the riders were not experienced at all
often, rental scooters are cheaper, less safe, and more damaged because of abuse and negligence
about 45% of the injuries were head injuries, and a good part of them would have been avoided or less severe had the riders worn proper safety equipment, including helmets
Still, the study has some merit, and confirms what we already know – electric scooters can cause injuries, and we should not treat them as toys.
A different study from the Los Angeles emergency rooms found that only 4.4% of riders that were admitted for scooter injuries were wearing helmets.
Another study from the Portland, Oregon Bureau of Transportation, found that there were 176 injuries out of more than 700.000 trips (0.02%). Again, only 3% of patients admitted due to scooter injuries were wearing a helmet.
So, there's a reason why we all repeat this one constantly – please wear a helmet. Please.
Finally, since 2018, there have been 29 confirmed deaths because of scooter crashes (source). I don't want to dismiss that information as irrelevant, but given how many scooter trips have been done since 2018, that number doesn't seem that high.
Are electric scooters safer than bikes?
Electric scooters are about as safe as bikes (source). Both cyclists and scooterists can avoid a lot of the damage they sustain by wearing the proper safety equipment, the helmet being the most important one.
How to stay safe on an electric scooter?
You probably already know this, but I'll go ahead and hammer it in one more time. Wear the helmet. Check the post about electric scooter helmets to see how to pick the right helmet for you, your scooter, and your situation.
These are the most important safety tips for electric scooters:
always wear a helmet
always wear a helmet
respect your local traffic laws
wear all the safety gear you have
don't drink or do drugs before riding
never ride too fast
turn carefully
check that your tires are sufficiently inflated and in good shape
make sure all your brake systems work
make sure you have enough battery to get where you need to go
stay focused on your ride
avoid riding in the rain, snow, or wet weather
avoid ice or slippery surfaces
avoid pedestrian areas
avoid heavy traffic
ride as the manual instructs
only ride by yourself
always use your lights at night
Make sure to check out the full electric scooter safety checklist to learn how to establish an easy routine that you will constantly perform and always be as safe as possible.
Summary
We went through all the safest electric scooters available today in this guide, and also a few other useful things to keep in mind about electric scooter safety. The following table summarizes the safest electric scooters one more time for reference.
---
---
Liked this article? It really helps if you share it.
Follow @escooternerds on social media for more cool stuff
---