Last Updated on May 17, 2023 by Matt
If electric scooters were Game of Thrones characters… then the Inokim OXO is all three of Khaleesi's dragons.
How come, you ask.
Well, let's see.
Immense, unstoppable power?
Check.
Strikes fear into the hearts of your opponents?
Mm… check!
Can it fly?
Well, no. It can almost fly. But it sure can go crazy fast, almost fast enough to take off.
This is a complete Inokim OXO review based on my experience with it. Let's see what makes this scooter so hot, and why its peers have no choice but to bend the knee.
Inokim OXO pros and cons
PROS
Unrivaled quality
Very good performance
Reputable brand
Great ride quality
Super-cool unique look
Great brakes
CONS
Higher-end price
Not too portable
Deck might be slippery
Average acceleration
Buying
Usually, the best place to buy the Inokim OXO will be FluidFreeRide.
However, make sure to check the inokim.com store as well just to make sure you're getting the best deal possible (use my special discount code escooternerds for 10% off!).
Shipping, warranty, returns
When ordering the scooter through FluidFreeRide, shipping will be free or very cheap.
The return period is 15 days, which is the standard return period of the store. The product must be unused, and the return shipping costs have to be paid by the customer.
The warranty period is 12 months, and once the warranty expires, the scooter is covered by the Lifetime Service Commitment, which guarantees that you get 50% off the parts and labor costs.
The Inokim brand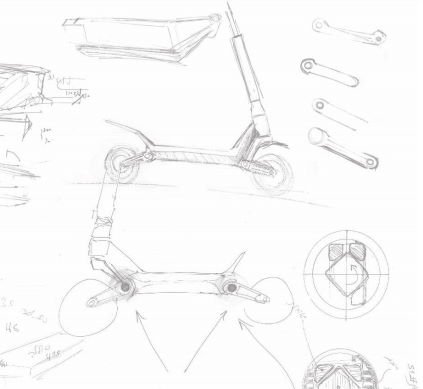 Formerly operating as Myway, Inokim has been a major player in the electric scooter scene since 2009. The visionary behind this brand is the inventor, product designer and developer turned entrepreneur, Nimrod Sapir. He has been winning design and innovation awards since 1994.
The mission of Inokim is a cleaner, safer world through the reduction of car use in urban settings.
Pretty much every year without exceptions, Inokim upgrade their scooters and release new, improved versions.
The Inokim OXO is their most powerful scooter. It is, in many ways, a major upgrade on the older Inokim OX version.
This is one of the very few scooter brands that are truly international. They have offices and authorized dealerships in more than 50 countries!
You can expect a full year on most parts, including the battery, no matter where you order from.
Unboxing and assembly
The Inokim OXO will arrive in a large box with plenty of protection and sponge cushioning.
The following is included in the package:
scooter
charger
Allen multikey
rubber band for the folding mechanism
rear fender and its necessary parts
manual
The handlebar is connected to the stem with the cable, but you will need to install it yourself. To install it, set it in place, and tighten it using the 4 mm hex key of the multikey.
You will also need to install the rear mudguard using the 5 mm hex key of the multikey.
Folding and unfolding the scooter is not as simple as with cheaper models, and that's a good thing since folding misfires will virtually never happen.
To unfold the scooter:
push the handlebar down a bit to release the snap lock
raise the handlebar
tighten the lever on the front by the tension adjuster
fix the rubber band for a safer lock
To fold it, repeat the same steps in the reverse order.
The folding mechanism itself is adjustable, something you very rarely see in scooters. You can tighten or loosen it as per your needs.
Charge your scooter fully before riding it. Connect the charger to the scooter first, and only then connect it to the power outlet. Be careful not to overcharge (some overcharging is not that bad, but try not to overdo it).
Basics
The Inokim OXO is almost a perfect scooter.
A true high-end evergreen that ticks all the critical boxes: brilliant design, unrivaled quality, amazing comfort, tons of fun, and safe yet powerful. The power, range, speed, and climb you get from this overachiever are insane.
This is a very, very powerful scooter. General rules apply, always wear your safety equipment and your helmet especially. But for the Inokim OXO, that's not all.
You may need some getting used to when it comes to the Inokim OXO. Even more so if you've never ridden a scooter this powerful.
The power and torque of this scooter are massive. You will have to get accustomed to the sensitive square thumb throttle.
Not that it's difficult or something, but you will need a few minutes to get the hang of it and learn to control your scooter.
Your start riding the scooter with a kick.
Ride quality
This is where the Inokim OXO truly shines. It felt like it provided some of the steadiest, smoothest, most comfortable rides I've ever experienced.
Fully designed and manufactured by Inokim, this original scooter has everything working together in perfect harmony. No screws are loose, no parts are wiggling, nothing makes a sound. Easily one of the safest scooters ever.
Make no mistake, this is a very high-end model. Everything from the core components like the motor and the battery, all the way down to the finishing touches, whispers high quality.
One thing people commonly say about the Inokim OXO has been – if you try one, you will want one. I can confirm that is 100% true.
While riding, even on rougher terrains, this scooter won't budge. Chances are, you will not hear a squeak, a screech, or a sound, except for the cool motor hum.
As the ride gets longer, the power will stay consistent. You will not lose performance like with scooters of lesser quality.
Controls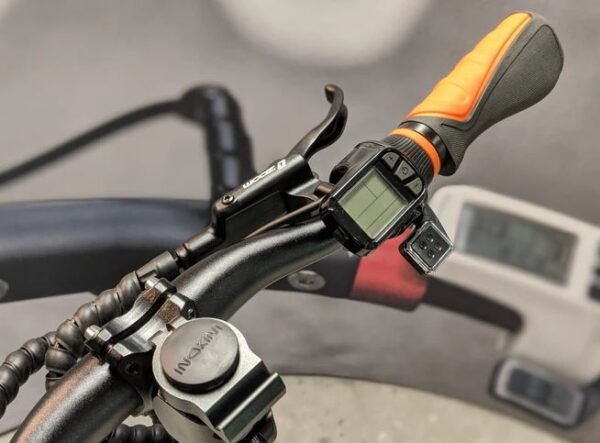 The acceleration button is the signature square-shaped throttle thumb lever.
The power button, along with the plus/minus buttons, are right above it. The screen is right next to them, so everything you need for control is nicely packed into one area.
The LCD display has enough illumination to provide high visibility both in the dark and in the brightest of days.
It can show:
current speed
speed limitation
screen brightness
cruise control
trip distance since the last reset
total distance
battery level
voltage
error status
Motor, power
The scooter has two 800 Watt gearless hub motors, one on each wheel. With a maximum power output of 1300 Watt, the combined maximum power of the scooter is 2600 Watts.
The dual motors are what give this scooter amazing torque and make it strong at climbing. It feels like the torque increases the faster you go.
Speed, acceleration
One major area where the Inokim OXO has been much improved relative to the Inokim OX is the top speed.
With a top speed of 40 mph / 65 kmh, the Inokim OXO is almost 50% faster than its predecessor. I was able to achieve this speed without a problem, and I even surpassed it a bit at times while riding slightly downhill.
Its acceleration is greatly improved as well, since the OX model did not have a very good one. That's no longer a problem, and the scooter accelerated very quickly.
The biggest limiting factor here is the fact that the Inokim OX only had one motor.
Climbing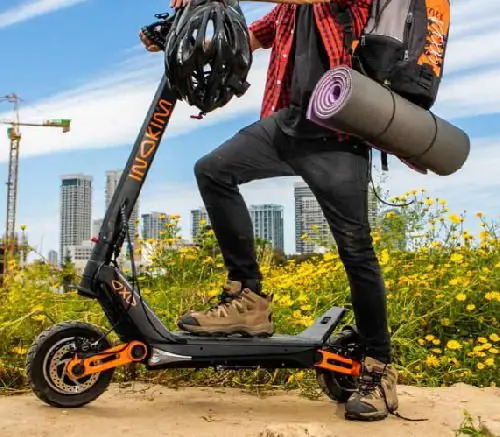 The amazing torque, together with the dual motors, make this scooter very strong at climbing.
We have an interesting situation with the climbing angle, one that you won't often see.
The official climbing angle of the Inokim OXO is said to be 15 degrees. While that's not little, the real climbing angle is actually even greater than that. If I had to estimate, I would say closer to 25 degrees from what I was able to observe in my hill climb tests.
Usually, manufacturers report falsely in the other direction. Not sure why Inokim doesn't advertise a bigger angle.
In any case, the Inokim OXO is a great climbing scooter and will handle pretty much every slope without an issue.
Battery and range
In the same vein as its predecessor the OX, the Inokim OXO comes with a great range.
With 110 kilometers of range, it is one of the longest-range electric scooters today. That alone makes it worth every penny.
I did a few range tests with the scooter. While riding at speeds closer to maximum in the real world, I got a range of at least 25 mi / 40 km. When I tried riding in the power-saving mode, I got ranges closer to the advertised one, a bit under 60 mi / 100 km, over several days.
The lithium battery of this scooter is pretty powerful, with 1536 Wh of capacity, operating at 25.8 Ah and 60 V. The scooter takes 13-14 hours to fully charge.
You should charge the battery at least once a month, and discharge it with riding every now and then.
How much does it cost to charge the Inokim OXO?
Charging the scooter costs 6 cents in the US, 8 pennies in Canada, 33 pence in the UK, and 21 cents in the EU on average, if you charge during off-peak hours. Charing during peak hours costs 21 cents in the US, 15 pennies in Canada, 39 pence in the UK, and 33 cents in the EU.
Design, looks, and details
This is one of my personal favorite things about the Inokim OXO.
That color choice is simply brilliant. The orange details and finishing make this a real fire-breathing dragon scooter. The rubber grips, the suspension arm covers, the branding, all of that screams classy, premium scooter.
Like all Inokim models, the OXO has been originally designed by celebrated scooter inventor and designer Nimrod Sapir. Which means, elegance and style are built-in.
Even though you ride with one foot before the other, the deck is quite large and comfortable. With its black scales design, it even looks like the skin of a dragon. The only issue I have with the deck is that it's not covered with grip tape or something else to make it less slippery.
Brakes
Another very strong point of the Inokim OXO are its brakes. It has one of the highest-quality brakes I've ever seen in a scooter.
It comes with dual hydraulic Zoom breaks, both on the front and the rear wheel. They are adjustable, and Inokim recommends doing so at the beginning when assembling.
The brakes can be very strong. When changing their level, make sure to test them. They will provide a very good braking distance of 3 meters or less, depending on the setting.
You can also adjust the height and rotation of the brake levers on the handlebar. Make sure to set them so that your wrists are straight when riding.
Another thing to be aware of – if you are going very fast and you only brake with the front brake, the entire scooter may tilt forward and the rear end can go up in the air. To make sure this doesn't happen, brake with the rear brake first, at least a bit, and only then use the front brake if needed.
Tires and suspension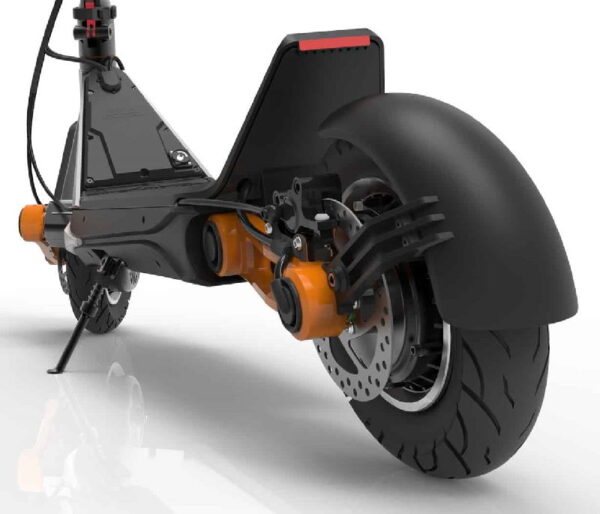 The pneumatic tires of the Inokim OXO are quite tough and sturdy, standing at 10 inches in diameter and 2.5 inches in width. You can easily replace them with 10 inches tall, 3 inches wide offroad tires.
The suspension system of this scooter is one of the best in the game.
It is an adjustable arm suspension, and it's included on both wheels. It is very, very solid.
Coupled with the pneumatic tires, the final result is a comfortable, steady ride, where even the bigger potholes, cracks, and rough patches will be barely even felt.
Adjusting the suspension is very easy. You can set the suspension to be lower if you plan to ride over smoother terrain and go with greater speed.
Lights
The Inokim OXO has front LED lights on the front of the deck, and integral car LED lights on the rear, just above the tire.
A very cool feature of the lights is that they will automatically turn on when darkness falls. You can set the minimum ambient photographic coefficient that determines exactly how dark should it be when the lights turn on. You can disable this feature, but I see no reason for that since forgetting to turn on the lights in the evening is a common cause of problems.
Weight, dimensions, and portability
This is not exactly what you'd call a portable scooter.
At 75 lbs / 34 kg, it's not so easy to carry around. Most people will only be able to carry it for short distances.
It folds down to 48 in / 122 cm in length, 23 in / 59 cm in width, and 21 in / 54 cm in height. You will have trouble fitting it in public transport, many if not most small or medium car trunks, narrow hallways, and doors.
Weight capacity
This is another instance where I believe Inokim have misreported a feature.
The official weight capacity of the Inokim OXO is supposed to be 265 lbs / 120 kg.
I am almost convinced that it's more than that, at least 330 lbs / 150 kg.
I haven't tested this however, and I have only seen a few anecdotal reports of two people riding it as an experiment (don't do this at home!).
Anyway, it's best if we stick to the recommendations and assume the Inokim OXO has 265 lbs / 120 kg of weight capacity.
At the very least though, I'd say it's truly 265 lbs / 120 kg, meaning a person of exactly that weight riding this scooter will not notice any drop in performance.
Accessories and gear
As with any fast scooter, your helmet will be a must at all times while riding. For the Inokim OXO, I would recommend erring on the side of safety and going with a full-face motorcycle helmet (plus, you will look very cool as well). Check out my guide on the best scooter helmets to find the correct helmet for your budget and situation.
Besides the helmet, it's very wise to also get additional safety gear for the Inokim OXO. Scooters with this much power are no joke and can result in serious injury, so everything from the motorcycle armor, to the elbow and knee pads, all the way down to the gloves and the proper footwear, are practically essential. See my guide on the best electric scooter accessories for all of the best equipment. In addition, the guide has some interesting ideas on other scooter customizations that you will probably find very useful, like scooter trunks, bags, phone mounts, and other parts to make this scooter more useful.
Finally, as this is a very expensive scooter, you should make sure you are doing everything you can to prevent theft, and a strong scooter lock will be a very good idea. I recommend not skimping on this item, as the Inokim OXO is a well-known premium scooter and thieves will be very tempted by it. Something like the Master Cuff Locks should make them seriously reconsider their decision of stealing your scooter.
Inokim OXO upgrade
If the performance of the Inokim OXO is not powerful enough for you, you can get the Inokim OXO upgrade kits from Electricgen and increase the overall output of the scooter, both in terms of speed and range.
The following video demonstrates the process.
App
The scooter doesn't have an official app at this time. As an alternative, I recommend the Universal Scooter App by EScooterNerds. It will not connect with the scooter, but it provides some other useful features, like checklists, guides, tips, hacks, resources, tools, etc. It is available for both iOS and Android.
Problems and downsides
The Inokim OXO is a truly high quality, premium scooter. I noticed very few issues, both out of the box and after some miles covered.
One thing that comes to mind is the lack of gripping tape on the deck, which at times was slippery in wet conditions.
The rear fender, which you install yourself, can sometimes be loose and wiggle a bit. If this happens, I suggest looking at something like Loctite to mitigate this issue.
Another issue may be the slow acceleration and the slow response from the throttle. Interestingly, this didn't happen a lot, but it was annoying when it happened.
I guess it would be great if there was an app. Not such a great loss, but it would be better.
That's all I can think of.
Inokim OXO vs other electric scooters
This is how the Inokim OXO fares against some other electric scooters similar to it.
Inokim OXO vs Inokim OX
The Inokim OXO has learned a lot from the Inokim OX, and improved upon it in many areas.
The biggest upgrade is the addition of a second motor. This changes the game in almost every aspect, but most importantly greater top speed, better torque, bigger climbing angles, and better performance overall.
The OXO has about 10 kilometers more range than the big-battery OX model.
The suspension system is another big improvement. While the OX had very good suspension, the OXO has great suspension.
Many things remain the same. Very similar look, same deck, same controls.
But in the end, the OXO is a deliberate improvement attempt, and it is clearly visible.
Still, this doesn't take away anything from the original OX model. It is still a very high-quality scooter, mostly just less performant, but all the other goodies are there.
I would recommend getting the OX model if you like the OXO, but don't need all that power, and you wouldn't mind saving a few hundred dollars. If you want to find out more about the Inokim OX, check out my Inokim OX review.
Inokim OXO vs Apollo Phantom
In my opinion, the Apollo Phantom is arguably the biggest competitor of the Inokim OXO.
The Apollo Phantom will typically be a few hundred dollars cheaper, even if you get the most expensive version of it that comes with hydraulic brakes. The Phantom will have a more powerful motor, although that doesn't really translate into a significant top speed advantage, with the Phantom being just 3 mph / 5 kmh faster than the Inokim OXO. The climb angle of the Phantom is significantly better though, with the scooter being capable of conquering hills of 25 degrees, and the weight limit is also better with the Phantom as well.
Still, the Inokim OXO has a very lofty advantage when it comes to range, able to go almost as much as twice as the Apollo Phantom on a single charge.
In general, the advantages of the Apollo Phantom are not that big, but they might add up for someone that wants a bit more juice from their scooter, and potentially wants to save a few hundred dollars. See my complete Apollo Phantom review if that sounds like you.
Inokim OXO vs Kaabo Mantis Pro
The Inokim OXO and the Kaabo Mantis Pro look like very different scooters on the outside, but they are somewhat similar when it comes to specs and parameters.
The top speeds and the climb angles of both scooters are very similar, with the Kaabo Mantis Pro possibly having a slight advantage.
The Inokim OXO has quite more range, but it weighs around 11 lbs / 5 kg extra as a result of the bigger battery.
The Kaabo Mantis Pro is better protected against water, with an IPX5 rating against the OXO's IPX4.
I'd say that the Inokim OXO has a bit better build quality in general, which may end up tipping the scales in its favor for a lot of people. If you still want to check out the Kaabo Mantis Pro instead, you can find it at FluidFreeRide.
Inokim OXO specifications
Inokim OXO Specifications
| | |
| --- | --- |
| Top speed | 65 kmh |
| Top speed | 40 mph |
| Range | 110 km |
| Range | 68 mi |
| Motors | dual hub BLDC |
| Power | 2000 W real, 2600 W peak |
| Climb angle | 15 ° |
| Battery | 1536 Wh, 60 V |
| Charging time | 12 h |
| Ingress protection (IP) | IPX4 |
| Weight | 34 kg |
| Weight | 75 lbs |
| Weight limit | 120 kg |
| Weight limit | 265 lbs |
| Tire size | 10 in |
| Tire type | pneumatic |
| Tire pressure | 43-50 psi |
| Foldable | yes |
| Foldable handlebars | no |
| Seat | no |
| Trunk or basket | no (customization possible) |
| Build material | aviation-grade aluminum alloy |
| Terrains | all terrain |
| Brakes | front + rear full hydraulic disc brakes |
| Shock absorbers | adjustable suspension |
| Lights | front + rear LED lights |
| Warranty | 24 months |
| Folded dimensions (L * W * H) | 122 cm * 59 cm * 54 cm |
| Folded dimensions (L * W * H) | 48 in * 23 in * 21 in |
| Unfolded dimensions (L * W * H) | 122 cm * 59 cm * 130 cm |
| Unfolded dimensions (L * W * H) | 48 in * 23 in * 51 in |
| Deck to handlebar height | 105 cm (est) |
| Deck to handlebar height | 41 in (est) |
| Adjustable handlebar | yes |
| Notes | LG battery; adjustable ground clearance; |
Verdict – should you buy the Inokim OXO?
The Inokim OXO has very few downsides, and they are all pretty much insignificant.
All in all, an amazing premium model.
I never want to talk down on budget scooters, but oftentimes, the simple truth is, you will get what you pay for.
That's exactly how I would describe the Inokim OXO and my experience with it.
It is a very carefully designed, well-made, high-end, premium scooter, with a strong focus on quality, reliability, safety, durability, and performance. It has almost no weak points. You will likely ride the Inokim OXO for years without an issue.
If you are looking for a scooter like that, I definitely recommend the Inokim OXO.
Where to buy the Inokim OXO from?
Worldwide
The Inokim OXO is a very popular power scooter, but only a handful of trusted stores frequently have it in stock. The best place to get it from will usually be
FluidFreeRide
. It provides the lowest costs from all merchants, both on the original price and in shipping costs. In fact, for the US and Canada, shipping will most likely be free, or very cheap, and you will get your scooter within 3-5 business days. For other countries, there might be a shipping fee, and delivery time might be longer. Just to make sure you're getting the best deal possible, check out the
Inokim OXO at inokim.com
if you live in the US.
Frequently asked questions
These are some of the most frequent questions people have about the Inokim OXO.
Is Inokim a good brand?
Inokim is one of the best brands in the electric scooter industry right now. They're known for producing top-quality scooters, focusing on ergonomic design, durability, and user experience above everything else.
How fast does the Inokim OXO go?
The Inokim OXO has a top speed of 40 mph / 65 kmh. The speed limit can be decreased to 15 mph / 25 kmh to make the scooter road-legal in some countries.
How do you speed up the Inokim OXO?
If your Inokim OXO ships with its speed limited to 15 mph / 25 kmh in order to be road-legal in your country, you can increase its speed by following these steps:
turn on the scooter
press and hold the minus and plus buttons together
press all three buttons at the same together
press all three buttons at the same together one more time
press the plus button to change the speed limit to 40 mph / 65 kmh
Here's a video demonstrating the procedure.
Is the Inokim OXO waterproof?
The Inokim OXO comes with an IPX4 ingress protection standard. That means it will be very resistant to water splashes from all angles, but not completely waterproof, so you shouldn't submerge it in water or use strong jets to clean it.
Where to buy the Inokim OXO
---
Want to get
FREE SCOOTER
tips, exclusive discounts and promotions, and unseen scooter hacks? Join the
Scooter Secrets club
.
---
Liked this article? It really helps if you share it.
Follow @escooternerds on social media for more cool stuff
---