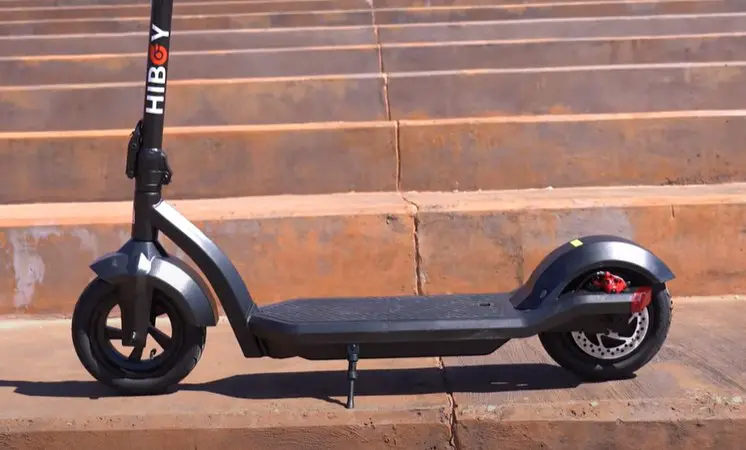 Welcome to my in-depth review of the Hiboy Max3, based on my tests and hands-on experience with it. This is the newest all-terrain budget e-scooter from the Hiboy brand. In this review, we will go through every aspect of this scooter and try and see how well did Hiboy actually implement its idea of an affordable scooter that covers all the bases.
Hiboy Max3 Review
The Hiboy Max3 is a simple, light, and budget-friendly scooter, built for rides on all terrains. Thanks to its front wide pneumatic tire, combined with a rear solid tire, you can use this scooter on asphalt streets, unpaved roads, and harsh dirt tracks. With a top speed of 18.6 mph / 30 kmh and a range of around 17 mi / 27 km, it is perfect for light daily commutes. The scooter comes with a pump for the front tire, a disc and an electronic brake, dual LED headlights, and a well-designed V-shaped cockpit with a display in the middle.
Hiboy Max3 pros and cons
PROS
Good quality
Great value
Decent performance for the price
Simple to use
Good portability
Good for climbing
CONS
Decent but average speed
Not good for wet weather
Brake system could be better
Hiboy Max3 overview
In my opinion, the Hiboy Max3 is one of the best-value electric scooters currently available.
It's quite obvious that the off-road tire is the main feature of the Hiboy Max3 brand. It's a 10-inch tire, bigger than most of the standard 7 to 8-inch tires found on models in this price range. This somewhat unorthodox addition allows the Hiboy Max3 to handle various dirt tracks and muddy areas where you wouldn't dare take any other scooter with a similar build.
But that is far from the only feature to take into consideration when talking about this scooter. The Hiboy Max3 comes with a great folding system, allowing you to fold the stem over the deck, lock it in place, and use the same stem as a horizontal bar to carry the scooter around. And since it's fairly light and small, you can always take the scooter up on the train or the bus.
The design of the scooter is quite nice and very elegant. It comes in an all-black outlook, with some minor red and white details. The wires are tucked in nicely, and the deck is long and comfortable, while covered with a rubber coating to prevent slipping.
There are tons of other great features, like a handy display, angled handlebars, dual headlight, etc.
Buying
Just like its two predecessors, the Hiboy Max3 comes as the ultimate budget pick – solid build, low price, and regular discounts on top of all that. You can find the scooter for around $550, although it is often discounted even lower.
Ordering and shipping
The best place to buy the scooter would be the official Hiboy web store, where you can also find the rest of their scooter series, all other products, and accessories released from the brand. If buying through the Hiboy store, don't forget to use the coupon code HBMAX for a discount of $30.
You can also find the Hiboy Max3 in some other online stores, most notably Amazon. It's not uncommon to find the scooter out of stock there, as it's a rather popular pick, but it is usually restocked in a couple of days, up to a week at max.
Both Hiboy's store and Amazon offer free shipping for this scooter, with estimated delivery in 5 to 8 business days. This, however, only applies to addresses inside the continental USA. For worldwide shipping, you would probably have to go through Amazon and pay the regular shipping fee that applies to their products.
Warranty, return policy, and customer support
All Hiboy scooters, including the Hiboy Max3, are covered under a 1-year all-inclusive warranty for the body of the scooter, and a 6-month warranty for the scooter's battery.
You can also purchase an extended warranty valid for an additional year, two, or three, for an extra fee of $33, $65, or $90 respectively. This can be done in the checkout menu when you are completing the order.
The Hiboy brand provides an additional safety net for their users – a 30 days money-back policy. During this period, you can return your scooter for any reason and get a full refund, as long as it's still undamaged. For any further questions, you can always visit Hiboy's FAQ page, or contact them directly through their contact page.
Basics
The Hiboy Max3 is as simple a scooter as they come. It has a pretty standard slim build, typical for the budget to mid-priced e-scooters you see everywhere around you.
But this simplicity and very standard appearance are, in fact, the best sides of the scooter. It is just so convenient and practical while still delivering all you can ask from a vehicle of this type, that it's an instant favorite for the value hunters out there.
Unboxing and assembly
The scooter comes folded and nicely packed in a cardboard box, which also includes:
a charger
an Allen wrench
a user manual
an air pump
4 extra screws
There's a small assembly step that needs to be done before the scooter is ready to ride. The handlebars come dismounted from the stem bar, in order to fit the scooter into a small box that's easier to carry. You will need to attach the handlebars, position them in line with the stem, and tighten them using the screws provided in the box.
You probably won't need to charge the scooter before riding, as it usually comes precharged with a full battery. You can check this by turning the scooter on right after assembling it. The battery level, which goes up to 4 bars, will be shown at the bottom of the screen. If the battery is, by some chance, empty, then you can plug it in and wait for a full charge before riding.
Intended use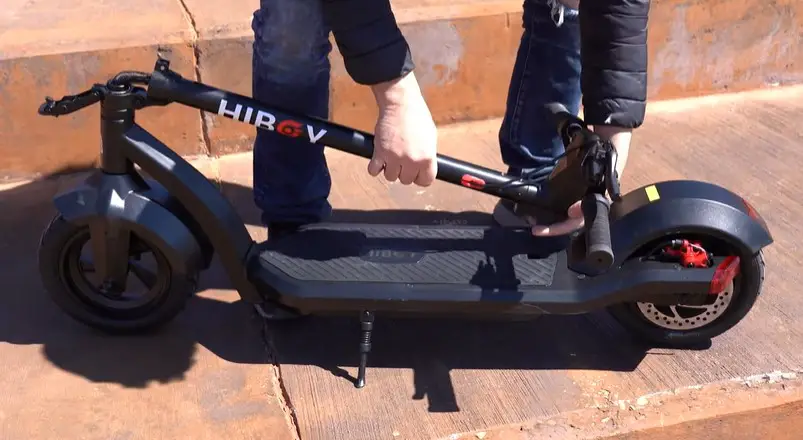 Anyone aged 16 to 60 can ride this scooter. Even though using the Hiboy Max3 is quite simple, it is rarely advised for people under the age of 16 to ride it.
Thanks to the upgraded off-road front tire, the Hiboy Max3 can be used on various terrains, on both paved and dirt roads. The experience probably won't be at a level of a quad bike, but it's still a huge upside compared to other budget scooters. Namely, most models below $1000 can not endure even a mile on off-road terrains.
The folding mechanism is another great aspect of this scooter. It uses a one-step folding process, with a single clip found at the bottom of the stem. You just unclip it, lower the stem bar onto the deck, and then lock it in using the extra clasp placed near the cockpit. Once the stem is lowered down, this extra clasp will fall onto the scooter's deck and lock in it. You can then use the horizontal stem as a holding bar when carrying the scooter in your arms.
Build quality
Over the years, we kind of got used to cheap scooters being semi-reliable and with a very wobbly design. It's a sacrifice you would have to make if you wanted to get an e-scooter on a budget. But that is not at all the case with this model.
Although it showed both some weak and strong points, I still found the Hiboy Max3 to be a scooter designed to handle harsher conditions. It is made for off-road rides, after all, so you would expect nothing but excellence from its build.
Design and colors
The Hiboy Max3 has a very simple, straightforward design. A slim elegant stem, wide off-road tires, and a deck wide enough to fit your feet comfortably, but not too wide either.
Its appearance is very classy, as it comes only in black color design with little to no details on it. There's a red-and-white Hiboy logo on the stem, another matte-black logo engraved on the deck, and that's about it. The scooter will just blend in any environment and attract no attention, perfect for people who just want a regular, good ol' reliable commuter.
The best detail of the Hiboy Max3's design is its wire management. This is one of the rare scooters that has its wires completely tucked into the frame. Many models do this, but still, leave a bit of wire at the bottom and on the front. But with the Hiboy Max3, the wire braking and throttle wires are gone as soon as they touch the stem, and only come out way behind near the rear wheel.
Materials
The frame of the scooter and the basis of the handlebars are made of aluminum, so they are about as durable as you can expect in this price range. The mudguards and controls in the cockpit are made of plastic instead, as is the case with almost any other scooter, while the deck and the tips of the handlebars are coated with rubber covers for better grip.
Performance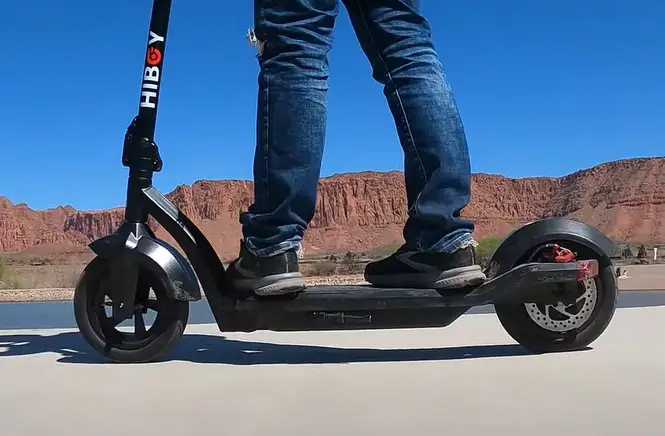 There are some interesting upgrades in the performance levels of the Hiboy Max3, compared to its previous version. The speed level is roughly the same as the Max2 model, but the range and ride experience are vastly improved.
Speed and acceleration
With a tested top speed of 18.6 mph / 30 kmh, the Hiboy Max3 is pretty much a regular city commuter. In my experience, the scooter reached this speed easily and quickly, even with half a battery.
This model, just like its two predecessors, was built purely for light multi-terrain use at a modest speed level.
Motor, power, and climbing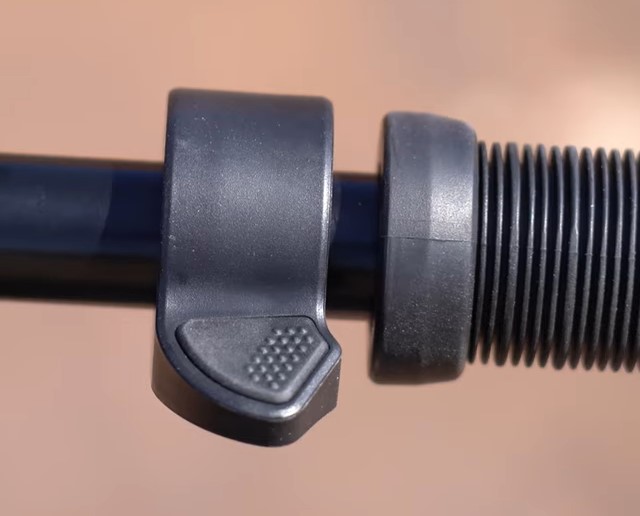 The scooter uses a single motor placed inside the rear wheel. The motor has a power of 350W, a standard output for any scooter in this price range.
This type of motor can handle any smaller hills you typically encounter on your city rides. The hill climb rate of the Hiboy Max3 is 15% or around 8 degrees. It's not the best climb angle out there, but still, a decent one that can get you around town.
There's also an integrated cruise and speed control, enabled with a button from the cockpit. The speed control consists of three ride modes, locking the scooter's top speed at different levels depending on your current preference.
Batteries and range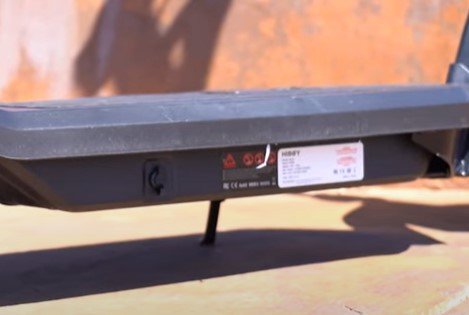 The Hiboy Max3 has an official range of 17 mi / 27 km on a single charge. My range tests mostly confirmed this (around 15.5 mi / 25 km while riding fairly slow).
It is powered by a 36V, 7.5 Ah Li-ion battery that takes around 6 hours to fully recharge.
It's important to note that the scooter shouldn't be stored for long periods with a full battery. The brand recommends draining the battery completely if you plan to store it for more than 3 months, like during the winter. Since the overall capacity of the battery is not that big, this shouldn't be a problem, but it's still a key thing to remember in the future.
Weight limit and usage by heavy adults
The scooter has a weight limit of up to 220 lbs / 100 kg. It can handle even heavier adults without a problem, although you might notice a slight drop in its performance as the load gets bigger.
The most notable drops are with its range, which slightly decreases as you overload the battery, and the hill climb rate, which as a feature itself is heavily influenced by the size of the load the scooter carries.
Features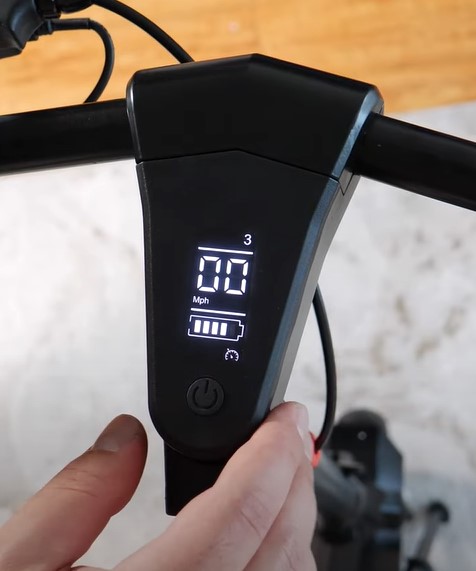 The one unique feature seen on the Hiboy Max3, which is missing in almost any other budget scooter, is the combination of off-road and solid tires. The rest of the build is pretty standard:
low weight
partial water protection
dual brakes
front and rear light
elegant, V-shaped cockpit
Weight, dimensions, and portability
As you can probably judge by the pictures, the Hiboy Max3 is not a giant heavy scooter. The whole vehicle weighs around 40 lbs / 18 kg, a relatively small weight that most people can lift if needed. I found this parameter of the scooter to be quite pleasing, as it made the scooter very easy to carry around.
The stem also locks into place when it's folded, making the scooter much easier to hold in your arms.
Portability is almost never an issue with light commuters like this one, but neither is storing it. The Hiboy Max3 fits into any trunk or pantry, no matter how small, as its dimensions are:
folded: 45.1 × 19.5 × 18.3 in / 114.6 x 49.5 x 46.5 cm
unfolded: 45.1 × 19.5 × 43.5 in / 114.6 x 49.5 x 110.5 cm
Waterproofing and riding in the rain or snow
Riding in wet conditions is not recommended with this scooter, and you should probably avoid using the Hiboy Max3 when it's raining. That said, I did try the scooter in the rain a few times, and didn't notice any issues.
The brand also suggests avoiding puddles, wet grass, and similar wet surfaces. Even though the scooter has a waterproof rating of IP54, this only applies to the metal frame. Water splashes can still damage the electronic parts, especially since both the motor and the battery are placed at the bottom of the scooter.
Brakes
The Hiboy Max3 uses a dual braking system in its design, comprising an electric brake and a disc brake. The electric brake is integrated into the motor on the front wheel, while the disc brake is found on the rear wheel.
Both brakes are activated with a single lever placed on the left handlebar. This leads to a quite smooth stopping, and you will have no trouble with losing balance when making a sudden stop as the two brakes work simultaneously and in sync with each other.
Tires, wheels, terrains, and environments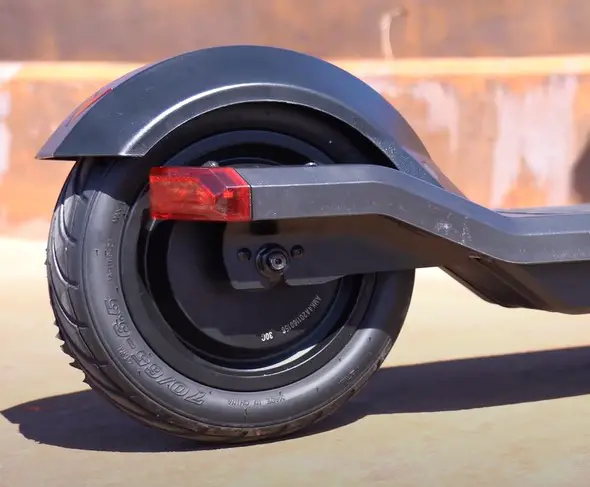 The tires are arguably the most outstanding feature of the Hiboy Max3. Typically, a scooter will always have two identical types of tires on its wheels.
But here we have a different case.
While the rear one is a standard, 10-inch solid rubber tire, the front one is a pneumatic self-healing off-road tire with a lot of suspension in and of itself. The Hiboy brand has experimented with many different tire models and combinations so far, and they ended up with this unique combo that provides the best of both worlds – ride comfort and very little maintenance.
This means that you can pretty much ride the Hiboy Max3 in all kinds of terrains, not just city streets, but you'll also rarely deal with a flat tire throughout the year.
Suspension
Unfortunately, the scooter has no built-in suspension system and only relies on its pneumatic tire for all shock absorption needed during the ride.
This isn't a very surprising turn of events, as the Hiboy Max3 is, after all, a budget option. Still, this is something you might want to consider if you are looking for top-level riding comfort, in which case you may want to check out my guide on the best electric scooters with suspension.
Lights and night use
The Hiboy Max3 comes fully equipped for a night ride with its complete lighting package. The scooter has a dual LED headlight on the front, and red brake light on the rear, activated whenever you press the brakes.
The headlight is turned on and off by double pressing the "power" button on the display at the front, and it illuminates the road up to 23 ft / 7 m. Depending on where you live and the road conditions nearby, this might not be enough for the safest night ride ever. But, it's enough to signal to people around you when you are closing in, which is always better than riding in complete darkness.
Cockpit, handlebars, controls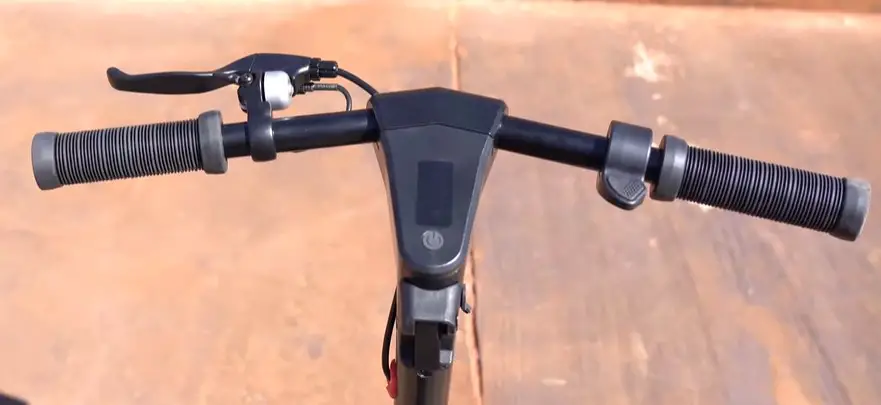 This might come off as completely subjective, but I love the cockpit design of this scooter!
The steering wheel is shaped in a "V" form (an upside-down "V", to be more precise), and is very handy with its easy throttle control and display awareness. The handlebars are mid-sized and angled toward the rider, providing a much better grip than the typical straight and long handles do.
This also helps reduce the scooter's width, without sacrificing control.
As for other features, the Hiboy Max3 does come with a ring bell, a single brake lever, and only one button for the whole screen.
All setting are set up with this one button. You press it once to turn the scooter on. Once it's turned on, you press the button again to go into higher gear, double-press it to turn the lights on, and that's it. As simple as it can be.
Price and value
There are a lot of things to love about this scooter. Obviously, it comes at a very low price, so that's a big plus, but it is also a very simple, easy-to-use vehicle that can be ridden on different terrains, streets, and off-road. A wide deck, convenient cockpit design, and great tire package only make it that much better.
There are, of course, some bad aspects too. The Hiboy Max3 does not have any suspension or water protection, and its range is not something to brag about. But for the price of just $550 (or even less if you use my coupon code), it is a pretty decent deal. If you need something for casual daily commutes, something great for beginners, or would rather prefer a simple cheap scooter over an expensive complicated machine, the Hiboy Max3 is definitely the one for you.
Problems, issues, and downsides
While I generally like the Hiboy Max3, I did notice a few problems and downsides.
Probably the biggest tradeoff on the Hiboy Max3 scooter is the lack of a front brake. In fact, the scooter only has a rear disc brake and an additional electronic brake in the motor, but both of them are activated using the same lever. While this does make riding the scooter a bit easier, it's far less practical and makes the braking distance much bigger.
Another issue many users have reported with the Hiboy brand is their slow customer support team. Contacting the brand about a defect or ordering a spare part can take up to a few months, and it's only done via email, as the brand doesn't have an operating phone number in the USA or Europe.
Furthermore, while the reported top speed of the Hiboy Max3 is set at 18.6 mph / 30 kmh, it's almost impossible to reach that speed if you weigh anywhere over 160 lbs / 72 kg, even on a flat road. The scooter can handle people weighing up to 220 lbs / 100 kg, sure, but don't expect to go over 15 mph / 24 kmh unless you're on the lighter side.
How does the Hiboy Max3 compare to other electric scooters?
The Hiboy Max3 is a very popular scooter, and it is often compared with many other big names in the e-scooter industry. There are a couple of other hugely popular alternatives on the market right now, so it would be good to check them out and see what they offer before making the final choice.
Hiboy Max3 vs Hiboy S2 Pro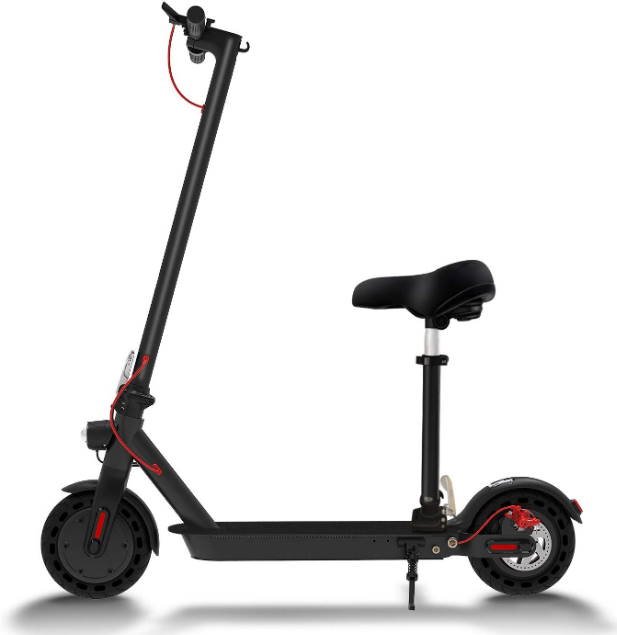 Hiboy S2 Pro, the unofficial "cousin" of the Max3, is the best-selling e-scooter from the Hiboy brand. And just like the Max3, it is an upgraded version of its predecessor, the Hiboy S2. This scooter costs around $650, slightly higher than the Max3.
The Hiboy S2 Pro is still a budget pick, with many of the same features as the Hiboy Max3 and only a couple of minor differences. It has roughly the same performance, with a top speed of 18.6 mph / 30 kmh, and a range of around 26 mi / 42 km, albeit with slightly worse climbing abilities.
The main difference between the two scooters comes down to the rear suspension of the Hiboy S2 Pro, the two solid honeycomb tires, and the fact that it can be ordered with a seat, unlike the Hiboy Max3 which is a standing-only scooter.
Now, some of these things are an upgrade, while others are not so much. But if you don't mind the higher price and the differences in cockpit design and tires, I would say the Hiboy S2 Pro is a bit better fit if you don't mind rides that are a bit bumpier but would like to avoid the risk of flats.
See my review of the Hiboy S2 Pro if you're interested.
Hiboy Max3 vs GoTrax G4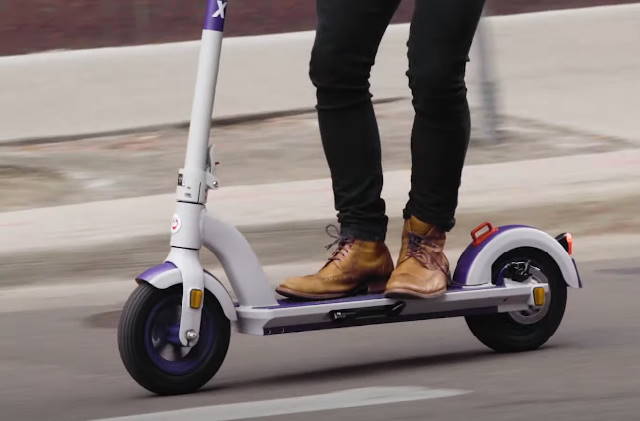 The GoTrax G4 is one of my top budget-friendly picks for a very simple reason – it is the safest, most theft-resistant budget scooter available right now. It costs around $680 and has two locking features, which is about two more than what most other scooters in this price range have.
This scooter is not much different from the Hiboy Max3 in terms of performance, but it does come with a removable battery, and two self-regenerative tires filled with anti-puncture slime. All of this, coupled with its two locks – a digital one and a combination lock with a built-in cable, kind of make it a much better deal for its price.
Of course, the GoTrax G4 does cost about $100 to $200 more than the Hiboy Max3, but if this isn't a huge hit to your wallet, and you are concerned about theft, then you can check out my detailed review of the GoTrax G4.
Who should not get the Hiboy Max3 Electric Scooter?
As a standard budget commuter, the Hiboy Max3 would not be a good fit for some people.
Most notably, it wouldn't fit thrill riders who want an ultra-fast scooter. With a max recorded speed of around 19 mph / 30.5 kmh (downhill), this is far from the fastest scooters out there.
Besides its speed, I may not be entirely sold on the combo of two different tires. It's clear that having both a pneumatic and a solid tire has its benefits, but many people out there would still prefer two solid rubber tires that require no maintenance, or two pneumatic tires for maximum comfort and ride quality. With the Hiboy Max3, you would still be dealing with flats, checking tire pressure, and all other stuff that goes along with pneumatic tires, while not getting the best ride quality either.
And finally, I wouldn't recommend the Hiboy Max3 if you regularly go on long-range commutes with no option for a recharge in between rides. Even the brand has advertised the Hiboy Max3 as "perfect for daily commuting or short-distance traveling", which is not a great sign if you plan on taking the scooter for long rides.
Verdict – should you buy the Hiboy Max3?
I would definitely recommend the Hiboy Max3 as a great buy to many different types of scooterists.
The Hiboy Max3 would be a great buy for anyone on a tight budget, as it is, after all, a pretty decent and affordable scooter. Even more, it would be perfect for beginners. It doesn't have too much power, so you can start things slowly, but it also has the right combination of features if you are not yet sure what type of scooter you like.
Another great reason to buy the Hiboy Max3 is that it's probably the only scooter under $600 that can handle off-road rides. Its front 10-inch tire allows the scooter to ride over any type of terrain, paved or not, which is not something you see every day in this price range.
I would also say this scooter is the perfect buy for any calm riders out there who just want something simple and easy to use. Many users are tired of the flashy features that scooter brands use to compensate for weak releases. If you are one of them, you would absolutely adore the simplicity of this elegant vehicle.
And last, but not least, the climb angle. If you live on a hill, or regularly commute through various inclines, you would be fond of the decent climbing abilities of the Hiboy Max3. Granted, it's not the best climb angle out there, but this scooter can easily handle most hills that other cheap scooters would probably struggle with.
Where to buy the Hiboy Max from?
Worldwide
The best place to get the Hiboy Max3 from will be the
official Hiboy store
, as you can get
$30 off the price
by using the coupon code
HBMAX
. To make sure you are getting the best deal possible, check out the scooter's listing at
Amazon
.
Frequently asked questions
These are some of the questions people frequently about the Hiboy Max3 and the Hiboy brand.
How long will the Hiboy Max3 last?
A scooter with this kind of battery will typically last between 300 and 500 charging cycles, or around 5000 – 8500 miles / 8000 – 13500 km. A lot of it will depend on the average road conditions and how much you overload the scooter.
Can you ride the Hiboy Max3 over gravel or sand?
Thanks to the upgraded tires, the Hiboy Max3 can be ridden on all terrains, streets, and off-road alike. Riding on gravel or sand is possible and it won't puncture the tires or damage the scooter's frame, but the feeling won't be as good as it is on proper off-road scooters.
Can a seat be installed on the Hiboy Max3?
There is no space to install a seat on the Hiboy Max3. It is designed purely as a standing electric scooter.
Hiboy Max3 Specifications
Hiboy Max 3 Specifications
| | |
| --- | --- |
| Top speed | 30 kmh |
| Top speed | 18.6 mph |
| Range | 27.3 km |
| Range | 17 mi |
| Motors | brushless rear DC RWD |
| Power | 350 W |
| Climb angle | 8.53 ° |
| Battery | 270 Wh, 36 V |
| Charging time | 4 h |
| Ingress protection (IP) | IP54 |
| Weight | 18 kg |
| Weight | 39.7 lbs |
| Weight limit | 100 kg |
| Weight limit | 220 lbs |
| Tire size | 10×2.6 in |
| Tire type | pneumatic off-road self-healing |
| Foldable | yes |
| Build material | aluminium |
| Brakes | double rear disk + electronic braking |
| Lights | front headlight, rear red LED lights, blue deck LED lights |
| Control | LED dashboard |
| Cruise control | yes |
| Warranty | 12 months |
| Return period | 30 days |
| Folded dimensions (L * W * H) | 114.5 cm * 49.5 cm * 46.48 cm |
| Folded dimensions (L * W * H) | 45 in * 19 in * 18 in |
| Unfolded dimensions (L * W * H) | 114.5 cm * 49.5 cm * 110.5 cm |
| Unfolded dimensions (L * W * H) | 45 in * 19 in * 44 in |
---
Want to get
FREE SCOOTER
tips, exclusive discounts and promotions, and unseen scooter hacks? Join the
Scooter Secrets club
.
---
Liked this article? It really helps if you share it.
Follow @escooternerds on social media for more cool stuff
---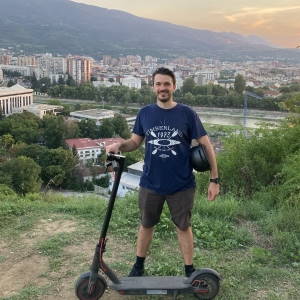 Where to buy the Hiboy Max3