Last Updated on May 17, 2023 by Matt
In this review of the OKAI Beetle, I will present my experience with it. We will take a closer look at one of the most uniquely designed electric scooters in the world, a model combining the characteristics of an electric scooter and an e-moped to deliver the best of both worlds.
OKAI Beetle Review
The OKAI Beetle is an electric scooter that comes with a built-in seat and a removable battery. The scooter is powered by a single-rear-wheel motor with a top speed of 16 mph / 26 kmh and has a range of 25 mi / 40 km. It features an ultra-comfortable memory foam seat with an integrated suspension system on both the seat and the wheels, as well as vacuum pneumatic tires for better ride comfort.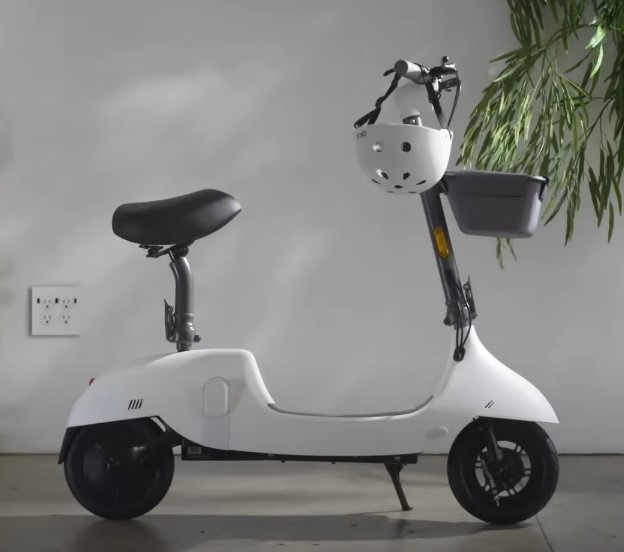 Should you buy the OKAI Beetle?
I don't think I've ever tried a better budget electric scooter with a seat, and that's the perfect use case that I recommend the OKAI Beetle for.
If you are looking for a more affordable scooter with a seat and a removable battery, the OKAI Beetle is the best, if not the only choice you can buy right now.
There are a few scooters that support a seat, but almost none of them provide actually comfortable rides while seated. The OKAI Beetle is specifically designed to be ridden while sitting only. With its unique oblong design, it very much reminds me of the old-school "Vespa", redesigned with an electric motor.
The OKAI Beetle is great for your average daily commute to work and back, and with the option to buy a second battery, it becomes one of the longest-range scooters priced below $1000. Anyone who is tired of using their car or public transport every day, but isn't sold on the standard e-scooter models, should seriously consider the OKAI Beetle.
Buying
You can find the OKAI Beetle on Amazon. The scooter often has discounts and promotions on it, and you can also pay in interest-free installments.
The OKAI Beetle Electric Scooter will usually cost you around $699.
With such a price, it may not be the cheapest scooter out there but is certainly on a lower cost scale. It is also one of the cheapest scooters that come with a built-in seat and many other handy features not often found in this price range.
Ordering and shipping
Ordering to the USA comes with free shipping. The order is dispatched the very next day, but delivery usually takes up to two weeks.
Worldwide shipping is also available with Amazon at the moment, with the shipping fees varying based on the location where you want your scooter delivered.
Warranty, return policy, and customer support
The OKAI Beetle comes with a 1-year warranty for the engine system, and a 6-month warranty for all other components such as the wheels, seat, stem, or cockpit.
Additionally, the brand will provide a 14-day money-back guarantee, as well as a standard 30-day return and refund period. You can apply for a return by submitting a request form on Okai's website.
Basics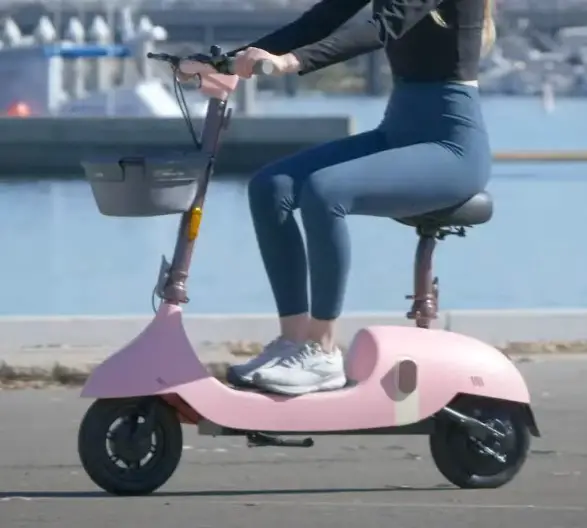 The OKAI Beetle is one of the cheapest and most reliable electric scooters with a seat. It has tons of upsides over most of its competitors, mainly in its great feature package that includes a removable battery, and its unmatched ride comfort.
Unboxing and assembly
The scooter comes delivered in a large white cardboard box, filled with tons of styrofoam for protection during transit. Inside the box you will find the base of the scooter, along with:
Toolkit
Charger
User manual
Headlight
Pedals
Safety reflector
As you'll see, the scooter comes fully disassembled so there will be some set-up required before it's ready to ride. You can start by unfolding the stem and mounting the handlebars on top of it. The handles are secured with two screws that you'll need to tighten with an Allen key provided in the box.
Similarly, you'll need to mount the seat on the seat holder at the back of the deck. The final steps include placing the headlight on the front, and checking if all other parts are tightly put in place.
It is also recommended to fully charge the scooter before riding. Once the battery is at 100%, you can go out and test your new OKAI Beetle on the streets.
Folding and unfolding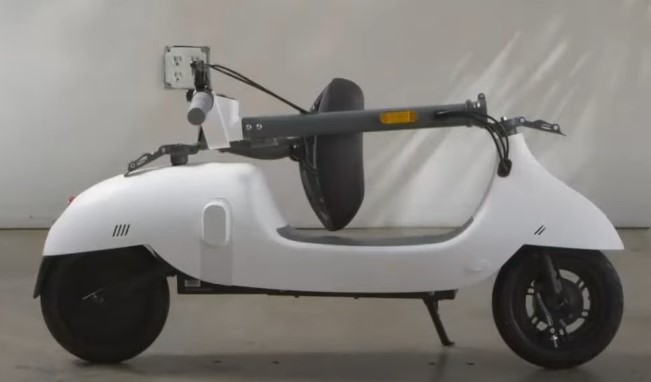 One of my most positive surprises about the scooter is that it's not only foldable at the stem, but at the seat as well. That makes the scooter quite more portable than it might seem. You'll first need to fold the seat down on the standing surface and then fold the stem, locking it on the seat holder.
Both parts use a simple one-step folding system with a clamp, so the whole process doesn't take more than ten seconds.
Ride experience
I had nothing but good times with the OKAI Beettle. The rides were comfortable and enjoyable.
Comfort is one of the main selling points of this scooter. The scooter is equipped with pneumatic tires and suspension springs for a smoother ride, as well as a memory foam seat with shock absorbers in it.
This kind of setup will ensure that you'll have a comfortable ride all the way. The seat is made very wide and is coupled with a wide standing surface, guaranteeing a proper body posture during the whole ride.
Build quality
Thanks to the strong materials, robust build, and sleek, urban design, you can rest assured that you are buying a scooter of good quality.
Design and colors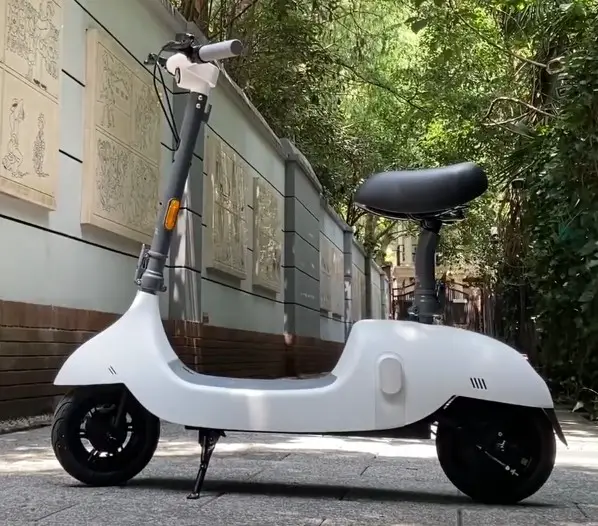 Design-wise, this scooter is what you can call "the Vespa in the world of electric scooters". Its body has a strong resemblance to the classic Piaggio motorcycle, but the design team took some inspiration from the timeless Volkswagen Beetle as well, which is where the name comes from.
You can order the OKAI Beetle in three different colors: black, white, and pink.
Overall, the scooter has a wide, oblong shape, coupled with smooth edges and a somewhat bulky build.
Materials
The OKAI Beetle's body, including its base, deck, and stem, is made of aluminum alloy. The material makes the scooter both light and durable.
Performance
Designed as a city commuter, the OKAI Beetle scooter puts a lot of emphasis on range over pure speed and power.
Speed and acceleration
The OKAI Beetle should be able to reach a top speed of 16 mph / 26 kmh, although I maxed it out at 15.5 mph / 25 kmh.
This is not some insane speed level, but most of the e-scooters in this price range have roughly the same top speeds anyway. The main idea behind this vehicle is for it to be used around the city, mainly in crowded areas, so there won't be any need for higher speed anyway.
The acceleration of the OKAI Beetle is a bit better, as the scooter starts up quite fast and reaches a decent speed in just a few seconds.
Motor, power, and climbing
The OKAI Beetle is equipped with a single motor mounted on the rear wheel. The motor provides 350 W of real power, and up to 560 W of peak power output.
While it may not be among the strongest motors, even for this price range, it's more than enough to satisfy the urban riders that would use this scooter. The motor also provides a 20% climbing angle, which is great news for people that often commute through hilly areas.
You can further control your ride on the OKAI Beetle by selecting one of the 3 riding modes:
eco mode – better battery life
standard mode – balanced battery life and power
sport mode – higher speed and faster acceleration
Weight limit and usage by heavy adults
With such a robust build, the OKAI Beetle can be ridden by people weighing up to 220 lbs / 100 kg. This is the standard limit for most modestly priced e-scooters.
Since most riders would be below this limit, it allows some extra space for additional items that you can put on the OKAI Beetle.
You can mount a basket on the front, reserve some space on the deck for groceries bags or a backpack, and all sorts of other accessories that you would love to have on your scooter.
If you need an electric scooter with a better weight limit, check out my guide on the best electric scooters for heavy adults.
Batteries and charging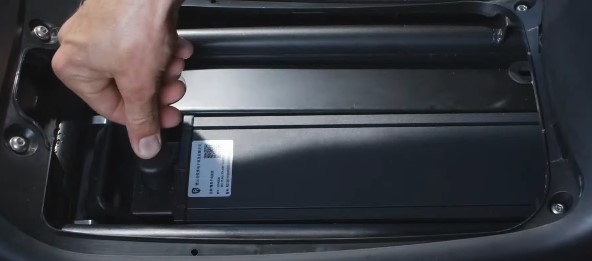 The battery of the OKAI Beetle is probably its strongest point. The scooter features a sizeable removable battery stored inside its deck.
The 36 V, 10.4 Ah, 374.4 Wh Li-ion battery can be removed from the deck and charged inside your home while you leave the scooter outside. It takes about 4 to 6 hours to fully charge, depending on what type of charger you use.
The battery weighs only 8 lbs / 3.6 kg, and anyone can carry it around easily. It allows the user to ride the scooter to their office, charge it there, and then ride with a full battery back home without going through the trouble of carrying the scooter upstairs. Besides, you can always just order a second extra battery and use both of them simultaneously for double the range.
Range and commuting
The big battery provides the OKAI Beetle with around 25 mi / 40 km of range. That was exactly the range I got in my range test.
Even a single charge would be more than enough for a full day of riding. Since charging takes no more than a few hours, you can safely charge the scooter overnight and not worry about the range for the whole day after.
Urban commutes are the main use case of this scooter, although it could easily handle some long-range trips if you don't mind its modest speed.
Features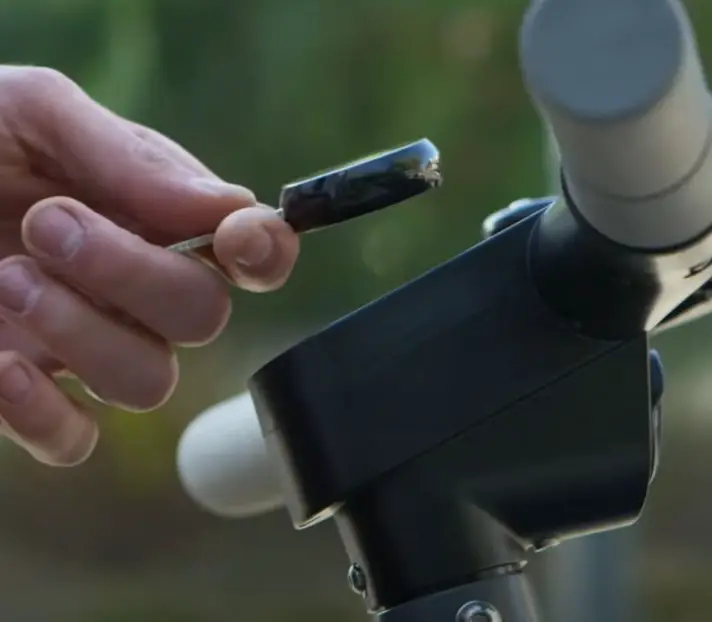 For an averagely priced scooter, the OKAI Beetle is surprisingly well packed with great features: a highly comfortable seat, decent waterproof rating, and nice suspension, to name a few.
Weight, dimensions, and portability
One drawback of the chunky design of this scooter is its considerable weight. The OKAI Beetle weighs around 64 lbs / 30 kg, meaning you won't be carrying the scooter around too much.
The removable battery helps here as you won't need to take the scooter upstairs for charging every time, but it's still a notable issue you'll need to have in mind.
Even though the whole design of the OKAI Beetle looks bulky, its dimensions are still fairly standard. When it's unfolded, the scooter measures 45 x 21 x 41 in / 114.3 x 53.3 x 104 cm (L x W x H). Once you fold the scooter down, these dimensions come down to 45 x 21.8 x 24.2 in / 114.3 x 55.3 x 61.5 cm (L x W x H).
Waterproofing and riding in the rain or snow
The OKAI Beetle comes with an IPX5 waterproof rating which will keep the scooter protected from all water splashes that come from any direction.
This means you can ride the scooter in rain without a problem, as all parts (including the motor and the battery) will not be damaged by the raindrops or water splashes from puddles on the streets. Riding in the snow, however, is not advised as the scooter does not have the equipment necessary to handle winter conditions.
Seat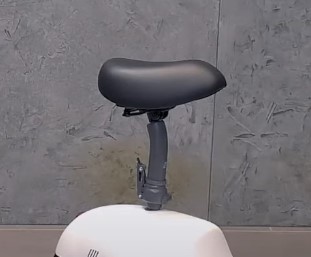 The seat is one of the main features of the OKAI Beetle. This is one of the rare electric scooters that come with a built-in seat, as this feature is usually sold separately.
The seat is made from top-quality memory foam for greater comfort, and is designed with a smooth arc for the best body posture during your ride. It also features spring shock absorbers that make sure your ride stays smooth when you go over bumps on the road.
Brakes
There are dual brakes, one electronic and one mechanical that help stop this scooter smoothly.
The electronic braking system is found on the rear wheel where the motor is, while the mechanical brake is up on the front.
The brakes were very good in my experience, they provided just the right balance of safety and smoothness.
Tires, wheels, terrains, and environments
In order to maximize riding comfort, OKAI has opted to go with air-filled tires for the OKAI Beetle. The scooter comes with 10-inch tubeless vacuum tires which are rarely seen on an electric scooter.
The big upside of these tires is their lack of an inner tube, so flats will be less common, and maintenance will be easier in some situations. They also have a great cushioning capacity and better shock absorption than solid tires, but are still best used only in an urban environment.
Suspension
The OKAI Beetle features two suspension springs mounted above both of the wheels, as well as additional shock absorbers in the seat. This great suspension setup allows the rider to have full comfort during the ride and almost fully neutralizes any potholes on speed bumps encountered on the road.
Lights and night use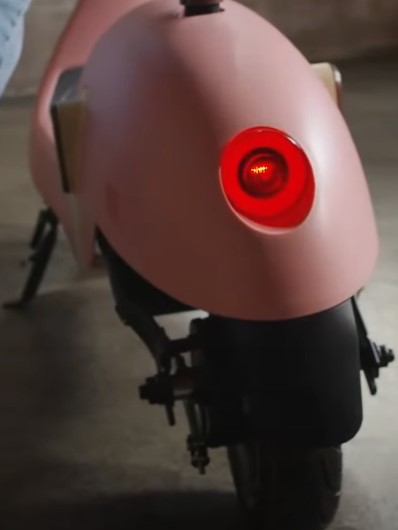 Night use is just as great as day use with the help of two bright headlights, one on the front and one on the back. These headlights illuminate the road and signal those behind you when approaching.
The scooter also comes with side reflectors on the stem which you can put on yourself.
Screen, handlebars, and controls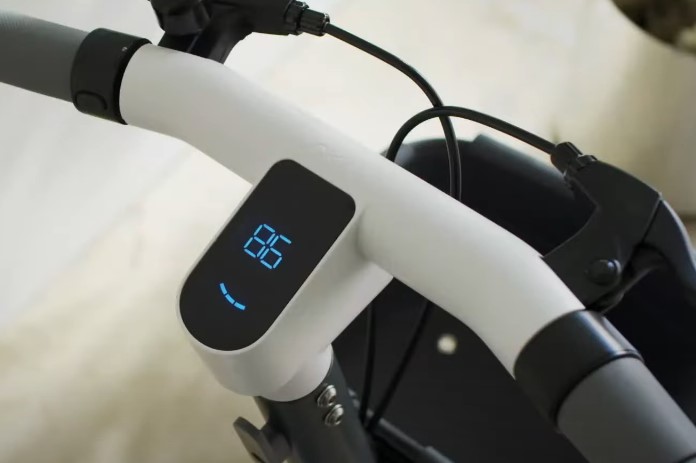 The final piece that completes the modern and sleek design of the OKAI Beetle is its display. The scooter features a flat LCD screen placed right in the middle of the cockpit. The screen shows the current speed, battery life, and other indicators that you can customize via the OKAI phone app.
You can connect the scooter to the app (available for both iPhone and Android), and you can even use it to unlock the scooter. You can also unlock the scooter using a key, keeping it extra safe at all times.
Bluetooth connection is also available for this model, as well as cruise control and smart detection which can all be activated via the same app.
In addition to the apps created for this scooter, make sure to check out my universal scooter app.
Accessories and customizations
The first thing you can buy for the OKAI Beetle aftermarket is a second battery. Having a backup battery is almost essential with any scooter that allows you to remove the main one and swap it with another one. This will practically double the original range of the scooter and make it extremely worth the money.
One of the best scooter accessories for the OKAI Beetle might be a basket. You would most likely use the scooter to go to work and grocery shopping, and a spacious basket to hold your bags could always be of great help.
Even though it's not an expensive scooter, the OKAI Beetle draws a lot of attention because of its unique look, and it may be a target of thieves because of that. Check out my guide on the best electric scooter locks to find a suitable lock for this scooter and to see how to lock it properly.
And finally, although the OKAI Beetle has a modest speed and rides very safely, having some extra protection is never a bad idea. I always recommend riding with a helmet on, and you might want to also put some pads and gloves on for extra safety. You can check out my detailed guide on the best scooter helmets for more information.
Price and value
At the end of the day, the feature package of the OKAI Beetle alone provides an excellent value for the $699 you'll have to pay for it. Its swappable battery is one of the best features you can ask for, and one that you rarely see in this lower price range.
But the true value of this scooter comes from its design, which includes a highly comfortable seat as its most distinctive and useful feature. With it, the OKAI Beetle could basically be characterized more as an e-moped, rather than an e-scooter, and would be loved by those who go on long daily commutes.
By buying an extra battery which will make the total price of the scooter somewhere around $999, the OKAI Beetle can be a highly valuable long-range electric scooter for those who would prefer to ride while sitting down.
How does the OKAI Beetle compare to other electric scooters?
These are some of the comparisons that are often made against the OKAI Beetle.
OKAI Beetle vs NanRobot D5+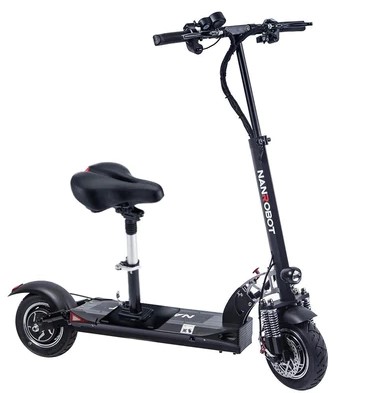 The NanRobot D5+ is another great electric scooter with a seat. Compared to the OKAI Beetle, the NanRobot D5+ provides much better performance with a top speed of 40 mph / 64 kmh and a max range of up to 50 mi / 80 km with a single charge.
Furthermore, all of its parts are fully modifiable and can be customized to your liking, although the design of this scooter is very much different. The NanRobot D5+ has a slimmer frame and standard thin deck, and unlike the OKAI Beetle, it can be used without the seat.
All of these upsides come at a larger cost, however, since the NanRobot D5+ costs around $1380, almost twice the OKAI Beetle.
You can check out the NanRobot D5+ at Amazon UK if you're interested.
OKAI Beetle vs Hiboy S2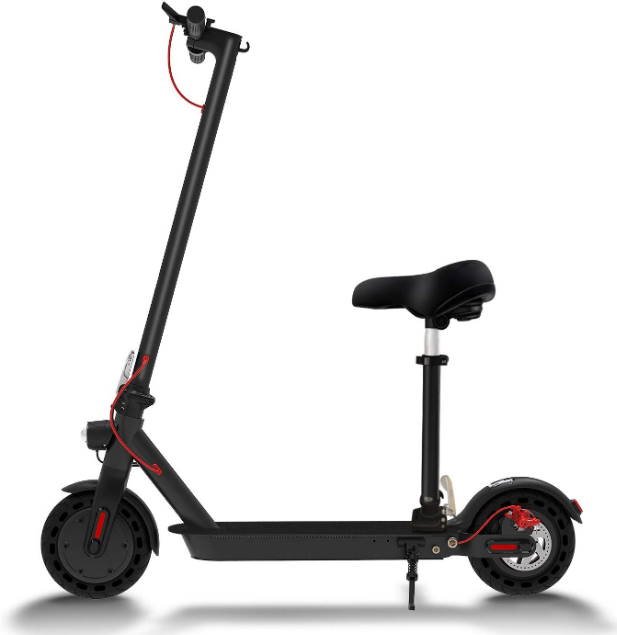 The Hiboy S2 is a much more affordable choice for people who want an electric scooter with a seat. This model currently costs merely around $439, while providing a much more similar performance level to the OKAI Beetle.
The Hiboy S2 has a top speed of 18 mph / 30 kmh, and a max range of 17 mi / 27 km, which is what you can expect from a scooter of this price.
Some of the disadvantages of this scooter include a smaller build, a fixed and non-removable battery, and solid tires instead of air-filled ones. All of this means that the riding comfort might be significantly worse, which is the sacrifice you'll have to make for the lower cost.
Who should not get the OKAI Beetle Electric Scooter?
First and foremost, this scooter is not designed to be ridden without its seat. You can remove the seat if you need to when doing maintenance or cleaning, but it's still hard to ride the scooter without sitting, as it hasn't been designed for that type of use.
The next type is people who have a much smaller budget and can't afford a scooter priced upwards of $500. Even though the OKAI Beetle is far from a premium choice, getting the scooter with a second spare battery would cost you almost $1000, a price not everyone can afford. Check out my guide on the best electric scooters under $500 if you're looking for something more affordable.
Off-road riders are also one of the most obvious types of people that wouldn't see much use in the OKAI Beetle. With its specific design made for urban areas, and the lack of specialized off-road tires, this scooter cannot be ridden anywhere but on the city streets.
I also wouldn't recommend the OKAI Beetle to people who plan on carrying their scooter upstairs each day. The somewhat heavy weight is one of the major disadvantages of this scooter, and only some will be able to carry this scooter up to their apartment.
Who should get the OKAI Beetle Electric Scooter?
I would highly recommend the OKAI Beetle to people who commute a lot during the day, as it has one of the most comfortable ride experiences you can find right now. The suspension system, along with the memory foam seat, enables an immensely pleasant ride regardless of the road conditions.
People who are looking for an electric scooter with a seat will also love this scooter. This model is one of the rare scooters in this price range with a built-in seat. You won't have to order it separately and spend extra money.
Another group of riders that would love this scooter is people with a garage. Because of its heavy weight, but the removable battery, you can simply park this scooter downstairs, get the battery out, and charge it in your home without worrying about carrying the scooter inside.
The removable battery would also be a great feature for people working far from home. You can ride the scooter to your workplace, charge it there while leaving the scooter outside, and then have a full battery for your way back home again, not to mention that you can effectively double the range by getting an extra battery.
Where to buy the OKAI Beetle from?
Worldwide
The OKAI Beetle is best bought through
Amazon
, as you will not only get free and fairly quick shipping, but get the best deal overall.
Frequently asked questions
Below you can find the answers to the most common questions about the OKAI Beetle.
Can you ride the OKAI Beetle scooter in rain?
You can ride the OKAI Beetle in light rain due to its IPX5 waterproof rating. Rides in snow, heavy rainstorms, or any spray from strong-pressure water jets can damage the scooter.
Where are OKAI scooters made?
OKAI is a Chinese e-scooter company, with production facilities located in Jinhua, Zhejiang.
How do you turn on an OKAI Beetle scooter?
You can turn the OKAI Beetle scooter on using the remote key. You just take the key up close to the wheel and "touch" the central display with it. Another way to unlock the scooter is to just click the "unlock" button on the key, and then press the "function" button on the left handlebar to enter riding mode.
Specifications
OKAI Beetle Specifications
| | |
| --- | --- |
| Top speed | 26 kmh |
| Top speed | 16 mph |
| Range | 40 km |
| Range | 25 mi |
| Motors | rear hub BLDC |
| Power | 350 W real, 560 W peak |
| Climb angle | 11.31 ° |
| Battery | 374.4 Wh, 36 V |
| Battery type | removable li-ion |
| Charging time | 6 h |
| Ingress protection (IP) | IPX5 |
| Weight | 30 kg |
| Weight | 66 lbs |
| Weight limit | 100 kg |
| Weight limit | 220 lbs |
| Tire size | 10 in |
| Tire type | tubeless vacuum pneumatic |
| Foldable | yes |
| Foldable handlebars | no |
| Seat | yes |
| Trunk or basket | no (customization available) |
| Build material | aluminum |
| Terrains | urban |
| Brakes | electronic braking system and mechanical brake |
| Shock absorbers | dual two springs + seat suspension |
| Lights | headlight, rear light, side reflectors |
| Control | LCD screen |
| Speed modes | 3 |
| Cruise control | yes |
| App | yes |
| Warranty | 1 year on motor, 6 months on other parts |
| Return period | 30 days |
| Folded dimensions (L * W * H) | 114.3 cm * 55.3 cm * 61.5 cm |
| Folded dimensions (L * W * H) | 45 in * 22 in * 24 in |
| Unfolded dimensions (L * W * H) | 114.3 cm * 55.3 cm * 104 cm |
| Unfolded dimensions (L * W * H) | 45 in * 22 in * 41 in |
| Adjustable handlebar | no |
---
Want to get
FREE SCOOTER
tips, exclusive discounts and promotions, and unseen scooter hacks? Join the
Scooter Secrets club
.
---
Liked this article? It really helps if you share it.
Follow @escooternerds on social media for more cool stuff
---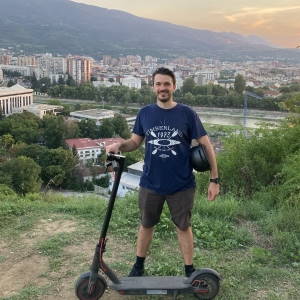 Where to buy the OKAI Beetle
Worldwide: Amazon