Last Updated on May 17, 2023 by Matt
In this review, we will go through all of the features, benefits, upsides and downsides of the Eskuta KS-350 and see what this electric scooter has to offer.
Eskuta KS-350 Review
The Eskuta KS-350 is a slim, light, budget-priced electric scooter made for city rides. Powered by a 350W brushless hub motor, it can reach a top speed of 15.5 mph / 25 kmh. The scooter features a removable li-ion battery with a range of 19 mi / 30.5 km. The scooter has a slim aluminum frame, thin deck, 8.5″ tires, an IP54 waterproof rating, a triple braking system, and LED light at the front and the back.
Eskuta KS-350 electric scooter overview
In my opinion and based on my experience, the Eskuta KS-350 provides a solid alternative for those who are on a tighter budget. If you decided to finally ditch your car or bike as a daily commuter and get yourself an electric scooter to get you through the day, this scooter could be a very reliable alternative.
By putting comfort, durability, and convenience over performance, the Eskuta KS-350 is a good choice for first-time scooter owners.
The removable battery, stylish design, and very light build make it a great option for people who plan on using it daily throughout the city, getting to work and back, or simply cruising through the neighborhood with an environmentally friendly vehicle instead of their car.
The Eskuta KS-350 has a very mild learning curve, and any beginner would get the hang of it in a day or two. You can carry it with ease and charge it wherever you go, and all of that makes it a versatile budget pick.
Buying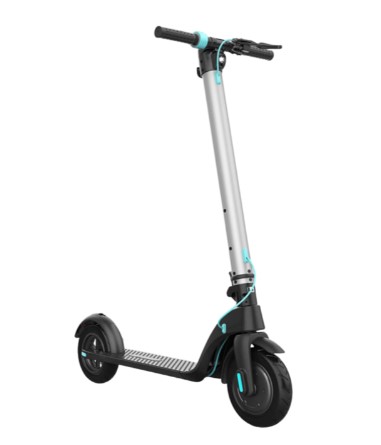 The Eskuta KS-350 is available worldwide and can be bought both in-store and online.
I would recommend buying the scooter from Amazon as your best bet compared to all the other options.
The price of the scooter will usually be somewhere around $320, which puts the Eskuta KS-350 among the most affordable electric scooters for adults ever made.
Shipping
Amazon usually offers free shipping for all orders above $25, which certainly applies to this product. The delivery of your scooter will begin as soon as you place the order, with estimated delivery in one to four weeks.
If you are in a hurry and don't want to wait so long, you can always get one of the many fast shipping options available on Amazon. These will cost you anywhere from $50 to $200 and will get you the scooter at your doorstep in just a few days.
Warranty and return policy
The Eskuta KS-350 comes with a standard 1-year warranty that covers all defects and faults in the manufacturing process.
On Amazon, you also have the option to upgrade to a 2-year customer protection plan for an additional $25. This plan will grant you free-of-charge repairs, spare parts, and services for the scooter in the first 2 years after you purchase it.
You will also be eligible for the 30-day free return policy as well.
Basics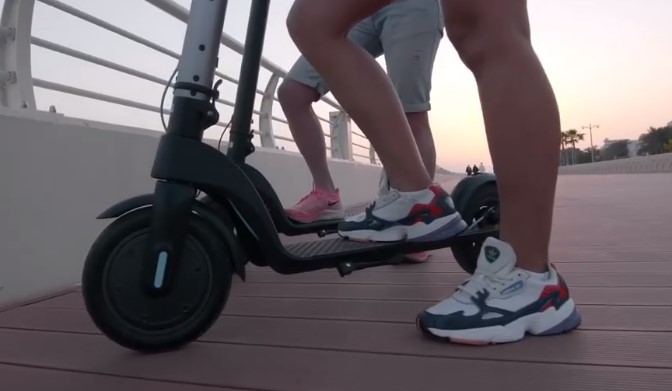 With its sleek design and handy features, the Eskuta KS-350 provides a solid choice for people looking to get a valuable light commuter at a modest price.
Unboxing and assembly
In order to ensure safe delivery, the scooter comes neatly packed in a big cardboard box measuring 46 x 19.9 x 7.9 in / 116.8 x 50.5 x 20 cm. Inside the box you will the following items:
the scooter
charger
user's manual
The good news is that the scooter comes fully assembled, with no need for a further setup. Once you take the scooter out of the box and unfold it, it's good to check if all controls are tightly screwed in and whether everything is in place. Damages rarely happen during delivery but I would still recommend watching out for any issues the moment you unpack the product.
All you need to do before riding is charge the battery to 100%, make sure that both tires are well inflated, and check the brakes. Once the battery is fully charged you are ready to try the Eskuta KS-350 out in the streets.
Folding and unfolding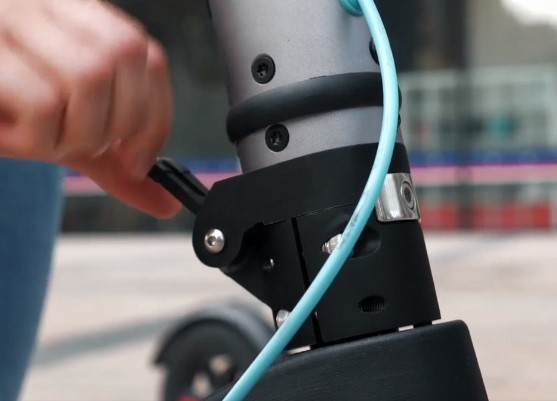 Folding the scooter down takes only a couple of seconds thanks to the quick one-step folding mechanism. This mechanism features a standard latch, very similar to most e-scooters, which you unclench and push down in order to fold the stem bar onto the deck of the scooter.
The handlebars are, unfortunately, unfoldable, but they are fairly short in width and won't take much space if you want to put the scooter in your trunk.
Ride experience and intended use
The ride experience of the Eskuta KS-350 is pretty solid, or at least that was my experience.
With the way it's built, it's clear that this scooter is designed for casual cruises throughout the city. The lack of solid suspension, the small tires, and the slim build are obvious signposts of the way the Eskuta KS-350 should be used.
The tires, although small in diameter, are air-filled and help a lot with all shocks caused by uneven terrain.
Additionally, the craftsmanship that goes into this scooter is fairly solid, considering the price. There is no wobbling during a ride, even at higher speed, which is rare for a scooter at this price. It's hard for me to point out a scooter cheaper than $350 that provides the same level of ride stability.
Build quality
Don't let the price fool you, the quality of this scooter's build is very good. The Eskuta KS-350 may be cheap, but it definitely doesn't feel that way.
Materials
All the main parts of the frame, including the deck, stem, connectors, and forks are made from aluminum alloy. It is a material with high endurance but low weight and has become the standard material when it comes to e-scooter design.
There are a few other materials used as well, such as plastic for some of the smaller parts, covers, and mudguards, as well as steel for the brakes and the electronic parts.
Design and colors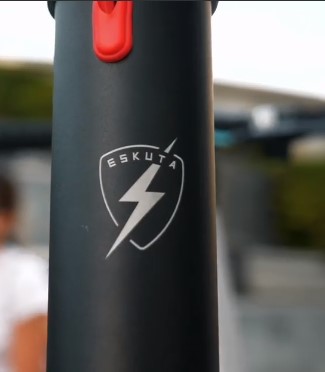 The Eskuta KS-350 has quite the usual design you see in most lightweight scooters. The slim frame, thin deck, and elegant cylinder stem define its figure.
Color-wise, the whole bottom part of the scooter, including the deck, wheels, mudguards, and kickstand are all black. The stem, on the other hand, comes in two colors you can choose from:
The matte black version gives the scooter a sort of gothic all-black vibe, while the matte silver design makes a nice contrast and a fresher look.
Performance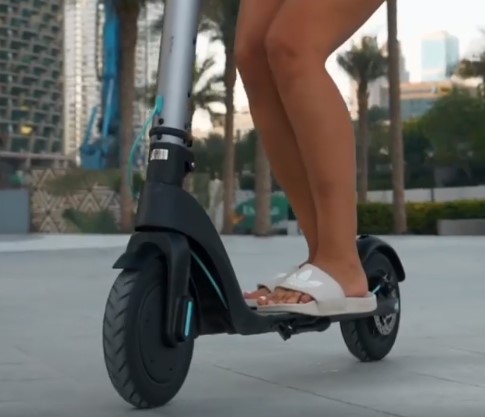 With the intention to make a durable, portable, and stylish scooter that could be afforded by anyone, the performance levels of the Eskuta KS-350 have taken somewhat of a secondary role.
Speed and acceleration
The Eskuta KS-350 scooter can reach a top speed of 15.5 mph / 25 kmh. I was able to confirm this top speed, the scooter reached it easily.
Since the scooter is made to be ridden in urban and busy environments, there was no need to make the scooter insanely fast.
The Eskuta KS-350 would still provide a fun ride while doing its job of taking you around the city perfectly. However, as you can notice, its speed is largely on par with the modest price that you'll pay for this vehicle.
If you are in need of something faster, you may want to see my detailed guide on the fastest electric scooters ever.
Motor, power, and climbing angle
The scooter is powered by a 350 W brushless hub motor mounted on the front wheel.
You will run the motor by pressing a thumb throttle placed on the right handlebar. The accelerator button is coated with soft silicone for extra comfort while pressing it.
For greater riding comfort without any fatigue, you can also activate the cruise control which is featured on the motor. The cruise control can be activated by pressing the second button right next to the main one and letting the scooter ride at a constant speed without the need to keep your thumb on the throttle.
The motor has three riding modes you can set in order to limit your max speed – beginner, normal, and sport mode. Each mode has a different limit, with only the highest one allowing you to reach the official top speed of 15.5 mph / 25 kmh.
When riding at the fastest mode, you can get a climbing angle of up to 15 degrees. Hills steeper than this might be hard for this scooter to climb on, especially if the battery is not full.
Weight limit and usage by heavy adults
Any rider weighing up to 265 lbs / 120 kg can hop on and ride the Eskuta KS-350 scooter.
It's rare for scooters priced this low to have such a high weight limit, as most of the other models can handle a load of only 220 lbs / 100 kg. Having such a high upper limit also means that the performance of the scooter would not be significantly lowered by heavier riders, which is the case with most scooters in this price range.
Range and commuting
A fully charged Eskuta KS-350 will give you a range of around 19 mi / 30.5 km. I did a range test, and I was actually able to get a bit more than that (19.5 mi / 31.5 km).
Thanks to its removable fast-charging battery, this scooter provides one of the best charge time to range ratios. A 1 hour of charging gives you around 6 mi / 9.6 km of riding, meaning you can charge the battery for an hour wherever you want and get a decent ride out of it afterward.
Considering the price that you'll pay for the scooter and the range you can get out of it, the Eskuta KS-350 is a pretty decent scooter for short daily commutes and quick trips around the city.
If your commutes are very long and you need a lot more range, or if you'd simply like to not charge your scooter as often, see my guide on the best long range electric scooters.
Batteries and charging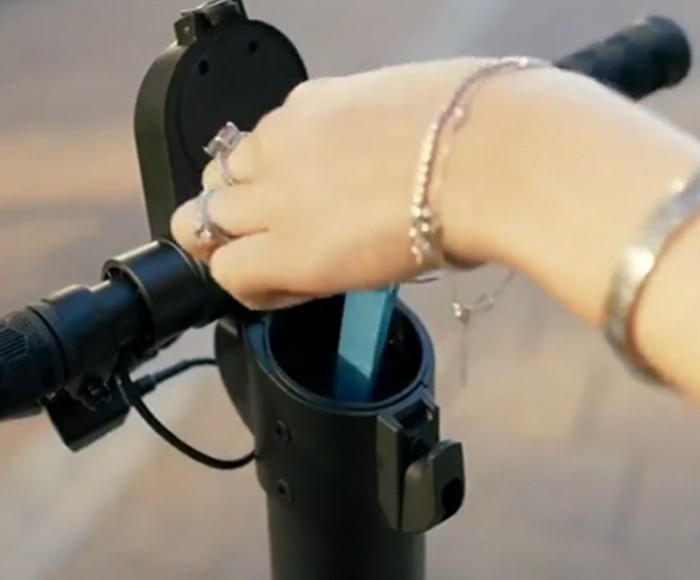 The range of the Eskuta KS-350 is provided by a 5.0 Ah, 36 V removable li-ion battery that has a capacity of 270 Wh.
The battery is placed inside the stem bar, and you can easily remove it by opening the top cover of the stem and pulling the battery out using the lace on top. This feature allows you to charge the battery every time you make a longer stop, without taking the whole scooter inside with you.
It takes around 5 hours for the battery to fully charge. However, you don't have to charge it to 100% (except for the first charge upon opening) and you can use it at half capacity as well.
Features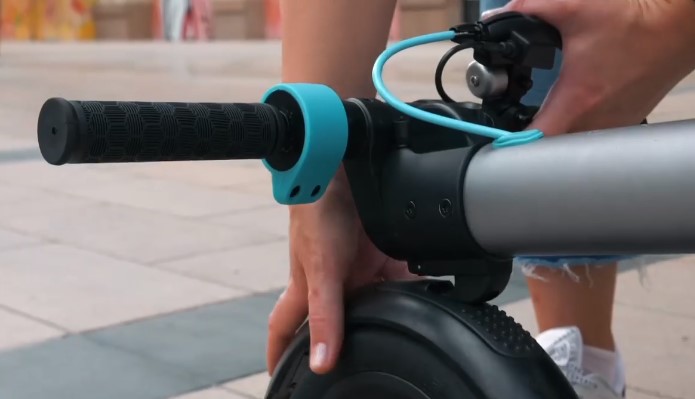 The Eskuta KS-350 has all the features you need for a safe and comfortable ride around the city.
Weight, dimensions, and portability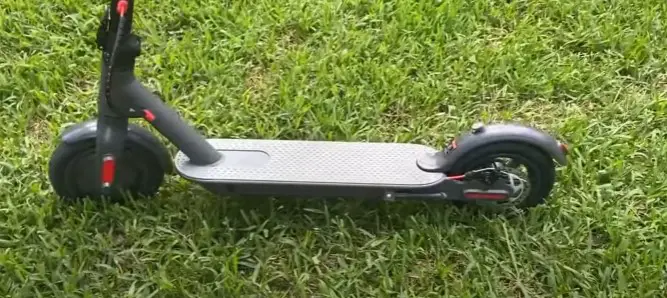 Portability is the primary focus of this scooter. It is designed with the typical urban life in mind, where you'll constantly need to carry the scooter around.
Besides the quick folding system, the one thing that adds the most to making this scooter so portable is its weight. The whole vehicle will weigh just under 32 lbs / 14.5 kg, meaning anyone could pick it up and carry it with ease.
This light and convenient build allow you to mix and use any public transport along with this scooter. Simply fold the scooter down, pick it up, hop on the bus, and never worry about it weighing a ton or taking too much space around you.
You could also easily fit it in your trunk, pantry, or basement no matter how small they are. The precise dimensions of the Eskuta KS-350 are:
Folded: 42.6 x 16.5 x 18.1 in / 108.3 x 42 x 46 cm (L x W x H)
Unfolded: 42.6 x 16.5 x 46.7 in / 108.3 x 42 x 118.6 cm (L x W x H)
Waterproofing and riding in the rain or snow
The Eskuta KS-350 is tested and certified with an IP54 waterproof rating. This type of waterproofing protects the scooter's frame and electronic parts from any smaller splashes, water sprays, and dust intake.
In some ways, that's the industry standard, and while it won't protect the scooter from a heavy storm, it's enough for you to be able to ride it safely during lighter rain.
Riding in the snow may also be a problem, especially with the dry season tires which will not stop you from skidding on wet surfaces.
Brakes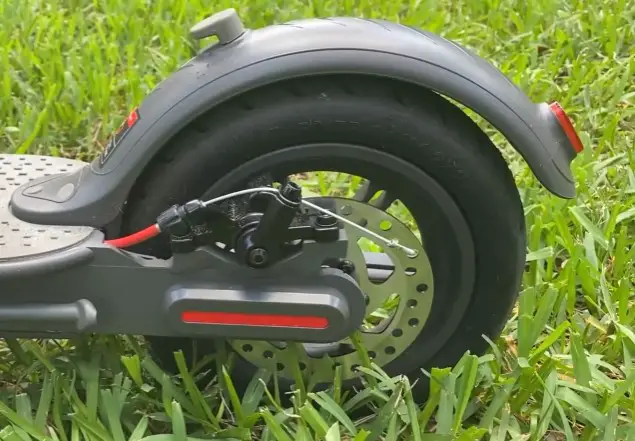 The braking system is one of the most positive surprises on the Eskuta KS-350 electric scooter.
Featuring a triple brakes system, this scooter comes with a disc brake on the rear wheel, an electronic brake, and a pedal brake at the back.
Since the speed of the scooter will always be modest, the disc brake alone is enough to stop the scooter in just a couple of feet. Having an additional stopping power with two more brakes leaves you free of worry, letting you run wild with zero concerns about the safety of your ride.
Tires and wheels
Both wheels of the Eskuta KS-350 come with 8.5" pneumatic tubed rubber tires.
These types of air-filled tires help with shock absorption, as the air will act as a sort of suspension for the occasional bump on the road. However, such tires are certainly not designed for off-road rides, as they are too small and unsuited for dirt roads and rocky tracks.
The tires have arrowhead-like grips on their surface to help them avoid skidding and gliding on wet surfaces.
Suspension
The Eskuta KS-350 comes with no suspension system, which is usual for scooters at such a low price.
You will have to rely solely on the air-filled tires for all shock absorption, which will certainly be enough to handle the few bumps and potholes you meet during your daily rides.
Lights and night use
The lights featured on the Eskuta KS-350 are average, although they might do an okay job for night use as long as the street is not pitch black.
There is a front LED headlight mounted on the front side of the cockpit, as well as a rear LED light that signals when you're breaking. The scooter also features a few side reflectors, two at the front on the bottom of the stem, and two at the back on the sides of the mudguard.
Screen, handlebars, and controls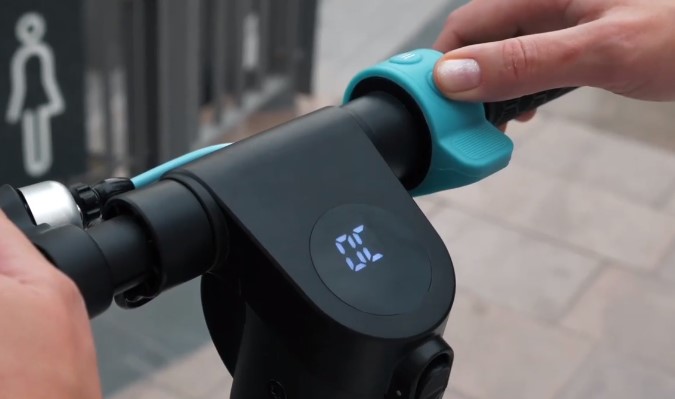 A standard LED display is placed in the middle of the cockpit, right on top of the battery cap. The display shows the most vital information for your rides, such as the current speed, battery level, and riding mode.
The other controls you will see in the cockpit are the thumb throttle with the cruise control button, the lever for the disc brake, a light switch that turns the headlight on or off, and a ring bell to clear the way through a packed street.
Accessories and customizations
The Eskuta KS-350 has a somewhat standard design, which means it will support most of the generic electric scooter accessories.
The most important piece of equipment you will need for riding will be a proper scooter helmet that fits you. See my guide on the best electric scooter helmets to find out the perfect match for you.
Also, even though the scooter is not too expensive, you will still need a good scooter lock for when you leave it outside.
Problems and what to know
Like with most budget-priced scooters, there are quite a few issues and compromises you'll have to deal with in order to fit such a vehicle into your tight budget.
The biggest problem you might have with the Eskuta KS-350 is the battery. The lifespan of the battery is quite short and it might end up draining much quicker than it should after a few months of usage. You can't really know for sure whether it's a manufacturer's problem or this is simply how it is with cheaper removable batteries, but don't be surprised if you have to buy a new one after a while.
Another inconvenience that might take a while to get used to is the throttle. Unlike most other e-scooter that use sinewave acceleration, the one on the Eskuta KS-350 jumps to full speed immediately once pressed. This will make the scooter accelerate like a rocket the moment you start it, making for a jerky start to the ride.
The final issue I believe you should be aware of with the Eskuta KS-350 is the fact that the heavier electronic parts, such as the motor and the battery, are all mounted in the front of the scooter. The motor is in the front wheel and the battery is inside the stem. This adds a huge disbalance to the scooter which might affect your stability while riding and braking.
Price and value
With a price of around $320, the Eskuta KS-350 is one of the most affordable scooters for adults ever released. In fact, there are probably just a handful of models out there with a lower price than this one.
It shouldn't come as a surprise that the scooter has made some sacrifices, especially when it comes to performance.
But even though it's not exceedingly fast, nor does it have some astonishing range, this reliable urban commuter provides great value for its price. It is quite easy to ride on, has no complicated features, allows its user great control over the ride, and of course – looks awesome and stylish.
How does the Eskuta KS-350 compare to other electric scooters?
Let's see how the Eskuta KS-350 compares to its alternatives.
Eskuta KS-350 vs Eskuta KS-450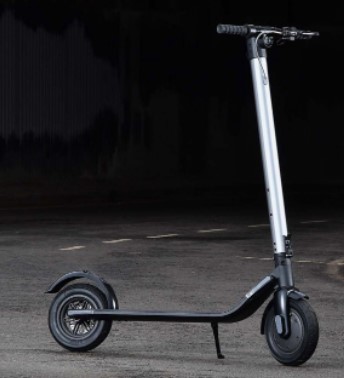 The Eskuta KS-450 is an upgraded version of the Eskuta KS-350 scooter. Priced at around $500, this model comes with much of the same design and features, but with a few minor twitches and improvements.
Featured only in a dark-black design, the Eskuta KS-450 comes with an upgraded deck and a silicon cover for better grip. It also comes with bigger 10" tires that provide a comfier ride, although I still wouldn't call them off-road reliable.
One thing that the brand has also implemented in this upgraded design is an app through which you can connect your scooter to your phone. The app is available for both iOS and Android and is something many users wanted to see in the previous model.
Eskuta KS-350 vs TurboAnt X7 Pro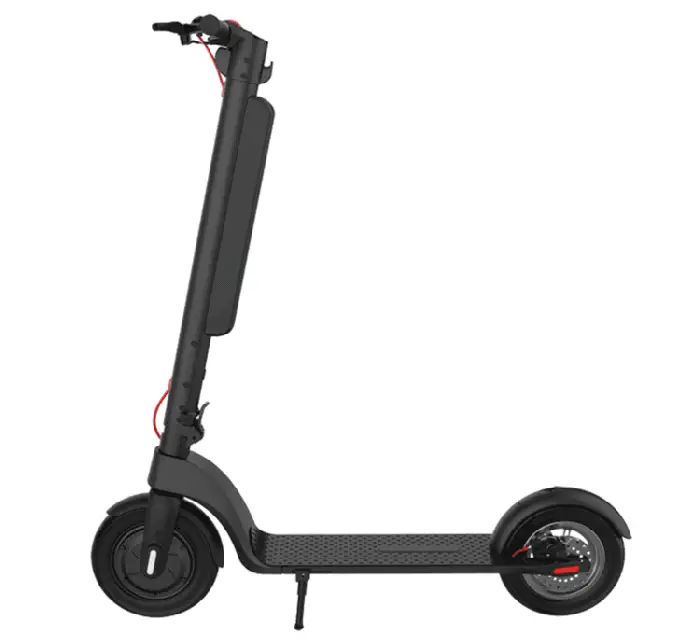 Costing about $550, the TurboAnt X7 Pro is one of the best affordable electric scooters with a removable battery on the market.
Design-wise, it's almost identical to the Eskuta KS-350. The only exception to this is the stem of the TurboAnt X7 Pro which is a bit thicker because it holds the battery on the side of the stem rather than inside of it.
Although the removable battery is the key feature of this scooter, it shines in a few other aspects as well. The TurboAnt X7 Pro provides a quicker ride at a longer range, as it can reach a top speed of 20 mph / 32 kmh and has a range of 30 mi / 48 km.
The two downsides here are the longer charging time, and the unconventional design of the stem, which can seem a bit unappealing.
However, for $200 more, the TurboAnt X7 Pro provides some notable upgrades to the Eskuta KS-350 that are well worth considering. Check out my detailed review of the TurboAnt X7 Pro to find out more about it.
Who should not get the Eskuta KS-350 Electric Scooter?
First off, I don't think this would be the right scooter for people looking for a fast and adventurous ride. Speed racing is not what this scooter was made for, and its whole build is suitable for a modest ride instead. If you are looking for something far more powerful you can ride at higher speeds, you won't find any luck in this price range. Almost all of the powerful and fast scooters come at much higher prices, and the budget-price category is usually reserved for light commuters.
Similarly, I wouldn't recommend the Eskuta KS-350 if you want a scooter that provides a higher range on a single battery charge. If you ride for more than 15 mi / 24 km a day and don't have the means to charge the removable battery during the day, I would suggest you look for some of the higher-range models out there. However, be aware that there aren't a lot of them priced below $500 and you may have to expand your budget a little. You can see my guide on the best scooters under $1000 to get some ideas.
Another important thing future owners should know about the Eskuta KS-350 electric scooter is that it does have some trouble handling steep hills. The scooter should be able to handle inclines of up to 15 degrees, but that will typically be the case only with a fully charged battery, and since the battery is quite small, that may not often be the case. If you live someplace uphill or frequently commute to such places, I don't think the Eskuta KS-350 should be your primary choice, and you may want to check out some of the best electric scooters for climbing hills.
Who should get the Eskuta KS-350 Electric Scooter?
I would recommend the Eskuta KS-350 as the perfect scooter for those putting portability above all else. There are lots of people who value light and easy-to-carry scooters and wouldn't mind the lower performances as long as they are able to take the scooter anywhere with them. This is especially important if you use public transport regularly, as you can just fold this scooter down in 3 seconds and take it on the bus or the metro with you.
I would also recommend this scooter to beginners, as it's very simple and easy to ride. There are no advanced settings for the Eskuta KS-350, except for the speed modes which are very easy to set up. The thumb throttle is conveniently placed, and the cruise control allows for an easy ride without any fatigue.
And best of all, the Eskuta KS-350 is very, very cheap. Like, "cheaper than anything else you've stumbled upon so far" type of cheap. And this is particularly great because it's one of the best-looking scooters priced so low and it comes with one of the best features you can ask for on an electric scooter – a removable battery.
Because of all of that, anyone looking to try out an electric scooter for the first time should strongly consider the Eskuta KS-350.
Where to buy the Eskuta KS-350 from?
Worldwide
In the vast majority of cases,
Amazon
will be the best place to get the Eskuta KS-350 from.
Frequently asked questions
Here's everything else you might want to know about the Eskuta KS-350.
How long will the Eskuta KS-350 last?
The average lifespan of an Eskuta battery is around 800 charging cycles or around 15200 mi / 24500 km.
Can I buy a second battery besides the original one?
Since it comes with a removable battery, the Eskuta KS-350 offers you the chance to buy a second spare battery and use the two of them interchangeably to double your range.
Can I test-ride an Eskuta scooter before I buy it?
Yes, you can book a test ride at an official Eskuta facility, or any of their official partners and re-sellers near you. In order to do that, you would need to email their team at [email protected] and visit their store to borrow a scooter for a short trial period.
Specifications
Eskuta KS-350 Specifications
| | |
| --- | --- |
| Top speed | 25 kmh |
| Top speed | 15.5 mph |
| Range | 30.5 km |
| Range | 19 mi |
| Motors | front brushless hub BLDC |
| Power | 350 W |
| Climb angle | 15 ° |
| Battery | 270 Wh, 36 V |
| Battery type | removable li-ion |
| Charging time | 5 h |
| Ingress protection (IP) | IP54 |
| Weight | 14.5 kg |
| Weight | 32 lbs |
| Weight limit | 120 kg |
| Weight limit | 265 lbs |
| Tire size | 8.5 in |
| Tire type | pneumatic tubed |
| Foldable | yes |
| Foldable handlebars | no |
| Build material | aluminum alloy |
| Terrains | urban |
| Brakes | disc brake, electronic brake, pedal brake |
| Shock absorbers | no |
| Lights | front and rear LED |
| Control | LED display |
| Speed modes | 3 |
| Cruise control | yes |
| Warranty | 1-year, upgradable to a 2-year protection plan |
| Return period | 30 days |
| Folded dimensions (L * W * H) | 108.3 cm * 42 cm * 46 cm |
| Folded dimensions (L * W * H) | 43 in * 17 in * 18 in |
| Unfolded dimensions (L * W * H) | 108.3 cm * 42 cm * 118.6 cm |
| Unfolded dimensions (L * W * H) | 43 in * 17 in * 47 in |
---
Want to get
FREE SCOOTER
tips, exclusive discounts and promotions, and unseen scooter hacks? Join the
Scooter Secrets club
.
---
Liked this article? It really helps if you share it.
Follow @escooternerds on social media for more cool stuff
---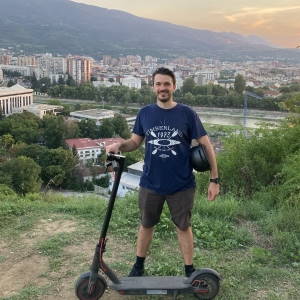 Where to buy the Eskuta KS-350
Worldwide: Amazon