Last Updated on April 4, 2023 by Matt
This is my detailed review of the TurboAnt X7 Pro electric scooter after trying it out for a few weeks. We will see how this upgraded TurboAnt model quickly became one of the go-to options for budget-level city commuters in the past year.
TurboAnt X7 Pro Review
The TurboAnt X7 Pro comes with a single 36 V, 350 W motor mounted in the front wheel, and a 10 Ah, 36 V removable battery, with a total capacity of 360Wh. It provides a top speed of 20 mph / 32 kph, for a range of 30 mi / 48 km on a single charge, and comes with 10-inch pneumatic tires.
Turboant X7 Pro pros and cons
PROS
Pretty good quality
Good value for money
Great range
Removable battery
Good riding experience overall
Big, comfortable tires
Great brakes
Great portability
CONS
No suspension
Possibly weak headlight
Average top speed
Buying
The X7 Pro will typically cost you around $550.
This puts it in a quite low price bracket (although not the lowest one), and that makes it a budget commuter in the truest sense of the word. Still, don't be fooled by its low price – this scooter offers a real bang for the buck, and that's one of the main reasons behind its quick rise in popularity.
The best, and probably the only place where you can currently order the scooter is the official TurboAnt store (buying through this link should get $50 off the price, but to make sure the discount is applied, use the coupon code AFM50 at checkout).
Quite honestly, the site is great for shopping, as they often offer various discounts, deals, and holiday promotions. It has the additional option of order tracking and making sure you know exactly when you'll get your scooter.
You will also find useful options for payment in installments with 0% interest if you use some of their support payment systems. Overall, it's a nice and safe place to get their products from.
Shipping
Ordering through the TurboAnt official website will come with free shipping for both US, Europe, as well as all North and South American states. They don't ship their products worldwide yet, but any order over $49 in these supported states will come at no cost.
Shipping time will vary based on where you want the product delivered. Delivery to the US and EU countries will take about 5-10 business days, while shipping to the UK, Canada, and other countries may take 7-10 business days.
Warranty
All TurboAnt scooters come with 1 year warranty period for all the structural parts, battery, and frame of the scooter. Other electronic devices, such as the charger, controller, and lights come with a 6-month warranty period.
Normally, the warranty does not cover any normal wear, tear, damage, or alteration of the product.
You can read in detail about the TurboAnt warranty policy on their website.
Returns and refunds
TurboAnt has a universal 30-day return period for all of their products in case you aren't satisfied with your purchase.
In order to complete the return, you must fill the return shipping label provided in the delivery box. This label is mandatory, and without it, the product won't be accepted back.
Take note that any returns for non-defective reasons will be charged with a 25% restocking fee and any cost for shipping back will be covered by the customer. You can find out more about their policy on the TurboAnt return and refund page.
Customer support
In case you have any further questions, complaints, or need more information, TurboAnt offers excellent and quickly-responding customer support.
You can reach their team through the official e-mail address [email protected], where they usually respond in a day or two, or on the ever-open chat bot on their web page.
Basics
TurboAnt X7 Pro is the second model in the X7 series, upgrading on the previous lightweight commuter the brand has put to market.
The TurboAnt brand
TurboAnt is an electronic urban-commuters manufacturer based in China. Their main focus is designing electric scooters and bikes, offering alternative and quality solutions for people who have limited access to public transportation.
They are a fast emerging brand, constantly bringing new, upgraded, and more economic designs to the market.
With their latest scooter series, they are solely focused on manufacturing budget-level commuters made to be used daily in urban areas.
Unboxing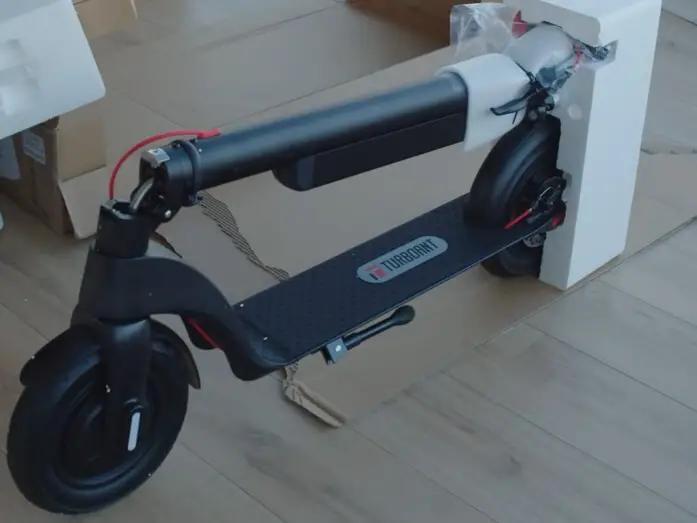 The scooter comes in a basic cardboard box. The box contains the following items:
the scooter
charger
handlebars
users manual
TurboAnt return shipping label
Assembly
The scooter comes folded inside the package, and there will be a few assembling steps you will have to complete.
After you remove the styrofoam pieces placed to protect it, you will need to unfold the scooter using its latching system. It's quite an easy step and you will get the hang of it fairly quickly.
Lastly, you will need to mount the handlebars on the stem, squeeze them tightly and screw them in. Since this is a very simple scooter, it shouldn't take you more than 5 minutes to complete the process.
Folding and unfolding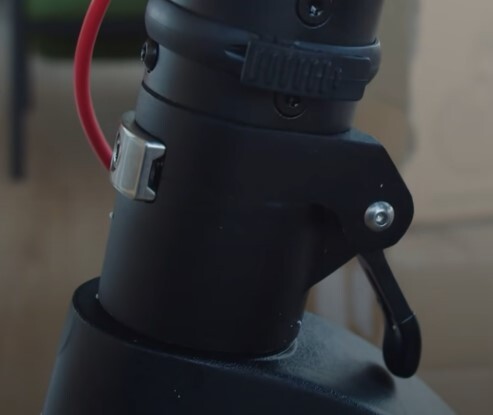 As we previously mentioned, the X7 Pro uses a handy latching system to fold the stem bar on the deck of the scooter.
It's held up with springs and tightened together with a latch that comes on easily. You simply unlatch the stem when you want to fold it and fasten it back on when you want to use the scooter.
Unfortunately, the handlebars of the scooter are unfoldable and you can only fold the stem bar. In my opinion, it's not that big of a deal, but still, foldable handlebars are a big advantage. The handlebars are fairly small anyway, and the whole structure of the scooter is thin and light, so the lack of foldable handlebars doesn't take away too much from its portability.
Ride experience
Even for a budget model, I felt like the X7 Pro was very quiet and stable. It provided a smooth ride, good maneuvering, and gives the power one would expect from a budget-level e-scooter, if not a bit more.
I occasionally heard slight rattling during the rides, which came from the various smaller parts inside the scooter. It's nothing too noisy, but it can still be a fairly noticeable at times.
The scooter is actually quite stable for a model that doesn't have any suspension.
The smoothness comes mainly from the tire pressure, which is slightly lower than on some other, similar models. This gives the tires a softer feel and grants better handling of uneven terrain.
Terrains and offroad
The X7 Pro scooter is not one for an offroad ride, and I never really tried it out on challenging terrains.
Everything about it, its power, size, lack of suspension, and general build, just screams that it's a scooter made for the city streets.
You can still use it for the occasional dirt road ride if needed for a couple of hundred feet. It won't break it down if it's kept to a minimum. But still, the X7 Pro is just a true lightweight, urban commuter that is not at all designed for rough terrains.
Build quality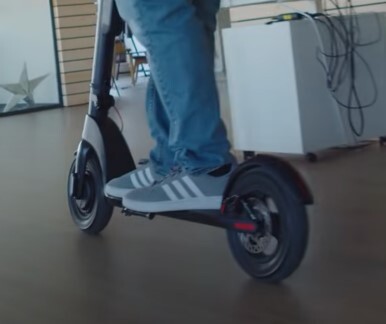 Fortunately, the X7 Pro offers quite a nice build quality without any major trade-offs. All the while still being priced as a budget-friendly product
Materials
Like most brands, TurboAnt uses aluminum alloy for the frame of the scooter. It makes it very sturdy and strong, which is much needed for the protection of the battery that is attached to the outside of the stem.
The scooter uses plastic for the fenders and some of the smaller parts, like the LCD display protector, and control throttle. It also has some rubber, notably at the deck, used for better gliding protection.
Design
The X7 Pro is designed to be a small, thin, light, and portable city commuter. It looks fairly similar to most scooters in this price range.
It won't offer any groundbreaking, futuristic designs, but will surely satisfy your needs if you are looking for something more typical and regular-looking.
Lifespan and durability
Having been out on the market for about a year now, we can't say for sure how big of a lifespan this scooter will prove to have.
No user has reported any significant issue after a few months of usage, and the 1-year warranty period would've covered anything serious that might have emerged in that period anyway.
But seeing as it's made from aluminum alloy, and has quite a sturdy and robust build, it's safe to assume that this scooter will comfortably be at your service for at least a few years after the purchase.
Performance
The X7 Pro offers great daily commuting power and performs as expected for such a lowly priced scooter. Realistically, with this one, you truly get what you pay for.
Speed, motor, and power
Officially, the fastest the X7 Pro can go is 20 mph / 32 kmh. I was able to reach this speed quite easily.
The acceleration of the scooter is better than the most in this price range, needing around 8.5 seconds to reach the 15.5 mph / 25 kmh mark.
The scooter is powered by a 36 V, 350 W motor mounted in the front wheel. It doesn't offer as much power as some of the scooters with dual-hub motors integrated into both wheels, but it still gives you enough power for a fun and useful ride.
Range and commuting
Officially, the TurboAnt X7 Pro can go up to 30 mi / 48 km on a single charge. My tests and experience largely confirm this range, unless I was riding in the fastest mode most of the time, in which case the range was about 15.5 mi / 25 km.
Commuting is where the X7 Pro shined. It's super-light, thin, and I could easily pick it up in just one hand. It's perfect if you plan on keeping it inside in your office, occasionally climbing some stairs with it, or even taking it on the bus.
Battery and charging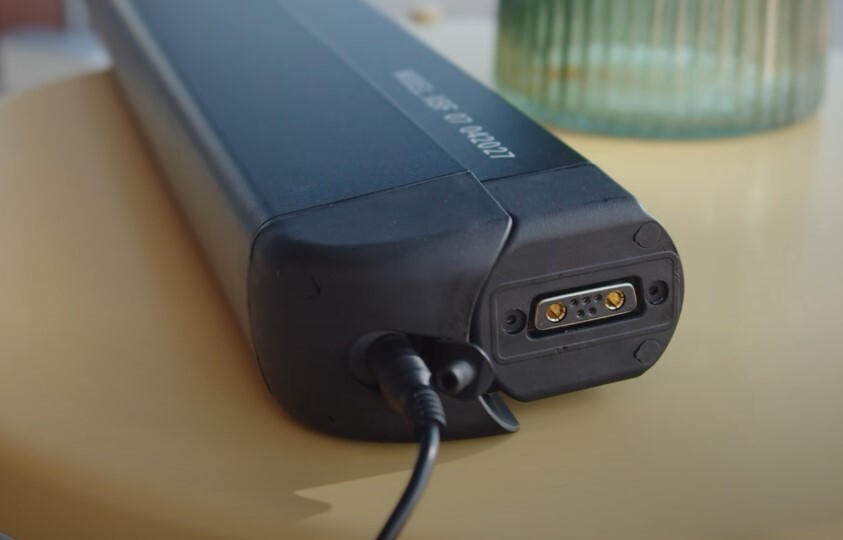 The TurboAnt X7 Pro comes with a 10 Ah, 36 V battery with a total capacity of 360Wh. The battery takes about 6 hours for a full charge.
What's especially great about the battery is the fact that it's fully removable and can be charged both attached and detached from the scooter. It is mounted on the stem and can be easily removed just by pressing the button on the top of the body of the battery and slightly pushing it upwards.
This is a very useful feature, not often found in cheaper models, and makes this scooter perfect for a home-to-work commute. Simply ride it to your workplace, park the scooter wherever you want, and charge the battery in your office while you are working.
Also, the ability to buy an extra battery and simply swap both of the batteries as needed is an excellent feature that practically doubles the range of the scooter for just a few hundred dollars extra.
Climbing
As with most budget-level scooters, the official climbing angle for the TurboAnt X7 Pro is 15 degrees. That's pretty much in line with what I was able to get on my rides.
While it is not the best climber out there, the vehicle can get you through some medium-steep hills.
Note that this number will largely vary on many things like the rider's weight, current battery level, and the surface of the street. Additionally, it might be hard for the scooter to keep up its speed when climbing, so expect some small drops when riding it upwards.
Features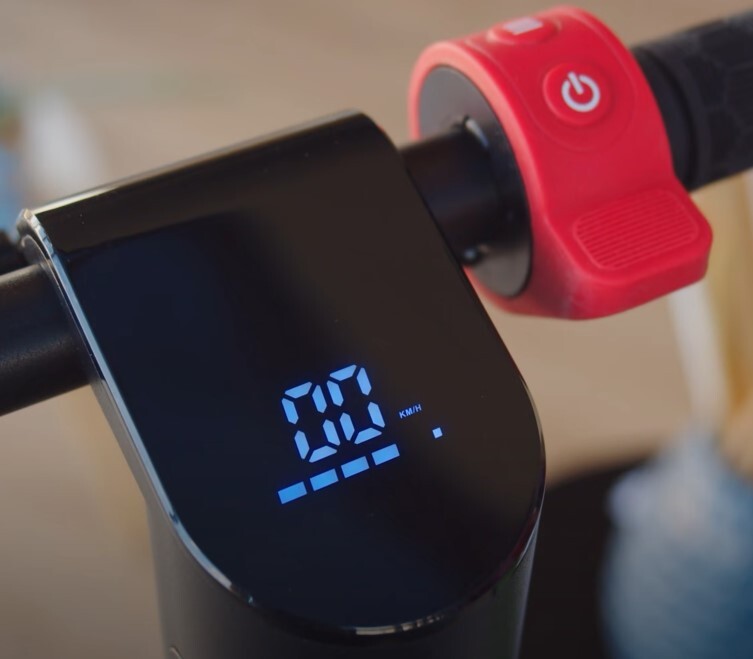 As a budget-priced, urban commuter, the X7 Pro doesn't offer any groundbreaking features. But it stills satisfies all the basic needs you will have from a scooter like this one.
Tires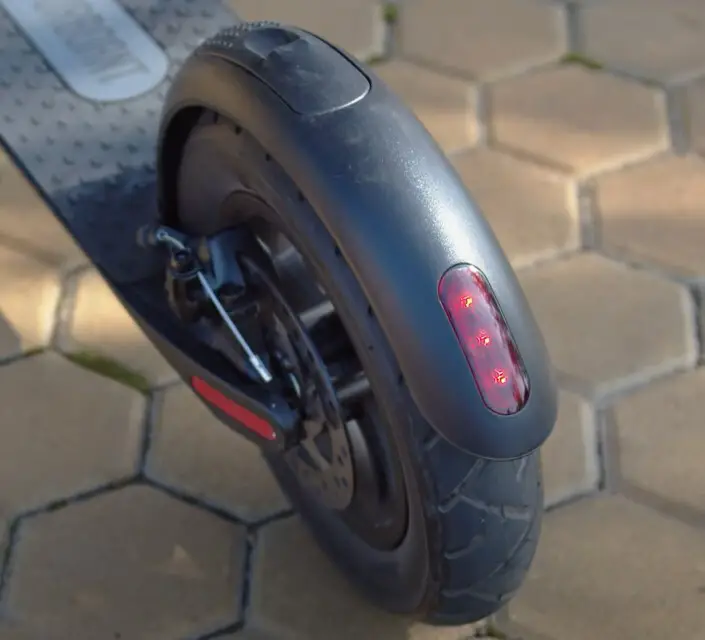 The scooter uses tubed pneumatic tires that are 10 inches tall. It felt like the tires did quite a good job when it comes to ride comfort, certainly one of the best tire setups I've seen in budget scooters.
What's important here, however, is that the tires are also kept at a slightly lower PSI pressure than most of the other typical scooters. This allows them to better handle uneven surfaces and harsh terrains.
That itself takes away the need for a suspension, making the ride smooth without any shock absorption systems.
Brakes and safety
I loved the brake setup of the TurboAnt X7 Pro. It uses a triple braking system composed of an:
EBS (Electronic Braking System) for the front wheel that stops the motor
rear disc brake on the rear wheel
foot brake at the back of the deck
Most of the time you will only use the front wheel brake, as it's enough to stop the scooter almost immediately if it runs at average speed. The rear and foot brake can ensure a very short braking distance at higher speeds, stopping the scooter completely in a distance as short as 16 ft / 5 m, and can also serve as emergency brakes.
Although the scooter isn't very fast and powerful, you can never go wrong with additional safety measures.
Keep in mind that all the important electronic parts, like the battery and the motor, are mounted on the front side of the scooter. This puts all the weight up front and can sometimes cause a problem if you make a sudden break at a high speed.
That's why it's always recommended to wear your helmet and even some gloves and extra protection for a completely safe ride.
Suspension
As we previously mentioned, the biggest downside of the scooter is its lack of suspension. The X7 Pro comes without any shock absorbers or suspension springs.
However, it nicely covers this up with its low-pressure tires which can handle any smaller bumps you will encounter. It's not at all convenient for dirt and off-road terrain, but it will still provide a safe and smooth city ride, which is its main purpose anyway.
Water resistance
The TurboAnt X7 Pro comes with an IPX4 rating, meaning it's resistant to any water splashes and lesser intakes.
It's mostly safe to ride this scooter in the rain, and it likely won't be damaged by the occasional ride on a wet street. However, it is not completely waterproof and will be damaged if it's submerged into water or sprayed with a stream of higher pressure.
If the scooter does come in serious contact with water, it's best to immediately remove the battery and store it somewhere safe and dry. If the rest of the scooter's condition is okay, you may get away with just buying a new battery.
Lights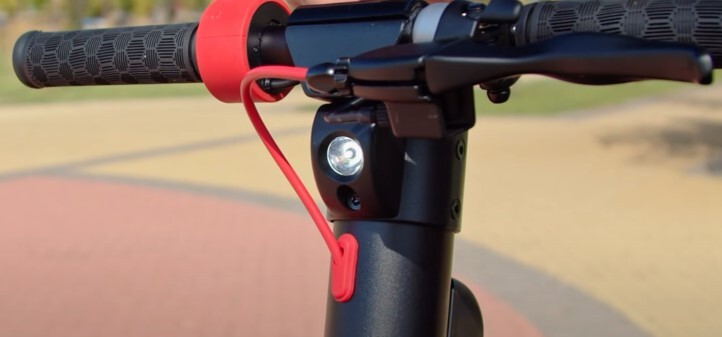 The scooter comes with a great lighting system for such a budget-priced product.
In the front of the stem, it has a very bright, 3W LED headlight. It is a solid light, sufficient for most urban areas you will probably ride in.
On the rear side, it has a smaller taillight mounted on the rear fender which signals whenever you are braking or slowing down. It also has dual, reflective lights on the sides of both wheels.
Overall, it offers great visibility for both you and others around you.
Deck and handlebars
The biggest downside of such a lightweight scooter is its small deck. It's long enough to give you a pleasant riding position, but not nearly wide enough to place both your feet on comfortably.
On the plus side, the deck is nicely rubberized and equipped with raised dimples that offer great gliding protection. It's a nice touch that will keep your feet stable on sharp corners and sudden breaks. But it's still a fairly small deck overall.
The handlebars are your average, unfoldable, non-gliding rubber bars. The scooter is delivered with nice handlebar grips which can be easily replaced, although you probably won't ever need to do that. They are wide enough to suit all types of riders, but still just short enough so as to not cause any trouble during transportation.
Portability, weight, dimensions
We already mentioned that this is one of the best lightweight scooters, and it's designed to be very portable.
It weighs just around 33 lbs / 15 kg and can be easily folded and carried around. This is on par with some of the lightest scooters out there.
The dimensions of the scooter are:
folded: 42.6 * 16.5 * 18.1 in / 108.3 * 42 * 46 cm
unfolded: 42.6 * 16.5 * 46.7 in / 108.3 * 42 * 118.6 cm
Since the battery of the X7 Pro is mounted on the stem, it does make the stem a bit wider. As this is the part you usually hold whenever you pick up the scooter, it does make it a bit hard to carry around.
However, most users mentioned it's only inconvenient at the start and is something you will quickly get used to.
Weight limit and usage by heavy adults
The X7 Pro has an impressive 275 lbs / 125 kg weight limit. This is quite a large weight limit for a scooter in this price range.
No user has tested if the scooter can handle any more weight than that.
Controls
The X7 Pro has a digital LCD display mounted in the middle of the handlebar. It shows all the important information, such as the current battery level, speed, and mode you are riding on.
It is a quite large and easily readable display, and it's very conveniently placed in front of your point of view.
The scooter comes with 3 riding modes that you can adjust with the throttle placed right next to the display. It has a beginner, eco, and sports mode, all offering different max speeds.
The scooter also comes with an additional, performance settings menu. You can access this menu by pressing and holding the power and menu button on the control throttle, and the P-settings menu will appear on the display.
Accessories and customizations
The best thing you can buy aftermarket for the X7 Pro is a second battery. Since it offers the feature of a removable battery, you can simply buy two of them and practically double the range you can get out of one battery charge.
TurboAnt offers the same 10Ah battery that comes with the scooter, or a better, 12.8 Ah one, on their online store. You can simply choose to upgrade the range of the scooter significantly and get more than 60 mi / 97 km of riding with just one 6-hour charge time (as you can charge both batteries simultaneously).
Aside from this, most of the essentials needed for this scooter already come with it, with a few exceptions. You will definitely want a fairly safe scooter helmet for this model, and also I usually recommend getting a medium-strong scooter lock for scooters in this price range.
As we already mentioned, although this is not some fast and powerful scooter, it's still very important to always wear your protective gear. TurboAnt even provides a nice riding package on their online store that you can order for an additional $99. The package includes a nice baseball cap, a very useful rubber cellphone mount, and a water-resistant battery bag.
If you still feel like you need some additional upgrades or customizations, see my detailed electric scooter accessories guide.
Downsides and tradeoffs
It may seem harsh to label ceratin sacrifices as downsides when we are talking about a real budget-priced scooter. However, I did find a few notable downsides and tradeoffs with the TurboAnt X7 Pro that are worth mentioning.
The biggest one is most probably the suspension, or, rather, the lack of one. The scooter comes with no suspension springs and can be very uncomfortable to ride on uneven surfaces, dirt roads, and streets filled with potholes. I mean, I've tried much less comfortable scooters, but I can't say ride comfort was a strong side of this scooter.
The headlight can often be insufficient and you might need a new, brighter one if the streets you usually ride on aren't well illuminated.
Finally, the speed. Although the official speed limit is reported to be around 20 mph / 32 km, many users reported not being able to reach more than 80% of that. To be fair, I was able to reach the official top speed, but I've seen some complaints from other people on this, so I thought I should bring it up.
What users are saying about the TurboAnt X7 Pro?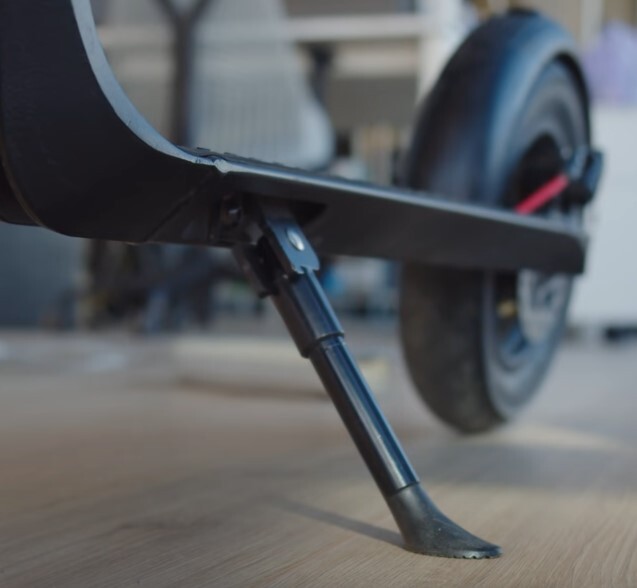 The consensus between the users is that you mostly get what you pay for, and possibly a bit more.
The TurboAnt X7 Pro is pretty much the scooter it's advertised to be. It offers a smooth ride for its build, has a fairly large range for a cheap scooter, and will satisfy your daily commuting needs for years.
Most of the reviews and ratings of this scooter are actually pretty great, and pretty much all of them agree that this is one of the best budget commuters you can currently get.
How does the TurboAnt X7 Pro compare to other scooters?
Let's look at a few comparisons between the TurboAnt X7 Pro and some of its biggest competitors on the market.
TurboAnt X7 Pro vs TurboAnt M10
The two models are the current front runners of the TurboAnt brand when it comes to selling. These are the two latest scooters the brand has put to market and, at first, it seems like they are almost identical.
The TurboAnt M10 is usually about $60 cheaper than its competitor, and the biggest downgrade to reach that price is the battery difference between the two.
The M10 comes with a non-removable, 7.5 Ah, 270 Wh battery that offers a range of just 18 mi / 29 km. The X7 Pro, on the other hand, with its 10 Ah, 360 Wh removable battery offers a range of around 30 mi / 48 km, almost double what the M10 does.
Add to this the fact that you can even use two batteries for twice the range on the X7 Pro, it seems like the slightly bigger price comes with a great pay-off, and the TurboAnt X7 Pro is the clear winner.
TurboAnt X7 Pro vs TurboAnt X7 Max
There are two major things you should look at when comparing the TurboAnt X7 Pro vs Max version: their price and the battery. And personally, it's a bit hard for me to justify buying the latter model.
The TurboAnt X7 Max version comes at around $600, which is $100 more than the TurboAnt X7 Pro scooter.
But for that price difference, you get next to no difference in the scooter's design and features, as it only comes with an upgraded battery that provides 32 mi / 52 km of range, which is only around 2 extra miles of range.
To make matters worse, the battery isn't even removable like it is on the Pro version, meaning you can instead spend that money on a spare battery for the TurboAnt X7 Pro and be done with it. The TurboAnt X7 Max is simply not worth it over its "Pro" counterpart.
TurboAnt X7 Pro vs Hiboy S2 Pro
While at first glance these two models might look the same, as they even have roughly the same performances, the Hiboy S2 Pro is actually a major upgrade on TurboAnt X7 Pro.
As expected, that upgrade will come at a higher price of around $650, but for that, you will get: solid non-puncture tires, a rear suspension system to battle the roughness of the tires, and a better water protection rating of IPX54, which is one level above the IPX4 of the TurboAnt X7 Pro scooter.
If you opt for the Hiboy S2 Pro you will have to give away a lot of riding range as it doesn't come with a removable battery. But the ride experience and the smooth cruising of this scooter are unparalleled to what the TurboAnt model offers.
TurboAnt X7 Pro vs GoTrax G4
In all honesty, I don't see the GoTrax G-series making a huge boom on the scooter market. This whole series lacks a lot to compete well in the budget-priced category, especially compared to more popular names like TurboAnt or Xiaomi.
The GoTrax G4 is even more expensive than the TurboAnt X7 Pro, typically priced at $650.
While it does have the same motor power output and top speed, the range of the GoTrac G4 is substantially lower. You can only get up to 25 mi / 40 km of riding with a single charge, a 5-mile difference between the two scooters.
And that number isn't even taking into account the second battery you can get for the TurboAnt X7 Pro which would put the two models at about the same price.
TurboAnt X7 Pro vs Ninebot Max
The Ninebot Max is in kind of a weird position at the moment. It's not a budget-friendly scooter, as it costs around $1000, but is often unfavorably compared to scooters in that category.
This model, designed by Segway, is made for light and long rides on the city streets. Its top speed reaches around 18 mph / 30 kmh, which is on par with the power of the TurboAnt X7 Pro. But the two scooters vary a lot in terms of range.
The Ninebot Max comes with a chunky battery stored inside the deck that provides a range of up to 40 mi / 64 km. Additionally, charging the scooter is made easy with the built-in adapter placed at the side of the deck. Thanks to this unique feature, you will only need to bring a cable with you, instead of a whole charging brick.
But probably the biggest advantage the Ninebot Max has over the TurboAnt X7 Pro is definitely its build quality. The Segway scooter comes with a much sturdier design than the TurboAnt counterpart, and provides a much more stable and comfortable ride overall.
TurboAnt X7 Pro vs Xiaomi Pro 2
There's not much to say about the Xiaomi Pro 2 that hasn't already been said. It's one of the top sellers in the e-scooter industry, and one of my personal favorite budget scooters.
With that being said, it does have its shortcomings which are evident by its low price of just around $650. The biggest one is the non-removable battery, which TurboAnt X7 Pro has over many of its competitors.
Surprisingly, the Xiaomi Pro 2 underperforms in both speed and range when compared to the TurboAnt X7 Pro, although not by much. And while it has its flaws, most of them are covered by the well-rounded build that is unmatched in this price range.
It's hard to grasp the quality of this scooter on short notice, so make sure to check out my comprehensive review of the Xiaomi Pro 2 to see what it has to offer.
Who shouldn't buy the TurboAnt X7 Pro2?
The first type of person that comes to mind who won't be satisfied with this product is the experienced scooter rider that looks for something more than another basic, beginner-level scooter.
In many ways, the X7 Pro is just that. It doesn't offer any high-speed, adrenaline-raising experience, and will at best be a small upgrade to your already owned, older commuter scooter.
Additionally, if you live in a more remote town, or simply like to often ride into the near wilderness, this scooter won't do you any good. The lack of real power and suspension on the X7 Pro may not be a problem in the urban environment, but is a serious issue for those looking for an occasional off-road adventure.
Finally, if budget is not one of your concerns right now, and you simply want a better option from a more premium pick of products, this scooter is likely not worth your time.
Go and check out our guide to more expensive scooters shopping, and see what exactly can you get that will best suit your current needs.
Verdict – should you buy the TurboAnt X7 Pro?
I recommend this scooter if you are looking for a cheap but well-built scooter with a nice range.
The X7 Pro will best suit those looking for a regular daily ride to and from work, for some local errand run, or simply a scooter that will help them finally jump on the e-scooters train.
With its removable battery feature, this is a great option for someone who expects to push their scooter to the maximum. Riding for dozens of miles a day, constantly charging your battery, and looking for something to spend your whole day on – this thing has got you covered.
If you live or work in a building with lots of stairs in it, you will probably want a lightweight scooter that can be easily transported by hand. The X7 Pro definitely fits that criteria.
With its smooth acceleration, solid brakes, good lights all around the frame, this is a perfect choice for someone commuting in busy areas or larger cities. For a price of around $550 (and a $40 discount if you buy through my link), this thing is certainly a great option for a beginner or average daily rider.
Frequently asked questions
These are some of the most common questions about the TurboAnt X7 Pro.
Can I use two batteries with my TurboAnt X7 Pro?
The Turboant X7 Pro uses a removable battery, which allows you to buy a spare one aftermarket and use the two interchangeably for a double range. The battery is very thin, so you can keep a spare one in your backpack and have a full range for the ride home.
How long does the Turboant X7 Pro battery last?
One full charge of the Turboant X7 Pro battery will last you around 30 mi / 48 km. Having two full batteries that you can use one after the other doubles this range to around 60 mi / 96 km.
Is the Turboant X7 Pro waterproof?
The IPX4 rating gives this scooter some light protection from small water splashes and minor raindrops, but it's best to not ride this scooter out in rain or wash it with water jets. You can remove the battery if you want to clean the scooter with a wet cloth, but beware to not wet the motor which is mounted in the wheel and is non-removable.
Does the Turboant X7 Pro have regenerative braking?
Unfortunately, the Turboant X7 Pro comes without regenerative braking in its brakes, which is rather typical for such a budget-friendly scooter. However, the option for using two batteries gives you more than enough range that any regenerative braking would feel pretty insignificant.
Where to buy the Turboant X7 Pro from?
Worldwide
The best place to buy the Turboant X7 Pro from is the
Turboant X7 Pro
. I'm partnered with Turboant, and using this link will take
$110 off
the original price, but just to make sure you get the discount, enter the coupon codes
PRO110
and
XMAS90
at checkout, or use the coupon code
PRO230
for $230 off on a bundle of two scooters.
TurboAnt X7 Pro specifications
Turboant X7 Pro Specifications
| | |
| --- | --- |
| Top speed | 32 kmh |
| Top speed | 20 mph |
| Range | 48 km |
| Range | 30 mi |
| Motors | single hub BLDC front drive |
| Power | 350 W |
| Climb angle | 15 ° |
| Battery | 360 Wh, 36 V |
| Battery type | removable li-ion battery |
| Charging time | 6 h |
| Ingress protection (IP) | IPX4 |
| Weight | 15 kg |
| Weight | 33 lbs |
| Weight limit | 125 kg |
| Weight limit | 276 lbs |
| Tire size | 10 in |
| Tire type | pneumatic inner tube |
| Foldable | yes |
| Foldable handlebars | no |
| Seat | no |
| Trunk or basket | no (customization possible) |
| Build material | aluminum alloy |
| Brakes | EBS + rear disc brake + foot brake |
| ABS | EABS |
| Lights | 3W headlight + rear brake light |
| Control | LCD display + two button throttle |
| Speed modes | 3 |
| Cruise control | yes |
| App | no |
| Warranty | 1 year or 6 months |
| Return period | 30 days |
| Folded dimensions (L * W * H) | 108.3 cm * 42 cm * 46 cm |
| Folded dimensions (L * W * H) | 43 in * 17 in * 18 in |
| Unfolded dimensions (L * W * H) | 108.3 cm * 42 cm * 118.6 cm |
| Unfolded dimensions (L * W * H) | 43 in * 17 in * 47 in |
| Ground clearance | 11.5 cm |
| Ground clearance | 5 in |
| Adjustable handlebar | no |
---
Want to get
FREE SCOOTER
tips, exclusive discounts and promotions, and unseen scooter hacks? Join the
Scooter Secrets club
.
---
Liked this article? It really helps if you share it.
Follow @escooternerds on social media for more cool stuff
---