This will be a complete review of the Dualtron X2 scooter. We will go over why this upgraded version of the legendary Dualtron X is one of the most popular power scooters in the world currently, and how it justifies being one of the most expensive electric scooters ever made by rocking the most powerful motor configuration ever found in an electric scooter.
Dualtron X2 Review
The Dualtron X2 is a premium, powerful, racing scooter and the newest version of the Dualtron X series. With dual motors combined for an 8300 W peak power, 72V 42 Ah battery, and sturdy build, this is the n.1 most powerful electric scooter ever made, one of the fastest scooters, and also the longest-range scooter in the world right now. It provides a top speed of 68 mph / 109 kmh, a range of 93 mi / 150 km, it lacks no feature, and its quality level is unrivaled.
Should you buy the Dualtron X2?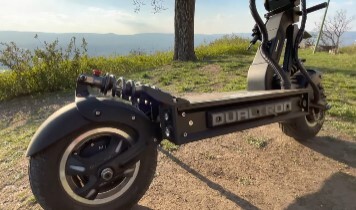 As one of the most expensive scooters currently on the market, Dualtron X2 will probably be an upgrade to anything else you've ridden before.
Now, I'm not saying that this is definitely the best scooter ever, as that will largely come to your own personal preferences. However, it is definitely one of the fastest, longest-range scooters, with one of the sturdiest designs, highest quality execution, impeccable attention to detail, and probably the most powerful motor configuration found in a commercially-available model.
So, if you are looking for the most premium version of the latest cutting-edge electric scooter ever made, the Dualtron X2 will probably be what you're looking for.
Buying
I usually don't make any assumptions about people's financial situations, but I believe that buying the Dualtron X2 will be a serious financial endeavor for the vast majority of people, and you should read the following sections carefully.
Price and promotions
You will almost certainly get the best deal possible if you buy the Dualtron X2 from Voromotors, which have also become the official Dualtron scooters distributor. They are one of the best e-scooter distributors worldwide currently and often offer the best deals, terms, and customer support, and they have become one of the most trusted brands in the game because of that.
The price of the scooter is usually around $6500. That definitely makes it one of the most expensive electric scooters ever made.
Also, don't forget to add the 1-year Extend product protection and then use my special coupon code FreeExtend at checkout to get 2 years of warranty for free.
Shipping
Having been designed and put out on the market earlier this year, and being the successor of one of the most popular power scooters ever, the Dualtron X2 sometimes might be out of stock, especially if you want to get it during the holiday season.
Voromotors and other distributors have made all their scooters available worldwide, including the Dualtron X2, which means you shouldn't have to wait more than a few weeks to order them. Additionally, on web stores such as Voromotors, you can always preorder the scooter and make sure you get it before it's sold out again.
Shipping in the continental US is free with Voromotors. Shipping in Canada, the UK, and most EU countries will also be free for this scooter (Voromotors ship for free there on orders above $3000). You can find out more about these costs on the Voromotors shipping page.
Warranty
All Dualtron scooters have a universal 12-month warranty period, but as I mentioned, by adding the 1-year Extend product protection and then using my coupon code FreeExtend, you will get an extra year of warranty for free, for a total of 2 years.
This warranty covers defects and manufacturer problems on all electronic parts. The warranty will be void if there are any modifications or damages to the vehicle.
You can find out the details on the Voromotors warranty page.
Returns and refunds
Due to high shipping costs, only domestic US orders are eligible for a return.
The return policy and value of the refund will vary based on whether the product was opened and used or unopened upon the return. You can check all the details of this policy on the Voromotors returns and exchanges page.
Customer support
Voromotors is undoubtedly the best site for Dualtron products orders, not only because of the great deals they provide, but also because they offer one of the best customer support services.
You can reach them through their contact page, or the always available chatbot on their website.
Basics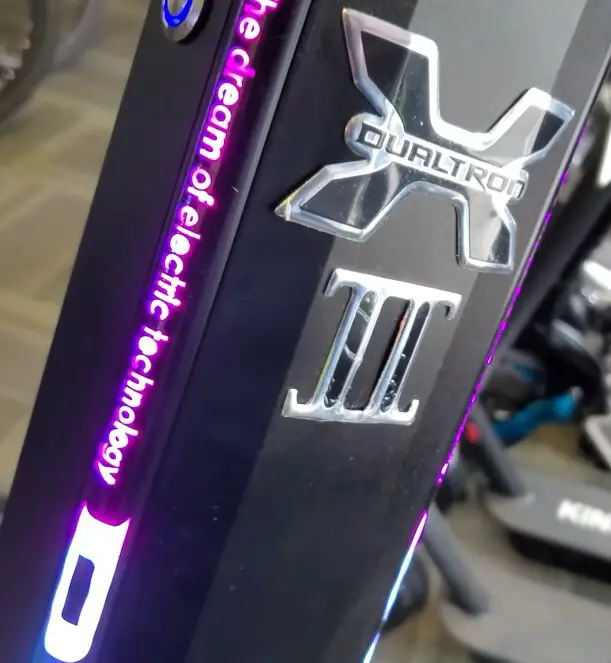 The Dualtron X2 is one of the latest, most heavily-upgraded, power and racing Dualtron scooters. These are its basics.
The Dualtron brand
If you are on the hunt for a high-quality electric scooter for a while now, you must have stumbled upon Dualtron. They use top-notch build quality, high-end tech and offer the fastest, most durable scooters currently available.
Dualtron is a long-running brand, first established in 1999 in South Korea. Since then, they have continuously been on the top of the food chain, and are often considered the best electric scooter brand ever, especially when it comes to power scooters.
Innovation is their biggest selling point, pushing the boundaries of the possible when it comes to these types of vehicles. The X2 is the upgrade on the Dualtron X model. This scooter will definitely blow your mind, as there is no way to compare it against any other electric scooter out there.
Unboxing
The scooter comes in a gigantic box, safely stored in a metal frame within the box. The frame is screwed tightly and you will have to disassemble it with a screwdriver to get the scooter out, which bears witness to the scooter's awesome power.
Unboxing can be a bit tricky and it may take some time. Still, it is a pleasurable experience, and the protective covering is well worth it as it protects the scooter from any damage upon delivery. In fact, damage on delivery is quite rare, despite the fact that this is a very big and bulky item.
In the box you will find the following items:
the scooter
remote controller
user's manual
multitool
charger
Assembly
Aside from the metal frame that protects the scooter, nothing else needs any additional assembling and the scooter is almost ready to go.
You might need to tighten some of the handles and adjust the suspension and LED lights to your personal preferences, but those are all customizing features you will probably occasionally change anyway.
As usual, make sure that the battery is fully charged before your first ride, as that's simply battery best practice. And, of course, make sure that the brakes are operational and that the tires are fully inflated.
Folding and unfolding
The X2, like almost any other electric scooter, is fully foldable. With the newest Dualtron customized handlebars, you fold them as well as the stem, saving much more space.
This model uses a new folding knob mechanism, which you unscrew and then press, allowing you to fold the scooter down. It's an improvement on the previous Dualtron models that used clamps for the folding process.
Ride experience and intended use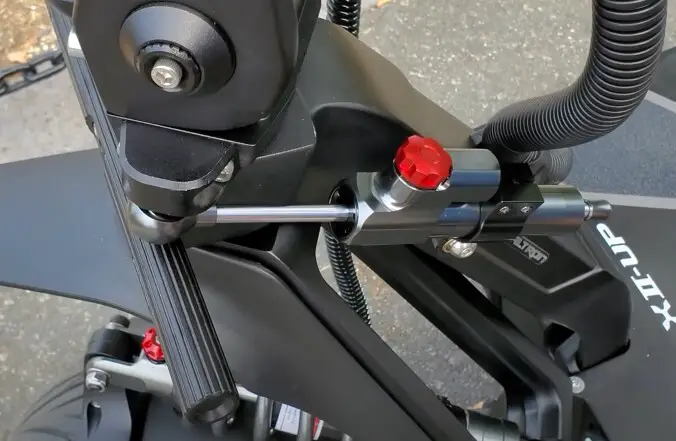 Since the scooter is big and heavy, it should come as no surprise that it will provide a really smooth, seamless ride, probably the most stable ride you can get from this sort of machine. It has great power, stable build, strong brakes, and brilliant suspension, and feels very smooth even at higher speeds.
This all nicely complemented with the steering damper – a new feature that Dualtron introduced in the X2 model. It eases the steering of the scooter and slows down any sudden movements. It will make you feel like you are riding a powerful motorcycle and not some electric vehicle.
The scooter has a big capacity if you plan to spend your whole day on it throughout town. It's built to last long, ride fast and handle most terrains with ease.
Overall, the Dualtron X2 is great for all kinds of rides.
Terrains and offroad
As with most power and racing scooters, the Dualtron X2 is best utilized on a street road.
With its great suspension, big tires, and chunky build, you can always test it on the occasional dirt terrain, and you shouldn't have any problems with pretty much any potholes or bumps in the road. Anything more challenging than that will not break the scooter, but it may restrict its powers and take away from the optimal experience.
Build quality
Unsurprisingly for this price range, the quality of the scooter is tremendous. The stem is one of the biggest I've ever seen and is strongly connected with the rest of the scooter, offering great stability, and the entire scooter is very sturdy and stable because of that one design choice.
The whole vehicle has a somewhat chunky design and looks much bulkier than any other Dualtron model. It doesn't look like something that can easily break, even if you try to. Even the suspension springs look like they are double the size of any other springs used for an electric scooter.
Following up on the feedback from the previous models, Dualtron has also implemented a new kickstand for the X2 as well. It's a big, hefty piece that keeps the scooter completely stable when standing still.
Materials
The mainframe, deck, stem, and handles are all made from aviation-grade 6082-T6 aluminum alloy, which is the standard material for all the latest Dualtron scooters. They've stuck to it as it has proven to be a perfectly suitable and durable material for all the scooters.
The shaft, on the other hand, is made from SCM440 steel, and some of the covers and bumpers are made from plastic.
Design
The first thing you'll notice about the scooter is how hefty it looks. Everything, from its deck, stem, handles, tires, even suspension springs looks very beefy and thick.
In typical Dualtron fashion, everything is almost rectangular, with sharp edges all around. It's equipped with RGB lights on every side, flashing the brand's name along with light dots to keep up the futuristic, neon-design Dualtron usually goes for.
Honestly, it's looking very powerful. I was skeptical at first about how bulky it looked, but the more I looked at it, the more it grew on me. The X2 is a modern, good-looking and sturdy scooter, designed to catch the eye of every pedestrian you pass on the street.
Lifespan and durability
The scooter is still fairly new, and it's probably a bit too early to talk about lifespan.
Still, initial reports are nothing short of spectacular, and if we take into account the fact that the previous version was almost indestructible, I believe the Dualtron X2 will also serve its owners for decades to come.
Performance
There's no point in beating around the bush too much here – the Dualtron X2 is the most powerful electric scooter ever made, and one of the fastest ones as well.
Speed
The official top speed the Dualtron X2 can reach is 68 mph / 109 kph.
That certainly classifies it as a racing scooter. The top speed is measured with a 150 lbs / 68 kg rider on a closed course, and chances are that this scooter is capable of going even faster (although very few have dared to test that assumption).
Power and motors
The Dualtron X2 has dual BLDC hub motors, one integrated into each wheel. Together they have an astonishing 4150 Watts of real power, going up to 8300 Watts peak power.
There is no electric scooter that is commercially available on the market today that has more raw motor power output available.
Range
The Dualtron X2 has a range of 93 mi / 150 km. That makes it the longest-range electric scooter ever produced.
Interestingly, no owner has managed to test that assumption yet, probably because the test would take very long. Still, owners easily get 60 to 70 mi / 96 to 112 km without draining the battery completely.
Battery and charging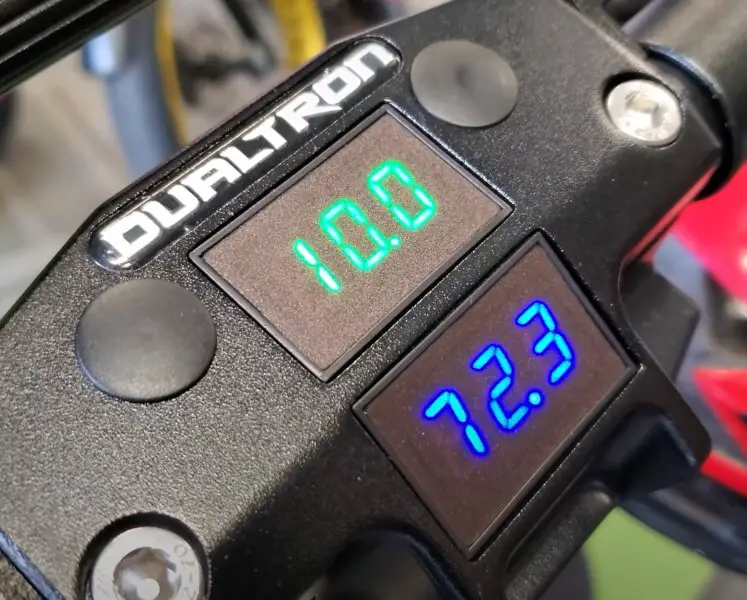 One of the most innovative engineering decisions in the Dualtron X2 is the dual batteries.
The scooter has a primary 72V 42Ah LG battery that powers the motor. The secondary 11V 14 Ah Li-ion battery, on the other hand, powers the LED lights and other accessories. This balances out the performance and saves the capacity of the main battery solely for the range of the scooter.
Also, this lowers the charge time of the scooter, which usually takes around 8 hours for a full charge using the quick charger.
Climbing
As with most next-gen Dualtron scooters, the official climbing angle for the X2 model is 35 degrees. Note that this will largely vary on the rider's weight.
In any case, the dual-drive motors, which are the most powerful motors in the game, will provide unrivaled torque, and the scooter will conquer pretty much any hill you can encounter.
Features
This scooter has it all. For those searching for a strong, powerful, and durable racing scooter, there will be no other choice that's as feature-complete as this one.
Tires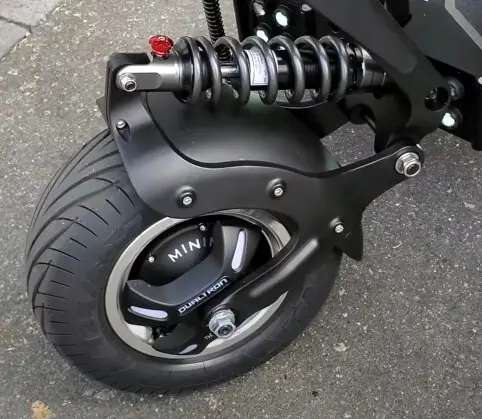 The Dualtron X2 comes with ultrawide tubeless tires, 13 inches in diameter. That makes them the biggest tires in what can be considered conventional electric scooters (there are scooters with bigger tires, but most of them are fat-tire scooters).
Unlike other models like the Thunder or the Storm, which use 11-inch wide tires, Dualtron went for much wider tires for the X2 scooter, and that has proven to be a great choice, as the ride quality and safety are out of this world. It's obvious that this vehicle is a much stronger machine than the Storm or Thunder models, warranting much greater support from its wheels. Thus, the brand has decided to upgrade the tire size, improving the handling and acceleration of the scooter.
Brakes and safety
The X2 uses a hydraulic braking system with 160 mm disks. With such a large brake disk diameter comes great performance as well.
The disks are mounted on both the front and rear wheels to offer maximum stopping power. They also come with an ABS system which reduces the risks of locking and skidding. This is important because applying instant pressure on the brakes at such high speeds can often result in dangerous stops.
However, you should always be extra careful with this scooter, as even the greatest ABS system can't protect you at all times. This is especially important for riding on wet surfaces or riding downhill.
If you are the adventurous type who will definitely push the limits of the X2, then additional safety should be your primary concern. Riding at such high speeds can always be dangerous, so a full-face helmet and protective equipment are pretty much a requirement for this scooter.
Suspension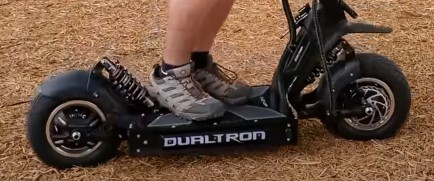 The scooter is equipped with an excellent 19-step adjustable hydraulic suspension. Two suspension springs are mounted on each wheel and offer a comfortable ride even on very rough terrains.
Both of the springs are adjustable and you can easily customize the level of the suspension of the scooter to your personal preference. They are also significantly larger than most models and are often the first thing people notice when they see the Dualtron X2. This bulkiness is very well justified, as the suspension on this scooter is one of the best ever implemented in such vehicles.
Water resistance
The Dualtron X2 is not fully waterproof, as all battery and motor parts are vulnerable to water intake. You should be careful of riding it in wet conditions, and it's best if you don't use it when it's raining.
Still, the scooter implements the IP54 rating, which is the gold standard for water protection in scooters. That means it's only protected against limited contamination from dangerous particles, but it will probably be able to withstand some exposure to water. Keep in mind, however, that any significant water ingress may still cause the electronic device to break down.
Lights
Driving at night with this scooter is no issue at all. There is one enormous headlight in the front of the stem that lights up the road in front of you. Aside from the front headlight, the whole stem and deck also light up with customizable RGB colors. This helps make you very visible during the dark hours and extremely recognizable even from a longer distance.
On the back, there are 4 lights mounted on the deck, 2 brake lights and 2 turn signals, which also act as hazard lights in need of stopping. All of them are controllable with the multi-switch box on the left handle. The colors and flashing of the RGB lights are also controlled through the remote control that comes with the scooter.
Deck and handlebars
The deck of the scooter is very large. It has a thick design with big depth, and rightly so, as it has to fit the enormous battery of the X2.
However, it's still a bit short and doesn't feature the leg rest typically found on other scooters. It does have two small leg rests beside the wheel, but they don't come even close to what's needed in a scooter like this. The part is still mountable and can be put on after-market, so this shouldn't be a dealbreaker if you liked the scooter so far.
The handlebars are the standard Dualtron foldable handlebars found on every model in the past few years. They are pretty solid, sufficiently long, non-slippery, and together with the steering damper offer a great ride feeling.
Portability, weight, dimensions
Although the X2 is foldable, you can pretty much forget about carrying it around. The scooter weighs a tremendous 145 lbs / 66 kg, almost double or even quadruple what electric scooters would normally weigh. It is a big and heavy piece that you will mostly move while riding on it, or maybe occasionally put it in your trunk in case you need to transport it for longer distances.
Its dimensions, however, while still large, are pretty standard for power scooters.
When unfolded, the scooter measures 51 x 25 x 51.4 in / 129.5 x 63.5 x 130.5 cm.
While folded, the dimensions go down to 51.4 x 13.8 x 51.4 in / 130.5 х 35 x 130.5 cm.
Although it's on par with other power scooters, you could notice how this scooter is still fairly longer than its peers. You should take this in mind if you're considering buying it, and check whether it will fit in the space you plan to keep it in, in your trunk, or wherever you plan to take it.
At the end of the day, the X2 is not an easily portable scooter and definitely not for someone living somewhere with lots of stairs.
Weight limit and usage by heavy adults
The official weight limit for the Dualtron X2, as with most power scooters, is 330 lbs /150 kg.
In my opinion, the scooter will have absolutely no trouble carrying much more than that (possibly even double that), based on its sheer motor power and build sturdiness. It even seems like Dualtron have again made some underreporting on this part, since they put the same weight limit on every one of their latest models.
However, I would suggest you not push the boundaries on it if not needed.
In any case, this will be an excellent pick for heavy adults, and you can ride safely and comfortably even with a bigger load on it.
Controls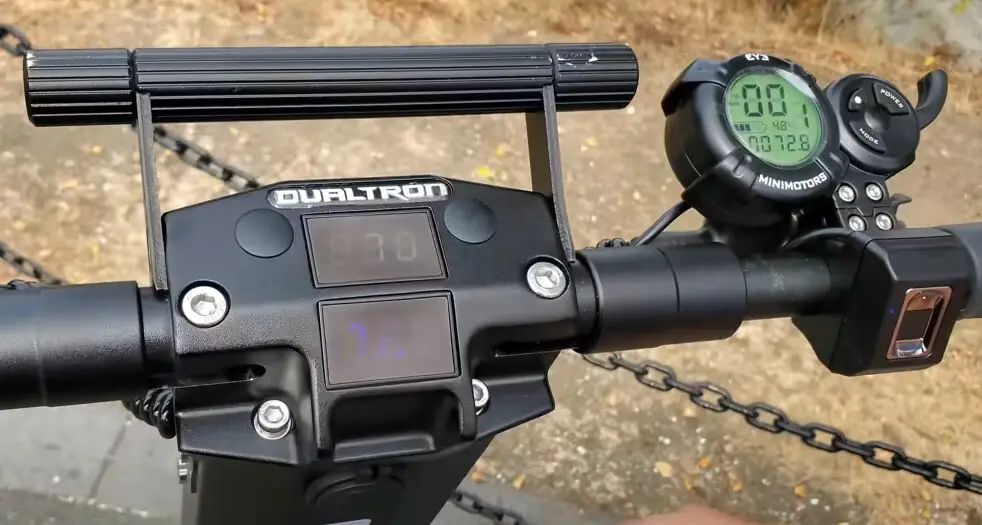 The X2 e-scooter comes with the standard EY3 LCD display found on all the latest Dualtron models (and on many other electric scooters from different brands, for that matter). It's a great round display which the brand has used for quite some time now, with almost no problems reported around it.
The display shows all the needed information about speed, battery level, mode, distance and time traveled, etc.
However, the X2 also has an additional two small rectangular screens in the middle, not featured in other similar models. The screens show the battery voltage of the two batteries.
It also features the new Dualtron multi-switch box mounted below the left handlebar of the scooter. The multi-switch has 4 buttons and 1 switch on it, controlling all of the lights (headlight, turn signals, hazard lights), the horn, and the speed mode.
Accessories and customizations
First of all, given how this is one of the most powerful electric scooters ever made, a full-face motorcycle helmet will be your only option when it comes to helmets, and you will have to wear it at all times. See my guide on electric scooter helmets to find the right pick.
When it comes to accessories, the Dualtron X2 is the most equipped scooter I've come upon recently. Still, you can upgrade and customize the Dualtron X2 even further in case you want to go all-in.
It comes with an already attached fingerprint lock, a tool I usually recommend for scooters in this price range. It's one of the safest options to lock your scooter wherever you go. The lock is mounted on the right handle, close to the EY3 display.
Since this is one of the most expensive electric scooters ever made, I recommend getting the safest and strongest electric scooter lock you can as well. In fact, I recommend getting two locks of different types, as you really want to leave as little to chance when it comes to leaving this scooter outside.
In case you want to do some additional after-market customizations, the scooter allows a wide range of upgrades. You can always put a seat on top of the deck, or get a stronger lock in case you have any doubts about the fingerprint lock. Some stores even offer the seat as part of the package, but the seat is entirely optional.
Check out my guide on electric scooter accessories for all the possible ways you can further customize and improve upon this scooter, there are several dozen great ideas in there that will make this amazing scooter even better.
Downsides and tradeoffs
The X2 is really heavy. Like, really heavy. It's one of the heaviest scooters and weighs almost like a small motorcycle. This makes it non-portable by hand and forces you to keep it someplace close to the ground floor.
Although it has great suspension and big tires, it's still not quite made for off-road terrain and can be damaged while riding on dirt tracks and rocky paths. Also, it's not fully waterproof, and it can be somewhat damaged by exposure to water or other dangerous ingresses.
But truly, none of those are actual problems in the scooter's design or execution. They are simply tradeoffs that are pretty much inevitable for a scooter of this caliber.
What users are saying about the Dualtron X2?
All of the users love this scooter and describe it as the best ride they've ever had.
A bad review for it is very hard to find. Many users even tested it on rough surfaces, steep inclines, and roads filled with potholes – the Dualtron X2 passes all of the challenges without making a beep.
All in all, it seems like the scooter doesn't really have a weak point that's not expected, and owners simply can't get enough of their scooters and ride them for hours at a time.
Dualtron X2 vs Dualtron X
The X2 is a true upgrade to its predecessor, the Dualtron X model, produced in 2019. They look very much alike, have a similar size, build and design, but they do have some important differences between them as well.
The X2 has a much larger and powerful battery, with 12V more than the X model. The motors are at different levels as well, with the X2's going up to 8330 W compared to the 6700 W on the Dualtron X.
All in all, you get better power and performance for a slightly higher price. It's an easy choice if money isn't the issue and you already plan to buy the best of the best.
Dualtron X2 vs Dualtron Storm
Here the difference is much more obvious.
The Storm looks almost like a middle-priced scooter (if that even exists in the Dualtron world) that comes at two-thirds of the price of the X2.
Aside from the power, which is around 1800 Watts lesser with the Storm model, the main difference comes in the design and features of the two scooters. The Storm is smaller, slimmer, and lighter than the X2. It is much more like a typical day-to-day city scooter, compared to the powerhouse the X2 is.
But most importantly, the Storm comes with a swappable battery, offering a much longer ride distance all together than the X2 if you combine two batteries. And much lower charge time as well, as you have a second battery to use while the first one is charging.
So the choice here falls down to the question, do you prefer higher speed, power, and endurance, or longer mileage and smaller price? If the latter sounds better to you, see my complete Dualtron Storm review.
Dualtron X2 vs Dualtron Thunder 2
These two models probably have the most heated squabble out of all Dualtron scooters. There's a huge debate among Dualtron enthusiasts about which one is the better choice, and there's no clear-cut answer.
The differences between the two aren't small, but they aren't that huge either.
One thing is that Dualtron Thunder 2 does come cheaper. In fact, it's around $2000 cheaper than the Dualtron X2. But the price cuts include weaker motors and lower top speed.
While the Dualtron X2 can reach up to 65 mph / 105 kmh on a good day, the Thunder 2 can barely go above 56 mph / 90 kmh. You would also have to settle for a worse rubber suspension instead of the dual springs that come with the Dualtron X2.
Now, I wouldn't say these are some enormous sacrifices as you do save a lot of money if you go for the Dualtron Thunder 2. But if you've got money to spend anyways, why not go for the most premium option available?
Who shouldn't buy the Dualtron X2?
Unless you want the best electric scooter in the world, chances are, this is not the right scooter for you.
The first thing that will prevent many people from ever seriously considering this scooter is the price tag. I mean, I love electric scooters, but personally, I probably wouldn't spend $6500 on one, even if it's the best electric scooter out there. There are numerous cheaper alternatives out there that can easily satisfy your needs without spending a mini-fortune.
The Dualtron X is not a good option for commuting, unless both of your destination points have a convenient place where you can store the scooter.
This is not a good option for a first scooter either.
Also, this is not a scooter for someone living in an apartment building, especially if it doesn't have an elevator. The scooter is heavy, large, and can't be carried around for more than a few seconds. You will most likely keep it on the ground floor, in a garage, or somewhere with a ramp nearby so you can push it to the outside.
Who should buy the Dualtron X2?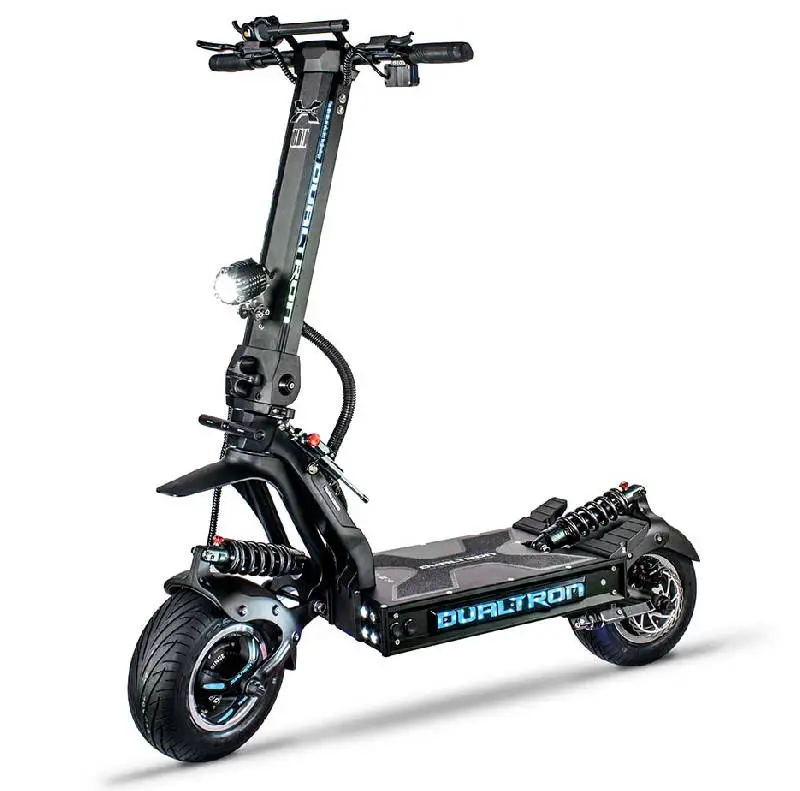 In essence, Dualtron is the market leader when it comes to power scooters, and the Dualtron X2 is their flagship model, so you will be getting the most powerful monster scooter ever made if you decide to pull the trigger.
In fact, the Dualtron X2 covers a lot of "best" and "most" categories:
most powerful motor
best range
biggest tire diameter
best suspension
So, overall, if you are looking for the best electric scooter in the world right now, you will most definitely want to check out the Dualtron X2.
Where to buy the Dualtron X2 from?
Worldwide
You will probably want to buy the
Dualtron X2 from Voromotors
, as you will get the best possible deal and customer support. Also, by adding the 1-year Extend product protection and then using my coupon code
FreeExtend
, you will get a whole extra year of warranty for free, for a total of 2 years of free warranty.
Dualtron X2 specifications
Dualtron X2 Specifications
| | |
| --- | --- |
| Top speed | 104.6 kmh |
| Top speed | 65 mph |
| Range | 150 km |
| Range | 93 mi |
| Motors | dual BLDC hub |
| Power | 8300 W |
| Climb angle | 35 ° |
| Battery | 4150 Wh, 72 V |
| Battery type | LG cells |
| Charging time | 8 h |
| Ingress protection (IP) | IP54 |
| Weight | 65.7 kg |
| Weight | 145 lbs |
| Weight limit | 150 kg |
| Weight limit | 330 lbs |
| Tire size | 13 in |
| Tire type | pneumatic |
| Tire pressure | 45-50 psi |
| Foldable | yes |
| Foldable handlebars | yes |
| Seat | yes |
| Build material | aviation grade 6082-T6 aluminum alloy, the shaft is SCM440 steel, and plastic covers |
| Terrains | all terrain |
| Brakes | 160 mm hydraulic brakes |
| ABS | ABS |
| Shock absorbers | dual adjustable hydraulic |
| Lights | headlight + rear |
| Control | EY3 LCD |
| Cruise control | yes |
| Warranty | 1 year |
| Return period | 30 days |
| Folded dimensions (L * W * H) | 130.5 cm * 35 cm * 130.5 cm |
| Folded dimensions (L * W * H) | 51 in * 14 in * 51 in |
| Unfolded dimensions (L * W * H) | 129.5 cm * 63.5 cm * 130.5 cm |
| Unfolded dimensions (L * W * H) | 51 in * 25 in * 51 in |
| Adjustable handlebar | no |
---
Want to get
FREE SCOOTER
tips, exclusive discounts and promotions, and unseen scooter hacks? Join the
Scooter Secrets club
.
---
Liked this article? It really helps if you share it.
Follow @escooternerds on social media for more cool stuff
---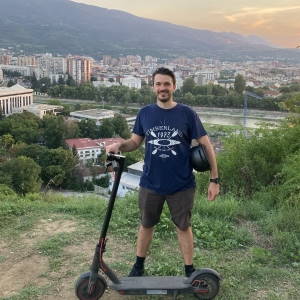 Where to buy the Dualtron X2
Worldwide: Voromotors (coupon code: FreeExtend for 2 years of free warranty, add 1-year Extend prouct protection first)