Last Updated on July 4, 2023 by Matt
For many people (myself included), the range of the electric scooter is its most important feature. If you're frequently relying on your scooter for long commutes or other lengthy trips, you are going to want a scooter with the longest range possible. This guide reviews the longest-range electric scooters available.
Best long-range electric scooters
Based on my tests and experience with electric scooters, as well as those of my friends and other riders, these are the best long range electric scooters in the world right now.
If you prefer to watch the video format of this guide, check out our video on the longest-range electric scooters on our Youtube channel.
Electric scooter with the longest range – Dualtron Storm Limited
The absolute, undisputed, heavy-weight champion of the world when it comes to range is the Dualtron Storm, with a range of 136.7 miles / 220 kilometers.
That is the kind of range that really pushes the limits of electric scooters. It is very likely that because of this scooter, we will start seeing more models with ranges like this very soon.
The large-capacity battery is one of the most powerful electric scooter batteries currently in existence. It has a voltage of 84 Volts and a capacity of whopping 3780 Watt-hours, which is currently one of the biggest battery capacities in the electric scooter world. It's no surprise that this will be the longest-range electric scooter ever.
It's no surprise that Dualtron holds the top of the list. Many people consider them to be the best manufacturer of electric scooters ever. And true to the Dualtron tradition, this is also an extremely fast scooter, being able to go up to 70 mph / 112 kmh. Its dual brushless hub motors, with a power level of 11500 Watts, are one of the most powerful motor configurations in the game today, and the main reason why scooter lovers have no problem paying the premium price for this model.
Priced at $5399, it is the second-most expensive scooter on this list, and one of the most expensive scooters ever.
This is not a scooter for a regular person. You have to really like electric scooters to even consider spending so much money on such a monster. It is a scooter for the most passionate, elite levels of users out there.
However, nobody that has bought it has regretted the decision.
Coming equipped for long-distance rides, it has Nutt Hydraulic brakes with 160 mm disc, 12-inch pneumatic tubeless tires, and 45-step adjustable rubber suspension with 5 kinds of rubber cartridges and a replaceable design.
In my experience, this is easily one of the best electric scooters in the world ever created, and it happens to have the longest range as well.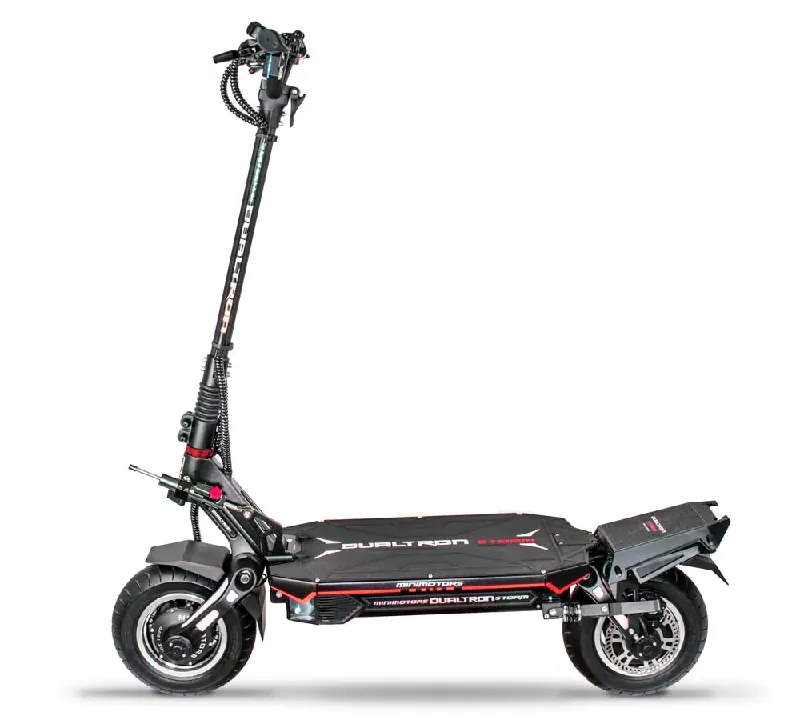 Best value & best waterproof long range electric scooter – EMove Cruiser
The EMove Cruiser is my favorite electric scooter. This is not a statement I make lightly, and I've only dared to say this after years in the scooter world, but today, this is the best value, best general purpose electric scooter in the world.
A vastly underrated scooter in my opinion. Priced at only $1499, it is the cheapest scooter on this list that can reach a range of 62 mi / 100 km on a single charge! If you need the cheapest super-long range scooter for as little money as possible, this may be your choice.
Even though the 62 mi / 100 km of range is an ideal scenario, users report that it's not that far from the truth. One user says that after riding for 31 mi / 50 km in regular traffic, the scooter had about 40% of its battery remaining.
We can extrapolate that the maximum range would be close to 50 mi / 80 kilometers. And keep in mind – the owner is a 225 lbs / 100 kg guy!
Another report puts the maximum range per single charge at 58 miles / 93 kilometers!
Simply brilliant.
The EMove Cruiser is famous for its unrivaled IP rating. With an IP rating of IPX6, it is one of the few scooters in the world right now that are strongly resistant to water. Most scooters either have no IP rating, or have IP54 or IPX4, which makes them just a little water-resistant.
Aside from that, this scooter is of tremendous value in general. I'm kinda amazed that it doesn't cost $2500 or more.
I just can't say enough good things about this scooter. It is one of the most popular mid-price scooters of today, and it is only entrenching itself in that position more and more with every passing day.
If you're after the best waterproof long range scooter, or you simply want a great value long-range scooter, the EMove Cruiser is definitely your choice. Check my detailed EMove Cruiser review to find out more.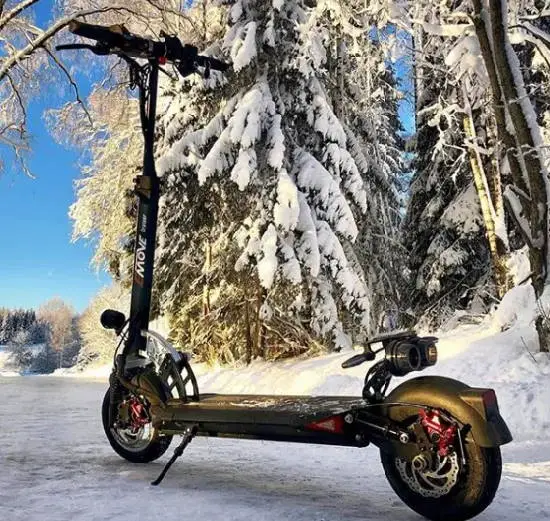 Best long range scooter under $3000 – Kaabo Wolf King GT Pro
If you are spending three thousand dollars on a long range scooter, you better be sure you are getting a reliable, high-quality, well-made scooter.
The best choice here would be the Kaabo Wolf King GT Pro. You will get a truly premium electric scooter for around $2960, with a maximum potential range of 75 mi / 120 km, made possible by a 72 Volt, 2520 Watt-hour Samsung or LG battery.
Further, the scooter has a top speed of 63 mph / 101 kmh, powered by dual hub BLDC motors with a combined peak power of 7200 Watts! Pneumatic off-road 11-inch tires, dual hydraulic brakes, dual hydraulic suspension, and an IPX5 ingress protection standard are some of the other goodies that this scooter provides.
You simply can't go wrong with this scooter. It is one of the best electric scooters in general, probably the best choice for off-road as well, and it barely has any weak points.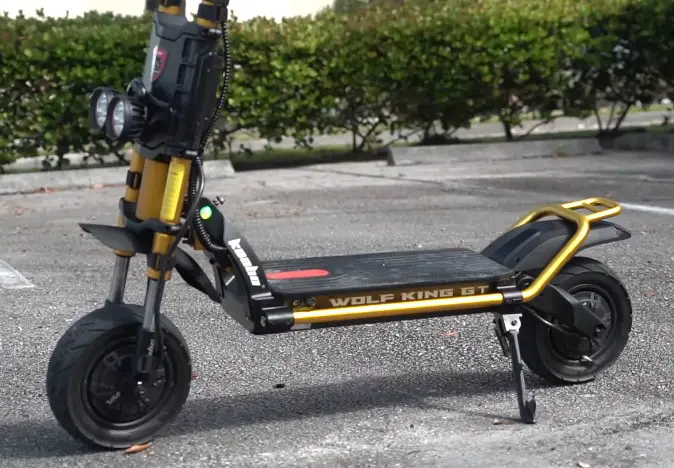 Best long range scooter under $2000 – Wolf Warrior X Pro
If you want a high-quality long-range scooter and your budget is around $2000, you can safely go for the Kaabo Wolf Warrior X Pro and be 100% sure you are getting an amazing scooter.
Since this is the second Kaabo model on this list (and not even the last one!), it is evident that Kaabo are one of the hottest electric scooter brands right now. All of their models are excellent choices, and this is one of their best scooters with a more affordable price tag.
It comes with a range that's simply amazing for this price – 60 mi / 96.5 km, provided by a 60 Volt, 1680 Watt-hour Samsung/LG battery with a smart battery management system. The top speed of the scooter is 43 mph / 69.2 kmh, powered by dual hub 2200 Watt motors.
The dual brakes of the scooter are hydraulic disk brakes, and it also has dual hydraulic suspension. The tire diameter is 10 inches, and the tires are pneumatic tires with inner tubes.
Since I'm always looking for great value, I find Kaabo scooters to be very attractive in terms of value for the price. A scooter like the Kaabo Wolf Warrior X Pro could easily cost well above $2500, but that's not nearly the case, and you can get this great pick for around $1800. In my opinion, there's no better long-range scooter for under $2000 than the Wolf Warrior X Pro.
Best long range scooter under $1000 – Ninebot Max
So you have $1000 and you need the best possible long range electric scooter you can get. What do you go for?
You can't go wrong with the Ninebot Max. For about $799 you will get a scooter trusted by millions, and you will get $200 change.
You won't be breaking any speed records with a maximum speed of 18 mph / 30 kmh out of the box (although it is possible to increase this with a firmware hack).
But you will get a great range of 40 mi / 64 km. For that kind of money, it is a brilliant range.
Probably the most important thing about the Ninebot Max is that it has learned a lot of lessons from the Xiaomi and Ninebot models, and applied them successfully in an impeccable design, unseen quality for the price, and great performance overall.
A rarely seen waterproof rating of IPX5 will protect your scooter on rainy days, and the 10-inch tires will give you very comfortable rides without safety, as they will rarely go flat because of their self-healing feature.
I think the biggest ace in the sleeve that the Ninobot Max has is the praise and love it has received from its owners so far. With an impossible 4.6-star rating out of 5 on Amazon, out of almost 3.000 reviews, this is one of the most beloved scooters ever. You can see the full Ninebot Max review if you wish to find out more about this excellent model.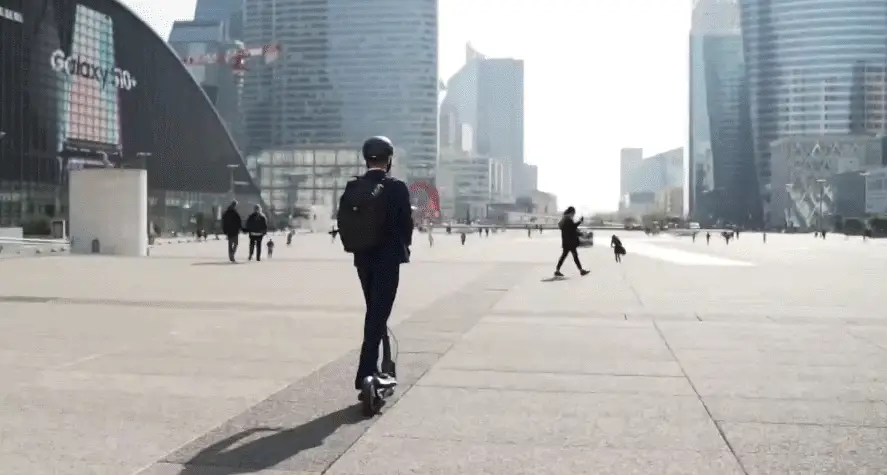 Best long range scooter under $500 – Turboant X7 Pro
Well, you could get a lot of great scooters with a good range for under $500. The Ninebot ES 3 with 28 mi / 45 km of range, or any of the Kugoo Pro/M2 Pro/S1 models or the Macwheel MX1 will still get you 18 mi / 30 km of range.
But it's hard to make a case against the Turboant X7 Pro here.
You may have to spend a bit over $500 (unless you're using my special Turboant coupons specified below), but it will be very well worth it.
You will get a popular, heavily tested electric scooter, and you will still have a very good range of 30 mi / 48 km.
Further, and what's most interesting about this scooter, is that it has a removable lithium-ion 360 Watt-hour battery, which means that you can even increase the range of it further by buying an extra battery and carrying it with you when you need some extra range.
Besides range, you will get a ton of other goodness from it – a 350 Watt brushless electric motor that can accelerate and climb pretty well, an IPX4 protection against water damage, a combination of a rear disk brake with a foot brake and EBS, all of that in a portable scooter weighing just 33 lbs / 15 kg.
In summary, this scooter is the most popular scooter out there for a very good reason. It will not get you as much range as the other range monsters described here, but for around $500, you will get an unbeatable value, and a very solid range that will fill the needs of 99% of commuters out there.
Read my full review on the Turboant X7 Pro to learn more.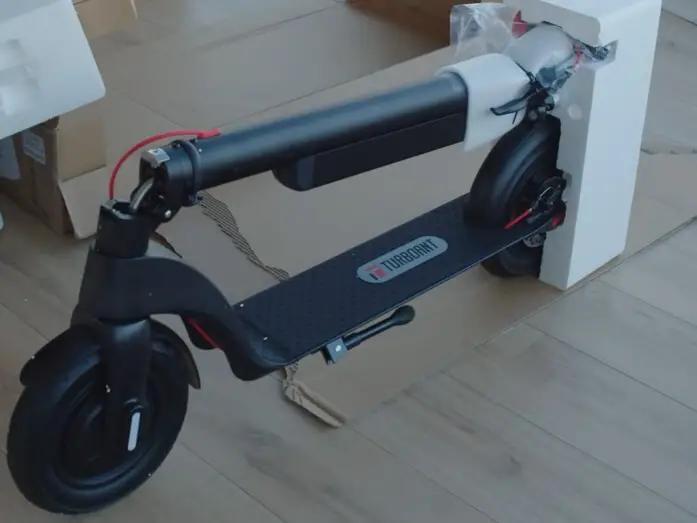 Best long range scooter under $300 – Eskuta KS-350
Long-range scooters are unofficially defined as having a range above 25 mi / 40 km.
Well, sadly, no long-range scooter costs below $300.
However, you can still get a great scooter for that price that will not disappoint you in terms of range. It will not be "long range" by the definition from above, but it will still take you 19 mi / 30.5 km on one charge without any issues. Plus, the battery is removable, which means you can even buy a spare one and effectively double that range by carrying a charged battery in a backpack and simply replacing it when the original gets drained.
That scooter is the Eskuta KS-350.
For around $300, you will also get a 15.5 mph / 25 kmh top speed, a standard 350 Watt brushless DC motor in the front wheel, and several other neat features like an IP54 water protection standard, disk and electronic brakes along with a foot pedal one as a last resort, and a very portable aluminum model weighing just 32 lbs / 14.5 kg. Great bang for buck if you ask me.
Check out my Eskuta KS-350 review if you're curious about this very interesting budget scooter.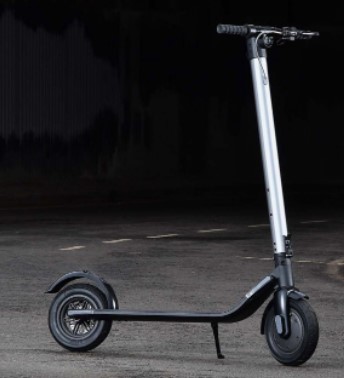 Fastest long-range electric scooter – Weped SST
Weped is currently one of the most interesting manufacturers of electric scooters. What I love about them is that they go for it all, no holding back, no brakes, no keeping one hand on the eject button (that's a Topgun analogy).
They make some of the fastest scooters in the game right now, and they are the brand behind the Weped SST, a super-long-range scooter that's also currently the fastest electric scooter in the world, with a proven top speed of 82 mph / 132 kmh, even higher than the scooter's advertised top speed.
Their proprietary motors develop power levels up to 30000 Watts, which is probably the most powerful motor configuration in the world right now.
The range of the scooter is no joke either, and with 100 mi / 161 km, it is the second longest-range electric scooter in the world as well.
In other words, the Weped SST can be described as the most powerful, most performant electric scooter in the world right now.
Interestingly, the scooter comes with 10-inch tires, somewhat smaller than the standard 11 inches for power models. It also comes with the proprietary Weped hydraulic brakes, a front coil and a rear spring suspension.
A crazy scooter, no doubt.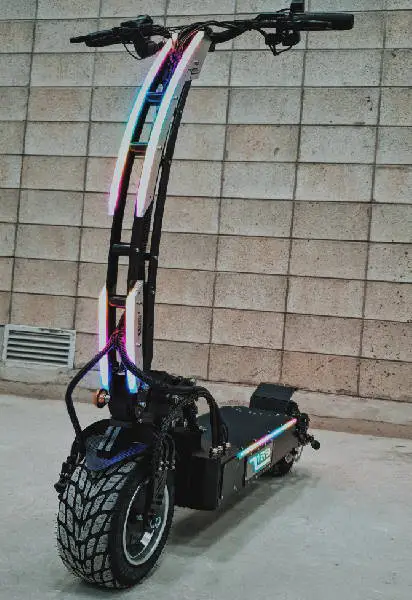 Best long range electric scooter with a seat – Dualtron Ultra 2
Personally, I'm not exactly sure why most scooters don't come with the option for a seat. It's such a useful, mature accessory, and if you think it deducts you a few cool points, you can easily remove it.
The best super-long range scooter that can support an optional seat is the Dualtron Ultra 2. We all know by now how awesome Dualtron as a brand is, and since this is one of their most powerful, most popular models, we know it will be awesome too.
With a range of 87 mi / 140 km, the Dualtron Ultra is well within the super-long range category. Awesome top speed of 62 mph / 100 kmh, an incredible dual 6640 Watt motor, climb angle of 35 degrees, and a water protection standard of IP54, make the Dualtron Ultra 2 another brilliant offer by Dualtron.
And, of course, you can add or remove the optional seat, which makes it the best long-range scooter with a seat.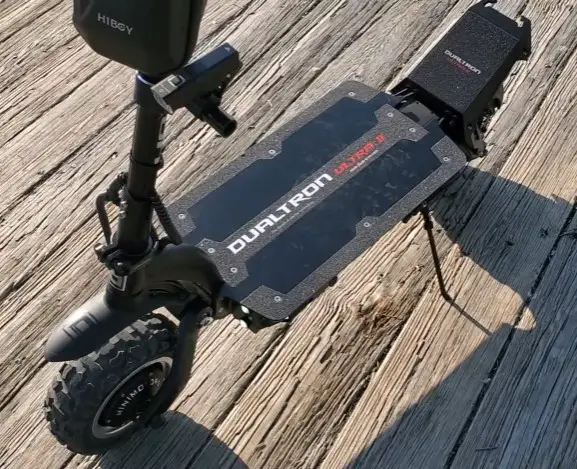 Best offroad long range electric scooter – Kaabo Wolf Warrior
Wolf Warrior… it just sounds so cool. I never get tired of saying it.
A testament to the brand's greatness is how many of its models are on the list of long range scooters above. Kaabo is a brand that knows how to produce great scooters.
The Kaabo Wolf Warrior is one of the most powerful scooters available today. Its 2100 Watt-hour battery, combined with its real 2400 Watts power of the motor, makes it one of the most performant scooters ever made.
Besides the very cool model name, the Kaabo Wolf Warrior also boasts amazing range capabilities. Interestingly, there are a few numbers being thrown around. The most frequent one says that in a lab scenario, it can go for 70 miles / 112 kilometers on a single charge.
There were several range tests reported online, and they averaged about 68 kilometers. Not only is that excellent, but it is also one of the highest real-world ranges reported, which means that even though the official range claimed by the company is not that big, users keep getting great range out of the Kaabo Wolf Warrior.
Where this scooter shines is its offroad abilities. It may as well be the original pioneer in offroad models, and it has been one of the best offroad scooters for years already, probably the single best in fact.
So if range and offroad rides are your biggest concern (and you want it confirmed that you will get a great range, not just claims from the manufacturers), then the Kaabo Wolf Warrior will be a great option. Take a look at my comprehensive review of the Kaabo Wolf Warrior if you wish to find out more.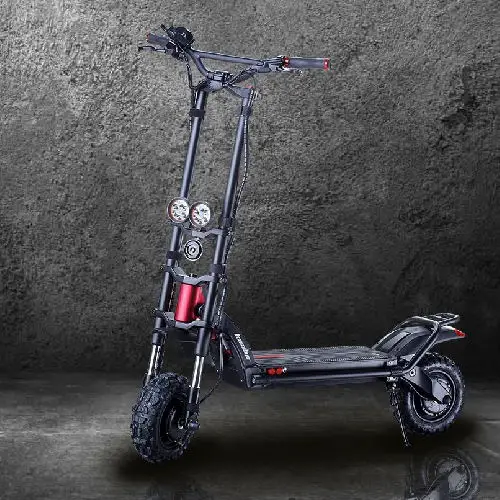 Best climbing long range electric scooter – Dualtron Achilleus
The Dualtron Achilleus sits at the crossroads of long-range scooters and great climbing scooters.
With dual motors for a combined peak power of 4648 Watts and amazing traction, the Dualtron Achilleus can climb hills up to 39 degrees and go as fast as 50 mph / 80 kmh. At the same time, the 2100 Wh LG battery gives it an insane range of 75 mi / 120 km.
That makes the Dualtron Achilleus the best long-range electric scooter that shines at going uphill as well.
Besides range and climbing power, you get large 11-inch pneumatic tires for comfortable rides, dual Zoom hydraulic brakes with 140 mm disks, and dual rubber cartridge suspension with 45 positions.
This scooter is the complete package indeed. For the price of $3599, you get a remarkable piece of machinery, and one of the best new products on the market.
Best long range electric scooter for heavy adults – Weped FF
Out of all the long-range electric scooters, the Weped FF has the greatest verified weight limit at 353 lbs / 160 kg.
The range of the scooter is also impressive at 62 mi / 100 km, powered by a 60 Volt, 1800 Watt-hour Samsung battery.
The top speed of the scooter is 56 mph / 90 kmh. That sounds somewhat low for the 12000 Watt motors, which means that the scooter's speed is probably limited, and the scooter can go much faster.
Some of the other notable features of the Weped FF include its 11 inch pneumatic tires, the dual 160 mm Nutt hydraulic disk brakes, and the single front spring cantilever suspension coupled with the dual rear spring suspension.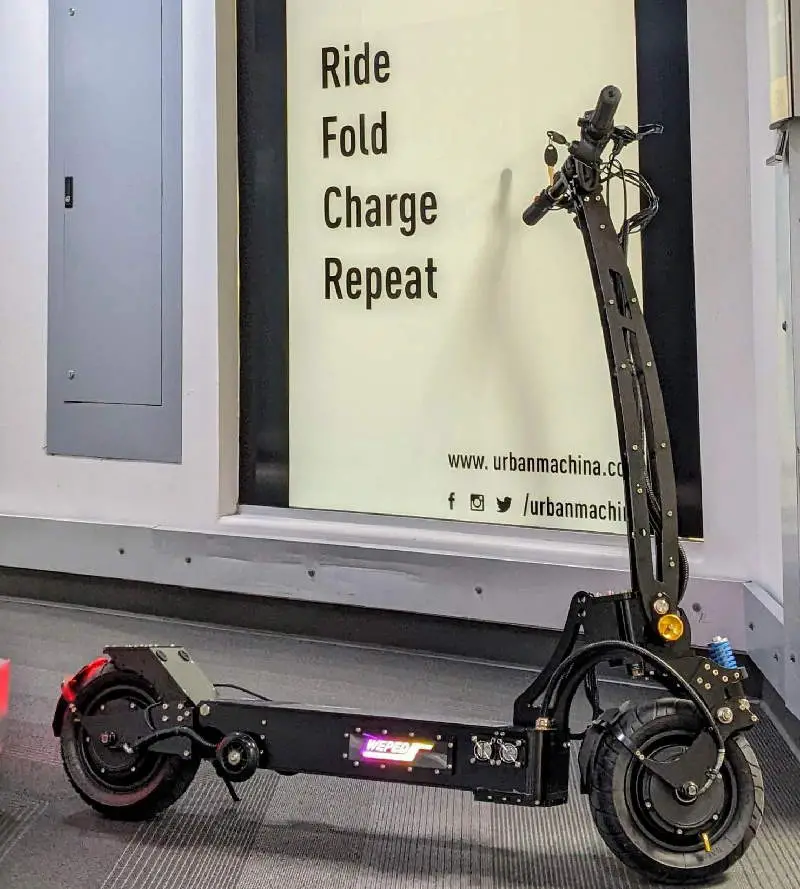 Most portable, best long range electric scooter for commuting – GoTrax GMax Ultra
GoTrax is slowly building up its brand as a serious challenger to the established names in the budget and medium price ranges.
With a price of around $799, the GoTrax GMax Ultra is one of the cheapest scooters that can reach ranges of up to 45 mi / 72.4 km. It has a 36 Volt, 630 Watt-hour LG battery.
The 350 Watt motor gives the scooter a top speed of 20 mph / 32 kmh.
On top of that, the scooter has 10.5-inch pneumatic tires and an IPX4, making it very comfortable and safe.
In my opinion, this is a very strong move by GoTrax, to release a mid-level scooter priced almost like a budget model. You can't get better range per dollar than the GoTrax GMax Ultra, so check it out if you want a long-range scooter on a limited budget.
See my complete GoTrax Gmax Ultra review if you're curious about this great value scooter.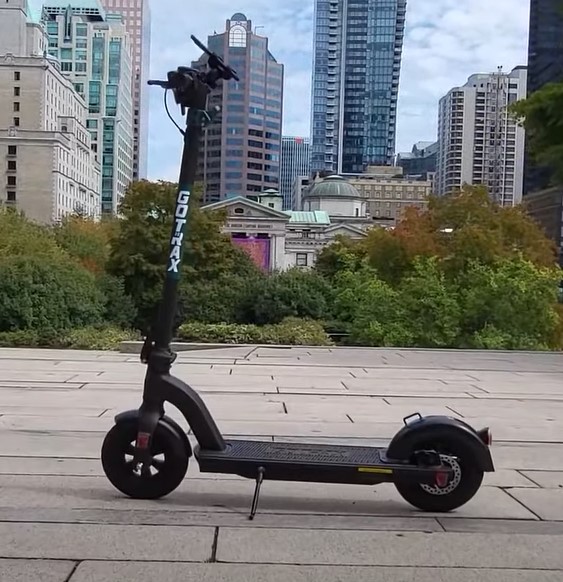 What to know before buying a long range electric scooter
There are a few things to keep in mind before buying a long range electric scooter.
If you have a long commute and you live in a somewhat rainy place, you will have to take into account the water-resistance of your scooter. The longer you ride, the more chance to catch some rain. If your scooter is not very water-resistant, try and add some extra waterproofing on your own.
As these scooters are more powerful and have bigger batteries, it is also natural that they will use more power for charging. Electric scooters are very cheap to charge, but you can expect these machines to cost two or three times more to charge than a regular scooter would.
Official manufacturer range vs user reported range
There is a very big caveat that we kind of touched on before, but it deserves more attention. That is the issue of what the manufacturers advertise as maximum range versus what real people in the real world get as a maximum range every day.
The range advertised by the manufacturers will rarely be achieved in the real world. The scooter manufacturers test for the range in ideal conditions, meaning:
little or no wind
flat straight and smooth roads
a person weighing not more than 220 lbs / 100 kg, usually around 176 lbs / 80 kg
most often in the power saving or Eco modes, since those are the best for the battery life
Naturally, many of these make sense. You will rarely face very strong winds, and you will often ride at lower speeds. Most people usually don't weigh above 220 lbs / 100 kg.
The biggest objection I have about the way these tests is that they are done on straight, smooth roads. That is not even close to the way people will use the scooter.
Testing the scooters on roads with obstacles, where they might be forced to stop, turn, and adjust to the road, would paint a picture much closer to reality. But then, standardizing this would be very difficult, so the next best thing is probably testing on smooth flat roads, and let the users take that into account.
For that reason, we've included a lot of user-reported data about how much range people get from various scooters in the real world. For me, that data is far more valuable than the official range estimations from the manufacturers.
As we can see, often times the perfect test lab range is quite close to the real-world range that users get, but sometimes it is significantly lower, sometimes even more than two times lower.
While the advertised speed will give you a fair estimate of the scooter's capabilities, you should be aware that it may not always be the case.
The manufacturers don't necessarily try to hide the fact that they're marketing the range they get from their scooters in perfect scenarios. Under the glass bell of lab conditions set up specifically to get as much range out of the scooter as possible, these scooters will get much higher ranges than what you and I will get on our rides to and from work.
If you want to get a general idea of how much actual range you can get from a specific scooter, see the electric scooter real range calculator.
How much range can I expect from my electric scooter?
Pessimistically looking, you can expect the range you get in your everyday use to be between 50% and 80% of the range specified by the manufacturer. Some users, however, report the same range in the real world as the official one. This will depend heavily on your weight, the scooter and battery age, the road conditions, traffic, and how much up and down you go.
Stay safe
The truly long range scooters will oftentimes have very powerful motors and batteries. While some will be specialized for range, most will also be very fast as well. So typically, you will have to take safety even more seriously than usual with other scooters.
This is even more important if your rides are actually long, like with long commutes. You will be on the road for significant amounts of time, which means you will have to be prepared for many things. You want to make sure you are comfortable during your ride so that you can focus solely on the ride itself. If you're going on a really long ride, consider having a spare tire with you (if you have air-filled tires of course).
Also, remember to stay focused. It's very easy to get carried away by the magical flow of a long ride and lose attention.
Frequently asked questions about long range electric scooters
We all love long range electric scooters, and naturally, there are a ton of questions around them. Let's answer them.
What is the best value-for-money long range scooter?
The best value-for-money long-range scooter is the EMove Cruiser. Priced at just around $1499, it is the only scooter that can truly reach ranges of 62 miles / 100 kilometers, and not cost you an arm and a leg. You will get a great performing, amazing long range scooter for a very fair price.
Check the full review of the EMove Cruiser to learn exactly why this is the case.
What is considered long range in an electric scooter?
For an electric scooter to be considered long range, it should have at least 25 miles / 40 kilometers. That is already a non-trivial distance for a vehicle that operates on lithium-ion batteries, and can have a lot of real-world applications.
I can't even remember the number of times I've heard of an electric scooter described as long range, only to see in the specs that it has a range of 15 miles / 25 kilometers. We can't really consider that long range, as that's pretty close to the average range of electric scooters, as the research below will show. It only makes sense that a long-range scooter should have a range that's significantly longer than the average range, right?
Also, there's always the issue of the official vs user-reported range. Very often, the official range is the one that is obtained in ideal lab conditions, and should not be taken at face value (more on that below).
The 25 miles / 40 kilometers is a good cutting point, and it will label around 60% of scooters as not long-range. 25 miles / 40 kilometers will likely translate into 15-20 miles / 25-32 kilometers of range in real-world usage, which is a pretty big, useful number.
Electric scooter range vs battery life
Often times, people say battery life of the scooter, but they actually mean "range". They even use kilometers or miles to measure it. Both of those terms usually refer to the same thing.
Sometimes, battery life is also measured in time as well, and refers to the time a single battery charge lasts. For me, that makes much more sense. When you talk about how long the "life" of something is, time is the most logical measurement. Still, measuring battery life in time is not very useful, since the amount of time a battery charge lasts can vary wildly.
How much range do electric scooters have?
The most common electric scooters in use today will have an average range of 18 miles / 29 km, ranging from 7 mi / 11 km to 53 mi / 85 km. The average across every single electric scooter for adults is 28.5 mi / 46 km.
What is the electric scooter with the longest range?
The electric scooter with the longest range in the world is the Dualtron Storm Limited, with a range of 136.7 miles / 220 kilometers on a single charge.
What does the range of an electric scooter depend on?
There are several parameters in play when it comes to the range you will get out of your electric scooter:
the motor power
the number of batteries
the total battery power
the total battery capacity
the age of the battery
the weight of the scooter
the age and overall condition of the scooter
the road curvatures and conditions
Some of those are very hard to change.
Upgrading the motor, for example, is pretty hard to achieve. If it's the biggest limiting factor, buying a new scooter altogether may be a much better option.
Also, you can't control what kind of road you need to travel on (going up or down, turns, obstacles, etc), nor the conditions of the road. They both can negatively affect the range you get. Going up and down, turning, and stopping often, will drain your battery faster, which means you will get less range. Wet roads will probably reduce the range you get as well.
What is a good range for an electric scooter?
You will always want more range, so the more you get, the better. Any range over 30 miles / 50 kilometers is already very good, and will enable you to somewhat forget about the battery level. Scooters with an official range of less than 18 miles / 30 kilometers will provide very small real-world ranges, and will not result in a good user experience.
How much range does the Xiaomi M365 have?
Officially, the Xiaomi M365 has a range of 18 miles / 30 kilometers on a single battery charge. The official number has been pretty consistent with the range reported by owners in real-world scenarios.
How much range does the Xiaomi M365 Pro have?
Out of the box, the Xiaomi M365 Pro provides a range of 28 miles / 45 kilometers per single battery charge. That is consistent, if not somewhat less, with what users have reported after testing the range for themselves. Some owners have decided to further customize the battery of this mega-popular model, and have managed to achieve much higher ranges, closer to 40 miles / 64 kilometers.
How much range does the Ninebot Max have?
The Ninebot Max has an official range of 40 miles / 64 kilometers. Learning the lessons from the Ninebot ES series, the company finally decided to upgrade the battery and provide an amazing budget-friendly option with tons of range.
Does the electric scooter range decrease over time?
Electric scooter range depends primarily on the battery, and as the battery gets older and more worn-out, the range of your scooter will suffer as well. While there are things you can do to prolong your battery life, you will likely have to completely replace it after 2 to 3 years of usage. The good news is, with a new battery, you will continue getting the most range that your scooter can provide.
How can I increase the range of my electric scooter?
There are a lot of things you can do to increase the range of your scooter. Some of them require modifying your scooter, and some not so much.
Among the safest things you can first try is making sure your scooter is clean and functioning properly. Defects will definitely subtract from your range, and filth stuck in the wheels, motor, or battery will have a negative effect as well.
Also, make sure you're never draining your battery completely. Being as disciplined as possible about your battery will make sure it lasts longer and continues to provide you with the range you got on day 1. This is one of the most common complaints people have as their scooters age. While part of it is the natural and unavoidable wear-and-tear that all batteries suffer from, a lot of it is the user's fault. Simply don't let your battery get empty, charge your scooter regularly, and you will keep getting the best range you can.
Another important factor is the weight that the scooter carries. Naturally, the more weight it has to pull, the more power it will use in less time, which will result in less range.
There are two ways to reduce the weight that the scooter has to pull.
One is to reduce the load your scooter has to carry.
If planning a long trip, strip down everything that might be redundant to you. Never sacrifice safety because of this (you won't lose much load anyway), but maybe you don't really need to carry your backpack with your laptop and charger and half your office in it.
I've seen many reports and reviews from heavy users that say their range is not affected too much by their weight. But there is a significant part of owners, over a large number of scooters, that report getting ranges much smaller than advertised.
Besides the load the scooter pulls, the weight it has to carry can also be reduced by making the scooter itself lighter too. However, these are advanced modifications outside the scope of this post. We will address them in another one, but for now, unless you're 100% sure you know what you're doing, don't remove any parts of the scooter in order to make it lighter. Just know that expert users customize their scooters for range by making them lighter.
Finally, the most important part, the one that determines your range the most, will be the battery (or batteries of your scooter). Of course, the bigger, better, newer, more powerful the battery is, the more range you will get.
Lucky for us, the battery can be improved upon, and in many cases, it's not a difficult thing to do at all. Many users have done so safely.
There are quite a few notoriously weak-ranged models that basically need a second battery in order for them to have any serious range. Some scooters even have a planned room and parts for adding the second battery easily.
There are two ways to improve your total battery power:
improving the existing battery
adding extra batteries
Depending on the other parts of your scooter, mainly the motor and the electronics in the controller, you may be able to upgrade the battery in your scooter for a more powerful one. The key is to check the maximum voltage that the motor and the electronics are able to support. If that limit is a lot lower than the voltage of your current battery, upgrading your battery to one with a higher voltage will provide you with more battery power, hence more range.
But other than increasing the voltage, you can also go for a battery with a larger capacity. This is done by getting a battery that has a higher charge. Again, make sure that the voltage is within the limit of what your scooter's electronics support.
There might come a time when you simply have no other choice but to replace your battery. As they get old and through more charge cycles, batteries lose capacity. For electric scooters, that translates to a loss of range. The general rule is that after 1000 charges, you may see your battery capacity drop to 50% of its initial one. That will probably mean you need to renew your battery. If doing so, check if it makes sense to go for a stronger battery if you need so.
A much better option than replacing your battery is adding an extra one, especially if your battery is still not that old.
Some scooters come with the option to add a second battery very easily, like the Ninebot ES2. Others do require a bit of modification, which may lapse your warranty in some cases. But you can be sure that adding a battery will increase your range by a lot.
By how much? Well, if you add a second battery, the same as the first one, you will not get double the range, but you may increase your range for up to 70% more. That is some serious beefing up.
If your scooter doesn't have an option to easily add a second battery, you will likely have to install the second one in series. That means you will connect the second battery to the first one, or after it might be a better description. That way, the voltage and the current the motor gets will not change by a lot, but the total capacity of your scooter will improve. That means more range.
Beyond these methods, there are further customizations that owners go for to get even more range. However, they often require advanced mechanical and electronics knowledge and experience, so they are outside of the scope of this article.
If you know a scooter mechanic, talk to them to see if they can recommend some additional methods for getting more range. Usually, they may recommend making the scooter lighter by removing parts they know are mostly bulk, or even doing things like rewinding the motor or changing the sprockets.
Check out the detailed guide on how to increase the maximum range of your electric scooter next.
Conclusion
That's pretty much everything you need to know about long-range electric scooters. Here's the table with the best long-range scooters one more time for reference.
---
---
Liked this article? It really helps if you share it.
Follow @escooternerds on social media for more cool stuff
---