Last Updated on July 4, 2023 by Matt
The fastest electric scooters have been intriguing me for quite some time now. After reviewing and testing them, I've created an ultimate guide on the fastest scooters in existence. If you're looking for a scooter capable of going 60 mph / 100 kmh or faster, you will find it in this guide.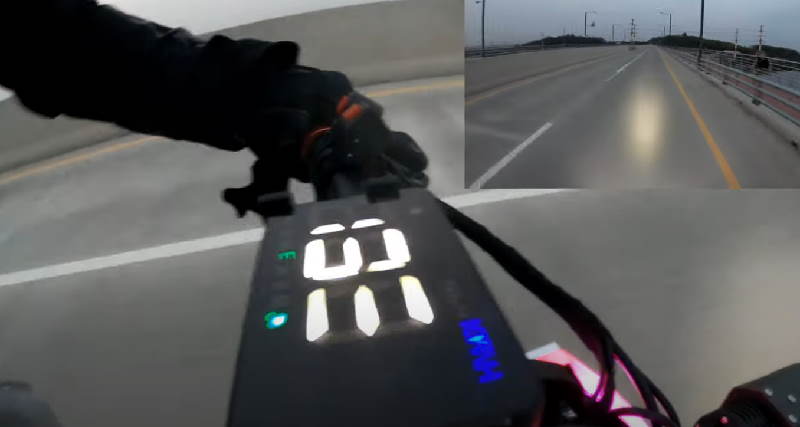 Fastest electric scooters
These are the fastest electric scooters available today, based on both stats and tests.
In case you're interested in the video format of this guide, which includes some footage of the fastest scooters riding at their maximum speed, check out our Youtube video on the fastest scooters.
The following chart represents the fastest electric scooters and their top speeds through a bar chart.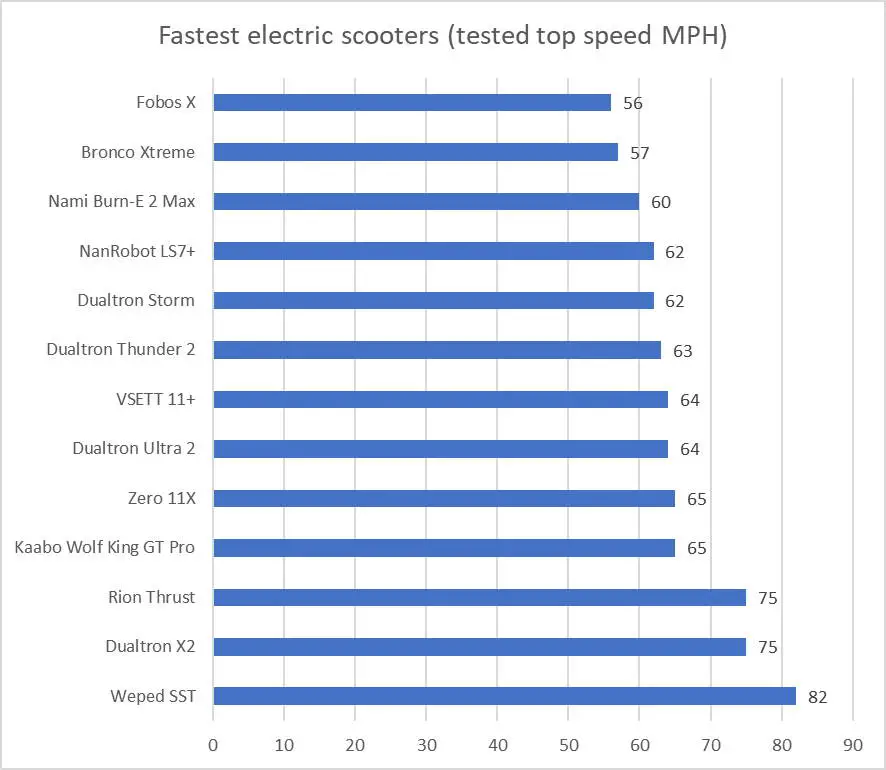 Weped SST – 82 mph / 132 kmh
The video below is a recording of the fastest electric scooter ride ever caught on camera, where the Weped SST is seen going with 82 mph / 132 kmh.
There are many different claims when it comes to fast electric scooters, and while several models have top speeds of over 80 mph / 128 kmh on paper, so far only one model has managed to actually reach those speeds, and that's the Weped SST.
And it's hardly a surprise. The scooter comes with the most powerful motor configuration in the game currently, with a combined peak power of 30000 Watts!
Even more important for speed, the scooter barely shakes even when moving at extremely high speeds, and there's pretty much no wobbling, which can easily be fatal when riding at these speeds.
Dualtron X2 – 75 mph / 121 kmh
Here's a video of a custom-made Dualtron X reaching speeds of 75 mph / 121 kmh! (Btw, wow!)
The scooters and the people brave enough to ride them at those speeds are both awesome. Needless to say, those kinds of speeds go a little bit outside the range of interest of most scooterists.
It should be noted that the scooter in the video is actually the older Dualtron X model, which is mostly unavailable now and has been replaced by the Dualtron X2, of which there is no footage of reaching those speeds. However, the X2 is an improvement over the old model, and is more powerful on paper, which is why we can safely assume it is capable of reaching those speeds.
If you love a challenge, you can check out my full Dualtron X2 review.
Rion Thrust – 75 mph / 121 kmh
In theory, the fastest electric scooter in the world should be the Rion Thrust. It has an advertised top speed of 80 mph / 129 kmh, which is the highest top speed on paper.
However, there is one detail missing, and that is the proof of the top speed.
Given Rion's reputation as a brand, I have no doubt that the Rion can truly go that fast. However, the fastest speed that any Rion scooter has reached while recording seems to be 75 mph / 121 kmh, as we can see in the video. In fact, the video is from a previous Rion version, the Rion RE90, and the Rion Thrust is claimed to be even more powerful.
However, until there's proof, the Rion Thrust will remain the third-fastest electric scooter in the world.
Kaabo Wolf King GT Pro – 65 mph / 105 kmh
In the video below, the Kaabo Wolf King GT Pro reaches a top speed of 65 mph / 105 kmh.
It's pretty surprising to see the Kaabo Wolf King GT Pro reach a top speed above its advertised one, but the video above proves that it's actually capable of that.
While the advertised top speed is 63 mph / 101 kmh, as we saw, the scooter reached a top speed of 65 mph / 105 kmh. It's very likely that the wind was favorable, and the rider is possible on the lighter side, but still, the 7200 Watt peak power coming from the dual hub motors is the most important factor here.
Besides being crazy fast, the Kaabo Wolf King GT Pro is actually one of the more affordable scooters on the super-fast scooter list, and an excellent pick overall.
Zero 11X – 65 mph / 105 kmh
The following is a video of the Zero 11X reaching a top speed of 65 mph / 105 kmh.
Similar to some other scooters on this list, the Zero 11X seems to be capable of reaching top speeds higher than the ones that are usually advertised, which is very refreshing to see since it's usually the other way around.
The Zero 11X is often found in many lists of best electric scooters, and it has been at the top of the game for several years now, which is not an easy feat in a game where new more powerful and crazier models get released every month.
You simply can't go wrong with the Zero 11X, it's an amazing scooter that's not only ridiculously fast, but of excellent quality as well.
Dualtron Ultra 2 – 64 mph / 104 kmh
You can see the Dualtron Ultra 2 reaching speeds of 64 mph / 104 kmh in the video below.
Dualtron is clearly one of the best electric scooter brands in the world, which is evident from the number of entries on this list.
The Ultra 2 is one of the most popular Dualtron scooters, and their second fastest, at least from what we've been able to see in tests and experiments. The video above might have been shot in conditions favorable to high speed rides, since the official top speed of the Dualtron 2 is 62 mph / 100 kmh.
In any case, the Dualtron Ultra 2 needs no reintroductions – 6640 Watts of power, 60 Volt battery, 11×3.5 inch tires, and one of the best designs and build qualities in the game. You can see my detailed Dualtron Ultra 2 review if you're interested.
VSETT 11+ – 64 mph / 103 kmh
Here's a video of the VSETT 11+ reaching a speed of 64 mph / 103 kmh.
The most powerful scooter from the relatively new scooter line proves that it can roll with the best of them, almost reaching its claimed top speed of 65 mph / 105 kmh.
The VSETT 11+ reminds a bit of the celebrated Zero 11X, although being a newer model, it does bring some refreshments in both performance and quality. As you might expect, the scooter has excellent brakes and suspension, but also a water protection standard that the Zero lacked.
Dualtron Thunder 2 – 63 mph / 102 kmh
In the video below, the Dualtron Thunder reaches a top speed of 63 mph / 102 kmh.
The Dualtron Thunder 2 actually has an insanely powerful motor configuration, with 5400 Watts of real power and 10800 Watts of peak power between the two motors, which probably means that the scooter's speed is limited and it is actually capable of more.
The scooter also provides an amazing range of 105 mi / 170 km, dual Nutt hydraulic brakes, and an adjustable and cushy suspension.
You can check out my Dualtron Thunder review for a better idea of the previous version of this scooter, which is similar in many ways.
Dualtron Storm – 62 mph / 100 kmh
The following video demonstrates the Dualtron Storm reaching a speed of 62 mph / 100 kmh.
What's interesting is that the advertised speed of the Dualtron Storm is actually quite lower (59 mph / 95 kmh). The part where the scooter reaches the top speed seems to be a downhill ride, which might explain the extra speed.
Still, the Dualtron Storm is an immensely powerful and fast scooter, and even if the top speed from this video is not achievable for some (and actually useful for even fewer), the scooter is still an amazing model and always a great pick.
See my full Dualtron Storm review if you want to find out more.
NanRobot LS7+ – 62 mph / 99 kmh
In the video below, the NanRobot LS7+ is shown reaching speeds of 62 mph / 99 kmh.
This is the most powerful scooter from the NanRobot line, and it's no surprise it found its place on this list.
The video above shows the scooter almost reaching its advertised top speed of 63 mph / 100 kmh. I believe nobody brave enough to ride at speeds anywhere near those will complain about the small difference.
Check out my NanRobot LS7 review if you wish to find out more about this model.
Nami Burn-E 2 Max – 60 mph / 96 kmh
The Nami Burn E 2-Max can be seen reaching its advertised top speed of 60 mph / 96 kmh in this video.
Besides the speed, the control and the stability of the scooter's handles, and build in general, are clearly evident, and those are extremely important properties for safe rides when going this fast.
The Nami Burn E-2 Max has been one of the most highly-anticipated electric scooters ever, and its 8400 Watt motors are probably capable of even higher speeds, but the scooter's speed has simply been limited.
You can find out more in my Nami Burn E-2 Max review.
Bronco Xtreme – 57 mph / 92 kmh
This is a video of the Bronco Xtreme reaching a speed of 57 mph / 92 kmh.
It is quite possible that the Bronco Xtreme is capable of going much faster than that, it's just that nobody seems to have dared to try it so far.
Its official top speed is 70 mph / 113 kmh, backed by its dual hub motors with a combined peak power of 8200 Watts. Its wide tires also provide one of the stablest and wobble-free fast rides in the game.
Fobos X – 56 mph / 90 kmh
The Fobos X can be seen reaching the speed of 56 mph / 90 kmh in the video below.
This is arguably one of the lesser-known fast electric scooters, and it may be a surprise to some to see it on this list. Still, the scooter has proven to be capable of going very fast.
In fact, the video above likely demonstrates only a portion of this scooter's true power, as the 108000 Watt motors give the scooter a claimed top speed of 68 mph / 110 kmh.
Frequently asked questions about fast electric scooters
These are some of the most common questions that potential owners of fast scooters may have.
What electric scooter is the fastest?
The fastest electric scooter in the world right now with a proven top speed is the Weped SST. It has been recorded reaching a speed of 82 mph / 132 kmh.
How fast do electric scooters go?
The average top speed for electric scooters is 28 mph / 45 kmh. Most of the standard commuter scooters will have top speeds between 15 mph and 28 mph (25 kmh and 45 kmh).
These numbers are the result of a full case study on the top speeds of electric scooters. You can check out the research here.
While that's not slow at all, it wanes when compared to some of the rocketships we've seen here. That's the difference between scooters built for everyday use, and ones built to launch you into orbit.
What are the best fast electric scooters?
Some of the fastest electric scooters are one-trick ponies and are not much good for anything besides going fast. If you're looking for very fast scooters that are also great scooters all-round and have some more versatility, you may want to check out the following scooters:
What fast scooter has the biggest range?
The super-fast scooter that also has the longest range is the Dualtron Storm, which can go for 137 mi / 220 km on a single charge.
Typically, this kind of scooters here are optimized for speed, and getting more RPMs from the motor is what eats up most of the battery.
But they also can get a lot of range too. The motors are often in the thousands of Watts, which is a lot of power, and while going faster reduces the potential range, you are still covering a lot of distance in short periods of time.
How is the top speed in electric scooters measured?
Sometimes owners complain that their new scooter can't reach the advertised top speed. While this is not common, the reason behind it is very simple – the scooter's top speed is obtained in ideal lab conditions.
Ideal conditions for testing electric scooter top speeds include:
flat road, with no curves, and no ups and downs
relatively light rider, at least for a guy (around 155 lbs / 70 kg)
brand new, fully charged scooter
no wind, or no adverse wind
For some people, like for example heavier riders, the top speeds obtained in these conditions may not apply.
Are fast scooters good for beginners?
If you've never ridden an electric scooter before, or if you've only tried some rented ones a few times, you may want to think twice before getting a very fast machine for your first scooter. You will want to gain some general scooter experience before jumping into the shark tank.
Not only are fast scooters more dangerous, but they are also a lot more expensive. That's why you may want to try things out on a cheaper scooter first. If you've never ridden a scooter, rent out a few and try them out before dishing out hundreds or even thousands of dollars on a scooter.
How safe are fast electric scooters?
At first, it may seem obvious that the faster the scooter, the less safe it should be, right? However, most electric scooter accidents are not because of ultra-high speeds. The primary reasons for accidents are negligence in traffic, worn-out brakes, and even broken stems and handlebars. These are actually characteristic of cheaper scooters, something which fast scooters are definitely not. So an argument can easily be made that fast scooters themselves are safer than lower-quality ones.
But in a way, the scooter is ultimately as safe as the person who rides it. When riding at high speeds, the danger will always be there, and of course, the greater the speed, the greater the danger. And yes, the faster you ride, the worse the potential injury can be. So, always wear all the protective gear you can get your hands on, and ride responsibly.
What should I know before buying a fast scooter?
The faster the scooter, the better it needs to be in terms of power and quality. Almost all of the time, that will mean more expensive. If you're looking for the fastest scooters out there, don't be surprised when you see prices in the thousands of dollars.
If you've ridden a scooter but never a fast one, you should know that these things can really go! Electric scooters had a somewhat casual, unserious vibe about them when they first came out. That is no more the case, especially with the scooters mentioned here.
They easily rival cars in terms of speed, which means they have a real pull and will accelerate very quickly. Be cautious when starting and braking, do both gradually.
Since they use a lot of power, they have larger batteries in general.
Most important of all, keep in mind that in many places, such as in many states in the USA, and in some European countries, the scooters may ship with their speed limited. You will have to bypass that if you want to reach the true potential of the machine. See my complete guide on how to remove your scooter's speed limit for details.
Finally, never forget to follow the electric scooter safety guidelines, and wear safety gear. This applies for every time you step on a scooter, but it is especially true when you are riding fast scooters. A helmet is the bare minimum, and a full motorcycle armor along with elbow pads, knee pads, and gloves, is highly recommended.
How much do fast electric scooters cost?
Almost all of the top 30 fastest electric scooters cost more than $3000, with their average price being around $4500. The fastest electric scooter right now, the Rion Thrust, costs $10000, and there are 5 more models that cost more than $6000.
What does electric scooter speed depend upon?
The primary factor behind the top speed an electric scooter can provide will be the motor, and the motor's power in particular. The motor torque and RPMs will be important stats well. The scooter's battery is also very important, especially its voltage.
Other important features of the scooter that affect its top speed are the scooter's weight and its tires. Naturally, lighter scooters will be faster because of their smaller weight, but at the same time slower because they will not have big batteries and motors. Scooters with road or racing tires will be faster than scooters with off-road tires.
Aerodynamics can be a minor factor in the speed as well. It does play a small role, and that's why some scooters specialized in racing have an aerodynamic design.
How fast are electric scooters allowed to go?
In most Western countries, electric scooters will have legal speed limits ranging from 15 to 25 mph / 25 to 40 kmh.
In many of them, however, the laws may not be so strict, so a casual but safe 20 mph / 32 kmh ride may go unnoticed even if the law says 15 mph / 25 kmh.
In many other countries, electric scooters are either not yet regulated, or have adopted the same laws as bikes or motorcycles.
Can I make my electric scooter faster?
Aside from making sure that there's nothing limiting your speed, the answer will be doing one or more of these:
upgrading the battery
adding one or more extra batteries
charging your battery fully
turning off unnecessary electronics
cleaning your scooter, especially your wheels
rewinding the motor
changing the sprockets
Check out how to speed up your scooter to find out all the ways you can do that.
Summary
We went through all the fastest electric scooters on the planet right now. What a ride, right?
Here's a quick summary of the fastest electric scooters for reference.
---
---
Liked this article? It really helps if you share it.
Follow @escooternerds on social media for more cool stuff
---