Choosing the best electric scooter under $1000 is not an easy task. There are tons of amazing scooters in this price category, both well-balanced models suitable for the majority of people, and specialized scooters for your every need.
After the budget price category, or the scooters under $500, this is the next level. We will have significantly more powerful, higher-quality scooters here, perfect if you need a more reliable transport solution, you are after your more advanced second scooter, or you simply want better quality across the board.
Let's take a look at the best electric scooters priced under $1000.
Many of these models, as you can see, are so good at a particular thing and for a particular use case, that they are simply the best choice for that purpose.
Let's see when each of the best choices can be your perfect scooter. Btw, if you'd like to watch the video version of this guide, see our Youtube video on the best electric scooters for under $1000.
Best overall: Ninebot Max
2023 will be the year of the Ninebot Max.
This is one of the best-accepted electric scooters ever, with some of the best user feedback and ratings in the electric scooter industry ever. No wonder the Ninebot Max is slowly becoming the commuter's new best friend and the go-to choice of the everyday scooterist.
Learning from its ancestors in the glorious Ninebot ES series, and from the best-selling Xiaomi models, seems like the brand has listened to the feedback of the riders, and answered with style. The scooter keeps the general evergreen look, but it improves upon the Xiaomi and Ninebot scooters in many important ways, most notably bigger and safer tires, more comfortable and more ergonomic design, and much better performance than what we would expect from a scooter in this price range.
The Ninebot Max provides an incredible range of 40 mi / 64 km on a single charge, packed into a well-crafted, high-quality, carefully tested scooter. The top speed is 18.6 mph / 30 kmh.
On top of that, it comes with excellent IPX5 protection against water damage, 10-inch pneumatic self-healing tires, dual brakes with mechanical drum brakes on the front wheel and electronic regenerative brakes on the rear.
Not to mention the tons of customizations and accessories available because of the scooter's popularity.
There's only one true way to create a commuter scooter – patiently iterate through tons of versions throughout the years, and listen to what the customers are saying.
The fruit of that process is the Ninebot Max.
In 2023 and possibly beyond, the Ninebot Max is the overall best electric scooter under $1000. See my full review of the Ninebot Max to find out if it is the best scooter for you as well.
Who should get the Ninebot Max?
This is the true everyman's scooter.
Besides commuters, for whom the choice is almost obvious, there are lots of others who will find great joy in the Ninebot Max.
This is a very well-made scooter that will probably last you for a long time. It is an investment of sorts.
Anyone shopping for either quality or value will be happy with it.
With an IP rating of IPX5, this is also a great scooter for rainy days as well.
The Ninebot Max is one of the best-received electric scooters by the general public ever, and millions of people have made it their choice and never looked back.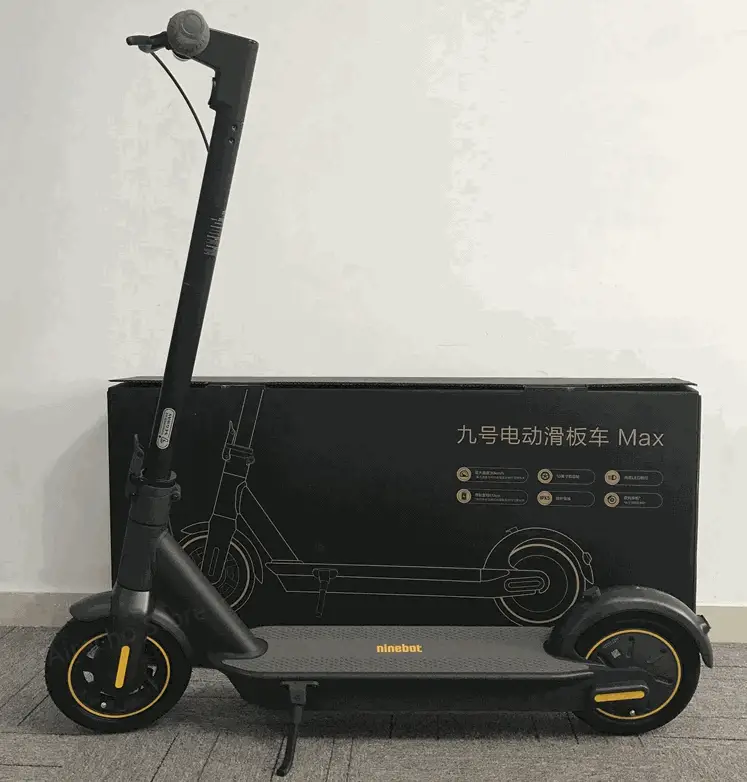 Who should not get the Ninebot Max?
The Ninebot Max is truly a universal scooter. It has been built to serve many masters.
I guess look at the Kaabo Skywalker 10S if you want a greater top speed, or the other more specialized scooters if you have a particular use case in mind. Can't really think of anything else.
Most popular: Apollo Air 2022
What can I say about Apollo Air 2022, that hasn't already been said a million times?
It has one of the most popular, best-selling electric scooter models this year. It is the latest release from the Apollo brand, which is arguably one of the best-selling brands in recent times.
Besides having thousands of satisfied riders throughout the world, this scooter has been battle-tested by many experienced riders and has gotten their stamp of approval as well.
The most popular kid on the block fully deserves all the accolades thrown at it. Usually priced at just around $999, it is almost a budget scooter, and the value you get for that price is simply incredible.
The initial top speed is around 21 mph / 34 kmh, but can be regularly exceeded under more ideal conditions.
The range of 31 mi / 50 km on a single charge is simply a bullseye, like it was purposefully designed to satisfy the general public, as most people never ride over those speeds.
Peak motor power of 600 Watts, a 36 Volt battery, a water-protection rating of IP54, all of that packaged into 37 lbs / 17 kg of matte-black loveliness.
Who should get the Apollo Air 2022?
The public is rarely wrong. It will be rare to make a mistake by choosing Apollo Air 2022.
This scooter will be a great general choice. If you listen to the market, then it has spoken clearly – Apollo Air 2022 is the people's choice.
It will be the perfect choice for commuters, value shoppers, and all scooter lovers in general.
Who should not get the Apollo Air 2022?
The Achilles' Heel of the Apollo Air 2022 is its air-filled tires. That's probably the biggest reason why this scooter isn't in the hands of everyone on the planet already.
If you live in a city or area that has poor road infrastructure, or has roads that are very unsuitable for scooters, consider getting a model with solid wheels, as the Mercane Widewheel Dual described further down in this article.
Best alternative: Anyhill UM-2
The Anyhill UM-2 is a miracle scooter.
It is of pretty solid quality, has a thoughtful design, great manufacturing and finishing, and with one of the best features you can possibly find on a scooter – a removable battery.
The middle-ground solution from the Anyhill brand, this scooter comes with all standard features and solid performances, while keeping the almost impossible balance between quality and price.
This super-cool $899 scooter boasts a top speed of 20 mph / 32 kmh, a range of 28 mi / 45 km, powered by a direct drive 450 Watt brushless motor. Its build also allows for climbs of up to 20 degrees, more than enough for any incline met in a city.
What makes the Anyhill UM-2 truly amazing is its battery. The 36V LG li-ion battery is stored inside the deck, and can be detached in a second only using your hands and no tools. You can charge it wherever you like, and it only takes 4 to 5 hours to fully recharge.
If this sounds like a scooter you might be interested in, you can take a look at my complete Anyhill UM 2 review.
Who should get the Anyhill UM-2?
I'm not sure anyone into scooters could resist the Anyhill UM-2. If you want the best $1000 scooter, but you don't want to be just another generic scooter owner, then the Anyhill UM-2 will be perfect for you.
This cutting-edge trendsetter can probably fit the needs of most casual users, commuters, or hobby riders. Or if you often forget to recharge your scooter overnight, the detachable battery will save your life a million times. Whatever your needs are, they will probably be perfectly met by the Anyhill UM-2.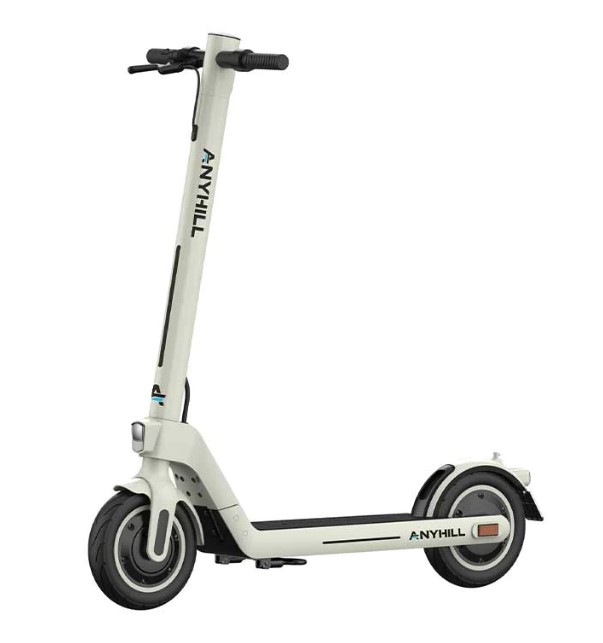 Who should not get the Anyhill UM-2?
It's kind of hard to say.
Probably look at other models if you need faster rides or a bigger range on a single charge.
The lack of suspension can also be a dealbreaker for riders looking for comfort, although the large tires will do a pretty good job of absorbing impact from bumpy rides.
Chances are, if you just want a great scooter for under $1000, the Anyhill UM-2 will be the right choice for you.
Best with solid wheels: Mercane Widewheel Dual
The scooters from the Mercane line are some of the best solid tire scooters in the world right now.
Their iconic 4-inch wide solid, foam-filled wheels make them completely immune to punctures and flats.
But also, the wide wheels result in better balance and safety.
And let's not forget, they give them a ton of cool points. Just look at this scooter – it's like no other on this list! You will most likely get a lot of eyeballs on you when riding it.
The Mercane Widewheel Dual has solid stats: a top speed of 25 mph / 40 kmh, a range of 20 mi / 32 km, and two powerful motors with a combined power of 1000 Watts (peak power 1600 Watts). As usual with scooters with two motors, they will have more torque and be great at climbing, so the Mercane Widewheel Dual has a climbing angle of 20 degrees. Plus, the scooter has great suspension on both wheels to make the rides extra-comfortable, and an IP54 water protection rating.
Check out my complete Mercane Widewheel review if you're curious about this unique scooter.
Who should get the Mercane Widewheel Dual?
Anyone that lives in a place with terrible roads, where scooters or cyclists frequently flat tires, will want to get the Mercane Widewheel Dual. It is the answer to flat tires.
But also, I would recommend this scooter to anyone looking for something outside of the regular, for anyone looking for a scooter that looks a bit different (in a better way). The Mercane series is not your typical, generic, boring commuter, and if you're after a more exciting and more powerful pick, then go with the Widewheel Dual.
Who should not get the Mercane Widewheel Dual?
If you have other more important priorities than not getting flats or looking cool, then choose some of the other scooters on this list.
The Ninebot Max is probably the polar opposite of the Mercane Widewheel Dual when it comes to the tires, so if you're looking for excellent pneumatic tires, go with the tried-and-tested Ninebot Max.
Best for heavy adults: EMove Touring
In the $1000 price category, most models have a weight limit of 220 lbs / 100 kg.
Some have 265 lbs / 120 kg, but anything above that is typically reserved for the premium models.
And then there's the EMove Touring, with a weight limit of 310 lbs / 140 kg!
Keep in mind that when looking for a heavy-duty scooter, you really want to go for the highest weight limit. A 212 lbs / 96 kg adult will see a diminished performance from a scooter with a 220 lbs / 100 kg weight limit.
Another feature that usually goes along with a great weight limit is a strong climbing angle, and this is an area in which the EMove Touring shines as well. It can climb hills as steep as 20 degrees.
This usually underrated scooter will have a top speed of 25 mph / 40 kmh, a range of 31 mi / 50 km, and a 750 Watt peak power motor.
For a price of just $899, it is superb value. See my detailed EMove Touring review if you'd like to find out more.
Who should get the EMove Touring?
The EMove Touring is the best choice for heavy adults.
Aside from that, this scooter is great for climbing, and perfect for people who value a decent range with a short charging time.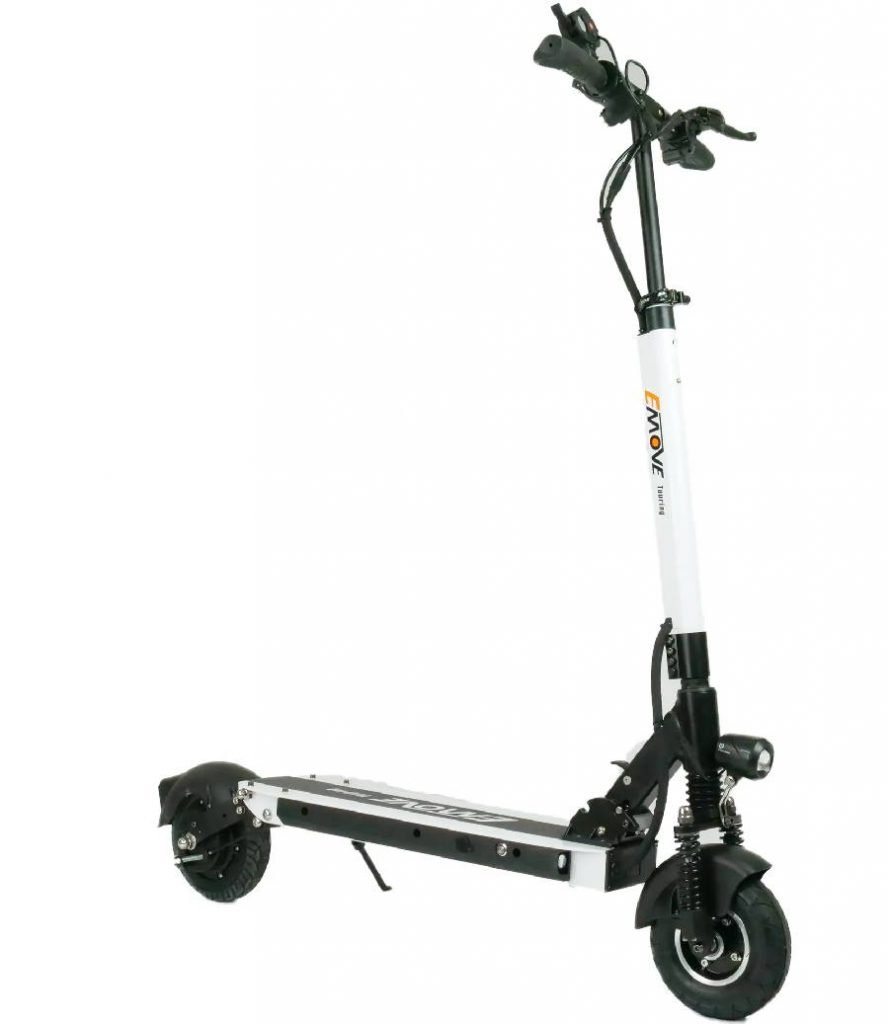 Who should not get the EMove Touring?
The EMove Touring is the complete package in many ways. The only thing that somewhat sticks out is its breaks.
The scooter uses drums and regenerative brakes, which have a lot less stopping power than the superior disc brakes. However, this will only cause a problem if you ride at very high speed in crowded areas.
Also, the EMove Touring comes with solid tires, which may diminish the ride quality. The scooter has decent suspension to make up for it, however.
Best waterproof: Levy Plus
The Levy Plus, like some other $1000 scooters, has an IP standard of IP54. That makes it water-resistant to water splashes from all angles.
But if many other scooters are also IP54 rated, why is the Levy Plus the best choice for a waterproof $1000 scooter?
Simple – it is the only electric scooter with a removable battery.
When it comes to water damage, the battery is by far the most vulnerable part. When storing or leaving your scooter, by simply taking the battery with you, you will greatly reduce the chances of something going wrong.
For riding in the rain, you still have the standard IP54 protection, which should be good enough. For the rest of the time, you can just take the battery with you and not worry about water damage at all.
See my detailed Levy Plus review to find out more about this excellent scooter.
Who should get the Levy Plus?
The first obvious answer is anyone living in a place with a lot of rain or snow throughout the year.
While this scooter has a unique advantage with its removable battery, it can also be a great choice for commuters and value shoppers as well.
With just 31 lbs / 14 kg of weight, this scooter is also a very strong option in the lightweight category, so consider it if you need a portable commuter.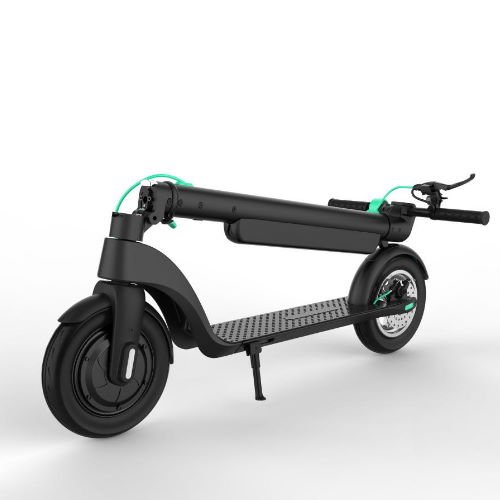 Who should not get the Levy Plus?
The weight capacity of the Levy Plus is 230 lbs / 104 kg. If you need more than that, I suggest checking out the EMove Touring entry in this post.
Best for offroad: Hiboy Titan
I'm simply amazed by the value that Hiboy offers lately.
The Hiboy Titan is a massive performer with crazy good looks, yet falls into the $1000 price category. It is way cheaper than any scooter with a similar build like its.
Check this out:
Top speed of 25 mph / 40 kmh.
Range of 28 mi / 45 km on a single charge.
A motor of 800 Watts.
Climb angle of 14 degrees.
An IP water protection rating of IP54.
Self-healing off-road tires.
Dual suspension.
And it doesn't stop there. This scooter is just jam-packed with value, for a price that's hard to beat.
And when it comes to offroad, it is one of the very few good options for under $1000. It may not be the only one, as there are a few other scooters that may handle rough rides, but none will be tougher than the Hiboy Titan.
Who should get the Hiboy Titan?
There is no doubt that anyone looking for an offroad scooter under $1000 will want to go with the Hiboy Titan.
But other than that, this will be a great value pick as well, and also a great choice for a versatile, powerful scooter.
Who should not get the Hiboy Titan?
The strong bulky build comes with its own disadvantages, namely being hard to carry.
The Hiboy Titan doesn't weigh a lot, but the design will make it troublesome to carry the scooter in your arms for a long distance.
Lightest / most portable: Unagi Model One
Without a shadow of a doubt, the Unagi Model One is the most portable electric scooter in the under $1000 price category.
It weighs only 26 lbs / 12 kg.
When folded, its dimensions become 38 in / 96 cm in length, 15 in / 38 cm in height, and just 16.5 in / 42 cm in width.
You can take this thing on vacation with you!
This tough little scooter does pack a punch, however. 20 mph / 32 kmh top speed, 15.5 mi / 25 km of range, 500 Watt motor, and even a 15-degree climb angle, is more than what most scooters in this price category offer.
And it looks impressively stylish and modern. A true contemporary commuter that will surely stand the test of time.
I simply love scooters like this, that surprise you in the best possible way. I made a full review of the Unagi Model One where I go into detail about all its features, so make sure to check it out before buying his scooter.
Who should get the Unagi Model One?
Besides anyone needing a very portable, very easy-to-carry scooter, lots of others can find this scooter useful.
With its solid range, it will be good enough for most commuters.
The climb angle of 15 degrees makes it a great choice for hilly cities as well.
Finally, for the price of under $990, this is an awesome quality pick for shoppers looking for a solid, stylish scooter.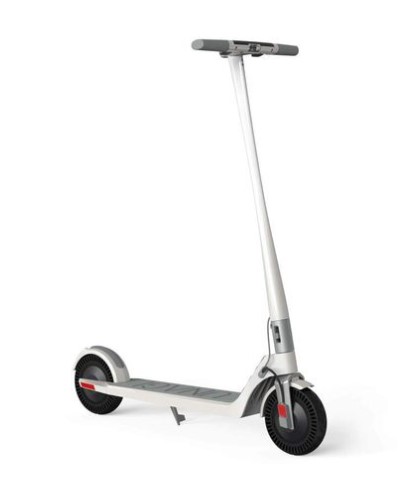 Who should not get the Unagi Model One?
Ride comfort is probably the biggest problem of the Unagi Model One.
The scooter comes with solid honeycomb tires, which provide significantly less comfort than air-filled ones, and does not have any suspension in its build.
Fastest: Speedway Mini 4 Pro
Not surprisingly, the fastest $1000 electric scooter comes from the Speedway brand. The famous power makes some of the craziest, most powerful scooters ever, and luckily, they have a product in the cheaper price categories as well.
The Speedway Mini 4 Pro has a top speed of 28 mph / 45 kmh, which is the highest top speed for a $1000 scooter.
Besides that, it has a great range of 30 mi / 48 km on a single charge, powered by a 1360 Watt dual motor and a 48 V battery. That motor/battery combination can easily power a small electric car.
And the most interesting part?
This is actually quite a portable scooter, for that kind of performance. With very manageable folded dimensions, and a weight of 36 lbs / 16 kg, it's not really as heavy as you would expect a scooter this powerful to be (they are usually 88 lbs / 40 kg).
The Speedway Mini 4 Pro usually costs $1150, but it's very often discounted down to $1000. This level of performance in an electric scooter usually costs at least double.
Who should get the Speedway Mini 4 Pro
I can see many uses for the Speedway Mini 4 Pro.
Of course, if you are after the fastest $1000 scooter, this will be your choice.
But that's far from all this model is good for.
With that kind of range, performance, and portability, this model would be amazing for commuting.
It is also amazing for climbing as well, as most true performers are.
In general, this is an excellent performance scooter, with stats that are almost impossible to find for under $1000.
Who should not get the Speedway Mini 4 Pro
The IP rating of this scooter is not known. It is possible it has one but it's not specified, but it's also possible it doesn't have any.
If you live in a rainy area and you don't want to risk water damage, you want to get a waterproof scooter you will be confident can endure some humidity. Check out the Levy Plus described in this article for that scenario.
Best with seat: EverCross
I believe that in the coming years, we will see a shift towards electric scooters with seats. Up until now, electric scooters were mostly used by younger people, but as they grow in popularity and more and more adults use them, we will be seeing more models with seats getting more attention. I wouldn't be surprised if scooters with seats continue to blur the line between an electric scooter and an electric bike and continue to offer new almost hybrid-like models.
At this point, the EverCross is the best electric scooter with a seat under $1000. This casual scooter with a mountable seat on top is like a small portable moped with surprisingly great riding comfort.
The 48V battery will take you 31 mi / 50 km on a single charge, with speeds of up to 30 mph / 48 kmh. The EverCross has dual suspension on both wheels, as well as additional shock absorbers on the seat, making it one of the most comfortable scooters in this price category.
And it's actually a strong contender for a budget scooter as well, as it typically costs around $679, so you will have quite a lot of spare change left if your budget is around $1000.
With an IP rating of IPX5, a rear BLDC motor, key lock for increased security, and many of the benefits of a seated scooter, it's no wonder that this model is getting more and more popular. You can read more about it in my detailed review of the EverCross electric scooter.
Who should get the EverCross?
I recommend the EverCross not only to anyone looking for the best electric scooter with a seat under $1000, but also to anyone that needs the perfect comfortable and cheap scooter.
Costing less than $700, and with a great triple suspension system, this is easily one of the best seated scooters in the world right now.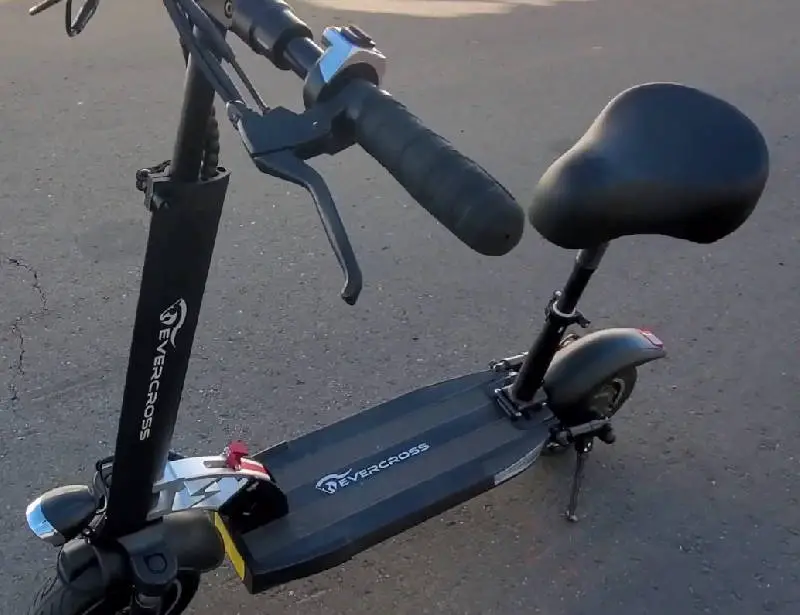 Who should not get the EverCross?
While the EverCross will be a great choice for anyone that needs a useful scooter, it's far from the best performer on this list.
The range will rarely reach the specified top value, you might have to deal with flats due to the air-filled tires, and the brand itself is not known for the best quality control and customer service.
Coolest looking: Inokim Light 2
Electric scooters from the Inokim brand specialize in delivering a high level of quality, craftsmanship, and attention to detail.
And also, they look great!
While most scooters today are desperately trying to imitate each other, Inokim is not afraid to innovate.
The Inokim Light 2 is the best example of that. Brave lines, fun colors, unique design, all of it bundled together in a well-executed, feature-full, customizable scooter.
That makes it the most fun, best-looking $1000 electric scooter.
Who should get the Inokim Light 2?
In some ways, Inokim is the designer brand among scooters.
That's why the Inokim Light 2 will be for those looking for that extra edge in their scooter's look. If you're after the coolest-looking $1000 scooter, the Inokim Light 2 will be a great choice. The full Inokim Light 2 review goes into a lot more depth.
Who should not get the Inokim Light 2?
I don't want to label the Inokim Light 2 as all looks and no brains, but the fact of the matter is, this is not the most performant scooter out there. If you are after more performance or more value, check the Ninebot Max or the Speedway Mini 4 Pro.
Longest range: Turboant V8
I think I'm a little in love with the Turboant brand.
Not only do they build great high-value scooters, but they always seem to focus on building scooters strong in my favorite feature – range.
The Turboant V8, which is one of their marathoners, has a range of 50 mi / 80 km on a single charge. That is the highest in the $1000 category, and it's certainly brilliant for an $800 scooter.
But that is not even the real limit of this scooter. The Turboant V8 actually comes with dual batteries, one in the deck, and one attached to the stem. The battery on the stem is removable, and since it's fairly compact, you can charge it anywhere you like, meaning you can improve the range of the scooter by a further 20%-30% while you're in your office, or drinking your coffee in a cafe.
Not to mention, this scooter has a sweet top speed of 20 mph / 32 kmh, a great climbing angle of 15 degrees, and 275 lbs / 125 kg weight limit. All of that by weighing just 46 lbs / 21 kg.
All in all, a great set of specifications, for a very good price.
Who should get the Turboant V8?
The Turboant V8 is a key that can unlock many doors.
If you want the longest range per dollar in the $1000 price category, this is your scooter.
Further, commuters of all types will find a great travel buddy in the Turboant V8. This is especially true for any last-mile commuters, since this scooter is pretty convenient for carrying in and out of public transport, building entrances and elevators and hallways, etc.
And yes, it's a great option for anyone looking for a decently portable scooter. Sure, it will not be as portable as the Unagi, but it is still pretty portable, especially given its performance.
Finally, we already talked about how great of a feature the removable battery is. Although you can't remove the main big battery on this model, advancing its range through the secondary battery is much better than nothing.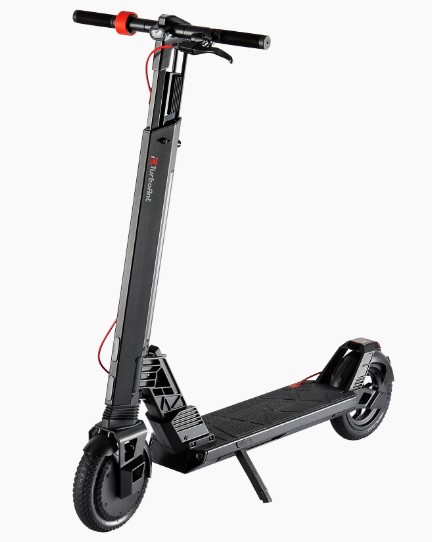 Who should not get the Turboant V8?
This scooter seems to have no obvious flaws. It is practical, it looks good, and has one the best range in the sub-$1000 category.
If we're nitpicking, I could say the lack of suspension is a significant downside, especially since you'll be riding this scooter a lot. But you can't get everything in such a jam-packed affordable package.
Best with removable battery: Turboant X7 Pro
Our final pick of this list is the best scooter with a removable battery under $1000 – the Turboant X7 Pro.
Hailing from the same brand as the above model, the Turboant X7 Pro uses quite a similar build to the Turboant V8, but with a few notable differences found in the details. For one, it is way cheaper, costing some $550. That is a true budget pick that somehow still competes with the rest of the scooters on this list.
Unlike the V8, there is only one battery on this model, found attached to the stem. It provides a range of 30 mi / 48 km, while the single 350W front wheel motor aids with a top speed of 20 mph / 32 kmh.
But the main reason why this is my favorite scooter with a removable battery versus the other two is its portability. The Turboant X7 Pro weighs only 33 lbs / 15 kg, which can be further lowered by a few pounds when you remove the battery.
For such a budget pick, the Turboant X7 Pro sure can surprise you. Read my full review of the Turboant X7 Pro to find out more about its features.
Who should get the Turboant X7 Pro?
The Turboant X7 Pro is the absolute perfect pick for value shoppers looking for a cheap and portable scooter with a removable battery that won't come with too many notable downsides.
It is a great scooter for daily city commutes, rides to your workplace, or for a night out.
Who should not get the Turboant X7 Pro?
The Turboant X7 Pro doesn't have too many cons that stick out, but it does lack some features found on all other scooters on this list, like dual brakes (it only has one, rear disc brake), and suspension. Also expect some wobbly parts to appear after a period of riding, especially on the stem, which you'll have to occasionally check on by yourself.
I wouldn't recommend this scooter to people who value comfort over performance, and to those who don't plan on spending too much time maintaining their scooter.
What can you expect from a $1000 electric scooter?
Currently, there are 77 electric scooters that cost between $500 and $1000 (I purposefully didn't include the $500 electric scooters in this post to keep things simpler, even though they technically are under $1000 as well).
Electric scooters under $1000 will have motors that can already be considered quite powerful, especially as we get closer to the $1000 mark. They will average around 580 Watts of power, with most of the scooters having between 500 and 800 Watts of peak power.
That kind of power will provide them with quick acceleration, good climbing abilities, and a very solid performance overall. Keep in mind that there are much more powerful scooters out there, but the $1000 electric scooters will be powerful enough for the vast majority of casual riders and commuters.
The scooters in this price category have quite a lot going for them. They are not limited by budget prices, so they will include higher-quality parts and better attention to detail than cheaper models.
Understandably, they will be safer and last longer than cheaper models. They will last for a long time, and we can safely expect a minimum lifespan of 3 years. The defect rate will be very low, especially in the first year of usage. From my research, there will be about a 3.43% chance of a serious defect in the first year. Also, the chance for the scooter being dead-on-arrival will be much lower, as these scooters will come from higher-end brands that don't skimp on delivery costs.
All in all, while $1000 scooters are not the most expensive scooters out there, they are a level or two above budget scooters, and their quality will clearly reflect that. If you're after even more quality and performance than these models, you will have to check out the best electric scooters under $1500.
How fast do $1000 electric scooters go?
The average top speed of $1000 electric scooters is 20 mph / 32 kmh, but the top speeds can range anywhere between 11 and 31 mph / 18 and 50 kmh.
How much range do $1000 electric scooters have?
On average, $1000 electric scooters will have a range of 22 mi / 36 km. The range will vary from 6 mi / 10 km to 45 mi /73 km.
Summary
Those were all the best $1000 electric scooters and the perfect scenarios where they make the most sense. Here's a quick summary of all of them for reference.
---
---
Liked this article? It really helps if you share it.
Follow @escooternerds on social media for more cool stuff
---