Last Updated on September 17, 2023 by Matt
In this comprehensive Anyhill UM-2 review, I'll discuss all the advantages and drawbacks of this e-scooter. I did some tests on this model, and here, I'll present the conclusions I came up with.
Anyhill UM-2 Review
The Anyhill UM-2 electric scooter comes with a 450W motor that delivers smooth acceleration and a great peak power of 750W. Thanks to its smooth throttle response, excellent braking system, and 10" inflatable tires, this scooter offers a balanced, quiet, and enjoyable ride. And my personal favorite thing about this scooter – it is sold at an almost unbelievably affordable price!
Should you buy the Anyhill UM-2 electric scooter?
I recommend you buy this model if you're looking for a well-built commuter scooter that comes with an inexpensive price tag.
It's also a great choice if you're interested in a couple of innovative features that you don't typically see in other models.
I would even go as far as to say that many people will find the Anyhill UM-2 to be ideal for them since it provides a smooth, stable, and quiet ride.
Finally, I would recommend this model to any person out there who is brand new to scooting and looking to buy their first budget-friendly electric scooter. The Anyhill UM-2 may not go as fast as other models, but it certainly comes with excellent capabilities, great braking power, very formidable build quality, and offers a decent range thanks to its swappable battery.
Buying
You can get your Anyhill UM-2 by ordering it directly from the official Anyhill website.
This model may be available for sale on Amazon, too.
So, you might want to check out their listing and see if they offer different prices (they usually don't, however).
Price and value for money
The Anyhill UM-2 costs $899.
Considering its solid build quality, the amazing features it comes with, and how easy it is to maintain, I'd say this model is excellent value for money.
Shipping
Anyhill offers free shipping to the 48 contiguous U.S. states via UPS, FedEx, and USPS. However, keep in mind that you might be required to cover additional costs, such as customs and brokerage fees and import taxes, for your delivery.
Once the Anyhill team receives your order confirmation email and processes it, which usually takes 1 to 2 business days, they'll provide you with a tracking number to track your order at any time.
It's noteworthy that your order will be insured free of charge. So this means that if your scooter gets damaged or stolen during shipment, $1000 worth of expenses will be covered by the insurance.
Shipping in North America can take anywhere from 5 to 7 days.
Customer support
You can reach the Anyhill customer support team through their support email, [email protected], or through their contact page. They'll respond within a day.
Warranty
Anyhill offers a one-year limited warranty on their products as well as a one-month warranty on refurbished and new units.
If you're a customer from the continental US and you make a warranty claim within 30 days after you've received your scooter, your claim will be eligible for any replacement part, repair, and outbound shipping free of charge. On the other hand, if you file a warranty claim after 30 days of delivery, you'll be required to pay the cost of labor for repairs and shipping fees in both directions.
Please keep in mind that the warranty doesn't cover shipping costs, consumables, wear and tear, or damage caused by improper care, misuse, unapproved modifications, or worn components. Product loss as a result of theft isn't covered by warranty either.
It's noteworthy that the Anyhill team only offers repair under warranty on scooters directly bought from their website. So, if you bought your e-scooter from one of their service centers or dealers, you'll need to file a warranty claim directly to them.
You can submit your warranty claim to [email protected].
Return and refund policy
If you want to return the Anyhill UM-2 for a refund, you can do that within a month after you receive your scooter. And if your refund gets approved, you'll get refunded within 3 business days.
For the refund to be valid, the following requirements need to be met:
The scooter needs to be in the same condition you received it upon returning it
You'll need to return the scooter in the original packaging box
The scooter must have covered less than 10 miles of range
There must not be dust, dirt, or any serious scratches or paint chips on it.
Basics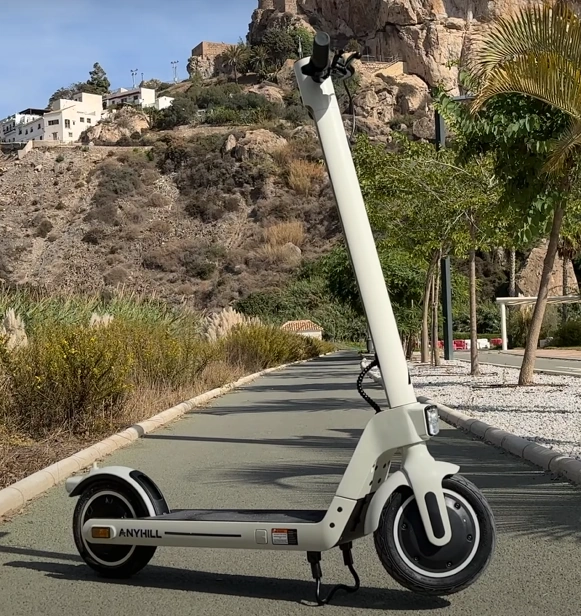 The Anyhill UM-2 electric scooter boasts excellent build quality and braking performance, as well as a modern and aesthetically pleasing look. Its detachable battery that you can charge, replace, or remove whenever you want sets this scooter apart from the rest.
While the Anyhill UM-2 would likely provide better ride quality if it had a suspension system, its design and the impressive features it comes with certainly make up for this minor flaw.
Unboxing
The scooter arrives well-packed in a cardboard box, which includes:
the scooter
a 42V 2A charger
a couple of Allen keys
a key for the battery
a valve extension for tire inflation
an instructions manual
Assembly
Assembling the Anyhill UM-2 is as easy as 1-2-3. All you need to do is the following:
Align the two arrows and connect the cables
Place the wire into the stem fully
Put the 4 screws in (the first screw has to be placed only halfway into the hole. Once the rest of the screws are installed, you can tighten the first one)
Assemble the brake cable
Build quality and design
Don't let the price of this scooter make you think it offers low quality. In my opinion, the Anyhill UM-2 comes with a design and build quality that are way better than those of some way more expensive scooters out there.
Thanks to the swappable battery, 10-inch inflatable tires, impressive braking system, solid steering pole, three-speed modes, and double kickstand the Anyhill UM-2 comes with, this model provides a nice, smooth, and comfortable ride.
Known issues and problems
The Anyhill UM-2 offers a solid and smooth ride that any urban commuter will find enjoyable. However, considering the results from the tests I performed on this scooter and the issues I found reported by several owners, I can say this scooter comes with a few quirks and nuances.
Probably the most common issues regarding the Anyhill UM-2 are its weight and the low display visibility.
The scooter weighs 44 lbs / 20 kg without the battery, so some might find this weight a bit heavy for a commuter scooter (they usually weigh less than 33 lbs / 15 kg).
In direct sunlight, the display gets a bit washed out, which means you'll have trouble reading all the data presented on the screen.
Another issue reported by some owners is the weight limit of the scooter. Some owners weighing over 250 lbs / 113 kg have had difficulties going up hills and reaching the maximum speed.
Another minor issue reported is the folding mechanism being a bit tricky. To be honest, this issue has only been reported by few owners, and if you ask me, it's not that big of a deal.
Yes, the folding system can be tricky, but only so the first time you try folding or unfolding the scooter. Once you learn the trick about how to properly fold the scooter, folding it will become a breeze.
Now, I've found two more issues that might bother some people, and those are the speed and range of this scooter, but I'll discuss them in the following sections.
Everyday use
The Anyhill UM-2 is intended for urban environments. You won't have difficulties riding along bumpy streets or uneven sidewalks or going off of curbs and jumps. This model can handle some light off-roading, too. All of this can be mainly attributed to its well-balanced steering pole, inflatable pneumatic tires, and strong braking system.
However, contrary to what its name suggests, this scooter wasn't built for climbing high and steeper hills.
Performance
Now, let's see whether the Anyhill UM-2 is the ideal model for you in terms of performance.
Motor, power, and climbing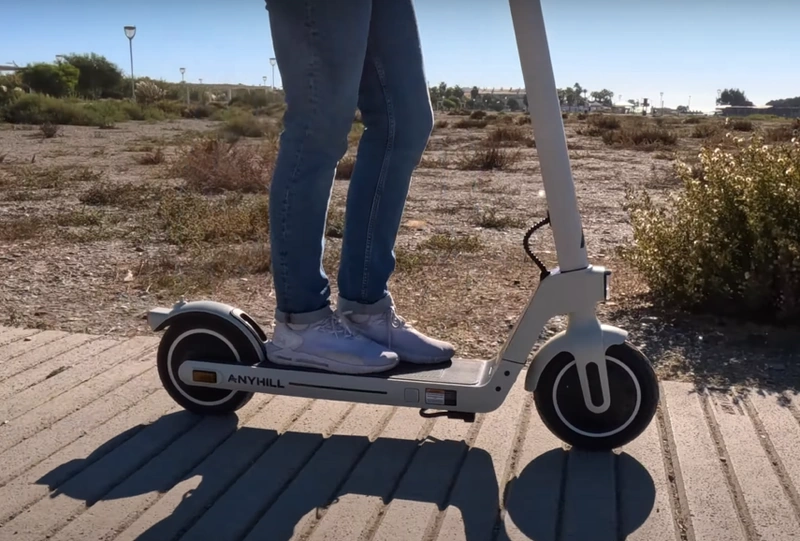 This model comes fitted with a 450W brushless motor, which can deliver nice torque. The motor is located in the rear and has a peak output of 750W.
As for its climb capability, this Anyhill scooter can handle up to 20-degree inclines, but whether this will be so in your case depends on several factors, such as your weight, the terrain you'll be riding on, the wind speed, etc.
Personally, I didn't have a really good climbing experience with this scooter – it only managed moderate hills. However, a friend of mine (we weigh almost the same) tried climbing a 20-degree slope with his own Anyhill UM-2, and he did manage to climb it at around 17 mph / 27 kmh. The scooter rode at 12 mph / 19 kmh at the steepest part of the slope, though.
So, keep in mind that your scooter will slow down when climbing steeper parts of a hill, especially if you're a heavier rider.
Batteries and range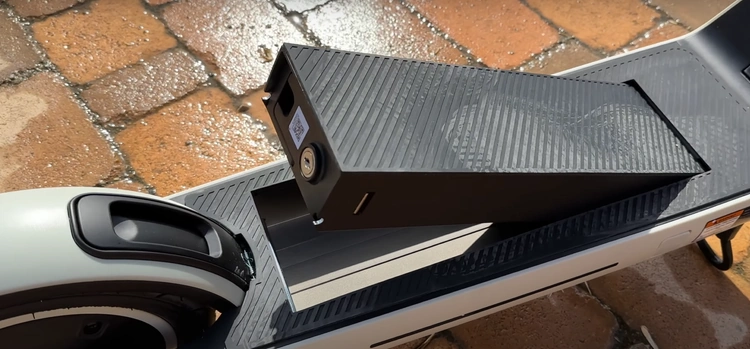 The Anyhill UM-2 runs on a 36V 10aH detachable LG Li-ion battery and has a maximum range of 28 miles / 45 km.
The detachable battery, which is positioned inside the deck, is what sets this model apart from the rest of the competition.
First of all, it's very easy to swap it. You just need to pull up the lever, unlock the battery, and take it out. I also recommend always locking the battery when you need to leave the scooter unattended as a safety precaution.
Being able to replace the battery is great for those who have long ranges to cover to work. Thus, if you own an extra battery, you can extend the range for up to 56 miles / 90 kilometers! Not too shabby for a budget scooter.
Also, in a few years, when the battery won't hold as much charge, you can just replace it rather than tossing the scooter, like you'd have to do with some other scooters running on hard-wired batteries.
As for the range, keep in mind that you might not be able to cover the 28 mile / 45 km range as advertised by the manufacturer, especially if you ride on hilly terrains a lot.
Speed and acceleration
The top speed of the Anyhill UM-2 is 20 mph / 32 kph, and thanks to the powerful motor and balanced throttle response, the scooter provides nice, smooth acceleration.
There are 3 speed modes you can choose from. You can also set the desired speed by using the cruise control feature. This way, you'll ride at a constant speed even if you come across a bump, and you'll be able to focus more on the road ahead of you, rather than, say, your grip on the throttle. All this will allow you to have a relaxed and more comfortable ride.
Charging
Charging the Anyhill UM-2 from empty to full will take you around 5 hours. This model comes with a removable battery, which means you can charge it while it's still in the scooter, or you can unlock it and take it home with you.
Weight limit
The weight limit of the Anyhill UM-2 is 300 lbs / 136 kg, which is more than the industry's standard. Heavier riders should have no problem riding this scooter.
However, a few owners weighing over 260 lbs have complained that they had trouble reaching the top speed.
Features
Let's go over the most important features of the Anyhill UM2.
Weight, folding mechanism, and portability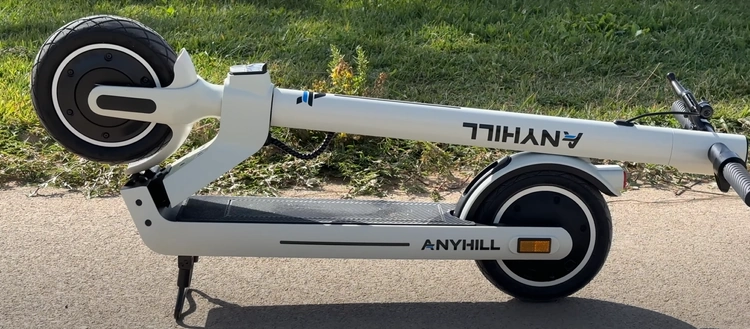 The Anyhill UM-2 weighs 44 lbs /20 kg. It's obviously not the heaviest scooter out there, but it isn't lightweight either.
So, some riders, especially smaller ones, might find this scooter a bit heavy, and wouldn't want to carry it more than a couple of hundred feet.
This Anyhill model has a well-thought-out 1-second fast folding mechanism. It's super-easy to fold, and once you do that, you can easily put it in the trunk or on the back seat of your car, anywhere in your home, under your desk at work, or take it on any public transportation.
Cockpit, handlebars, and controls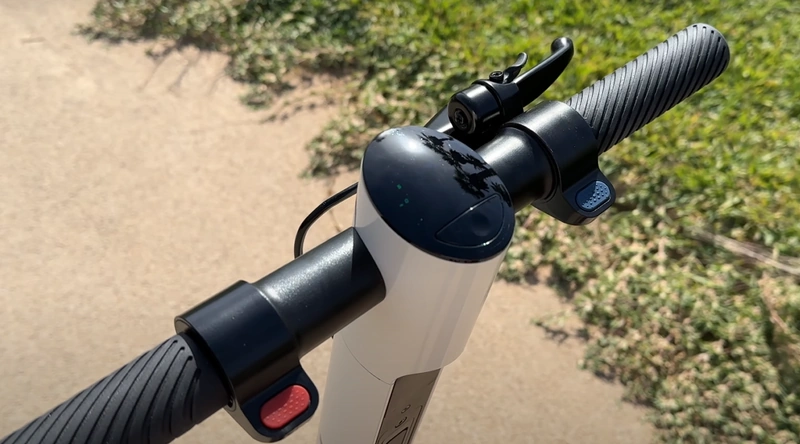 The handlebars of the Anyhill UM-2 are 46" high and 18" wide, and the handlebar grips are made of soft polymer.
The cockpit also contains a little bell, a thumb throttle, a speed display, and brake controls.
You can work everything through the buttons on the display, such as adjusting the speed settings, turning the lights on and off, or turning on the cruise control.
Brakes
The Anyhill UM-2 comes with 2 types of braking systems – regenerative on the front and electronic on the rear wheel. Both systems work well and allow for strong, smooth, and quiet braking. In my experience, this was one of the nicest features of this scooter and I was pleasantly surprised, considering how scooters this cheap often don't have very good brakes.
I recommend using a combination of the front and rear brakes, as braking is way faster then (but always brake with the rear first so that you don't tip over).
Tires and deck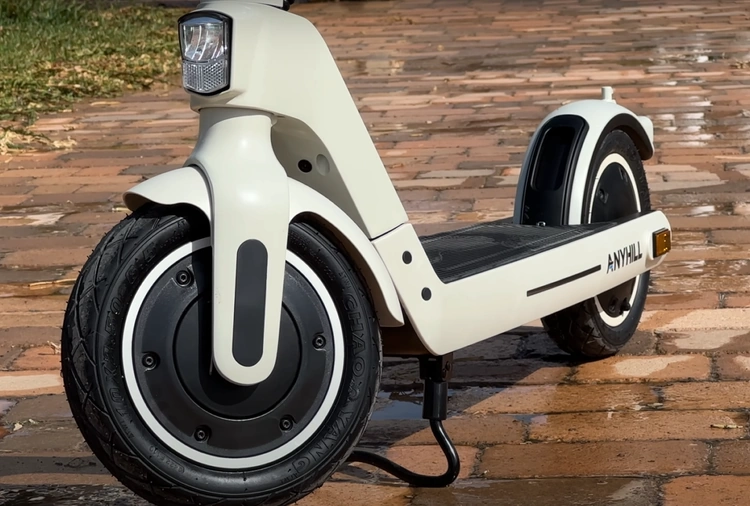 The Anyhill UM-2 comes with 10" pneumatic inflatable tires that make the ride ultra-smooth and comfortable, despite the scooter having no suspension. The tires should probably last for at least 12 months, given that you use the scooter reasonably.
The deck is 7.3" wide and 22.8" long. It's grippy and made of thick, black silicone. The only flaw of the deck is that it gets dirty easily, but luckily, it's incredibly easy to clean as well.
Kickstand
In my opinion, the kickstand of this model is one of the features that make this scooter stand out from the rest. The kickstand is double, meaning it goes the entire width of the deck. Thanks to this, rather than leaning, the scooter stands upright and has more balance when parked, be it on a flat surface, grass, sand, or dirt.
The kickstand is a bit loud when you fold it in, but other than that, it's a brilliant feature with a novel and practical design.
Lights and night use
The Anyhill UM-2 comes with front and rear LED lights, and both of them are bright enough to be seen at night.
However, I think the front light is a bit low in position and riders would have better visibility at night if the front light was brighter.
Waterproofing
This model has an IP54 rating, which means riding it in some rain won't cause it any damage. However, I wouldn't ride it in heavy rain (even though I actually did that one time, and the scooter handled it just fine).
Also, the battery has an IPX6 rating, and it's nicely protected in the deck, which means high-pressure water streams shouldn't cause it any damage.
Anyway, the Anyhill warranty doesn't cover water damage, so you should consider that when riding your scooter.
App
By just connecting the APP with your phone, you'll be able to track your scooter's speed and battery life, turn on and off the lights, as well as lock and unlock the scooter.
Having this app support as a safety precaution is a good thing. Plus, this app doesn't ask for any type of permission, as most scooter apps do, just for your location.
The app is available for both iPhone and Android.
How does the Anyhill UM-2 compare against other popular e-scooters?
The Anyhill UM-2 is often compared to the VSETT 8 and Anyhill UM-1. Let's see how they compare to each other.
Anyhill UM-2 vs VSETT 8
Both models weigh the same, i.e. 44 lbs / 20 kg, and boast the same peak power.
The VSETT 8 has a bit higher top speed and higher range, but if you ask me, these differences are barely noticeable.
So, considering this and the fact that the VSETT 8 takes 6 hours longer to charge fully, comes with narrower tires, and has a lower weight limit, I'd say the Anyhill wins in several important aspects. I would recommend people stick with it in most cases.
Anyhill UM-2 vs Anyhill UM-1
The first obvious difference between the two is the size. The Anyhill UM-1 weighs 29.7 lbs / 13 kg, which means it's considerably lighter than the UM-2.
On the other hand, the Anyhill UM-2 can reach higher speed and range, has better climbing capacity and weight load, and also provides a quieter, smoother ride than its counterpart.
So, if you ask me, I'd go for the Anyhill UM-2.
Who should not buy the Anyhill UM-2 e-scooter?
If you're an experienced rider or a speed addict, you should probably search for other models that have higher top speed and higher range. You can see my guide on the fastest scooters, or maybe my list of the best electric scooters under $1500 for something less intimidating.
Also, those that enjoy riding on bumpy, hilly, or off-road tracks won't find this model to be the right fit for them. In that case, check out my guide on the best off-road electric scooters.
Who should buy the Anyhill UM-2 e-scooter?
This scooter is ideal for any urban commuter looking for a smooth, comfortable, balanced, and quiet ride.
I'd warmly recommend the Anyhill UM-2 to anyone who is new to scooting and is looking for their first budget-friendly e-scooter. This model won't disappoint you in terms of comfort, speed, and range.
Also, people who appreciate a strong braking system and certain unique features, such as a removable battery, double kickstand, and quick folding mechanism, will love this scooter.
Last but not least, this Anyhill model looks modern and attractive, so it won't compromise your style.
Where to buy the Anyhill UM 2 from?
Anyhill UM-2 Specifications
Anyhill UM 2 Specifications
| | |
| --- | --- |
| Top speed | 31 kmh |
| Top speed | 19 mph |
| Range | 45 km |
| Range | 28 mi |
| Motors | rear hub |
| Power | 450 W real, 750 W peak |
| Climb angle | 11.31 ° |
| Battery | 360 Wh, 36 V |
| Battery type | removable battery LG |
| Charging time | 5 h |
| Weight | 20 kg |
| Weight | 44 lbs |
| Weight limit | 136 kg |
| Weight limit | 300 lbs |
| Tire size | 10 in |
| Tire type | pneumatic |
| Foldable | yes |
| Foldable handlebars | no |
| Build material | 6000 aluminum alloy |
| Brakes | mechanical drum and eletronic regenerative braking |
| Lights | head + rear + reflectors |
| Control | LCD display |
| Speed modes | 3 |
| Cruise control | yes |
| App | yes |
| Warranty | 1 year |
| Return period | 30 days |
---
Want to get
FREE SCOOTER
tips, exclusive discounts and promotions, and unseen scooter hacks? Join the
Scooter Secrets club
.
---
Liked this article? It really helps if you share it.
Follow @escooternerds on social media for more cool stuff
---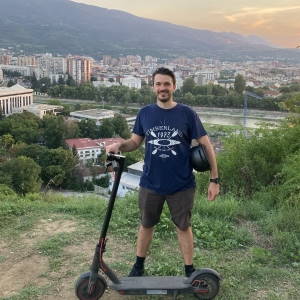 Where to buy the Anyhill UM2