In this comprehensive review of the Kaabo Wolf Warrior 11, we will examine in detail one of the most legendary electric scooters of all time.
This is arguably the best off-road electric scooter ever made (certainly the best one I've ever reviewed). Let's see if it makes sense for you to consider this absolute monster of a scooter.
Is the Kaabo Wolf Warrior right for you?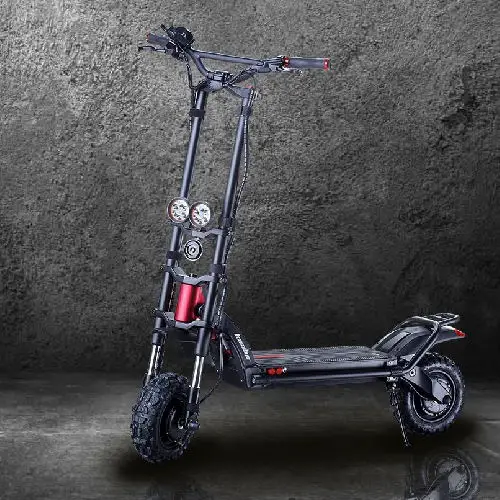 I would not recommend the Kaabo Wolf Warrior for everyone. But for certain situations, I believe it's the best scooter in the world.
This is a high-performance off-road scooter. With two powerful motors, a huge battery, and unrivaled durability and build quality, it has the status of a hero in the scooter world, and is one of the most beloved power scooters ever made. It is certainly one of my favorite scooters, too.
If you are after an extreme power scooter, that's prepared for any possible terrain, and shines on off-road terrains and rough grounds in particular, then the Kaabo Wolf Warrior is definitely the right scooter for you.
Ordering, shipping, discounts
There will be no better place to order the Kaabo Wolf Warrior from than Voromotors. You will get the lowest price possible for this scooter. Also, don't forget to use our special discount code at checkout for an additional $50 discount – simply enter the promo code escooternerds at checkout.
Every unit goes through an extensive quality assurance process, involving a lot of testing and inspections. So, while shipping with Voromotors is quick usually (usually 2 to 4 days), it might take a bit longer, but that's always the case for luxury scooters such as this one, and ultimately, it's a very good thing, as every scooter ordered is almost guaranteed to be without a single fault.
Shipping is free within the continental US.
It's also free in the UK, Canada, New Zealand, and most EU countries, as long as the order sum exceeds $3000, which applies to the Kaabo Wolf Warrior, typically priced around $3195.
I also recommend checking out the scooter's listing at FluidFreeRide (some of the specs listed there might be different, but it is pretty much the same scooter with some minor differences).
Kaabo Wolf Warrior pros and cons
PROS
Great power and performance
Excellent top speed
Great range
Very good build quality
Perfect for off-road rides
Big tires and great suspension
Excellent brakes
CONS
On the pricey side
Not the perfect commuter
Not suited for beginners or first-time owners
Heavy and difficult to carry
Could use more waterproofing
Customer support, warranty, returns
The Kaabo Wolf Warrior comes with a 12-month warranty on all the critical components, including the battery, which usually only has 6 months of warranty with most other scooter brands. In case you want to return the scooter for any reason, you can return it within 30 days of receiving it for a full refund minus the return shipping costs.
Voromotors is known for their stellar customer support, and even members of their team are well-known in several online scooter communities. They will guide you through every step of the process and be attentive and responsive the whole time.
Unboxing and assembly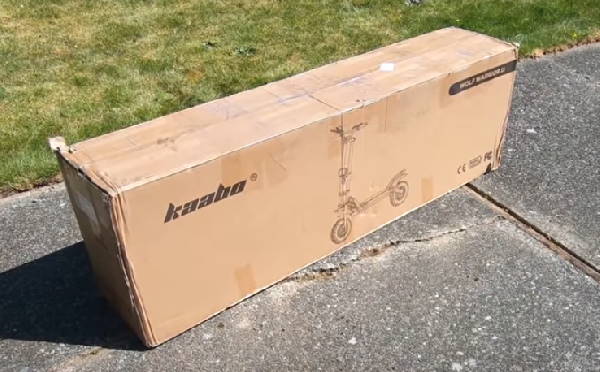 As you might expect, the scooter arrives in a huge package (it's as big as a fridge), with tons of protective covers and layers.
The box includes:
scooter
charger
kickstand
multitool
user manual
warranty card
The handlebars are already attached to the stem with the cables, but you will still need to install them and screw them in. The process takes a few minutes. You will also have to install the kickstand as well.
Before you go out to ride, you should make sure that the tires are inflated, the battery is full, the lights are properly set, and there are no loose screws.
User manual and P-settings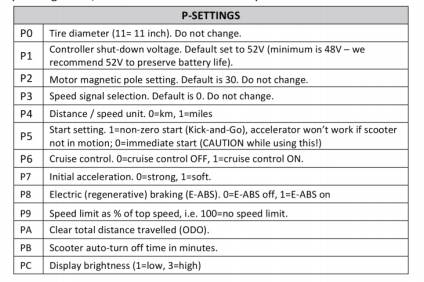 The user manual that will come with your scooter is short but detailed. Reading it is both easy and quick, but it can also prove to be very useful down the line, as the manual might contain some information about that specific version of the scooter that is not available anywhere else. You should also check out the Kaabo Wolf Warrior's P-settings, as you will probably want to tweak some aspects of your scooter.
Kaabo Wolf Warrior basics
This is not your grandpa's scooter, and it doesn't need a kick to get going. You just press the throttle and you start flying immediately.
The scooter has a wide combination of performance configurations. You can choose between 3 speed gears, eco or turbo mode, and single or dual motors mode.
The folding mechanism of the Wolf Warrior is very sturdy, yet very simple to use. It's just a simple but very stiff pin that you need to remove to unlock the folding mechanism, then adjust the position of the safety nut, and then pull the folding lever and push the handlebars down.
Durability, lifespan, build quality
Durability and build quality are definitely strong suits of the Kaabo Wolf Warrior. In fact, those might be its strongest weapons.
Based on my experience with this scooter, it's really hard to see how it could break down. The scooter is engineered and built to take on some serious abuse. Made for the challenges of the off-road primarily, the urban rides even on streets with some serious potholes and cracks are almost a joke for it.
I can easily see this scooter lasting for years and years without even a sign of a defect. That is to be somewhat expected, since this is a premium scooter after all, but even some of the other premium models have had trouble standing the test of time as well as the Kaabo Wolf Warrior has.
Design, look and feel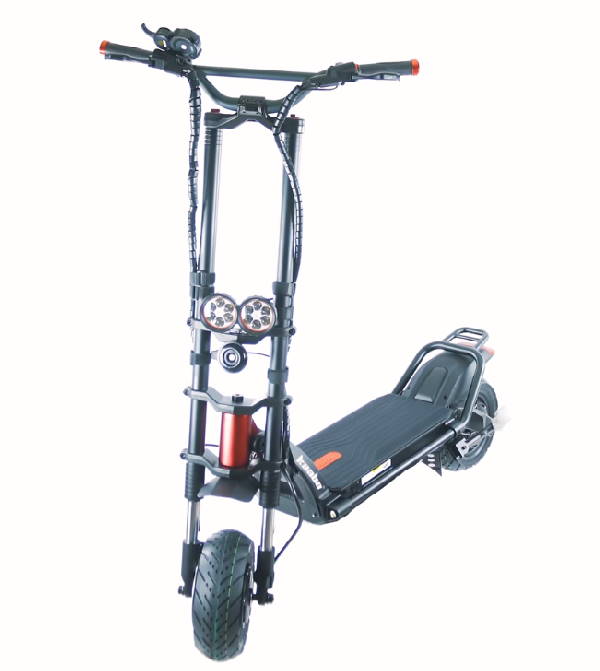 One thing is for sure – the Kaabo Wolf Warrior will never be mistaken for another model.
It is obvious that a lot of thought has gone into the design process of this scooter. The distinct monstrous look, the unapologetic lines, the strength built into every nook and cranny, all make this scooter radiate a feeling of endurance and power.
The brave design translates into a flawless ride experience, and the scooter not only looks, but also feels very tough and solid on the touch.
User experience and ride comfort
The Kaabo Wolf Warrior provided me with one of the best ride experiences I've ever had. Not only does the scooter have 11-inch tires (one of the biggest tires in the game), but it also comes with an amazing suspension system.
It is one of those very few scooters that are truly premium, in every single part and component, but also in their whole build and execution, and the result is a silky-smooth ride without as much of a wiggle or an unexpected noise.
Controls, cockpit, handlebars
The right handlebar is where most of the action is, and the buttons there are used to turn the scooter on and switch the speed and motor modes, as well as a mode button to toggle between different display modes on the screen. The buttons to toggle the lights and to sound the horn are on the left handlebar.
The scooter comes with the highly revered EY3 round display that Dualtron scooters have, which always comes with the trigger throttle. The screen, along with the small dashboard with the control buttons are both on the right handlebar.
As usual, the EY3 display shows you:
current speed
battery level
speed mode
distance covered
Both of the handlebars host a brake lever. As with any vehicle, the left lever is for the rear brake, and the right lever is for the front.
Deck and frame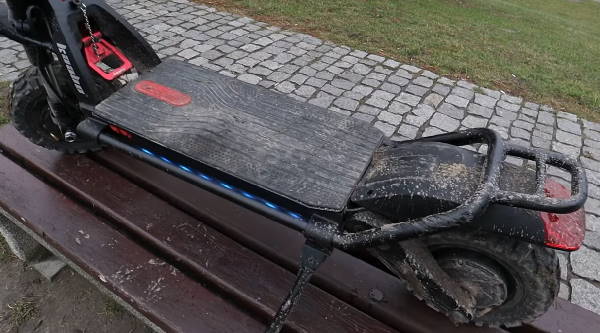 The deck of the scooter is very spacious, and it will have no problem fitting the feet even of the largest adults. The deck also has an elevation above the rear wheel, which is great for resting one of your feet while riding.
Made out of the highest-quality T6061 aviation-grade aluminum, the scooter's frame is both light and durable. The stem of the Kaabo Wolf Warrior is instantly recognizable – the dual bars make sure that the handlebars remain very stable throughout the entire ride, without sacrificing cornering and control.
The scooter comes with a very stable and thick kickstand.
Motors and power
The motors of the Kaabo Wolf Warrior are another one of its strongest sides, and one of my personal favorite features of this scooter.
It has two hub BLDC motors, one in each wheel, each with a real power level of 1200 Watts and a peak power level of 2700 Watts. They are controlled by two 40A controllers. The result is a combined peak power output of 5400 Watts!
That level of power is just insane. It makes the Kaabo Wolf Warrior more performant than the majority of motorcycles, and even more powerful than some cars as well!
Speed and acceleration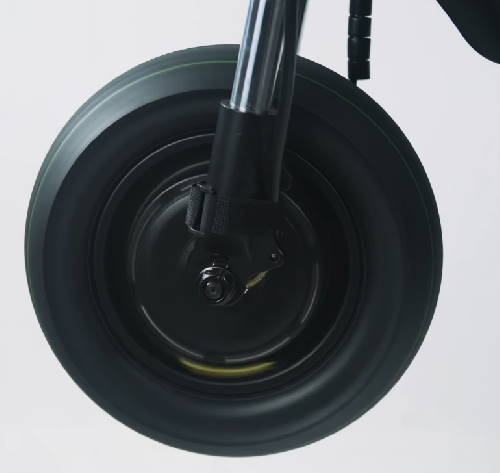 The official top speed of the Kaabo Wolf Warrior is 50 mph / 80 kmh. I didn't dare to test this speed, but I did reach around 42 mph / 67 kmh without any issues.
Other owners have proven that the scooter develops its advertised top speed without any problems. There are practically no instances where the scooter hasn't been able to deliver on the promised speed, and in some user tests, the Kaabo Wolf Warrior has actually reached top speeds of 53 mph / 85 kmh.
Naturally, the acceleration of the scooter will also be insane. When everything is set up for maximum performance, with the dual-motor mode turned on and the fastest gear selected, the scooter will accelerate incredibly fast and will have quite a kick to it. It will definitely take some getting used to, especially if you've never tried a scooter this powerful. The scooter reached speeds of 15 mph / 25 kmh in less than 2 seconds.
Hill climbing
Hill climbing is another area where the Wolf Warrior simply excels. The official climb angle of the scooter is 30%, or 16.70°, but from my tests and experience, the scooter is capable of conquering even much steeper hills than that.
It's not surprising, really. With two monster motors, the scooter develops insane torque, and it easily eats up any type of slope you throw at it.
Now, there is one point of contention here. In the past, the climb angle of the Kaabo Wolf Warrior has been misreported by some other companies as being 30° instead of 30%. Even though it felt to me that's probably pretty close to how much the scooter can actually climb, it's not exactly true, and there have been a few user tests that have busted that myth. So, while the Kaabo Wolf Warrior has an amazing climb angle, it's probably not 30° / 57.74%.
Weight limit and usage by heavy adults
The Kaabo Wolf Warrior is one of the best electric scooters for heavy adults in the world right now. It can carry up to 330 lbs / 150 kg of weight on its deck, and has a very large and wide deck that will support even the largest people. The scooter has absolutely no issues providing almost unadulterated performance even for heavier riders.
Battery and charging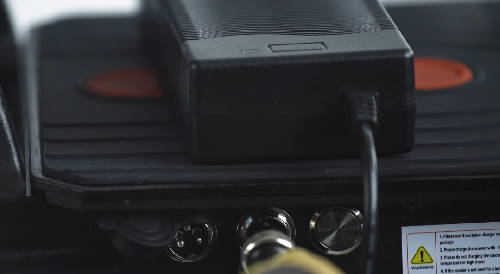 The battery of the Kaabo Wolf Warrior simply can't be better.
For starters, it comes from either LG / Samsung, and those are the two top battery manufacturers for electric scooters.
The lithium-ion battery has a voltage of 60 Volts, and a capacity of 35 Amp-hours, or 2100 Watt-hours, making it one of the biggest batteries in a scooter ever. The battery is protected by common charging and discharging faults by a smart battery management system.
The scooter has two charging ports. It will take 20 hours to charge fully with the regular charger, and 12 hours for fast charging, which is simply brilliant, since scooters with batteries 5 times smaller sometimes take 8 hours to charge.
Range
Given the huge battery, the Kaabo Wolf Warrior will obviously be capable of very long ranges on a single charge. The exact range you will get will still mostly depend on the speed at which you're riding.
If you're riding very conservatively and at lower speeds, you should easily get around 70 mi / 112 km. I've gone around 40 mi / 64 km on just half a battery charge, which in theory means the scooter should be able to go 80 mi / 128 km (I was riding fairly slowly most of the time, however).
If you ride at faster speeds, you can still expect ranges between 40 and 50 mi / 64 and 80 km.
Offroading and terrains
The Kaabo Wolf Warrior is often referred to as one of the best off-road electric scooters in the world, and often even as the single best one, and that has been the case for several years in a row now. I went on a few off-road rides in one of the mountains nearby, and the scooter didn't disappoint – while the rides were not as smooth as urban rides, they were still quite stable for off-road rides.
Of course, for that to be the case, you will have to order the scooter with the off-road tires (I tested the off-road tires), but even more important than the tires are the suspension and the extremely tough build and high quality of the scooter that make it withstand all kinds of punishment with ease.
Since the scooter is often bought primarily for riding off-road, it has been tested and proven countless times in all sorts of environments and terrains. Nothing will stand in its way – dirt, grass, dust, pebbles, rocky roads, cobblestone, sand, the Kaabo Wolf Warrior handles it all.
Waterproofing and IP rating
The official water resistance rating of the Kaabo Wolf Warrior is IPX4. That means the scooter is immune to damage from water splashes from all angles. I rode the scooter through some rain a few times, and never had any issues.
Technically, the scooter is water-resistant, but not fully waterproof. As with any electric scooter, riding in the rain is best avoided if possible. There has been just one water-related defect reported online, out of thousands of units in circulation.
Lights and riding at night

One of the signature features of the Kaabo Wolf Warrior is its two big headlights, with 5 Watts of power in each. They will light up the road ahead very well, and cast a beam of light up to 10 meters ahead.
The front of the deck also features two additional lights, although they are not as bright. Additionally, the scooter has LED strips on the sides of the deck. All of these lights on the deck are independent of the other lighting systems, and are toggled by the light button on the deck itself, near the charging ports.
In the rear, the scooter has red brake lights that are activated every time you engage the brakes.
All in all, the scooter has plenty of strong lighting, and can be safely used at night.
Tires and suspension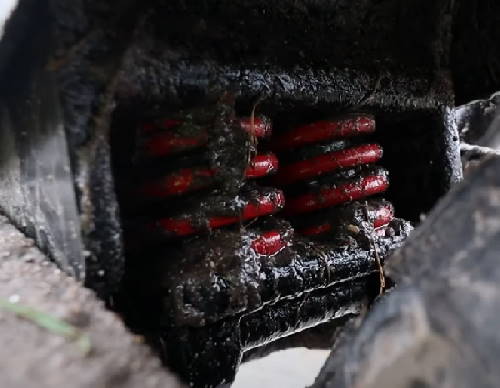 You can choose the tire type when you purchase the scooter, with regular street tires and off-road tires both available.
No matter which ones you choose initially, you should also be able to switch them rather easily later. Unless you already know you want to ride the scooter off-road primarily, I recommend going with the regular street tires first (even though I chose off-road tires initially).
The tires are 11 inches in diameter, and around 3.5 inches in width. No matter which tire type you go with, you will get the explosion-proof pneumatic tubeless tires, and flats will almost certainly never be an issue. The recommended tire pressure is 50 PSI.
Ride comfort was amazing with this scooter, and not just because of the huge tires. The Kaabo Wolf Warrior famously has one of the best suspension systems in the scooter world, with high-quality hydraulic dual shock absorbers in the front, and dual spring shock absorbers in the rear. Remember, this scooter has been designed for the off-road primarily, and riding through the regular city streets will be as smooth as a dream.
Brakes and safety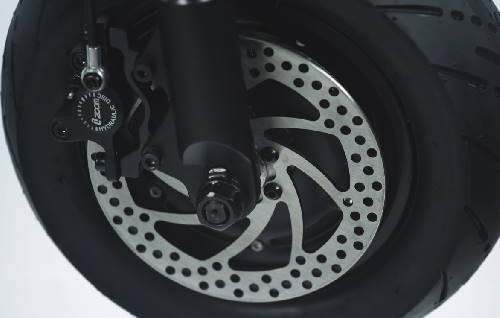 Similar to the other systems, the brakes of the Kaabo Wolf Warrior are simply flawless and of unrivaled quality.
The scooter comes with fully hydraulic 140-mm Zoom brakes in both of the wheels. It can't get much better than that – Zoom is the best manufacturer of brakes in the world right now, and hydraulic brakes are by far the best type of brakes. The scooter comes to a full stop within 5-6 meters even when braking from higher speeds.
In addition, the scooter has an electronic brake system that disengages the motor when used, and it also includes the electronic anti-lock braking system (E-ABS) which will prevent skidding and the tires locking even when braking on slippery surfaces.
Even though the scooter has excellent brakes and is very safe, you should still wear a safe scooter helmet. The scooter's performance is so powerful that it practically leaves you no other choice than a proper full-face motorcycle helmet.
Weight, dimensions, and portability
This is a scooter that is not meant to be carried over longer distances.
The scooter weighs 101 lbs / 45.8 kg. When folded, the scooter's dimensions are:
length: 59 in / 149 cm
width: 11 in / 27.9 cm
height: 19 in / 48 cm
The scooter will barely fit in larger car trunks, and it will probably not fit into smaller car trunks at all, mostly because of its length.
App
There is no official app for the Kaabo Wolf Warrior.
You may want to check out the EScooterNerds Universal Scooter Helper app, available for iPhone and Android. The app will provide you with some commonly-used features like checklists, guides, resources, calculators, tools, access to the used scooter marketplace, etc.
Gear, accessories, customizations
Since this is a very expensive scooter, you will definitely want to get a strong and secure scooter lock.
Besides that, you can also choose from several other customized accessories for the Kaabo Wolf Warrior and look at some generic scooter accessories that might fit the Wolf as well.
Unfortunately, there's no official seat available for the Kaabo Wolf Warrior. I recommend a trunk for this scooter as the most useful accessory, and maybe even an entire storage compartment installed in the back if you need to carry a lot of stuff, which also makes this a great scooter for delivery.
Maintenance and repairs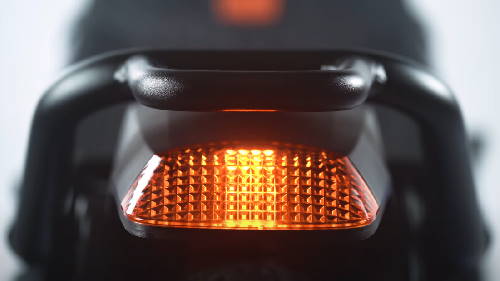 This is a very popular scooter, that sells a lot of units every year despite its higher price. That means there will be plenty of mechanics and experts that know how to fix this scooter in case something goes wrong. Also, spare parts should be easily available, and in the first year of ownership, while your scooter is still under warranty, a lot of them should be free as well.
Since this is a very tough and resilient scooter, you can get away with a very simple maintenance routine, which you can perform once or twice a month. All you have to do is to make sure that:
there are no loose screws
the tires are sufficiently inflated and don't have any leaks
the brakes and the hydraulics work properly, and adjust them if needed
Known issues and tradeoffs
Even though the Kaabo Wolf Warrior is truly a premium scooter, it does come with a set of tradeoffs that clearly make it unsuitable for a lot of would-be scooterists.
For starters, the price of this scooter is almost always around $3000, and even though you can get around $50 off if you use the escooternerds coupon at checkout, it's still a prohibitively high price for many people.
This is a true power scooter. Every little part, screw, and wire in it are made to serve one purpose, and that's performance, and performance off-road in particular. That makes the scooter very heavy, very large, and very inconvenient to carry around.
It also comes with a steep learning curve, and it might take weeks or months before you start handling the scooter well. You will definitely want to look at some other options if you're looking for a regular commuting scooter (see my guide on the best electric scooters under $500 for some great picks). I've tried many scooters over the years, and even I needed some time to adjust the first time I tried this scooter.
If you're aware of those tradeoffs, and the Kaabo Wolf Warrior still sounds like an amazing scooter to you, then you will be happy to know that the scooter is of excellent quality, and barely has any serious issues that are commonly present in all the units. You will definitely get your money's worth with this scooter.
Kaabo Wolf Warrior vs other scooters
It's impossible for a scooter to hold the title of the best off-road scooter ever, without being constantly challenged by other scooters vying for the title. Let's see how the Kaabo Wolf Warrior defends its crown.
Kaabo Wolf Warrior vs Dualtron Thunder
Possibly the biggest rival of the Kaabo Wolf Warrior is the Dualtron Thunder, another very strong and very powerful scooter that comes with solid off-road capabilities.
Generally speaking, we could say that the Wolf is better prepared for the rides through rough terrains, as its tires are very deeply treaded and made specifically for off-road. Plus, the Wolf can come with standard road tires as well, which gives it a lot of versatility, and since the Dualtron Thunder only comes with standard road tires, it will lack that versatility.
The top speeds of the two scooters are identical at 50 mph / 80 kmh, which is no surprise at all, since both scooters come with the same dual-drive motor configuration with 2400 Watts of combined real power.
The range is also very similar, with the Thunder having a slight advantage of 5 mi / 8 km. Since both scooters have very similar battery capacities, the Thunder's range advantage likely comes from its slightly lower mass, as it weighs 95 lbs / 43 kg, as opposed to the Wolf's weight of 101 lbs / 46 kg.
Interestingly, the Kaabo Wolf Warrior has a better weight limit, with 330 lbs / 150 kg against the Thunder's 265 lbs / 120 kg, which may be due to a better and stronger build overall. Remember, the Kaabo Wolf Warrior is made for offroading primarily, where durability and strength are key, and that may explain its advantage in weight limit despite the scooters having very similar motors.
Finally, the Kaabo Wolf Warrior is significantly cheaper than the Dualtron Thunder, by several hundred dollars, and often even more, and I believe that's the biggest advantage the Wolf has over the Thunder, as there's no sense in overpaying that much for practically the same performance.
Kaabo Wolf Warrior vs Dualtron Ultra 2
While the Kaabo Wolf Warrior and the Dualtron Thunder are very often compared against each other, I believe that the Wolf vs the Dualtron Ultra is a much better comparison.
Unlike the Dualtron Thunder, the Dualtron Ultra is a true off-road scooter, and even though both scooters have 11-inch tires, the Ultra comes with treaded tires ready for rough terrains, and is a much better matchup against the Wolf. The Wolf still has an advantage in the tire department, as its off-road tires are legendary and possibly the best off-road tires in the world, but the difference will not be as pronounced.
Now, there have been several big improvements from the first to the second Dualtron Ultra version, and the Ultra 2 is much stronger in overall performance, with 6640 Watts of combined peak power, a potential top speed of 62 mph / 100 kmh, and a range of 87 mi / 140 km.
That difference in performance is understandable, as the Dualtron Ultra 2 costs a lot more than the Kaabo Wolf Warrior. The Ultra 2 is often priced around $4000, and sometimes even more. You will be getting one of the best high-performing electric scooters ever made, but at a hefty price.
I'd recommend sticking with the Kaabo Wolf Warrior for most off-road enthusiasts, as it's a true off-road classic that will not destroy your budget. Consider the Dualtron Ultra 2 if you're after that true cutting-edge performance. You can check out my Dualtron Ultra 2 review if you're interested.
Kaabo Wolf Warrior vs Zero 11X
The Zero 11X is another serious challenger to the Kaabo Wolf Warrior, although, similarly to the Dualtron Ultra 2, it's often priced a lot higher than the Wolf, and it's almost like comparing scooters from two different price categories.
The Wolf will usually be around $500-$1000 cheaper, but the Zero 11X truly justifies its price with its stronger dual motors of 3200 Watts of real power combined, which give the scooter a top speed of 62 mph / 100 kmh, and the 72V LG battery which gives it a range of 90 mi / 145. It's clear that the Zero 11X has the edge in terms of raw performance.
Curiously, the Zero 11X seems to lack an official IP rating, which is somewhat strange for a scooter of this caliber. It's still a great off-road scooter, with 11-inch treaded off-road tires, although many merchants don't offer the option to get the scooter with the standard road tires, which reduces its versatility.
I recommend staying with the Kaabo Wolf Warrior if you're after that true off-road experience, and checking out the Zero 11X at Rydology if you want a top-notch off-road scooter but leaning more towards the power end of the spectrum.
Kaabo Wolf Warrior vs Wolf King
Probably the only real threat to the Kaabo Wolf Warrior comes from its next-generation upgrade, the Wolf King. The Wolf King is a later release, and naturally, it will have some significant advantages in terms of motor power, with 2880 Watts of combined real power against the Wolf Warrior's 2400 Watts, which will give it a higher top speed of 60 mph / 96 km.
The battery comes with an improved quality level but a reduced battery capacity, and as a result, the range remains the same at around 50 mi / 80 km.
The Wolf King is also available with both standard and off-road tires, giving it the same versatility as the Wolf Warrior provides.
I might recommend sticking with the Kaabo Wolf Warrior if you want to get one of the most proven and battle-tested scooter models ever, but make no mistake, the Wolf King is the clear way forward, and if that sounds like a better option to you, check out the Wolf King at Voromotors, or see my complete Kaabo Wolf King review.
Kaabo Wolf Warrior vs VSETT 10+
The Kaabo Wolf Warrior 11 and the VSETT 10+ look very different on the outside, but are actually quite similar in terms of performance.
Their top speeds and their ranges are exactly the same, and even their motor powers. That's somewhat curious in this case, especially the range, since the Kaabo Wolf Warrior has a bigger battery that also makes it heavier.
The water protection standards are also identical, and to some extent the brakes and the suspension as well, since they both have excellent hydraulic brakes and hydraulic suspension systems.
One advantage the Kaabo Wolf Warrior has is the bigger weight limit, making it better for heavier adults.
Another advantage would be the tires, which are bigger with the Wolf Warrior, making the rides more comfortable and stable.
Finally, another advantage would be the brand name, as well as the experience and brand recognition behind it, since this scooter has been through many iterations and versions and has learned a lot of valuable lessons.
Still, the VSETT 10+ will usually be cheaper by about $100-$200, and it will still come with similar performance. You can check out the VSETT 10+ at EWheels if you're curious.
My verdict – should you buy the Kaabo Wolf Warrior?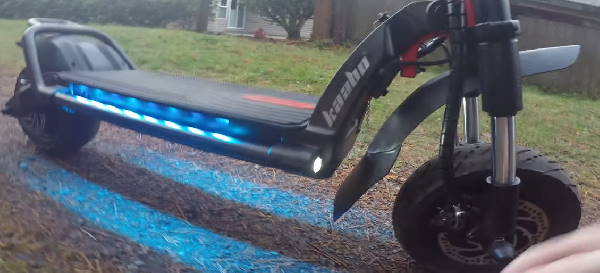 As we said at the beginning of this review, the Kaabo Wolf Warrior is not for everyone. In fact, I would say it's only for a small proportion of people.
Do you want the best off-road scooter in the world? Then the Kaabo Wolf Warrior is for you.
Do you want one of the most powerful electric scooters ever made? Then the Kaabo Wolf Warrior is for you.
Do you want one of the highest-quality, most durable, most iconic, most beloved electric scooters in the world? Then the Kaabo Wolf Warrior is definitely for you.
Where to buy the Kaabo Wolf Warrior from?
Worldwide
In the last few months, the Kaabo Wolf Warrior has been available on
Voromotors
, and for a much lower price than what you would find elsewhere. As usual, ordering from Voromotors means stellar customer support, free delivery in the US (and also in Canada, the UK, and most EU countries on orders above $3000, which means this scooter gets delivered for free as well), and a shipping period of just a few days. Also, don't forget to use the coupon code
escooternerds
for a $50 discount! Additionally, check the scooter's listing at
FluidFreeRide
, as they may have a better deal at times (although keep in mind that some of the specs might have slight differences).
Frequently asked questions
These are the most popular FAQs and help inquiries about the Kaabo Wolf Warrior 11.
How do I fold the Kaabo Wolf Warrior 11?
To fold the scooter, follow these steps:
Remove the protection pin from the bottom of the stem
Rotate the piece under the pin to the "unlock" position to free up the folding mechanism
Lift the bolt and gradually lower the stem towards the back wheel
Can I install a seat on my Kaabo Wolf Warrior 11?
The Kaabo Wolf Warrior 11+ scooter supports a seat installment, which you'll have to purchase aftermarket. The seat can be installed at the far back side of the deck and will require some work to be done before it's ready for a ride. Check out this video from the Voromotors Workshop for a detailed guide on how to install a seat on your Kaabo Wolf Warrior 11:
Specifications
Kaabo Wolf Warrior Specifications
| | |
| --- | --- |
| Top speed | 80 kmh |
| Top speed | 50 mph |
| Range | 112 km |
| Range | 70 mi |
| Motors | dual brushless BLDC |
| Power | 2400 W real, 5400 W peak |
| Climb angle | 17 ° |
| Battery | 2100 Wh, 60 V |
| Battery type | 35Ah LG or Samsung |
| Charging time | 12 h |
| Ingress protection (IP) | IPX4 |
| Weight | 46 kg |
| Weight | 101 lbs |
| Weight limit | 150 kg |
| Weight limit | 330 lbs |
| Tire size | 11 in |
| Tire type | pneumatic tubeless |
| Tire pressure | 50 psi |
| Seat | no |
| Trunk or basket | no (customization possible) |
| Terrains | all terrains, great for offroad |
| Brakes | hydraulic + electronic |
| ABS | yes |
| Shock absorbers | front + rear hydraulic |
| Lights | head light + rear lights + side lights |
| Warranty | 12 months |
| Return period | 30 days |
| Folded dimensions (L * W * H) | 150 cm * 28 cm * 48 cm |
| Folded dimensions (L * W * H) | 59 in * 11 in * 19 in |
| Unfolded dimensions (L * W * H) | 125 cm * 63 cm * 127 cm |
| Unfolded dimensions (L * W * H) | 49 in * 25 in * 50 in |
| Deck to handlebar height | 97 cm (est) |
| Deck to handlebar height | 38 in (est) |
| Adjustable handlebar | yes |
| Use cases | power, offroad |
---
Want to get
FREE SCOOTER
tips, exclusive discounts and promotions, and unseen scooter hacks? Join the
Scooter Secrets club
.
---
Liked this article? It really helps if you share it.
Follow @escooternerds on social media for more cool stuff
---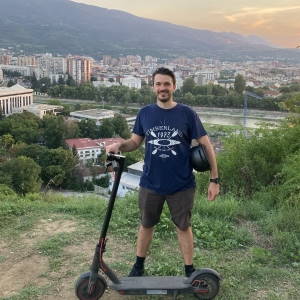 Where to buy the Kaabo Wolf Warrior