Last Updated on February 10, 2023 by Matt
I wish electric scooters were a thing when I was a student.
It would have made life much easier – being on time for both my class and my part-time job, being ready and rested the whole time instead of tired and sweaty (I used a bike), and, of course, my transport expenses completely eliminated.
Today, students can rely on electric scooters to make their lives much easier, and help them be more productive.
Let's see what makes a good scooter for a student, which are the best models available currently, and a few other useful tricks students may want to know to save a bit more when getting their perfect electric scooter.
Best electric scooters for college students
These are the best electric scooters for students today.
Hiboy Max3 – best electric scooter for students
The Hiboy Max3 is one of the most versatile scooter options around, very commonly bought by people who can't find the right pick for them, for any number of reasons. It is especially good for students because of several interesting features, some of which are quite unique and not often found in many other models.
The popular solid-tire option is one of the few scooters on this list that can be carried rather easily because of its smooth design, and you can just roll your scooter with you when you're not riding it. Coupled with the very manageable weight of just 34 lbs / 15.4 kg, and very small folded volume and dimensions, this is one of the more portable electric scooters for adults.
The Hiboy Max3 also performs pretty decently, with a top speed of 18.6 mph / 30 kmh, and a range of 16.7 mi / 27 km on a single battery charge, outperforming most budget models.
The scooter is especially popular for scooterists looking for a sturdy, tough, durable budget model that will stand the test of time, and it has proven to be one of the most reliable low-price scooters ever made.
You can see my complete review of the Hiboy Max3 to find out more.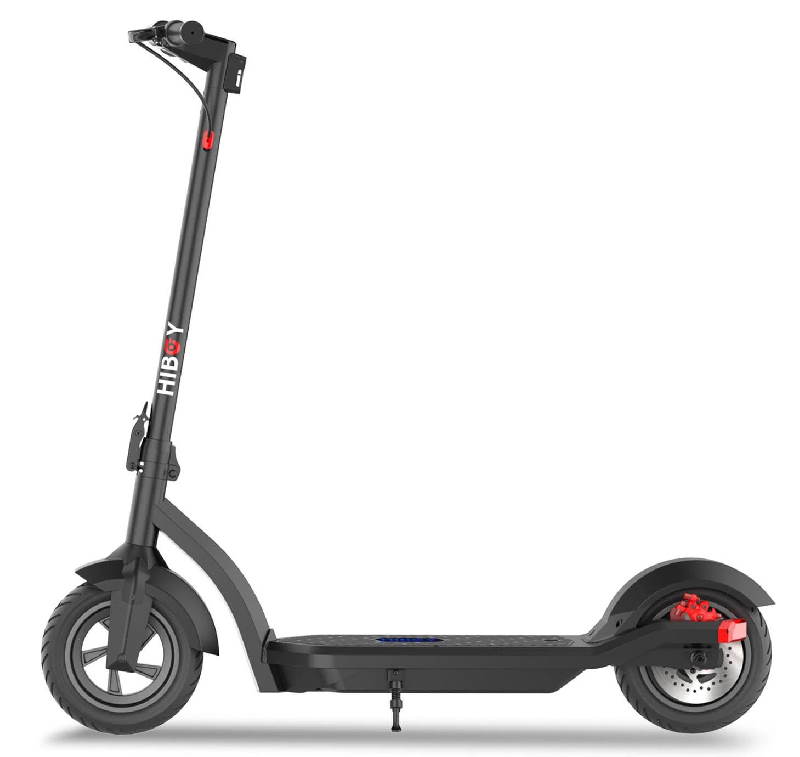 GoTrax GXL V2 Commuter – best electric scooter for students under $300
If you're primarily concerned about your budget, then the GoTrax GXL V2 Commuter will probably be your best bet. It's typically priced at around $250, and I truly believe that's the lowest price point in the electric scooter world at which you can still get a decent scooter.
Actually, the GoTrax GXL V2 Commuter is more than decent.
The hub BLDC motor of 250 Watts will provide you with the common top speed of 15 mph / 25 kmh, a solid 14-degree climb angle, and 220 lbs / 100 kg of weight capacity. The range of this scooter is probably the weakest point, but with 12 mi / 19 km, it's still plenty for navigating around campus.
The scooter folds down to a very small package, and weighing just 26 lbs / 12 kg, it's very easy to carry around and it will fit everywhere. The 8.5-inch tires of this scooter are more puncture-resistant than what you might expect from a scooter this cheap, and the IP54 water protection standard will make sure nothing goes wrong even if you have to ride through some light rain.
GoTrax offers plenty of options for customizing the scooter, but since it's pretty standard in its build and design, it will also fit a lot of generic scooter accessories as well.
You will be hard-pressed to find a more budget-friendly scooter for a student (that doesn't suck) than the GoTrax GXL V2 Commuter. If your budget is around $250, it is definitely your best option.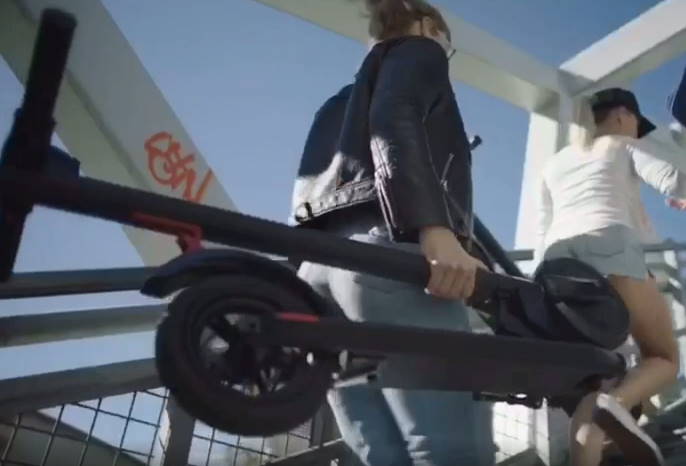 GoTrax XR Ultra – best electric scooter for students under $400
The GoTrax XR Ultra is a step above the GoTrax GXL V2 Commuter. As usual with GoTrax models, it's also excellent value for money, but the performances of the Ultra are much more useful.
While not an ultra-budget pick like the V2, the GoTrax XR Ultra is still a very low-budget choice, typically priced around the $350 mark. And, at that price point, GoTrax is still the go-to brand. In fact, I don't even think any other brand for adults comes even close, and that's why I often refer to the GoTrax XR Ultra as the best electric scooter for adults under $400.
While the top speed of the scooter is at the same standard level as the GoTrax GXL V2 Commuter, the range is better, and the scooter can go up to 16 mi / 26 km on a single charge. You get the same standard goodies, like the 220 lbs / 100 kg weight limit and the IP54 rating, and a slightly improved climb angle of 15 degrees.
More importantly, the scooter also weighs around 26 lbs / 12 kg, and has very small folded dimensions (even smaller than the V2, despite having a bigger battery). This scooter will fit everywhere you need it to fit, and it will not be a problem to carry it anywhere you need to carry it.
And, of course, coming from GoTrax, it will fit all the native GoTrax accessories, but also many of the generic accessories because of its fairly standard build and design.
As I said, I don't think there's a better scooter for adults under $400 in general, and given this model's excellent portability and practicality, it is probably the best scooter for students for that price as well, at least in the US and Canada (see the next pick if you're studying in Europe).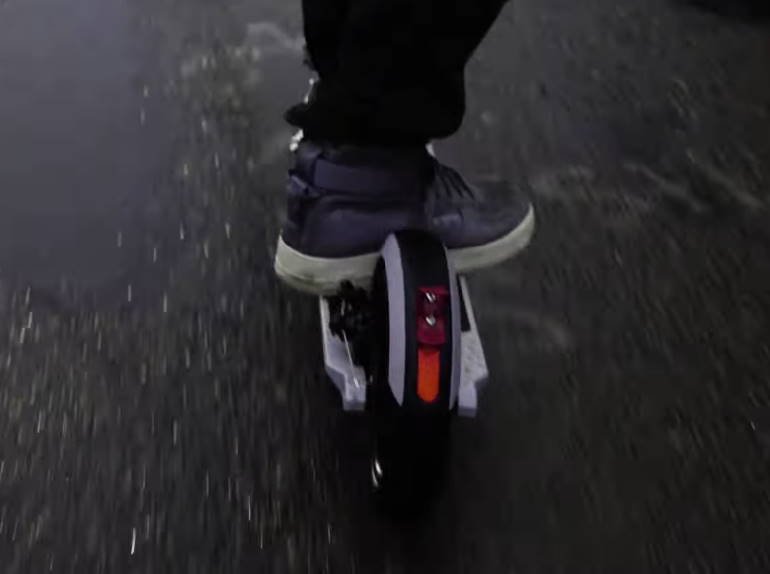 Aovo Pro – best waterproof electric scooter for students
At the moment, I believe that the Aovo Pro is the best alternative to the Xiaomi M365. True, some may describe it as a copy attempt, or an outright clone, but that doesn't mean the scooter doesn't hold any value as a product. Quite the contrary, the Aovo Pro is a great bang for buck, in many ways even more so than the Xiaomi M365, and you will get some very useful improvements, while saving a nice chunk of change as well.
The scooter is available globally, but for some reason, it has gained a cult following in the UK and in the rest of Europe, at least more so than in the US. The IP65 water protection rating may be one of the main reasons, as it's one of the strongest water protections in the scooter world currently, certainly the strongest when it comes to budget scooters. This is one of those scooters that you can ride through the rain or any body of water confidently.
While on the outside the Aovo Pro looks a lot like the Xiaomi models, things are pretty different on the inside. The Aovo Pro performs quite better than the standard Xiaomi M365. The top speed of 20 mph / 32 out of the box is certainly better, and the scooter is actually capable of even faster top speeds. The scooter also has a climb angle of 20 degrees, which is the best on this list, and a larger weight limit of 265 lbs / 120 kg.
The range of the scooter is also very formidable. The 378 Watt-hour battery will provide a range of 22 mi / 35 km, which is simply incredible, given the scooter's typical price of $399.
Another piece of great news is that the scooter does all of that while weighing just 26 lbs / 12, the same as the lightest scooters on this list. The scooter's folded dimensions are very small as well, and the scooter has a very natural center of gravity right around the middle of the stem, making it very convenient for both carrying and storing.
The Aovo Pro is a relatively new model, but it's no wonder it's making such a splash hit. I see no reason not to choose it over some of the established models if you're looking to save some money – you will definitely get a great budget scooter.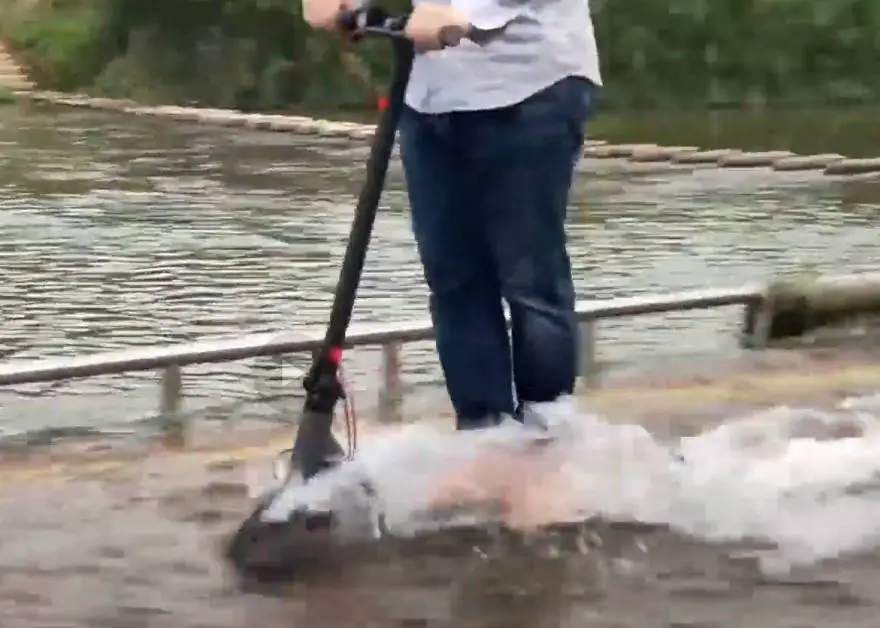 Unagi Model One – coolest-looking electric scooter for students
Some students will want their scooter to look cool before everything else.
The Unagi Model One is almost always the choice for scooterists that want a great-looking scooter. The Model One famously has one of the best designs in the scooter world today. Engineered to perfection, flawlessly executed, it is the iPhone of scooters that are appropriate for students, and is certainly the most luxurious scooter on this list.
Besides the excellent design, the Unagi Model One offers a lot more in terms of features, user-friendliness, and overall build quality.
The scooter has a very high weight limit of 275 lbs / 125 kg, and puncture-proof solid tires with a diameter of 7.5 inches.
The strongest weapon of this scooter is its portability. Weighing just 23 lbs / 10.5 kg, it is the lightest scooter for students, and one of the lightest electric scooters for adults in the world in general. Also, when folded, the Unagi Model One occupies the least space out of all the scooters for students.
The top speed of this scooter is limited at the standard 15.5 mph / 25 kmh, and the range is 15.5 mi / 25 km on a single charge.
All in all, the Unagi Model One performs well, but its portability, build quality, and practicality are its strongest weapons.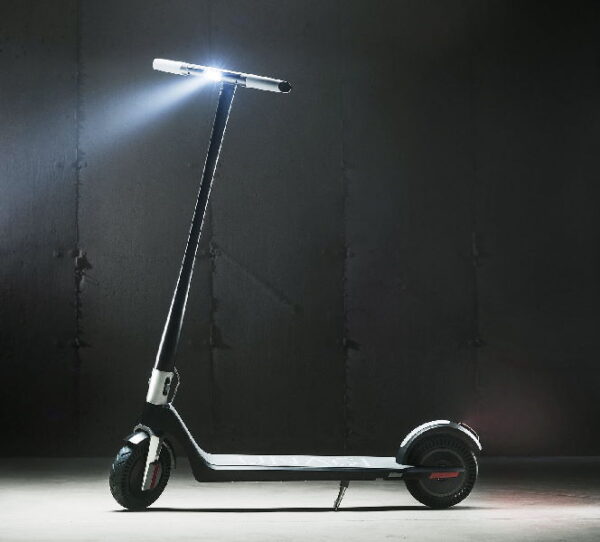 Levy – most practical electric scooter for students
The Levy, and its older brother, the Levy Plus, are both one of the most original and the most modular electric scooter choices today. They can be easily customized even before you buy, and provide easy ways to use and maintain them after buying as well.
The trademark feature of the Levy scooter is its removable battery. You can simply detach it from the scooter any time you need to recharge it, and leave your scooter locked outside while you take your battery in your room and charge it. You can also take out the battery if you're worried about someone stealing your scooter – the scooter will be useless without the battery, and probably not as good of a target for theft as other scooters.
The Levy is a bit more performant than the typical budget commuter, and can reach speeds of up to 18.6 mph / 30 kmh. It has a range of 15 mi / 24 km, and if that's not enough for your needs, you can always get the upgraded Levy Plus version, which has a range of 22 mi / 35 km.
The Levy weighs 26 lbs / 12 kg, and has very portable dimensions when folded.
The scooter also looks very elegant and slick, and it definitely helps if you want to stand out a bit instead of being another one of those people with a Xiaomi scooter or one of its many clones.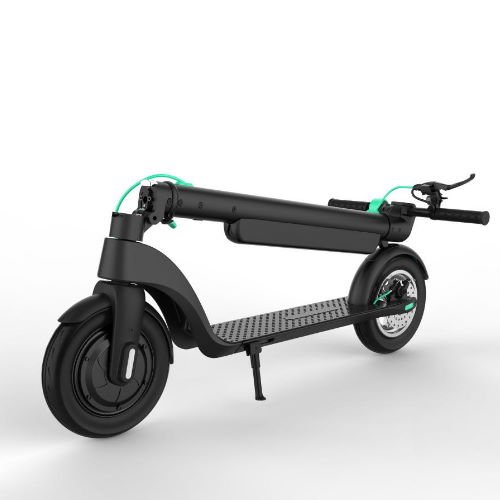 TurboAnt X7 Pro – best long-range electric scooter for students
And finally, a recommendation perfect for the lazier ones who keep forgetting to charge their scooters on time.
The TurboAnt X7 Pro is an instant classic among affordable e-scooters. It is one of the longest-range scooters below $700 at the moment, and checks all the primary criteria a good scooter for students should satisfy.
The main feature of this scooter is the removable battery, which you can unclip from the stem in a second and charge wherever you go. It is perfect for recharging at your college or library, as you won't need to take the whole scooter inside, but just the small battery. A single charge will provide you with about 30 mi / 48 km of range.
Besides its great range capabilities and removable battery, the TurboAnt X7 Pro is also very portable, weighing only 33 lbs / 15 kg, and super practical to use with one of the simplest steering wheel designs.
And the best part? It's pretty affordable as well, costing about $550.
Of course, you will find a lot of cheaper and more portable scooters, even on this list. But if you're looking for as much range as you can get out of a scooter that can still be considered fairly portable, and the removable battery sounds like a smart idea to you, then the TurboAnt X7 Pro will be an ideal choice for you.
Are electric scooters good for college students?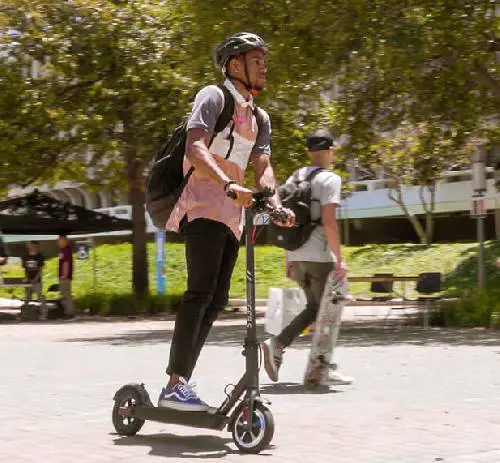 Electric scooters are a very good idea for students. Navigating the campus and the city with ease, saving a ton on transport costs, being less late for class or for the part-time job, and not having to drag that bulky backpack, make the electric scooter a powerful ally for any student.
What makes an electric scooter good for a student?
For a scooter to be a great fit for a student, it must satisfy three major criteria:
it must be portable, so that you can carry it with you anywhere, and maybe even fit under the classroom desk
it must have a trunk or a bag, or the ability to support such an accessory, so that you can carry your books or your backpack in it
it must be cheap, because as well all know, most students are perpetually broke
One more factor that should be considered is the scooter's range. Obviously, the more range the scooter has, the better. However, even most budget scooters today have sufficiently large ranges for cruising around most campuses, so while important, range will be a secondary factor.
Financing for electric scooters
Almost anyone who's ever been a student knows that money is always short in that time of life. Even though an electric scooter is an investment, one that will pay for itself in just a matter of months, those few hundred dollars that you need to invest are still a non-trivial sum of money for a student.
A few companies and merchants today are fully aware of that, and provide some pretty favorable financing options. At some of the online store listings, you will typically notice the logos of some of the most popular financing companies like Affirm, Klarna or Katapult. Also, options like Shopabunda allow you to buy most of the products on Amazon with monthly payments, which makes dozens of very popular scooters available for pretty much anyone.
They will often provide payment plans broken into several smaller payments, or at times even spread over a year or more. With some cheaper scooters, you may end up paying somewhere around $30 or $40 per month for a year. In many places, that's the exact amount of money you will end up saving on transportation costs, and in effect, you will get the scooter for free.
See my complete guide on electric scooter financing to find out more.
Electric scooter rentals on campuses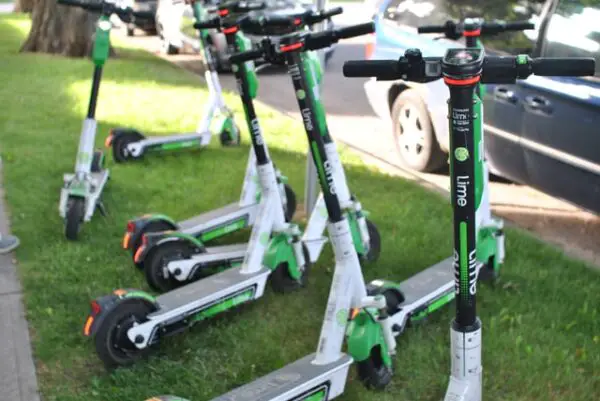 Renting an electric scooter is actually quite expensive over the long run, but it's perfect for trying out scooters for the first time. You can easily see how riding a scooter feels, and think about how it might be useful to you in your day-to-day life on campus.
Several big scooter rental companies are well aware of how useful scooters can be for students, so they've created special ride-sharing programs for many university campuses in the US. See the guide on renting electric scooters to find out more – if you're hesitant about getting an electric scooter, you will definitely want to try renting one for a bit and making a more educated decision after that.
Used electric scooters for students
Buying a used electric scooter will make a lot of sense for many college students. I recommend checking out our dedicated used electric scooter marketplace to see if you can find a good deal for you.
Also, make sure to consult my guide on how to buy a used electric scooter first, so that you are familiar with all the common tips, tricks, hacks, and pitfalls when looking at a used electric scooter.
Conclusion
Those were the best electric scooters for students, along with some other helpful tips students should consider when thinking of getting an electric scooter to best fit their needs. For reference, here's a quick summary of the best scooters for students again.
---
---
Liked this article? It really helps if you share it.
Follow @escooternerds on social media for more cool stuff
---