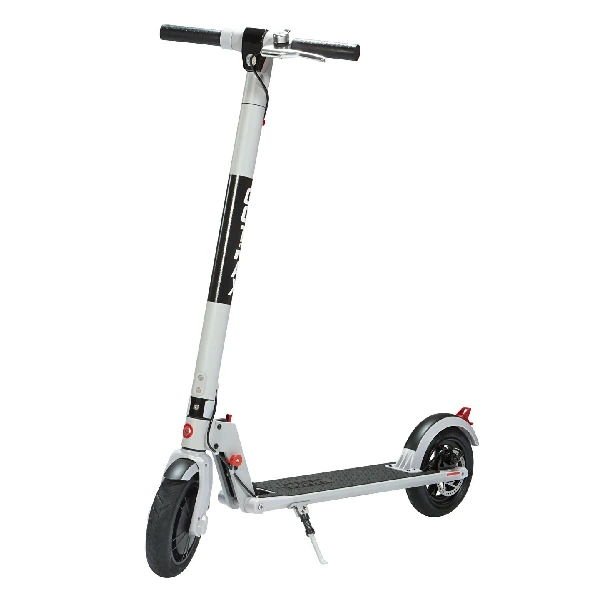 For many people, $400 is not a trivial amount of money. It is, however, an amount they might be willing to spend, or more precisely, invest, in an efficient mode of transport. Many electric scooters pay themselves off during the first year for people living in a city, and that is especially true of $400 electric scooters. That's why this price category includes some of the most in-demand models.
Each of each of them has several strong points and situations when it's the obvious choice, but also blind spots that may not make it the best choice for you. Let's explore all of them.
What to expect from a $400 electric scooter?
While it's true that $400 is not a small amount, when it comes to electric scooters, it only takes you a bit further away from the cheapest scooters. There are almost no scooters under $200 (even fewer decent ones), and there are some $300 scooters that are ok, but they are still considered budget scooters, and will come with all the limitations and downsides that budget products bring.
There is a difference between $300 and $400 electric scooters. I would say, every time you increase your budget by $100, you get less and less value differential in return. Meaning, the difference between $300 and $400 scooters is much bigger (and probably more profitable to gap) than the difference between $2200 and $2300 scooters.
That makes $400 an attractive scooter price that many potential scooter owners consider – it's not the cheapest price for a scooter, but it's also something many of us may be able to afford without too much skimping.
Anyway, while relatively cheap, $400 scooters can still be pretty darn good. Most of them will have the standard specs that pretty much any scooter under $700 today has: a single motor of 350 Watts, that will usually give you a solid top speed, respectable climbing abilities and weight capacity, and a lot more features and upsides than you would expect.
Not to complain, but I would love to see a bit more range out of these rascals. It will be enough for most people, and some choices will shine in this category, but it would be great if they had slightly bigger batteries.
How fast are $400 electric scooters?
Typically, $400 scooters have a top speed of around 15.5 mph / 25 kmh. Their top speeds can range from 10 mph / 17 kmh all the way up to 22 mph / 25 kmh.
How much range do $400 electric scooters have?
On average, $400 electric scooters will have 15 mi / 25 kilometers of range. However, there is a significant variance between models, as some have as little as 8 mi / 13 km, while the longest-range ones can have as much as 25 km / 40 km.
How long do $400 electric scooters last?
The typical $400 electric scooter should last at least 1 year with no problems whatsoever, and last several years without any major defects that require you to spend a lot of time and money fixing it. Of course, as the battery weakens, it may be possible for you to have to replace it, often around the second or third year.
There are quite a few no-name choices available around in this price category, and I don't want to collectively label all of them as low-quality, but the fact of the matter is, the chances of a DOA (dead-on-arrival) or a major defect within the first year will be greater with them. That's why I avoid recommending those models and only resort to them if there are no better choices for the use case you need.
Best electric scooters under $400
Let's take a more detailed look at all the best $400 scooters, divided by what your needs are and how you would use your scooter.
Kugoo ES2 – best overall (Europe)
When it comes to budget scooters in Europe, it's logical that the crown goes to a Kugoo scooter. In fact, several of their models actually compete for the best $400 scooter, as they have many models in this price range.
The Kugoo ES2 model offers the most value for money, and is one of the better-known Kugoo models. Their scooters are mostly available in Europe right now (check the next entry if you live in the US or Canada).
For the price of around $367 / €310, you will get performance rarely seen in this price range, and you will keep some change in your pocket as well.
The top speed is 35 kmh / 22 mph, provided by a single hub 350-Watt motor integrated into the front wheel. The 270 Wh battery will give you a range of 25 km.
The 8.5-inch honeycomb tires are immune to flats, and require much less maintenance. The entire scooter is like that, with a quite thick stem and a frame made from aluminum alloy. The scooter strikes a good balance between portability and stability, as the 16 kg / 35 lbs of weight will make it not the easiest scooter to carry, but eliminate a lot of shaking and wobbliness.
Coming with a water protection rating of IPX4, dual brakes (electric + disc), and a suspension between the stem and the front wheel, the Kugoo ES2 is truly a complete scooter.
GoTrax XR Ultra – best overall (US, Canada)
The race for this title is very close, but the GoTrax XR Ultra is the best electric scooter under $400 available in North America, all things considered.
For starters, it comes from one of the best budget brands, and even more, GoTrax really outdid themselves with the XR Ultra model. It is their best scooter in my opinion.
The GoTrax XR Ultra is a very versatile scooter that will check many boxes for many regular users. Probably its most important strong suit is that it is vouched for by thousands of owners, and the overwhelming majority of them have nothing but good things to say about it.
The 300W motor, with a peak power of 430W, gives this scooter a pretty standard top speed of 15.5 mph, which is the same as most speed limits for road-legal scooters in most US states.
That kind of motor, coupled with the 252 Wh, 36 V LG battery, gives the scooter a climb angle of 15 degrees ready to tackle most hills, a weight limit of 220 lbs, and a range of 17 miles on a single charge.
The scooter comes with dual disc brakes with EABS, air-filled 8.5-inch tires for comfortable rides, and a water protection rating of IP54.
This is a fully-featured scooter, it really doesn't miss anything. While the stats are pretty solid, the GoTrax XR Ultra doesn't stand out because of any single one of them. However, the fact that they are all very well integrated into a complete package is its biggest advantage, and also where most other budget scooters struggle.
The bottom line is, it's all in the execution. And the GoTrax XR Ultra obviously has that covered, since it has been both very fun, and very, very useful to many thousands of satisfied riders. That's why it deserves the crown of the best electric scooter under $400.
Macwheel MX Pro – longest range, best for commuting
When it comes to range, the Macwheel MX Pro is the clear winner from all the $400 electric scooters. And by a lot.
It has a range of 25 mi / 40 km on a single charge. No other $400 scooter comes even close, the next best models lag behind by 6 mi / 10 km.
That kind of range is made possible by the large 360 Wh, 36 V battery, which is also the largest battery from all the $400 scooters. And yet, it doesn't really make the scooter super-heavy as you would expect, it manages to keep its weight down to just 28 lbs / 12.7 kg. Very impressive Macwheel, very impressive.
The motor is on par with the battery, and the 350 Watts of power enable this scooter to move as fast as 15.5 mph / 25 kmh. The scooter has solid 8.5-inch wheels, and an IPX4 water protection standard.
With an incredibly long range, and still being very portable, this is clearly the perfect commuter scooter, as it will be suitable for both long commute rides as well as moving it in and out through station doors and different modes of transport.
You can also read the full review of the Macwheel MX Pro if you are interested in this scooter.
Kaabo Air – fastest, best performance, most portable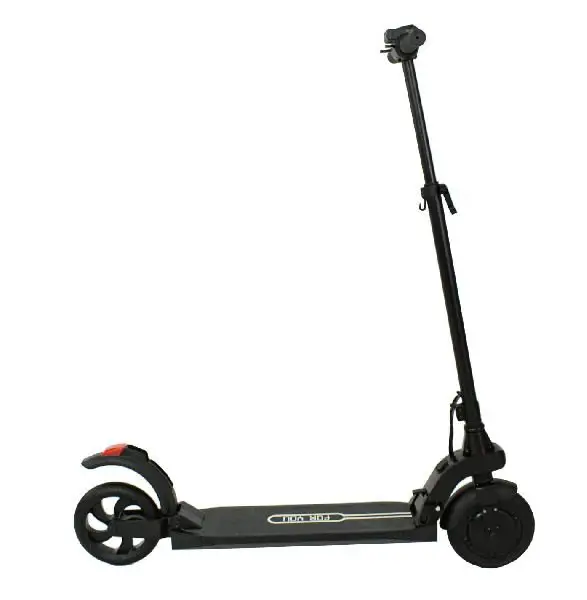 The Kaabo Air is a very intriguing scooter that plays several roles that often don't go together.
With a 22 mph / 35 kmh top speed + 18.6 mi / 30 km combo, powered by a 350 Watt motor, it is the fastest, most performant scooter under $400.
At the same time, with a weight of just 24 lbs / 11 kg, the Kaabo Air is also the lightest and most portable scooter in this price category.
You rarely see those two go together. In fact, they are often the exact opposites – the scooter that has one lacks the other.
In line with its other performance specs, the scooter can climb hills of up to 15 degrees, and sports an IPX4 rating to keep it safe from water.
All in all, the Kaabo Air is almost like a Formula 1 car – it's both fast and light. Probably that's the best analogy, and it explains how it reconciles this two features that are traditionally polar opposites.
FLJ i11 – best waterproofing, most portable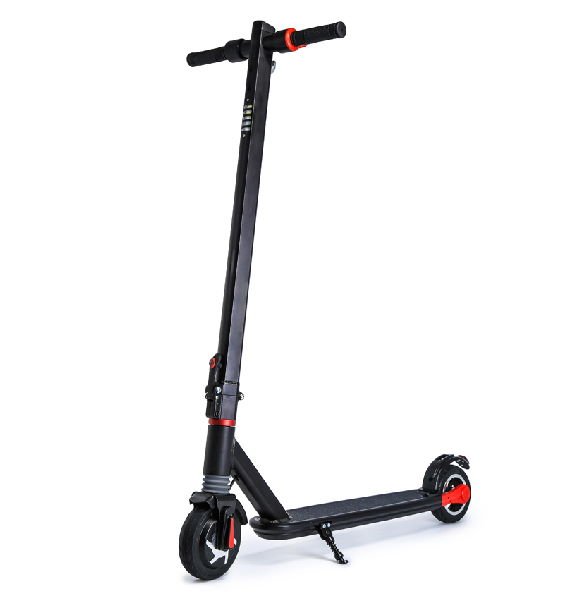 You probably don't see the FLJ brand's name thrown around that much in the scooter world. And fair enough – their scooters are not so popular yet, and haven't sold as much as some of the other scooters on this list.
It's probably fair to say that as a brand, FLJ still have a lot to prove. But there may be some interesting openings for them to do so.
I don't know if you noticed this, but all of the scooters on this list either had the usual IPX4/IP54 water protection rating, or had no such rating at all. The latter cannot be trusted in rainy days, and the former may or may not do well in wet environments.
I'm not sure if this is a conscious effort or just a coincidence, but the FLJ i11 is the only electric scooter under $400 with a water protection rating of IP55. That means the scooter will be protected from low-pressure jets, which in practice translates to very solid protection against water damage.
Also, with a total weight of just 20 lbs / 9 kg, this is the lightest and most portable electric scooter under $400.
So that's already two very attractive categories that this little-known scooter manages to win.
Now, what bothers me a bit here the most is that this scooter seems to be somewhat difficult to obtain. It has been unavailable on its main AliExpress listing for some time now, and that's often not a good sign.
If you need a water-resistant scooter under $400 and the FLJ i11 is not available at the moment, you can fall back to either the GoTrax XR Ultra or the Kugoo ES2. Both of them have a 4 for water resistance, which is still pretty good. You can also check out the post on waterproof electric scooters if you want to see all the best options.
If you need a lightweight, ultra-portable scooter under $400, and again, the FLJ i11 is not available, the Kaabo Air or the Macwheel MX Pro will be your next best choices, with weights around 24 lbs / 11 kg. Also, take a look at some other lightweight electric scooters to explore all the options.
Swagtron Swagger 5 Elite – best for heavy adults, best for climbing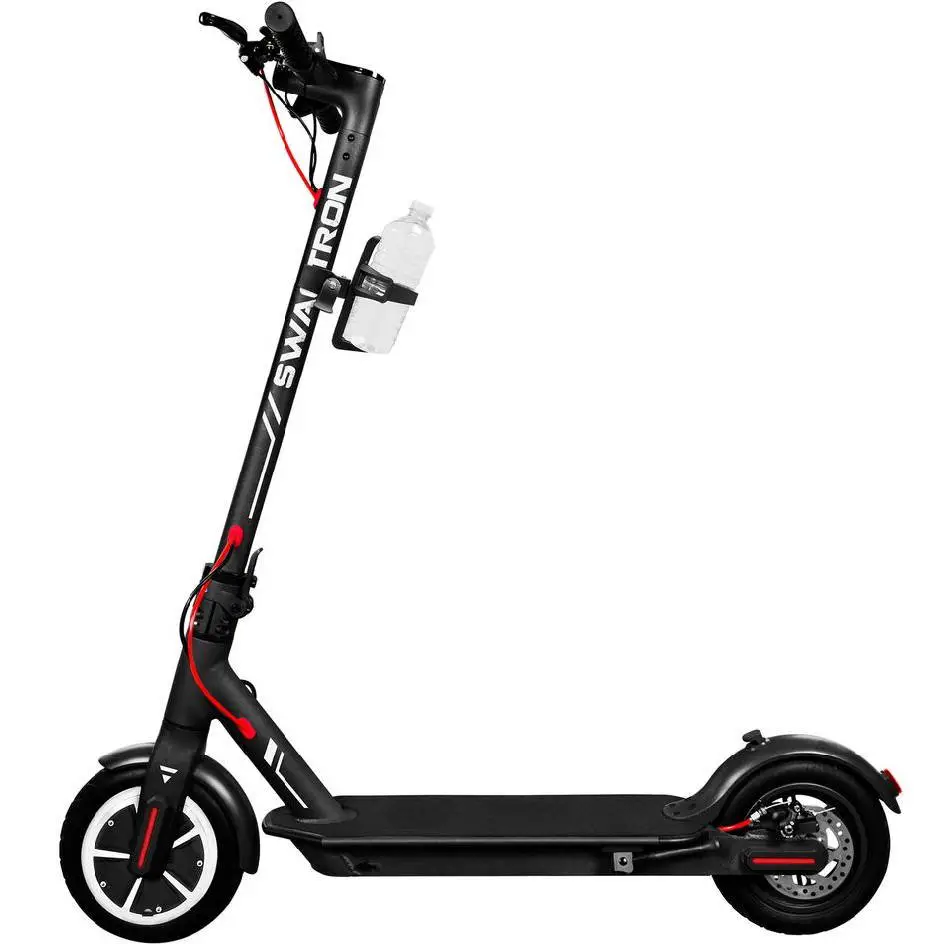 The Swagtron Swagger 5 Elite is a mini-miracle scooter.
The 250 Watt motor is actually one of the weakest ones on this list, as many of the scooters here have 350 Watts.
And yet, it seems like it has the most torque and punches way above its weight.
The official climb angle of 20 degrees makes the Swagtron Swagger 5 Elite the best climber scooter under $400.
And the weight capacity of 320 lbs / 145 kg makes it the scooter with the best support for heavy adults under $400.
I don't know how this scooter achieves that, while only weighing 26 lbs / 12 kg itself. A true paradox.
While there are not that many user tests on these claims, I would give them at least some merit since the Swagtron Swagger 5 Elite sells pretty well, and Swagtron are a respected budget brand.
If you want to check out other options around these abilities, head over to the guides about the best electric scooters for heavy adults and the best electric scooters for climbing hills.
Hiboy Max – most popular, great quality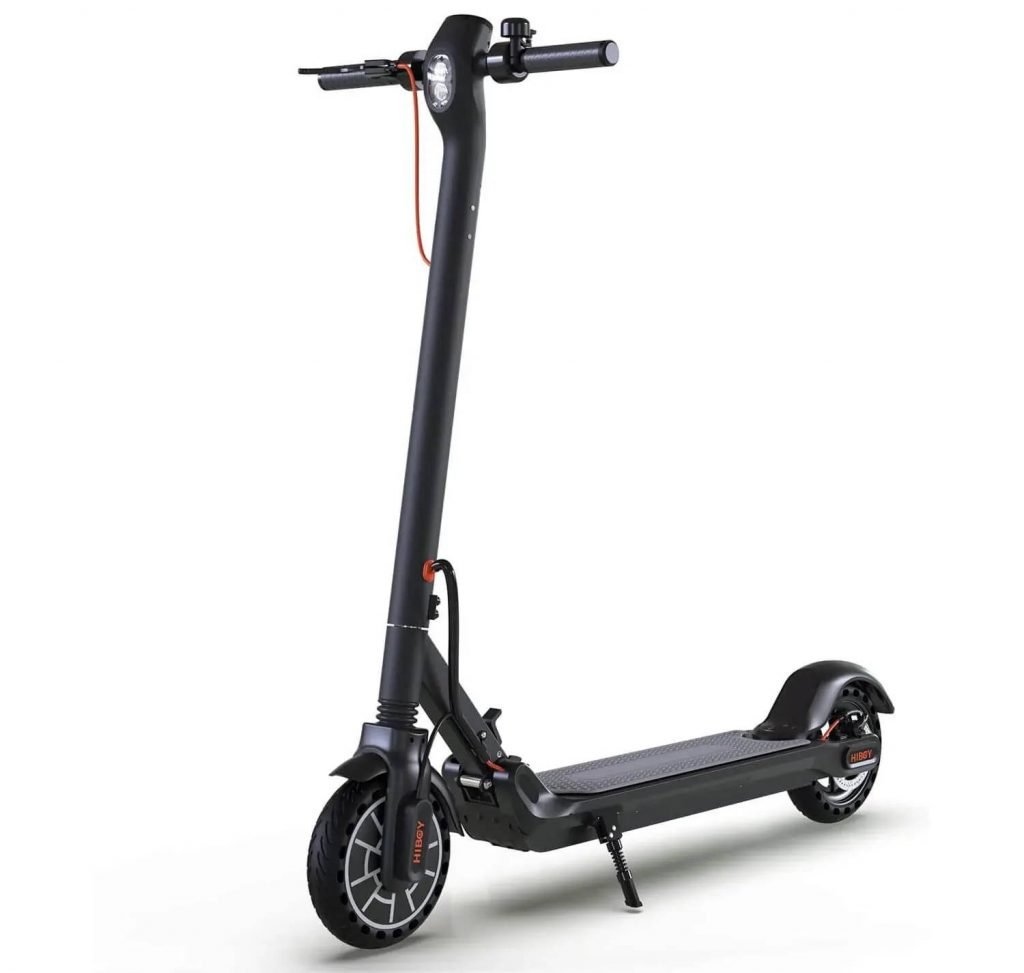 The Hiboy Max is probably the best selling scooter under $400. It can't be precisely estimated how many units it has sold, but it is very likely in the tens of thousands.
And there's value in that. We can learn a lot from consumer behaviour, and by simply turning to the market and checking out the wisdom of the crowd, we will see this is an excellent scooter – a 4.1-star rating out of more than 1000 reviews on Amazon is almost much unheard of for something this popular.
The Hiboy Max has everything you may ask from a $400 scooter. A top speed of 18.6 mph / 30 kmh, range of 17 mi / 27 km, powered by a single hub motor of 350 Watts and a 270 Wh lithium-ion battery. The solid tires are immune to flats, the dual brakes will provide enough stopping power, and the front suspension will make the rides more comfortable.
While personally, I like trying to be the contrarian as often as possible, I do recognize that when it comes to making a smart choice on a product like an electric scooter, the most proven models are your friend. You can check out the Hiboy Max if you want a scooter that has proven its worth thousands of times.
Glion Dolly – wildcard $400 electric scooter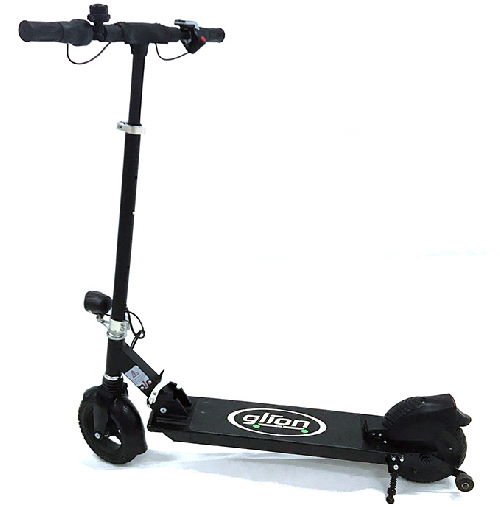 Ok, I'm technically cheating a little by including the Glion Dolly in this list, since its price is usually around $429, so it's not exactly a scooter under $400.
But hear me out, as I think you may like this scooter and find it worth the small extra amount.
The Glion Dolly is one of the most loved electric scooters by its owners, and there's a good reason for that.
Even though it's a budget scooter, it's very tough and can take a lot of punishment. Many of its owners ride it for years and years, and it has a very low defect rate, especially the major defect rate. In fact, in the study on how long electric scooters last, it turned out to be literally the most reliable electric scooter ever in the budget category!
Its specs are very good, sufficient for most commuters and casual riders. 15 mph / 25 kmh top speed, a range of 15 mi / 25 km, and solid honeycomb tires are some of its main highlights. It weighs less than 28 lbs / 13 kg, it can carry up to 253 lbs / 115 kg on its deck, and it comes with an anti-lock electronic brake on the rear wheel.
As usual, even though the specs are pretty good, what's important is the big picture. A scooter loved by its owners, full of features, and great value for money, that's a helluva picture.
If, for some reason, you didn't find any of the scooters above particularly appealing, you may want to check out the Glion Dolly. It will cost around $30 more than $400, but it will be money well spent.
---
Liked this article? It helps if you share it.
Follow @escooternerds on social media for more cool stuff
---