Renting an electric scooter through popular sharing apps is how most new scooterists begin their scooter journey.
This guide offers comprehensive information on renting electric scooters from Bird, Lime, and other ride-sharing services, addressing common issues and providing valuable insights for a smoother experience.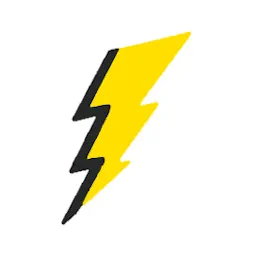 Which electric scooter is the cheapest to rent?
The cheapest electric scooter-sharing app in the US and Canada is Bird, charging $1 to unlock the scooter, and a fixed rate of $0.15 per minute of usage. In Europe, the cheapest scooters come from Bolt, they are free to unlock and cost €0.25 per minute.
Electric scooter rental and sharing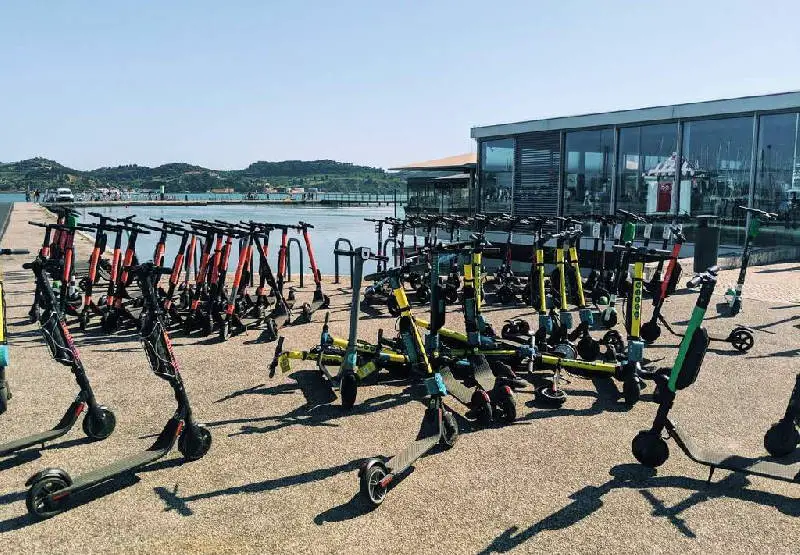 Let's see how the most popular electric scooter-sharing and rental services and apps compare against each other.
| Company | Price | Locations available | Apps |
| --- | --- | --- | --- |
| Lime | $1 start, $0.15 – $0.25 / min | Internationally | iPhone, Android |
| Bird | $1 start, $0.15 / min | Internationally | iPhone, Android |
| Lyft | $1 start, $0.20 – $0.39 / min | several US cities | iPhone, Android |
| Bolt | free start, €0.25 / min | Europe | iPhone, Android |
| Spin | $1 start, $0.29 / min | US mostly | iPhone, Android |
| Tier | €1 start, €0.15 / min | Europe, Middle East | iPhone, Android |
| Razor | $1 start, $0.15 – $0.39 / min | several US cities | iPhone, Android |
| Unagi | $50 setup, $34 – $39 / month | several US cities | / |
| Voi | £1 start, £0.20 / min | 60 European cities | iPhone, Android |
| Wind | €1 start, €0.15 / min | several cities | iPhone, Android |
| Skip | $1 start, $0.15 / min | few US cities | iPhone, Android |
| Bunny | CAD 1.25 start, CAD 0.25 / min | Canada | iPhone |
| Beam | free start, $0.45 / min | Singapore | iPhone, Android |
| Veo | $1 start, $0.33 / min | several US cities | iPhone, Android |
What cities have electric scooters?
Electric scooter rentals are available in pretty much every major city in North America and Europe, and a few cities in the Middle East, Asia, and Latin America. They are also available in some smaller cities and university campuses.
Are rental scooters legal?

Since electric scooters are not legal for private use in some countries, it's only logical that rental scooters will not be legal everywhere. However, in all of the countries where Bird operates, they are 100% legal.
You can check the electric scooter legal guide to find out about your specific location.
Where can I ride rental scooters?
If there's a designated scooter or bicycle track, that will be the primary place where you should ride with your scooter. If no such tracks exist, your location will have a specific preferred place where you should ride, which will typically be either by the side of the road or maybe even the sidewalk.
If you're not sure, a good rule of thumb is to just ride slowly and be mindful of other traffic participants. As long as you're respectful and do not interfere or jeopardize others, you will be fine. See the scooter legal guide to find out the traffic laws regarding electric scooters for your location.
Can you leave a rental scooter anywhere?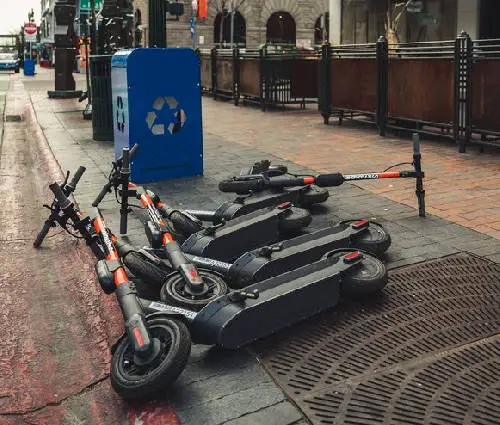 Don't park your scooter in a way that hinders the accessibility or movement of other traffic participants or pedestrians!
Usually, scooter-sharing companies let you leave their scooters wherever is most convenient for you, but there are often other factors that will affect where you can leave your scooter. Most importantly, you need to pay attention to local traffic laws, and not park irresponsibly on sidewalks or in no-ride or no-park zones.
Are rental electric scooters better than public transport?
In many cases, rental electric scooters can be a complete replacement for public transport, but most of the time, they are just a last-mile solution and are used in tandem with other modes of transport.
The biggest issue is availability – you simply can't plan your entire day based on the uncertain availability of shared electric scooters, and you can't afford to be late to work because there are no free Birds around your downtown bus station.
Now, owning an electric scooter for yourself is a different story. In a way, commuting with a scooter was the primary problem that scooter visionaries were trying to solve, so you will have a reliable transport partner available at all times.
Lime scooters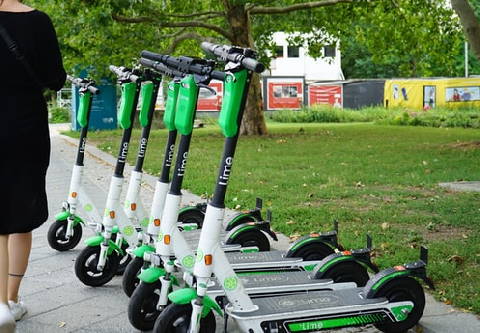 Lime is the original initiator of the scooter-sharing revolution. They are the first scooter rental company that got extremely popular and successful and secured themselves a place in scooter history forever. Besides scooters, Lime is also well-known for renting electric bikes and mopeds as well.
Today, they are still one of the top scooter rental companies, if not the top one.
How do I rent a Lime electric scooter?
Follow these steps to rent a Lime scooter:
create an account
enter your payment information
on the map, locate a free Lime scooter and go to it
scan the QR code on the top of the scooter's handlebars by pressing the "Scan" button (or enter the vehicle code manually)
your ride will start
How many cities are Lime scooters in?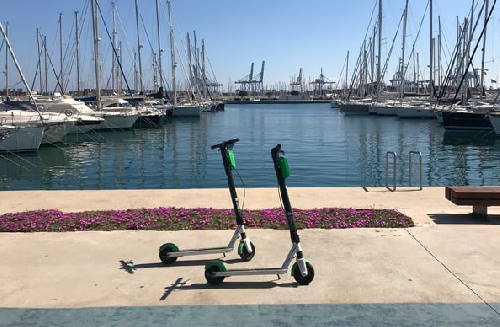 Lime is available in more than 246 cities worldwide (as of November 2023), and 12 college campuses in the US.
Check the Lime locations page for more.
What does it mean if a Lime scooter is beeping?
A Lime scooter can beep for several reasons:
it is being pushed without being rented
its battery is nearly empty
it has some fault or defect that needs addressing
What happens if your phone battery runs out on a Lime scooter?

If your phone battery runs out in the middle of a Lime ride, your ride will continue for another 5 minutes, and then end automatically. This is a very user-friendly method of handling this situation, as there will be no unnecessarily large overcharges (Bird can charge you up to $100 if you forget to end your ride).
Are you insured while riding a Lime scooter?
Based on Lime's user agreement, section 7e, Lime may provide coverage in some cases of personal accidents, as long as you've used the scooter in compliance with their terms. In other instances, your motor vehicle insurance may cover the costs. Keep in mind that there may be situations when none of those apply.
What happens if you break a Lime scooter?
According to Lime's user agreement, you will be held responsible for any damage to one of their scooters while it has been rented by you. The normal wear-and-tear damage that occurs from regular use is an exception here.
Can you reserve a Lime scooter?
You can reserve a Lime scooter 10 minutes in advance, free of charge. You can only reserve one scooter at a time.
Can you rent multiple Lime scooters at once?
Through the feature called Group Ride, a single Lime user can unlock up to 5 scooters at the same time.
What brand are Lime scooters?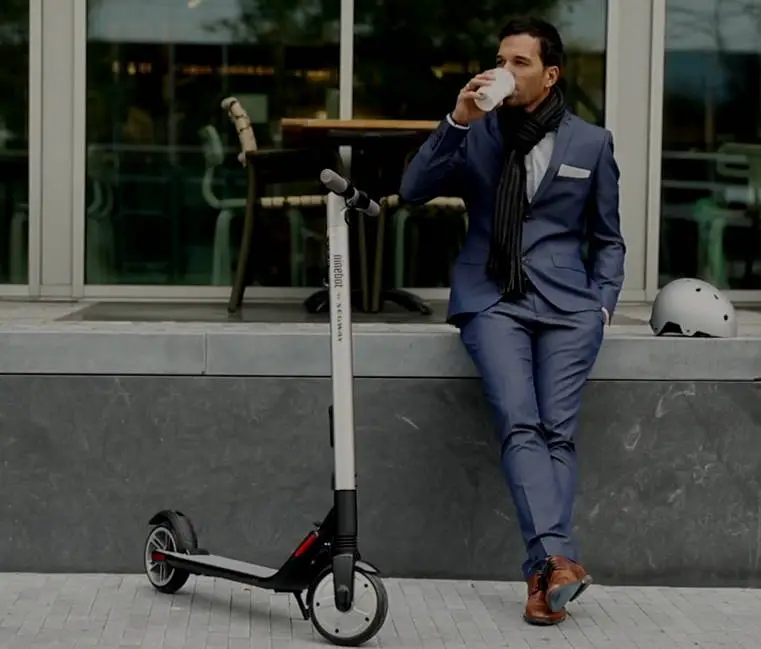 The first scooters used in the Lime fleet were from the Ninebot ES4 series, almost identical to the popular model, minus the folding feature. Later, Lime started introducing the Lime-S Generations 1, 2, 3, and 4, which continued to share some similarities with Ninebot models but were mostly custom-made for Lime and can't be found elsewhere.
How long does it take to charge a Lime scooter?
For the newer generation Lime scooters, charging the battery fully takes 6 hours on average.
Older models used to take around 3 hours to charge because they had smaller batteries and less range.
How much money can you make charging Lime scooters?
Lime chargers (also known as juicers) have reported making between $10 and $15 per hour on average.
You can make between $5 and $12 for every Lime scooter you charge. Charging each will cost somewhere between $0.05 and $0.15, depending on the battery level and whether you charge during peak or off-peak hours. So, electricity cost is just a small expense. The biggest factor may be existing competition in your city, as many people have chosen to charge Lime scooters as a way of earning extra income.
Is there an age limit for Lime scooters?
As per Lime's user agreement, users must be of legal age to enter into binding contracts, which means that only adults can ride them. So, whatever the legal age for adulthood in your country is the minimum age required to ride a Lime scooter.
What is Lime Access?
Lime Access is a program by Lime to provide discounts of up to 70% for riders who qualify in the US. Some categories of riders that may qualify include people who are enrolled in a local, state, or federally-run assistance program, and need to present an EBT card, discounted utility bill, or discounted transit fare. You can find out more about the program here.
Lime FAQs
Through the Lime app, you can easily find available Lime scooters on the app's homescreen, which is a map with the available scooters highlighted.
Typically, you pay for each Lime ride at the end of the ride. However, you can choose to preload your account with funds and deduct the cost of the ride from that balance.
Lime prices vary depending on your location. In general, it costs $1 to unlock the scooter, and then $0.15 for every minute, although the price can go up to $0.25 in some countries and some instances.
To ride a Lime electric scooter for free, you can share your invite code with friends through the app, earning both you and your friend $5 in ride credits. Alternatively, you can enter a promo code to earn free credits, sometimes more than $5 worth of rides.
In general, you need an Internet connection and Bluetooth connectivity on your phone to ride a Lime scooter without interruptions. If the scooter is disconnected from your phone for 5 minutes or more, it will turn off and the ride will end.
How far a Lime scooter can go depends on the particular model of the scooter. The Lime-S Generation scooters have an official range of 20 mi / 32 km. Older Lime scooters used to be Ninebot ES4 models, and those have a range of 28 mi / 45 km.
Every Lime scooter needs to be connected to a user's phone to be used (otherwise, the wheels don't even get unlocked).
To connect a Lime scooter to your phone through Bluetooth, you need to either scan the QR on the top of the scooter's handlebars with the Lime app or enter the code in the app manually.
If you are a charger, you can take Lime scooters to your home to charge them. People who only rent Lime scooters should avoid doing this, as they may easily create confusion be mistaken for thieves, and face quite large fines (up to $500 if you forget your Lime scooter in your backyard, for example).
Bird scooters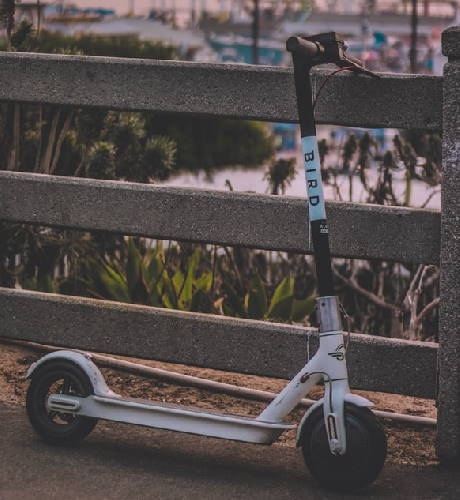 Bird is a major player in the scooter rental industry, and is one of the first companies of its kind. Founded in September 2017, by Travis VanderZanden, a former executive at Lyft and Uber, the company has almost 1000 employees today and is present in most major US and European cities.
How do I rent a Bird electric scooter?
Bird scooters are rented through the Bird mobile phone app, available for iPhone and Android, in the cities where Bird operates.
In the Bird app, you need to:
create your account
add your payment method
find a scooter on the map and go to it
use the app to scan the QR code on the handlebars, or enter it manually in the app
your ride will then start
How many cities are Bird Scooters in?
Bird scooters are available in 16 countries and more than 400 cities as of November 2023.
Check out the Bird map to find out exactly where Bird scooters operate.
How to find Bird scooters near me?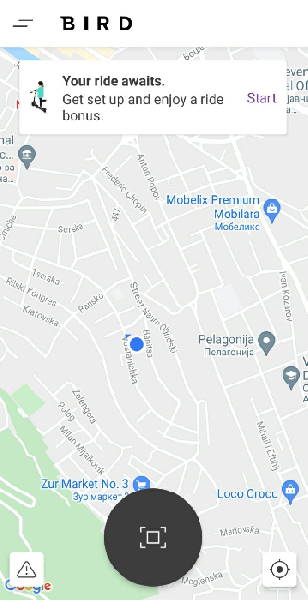 To find a Bird scooter near you, all you have to do is open the app and look for available scooters on the map. Every Bird scooter's location is tracked in real-time through GPS, and you can choose the one that's closest to you.
How much does it cost to ride a Bird scooter?
Every Bird ride has an initial cost of $1 in the US, or €1 in Europe, and then 15 cents for every minute of riding. In case you forget to stop your ride after you're done, the maximum amount you may end up paying is $100 in 24 hours.
Also, in some cities, Bird offers a monthly package, where you can rent the scooter for an entire month for just $25.
How do I pay for my Bird scooter?
In most markets, Bird charges the ride fee after the end of every ride, charged in the local currency through the default payment method you've selected. In some countries, you can (or must) select a balance auto-update plan, that will load funds in your account as a credit, which will later be applied to your rides, and the funds will be refilled when they reach 0.
Is the first Bird ride free?
Typically, every Bird ride follows the standard pricing model. However, when you refer someone to start using the Bird app for the first time, both of you will get $5 worth of ride credit, which is enough to start a ride ($1) and then go on to ride for about 26-27 minutes ($4 / $0.15 = 26.667).
How to ride Bird for free?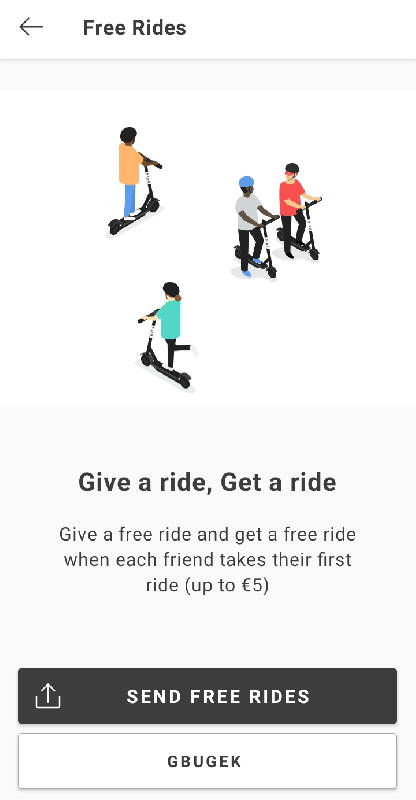 To earn free ride credits, you need to:
open the Bird app
open the menu
tap "Free Rides"
on the next screen, tap "Send Free Rides" and share your referral link with your friends
if they register for the app, you both get $5 worth of ride credit
Also, if you obtain a valid promo code, you can enter it in the app and get free ride credits.
Can you reserve a Bird scooter?
You can reserve a Bird scooter for up to 30 minutes. Reserving the scooter costs the same as riding it, $0.15 per minute.
Do you need an Internet connection for Bird scooters?
Technically, you don't need to have an Internet connection on your phone during the entire ride, but you will need to be connected to the Internet with your Bluetooth turned on to stop your ride, otherwise, you may end up getting charged more than what your ride cost.
How to ride a Bird scooter?
Once you've started your ride through the app, you can start riding the scooter in the following way:
stand with one foot on the deck
use your other foot to gently push off the ground
after you've developed some speed, press the thumb-throttle button on the right handlebar to accelerate
use the thumb button on the left handlebar (or lever, depending on the model) to brake
What does it mean when a Bird scooter is beeping?
There are several possible reasons why a Bird scooter may beep. Some of them might be because of an error or a defect in the scooter itself, or possibly because of a near-empty battery, but more often, the scooter beeps because it's been used improperly, like when a person tries to ride it without paying first or ride it manually.
How far will a Bird scooter go?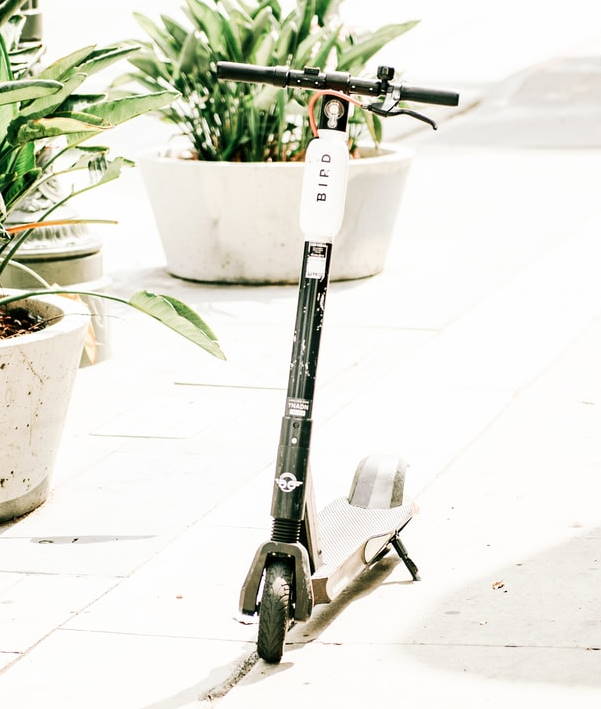 Bird has several different scooter models in their fleet, so exactly how far a scooter will go on a single battery charge depends on the specific model you're riding. The Xiaomi M365 can cover 18.6 mi / 30 km, the Ninebot ES2 can go 15.5 mi / 25 km, and the Ninebot ES4 will go 28 mi / 45 km.
How long does a Bird scooter battery last?
How long your ride with a Bird scooter lasts will depend on the specific model you're riding, the battery level of the scooter, and the speed with which you are moving. With a Xiaomi M365 or a Ninebot ES2 scooter from the Bird fleet, your rides can last between one and two hours, while if you ride with the Ninebot ES4, you may even ride for a maximum of three hours if you go slowly.
How do you end a Bird ride?
To end your Bird ride, you just need to select the option in the app and take a photo of the parked scooter. You must not be in a "No Ride/Non-Operational Zone", otherwise you will not be able to end the ride. Also, it would be best if you had an Internet connection and Bluetooth turned on on your phone.
If all of the above is correct and you're still having trouble ending the ride, try moving the scooter a few feet and then ending the ride, or resetting your Internet connection.
What happens if your phone dies on a Bird scooter?
If your phone dies during a Bird ride, the worst-case scenario is getting charged the maximum daily amount because you weren't able to end the ride (see Bird's rental agreement, section 1.16), which may end up being $100 in 24 hours. In practice, however, Bird has proven to be relatively understanding when this happens, and they either give customers a refund or compensate them with ride credits.
At what time do Bird scooters stop working?
Bird scooters never stop working, and are available 24/7. However, at night, Bird chargers start to collect more scooters to charge, and it can be harder to find a scooter available.
What happens if you have an accident while riding a Bird scooter?
According to Bird's rental agreement section 1.12, you may be held responsible for any damages in the case of an accident. Bird advises reporting any damage or crash to them, and if there's personal or property damage in the accident, you should also file a police report. Also, citations, fines, impound charges, and parking fees, may be at your expense as well.
Will my auto insurance cover damages done to a Bird scooter?
Your automotive insurance may not cover any damages that the scooter has sustained in case of an accident. You will have to contact your insurance agent to find out about the specifics or explore some electric scooter insurance options.
Can you rent multiple Bird scooters at once?
At this time, you can only rent one Bird scooter through a single account, so each ride must create an account. You are free to use the same payment method in several accounts.
What brand are Bird scooters?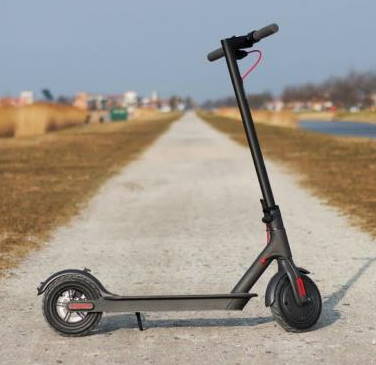 The three main scooter models in the Bird fleet are modifications of the Xiaomi M365, the Ninebot ES2, and the Ninebot ES4.
Can I buy a Bird scooter?
You can choose between two Bird models to buy for your personal use: Bird Air, and Bird One. They are similar to the scooters that are rented, but have some notable differences as well (the Bird Air is foldable, for example).
How much money can you make charging Bird scooters?
Charging one Bird scooter can typically earn you between $3 and $7. The charging cost for a single Bird scooter varies between $0.02 and $0.10, depending on the scooter model, battery level, and whether charging during peak or off-peak hours. In highly-populated areas, where Bird scooters are very popular and frequently used, and there's not a lot of competition from other chargers, some people manage to earn up to $100 a night from charging Bird scooters.
Can I put a Bird scooter in my car?
If you are charging Bird scooters, you can take them with you in your car. It's not specified whether regular riders and users who rent Bird scooters are allowed to take them in their cars, but keep in mind that Bird can probably detect when a scooter is being moved while not being rented, and they consider scooters that move more than 30 feet while not rented and while not being charged to be at risk scooter theft.
Can you take a Bird scooter home?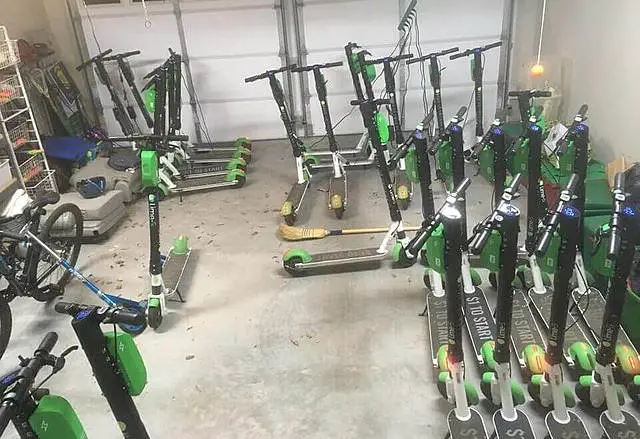 Chargers are allowed to take Bird scooters at their home for charging them.
Bird FAQs
Bird scooters can only be used by persons of age 18 or older.
Depending on the specific model, and the general condition and age of the scooter's battery, charging a Bird scooter from empty to full may take from 3.5 to 7 hours.
Once you open the Bird app, you need to tap the large black button in the low center of the screen to open the QR scanner. Then, you simply scan the QR code on the top of the handlebars of the scooter or enter the code manually, and your phone will connect to the Bird scooter.
In some countries and markets, the Bird app operates by crediting your account before the ride, and one of the predefined amounts that it might credit is $20. This amount will be used to deduct your future rides from it. If you believe you will not use a portion of that amount, you can contact Bird's support team and ask for a refund.
As per Bird's rental agreement, you might be charged for any damage done to a Bird scooter while you have been renting it, including vandalism, water damage, or theft, done by you or others.
There may be custom firmware packs and installs available for privately-owned Bird scooters, but increasing the speed of a rental Bird scooter will typically not be feasible, nor recommended.
The only thing you can do if you think you've been overcharged is to contact the customer support team, through the "submit a request" button in the app. You will only have to include the date of the ride and the reason why you believe you were overcharged.
Bird vs Lime
On average, Lime scooters will have more range and provide longer ride times. Top speeds will usually be the same. Since the latest releases of Lime scooters have larger 10-inch tires, rides with Lime scooters will tend to be more comfortable.
Lime has some features that Bird lacks, like the ability to rent more scooters through one account. Also, Lime has a better policy of dealing with an empty phone battery, as it will simply end the ride after 5 minutes, while Bird may continue charging you for the ride for hours.
While Lime only lets you reserve one of their scooters for 10 minutes, the reservation is free. With Bird, you can reserve a scooter for 30 minutes, but you are charged the same price as riding the scooter. There are pros and cons to both approaches, but I believe Lime to be more fair here, and if Bird were to charge for reservation, they might have made the cost smaller than the ride cost at least.
How much chargers make will vary on several factors, but in general, chargers may expect to earn a bit more for charging Lime scooters than Bird scooters.
Take a look at Trevor's video, one of the best comedians of all time, and experience the difference between Lime and Bird rental scooters.
Which is cheaper, Lime or Bird?
In general, prices are almost the same, but Lime can be a bit more expensive at times. Both Lime and Bird charge $1 to unlock the scooter, and Bird always charges $0.15 per minute, while Lime mostly charges $0.15 per minute, but Lime's price can go up to $0.25 per minute in some cases. Both companies offer similar promotions and referral programs and terms.
Watch this video for a closer look at these two excellent rental scooters.
Pros and cons of rental electric scooters
Rental electric scooters have a few advantages and disadvantages that make perfect sense in several scenarios.
PROS
they let people try out an electric scooter and see whether they like it
they are a gateway to buying an electric scooter for the vast majority of people
they are very cheap
they are easily accessible and easy to use
they are perfect for exploring a new city
CONS
renting is not financially viable over the long run
almost all rental electric scooters are budget models of mediocre performance
Oftentimes rental scooters are not in a good shape
They are shared by many people throughout the day, and thus not 100% sanitary
They may not always be fully charged
---
Want to get
FREE SCOOTER
tips, exclusive discounts and promotions, and unseen scooter hacks? Join the
Scooter Secrets club
.
---
Liked this article? It really helps if you share it.
Follow @escooternerds on social media for more cool stuff
---