Last Updated on October 16, 2022 by Matt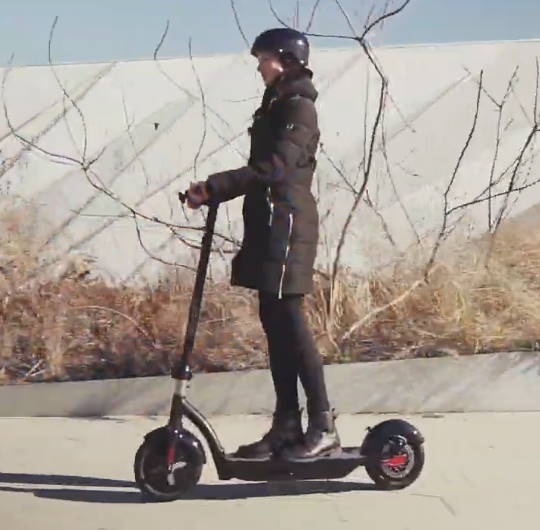 In this detailed Hover-1 Alpha review, we will examine this relative newcomer in the scooter world, and answer the question of why it has become so popular so quickly, and why it continues to gain popularity as we speak.
Is the Hover-1 Alpha any good?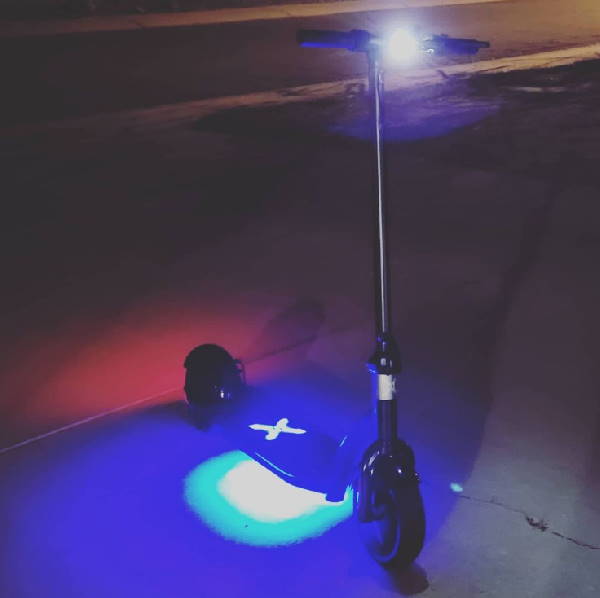 The Hover-1 Alpha is, in general, a pretty good budget electric scooter. It performs well, comes with a powerful motor, large tires that provide comfortable rides, and has a decent build quality overall, a quality that is rarely found in a $379 scooter.
As an ultra-budget scooter, it's a great pick for beginners and first-time owners, especially ones looking for a bigger, tougher model, that can take some punishment, but still provide very cushy and comfortable rides.
Ordering and shipping
It's best to get the Hover-1 Alpha from Amazon, as you will get quick and free shipping, but also the lowest price, best availability, and the most color choices. Prices can change, but usually, this scooter can be found for under $400 (the price is $379 at the time of writing).
Warranty and return periods
There's a 90-day warranty period on the critical components of the scooter, including the motor, gyroscopic sensor, battery, motherboards, lights, controller, and bluetooth module.
If you don't like the scooter or if it doesn't work as expected, you can return it, as long as it's in the same condition it arrived in. The return shipping cost is also free, which is another reason why buying from Amazon often makes more sense.
Hover-1 brand and company
The Hover-1 Alpha is a relatively new product, launched at the beginning of 2020, but the Hover-1 brand has been around for much longer than that.
As the name suggests, the brand's primary focus has been hoverboards, and the Hover-1 hoverboard model is one of the most popular and commercially successful hoverboards ever released. The brand has managed to translate both its engineering and marketing experience from other electric rideables to successfully bring the Hover-1 Alpha to market. Today, their scooters sell thousands and thousands of units, and are almost as successful as their hoverboards.
Unboxing and assembly
The scooter arrives almost fully assembled.
The box includes:
the scooter
charger and charging cable
tire pump
small Allen wrench and screws
user manual
warranty card
To finish the assembly, you will have to install the handlebars inside the stem, and tighten the 4 screws that come in the package. Before you go out to ride, you will probably want to make sure the battery is 100% full (it's not required, but it's strongly recommended for the battery's health and lifespan). Also, make sure all the screws are tight and the strength and sensitivity of the brakes are properly set.
Manual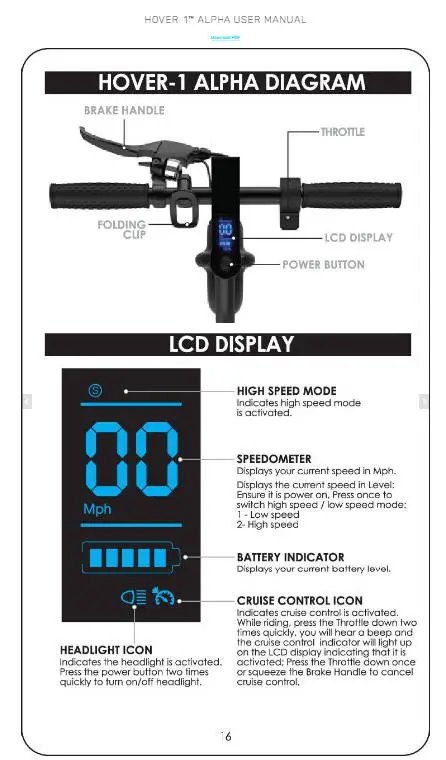 I'm sort of a manual geek, and I love a clear and detailed owner's manual, but Hover-1 has gone beyond the call of duty here. The manual for the Hover-1 Alpha is complete and thorough, with in-depth explanations on pretty much everything an owner should know.
I know most of you guys won't even bother with the manual at all, but I recommend trying to skim through it at least, as it has a ton of information that you may find useful someday.
Hover-1 Alpha Basics
The Hover-1 Alpha is very simple to use, and follows all the standard best practices when it comes to controlling and riding the scooter.
Screen, cockpit, and controls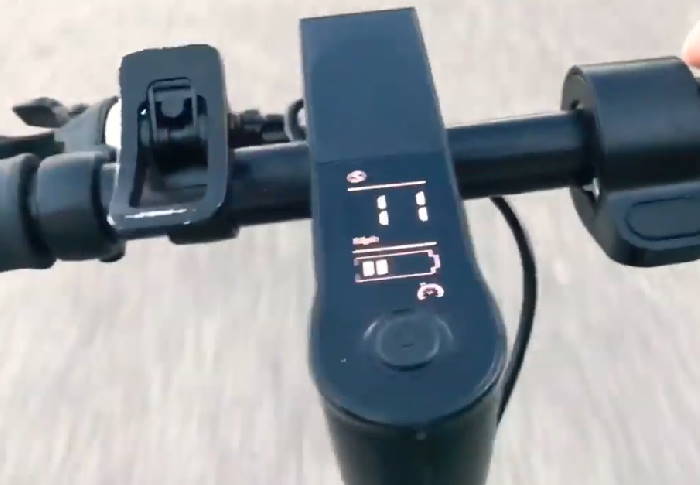 The scooter comes with the familiar cockpit configuration, with the thumb throttle acceleration button on the right handlebar, the bell and the brake lever on the left handlebar, and the screen with the power button in the middle. The screen shows:
current speed
battery level (5 bars)
speed mode
lights status
cruise control status
error codes
How to use the Hover-1 Alpha?
This is a classic kick-to-start scooter, and you will need to kick off the ground and develop a speed of around 1.8 mph / 3 kmh before you can accelerate with the throttle. This is a great safety feature in general, and it also prolongs the battery life.
The scooter powers on with a long press of the power button, and powers off in the same way. While turned on, a single press on the power button toggles the lights, while a double press changes the speed mode.
You can choose between two speed modes: standard (12 mph / 20 kmh limit), and sport.
The scooter comes with a cruise control feature. Unlike most other scooters, where you have to hold for a long time to activate it, you need to press the thumb throttle twice in quick succession with this scooter. Personally, I like that, since engaging the cruise control is a more deliberate action on your part (you can't simply activate it just by forgetting your finger on the throttle, which is what happens when you get carried away in an enjoyable ride).
How to fold the Hover-1 Alpha?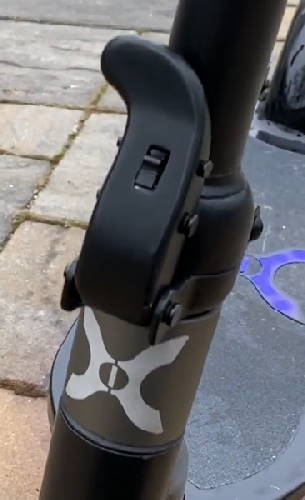 The quick-release folding mechanism, which is a simple latch on the front of the stem, keeps the scooter locked in the folded position. It takes just a few seconds to fold the scooter. When folding, you will hear a "click" sound when the bell frame connects with the hook on the rear mudguard, and that keeps the scooter stable while folded and makes it easy to carry.
Engineering, build quality, and materials
The scooter both looks and feels reliable, strong, and sturdy.
The stem has almost no wiggling. As with any budget model, there will be some wiggling, but it will be minimal, and given this scooter's price, I think it's a very fair trade. The bar connecting the stem and the deck is especially strong, which is great news for ride smoothness as that's one of the most important points of any electric scooter and it pretty much dictates the overall stability of the entire ride.
The deck is quite large and wide, and gives the scooter a low and stable center of gravity, preventing it from shaking too much even when riding over uneven surfaces. It is covered with extra-grippy sandpaper tape, which prevents any sort of slipping. The kickstand is very solid, and unlike some other budget scooters, it's practically impossible for the scooter to tip over while leaning on it.
The scooter has almost no weird sticking parts, and the brake cable is only exposed a little bit at the top.
The handlebar width is probably the only issue I find with this scooter's engineering, as I find the handlebars to be a bit narrow, and thus reduce the control and turning abilities.
Colors and design
The Hover-1 Alpha is just… smooth, I guess is the right word.
It is one of the slickest-looking budget scooters on the market today. The polished smooth lines, the careful finishing, and the shiny frame, all make it stand out from all of the other Xiaomi clones and copycats. The design team behind this scooter clearly had a more daring vision of a somewhat different offer, for a more aesthetically pleasing model, and I believe they've done a good job in executing it.
There are plenty of color patterns available. All of them have the details in black (the tires, the deck, and the cockpit), but the main color for the frame is available in black, silver, blue, red, and yellow. Interestingly, the price can vary based on the color you pick and its availability.
Ride smoothness and user experience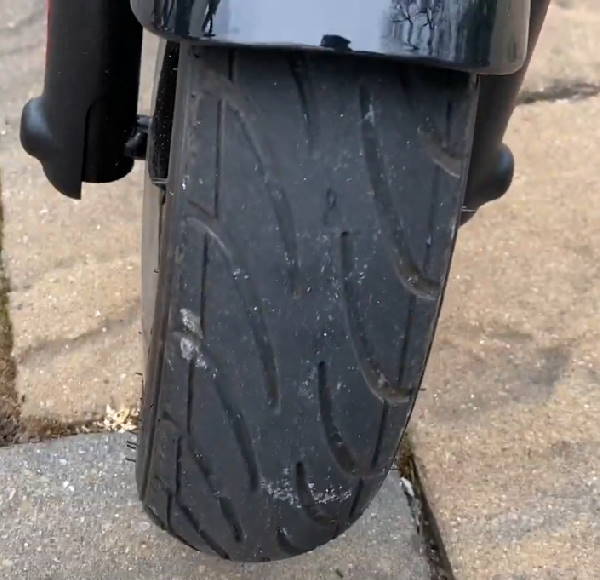 I believe ride smoothness is the area where the scooter provides the most value and is unrivaled in its price category.
Practically, ride quality depends on two main factors: the overall build quality of the scooter, and the tires. Since the build quality of the Hover-1 Alpha is pretty solid, and the tires are large and cushy, it's no wonder that the scooter provides an excellent day-to-day experience, even in places that are inhospitable to scooters. You will probably not find a budget scooter that can provide a smoother ride than this.
Many owners have tried riding the scooter offroad, and while some of them report having a lot of fun, I would strongly recommend against doing that. This is primarily an urban scooter, and you should try to stick to paved and flat roads as much as possible.
Motor
The motor is another huge win for the Hover-1 Alpha, and with 450 Watts of power, it's probably the most powerful motor for an electric scooter in the budget category.
The BLDC hub motor is integrated into the rear wheel, giving the scooter some extra traction and torque, and improving the general efficiency and performance of the scooter.
Speed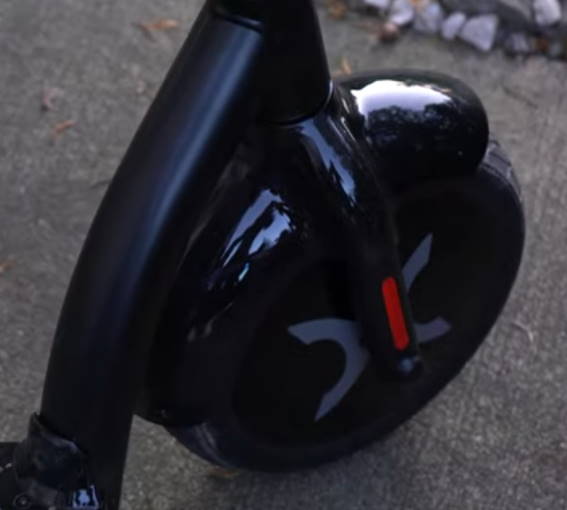 The official top speed of the Hover-1 Alpha is 18.6 mph / 30 kmh.
In the real world, the story is a bit different… but it's not what you might expect!
Typically, scooter brands overestimate the top speed, but in this case, the real top speed is actually higher than the official one.
Users have frequently reported easily getting speeds much higher than the official one, with one owner even reporting a top speed of 22 mph / 35 kmh! While this is probably a rare occurrence, you can expect to get the official top speed at the very least, which is already a very good top speed for the regular scooterist.
The scooter accelerates rather mildly for its motor power, mostly because it's a bit heavier than the average budget commuter.
Climbing
Curiously, while the scooter has quite a powerful motor, and the motor is integrated into the rear wheel which provides more torque in general, the Hover-1 Alpha is still just an average climber.
There's no known climb angle published by Hover-1, but user tests and owner reports describe climbing as pretty average, with the scooter climbing mild hills well, but starting to struggle on moderate ones, and probably not really being able to perform on steep hills at all.
Weight limit and usage by big adults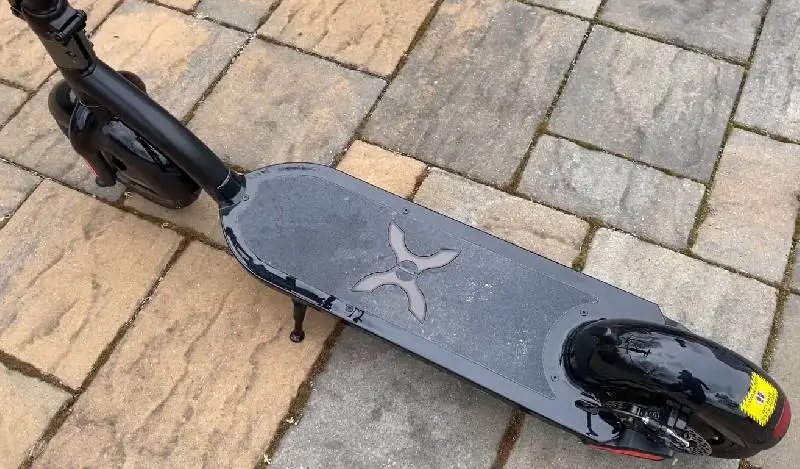 The Hover-1 Alpha has an official weight limit of 264 lbs / 120 kg, and the vast majority of owner reports from heavy users confirm this weight limit, with only one user reporting a noticeable drop in the performance levels (he weighed around 240 lbs / 109 kg).
Also, the handlebars are pretty tall, and the scooter will be a good fit for taller people in general (up to 6'6" / 198 cm).
All in all, the Hover 1-Alpha is prepared to handle people on the larger side pretty well.
Battery and charging
The 30-cell lithium-ion battery of the Hover-1 Alpha comes with a voltage of 36 Volts, and a capacity of 6 Amp-hours and 216 Watt-hours.
The battery is certified with the UL 2272 Certification, which means it meets a strict set of standards for safety and quality. Typically, batteries that have this certificate don't require as much care while charging and discharging, and are less prone to defects, especially ones that occur because of irregular charging practices.
That's why the battery of this scooter will probably outlast most other scooter batteries in budget models. While Hover-1 claims that the battery can handle up to 5000 charge cycles, I highly doubt that will be the case, but still, even if it manages 3000 charge cycles, that's still orders of magnitude better than the average.
You should know that the battery indicator on the screen will start to flash if the battery is close to empty, and the scooter may power off if the battery gets depleted below the protection mode.
Charging the battery fully will usually take you 5.5 – 6.5 hours. The specs say it takes 4 – 6.5 hours, but fully charging your scooter in 4 hours will not be common. As usual, the indicator light on the charger will be red when the battery is charging, and green when the battery is full.
Range
Usually, scooters with good batteries have long ranges. Sadly, that's not exactly the case with the Hover-1 Alpha.
The official range of the Hover-1 Alpha is 12 mi / 19.3 km, and that's exactly what independent tests of the range have found to be the range as well.
We probably can't expect a scooter priced around $380 to have everything, so a somewhat average range is not really that big of a deal. This kind of range will be good enough for many scooterists, but don't expect long carefree rides where you forget how long you've been riding.
Brakes and safety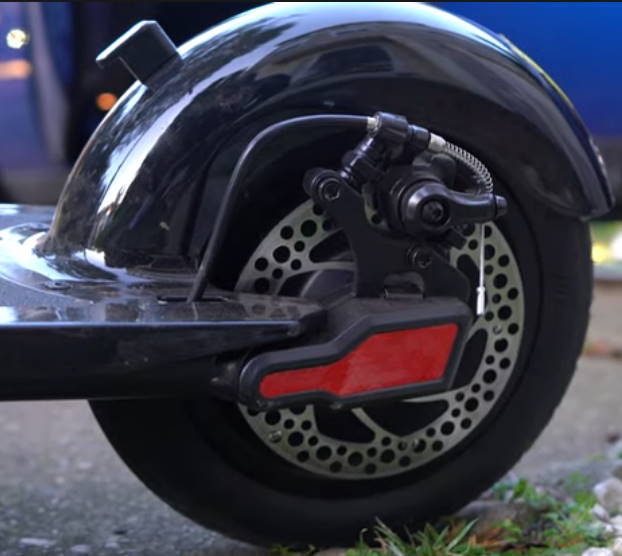 The Hover-1 Alpha has just one disk brake on the rear wheel. The diameter of the disk is large, and the brake is usually strong out of the box, but it can also be adjusted to your preference by some tweaking. So, you can get a fairly short braking distance even with that one single brake.
However, a redundant braking system would have made this scooter feature-complete in my opinion. Far from it being unsafe (all budget models have one brake anyway), but it would sure be nice to see a secondary emergency brake.
Tires and mudguards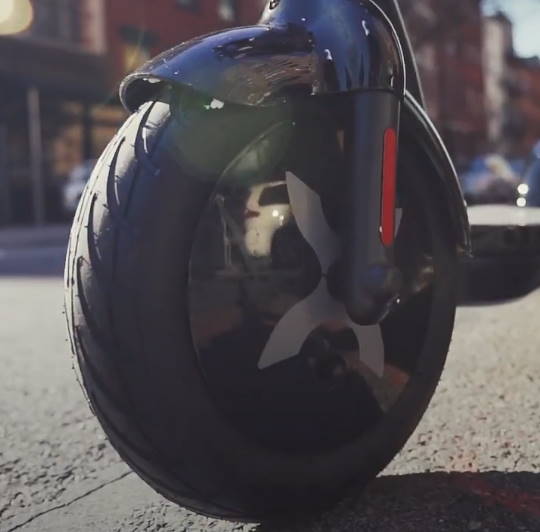 The 10-inch air-filled tires of the Hover-1 Alpha are one of its strongest weapons, and what sets it apart from every other budget scooter out there.
As you're probably aware, budget scooters never, ever come with 10-inch tires, and that has been the exact reason why this scooter has managed to secure a place for itself in the already overcrowded budget scooter category.
Plus, the tires are quite wide as well, which gives the scooter very good balance (although it does make turning and control a bit harder).
The scooter doesn't have any suspension, but again, budget scooters never have that either, and with tires this big, the need for additional shock absorption is significantly reduced.
The mudguards are one of my favorite features of this scooter. They are very secure and cause no rattling. More importantly, there are practically no reports of some serious issues with them, and mudguard issues are almost always found in budget scooters!
Plus, the mudguards have a really slick, shiny, polished finishing, and give the whole scooter a very cool vibe.
IP rating and waterproofing
The Hover-1 Alpha has no IP rating. That means you should do your best to stay out of the rain and other wet environments. The brand advises avoiding water contact or riding on ice or other slippery surfaces.
Plus, as usual, the warranty doesn't cover water damage, which is another good reason to stay clear of the rain.
A few owners have reported that they've ridden through some light rain and haven't had any problems during and after. That doesn't change the fact that you should do your best to avoid riding in wet environments.
Portability, weight, and dimensions
The scooter weighs 36.2 lbs / 16.4 kg, which makes it around 4 lbs / 2 kg heavier than the typical budget scooter.
When folded, the scooter's dimensions are pretty standard, possibly a bit on the larger side:
length: 46.5 in / 118.1 cm
width: 9.5 in / 24.1 cm
height: 23.5 in / 59.7 cm
All in all, the Hover-1 Alpha is not too difficult to carry, and it will fit in most of the typical places where you need it to fit (car trunks, under train seats, through station doors, under the office desk, etc). Still, it's not exactly the most portable scooter out there.
Lights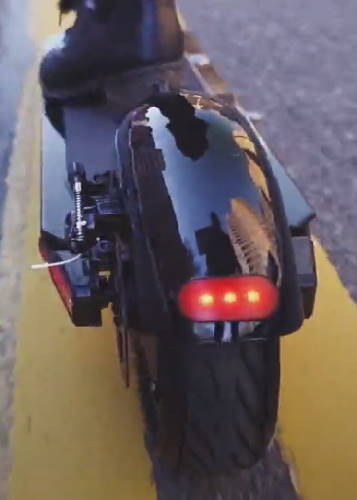 The main LED headlight is average. It will do an ok job of lighting the road ahead of you at night, but if you do that frequently, you will probably need a stronger after-market light setup.
The rear mudguard hosts the brake light, which flashes in red whenever you use the brake.
The strongest lights of the scooter are the LED lights under the deck, which also light up the logo in the middle of the top of the deck. When turned off, it's impossible for anyone to miss you in traffic, and that's the safest way to ride at night.
Additionally, the scooter has 4 reflective stickers, two on each side of the wheels, which are a very thoughtful touch, as scooters that lack those may be considered not legally ready for traffic in some places.
Even though it has several separate lights, it is not recommended to ride this scooter at night. The scooter community is unanimous on this, Hover as a brand recommends the same, and I fully agree. It's best to ride your scooter before dark, no matter how strong its lights are.
Parts, repairs, and maintenance
While spare parts are available through the Hover-1 store, the brand advises not to attempt any repairs yourself. The parts themselves are not expensive, and they should be free during the warranty period in case something goes wrong.
There have been a few reports of the screws and the bolts getting loose with this scooter over time, so it's strongly recommended for your maintenance routine to include a detailed check of every screw, making sure it's tightly screwed. Also, you will want to make sure that the brakes are functional and strong enough for your needs, and the tires are inflated and don't leak any air.
You may use a bit of water for cleaning, but that should be limited to the soft and damp cloth you use to get rid of the dirt. Remember, the scooter doesn't provide any guarantees for water contact, and spraying it with a hose or another strong jet should be out of the question.
Accessories and gear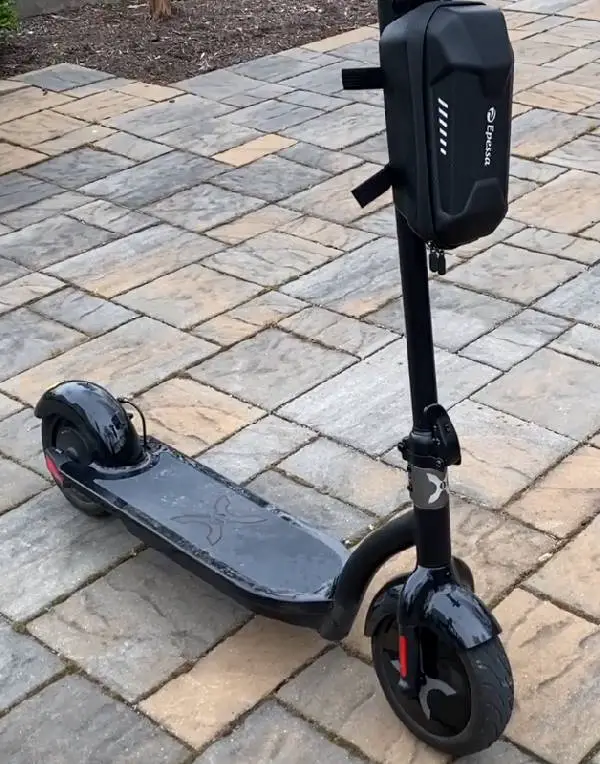 There are almost no after-market accessories made specifically for the Hover-1 Alpha. If you wish to customize this scooter, you will have to look at some of the generic scooter accessories. Make sure to ask the merchants before buying whether the parts will fit the Hover-1 Alpha – the scooter has a fairly standard build and design for most of its parts, but it never hurts to double-check.
Also, you should always wear a proper bicycle or scooter helmet while riding.
Locking and security
The Hover-1 Alpha doesn't come with a way to lock it, and you will need a good lock if you plan on leaving it outside.
Since this is a relatively cheap scooter, the risk of it getting stolen shouldn't be that great. The main problem with it is that it does look kind of shiny and polished, maybe luxurious even, so a thief might easily mistake it for a premium model, and that's why you may want to get a somewhat stronger lock (see the guide on the best electric scooter locks for some excellent picks).
Speaker
If you've been following the scooter world closely, you may have noticed an emerging trend for some models to come with a bluetooth speaker built-in. The Hover-1 Alpha is one of those few models, and you can connect the speaker to your phone and play some tunes.
Unfortunately, the speaker is inside the deck, which is simply too far away from the rider's ears, and the sound is mostly lost if you're riding. To make matters worse, the speaker is not exactly of the best quality.
Overall, I don't see the speaker as a win for this scooter. In fact, I don't see it as a win in any scooter in general. You simply can't listen to music or any other audio while riding through the open air.
Drawbacks and known issues
Since the Hover-1 Alpha is an ultra-budget scooter, it will obviously have some drawbacks and issues, ranging from minor annoyances to potential dealbreakers.
Probably the most important issue with this scooter, and in fact, any very cheap scooter, will be quality, or quality control in this instance. There have been a few reports of the product arriving with missing parts, or with unfinished assembly, and understandably, there have been several very frustrated customers due to this.
Now, Hover-1 has proven to be a pretty decent brand, and both the support and the engineering teams have been open to feedback and empathetic to customer complaints, so quality control issues are getting slowly weeded out over time.
Still, this is something you should know about if you're thinking of buying this scooter – it is a very affordable model, but that can sometimes be reflected in the quality.
And remember, if you do decide to buy this scooter, make sure that your maintenance routine includes frequent inspections of all the screws.
Another big issue with this scooter has been the much-feared dead-on-arrival issue, or the scooter quitting after a few days of usage. Luckily, there have only been a handful of such issues reported. Also, this is covered by the warranty, and most owners get a replacement or a free repair, but it's still something that's very annoying when it happens.
The folding mechanism could probably use some improvements as well in terms of stability and sturdiness, as there have been a few reports of the latch being wobbly.
And finally, one issue that somewhat baffles me is the scooter's weight. It's not exactly small, and that would be fine if the scooter had a very long range, but the Hover-1 Alpha really doesn't, and I'm not exactly sure where is all of that weight hidden. Some of it is in the motor, which is extra-beefy, but most of it is probably in the scooter's frame. That contributes a lot to the scooter's stability, but it doesn't do any favors to lighter or smaller scooterists that need to carry their scooter often.
Price and value for money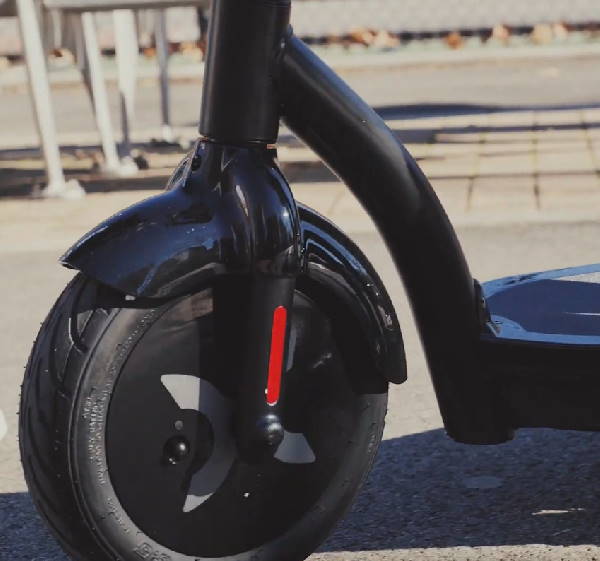 The price of the Hover-1 Alpha can be subject to frequent change, and it probably depends on the current stock of the scooter as well. Also, different colors of the scooter may have slightly different prices at times.
Still, the scooter's price rarely exceeds $450, and it's often well under $400. Currently, it's priced at $379, and that makes it simply insane value for money. I don't think there's a better choice for such an ultra-budget model available at this time.
Customer satisfaction and reviews
Even though the Hover-1 Alpha is not without issues, its owners generally love their purchase.
True, there have been a few unlucky buyers that have gotten a bad unit for one reason or another. To be fair, there have been just a few dozen of those, and this scooter has arguably sold several thousands of units, so the chances of a serious defect occurring aren't that high really. That's why most owners of this scooter are happy campers.
Who shouldn't buy the Hover-1 Alpha?
There are several categories of scooterists that will not find the Hover-1 Alpha to be a good choice for them.
Obviously, this isn't a power scooter, and if you need something that will perform better, you can take a look at some other scooters, like the best 30 mph scooters, the fastest scooters, and the scooters with the longest range.
Also, the scooter doesn't have any IP rating, and while it can probably handle some rides in the rain according to several owners, you should still look at some waterproof electric scooters if you live somewhere with lots of rain or snow.
Who should buy the Hover-1 Alpha?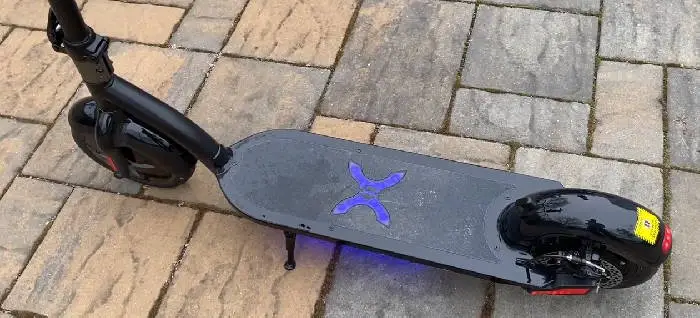 The Hover-1 Alpha can fit perfectly for some very interesting use cases.
It provides super-comfortable rides that are simply unrivaled in this price category. With tires this big and wide, it simply outclasses all of the other 8-inch almost-like-toy scooters out there.
With a large weight limit, and a very tall handlebar, this scooter is surprisingly good for larger and taller adults as well.
But overall, the Hover-1 Alpha is an excellent entry-level choice for beginners and first-time owners, and that's the group of people that buys it the most.
It is simple to use, incredibly fun and comfortable, but probably most importantly, it's very cheap. Like, very, very cheap. And at the same time, quality isn't really sacrificed, and you still get a decent scooter for just a few hundred dollars, a scooter that can take you to and from work, a ride to the market or the grocery store, or simply a cool fun way to cruise around.
Where to buy the Hover-1 Alpha from?
Worldwide
You can find the Hover-1 Alpha available on
Amazon
, in a large variety of color choices.
Specifications
Hover-1 Alpha Specifications
| | |
| --- | --- |
| Top speed | 29 kmh |
| Top speed | 18 mph |
| Range | 19.3 km |
| Range | 12 mi |
| Motors | rear-drive hub BLDC |
| Power | 450 W |
| Battery | 216 Wh, 36 V |
| Battery type | 30-cell lithium-ion battery |
| Charging time | 6.5 h |
| Weight | 16.4 kg |
| Weight | 36 lbs |
| Weight limit | 120 kg |
| Weight limit | 265 lbs |
| Tire size | 10 in |
| Tire type | pneumatic |
| Foldable | yes |
| Foldable handlebars | bi |
| Build material | aluminum |
| Brakes | rear disk brake |
| Shock absorbers | no |
| Lights | main LED + brake + deck + stickers |
| Control | LED display |
| Speed modes | 2 |
| Cruise control | yes |
| Warranty | 90 days |
| Return period | 30 days |
| Folded dimensions (L * W * H) | 118.1 cm * 24.1 cm * 59.7 cm |
| Folded dimensions (L * W * H) | 46 in * 9 in * 24 in |
| Unfolded dimensions (L * W * H) | 118.1 cm * 24.1 cm * 124.5 cm |
| Unfolded dimensions (L * W * H) | 46 in * 9 in * 49 in |
| Adjustable handlebar | no |
---
Want to get
FREE SCOOTER
tips, exclusive discounts and promotions, and unseen scooter hacks? Join the
Scooter Secrets club
.
---
Liked this article? It really helps if you share it.
Follow @escooternerds on social media for more cool stuff
---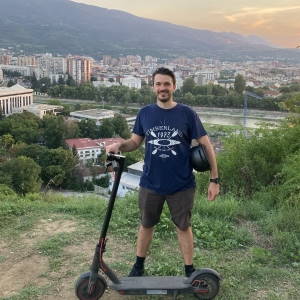 Where to buy the Hover-1 Alpha
Worldwide: Amazon