Last Updated on April 3, 2023 by Matt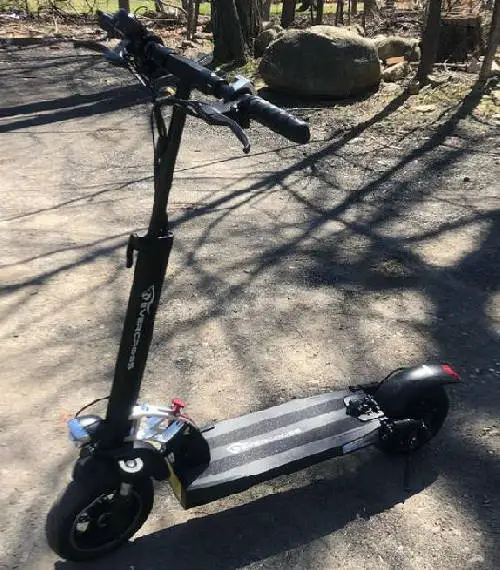 In this detailed review, I will go over my experiences and thoughts about it after trying it out for a few days. We will take a closer look at the high-performing EverCross electric scooter with 10-inch tires and an 800 Watt motor, also known as the EverCross H5 or the EverCross HB24.
EverCross pros and cons
PROS
Great value
Mostly good quality
Pretty fast for a budget model
Great for heavy adults
Good ride comfort
Good for climbing
Cushy tires
Solid range (but not as advertised)
Very good water protection
Keylock ignition
CONS
Relatively unknown brand
Average portability
May have small quality issues
Flats can happen
Mediocre manual and support
Who should buy the EverCross electric scooter?
The scooter is quite powerful overall, but it's still not as powerful as some of the classic offroad or racing scooters. So, it's still a "civilian" scooter in some ways, even though it's much more powerful than your regular budget commuter.
This is a strong, versatile, feature-complete, multi-terrain scooter, with lots of power and solid performance. It can be perfect for many commuters in many scenarios, like for people with long urban commutes, although probably not for people that need to take their scooter with them in buses and through station doors a lot.
The seat that's included in the package is a major win, especially for adults with daily tasks, or people with bad backs like myself that simply have the need to sit down quite often. Since the seat is custom-made for this particular scooter, and not a cheap generic one, you can expect very soft and cushy rides.
With a large weight limit and a powerful motor, this scooter is also ideal for heavy adults as well.
Also, as the scooter is not exactly light in weight, it's probably closer to a fun and exciting scooter rather than a portable budget commuter. It is prepared for all types of terrains, including offroad, and the large tires will handle pretty much all types of terrains.
So, in summary, if you want a very fun, very capable scooter of decent quality, with the option to support a great seat, that can give you some thrills but also take you to and from work or school, then you might want to take a look at the EverCross.
Buying, shipping, warranty, returns
In the US, the EverCross can be found on Amazon, and probably no other places at the moment. As usual, when you order through Amazon, shipping will not take more than a week, and it will be free.
In case you don't like the scooter, you have 30 days to return it for a full refund. The warranty for the scooter should be 12 months, but make sure to double-check this before you buy, as it can be subject to change.
The scooter is also available in Europe, through a dedicated EverCross online store. Shipping is free in EU countries, but there may be shipping or tax fees for European countries that are not in the EU. Shipping can take between 2 and 6 days. You also get a 14-day return period, and a warranty for 12 months.
The EverCross electric scooter brand
EverCross is a relative newcomer to the scooter scene. Started in Nurnberg, Germany, back 2019, they have managed to establish a foothold in the US and European markets, and their models are becoming increasingly popular. They have several scooter models, and a lot more hoverboard models as well.
Their most popular model is exactly the scooter we're looking at today, and it has already sold dozens of thousands of units to customers globally. They are a white-label merchant, meaning they don't really manufacture the scooters themselves, and mostly just handle branding and distribution.
Unboxing and assembly

The scooter arrives practically fully assembled. There's a lot of protective covering around it, and shipping damage is very rarely reported.
The box includes:
the scooter
charger
seat
toolkit
tire sealant
user manual
warranty card
You can choose whether you want to install the seat. Then, you install the main headlight, and you're done with assembly. Also, check if the screws are tightly screwed, make sure the battery is full, the tires are inflated, the brakes work fine, and you are good to go out and ride.
One annoying downside about this scooter is the lack of a clear, detailed user manual. Hopefully, EverCross will address this issue soon and provide a good manual, as that's not a hard thing to do yet shows a great amount of care and devotion to their customers.
EverCross basics, folding, and how to use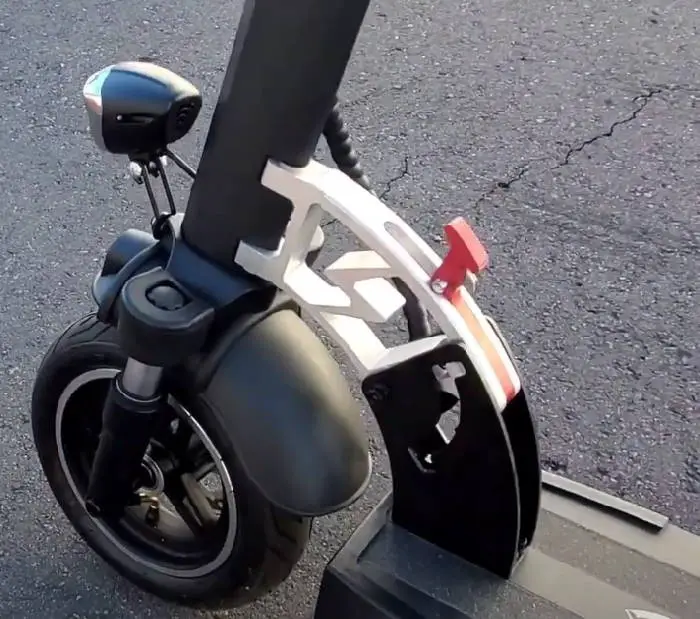 The EverCross comes with 3 speed modes, with top speeds of:
gear 1: 9 mph / 15 kmh
gear 2: 15.5 mph / 25 kmh
gear 3: 30 mph / 48 kmh
To start the scooter, you need to turn on the key ignition, and then turn on the power button. This is a zero-start scooter, and you don't need the traditional kick off the ground before the throttle kicks in.
The cruise control mode will be engaged if you hold the throttle for a few seconds (be alert about this, as there will not be the typical beep when cruise control is engaged like in some other scooters). The cruise control will disengage if you use the brake or hit the throttle again.
The scooter is foldable at the stem, but also at the seat as well, and both mechanisms are stable and secure. Folding the scooter involves folding the seat first, then pressing the lever and pulling the handlebars down, and optionally folding the handlebars as well if you need the scooter to be as portable as it can be. The entire process takes some getting used to, but then you can perform it in just a few seconds (unless your seat height is too high, in which case you will have to bring it down a bit before you fold the scooter).
The handlebar height is adjustable, and that's great news for tall people, because when the handlebar height is at the maximum, the scooter is a good fit even for much taller people.
The kickstand is located at the rear wheel, which is not the usual place for a kickstand. While the kickstand is solid and sturdy, and the scooter is well-balanced when leaning on it, it's still easier for it to tip over and fall than a scooter with the kickstand closer to the middle.
Quality and lifespan
The scooter still hasn't been around long enough for us to have an idea of its total lifespan. However, it is gaining a lot of popularity, and there are many reviews and reports about it, and the great news here is that the initial reports are very promising.
Defect rates are low, lemons and dead-on-arrivals are rare, even shipping damage is not that common, and I wouldn't be surprised in the least if this scooter ends up serving you 5 years or longer without a single major defect. There have been a few incidents in regards to quality (more on that in the section on known issues), although it seems like today, they have been largely fixed.
That said, in my experience, quality didn't seem like the strongest side of the EverCross. It wasn't terrible, but I've seen much higher-quality scooters even in this price range.
User experience and ride smoothness
In my experience, the ride smoothness of the EverCross was pretty good in general. Almost none of the cheaper or similarly priced scooters will be able to match the EverCross in terms of ride stability and the lack of vibration even when riding over uneven surfaces and poor roads. In fact, I believe even some much more expensive electric scooters will not provide as smooth of a ride as the EverCross.
And it's almost no surprise. The EverCross has large, cushy tires, dual suspension on both wheels, and a solid build quality overall, and those are all the critical parts in achieving a buttery-smooth ride.
Cockpit, screen, and controls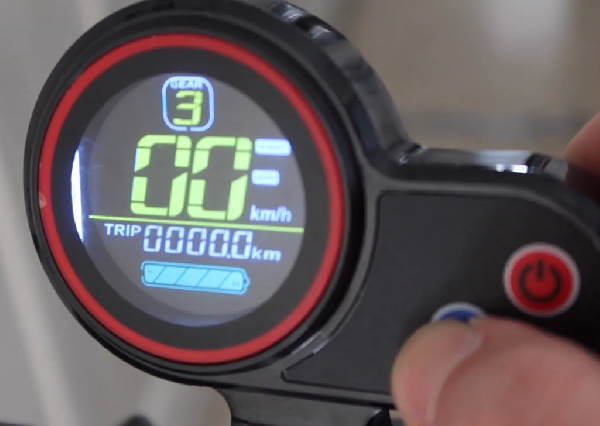 The EverCross comes with a cockpit and dashboard configuration similar to some much higher priced scooters.
The scooter is accelerated by a trigger throttle, although there is the option to convert it to a thumb throttle (which is what I like and usually recommend, as it causes less finger fatigue and is more ergonomic).
The scooter comes with the EY3 round LCD display, which is still the gold standard in the scooter world. The screen shows:
current speed
battery level
speed mode
ride time
trip distance
The screen, throttle, power and speed mode buttons, and the keylock, are all on the right handlebar.
The left handlebar hosts a small dashboard with the buttons for the horn and the lights (main light and two turn signals on the rear of the deck).
There are brake levers on both of the handlebars (left for the rear brake, right for the front).
Weight, dimensions, and portability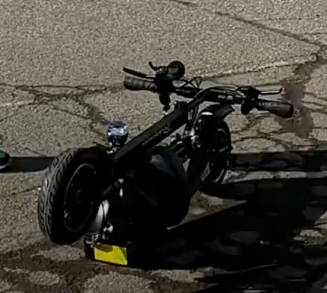 This is not a light and easily maneuverable scooter!
While the weight of 44 lbs / 20 kg will be manageable for most people, it is still noticeably heavier than the typical commuter. We can't really object too much here, as the scooter performs well, and that requires a large battery, but a somewhat lighter weight would be really nice to see in my opinion.
The dimensions of the scooter are also on the bigger side:
length of 50 in / 127 cm
width of 13 in / 33 cm
height of 45.6 in / 116 cm
The size and dimensions aren't exactly small, but the scooter will still fit in the average car trunk, although there might be problems fitting it into a very small trunk.
Motor and power
The EverCross H5/H24 comes with a single rear-drive brushless hub motor, with 800 Watts of peak power (real power is around 500 Watts). As a rear-drive scooter with a lot of RPMs, the EverCross will provide good speed, acceleration, traction, a high climb angle, and a big weight limit.
The motor is definitely a strong side of this scooter, probably even the most important and highest-quality component. It runs very quietly and smoothly, and provides consistently strong performance.
Speed and acceleration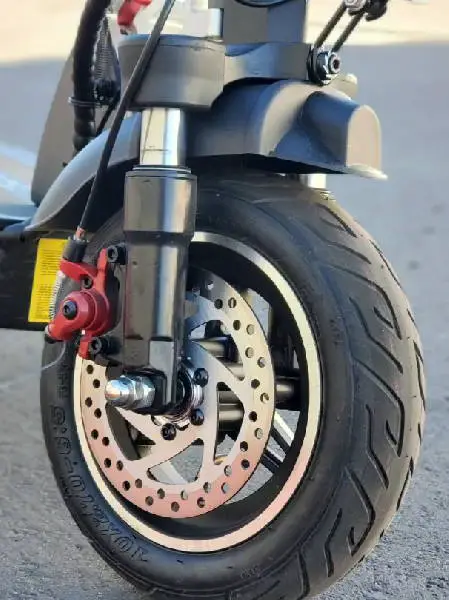 The official top speed of the EverCross is 28 mph / 45 kmh. I was able to get this speed without any problems, and even go a bit faster at times. The scooter did struggle to reach its top speed when the battery was not quite full.
This is very exciting when it happens, as most scooter manufacturers inflate the top speeds of their scooters to make them seem more attractive, but the EverCross team has decided on doing the exact opposite. The official top speed is what you will likely get if you are on the heavier side, or you run with a half-full or nearly empty battery.
Since the scooter's motor is quite powerful, the scooter will accelerate pretty quickly.
Weight limit
The weight limit of the EverCross, as stated by the brand itself, is 330 lbs / 150 kg. This has proven to be mostly true, as a lot of heavier owners report almost no drops in performance, even for the ones that get very close to the weight limit.
Since most scooters today come with a weight limit of not more than 265 lbs / 120 kg, the EverCross will clearly be one of the best scooters for bigger or heavier adults.
Climbing
The official climb angle for the EverCross is 45 degrees.
Obviously, that angle is overestimated. I was able to climb some steep hills, probably around 20 degrees or even more, but not much more than that. The 45 degree climb angle is probably an overstatement, but the scooter will still conquer most hills you encounter in typical rides.
Battery and charging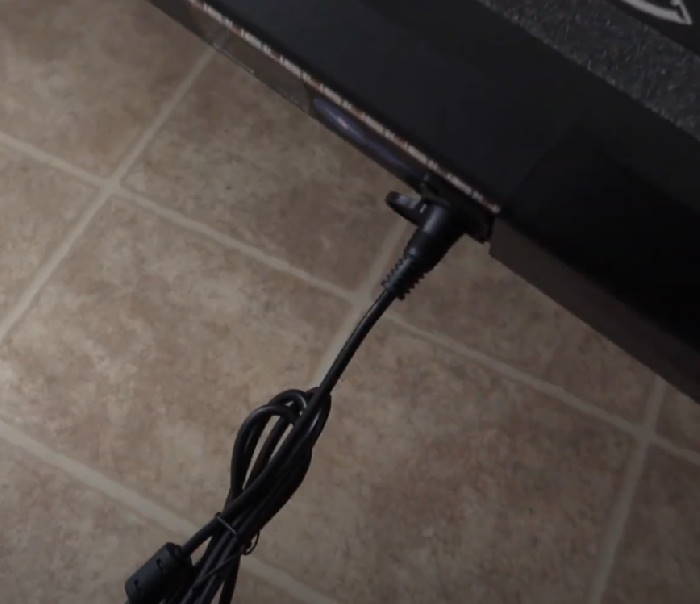 The EverCross comes with a 18650 lithium battery, with a capacity of 480 Wh and 10 Ah, and a voltage of 48 V.
The scooter will take around 5.5 – 6.5 hours to get charged fully. The specs say 4 to 6 hours, but that's a bit optimistic, as a battery of this size will need a really high-current charger to get charged that quickly, and that will probably wear it out very soon.
Still, an average of 6 hours is not bad at all, and it's faster than even what some scooters with a smaller range have.
The charging port is on the deck, but it's well protected from liquids and water getting into it by a magnetic cap. When charging, the indicator light on the charger will be red, and it will turn green when the battery is fully charged.
Range
While the claimed range of the EverCross is 31 mi / 50 km, I wasn't able to reach that range in everyday scenarios. Based on my tests, you can probably expect something closer to 25 mi / 40 km, maybe even less than that.
The reported range is clearly just the lab test range, and honestly, I don't really appreciate that kind of advertising. To be fair, the top speed is underreported, and there's always some variance between individual units, so maybe we can say that the reported range and top speed kinda balance themselves out.
Anyway, even a range of 25 mi / 40 km is very good, and it will be heaps of fun for casual riders, and very useful for commuters.
Brakes and safety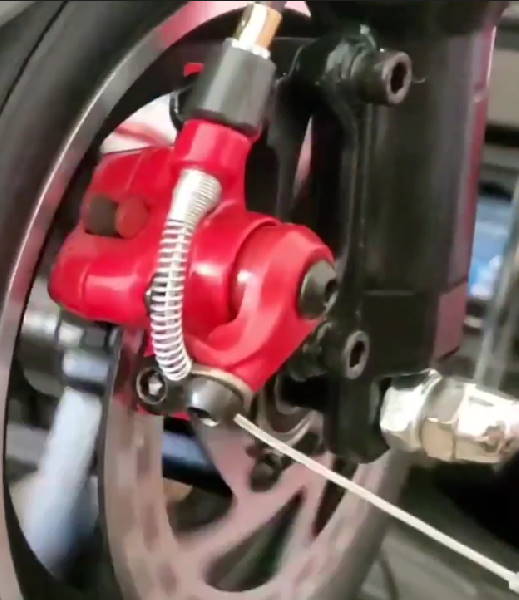 The scooter has two disk brakes, one on each wheel. Honestly, the brakes were not bad, but were not too good either, and this was definitely not a favorite part of this scooter for me.
As with a traditional bike, it's better to brake with the left lever first, as it engages the rear brake that will not tip over the scooter. You will probably never use just the front brake, and you will use both brakes at the same time for an emergency stop.
When braking with both of the brakes, the scooter achieves a very short brake distance, and can be considered pretty safe in this regard. You do need to check your brakes occasionally and make sure they still work properly.
Tires and suspension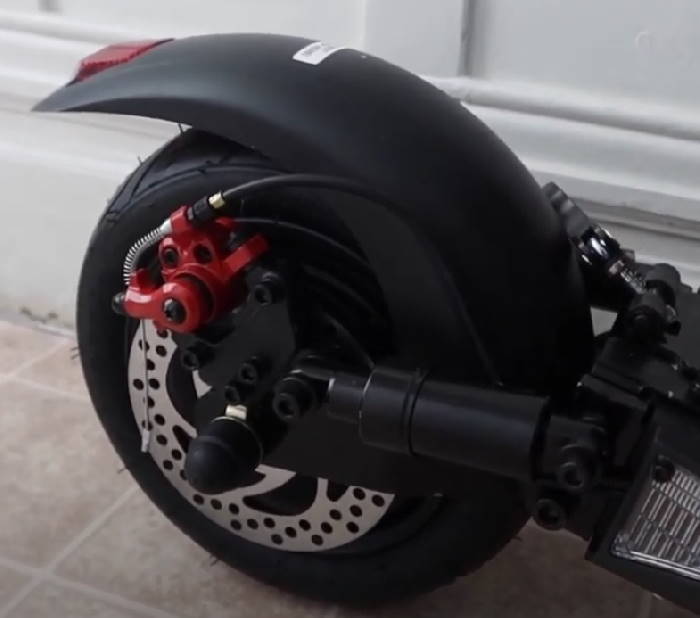 The EverCross comes with 10-inch pneumatic tires, and also dual hydraulic suspension on both the front and the rear wheel. It provides a very solid ride overall. In fact, ride quality is arguably one of the strongest sides of this scooter, as that tire size is well above the average and the suspension is good, and both of those contribute a lot to the pleasant and soft ride experience.
The pneumatic tires are also tubeless as well, which makes them much more resistant to flats while not really sacrificing ride quality (the only downside is slightly worse turning and cornering). It's also a good idea to fill the tires with slime (a bottle will probably ship with your scooter), which will make them much more resistant to flats.
IP rating and water resistance
The EverCross has an IPX5 water protection rating, which makes it one of the most well-protected scooters from water damage (most scooters have either no IP rating at all, or the regular IPX4 or IP54, both of which are not as good as the IPX5).
Simply put, an IPX5 means that the scooter can withstand weak streams of water, which means it shouldn't be damaged during the typical ride in the rain. Still, riding in the rain is not recommended (even though users that have done so report no damage).
Lights and night rides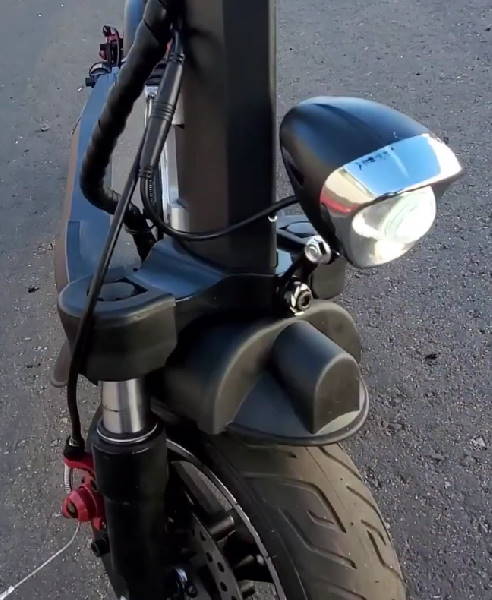 The scooter is very well-lit, and well prepared for night rides.
The main headlight is pretty strong, and casts a beam of light around 7-8 meters in front of you. It is mounted at the bottom of the stem. I would prefer for it to be at the top, as the light distance and angle are even better that way.
The scooter has turn signals that flash in a yellow light when turned on, and also a red rear brake light on the mudguard that's activated any time you engage the brakes.
Finally, the scooter has a really cool, multi-color LED strip at the bottom of the deck, which will increase your safety in traffic at night, but also gives the scooter a lot of dynamic, lively vibe.
Locking and security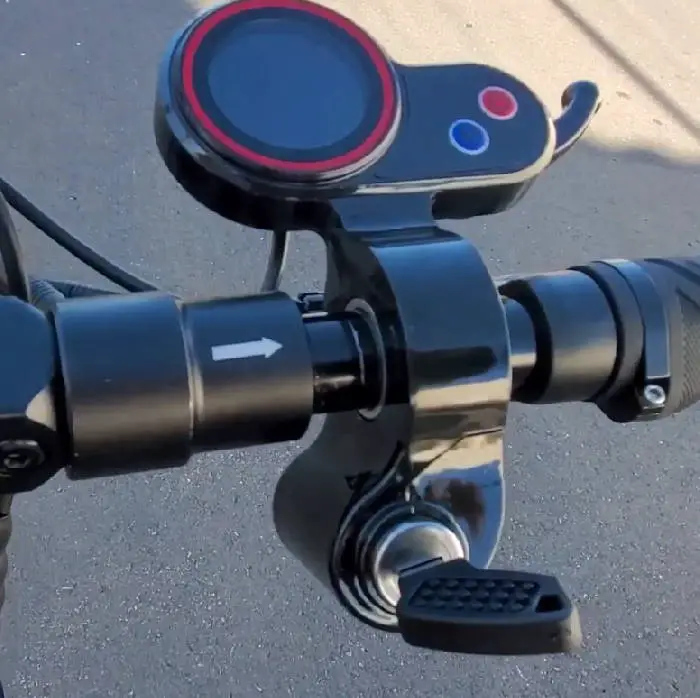 The EverCross has a keylock ignition system, and it can't be turned on nor used without the key. That's a great security feature that's usually reserved for much more expensive scooters, and it's a very pleasant surprise to find it in a scooter this affordable.
While the keylock prevents anyone from riding off with your scooter, it doesn't stop someone from picking it up and leaving. Thieves can figure out how to bypass the lock if they have enough time and expertise, so this scooter can still be a target for theft, especially given its pricey and high-performance look and feel. That's why you should get an additional electric scooter lock to secure your scooter completely.
Accessories and gear
This is a no-joke scooter, with quick acceleration, capable of reaching some serious speeds, so a proper electric scooter helmet is a requirement. Never ride this scooter without a helmet.
Besides the seat, the only official accessory available for the EverCross is the thumb throttle. As I said before, I usually recommend the thumb throttle over the trigger one, as it's usually more comfortable for most people, and doesn't cause as much finger fatigue or sore wrists.
If you want other accessories for the EverCross, you will have to try some generic ones. There is a good chance some of them won't fit, so make sure to contact the merchants and ask them about your particular scooter unit. See the guide on the best electric scooter accessories if you're interested in making your scooter more personalized.
Seat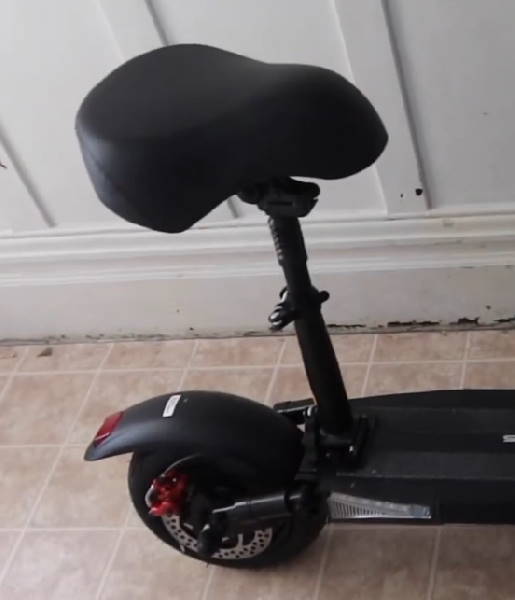 The scooter comes with a seat included. It's a wide and comfortable saddle, which is always better than the typical narrow seat that most bikes have, as it will prevent some common health risks associated with scooter rides, like possible pelvic floor problems for men for example.
The height of the seat is adjustable. There is a nice and solid spring suspension in several places that greatly improves ride comfort. The seat can fold, and doesn't need to be removed for the scooter to be folded.
If you don't like having the seat at all, you can remove it easily, as it's completely optional.
App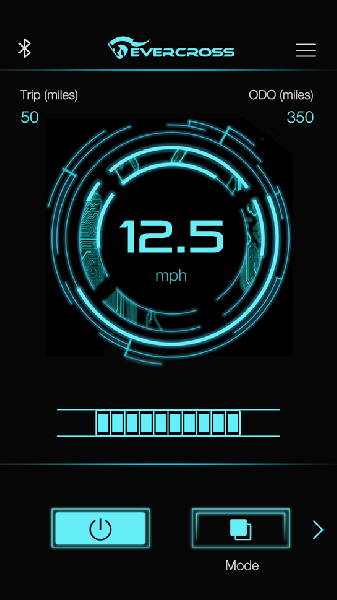 One of my favorite features to see in a modern scooter is a dedicated app for it, and the EverCross has a pretty decent app available for both iPhone and Android.
The app has several very interesting features, some of which are not present even in other much more widely known scooter apps:
self-diagnostics
current speed
battery level
trip distance
odometer
lights status
speed mode
challenges
friends list
user manual
guides and FAQ
The app is somewhat poorly rated, but that's typical for pretty much every electric scooter app out there, mostly because bluetooth connectivity is tricky to get 100% right.
In addition to the EverCross app, I recommend trying out the EScooterNerds Universal Scooter App, available for both iPhone and Android as well. The universal app works well with the EverCross app, is it has some extra features like useful checklists, guides, calculators, resources, tools, marketplace access, etc.
Maintenance and repairs
The scooter has a strong water resistance rating, but still, you shouldn't spray it down with a hose when cleaning it. Use a damp and soft piece of cloth instead. Some soap is fine as well.
A simple maintenance routine done once a week will be more than enough to keep your scooter in good shape. You can go with:
cleaning
checking the critical electronic parts really quick, making sure everything works properly
checking the brakes and adjusting them if needed
check the tire pressure, and inflating them if needed
inspecting for loose screws, tightening them if needed, and maybe using some Loctite
You can find the basic spare parts like replacement tires on the EverCross store, or potentially on EBay and Amazon. Limited supply might be an issue here, especially if you need some more advanced parts, and you may have to go with a generic part if your scooter is not still under warranty.
Moreover, the EverCross brand is just a white-label merchant, and they won't directly handle any technical issues and defects, so you will probably have to wait for prolonged periods and deal directly with the manufacturers, which are based in China.
Luckily, the scooter's defect rate is pretty low, especially with the latest version, and chances are, you will go years without having to worry about this.
Known issues
The EverCross is very good value for money, and in some sense, it can even be said it's a budget scooter for its performance category.
Of course, being a budget scooter, it may come with some issues. Most of them were just minor annoyances in my experience, but in some rare cases, they may be serious downsides or even be dealbreakers for certain buyers.
For starters, the specified range is probably not what you will get in the real world. I'm not a fan of this marketing technique, and the actual range itself wasn't that bad, but know that you will probably not get the promised 31 mi / 50 km, and get somewhere closer to 25 mi / 40 km.
Another annoyance that can happen with this scooter is flat tires. They don't seem to be as common as with the Xiaomi M365 for example, but still, flats are a somewhat meaningful risk with this scooter, and it would be wise to ride with a bit more care.
Probably the worst issue with the EverCross has been the somewhat lacking quality control. Seems like EverCross have iterated quickly and addressed a lot of the quality issues in the latest release, ranging from the scooter shipping with flat tires, to the scooter simply dying after a short period of time. The generous warranty and return policies of the brand should take care of these if the need arises. Plus, these quality issues have been increasingly rare in the last few months. Anyway, if you're considering buying this scooter, you should be aware of that.
Finally, one pet peeve of mine, that I don't believe many scooterists share, is the manual. While not a serious issue, it could definitely use some improvements, and I would love to see that happen.
Owner reports and reviews
Owners are generally very satisfied with the EverCross.
It's still too soon to tell, but this scooter is quickly gaining traction with many intermediate-level scooterists, and it may become a household name real soon. The ratings and the reviews of the scooter are mostly positive, and the scooter maintains a strong average rating of around 4.2 stars from hundreds and hundreds of reviews.
My verdict – is the EverCross electric scooter good and should you buy it?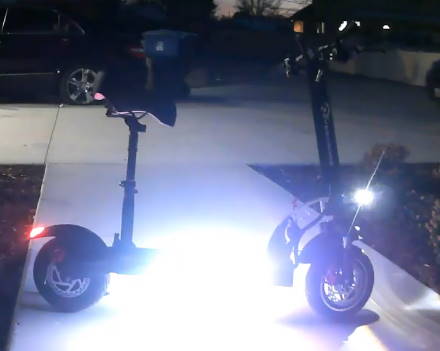 In general, the EverCross is a pretty good scooter. It may be a better fit for value-oriented shoppers rather than quality-obsessed ones. You will definitely get a very good bang for your buck.
Most of the performance aspects are very strong, except the range which is ok but nothing special. With a big and powerful motor, quick acceleration and top speed, big weight limit, and large pneumatic tires, but also large weight and dimensions, this is a very good intermediate pick for scooterists possibly looking for their second scooter, a more powerful upgrade, or simply ones seeking an exciting ride.
If the range is important to you, I believe you would probably want to go with a scooter like the Ninebot Max. It has an insanely long range, and the quality and finishing will be better overall, while the price will be the same. So, if you're after range primarily, check out my full Ninebot Max review.
But if performance, fun, speed, and adventure are more important to you, then you will want to check out the EverCross.
Where to buy the EverCross from?
US
The only place you can get the EverCross HB24 / H5 will be
Amazon
. Typically the scooter will cost around $800.
Specifications
EverCross Specifications
| | |
| --- | --- |
| Top speed | 48 kmh |
| Top speed | 30 mph |
| Range | 50 km |
| Range | 31 mi |
| Motors | hub BLDC rear drive |
| Power | 800 W |
| Climb angle | 30 ° |
| Battery | 480 Wh, 48 V |
| Charging time | 6 h |
| Ingress protection (IP) | IPX5 |
| Weight | 20 kg |
| Weight | 44 lbs |
| Weight limit | 150 kg |
| Weight limit | 330 lbs |
| Tire size | 10 in |
| Tire type | pneumatic |
| Foldable | yes |
| Foldable handlebars | yes |
| Seat | yes |
| Build material | aluminum |
| Terrains | all terrain |
| Brakes | disk brakes front + rear |
| Shock absorbers | dual suspension on both wheels |
| Lights | main LED + brake + turn signals + deck |
| Control | EY3 LCD |
| Speed modes | 3 |
| Cruise control | yes |
| Keys | yes |
| Alarm | no |
| App | yes |
| Warranty | 12 months |
| Return period | 30 days |
| Unfolded dimensions (L * W * H) | 127 cm * 33 cm * 116 cm |
| Unfolded dimensions (L * W * H) | 50 in * 13 in * 46 in |
| Adjustable handlebar | yes |
---
Want to get
FREE SCOOTER
tips, exclusive discounts and promotions, and unseen scooter hacks? Join the
Scooter Secrets club
.
---
Liked this article? It really helps if you share it.
Follow @escooternerds on social media for more cool stuff
---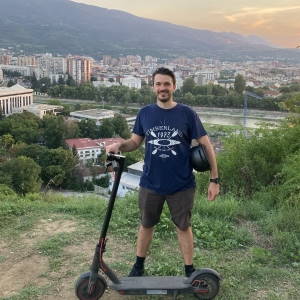 Where to buy the EverCross HB24 / HB5
US: Amazon