Last Updated on November 14, 2022 by Matt
This is a comprehensive review of the Kugoo Kirin S1, one of the most popular ultra-budget electric scooters available in Europe and Asia. We will go through everything about it, the good and the not so good, and see when it might make sense for you to consider it.
Who is the Kugoo Kirin S1 for?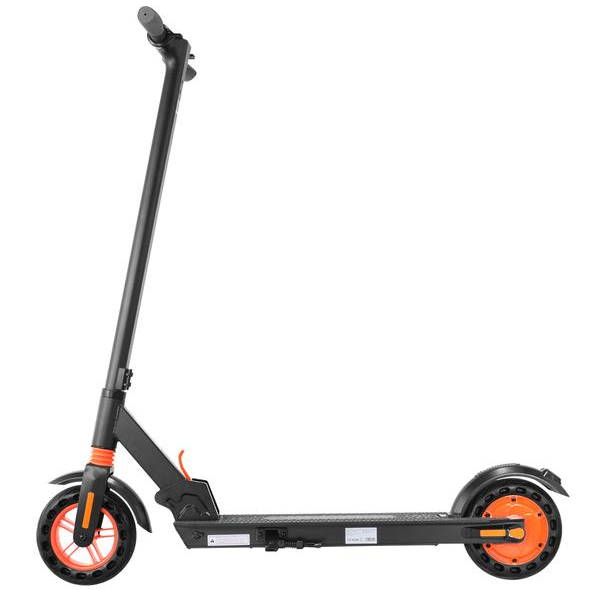 The Kugoo Kirin S1 is one of the cheapest electric scooters for adults in the world right now.
The performances are ok, nothing that will blow your mind, but enough for daily commuters, casual riders, young professionals, high school or college students, or anyone looking for a fun and affordable hobby.
More importantly, the scooter is very light in weight, and has very small folded dimensions, which makes it even better for commuters, especially ones that need to take the scooter with them on the bus or the train.
Usually priced less than $300 (sometimes a lot less), the scooter provides a level of quality that you probably won't expect from such a model. So, if your budget is $300 or less, the Kugoo Kirin S1 will be one of the best picks available, and certainly one of the best entry-level models.
Ordering, shipping, warranty, returns
Kugoo scooters are traditionally bought through GeekBuying, and the Kugoo Kirin S1 is no exception.
You can expect the scooter to arrive at your home in 2 to 7 business days (usually it takes 5). Shipping is free in most countries.
The scooter has the standard Kugoo warranty policy, with 12 months on the scooter and 6 months on the battery. You can return the scooter for a refund if you don't like it, the return period will be between 7 and 14 days.
Unboxing, assembly, user manual
The scooter arrives in a branded box, and each part is individually wrapped and well-protected against damage on delivery.
The box will include:
the scooter (almost fully assembled)
handlebar
charger
Allen key and screws
storage trunk
user manual
warranty card
possibly a charger adapter, depending on where you live
The only assembly required on your end will be to connect the handlebars with the stem. That's a very simple process that takes just a few minutes.
Still, after assembly, I recommend not rushing out to ride immediately. Instead, make sure that the battery is fully charged, all the screws and nuts and bolts are tightly screwed and secured, and the brakes are fully operational.
This is one of the few scooters that arrives with a storage trunk, which is a very nice touch, since that's one of the most useful accessories an electric scooter can have in my opinion.
How to use the Kugoo Kirin S1?
The Kugoo Kirin S1 has a very simple cockpit. The scooter is turned on by a long press of the power button, and then a single press toggles the speed mode, while a double press toggles the lights. A long press turns the scooter off.
The screen shows:
current speed (in your preferred unit system)
battery level (4 bars)
speed mode
light status
error codes
As usual, the thumb-throttle button is on the right handlebar, while the brake button is on the left one.
If you hold the throttle for 6 seconds or more, you will engage the cruise control feature, and your scooter will ride without you having to press the throttle until you either press it again or use the brake.
The scooter has 3 speed modes, each with its respective speed limit:
blue – 10 kmh / 6.2 mph
orange – 15 kmh / 9.3 mph
red – 25 kmh / 15.5 mph
Out of the box, this is a typical kick-to-start scooter, and you will need to kick off the ground and then accelerate. Otherwise, the throttle doesn't get activated (which is a great safety feature, and also conserves a surprisingly large amount of battery power). If you don't like this feature, you can disable it through the app and turn your scooter into a zero-start one.
The folding mechanism of the Kugoo Kirin S1 cannot be simpler. It's just a small lever between the stem and the deck, that you use to lock or unlock the folding mechanism. Once you unlock it, you then just fold the scooter until it locks into the folded position.
User experience and build quality
The Kugoo Kirin S1 provides a very smooth, stable ride… for a solid-tire scooter. Of course, we can't expect the same ride quality as with pneumatic-tire scooters. Still, out of all the budget solid-tire scooters out there, the Kugoo Kirin has one of the best rides.
The build quality of the scooter also saves the day here. Even though the scooter is relatively small, it's still very sturdy and robust. That gives it a lot of stability and structural integrity, which contributes to the overall user experience and the ride smoothness.
Look and feel
The scooter is available in two color patterns:
primary black, with orange details
black and white, also with orange details
It has a distinct look, and a trained eye will recognize that this is not the same old boring scooter that everyone and their grandmas own today. The orange details are probably the most conspicuous feature of it, and give the scooter a vibrant, enthusiastic, friendly look and feel.
Issues and things to know before buying
The Kugoo Kirin S1 is a surprisingly good scooter for its price, and there are just a few potential issues you should be aware of if you're thinking of buying.
The biggest tradeoff you will have to think of upfront is whether you need solid tires. They are great for places with poor road conditions as they won't suffer flats, but keep in mind that the price you will pay for that will be reduced ride comfort.
If you're fine with that, then you will almost certainly find the Kugoo Kirin to be of great value.
Otherwise, some owners have reported not being able to get the advertised range, although that's not that uncommon for scooters (and also, many of them have been close or above the weight limit).
Finally, be aware that the app for this scooter may not be all that it should be. Some connectivity problems may occur for a small minority of owners.
Those are all the main issues you should know of if you're thinking of buying the Kugoo Kirin S1.
Motor, speed, and climbing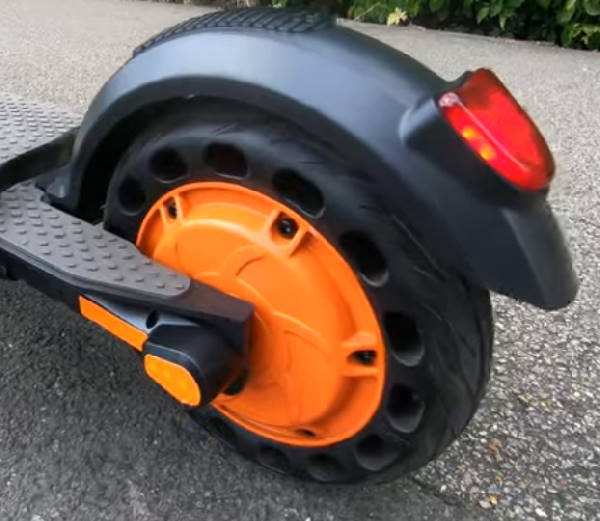 The Kugoo Kirin S1 is quite powerful for such a small and affordable scooter. With a brushless rear-drive hub motor of 350 Watts, it either matches or outperforms all the popular commuters out there.
The official top speed of the Kugoo Kirin S1 is 25 kmh / 15.5 mph, as claimed by Kugoo. Unofficially, owners mostly report that the scooter reaches that top speed very quickly, and only one heavier rider has reported the scooter not being able to deliver the promised top speed.
The scooter also accelerates rather quickly, and you can reach the top speed in around 6-7 seconds when your battery is full.
The specified climb angle of the scooter is 15 degrees. User reports on this stat are not as common, but the few ones that exist state that the scooter climbs well and will not have any problems conquering mild to moderate hills. Since the motor is integrated into the rear wheel, the scooter will have slightly better torque, which definitely helps with climbing.
Battery and charging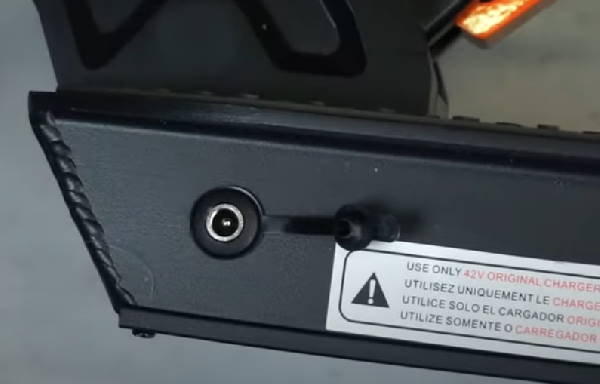 The battery of the Kugoo Kirin S1 is a 36 Volt, 6 Amp-hour, 18650 lithium battery.
Kugoo states that charging can take 4 to 6 hours, but based on my experience and user reports, this time will typically be between 5.5 and 6.5 hours, especially as the scooter's battery starts to age a bit.
The charger port is located at the front left side of the deck, protected from water and dirt by a plastic cap. It is strongly advised to use only the original charger. As usual, while charging, the indicator light on the charger will be red, and when the battery is fully charged, it will turn green.
Range and commuting
The official range of the Kugoo Kirin S1 is 25 km / 15.5 mi on a single battery charge.
User reports largely confirm this claim, although there are a few owners that report never being able to get the full range (which is quite common with most scooters).
The range of the scooter is enough for the majority of daily commuters to make it to their destination and back home on a single battery charge. That, coupled with the fact that the scooter is very compact and light in weight (for those that need to take it on a bus or a train), makes the Kugoo Kirin S1 an excellent commuter option.
Brakes and safety
The scooter features a redundant dual-braking system, with an electronic brake that stops the motor in the rear wheel, and a rear mudguard brake that can be used as either an emergency brake, or an additional brake for the shortest braking distance.
The brake distance of the scooter is between 4 and 5 meters.
The electronic brake has the regenerative braking feature, which restores a bit of battery juice every time you brake or ride without accelerating.
As you probably already know, you will have to ride this scooter with the appropriate scooter helmet at all times.
Tires and suspension
The Kugoo Kirin S1 comes with 8-inch solid rubber honeycomb tires.
The major advantage with these tires, of course, will be the fact that they will never, ever go flat.
Another advantage is that you will not have to worry about maintenance and tire pressure as well. You should still check them occasionally for wear-and-tear, and you may have to replace them if they wear out too much, but usually, that takes years before it starts happening.
As usual, the biggest disadvantage of this type of tires will be the reduced ride comfort. Not only are the tires solid, but their diameter is also not that big (the average for commuter scooters is 8.5 inches).
The Kugoo Kirin S1 does attempt to mitigate this issue a bit with a small spring suspension on the front, between the stem and the wheel. That does help make the rides better, but not by much.
In my opinion, this is the biggest disadvantage of the Kugoo Kirin S1, or rather, the biggest tradeoff that you'll have to think about.
Water resistance and IP rating
The Kugoo Kirin S1 has an IP54 ingress protection rating. That means the scooter is very resistant to water damage.
Technically, it's not waterproof by definition, as that means it could be submerged into water and continue working properly. Still, an IP54 rating usually means that you should try and avoid riding in the rain if possible, but if you must do so, your scooter will be fine 99% of the time. Just be careful if you plan on doing that, as solid tires have worse traction and your scooter may slip easily.
Lighting and night rides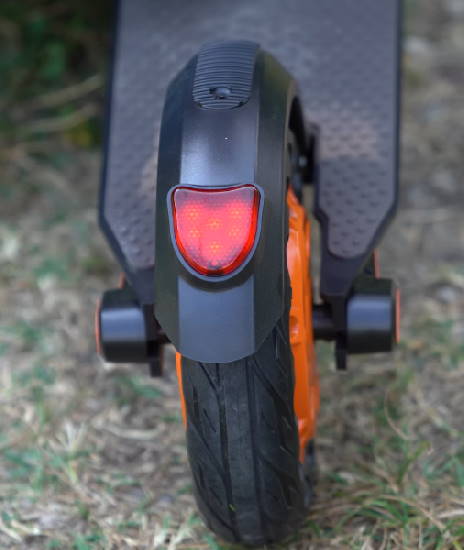 The scooter has an LED headlight that's not terribly bright, but it's good enough for riding at night.
It also has brake lights on the rear mudguard and on the front, that blink every time you use the brake.
In addition, it also comes with several reflective stickers, which might be required in some places where the scooter is sold so that it's street-legal.
So, the Kugoo Kirin S1 provides sufficient lighting, and riding in the dark shouldn't be a problem (although you should generally try and avoid doing that if possible).
Portability, weight, dimensions
When folded, the scooter's dimensions are as follows:
length: 108 cm / 42.5 in
width: 42 cm / 16.5 in
height: 41 cm / 16.1
The Kugoo Kirin S1 weighs just 11.9 kg / 26.2 lbs, which puts it near the top of the list of most lightweight scooters (most budget commuters weigh around 14 kg / 31 lbs).
While the center of gravity is not right at the middle when the scooter is folded, it's still pretty close to it. The stem is not that thick and it's easy to grab and hold.
In summary, with such small dimensions and weight, and a convenient way to hold and carry, the Kugoo Kirin S1 is super-portable. In fact, it's one of the most portable electric scooters for adults available today!
Weight limit
The official weight limit for the Kugoo Kirin S1 varies depending on where you're buying the scooter from, and which specific version of it you get. One older version sold by a popular online merchant specified a weight limit of 120 kg / 265 lbs, but most of the latest available versions today advise a maximum carry load of 100 kg / 220 lbs.
I would go with the latter one, as it's just a safer bet overall.
Even though some heavier riders have actually reported no drops in performance, there are more reports that contradict that statement.
This is not a terribly powerful scooter, and overloading it will not do it any favors. Plus, based on the specs, the weight limit of 100 kg / 220 lbs sounds more correct.
If you need a bigger weight load from your scooter, you should see my guide on the best electric scooters for heavy adults.
App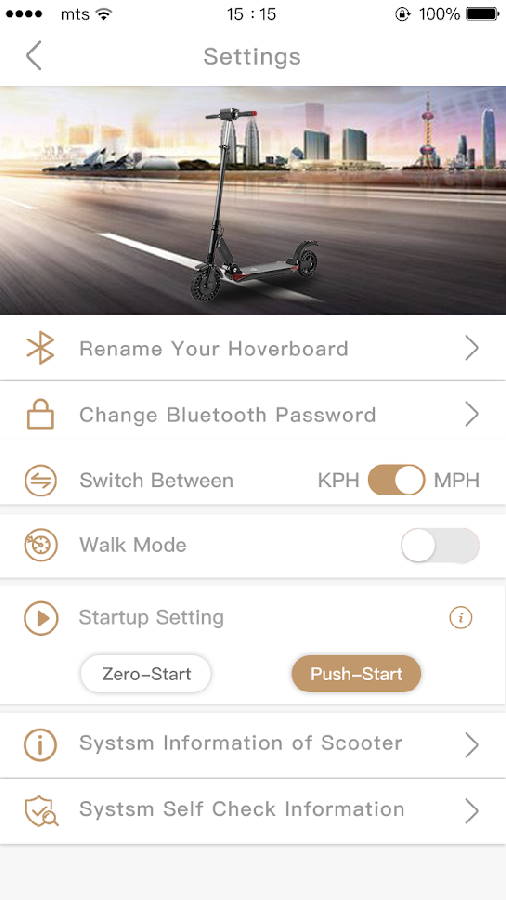 You can find the Kirin app for this scooter on the Google Play Store or the Apple App Store. Once you connect it with your scooter through bluetooth, you can use it to:
monitor your scooter stats (current speed, battery level, trip distance, odometer)
lock your scooter
set your unit system
toggle the light
toggle cruise control
choose between zero-start and kick-to-start
use the navigation and the map
hang out and chat with other Kugoo owners
complete the challenges
In addition to the official app, I recommend the EScooterNerds Universal Scooter Helper App, which comes with 30+ complementary features like calculators, tools, checklists, guides, resources, etc. The app is also available for both Android and iPhone.
Security
The Kirin app has some interesting features, including the ability to lock the scooter's motor. Sadly, that will not prevent someone from picking up your scooter and leaving with it.
The good news here is, the Kugoo Kirin S1 is very cheap, and will probably not be a target of thieves. Still, you should get a good scooter lock if you plan to leave it outside often.
Gear and accessories
You have to ride the Kugoo Kirin S1 with a helmet. Otherwise, not only do you significantly increase the risk of a serious injury, but you may also end up in trouble with the authorities and get a traffic ticket.
The scooter is fairly small, and I don't believe it would support a seat.
There is a nice trunk that comes with the scooter, which you can hang from the handlebars. That's a really cool move by Kugoo, as it's a very useful accessory, yet almost no other company ships a trunk together with the original package and included in the price.
If you want to further customize your scooter (install a phone mount, or a cup holder, or get a carry handle), see my guide on the best electric scooter accessories.
Maintenance and cleaning
Since the Kugoo Kirin S1 has solid tires, your maintenance routine will basically be cut down in half, and all you will have to do is make sure the electronics work, the brakes are fully functional, and all the screws are nice and tight.
You can use a soft damp cloth to clean the scooter. Soap water is fine, but don't use any corrosive chemicals. Do not spray your scooter with a hose, you may cause some irreparable damage that's not covered by your warranty!
Specifications
Kugoo Kirin S1 Specifications
| | |
| --- | --- |
| Top speed | 25 kmh |
| Top speed | 15.5 mph |
| Range | 25 km |
| Range | 15.5 mi |
| Motors | brushless DC rear drive |
| Power | 350 W |
| Climb angle | 15 ° |
| Battery | 36 V |
| Battery type | 18650 lithium |
| Charging time | 6 h |
| Ingress protection (IP) | IP54 |
| Weight | 12 kg |
| Weight | 26.5 lbs |
| Weight limit | 100 kg |
| Weight limit | 220 lbs |
| Tire size | 8 in |
| Tire type | solid |
| Foldable | yes |
| Foldable handlebars | no |
| Build material | aluminum |
| Terrains | urban |
| Brakes | rear electronic + foot |
| Shock absorbers | front spring |
| Lights | front LED + brake lights + stickers |
| Control | LED display |
| Speed modes | 3 |
| Cruise control | yes |
| App | yes |
| Warranty | 12 months, 6 on battery |
| Return period | 7/14 days |
| Folded dimensions (L * W * H) | 108 cm * 42 cm * 41 cm |
| Folded dimensions (L * W * H) | 43 in * 17 in * 16 in |
| Unfolded dimensions (L * W * H) | 108 cm * 42 cm * 105 cm |
| Unfolded dimensions (L * W * H) | 43 in * 17 in * 41 in |
| Deck to handlebar height | 92 cm (est) |
| Deck to handlebar height | 36 in (est) |
| Adjustable handlebar | yes |
Kugoo Kirin S1 vs Kugoo S1
In general, the Kirin version will be better, as it's the latest version and it has a few issues ironed out.
The major improvements are the folding mechanism, the tougher stem design, and the addition of the app feature.
Since the Kugoo Kirin S1 has smaller folded dimensions, while the weights of both scooters are comparable, it wins the portability use case.
The Kugoo S1 has performance on its side, as it has a bit more range and speed (even though they both have the same motor power).
Otherwise, the scooters are pretty similar, and the Kugoo S1 is also a good budget pick as well.
Kugoo Kirin S1 vs Xiaomi M365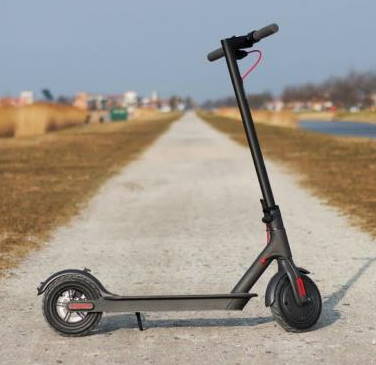 The Kugoo Kirin S1 and the Xiaomi M365 are often compared against each other, but I think the decision between the two is simple.
The Kugoo Kirin S1 will be better for anyone that lives in a place with bad roads, with lots of potholes, bumps, curbs, uneven surfaces, etc.
The Xiaomi M365 will provide smoother rides, but it does have a notorious problem with flat tires, so only go with it if you live somewhere with nice roads or lots of bike lanes. See the Xiaomi M365 review if that sounds like your scenario.
Price and value for money
The price of the Kugoo Kirin S1 varies, but it's typically between $260 and $290.
For that kind of money, this scooter is amazing bang for buck. If you are a commuter, you can expect it to pay itself off on transport savings in just a few months!
Should you buy the Kugoo Kirin S1?
The answer to whether you should buy the Kugoo Kirin S1 is very simple.
If you live in Europe, and you have a planned budget of around $300 for your new electric scooter, then you should definitely consider buying the Kugoo Kirin S1, as it's unlikely some other scooter can beat it in this price category. Also, if you're after a solid-quality beginner scooter, the Kugoo Kirin S1 can do a great job.
Frequently asked questions
Here's what people often ask about this scooter.
How can I make my Kugoo Kirin S1 faster?
Each Kugoo Kirin S1 scooter has a built-in speed limiter which caps the max speed the scooter can reach at around 15.5 mph / 25 kmh. The only way to make the scooter go faster than this is by removing the speed limiter yourself, which is quite a hard and risky task. Additionally, removing the speed limiter by altering the controller of the scooter can result in a voided warranty, which can be a big problem if you mess something up.
How long does the Kugoo Kirin S1 battery last?
A full battery of the Kugoo Kirin S1 will last you for up to 15.5 mi / 25 km, while each battery has a life expectancy of around 300 recharges. After you pass this point, the capacity of the drop will start dropping and you will get less and less range from each charge.
Where to buy the Kugoo Kirin S1 from?
Europe
There is no better place to get the Kugoo Kirin S1 from than
GeekBuying
. You will get free and fast shipping, and good warranty and return periods.
---
Want to get
FREE SCOOTER
tips, exclusive discounts and promotions, and unseen scooter hacks? Join the
Scooter Secrets club
.
---
Liked this article? It really helps if you share it.
Follow @escooternerds on social media for more cool stuff
---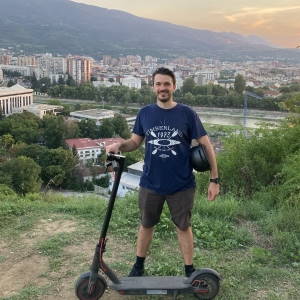 Where to buy the Kugoo Kirin S1
Europe: GeekBuying