Last Updated on November 14, 2022 by Matt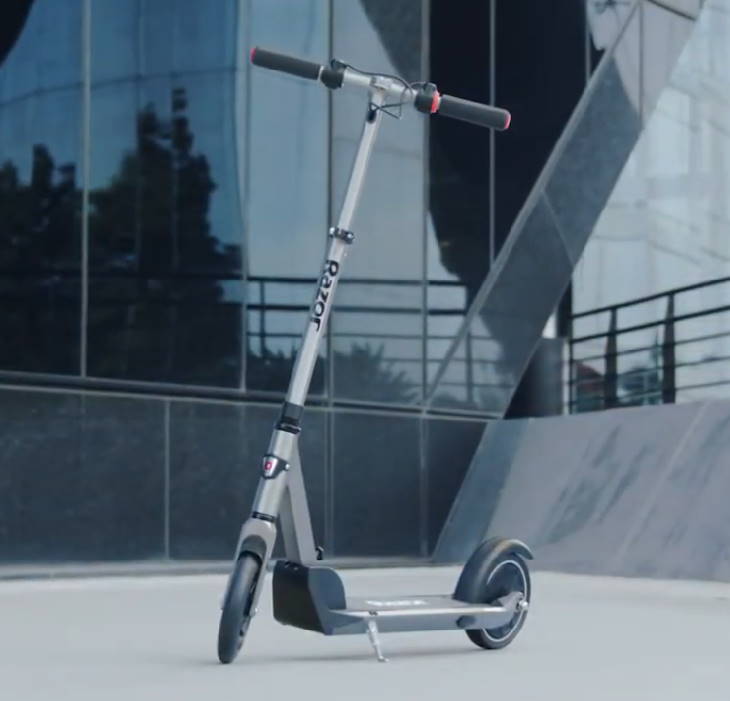 The Razor EPrime is a popular scooter for teenagers, bigger children, and possibly adults of a smaller frame, that has been around for quite some time now, and has proven itself to be a very good pick for the people it is supposed to serve best. The scooter is great bang-for-buck overall, light in weight, performs well, and most important of all, has a solid build quality that might surprise many, given its budget price.
Let's see in which scenarios does the Razor EPrime make the most sense.
Who should buy the Razor EPrime?
Let's address a few burning questions for some of you first.
Can adults ride the Razor EPrime?
Yes, they can, as long as they don't weigh too much above the weight limit, which is 176 lbs / 80 kg.
Is the Razor EPrime built for adults?
Not exactly. Its recommended rider age is 14+, which makes it ideal for bigger kids and teenagers, and while some lighter adults will have no problems riding it, the scooter's primary audience is not adults per se. If I may say, I believe that bigger, or even regular-sized adults riding this scooter, may look a bit strange – the scooter may support them, but it will look disproportionately small for their body frame.
Now, while many adults can easily find better scooters, that's not the case for teenagers or bigger children that might have hit the growth spurt early. The Razor EPrime is almost like Razor's official model for teenagers, and as such, is arguably the best electric scooter for teenagers in the world.
I would add a caveat here, and suggest that if you're buying for a teenager 17+, you may as well go with an adult scooter, as they will either already be ready for it, or get ready in the next year or two, while if you buy them the Razor EPrime, they will enjoy it for a year or two but may soon outgrow it. But, if you're buying for a teenager around 14 to 16 years of age, then there will be no better choice than the Razor EPrime.
Ordering, shipping, warranty, and returns
In the US, and possibly in other countries, the best place to get the Razor EPrime from by far is Amazon. All the typical goodies when ordering from Amazon are covered – free shipping, quick delivery, reliable customer support. All Razor scooters have a 90-day warranty period, and a return period of 30 days.
If you live in the UK or in most European countries, you may find a better deal for the scooter at Ride And Glide, as you may get free shipping in some cases, and shipping will usually be faster as well.
Unboxing, assembly, and user manual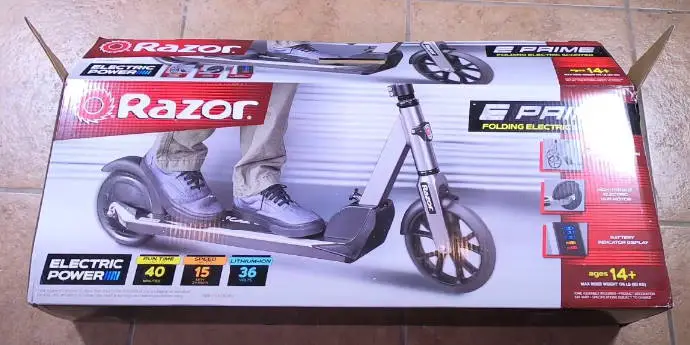 The scooter arrives in the branded Razor box, nicely wrapped and protected, although I believe Razor could do a better job here and prevent damage on delivery better.
The box includes:
almost fully assembled scooter
charging unit
hex key
user manual
warranty card
The only step in the assembly process is connecting the handlebars with the stem, and that takes just a few minutes. It's a good idea to charge the battery fully at least before the first time you take the scooter out for a spin. Also, make sure the brakes are operational before riding.
The user manual for the scoote is short and easily digestible. You don't necessarily have to study it in detail if you don't want to (and I know you don't, as nobody does), but still, it's a good idea to scan through it quickly at least, just to make sure you aren't missing out on any important details about your specific version and unit.
How to use the Razor EPrime?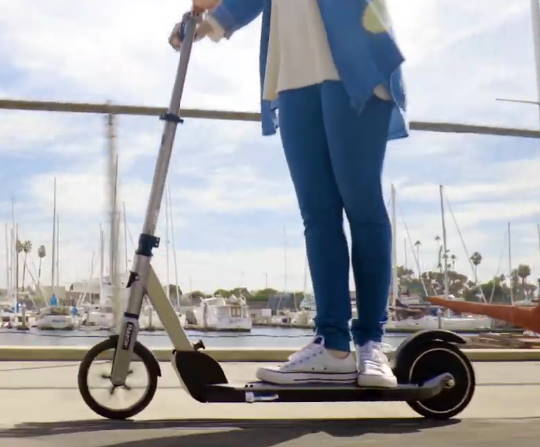 The Razor EPrime is a kick-to-start scooter, and you need some initial speed (3 mph / 5 kmh) before the acceleration can take over. This is a great safety feature, and it also saves the battery over the long run. The acceleration is a thumb-throttle button on the right handlebar, very ergonomically placed, and the brake is another button on the left handlebar (in red color).
The scooter is foldable, and the folding process is probably the simplest it can be – it's just a pin that you unscrew and pull to unlock the folding mechanism, and folding/unfolding takes 3 seconds.
The height of the scooter's handlebar is adjustable, which is a crucial feature given the intended audience of the scooter, as teenagers often have unpredictable growth spurts and might quickly outgrow a scooter with a fixed handlebar height. And keep in mind that the vast majority of scooters out there come with a fixed handlebar height, so this is definitely a huge win for the Razor EPrime.
The scooter has a kickstand that's well placed and gives the scooter good balance while leaning on it.
Dashboard and controls
The scooter's dashboard is located on the bottom of the stem, which is a somewhat atypical place for it. It's really simple to use, as it only has the power button, and the scooter powers on with a short press. To turn it off, you need to press the power button longer.
The dashboard shows the battery level of the scooter in 5 bars of different colors.
Build quality, lifespan, and defect rates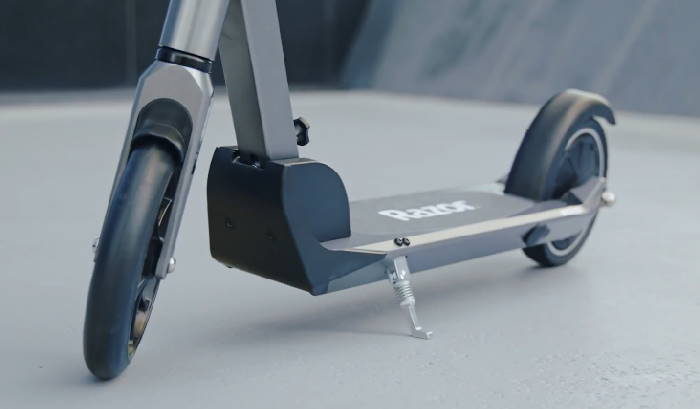 The scooter is well-made, and its level of quality far exceeds its price. The primary build material is aluminum, which gives the scooter its light weight, but also the scooter is pretty tough and durable at the same time, and based on owner reports, most teenagers outgrow their scooters before any of the major components break down. The deck has a sandpaper-like gripped tape on top of it that prevents slipping, and the handlebars have an edgy design with rubber covers. The part of the frame between the stem and the deck is the scooter's folding point, and that part is especially robust, which is great since in some way that's the center of the scooter and it gives the entire unit a lot of stability.
User experience and ride smoothness
Since the build quality is pretty good overall, the rattling and the shaking from the scooter are down to a minimum. Coupled with the smooth acceleration and the strong brakes, the scooter is a very fun yet very safe ride overall. The motor makes almost no sound at all while riding.
It does have one major weakness in terms of ride smoothness, and that's its tires. As they are solid, they will provide comfortable rides only over smooth roads and surfaces. Also, the scooter has no additional suspension, which would have been a major plus.
Speed, climbing, and motor
The official top speed of the Razor EPrime is 15 mph / 24 kmh, and that's what most riders will get in real-world scenarios and everyday rides, unless they are close or above the weight limit, or ride with a nearly empty battery.
The brushless DC hub motor of the scooter is integrated into the rear wheel, and has 250 Watts of continuous power. As a rear-drive model, the torque will be pretty good, and while Razor hasn't declared an official climb angle, most owners describe the climbing capabilities as pretty decent, although the scooter will definitely struggle on steeper hills.
The scooter's speed is adequate for its intended use, and the scooter is not overpowered at all, so acceleration will be very gradual and smooth as well.
Range, battery, and charging
This is one of the few Razor scooters with a lithium-ion battery, and that's excellent news, as they are much more performant, but also easier to charge and take care of, plus they take a lot less time to charge.
The Razor EPrime's battery is 36 Volts, and takes around 3 – 4 hours to fully charge.
The battery is contained in the deck, which is great for the scooter's balance and lowers its center of gravity (scooters with batteries in the stem tend to be front-heavy).
The charging port for the battery is on the rear left side of the deck, protected from the elements by a black rubber cap.
The range of the Razor EPrime is 10 mi / 16 km, or up to 40 minutes of continuous ride time. This range has been confirmed by several independent owner tests.
Brakes and safety
The redundant dual-brake system of the Razor EPrime features an electronic brake that's engaged with the thumb paddle on the left handlebar that cuts power to the motor, and also a foot brake activated by stepping on the rear mudguard. When used at the same time, the brakes provide a powerful stopping power and the brake distance is very short even when stopping from full speed (you do have to step harder on the rear foot brake for that though).
Both brakes target the rear wheel, which means there's no danger of the scooter tipping over when braking.
Tires and wheels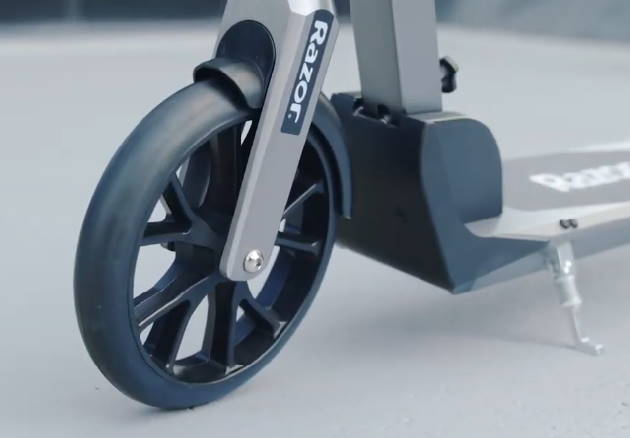 The Razor EPrime comes with a solid rear airless tire and a urethane abrasion-resistant front tire, and they will never go flat (although they can still wear out significantly over time). Of course, the downside of this type of tire will be the reduced ride comfort, and a significant proportion of owners report that unless you ride on relatively flat surfaces, the rides tend to be bumpy and unstable.
Both tires are 8 inches in diameter, and while this is only about half an inch less than the average for most budget commuter scooters, it makes a difference since the tires are solid and don't really provide the smoothest rides.
All in all, the tires are not the strongest point of the Razor EPrime. They will do fine on flat surfaces and well-maintained streets, but rougher terrains and roads in poor condition will be out of the question.
Water resistance and IP rating
The scooter has no official IP rating, and Razor makes no guarantees about how the scooter will behave in rain or wet environments.
Interestingly, there are almost no reports of any sort of water-related damages with the scooter, even though a few owners have reported riding through some rain.
It's still best to avoid riding in the rain as much as possible, not just because the scooter doesn't have an IP rating, but because it comes with solid tires as well, which have much less traction and will slip more over wet surfaces.
Lights and riding at night
The Razor EPrime has no lights at all, nor any reflective stickers or surfaces. That makes it unsuitable for riding at night, in fact it would probably be illegal to ride it after dark in most countries. As this is an ultra-budget scooter, maybe we can't really have any expectations on extra features, but I gotta say, some lights would have been a good idea, even some very cheap ones would go a long way for many and at least make the scooter street-legal for night rides.
If you wish to ride this scooter at night, you will have to get some after-market lights as customization. You can find some good and affordable picks in the guide on electric scooter accessories.
Weight, dimensions, and portability
The scooter weighs 21.5 lbs / 9.8 kg, which puts it in the super-lightweight category, and one of the lightest electric scooters that adults can use.
The scooter's dimensions are:
length: 40.2 in / 102 cm
width: 18.2 in / 46.2 cm
height: 40.6 in / 103 cm
The size of the scooter is also very portable, especially when folded, as the height of the scooter becomes around 18 in / 46 cm. With such a small volume when folded, this scooter fits literally everywhere, even in the smallest car trunks and through the narrowest bus and subway doors.
All in all, the Razor EPrime is one of the most portable electric scooters around.
Weight limit and rider age
The official weight limit of the Razor EPrime is 176 lbs/ 80 kg, which is probably the ideal weight limit for its intended rider age of 14+. The deck size of 16.75 in / 42.5 cm in length, and 5.5 in / 14 cm in width, is big enough for pretty much anyone except someone with a very large shoe size.
Of course, this weight limit will be able to support a lot of adults on the lighter side, and lots of adults actually use the Razor EPrime as their commuter of choice. Still, I wouldn't recommend this scooter for most adults, even if you're well within the weight limit, simply because there are many other great scooters out there that are designed for adults from the beginning.
Helmet, gear, and accessories
The person riding this scooter should wear a proper helmet for an electric scooter at all times. Not doing so can not only result in a serious injury, but also a traffic ticket in many countries.
There are almost no accessories that are specifically made for the Razor EPrime. In case you want to add some upgrades to this scooter, your best bet is to look at the generic electric scooter accessories – you could get some lights if you plan to ride at night, and also a trunk or a storage bag and a phone mount might be useful as well.
I don't think trying to add a seat to this scooter would be a good idea – the scooter's frame and build are not large and strong enough to support one, and since there are no official seats available, you're better off checking out some electric scooters with seats if that's what you're after.
As there is no built-in way to secure the scooter and prevent theft when leaving it outside, you will have to get a proper electric scooter lock if you plan on doing so.
Spare parts, repairs, and maintenance
Razor is both one of the best and one of the most affordable scooter brands for younger people, and same as their scooters, the spare parts they provide are usually very cheap. Availability is also pretty good, and you should be able to find whatever you need either on the official Razor store or Amazon. Usually, you will get the parts for free if the scooter is within the warranty period.
Also, Razor has numerous service and repair centers in many cities worldwide, and you should have no problems finding help in case you need it.
Since the scooter comes with solid tires that require almost no maintenance at all, you can get away with a simple cleawning and maintenance routine once every week or two:
check all the screws and bolts, make sure they are tightly screwed (and maybe consider using Loctite as well)
do a quick diagnostics check on the battery and the other electronics
make sure the tires aren't worn out
make sure the brakes work properly
As for electronic part repairs, the only thing you would probably ever need to replace on this scooter is the controller. Luckily, it is as easy to do this as it gets, and you can do it by yourself in your home or garage.
Here is a video explaining the process with clear guidelines:
Razor EPrime vs other electric scooters
Let's see how the Razor EPrime compares against other electric scooters.
Razor EPrime vs Razor E300
These two scooters are often compared, and rightly so.
Even though the Razor E300's rider age is 13+, which means a slightly younger target demographic, the scooter is bigger and heavier, and it can support more weight on its deck (up to 220 lbs / 100 kg). However, the bigger weight limit is more like e result of the scooter's primary focus on stability and robustness, and while the scooter can also be used by adults, that's not how it has been envisioned.
One major difference between the two is in the tires. Since the EPrime has solid, puncture-proof tires, it will be more suitable for places with worse roads, or for teenagers that are more likely to test the scooter's limits. The E300 has pneumatic tires and will provide more comfortable rides, but livelier kids who are maybe more likely to challenge the scooter's build quality will probably get flats more often. That's the best way to decide between these two scooters.
You can check out the complete Razor E300 review if you think it might be a better fit.
Razor EPrime vs Xiaomi M365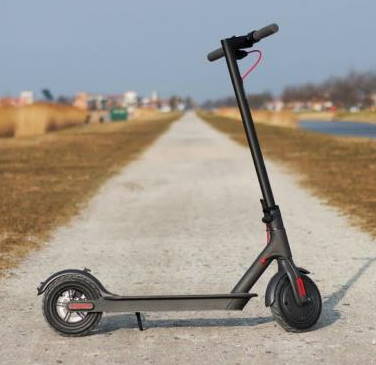 For starters, I don't think these two scooters need to be compared at all, as they target entirely different audiences, and which one you should get depends mostly on age, or sometimes weight limit.
It's quite simple, really. If you're buying for a younger teenager (14-16 years), or maybe a younger child that's bigger, then the Razor EPrime is the obvious choice. The Xiaomi M365, on the other hand, is one of the best electric scooters for adults ever made, so if you're buying for an adult, definitely go with it. You can see the full Xiaomi M365 review to find out more.
Problems and downsides
The major problem with the Razor EPrime comes from its battery. For starters, the official range is not that great to begin with, but even more so, the number one complaint from owners has been that the battery either wears out very quickly or stops working entirely, and the range is often quickly reduced to almost zero. To be fair, this seems to have been an issue mostly in a release from 2019, and now it seems like it's largely been addressed by Razor.
Probably not an issue per se, but a big tradeoff in my book are the tires. True, they will never go flat, but you can practically forget about riding this scooter over anything else other than a smooth road and some other gentler surfaces.
Those are the biggest issues to be aware of if you're thinking of buying this scooter.
Reviews and ratings
The owner satisfaction for the Razor EPrime is pretty good, although not as good as with other Razor scooters. The scooter usually has around 4.3 – 4.4 stars out of 5 on the bigger online stores, which is quite good for any electric scooter, although some Razor models have managed to reach true stardom status and have ratings of 4.7 or even 4.8 stars.
Still, owners generally love their Razor EPrimes and mostly report they or their children having a blast with them.
Verdict
The Razor EPrime checks all the boxes for a good scooter: good quality, decent performance, great value for money, heaps of fun. While some adults have chosen to get it for themselves, the scooter has a weight limit of 176 lbs / 80 kg, and it is meant for teenagers aged 14 or older, and possibly younger children that are on the bigger side. If you are buying for one of those, then the Razor EPrime is probably the best scooter in the world.
Where to buy the Razor EPrime from?
Worldwide
There is no better place to get the Razor EPrime from than
Amazon
. As usual, you get free shipping, quick delivery, and solid customer support.
---
UK, Europe
In the UK, and in most European countries, it may be better to order the scooter from
Ride And Glide
, since you will get quicker shipping, and it may be free in some cases, so the total price may end up being lower.
Specifications
Razor EPrime Specifications
| | |
| --- | --- |
| Top speed | 25 kmh |
| Top speed | 15.5 mph |
| Range | 16 km |
| Range | 10 mi |
| Motors | rear-drive hub BLDC |
| Power | 250 W |
| Battery | 115.2 Wh, 36 V |
| Battery type | lithium-ion |
| Charging time | 4 h |
| Weight | 9.8 kg |
| Weight | 22 lbs |
| Weight limit | 80 kg |
| Weight limit | 176 lbs |
| Tire size | 8 in |
| Tire type | solid |
| Foldable | yes |
| Foldable handlebars | no |
| Build material | aluminum |
| Brakes | rear electronic + foot |
| Shock absorbers | no |
| Lights | no (customization possible) |
| Control | LCD dashboard |
| Speed modes | 1 |
| App | no |
| Warranty | 90 days, 30 days return period |
| Rider age | 14+ |
| Unfolded dimensions (L * W * H) | 102 cm * 46.2 cm * 103 cm |
| Unfolded dimensions (L * W * H) | 40 in * 18 in * 41 in |
| Deck dimensions (L * W) | 42.5 cm * 14 cm |
| Deck dimensions (L * W) | 17 in * 6 in |
| Adjustable handlebar | yes |
---
Want to get
FREE SCOOTER
tips, exclusive discounts and promotions, and unseen scooter hacks? Join the
Scooter Secrets club
.
---
Liked this article? It really helps if you share it.
Follow @escooternerds on social media for more cool stuff
---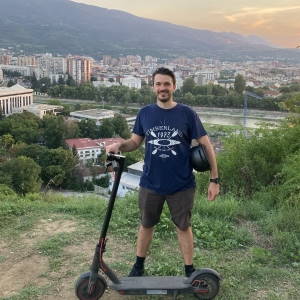 Where to buy the Razor EPrime