Last Updated on April 3, 2023 by Matt
Note: while the Xiaomi M365 is not officially discontinued, stock availability has been decreasing over time in every store, and chances are, this model will no longer be widely available in the near future. See my detailed Xiaomi 1S review to find out more about the new and upgraded version.
The Xiaomi M365 is the most iconic electric scooter ever made. And it is undoubtedly one of my personal favorites in the budget-friendly category.
In fact, for the majority of people, when they think of an electric scooter, chances are they are probably picturing the Xiaomi M365.
I've had this scooter for a while now, and I've learned quite a lot about it. Let's see what made it the best-selling scooter of all time.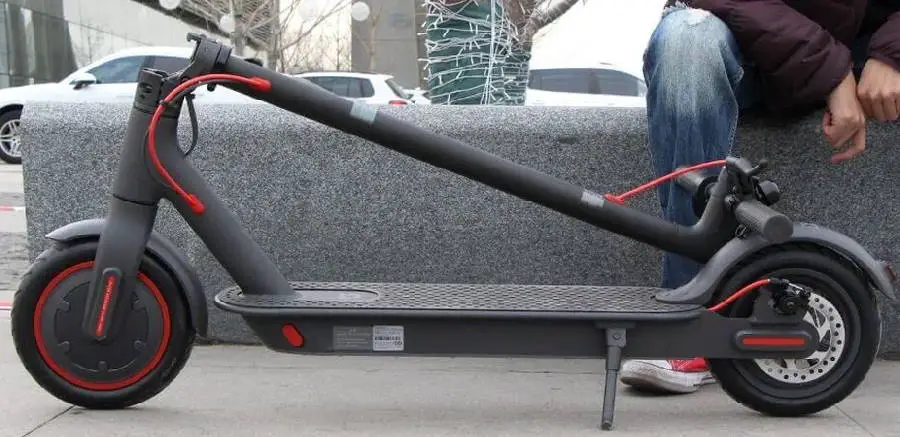 Xiaomi M365 pros and cons
PROS
Best-selling scooter ever
Great value for money (one of the best maybe)
Very good quality
Simple to use and great for beginners
Pretty good for commuting
Portable
Smooth rides
Good brakes
Good water protection
CONS
Vulnerable to flats
Average speed (can be increased with a hack)
Average range
Not the best option for heavier riders
Mediocre folding mechanism
Xiaomi M365 overview
For 2 out of every 3 people that have ever ridden a scooter, the Xiaomi M365 has probably been the first scooter they ever tried, or even the first scooter they've ever seen. Not only is this the best-selling scooter ever, but it's also the most common scooter in the fleets of the biggest ride-sharing companies, and that powerful combination has exposed this model to millions (maybe even billions) of people worldwide.
The market is almost never wrong, and there are a few reasons why the scooter world has chosen it as the most popular electric scooter of all time (and why that crown will almost certainly go to one of its successors).
Simply put, the Xiaomi M365 is the most accessible, beginner-friendly, solid-quality affordable scooter meant for widespread use by the masses, and it has proven its value and worth countless time and time again.
Should you buy the Xiaomi M365 in 2021?
If you are looking for the perfect beginner scooter, your first scooter, a great budget pick, or you simply want a proven commuter, then the Xiaomi M365 may be what you're after. Also, if you've ridden a Bird or a Lime scooter and you want the exact same scooter, you should probably get the Xiaomi M365, because that's probably what you've ridden.
I would never say that buying the Xiaomi M365 would be a mistake. However, if I'm being perfectly honest, I believe that for most first-time owners today, the Xiaomi M365 Pro would be a much better choice. Now, don't get me wrong here – the Xiaomi M365 is clearly an excellent scooter, and the millions of satisfied owners around the world are there to vouch for it. It's just that personally, I think that in 2021, the Xiaomi M365 Pro, or rather, the Xiaomi Pro 2, is the way forward.
There is one exception to that suggestion, however. Both of the newer Xiaomi versions will cost a few hundred dollars more. If you just can't afford to spend more than $450-$500, then you should stick with the Xiaomi M365, as it is almost certainly the best scooter in the world for that price. In fact, that's probably the highest price point for the scooter, as its price often fluctuates. It can sometimes be found for under $400, which is simply the deal of the century in my book.
Where to buy the Xiaomi M365 from?
---
---
---
Ordering, shipping, discounts, warranty, returns
The shipping period will depend on where you order the scooter from, but with the bigger brands like Amazon, it will probably arrive at your doorstep within a week. The price for this scooter changes frequently, and often there are many discounts available for it. I've seen this scooter priced both as low as $320 and as high as $550, and things like stock availability and season may play a role in the price.
Usually, the warranty period on the critical electronic parts is 12 months, but some merchants can even offer 24 months, so make sure to check before you buy to know for sure. Usually, the return period is 30 days, during which you can get either a refund or a replacement in some cases of dead-on-arrival situations.
Xiaomi scooter line and brand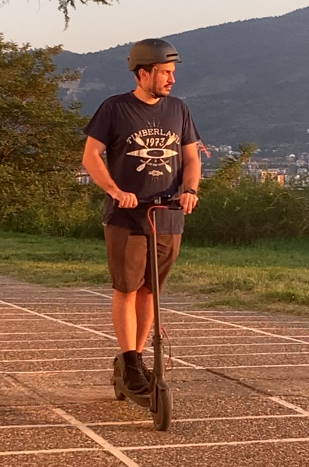 Xiaomi doesn't need any reintroductions as a brand, both in the general electronics field, and for electric scooters specifically. Let's just say that they are widely considered to be the number one brand when it comes to popular scooters made for the everyday rider, and they fully deserve that crown.
The Xiaomi M365 was their first scooter that gained true worldwide fame, although I believe what they're doing today with their newer models like the Xiaomi Essential, the Xiaomi M365 Pro, and the Xiaomi Pro 2, is the way of the future. Still, to this day, the Xiaomi M365 remains the best-selling model ever.
Unboxing and assembly

Your scooter will likely arrive at your home in a fairly plain brown box, with lots of protective coverings around all of the components.
The box will include:
scooter
handlebars
charger
toolkit
screws
tire pump valve
user manual
quickstart guide
warranty card
spare tires (only with some retailers)
There is some minimal assembly required before you can start riding, although it takes less than 5 minutes to get it done. To assemble the scooter, you only need to connect the handlebars to the stem (make sure the cables are already connected as well), and you need to screw the four screws on the stem, two on the front and two on the back. Also, make sure that the brakes are operational, the tires are inflated, and the battery is charged.
I recommend not throwing away the packaging at least until your return period expires, as you may need it in case you decide you want to return the scooter.
User manual
The user manual of the Xiaomi M365 is a great example of how a short yet useful manual should look like. I know everyone hates reading those borings things, but I warmly recommend reading this one, or at least skimming through it or the quickstart guide, as it may have some useful insights about your particular version that may not be available elsewhere.
Xiaomi M365 basics
The Xiaomi M365 is a classic kick-to-start scooter, and it requires a light kick off the ground and some initial speed before it can start accelerating on its own. Many may disagree with me on this one, but I strongly believe that kick-to-start scooters are superior to zero-start scooters. It's because they are simply better in some very important ways – they are much easier on the battery (which means you will not have to replace the battery as soon), and they are a lot safer (if you accidentally hit the throttle while not riding, you will not launch your scooter forward in the crowd if you're pushing it for example).
The speed required for the kick-start is minimal, and the process is very easy. In fact, the scooter is very simple to ride and use in general, and I'm pretty sure everyone can figure out how to use it even on their own in just under a minute (if that weren't so, this wouldn't be the most popular scooter ever).
Aside from the thumb-throttle used for acceleration, and the brake lever, the scooter has one other point of user input, and that's the power button in the center.
When the scooter is on, a quick press of the power button toggles the lights on or off.
A double-press changes between the two speed modes, which is indicated by the lowest dot on the screen. Each speed mode has its own speed limit:
eco (11 mph / 18 kmh), the indicator light is green
standard (15.5 mph / 25 kmh), the indicator light is white
Folding and unfolding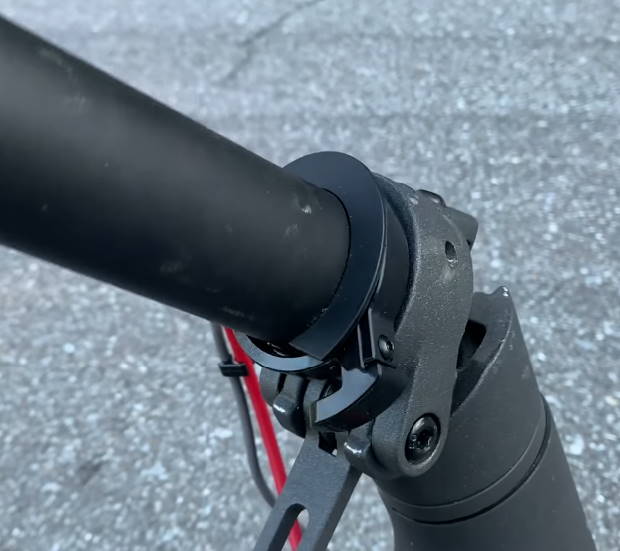 The folding mechanism of the Xiaomi M365 has been immitated by so many models today, that it's hard to not call it groundbraking, even though it might be easily overlooked precisely because many copycat models have tried to replicate it.
To fold the scooter, you need to first unlock the folding mechanism which is comprised of two different latches (you twist the smaller one first, and then you pull the bigger one down after). The stem can then be folded, and it is locked and secured by connecting the small frame on the handlebar (which is actually the button for the bell) with the hook on the rear fender, which makes it very easy to carry.
Unfolding the scooter is basically the same process in reverse, but always make sure that the stem "clicks" in place when unfolding it, and also that the latches are securely locked.
The handlebars themselves do not fold. Also, the height of the handlebars is fixed, but it is suitable for most people, with the recommended height being 3'9" – 6'6" / 120 – 200 cm.
There have been some folding issues reported by owners, but the majority of those were back in 2019/2020. Over the years, the folding mechanism has improved greatly, and today, the Xiaomi M365 has one of the most well-balanced folding mechanisms, offering both safety and simplicity.
Intended use and commuting
The Xiaomi M365 always had one primary goal – to be the perfect budget commuter scooter. In many regards, it seems like it succeeded in achieving just that. Its small weight, manageable dimensions, decent range and performance (although nothing too crazy), overall solid quality, good user experience, great brand recognition, and maybe most importantly, its affordable price, clearly make it an obvious choice for the typical commuter.
Aside from commuters, other groups of scooterists that will find this scooter perfect will be urban citizens, students, young professionals, teenagers, or just hobby riders looking for a simple and fun ride to cruise around town.
Of course, the Xiaomi M365 is an urban commuter scooter, so it's meant mostly for the city streets and other urban surfaces. Going offroad with the scooter is possible, but the experience will not be pleasant at all, and I strongly recommend sticking to the urban jungle and avoiding the actual jungle.
You will probably ride the scooter at its top speed most of the time, except maybe for absolute beginners that have never ridden any scooter before and may need a day or two to get accustomed to the feeling.
Lifespan, defect rates
Xiaomi is a massive brand and they mass-produce a lot of parts for electronics, and each individual part goes through stricter quality control than say a brand coming from some tinkerer-turned-engineer's garage (trust me, you don't wanna see those scooters). Also, the Xiaomi M365 is a clear case of a scooter whose sum is greater than its parts, as everything is well put together. Not to mention that the scooter has been around for quite a long time now, and each subsequent version usually addresses the most common issues and pain points.
There is plenty of data available on the experience of owners with this scooter, and my analysis shows that the average owner can safely expect a lifespan of at least 2 years in the worst case, and probably somewhere closer to 3.5 years. Obviously, there will be a handful of unlucky owners that will see their scooter break down in the first year of ownership, but that percentage has been quite low with this scooter, and it is decreasing over time (just around 5% of owners will see their scooter suffer a serious malfunction in the first year, you can see the full research here).
User experience and ride smoothness
In my experience, the ride smoothness is one of the strongest weapons of this scooter.
The pneumatic tires come in a fairly standard size, and they contribute a lot to the excellent ride quality, but are not the main factor behind it, which is the scooter's overall build quality. It's pretty much Xiaomi's secret sauce. Once I rode this scooter for the first time, I was immediately able to understand why it was so popular.
The scooter is well-designed, well-engineered, and most importantly, well-executed, and that's the biggest reason why it provides shake-free rides, with almost no sound coming from it, and very little wobbling or vibration. Even some small or medium bumps in the road were hardly felt, and that's despite the fact that the scooter has no suspension outside the one provided by the air-filled tires.
Motor, power, torque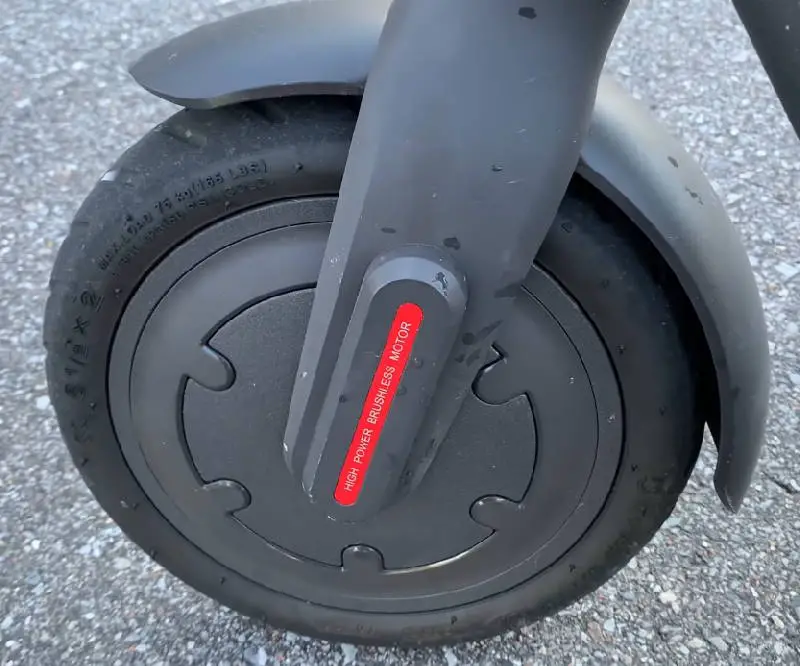 The brushless DC hub motor, with real power of 250 Watts (peak power of 500 Watts), integrated into the front wheel, is probably the real hero of the story of the Xiaomi M365. This little motor has stood the test of time and proven itself to be incredibly reliable in so many different situations and for so many owners, that it's almost hard to believe. The motor punches way above its weight, however, and the overall performance of the scooter is closer to a scooter with a 350 Watt motor. Speed, acceleration, and climbing, will all be better than what you might expect, as many other 250 Watt scooters lag behind in at least one, and often all three of those.
Since the motor is placed in the front wheel, it will provide the scooter with some extra torque, and a bit more raw power overall (rear-drive scooters are slightly less powerful).
Speed and acceleration
The Xiaomi M365 comes with an official top speed of 15.5 mph / 25 kmh, and I never had any issues reaching this speed, even when the battery wasn't fully charged. The scooter will start to struggle reaching that speed when the battery is nearly empty, however.
This speed is pretty standard for scooters in this price range, and it is both safe for casual riders and beginners, but also street-legal in the vast majority of countries.
The acceleration of the Xiaomi M365 is definitely one of its strong point, and one of my favorite feats. While the scooter doesn't come with a particularly powerful motor, it still accelerates quite fast and takes just under 6 seconds to reach the full speed. The acceleration is rapid but not jerky, and still maintains some smoothness despite being quick.
Climbing
I found the Xiaomi M365 to be a good climber, but not a great one. To be fair, pretty much no scooter in this price range is a great climber, and compared to its peers, the Xiaomi M365 actually climbs quite well.
The official climb angle is 14° / 25%, although my own experience and climb tests indicated that the scooter will likely conquer hills of up to 20° / 36%.
So, the scooter will climb the typical everyday hill most of us encounter on our daily rides, and while it will slow down significantly on steeper hills, it may still eat up many of them.
Battery and charging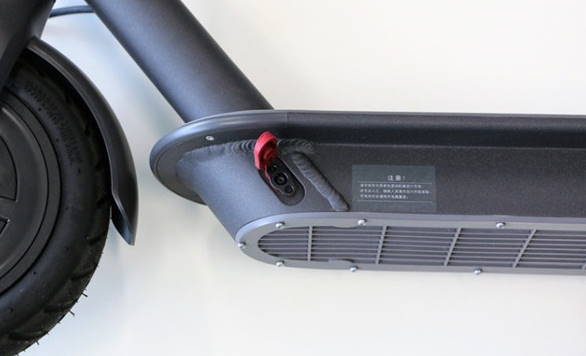 The Xiaomi M365 comes with a 36-Volt, 280 Watt-hour battery, which takes around 5 to 5 and a half hours to get fully charged. Most owners will probably never charge the battery from zero, and the typical charge will take around 2-3 hours. As the battery gets older, this time may increase to up to 6 hours.
The modern smart battery management system will protect the battery from its most common nemeses like overcharging, partial charging, charging in temperatures that are not ideal, etc.
The charging port is located on the front left of the deck, and is protected from water and dirt by the famous red protective cap.
How much does it cost to charge the Xiaomi M365?
Depending on the country, charging the Xiaomi M365 from empty to full battery costs:
USA : 0.04 (peak) / 0.01 (off-peak)
UK : 0.08 (peak) / 0.06 (off-peak)
Canada : 0.03 (peak) / 0.03 (off-peak)
Australia : 0.07 (peak) / 0.03 (off-peak)
France : 0.06 (peak) / 0.04 (off-peak)
Germany : 0.10 (peak) / 0.03 (off-peak)
Russia : 0.02 (peak) / 0.01 (off-peak)
China : 0.02 (peak) / 0.01 (off-peak)
Japan : 0.08 (peak) / 0.06 (off-peak)
Indonesia : 0.03 (peak) / 0.01 (off-peak)
Philippines : 0.06 (peak) / 0.05 (off-peak)
India : 0.02 (peak) / 0.003 (off-peak)
Israel : 0.05 (peak) / 0.04 (off-peak)
Brazil : 0.05 (peak) / 0.03 (off-peak)
Range
Officially, the range of the Xiaomi M365 should be 18.6 mi / 30 km. Almost all of my range tests mostly confirmed this range, with the average result of most them being around 17.5 mi / 28 km. One thing to note, however – as the scooter gets older, you will almost certainly start to see the range diminish.
Design, look and feel
The fact that the design of the Xiaomi M365 is the most heavily copied design by competing scooters speaks volumes. Plus, there are all the design awards that the scooter has won. It wouldn't be an overstatement if we say that the Xiaomi M365 literally showed us how a modern, practical, affordable yet elegant electric scooter should look like.
The typically available colors patterns for this scooter are:
matte-black/dark-grey base, with the small red details
white base with some black elements and small red details
Generally I recommend the black version, as it doesn't get dirty as easily as the white version. One exception here would be hotter climates, where the white version would retain less heat, and that might even reflect in better performance of the battery and the motor.
Since the scooter is sold in many different markets, by many different retailers, it is one of the most heavily customized scooters ever, and I've seen it in some other colors as well, although those are the exceptions, or possibly some customizations on the user's part.
Screen and cockpit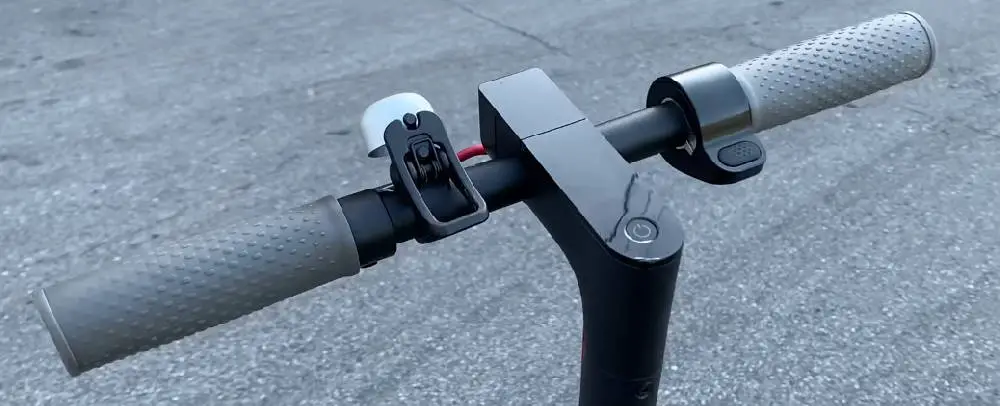 I believe the cockpit of the Xiaomi M365 to be one of its major weaknesses.
The acceleration throttle on the right handlebar is pretty good, as it has good sensitivity and is ergonomically positioned, and the brake lever on the left handlebar is also what you would expect it to be.
Those are the bright spots, as the other two components are somewhat lacking.
The left handlebar features a bell that's activated by a hammer button. The bell is not very loud though, and while it gets the job done of alerting pedestrians, it may not be very helpful in very loud environments (see the guide on accessories for a louder after-market bell).
The display of the Xiaomi M365 is where this scooter somewhat fails the test of time. The screen can show you… 4 vertical dots! That's it!
To be fair, the scooter was designed way back in 2016, which is ancient history for electric scooters. It pioneered so many features and set the tone for how the modern electric scooter should work and behave, that it is still considered revolutionary. But the screen is still overly simplistic. The lowest dot indicates the speed mode (green for eco, white for standard), and the other three dots indicate the battery level. The other details, like speed, distance, errors, etc, are available only through the phone app (more on that below).
Deck and stem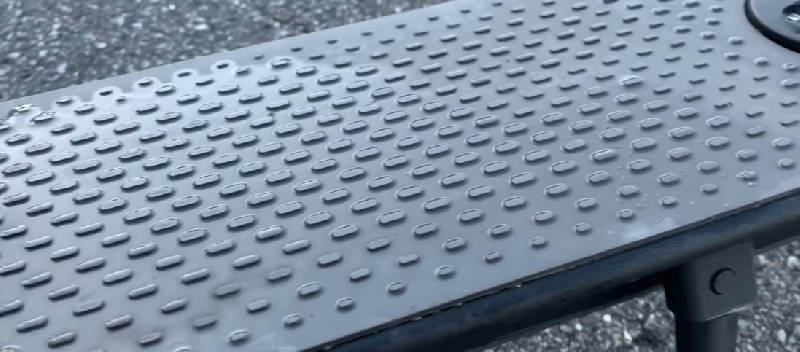 The majority of the scooter's body, including the stem and the deck, is made from aerospace-grade aluminum alloy, making it both tough and light. The rest of the non-electronic parts are either rubber or plastic.
The stem has seen a lot of improvements over the years, most notably in the folding mechanism, and the result today is one of the sturdiest and most stable stem and handlebar configurations in the budget scooter category. In fact, the stem almost doesn't shake at all, which is very rare for budget scooters.
The deck is of average dimensions, with a length of 16 in / 40 cm, and a width of 5.5 in / 14 cm, making it big enough for the majority of adults. It has a ground clearance of 3.5 in / 9 cm.
One possible issue with the deck is that the glue that sticks the rubber cover to the deck may dry off over time, and the mat may start to come off. This is easily fixable with just some glue.
The kickstand of the scooter is big enough for the scooter to lean on it without the danger of tipping over.
Control, turning, balance
The scooter provides good control overall, although personally, I would love for it to have a bit wider handlebars, as that would increase control sensitivity even more, and make turning easier. Still, I understand the decision to not make the handlebars super-wide, as that would impact portability (and the handlebars are already wider than the ones of other scooters in this price range).
The scooter has a pretty low center of gravity, which is great news for both control and balance, and gives the scooter some extra safety points as well. The downside here will be that you will not be able to ride over taller curbs or speed bumps (which is something you should avoid doing anyway, as it can easily damage any scooter).
Brakes and safety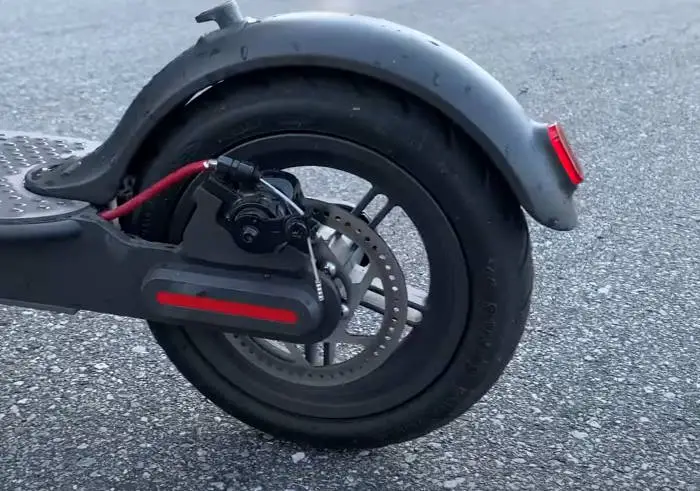 The Xiaomi M365 is very safe in general, and that's mostly because of its reliable brake configuration. It employs a dual braking system, with an electronic brake in the front wheel, and a rear disk brake in the rear wheel. The brakes are engaged by using the brake lever on the left handlebar. The brake distance for this scooter, when stopping from full speed, will be between 16.5 and 19.8 feet / 5 and 6 meters.
The brake cable (usually red) sticks out of the handlebars near the top, but quickly goes inside the stem, only to stick out again near the bottom of the stem. Objectively, that is a tiny flaw in the design, as a cable that's fully integrated into the scooter's internals would be superior. However, the number of scooter models that manage to pull that off successfully is minuscule, so we can't really complain too much about it.
The motor has the regenerative braking feature, aka the energy recovery, which refills the battery a bit every time you brake.
Personally, I found the braking system to be quite good, especially for a budget scooter. It is both responsive and gradual.
Tires, wheels, and fenders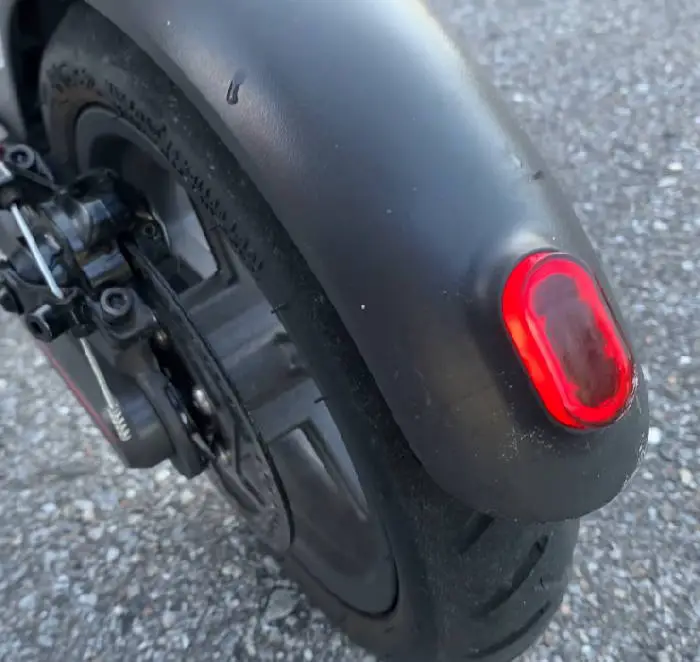 The tires of the Xiaomi M365 are 8.5 inches in diameter, with a profile of 2.5 inches. They are air-filled, with inner tubes, and have some treads to provide better traction. Both of the wheels have mudguard fenders, which provide decent protection from splashes (although the rear fender has been known to wobble a bit, especially in older versions).
The recommended tire pressure is 45 to 50 PSI.
Flats
While the tires work great in concert with the rest of the scooter's build and frame to provide very comfortable rides, they are infamously vulnerable to flats. This may be even more so than with most budget scooters, although that's difficult to know for sure, as it's possible that there's more data on flats for the Xiaomi M365.
Anyway, flats are still common with the Xiaomi M365, even though the issue has been somewhat mitigated in newer versions. Fixing a flat is also notoriously difficult, especially if it happens in the front wheel.
All of that makes the risk of flats one of the biggest downsides of the Xiaomi M365.
That said, I never had any issues with flats myself, despite riding on some very poorly maintained roads and surfaces.
Can I put solid tires on the Xiaomi M365?
It is possible to replace the default air-filled tires on the Xiaomi M365 with solid tires, but it's really not recommended to try and do so. The experience will vary, and while some units and scenarios may turn out ok, mostly you will find that the scooter works best when used in the way it was designed to be used, which is with air-filled tires.
If you're looking for a solid-tire solution, you better just make the decision initially and go with a model like the Ninebot ES2, that will save you a lot of trouble. Personally, I believe solid-tire scooters to be far worse, as their ride quality is often very poor (even if they have suspension), and with some careful riding, flats can be easily avoided with most air-filled tire scooters.
Weight, dimensions, and portability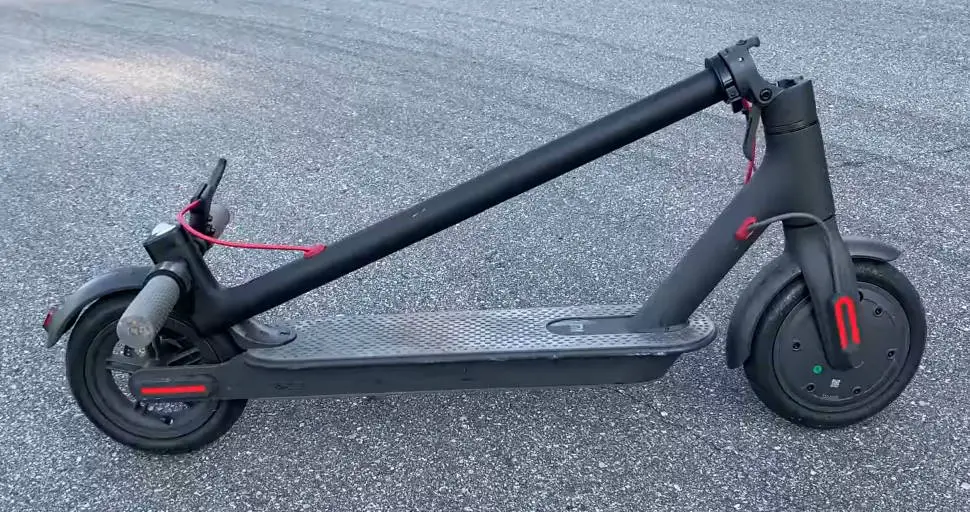 The Xiaomi M365 weighs 27 lbs / 12 kg, which makes it a few lbs/kg lighter than the typical budget commuter, and fairly easy to carry by most adults (I've seen a 12-year-old girl chase a bus for half a block with this scooter in her hands, and she caught the bus successfully with time to spare, so this is truly not a heavy scooter).
When folded, the scooter's dimensions are:
42.5 in / 108 cm
17 in / 43 cm
19 in / 49 cm
Overall, given that both the weight and the folded volume are pretty small, and also the small stem diameter (which is the point where you will most likely hold the scooter when carrying it), the scooter can be classed as very portable. In my experience, the only point that was not at 100% is the height of the front when the scooter is folded, which gives the stem a somewhat steeper angle downwards, and that shifts the scooter's center of gravity a bit more to the front, which is not ideal for carrying it.
Still, in general, I found the scooter to be quite portable.
It fits easily in the vast majority of car trunks. It also fit without any issues into the trunk of my brother's Ford Fiesta, which has a pretty small trunk compared to most cars. The scooter also fit easily in public transport, both through doors and under seats, and even under the typical office desk.
I've tried pulling the folded scooter like a trolley by grabbing the handlebars and dragging it, and while it can be done, it's not that convenient to do for longer distances. If you don't want to carry it, I suggest simply pushing it while unfolded, as that's not difficult at all.
Weight limit and usage by heavy adults
The official weight limit of the Xiaomi M365 is 220 lbs / 100 kg.
When I was testing the scooter, I weighed about 200 lbs / 90 kg. I can't be entirely sure about this, but I do believe that I would have got a bit more range if I weighed less.
I probably wouldn't recommend this as the best scooter for heavy adults.
Ride sharing
If you've ridden a scooter through one of the major ride-sharing apps, there is a big chance you've ridden a Xiaomi M365. The scooter makes up the largest part of the fleets of both Lime and Bird, and while they've added a few other models to their fleets in the last years, Xiaomi M365 is still the most common model in use.
In my opinion, this is how the scooter won the market – by getting these deals and being used on such a massive scale, it managed to position itself as the default scooter globally. This has been the first scooter to the majority of people that have ever ridden an electric scooter. When the typical person thinks of an electric scooter, they are probably picturing the Xiaomi M365 first, and that's always the best place for a brand to be in.
Water resistance
The Xiaomi M365 implements the IP54 ingress protection rating, which is pretty much the gold standard when it comes to water protection and very few models have a higher rating (usually costing much more). In fact, the average scooter has no water protection at all, and this further sets apart the Xiaomi M365 from the crowd.
Is the Xiaomi M365 waterproof?
The Xiaomi M365 is water-resistant, but not fully waterproof, and it should never be submerged into water.
Can you ride the Xiaomi M365 in the rain?
It is strongly advised to not ride the Xiaomi M365 in the rain, or any wet weather for that matter. While the scooter does have a good water protection rating, it's still possible for water-related damage to occur, and to make things worse, that type of damage is never covered by the warranty.
That said, I rode through both light and medium rain several times, and the scooter survived it just fine.
So, the recommendation stands, and you should avoid riding in the rain, but know that if you're left with no choice, chances are, the scooter will be fine.
Lights and riding at night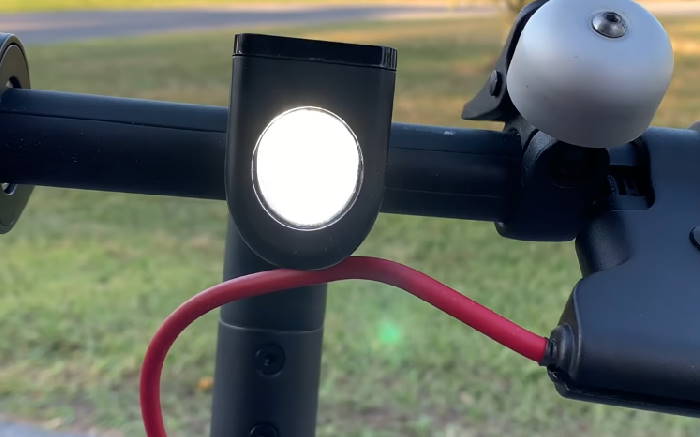 The Xiaomi M365 has an LED headlight in the front of the handlebars, with a downward angle and lighting the road ahead for about 16 feet / 5 meters. The light will get the job done for some riding at night, but it is not terribly bright, and if you plan on riding at night, you will probably want to get a stronger after-market headlight.
The rear fender features a red brake light, which blinks when the brakes are engaged, or just shines if the lights are on.
Security
As with any electric scooter, you will have to secure the Xiaomi M365 with a good scooter lock if you plan on leaving it outside for longer periods of time.
However, the Xiaomi M365 does go a step further when it comes to security, as it provides the feature to lock the motor through the app. Of course, that still doesn't stop someone from simply picking it up and carrying it away, although it seriously deters theft as it will make the thief's life quite miserable even if the theft is successful.
App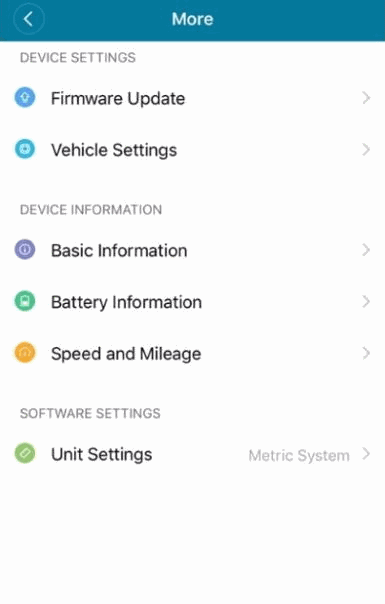 The official Xiaomi Home app is used to connect with the scooter through bluetooth, and it is available for both iOS and Android. Don't let the seemingly subpar reviews on both platforms fool you – they are mostly from older reviews, plus bluetooth connectivity is a common issue in this type of apps, and both apps are actually quite better than most other scooter apps.
The app comes with many useful features, and lets you read or control:
current speed
distance traveled
battery level
speed mode
lock the scooter
toggle cruise control
set the regenerative braking configuration
In addition to the official app, I recommend trying out the EScooterNerds Universal Scooter Helper App, available for both iOS and Android as well. The app isn't meant to be a replacement for the original app, and it should work together with it, giving you additional features like checklists, guides, hacks, tools, resources, calculators, etc.
Speed hacks and custom firmware
Some of the most famous and commonly used firmware hacks in the scooter world are for the Xiaomi M365. There are several ways to do this, although pretty much all of them are fairly simple to pull off. I suggest taking a look at this video for the full instructions. Keep in mind that it's very probable hacking your scooter like this voids the warranty, at least in theory.
Accessories and customizations
Not only does the Xiaomi M365 has a ton of after-market accessories available specifically for it, but it will be able to host the majority of the generic scooter accessories and customizations, as its build and design basically dictate the way the "default" scooter looks like.
Helmet
The helmet is the only must-have item for the Xiaomi M365, as it will save you from both serious injuries and trouble with the authorities. You can see the complete guide on electric scooter helmets to find your perfect match. I believe a budget helmet that's still of pretty good quality and provides all the necessary protection levels and certificates should be a great choice to go along with the Xiaomi M365, the ILM Half Helmet on Amazon being my favorite.
Seat
The first customization that comes to mind for most of us is probably the seat. The Xiaomi M365 is not a big scooter, but it can easily support the right seat, as this has been proven time and time over by tons of users that have gone through with this customization. You will need to drill the holes for the seat frame yourself, but that shouldn't be hard to do. You can see the VBestLife Shockproof Seat for Xiaomi on Amazon for a great pick.
Trunk
A trunk placed on the stem is another super-useful accessory that you can get for cheap. Most trunks will probably fit the Xiaomi M365, although the Epessa Bag on Amazon is proven to be fully compatible and is very affordable.
Maintenance, repairs, and spare parts
The Xiaomi M365 is very simple to use, and requires no serious maintenance. I recommend cleaning the scooter at least once a month, and running a quick set of steps for maintenance once or twice a week. Currently, I'm doing:
check the overall electronics
check the brakes, make sure they are strong enough and not worn out
make sure the tires are inflated and not worn out
make sure there are no loose screws, tighten them if needed, and use Loctite if possible
check if the rubber mat is still glued to the deck, and apply glue if needed
In comparison with car or bike repair shops, there are still not that many repair shops for scooters only. If your scooter suffers a defect that you can't fix yourself, you may find a scooter repair shop if you live in a bigger city, but in many cases you may need to rely on bike mechanics. The good news here is, while many bike mechanics may not be very familiar with scooter models even today, if they are familiar with a scooter model, that will almost always be the Xiaomi M365. So, repairs may be kind of difficult in some cases, but most probably they won't be, and the situation is getting better and better.
Naturally, as the most popular electric scooter ever, finding parts for the scooter at affordable prices will not be an issue at all.
Is the Xiaomi M365 street-legal?
In pretty much every country you order the Xiaomi M365 in, you will get it street-legal and ready for traffic. That means in some countries it may come with its speed limited to match the local traffic laws for scooters.
Xiaomi M365 vs other electric scooters
This is how the evergreen Xiaomi M365 compares to other electric scooters.
Xiaomi M365 vs Xiaomi M365 Pro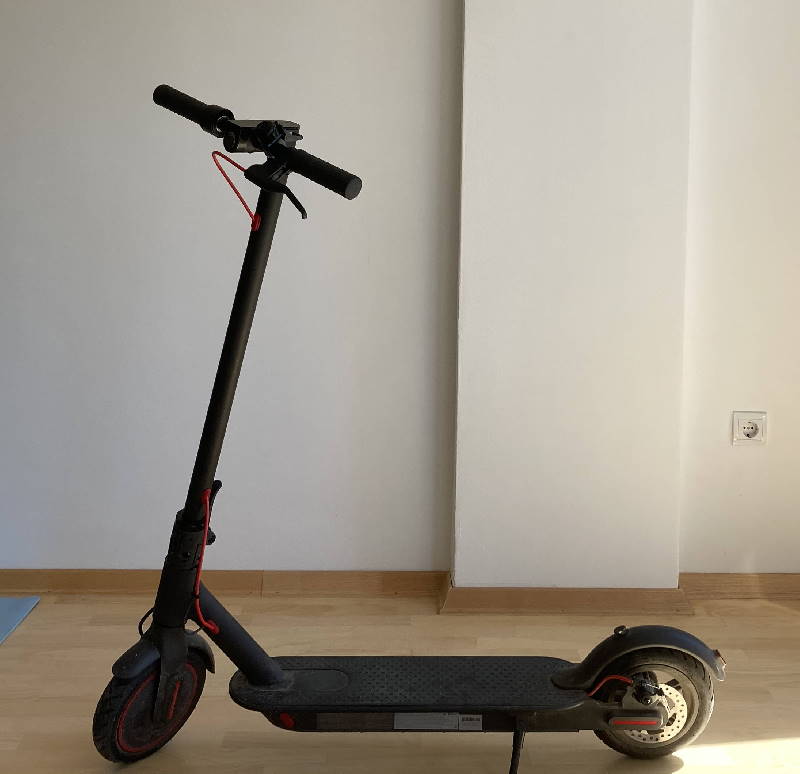 This is one of the most common comparisons in the scooter world ever, and probably a question that every potential new scooter owner should ask themselves. Both scooters are excellent, and the Pro, being the upgrade version, will obviously be a better choice in many scenarios… except when you are on a budget!
Does the Xiaomi M365 Pro justify the price difference of around $150 with its better performance, bug fixes, and other small improvements in details and finishing touches? Yes, it probably does. However, at a price closer to $600, it can already be described as a mid-priced scooter, and that's just not the price category in which the original Xiaomi M365 is trying to compete. Also, the Pro will be a bit heavier as well, and will take quite longer to charge.
Personally, I myself went with the Xiaomi M365 Pro (you can read my full review here), and I would probably recommend that choice to most new scooterists today. But, as I said, if you are not planning on spending more than $450-$500 on a scooter, then you will probably want to stick with the original version.
Xiaomi M365 vs Xiaomi Pro 2
This is pretty much the same as comparing the Xiaomi M365 and the Xiaomi M365 Pro, but by making the Pro even a bit better and slightly more expensive as well. That further gap in the price difference is justified by mostly minor improvements, as the performance and the general features of the Pro and the Pro 2 are generally the same.
You can see the complete review of the Xiaomi Pro 2 to find out more.
Xiaomi M365 vs Xiaomi 1S
Even though the Xiaomi M365 Pro is often called the upgrade to the Xiaomi M365, it's probably closer to the truth that the Xiaomi 1S is the real upgrade to the standard version. Their specs are basically identical – motor power, top speed, range, battery, charging, weight, weight limit, even the same dimensions!
The biggest upgrade that the Xiaomi 1S comes with is the new and modern LCD screen, which actually shows quite a lot of details about the scooter's status. It also comes with 3 speed modes instead of 2 (which is kind of unnecessary in my opinion, as I've almost never used the in-between speed mode).
It should be noted that the Xiaomi 1S is probably only available in the UK and in some other European countries at the moment. You can find the upgraded version on Amazon UK or on GeekBuying, or see my complete Xiaomi 1S review if you want to find out more.
Xiaomi M365 vs Xiaomi Essential
While most of the other Xiaomi models can be considered upgrades in one way or another, the Xiaomi Essential is possibly somewhat of a downgrade, especially in terms of performance. The primary reason for this, however, is because the Xiaomi Essential is purposefully limited to be street-legal in the UK and Europe (it's currently not available in the US or Canada).
Both scooters weigh the same, have the same weight capacity, the same motor power, and cost almost the same. Given how the Xiaomi M365 has better performance, I see no real reason to choose the Xiaomi Essential, with the one possible exception being the scooter laws in your country preventing you from owning the Xiaomi M365.
Xiaomi M365 vs Ninebot ES2
Some consider the Ninebot ES2 (full review here) to be the biggest rival of the Xiaomi M365. However, in my view, there's barely any competition here, mostly because the differences in the wheels between the two are so opposite that you immediately know which one you want.
So, it's pretty simple usually – if you need a good budget scooter with solid wheels, the Ninebot ES2 is one of the best choices available. If you prefer the ride comfort of pneumatic tires with the small risk of flats as the tradeoff, you will stick with the Xiaomi M365.
Xiaomi M365 vs Ninebot Max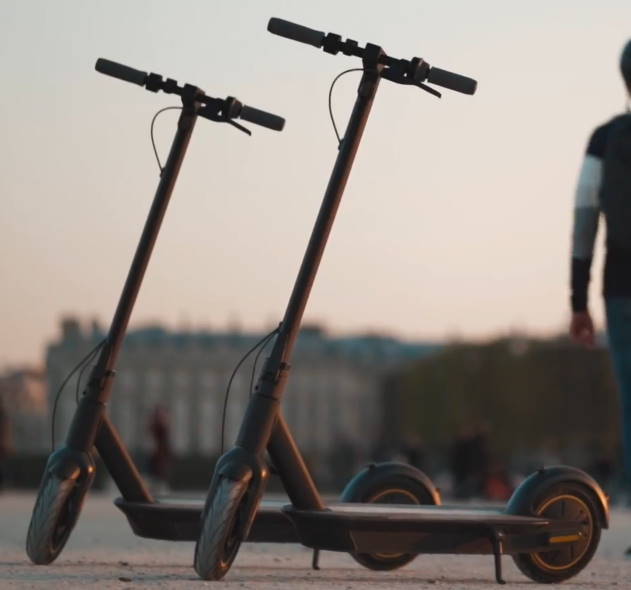 I don't think this comparison can possibly be fair to the Xiaomi M365, as it costs almost half the price of the Ninebot Max, and they are clearly in very different price categories.
That said, if your budget is in the $800 range, I would warmly recommend the Ninebot Max. It is one of the most well-received scooters in the last year, and its ratings and popularity will probably surpass even the stellar ratings of the Xiaomi M365. It comes with a lot more range, speed, and power, although it's also quite heavier as a result, weighing 42 lbs / 19 kg.
In summary, the Ninebot Max is a different type of scooter, a more advanced, more powerful, more premium model, and if you're looking for a great second scooter, then check out the full review of the Ninebot Max.
Xiaomi M365 vs GoTrax GXL V2 Commuter
If the Xiaomi M365 is a budget scooter, then the GoTrax GXL V2 Commuter is an ultra-budget scooter.
Clearly the Xiaomi M365 will be a much better choice overall, both in terms of quality and performance, but also because of its vast "experience" and popularity. Also, its price is probably close to perfect for most people, and that's why I think the majority of people will simply want to get the Xiaomi M365.
However, a very strong case can be made for the GXL V2 if you are truly after the most affordable scooter that's still not complete trash. In fact, I believe the GoTrax GXL V2 Commuter to be the cheapest electric scooter that can still be labeled as good with a straight face. It only costs around $250 – $300. You can read the full review of the GoTrax GXL V2 Commuter if you're interested in something like that.
Xiaomi M365 vs GoTrax XR Ultra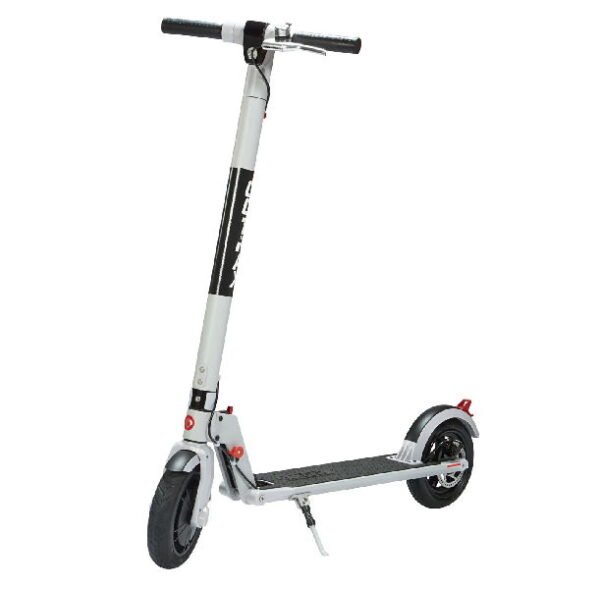 The prices of these two scooters are comparable, but with the GoTrax XR Ultra (full review here), you will still save about $100 on average.
But, those $100 are a worthwhile investment, in my opinion, and I believe most new scooterists are better off getting the Xiaomi M365.
Most of the specs are comparable. The Xiaomi M365 has range on its side, and the better build quality overall, while the GoTrax XR Ultra has a slightly more powerful motor, that in theory should also climb a bit better.
But the brand recognition is the clear tie-breaker here. GoTrax is a respected budget scooter brand, but they are nowhere near as popular as the celebrated Xiaomi, and they haven't sold nearly as many scooters to have the same amount of data and experience to learn from. That's why I think the Xiaomi M365 will probably be a better choice overall.
Xiaomi M365 vs Hiboy S2
The Xiaomi M365 and the Hiboy S2 both compete in the same price category of under $500, and usually cost about the same. Also, they are pretty much evened out in terms of performance, with the Hiboy S2 being slightly faster and able to carry a bit more weight, while the Xiaomi M365 having more range and climbing better while also weighing less at the same time.
However, they don't really compete for the same title.
The Hiboy S2 is a solid-tire scooter, and that makes this choice easy for everyone. If you believe you may suffer flats often, and you simply want to avoid that headache, check out the Hiboy S2 review. However, be aware that the immunity to flats will come at the steep price of shaky, bumpy, unstable rides, and usually, I don't recommend making that tradeoff, so if you agree with that, stick with the Xiaomi M365.
Xiaomi M365 vs Hiboy S2 Pro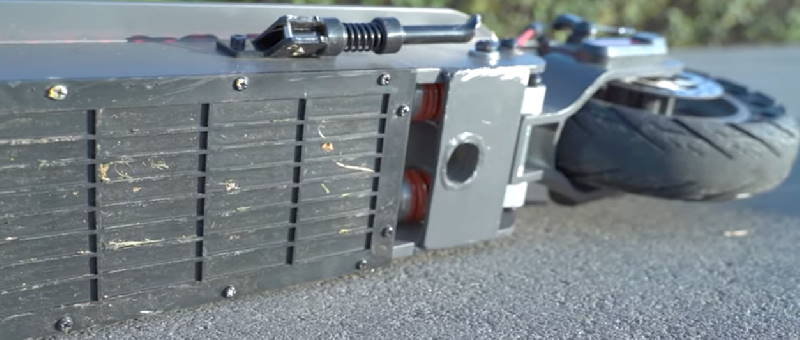 While the M365 is considered to be the best budget electric scooter by many, I believe that the Hiboy S2 Pro can be a much better choice in many scenarios.
The Xiaomi M365 will generally be better built and better tested, as it has gone through countless iterations and improvements so far. It will also climb better and charge a bit faster, while weighing less, and, of course, being around $150-$200 cheaper.
But the Hiboy S2 Pro is clearly more performant, especially in terms of range, but also in terms of speed and weight limit. It will also provide more comfortable rides thanks to the bigger tires and suspension.
If that sounds good to you, see my detailed Hiboy S2 Pro review.
Xiaomi M365 vs Kugoo ES2
Generally, I like Kugoo scooters, and I have a lot of respect for the brand. They are really pushing the boundaries on how much should electric scooters cost, and I believe they are managing to drive the price down for all consumers in general. Keep in mind that Kugoo scooters are available only in Europe.
The Kugoo ES2 (full review here) is one of their more popular models, and it may give the Xiaomi M365 a run for its money in some categories and for some user scenarios. For starters, it comes with solid tires, which means no flats ever, although the ride quality will naturally suffer greatly because of that. The specs are somewhat comparable, but the Xiaomi M365 somehow has both range and weight on its side, and I believe that is enough for it to win this fight for most users.
Xiaomi M365 vs Kugoo S1 Pro
The Kugoo S1 Pro is probably the only scooter in Europe that can seriously take on the Xiaomi M365.
The ranges of both scooters will be the same, and they will have very similar motors and climb angles.
The Kugoo S1 Pro has slight advantages in top speed and climb angle, while also weighing 2 lbs / 1 kg less and being able to carry about 44 lbs / 20 kg more. And all of that for about $100 less than the Xiaomi M365.
However, the advantages of the Xiaomi M365, while fewer in number, are probably of greater effect, because they impact the overall ride and ownership experience a lot more. The Xiaomi M365 has larger tires, and they are air-filled, while the Kugoo S1 Pro comes with solid tires, and the ride quality of the Xiaomi M365 will be much, much better. Also, the overall build quality of the Xiaomi M365 will be significantly better as well.
In summary, I would still give the overall advantage to the Xiaomi M365, and maybe recommend the Kugoo S1 Pro for someone looking for a solid-tire scooter, or a scooter that's strong in the areas where the Kugoo S1 Pro outshines the Xiaomi M365. You can see the complete Kugoo S1 Pro review to find out more about it.
Xiaomi M365 vs Kugoo M2 Pro
The Kugoo M2 Pro is a pretty good scooter on its own, but… it's just too hard not to call it a Xiaomi M365 clone.
A lot of the specs are exactly the same: 8.5-inch pneumatic tires, same top speed and range, same climb angle, same IP rating.
The Kugoo M2 Pro weighs about 5 lbs / 2.5 kg more, and that's mostly because of its more powerful motor. However, that advantage in raw motor power doesn't seem to translate into concrete performance advantages, so it's kind of obsolete, really.
I still think that the Kugoo M2 Pro deserves a look. You can see the full review of it here. For most people though, I would probably recommend the Xiaomi M365.
Xiaomi M365 vs Glion Dolly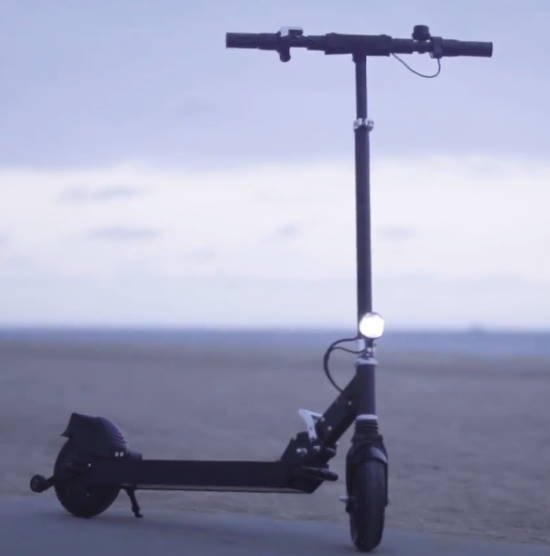 The Glion Dolly is clearly not as popular as the Xiaomi M365, but it's still one of the most popular budget scooters ever, and it is much loved and respected both by its owners and by the scooter community in general.
I don't see why these two scooters need to fight it out though. Even though they cost about the same and perform almost the same (the Xiaomi M365 has slightly better range but the Glion Dolly has a bit better weight limit), they both come with different tires, and that's the point where owners can make their decision.
The Glion Dolly comes with 8-inch solid tires, that will never go flat, but will give you bumpier rides. The scooter does have a small spring suspension on the front, and while it does help a bit, it still doesn't really make the rides truly smooth. However, the Glion Dolly is very sturdy and reliable, and that does have an effect on ride quality. Your choice comes down to the age-old debate of solid vs pneumatic tires. If you are leaning more towards comfort, stay with the Xiaomi M365, but if you want to never be bothered by flats again, check out the complete Glion Dolly review.
Xiaomi M365 vs Unagi Model One
I've seen this comparison in quite a few places online, and I've never truly understood it. The Unagi Model One costs more than twice the Xiaomi M365, has a weaker motor, doesn't really climb, and clearly doesn't perform as well in general. I guess it can try and outcompete other scooters on build quality, but since the Xiaomi M365 has a similar build quality and even more experience and brand recognition for half the price, I really don't see a good reason why someone would pick the Unagi Model One over the Xiaomi M365.
Xiaomi M365 vs Razor E300
I would basically never recommend the Razor E300 over the Xiaomi M365 for any adult. The Razor E300 is basically a kid's scooter that has the weight limit of an adult scooter, and some adults choose to get it because of that, but that doesn't make it a true adult scooter. Plus, the Razor E300 has a lead-acid battery, which is older battery technology and it is much inferior compared to the lithium-ion batteries found in most scooters today, including the Xiaomi M365 of course.
If you are buying a scooter for a younger child, I would maybe recommend the Razor E300 (you can see the full review here), but that might only apply to children younger than 15-16, as kids in their late teens will probably soon outgrow the Razor E300 and it's better to just get them the Xiaomi M365 right away.
Downsides, issues, and tradeoffs
No scooter is without issues, and that's especially true for ones on the more affordable side, like the Xiaomi M365. I can point out a few of the most annoying issues that I believe might concern a lot of new owners.
First, the good news – the Xiaomi M365 only has one major issue. There are several other important ones but probably nothing too terrible, and a few strategic tradeoffs that are always consequences of the design and engineering choices, but there's only one major flaw.
Obviously, the major issue with the Xiaomi M365 is its vulnerability to flats. This is a well-known, well-documented problem, and even though it has been getting better over the years, it is still the number one issue when it comes to this scooter. And the frequency of the flats is not even the worse part – the difficulty of fixing it is!
You should be aware of this issue if you are considering buying the Xiaomi M365. Now, I believe this is somewhat overblown, and a lot of flats are just a consequence of improper riding or plain old abuse. But still, you shouldn't be surprised if you get one, two, and maybe even three flats a year with this scooter.
If that sounds acceptible to you, you will find the other issues to be much less important. Also, many of them are just remnants from previous versions, and there is a strong chance that some of them may already be addressed in newer versions.
The next important issue in terms of importance is, or rather was, the unstable folding mechanism. As I mentioned before, this issue was more common during 2019 and the first half of 2020, and we're seeing it reported less and less as time goes by. In fact, given Xiaomi's devotion to listening to user feedback and incorporating it in their next releases, I believe that if you buy the Xiaomi M365, there's almost no chance of this issue appearing.
Another common issue may be the shaking and vibration of the rear fender. Now, this issue is still somewhat present, and there is a small chance of some owners being affected. This is almost never a serious issue though.
Those are pretty much all the downsides of the Xiaomi M365. All in all, I believe that this is a very small number of faults for a scooter this cheap, and Xiaomi has done an excellent job overall on the build qulity.
What remains are the obvious tradeoffs.
The Xiaomi M365 is not some monster scooter capable of breaking the sound barrier or taking you on journeys that are dozens and dozens of miles long. If you are after a more performant scooter (usually if you're picking your second scooter), you will almost certainly want to see some other options:
Also, while the quality of the Xiaomi M365 is admirable for its price, this will still be a budget scooter, and if you're after a more premium scooter, you'll probably want to see some more luxurious scooters, or some of the best-designed scooters of today.
Popularity, user reviews, owner satisfaction
There are several interconnected reasons why the Xiaomi M365 is the most popular electric scooter ever.
Coming from a massive electronics brand like Xiaomi, the scooter already had a tremendous advantage over other scooters, and it used the brand's massive leverage to position itself as the champion of the people.
More importantly, the Xiaomi M365 was actually a pretty good budget scooter, in a time when scooters were getting popular but not yet massive, and most budget models were mediocre. It captured the most coveted price category of under $500 with ease, as early adopters flocked to it, and then through a lot of positive word-of-mouth, it started getting a massive following.
Probably the key piece of the puzzle though, that most scooter models will never be able to emulate, was the fact that the Xiaomi M365 was the main scooter in the fleets of the biggest scooter-sharing companies, including both Lime and Bird. That gave the scooter simply unseen exposure to potential would-be owners. It just made perfect sense for someone that has tried the Xiaomi M365 through a ride-sharing app and liked it, to later not have to think about which scooter to get as their first scooter.
Like any super-popular gadget, the Xiaomi M365 had its flaws, but they were not serious enough for the market to stop believing in it, and many owners choose it even today, with many of its successors available. Since there are probably millions of Xiaomi M365 owners globally, it's natural that there will be a lot of criticism around it, but the fact remains that the general view of this scooter is still very favorable, and its flaws are acceptable for the value it provides.
As Xiaomi releases new models, they naturally tend to get better ratings and reviews on online stores, but a curious thing has happened with the M365 as well – its general ratings on huge stores like Amazon have gone up significantly over the last few months, and the number of units sold has even started to grow exponentially.
It seems like the Xiaomi M365 is just full of aces up its sleeve.
Xiaomi M365 after one year of usage
One of the best parts about a scooter being on the scene for so long like this one, is that we have a lot of insight into lots of critical data points about its quality and lifespan.
Well, the Xiaomi M365 seems to stand the test of time, and not only that, but pass it with flying colors. A very small number of owners report serious defects in the first year of usage, and the scooter works almost the same as the day they've bought it. The only significant downside here will almost always be the reduced range, which happens as the battery gets older and wears out. However, this is the case for every single electric scooter model out there, and we can't really hold it against the Xiaomi M365 specifically. Your range will probably decrease by about 15%-20% from the day you've first bought your scooter, and maybe even more if you don't take proper care of the battery.
Frequently asked questions
Below are some of the most frequent questions asked about the Xiaomi 365 scooter.
How long does a Xiaomi M365 last?
Like any typical budget scooter, the Xiaomi M365 lasts between 300 and 500 charging cycles, or 4600 – 7800 mi / 7500 – 12500 km before you start noticing a significant drop in the battery's life.
How fast can Xiaomi M365 go?
With a full battery and an empty road, the Xiaomi M365 can go as fast as 17 mph / 27.5 kmh. The scooter's speed will depend a lot on the riding conditions, the rider's weight, and the battery's capacity, but you can expect a solid, street-level from it at all times.
Can you ride Xiaomi M365 in the rain?
The Xiaomi M365 has an IP54 water protection rating, so it is better than most budget scooters in that regard, but it's not safe to ride it in the rain. Heavy rainfall, water splashes, and running through puddles can damage the scooter's battery and other electronic parts, so I wouldn't recommend risking it unless you have to.
Can you overcharge the Xiaomi M365?
You should always plug the scooter off once its battery is full, so you don't overcharge it and damage its cells. Overcharging the battery repeatedly will cause a huge drop in its overall capacity, and will shorten its lifespan.
Specifications
Xiaomi M365 Specifications
| | |
| --- | --- |
| Top speed | 25 kmh |
| Top speed | 15.5 mph |
| Range | 30 km |
| Range | 18.6 mi |
| Motors | single hub BLDC |
| Power | 250 W real, 500 W peak |
| Climb angle | 14 ° |
| Torque | 16 Nm |
| Battery | 280 Wh, 36 V |
| Battery type | smart BMS |
| Charging time | 5 h |
| Ingress protection (IP) | IP54 |
| Weight | 12 kg |
| Weight | 26.5 lbs |
| Weight limit | 100 kg |
| Weight limit | 220 lbs |
| Tire size | 8.5 in |
| Tire type | pneumatic road |
| Tire pressure | 45-50 psi |
| Foldable | yes |
| Foldable handlebars | no |
| Seat | no (customization possible) |
| Trunk or basket | no (customization possible) |
| Build material | aerospace-grade aluminum |
| Terrains | cement, asphalt, flat soil pavements, bumps or steps less than 1cm high, less than 3cm wide |
| Brakes | regenerative + disc braking, braking distance 4m |
| ABS | yes |
| Shock absorbers | no (customization available) |
| Lights | 1.1W ultra-bright headlights, 6m range + LED taillights |
| Control | LCD display |
| Speed modes | 3 |
| Cruise control | yes |
| Keys | no |
| Alarm | no |
| App | iOS, Android |
| Warranty | 12 – 24 months |
| Rider age | 16-50 |
| Folded dimensions (L * W * H) | 108 cm * 43 cm * 49 cm |
| Folded dimensions (L * W * H) | 43 in * 17 in * 19 in |
| Unfolded dimensions (L * W * H) | 108 cm * 43 cm * 114 cm |
| Unfolded dimensions (L * W * H) | 43 in * 17 in * 45 in |
| Deck dimensions (L * W) | 40 cm * 14 cm |
| Deck dimensions (L * W) | 16 in * 6 in |
| Ground clearance | 8.7 cm |
| Ground clearance | 3 in |
| Deck to handlebar height | 95.2 cm |
| Deck to handlebar height | 37 in |
| Rider height | 120 – 200 cm |
| Rider height | 47 – 79 in |
| Adjustable handlebar | no |
| Notes | hack available, increases top speed and power |
My verdict – who should buy the Xiaomi M365?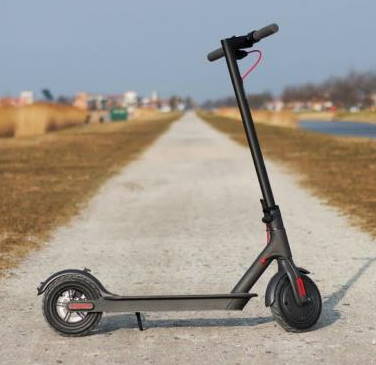 I would recommend the Xiaomi M365 to several different scooterist categories.
Have you never tried riding an electric scooter before? You should probably buy the Xiaomi M365.
Are you looking to buy your very first electric scooter? You should probably buy the Xiaomi M365.
Have you ridden a scooter through a ride-sharing app and want one for yourself? You should probably buy the Xiaomi M365.
Do you want the best scooter that you can get for about $400 – $500? You should probably buy the Xiaomi M365.
Are you looking for a solid commuting scooter, that has a good enough range for pretty much every commute, fits easily in car trunks and public transport, and is easy to carry? You should probably buy the Xiaomi M365.
Do you want a scooter that has been proven to be a reliable, safe, high-quality choice, millions of times, all around the world? You should probably buy the Xiaomi M365.
Where to buy the Xiaomi M365 from?
---
---
---
---
Want to get cool tips, exclusive discounts and promotions, and unseen scooter hacks? Join
Scooter Secrets
.
---
Liked this article? It really helps if you share it.
Follow @escooternerds on social media for more cool stuff
---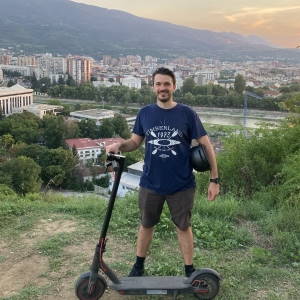 Where to buy the Xiaomi M365