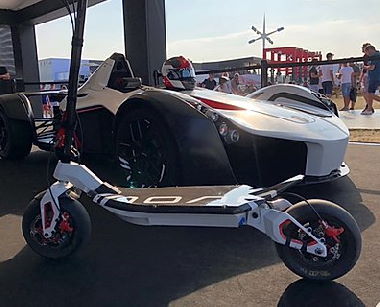 Not always, but more often than not, more expensive means better.
When it comes to electric scooters, this is undeniable. While there are many medium-priced and even budget scooters that are great, the best ones will always be on the pricier side.
And we're really talking pricey here – the best electric scooters often cost more than $3000!
These are the most expensive electric scooters today:
Rion2 RE90 – $6800
Dualtron X – $5999
Rion2 RE80 – $5700
Rion2 RE60 – $4500
Stator – $3995
Dualtron Thunder – $3699
Techlife X9 – $3550
Zero 11X – $3499
WePed GT – $3499
Scrooser – $3233
So, what is the most expensive electric scooter?
The most expensive electric scooter in the world is the Rion2 RE90 Racing Edition. It costs $6800 without shipping costs. Shipping costs an additional $300 in the USA, and $600 internationally.
But for the biggest scooter lovers, or the users that have a true need for the highest quality, fastest, most powerful scooter with the greatest range out there, that will be money well spent.
Let's see which are the best, most expensive electric scooters today. Keep in mind that the prices specified here may change occasionally and will depend on your location and the store you choose, but they will be a good representation of the real and most up-to-date price.
The most expensive electric scooters in the world in 2020
Every electric scooter that costs more than $2000 will be on this list. We can learn several interesting things from this list, like the fact that the best companies each have several expensive models.
Here is a list of all the most expensive electric scooters in existence.
The most expensive electric scooter
And now, the moment we've all been waiting for…
The most expensive electric scooter in the world in 2020 is Rion2 RE90 Racing Edition, priced at $6800! The delivery costs an extra $300 in the US, and $600 for the rest of the world, effectively making its price $7100/$7400 in total!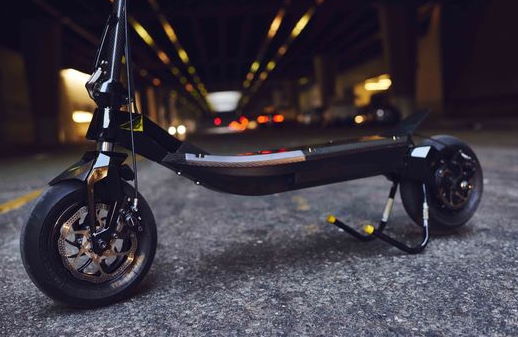 The Rion is possibly the fastest electric scooter in the world, able to achieve maximum speeds of more than 160 km/h!
Not a lot of Rion scooters are produced. All of their models cost thousands of dollars, they are all individually hand-crafted, and it takes 90 days from the time you order to get your scooter ready and delivered.
That bears witness that the price is justified – true high quality, rigorous testing, meticulous attention to detail.
The Rion2 RE90 is a racing scooter, which explains why it doesn't have as much range as some other long-range scooters, and can go about 96 kilometers on a single charge. That's not little by any means, but it is a sacrifice that manufacturers have made in order to customize the scooter for speed.
The battery has a high voltage of 96.6 V, but a somewhat medium charge of 30 Ah, which gives us a total battery energy storage capacity of 2898 Wh. That's why the Rion doesn't have a spectacular range as many of the most expensive scooters do.
To be able to provide great speeds, a powerful motor is still needed. Rion's motor is somewhat of an enigma, but it likely has peak powers north of 12,800 Watts (that's the peak power of a previous model with lower top speeds, so it makes sense that a faster model will have higher power levels).
The Rion2 RE90 is a true monster. It is primarily made for racing, so speed demons across the world are head over heels in love with it. As the fastest electric scooter ever made, it makes perfect sense that it is the world's most expensive scooter too.
Dualtron X – the world's second most expensive electric scooter
The world's second most expensive electric scooter is the Dualtron X. It costs $5999, about $800 less than the world's most expensive scooter.
In my opinion, even though this is the second most expensive scooter in the world, it is the best scooter ever made.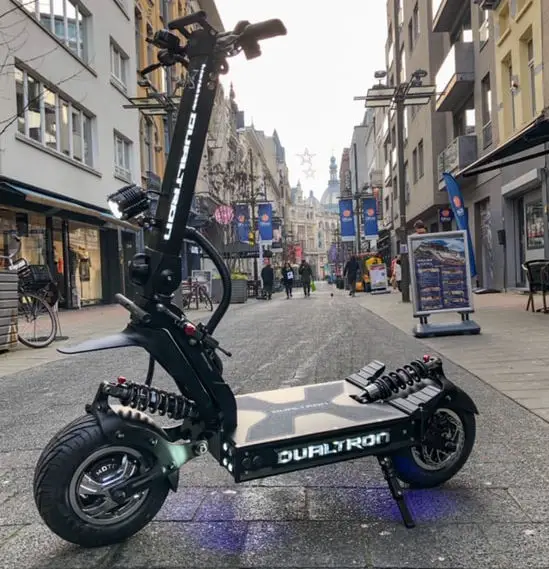 As we can see, they are the only two electric scooters that cost above $5000, and there's a vacuum in the $4000-$5500 range with no scooters in there.
The Dualtron X is the world champion when it comes to range per single charge, able to go between 150 and 200 kilometers!
It is also either the fastest electric scooter out there, or among the top three (maximum speed is hard to measure precisely). We know for certain that it can go with a breakneck speed of more than 100 km/h!
Those are not all the world records set by this scooter.
You will also own the most powerful motor in an electric scooter today, which is a dual brushless DC motor with a total power of up to 6700 Watts. There are only two other electric scooters that are close to that kind of power, all the others have half or less.
You will also get one of the biggest, meanest, most capable batteries in an electric scooter as well, with an unmatched energy storage capacity of 3078 Watt-hours!
Wow. You can power up an airplane with that kind of power.
As we can see, the world's second most expensive scooter really deserves that title by also being the scooter with the longest range, most powerful motor and battery, and possibly the fastest one too. More than deserved.
Dualtron
Aside from the Dualtron X, the company has 4 more scooters on the most expensive list:
They also have the Dualtron 2, which didn't make it on this list because it's technically not above $2000 and we had to put the limit somewhere (it's $1990), and the Dualtron Raptor which costs $1950. They don't have an electric scooter below that price.
It is safe to say that they are the number one manufacturer of premium scooters in the world right now.
Their different models serve different needs of different users, but they all have a few traits in common – amazing powerful motors, long-lasting batteries, crazy speeds, and the best ranges per single charge in the game.
Techlife X9
The Techlife X9 is the fourth most expensive electric scooter in existence today, priced at $3550.
It belongs in the 62 mph / 100 kmh maximum speed club, so it's also one of the fastest scooters today.
You get an amazing range of 75 mi / 120 km on a single charge, powered by a monster of a motor with 3200 Watts of power and a 2300 Watt-hour battery.
Designed by some of the best scooter engineers in the world, and rocking a true sci-fi look, it is simply an amazing scooter.
Zero 11X
There are several scooters around the $3500 mark, belonging in the category of still very expensive scooters with absolutely stellar features but not costing an astronomic sum of money.
The Zero 11X is leading the pack.
Priced at $3499, it is one of the top challengers to Dualtron as the world's best scooter.
It has the second biggest range in the world, able to go around 90 mi / 145 km on a single charge, which is only 3 mi / 5 km less than the Dualtron X. When you consider that it costs almost half the price, it is a great deal.
Its maximum speed is also around the 60 mph / 100 kmh mark, enabled by its motor with 3200 Watts of real power, and a 2300 Watt-hours battery.
If your budget is about $4000, your best option, without a doubt, will be the Zero 11X.
WePed GT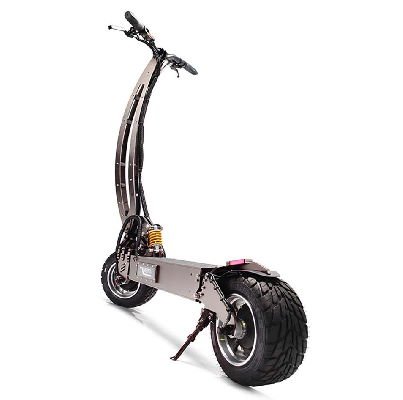 The price tag of $3499 is well justified for the WePed GT.
The dual motor with a total power of 3600 Watts and a Samsung SDI battery of 1800 Watt-hours gives this great scooter a range of more than 62 mi / 100 km, and a top speed of 45 mph / 72 kmh.
The WePed is a great balance between range and stability. Part of the reason why it's so expensive is that the scooter is hand made, and only produced in lower numbers.
It is truly a scooter for the real aficionados.
Kaabo Wolf Warrior
The Kaabo Wolf Warrior is already an established brand among high-end scooters.
One of the best off-road scooters, it comes at a price of $3199, and you can expect to take this scooter through thick and thin and not see it even budge.
With a motor with real power of 2400 Watts and a 2100 Watt-hour battery, it provides an excellent range of 70 mi / 112 kilometers on a single charge, and is able to develop speeds of up to 50 mph / 80 kmh.
NanRobot LS7
NanRobot are probably my personal favorite brand when it comes to electric scooters. Their craftsmanship is simply unmatched in my opinion.
Their best scooter, the NanRobot LS7, costs $3199, and the performance you will get for that amount is out of this world.
The range of 62 mi / 100 km on a single charge, combined with the maximum speed of 85 km/h, firmly places the NanRobot LS7 in the category of scooters so powerful that you will likely never test their limits.
A motor power of 3600 Watts and a battery of 2100 Watt-hours make it a true tank, but that's not the best part about the LS7. It is just a high end, high quality, brilliantly produced piece of transportation vehicle.
Personally, if my budget was around $3000, I would definitely go with the NanRobot LS7. You can check the full review of it here.
Dualped Scorpion+
Dualped is an amazing company. Based in Canada, they produce small numbers of some of the best electric scooters in the world.
Their best, fastest model, the Dualped Scorpion+, probably holds the world record for the highest speed achieved by an electric scooter, going at 65 mph / 104 kmh.
The proprietary motor in the Dualped Scorpion+ has a maximum power of 6000 Watts, placing it in the category of the most powerful scooters ever.
With a battery of 2310 Watt-hours, it can go for more than 75 mi / 120 km on a single charge.
The value proposition of the Dualped Scorpion+ (and their other models) is that you will get the fastest scooter in the world, at almost half the price of the most expensive scooter in the world.
The price of the Dualped Scorpion+ is $3150. They can easily charge a lot more, and it's a great thing they don't.
Why are electric scooters so expensive?
The truth is, most electric scooters, especially the ones targeted at the everyday person, are much, much cheaper than the scooters on this list. Looking at this list might give you a false impression – most electric scooters you will ever see will be between $500 and $1000.
While not as expensive as these babies here, it's still a non-trivial amount of money. It is easy to see how many people would describe electric scooters as expensive.
The reason electric scooters may seem expensive is mostly because they are still a new, only partially time-tested, and well-received but not yet fully adopted technology. They've only been used on a massive scale in the last two or three years, and that use has mostly been in big cities. As they get more universal and the technology improves, their prices will go down.
That has been a clear trend so far – the average scooter you get for around $600 today would cost more than double about 5 years ago.
Also, when you think about how much money you will save on not paying bus or metro tickets, or God forbid taxis, while you basically charge your scooter for free at home, they don't even seem that expensive anymore. They're actually a pretty good investment.
Do I have to pay thousands of dollars to get a great scooter?
Of course not.
If your budget is around $600, you can get the Xiaomi M365 Pro, which is likely the most popular electric scooter in the world right now. The Ninebot ES 2 is its direct competitor in the same price range, and it is also a very good, battle-tested scooter.
For a few hundred more, you can already get something like the Ninebot Max or the Techlife X5, both of which are already able to reach speeds you will rarely use and get you a functioning range.
For about $1000, you can already get a Zero 9 or a Qiewa QMini, which are among the best scooters for that price.
If you can muster up to $1500, you can get one of the best overall, best value-for-money electric scooters in the world, which is the NanRobot D5+.
While it would be great to rock one of those $3000+ monsters and have all the eyes on you, you can easily get amazing scooters for a lot less.
---
---
Liked this article? It really helps if you share it.
Follow @escooternerds on social media for more cool stuff
---