Last Updated on May 17, 2023 by Matt
Not always, but more often than not, more expensive means better.
When it comes to electric scooters, this is undeniable. While there are many medium-priced and even budget scooters that are great, the best ones will always be on the pricier side.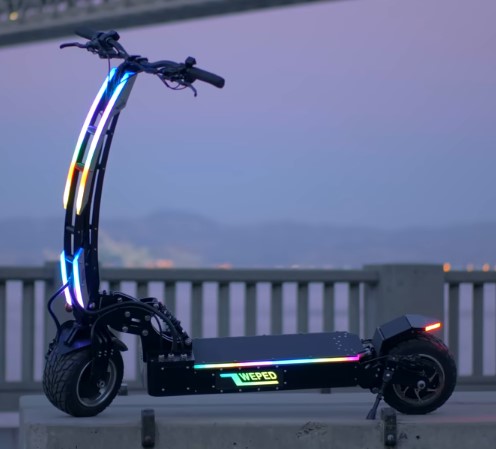 And we're really talking pricey here – the best electric scooters often cost more than $5000!
These are the most expensive electric scooters in the world:
So, what is the most expensive electric scooter?
The most expensive electric scooter in the world is the Weped SST, which costs $7300 without shipping costs. Shipping costs add up to $500 on top of its base price.
But for the biggest scooter lovers, or the users that have a true need for the highest quality, fastest, most powerful scooter with the greatest range out there, that will be money well spent.
Let's examine the best, most expensive electric scooters in more detail. Keep in mind that the prices specified here may change occasionally and will depend on your location and the store you choose, but they will be a good representation of the real price.
Btw, you can also check out our Youtube video on the most expensive electric scooters if you'd prefer this guide in a video format.
The most expensive electric scooter
The most expensive electric scooter in the world in 2023 is Weped SST, priced at $7300! The delivery costs will vary from one country to another, but you will usually get it delivered for an extra $200 – $500, making the total cost of the scooter $7800 in some regions.
The Weped SST is actually one of the fastest electric scooters in the world as well, able to achieve maximum speeds of 82 mph / 132 kmh!
Not a lot of Weped scooters are produced. All of their models cost thousands of dollars, they are all individually hand-crafted, and are often out of stock. You might end up waiting for more than three months to finally order it.
That bears witness that the price is justified – true high quality, rigorous testing, meticulous attention to detail, are all part of the Weped SST's manufacturing process.
The Weped SST is a racing scooter, but it doesn't fall short when it comes to range too, and can go about 100 mi / 161 km on a single charge.
The battery has a decent voltage of 72V, a typical amount for scooters in this category, and a huge charge of 45 Ah, which gives us a total battery energy storage capacity of 3240 Wh! What's more, the battery is charged very quickly and is full in about 3 hours with an 11A rapid charger.
To be able to provide great speeds, a powerful motor is still needed. In fact, the Weped SST uses two motors in its build, one in each wheel, and each motor has a peak power output of 5000W, setting the total peak motor power of this scooter at around 10000 Watts!
The Weped SST is a true monster. It is primarily made for racing, so speed demons across the world are head over heels in love with it. As the fastest electric scooter ever made, it makes perfect sense that it is the world's most expensive scooter too.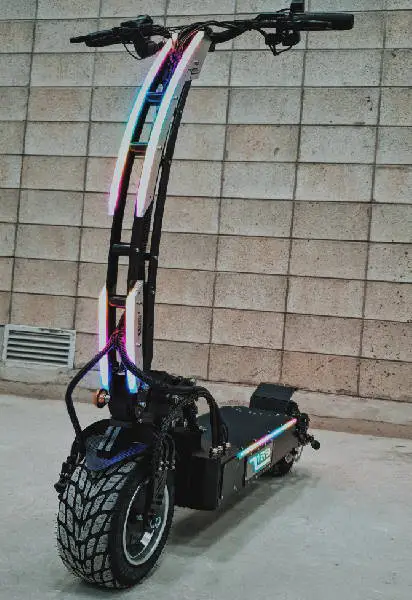 Dualtron X Limited – the world's second most expensive electric scooter
The world's second most expensive electric scooter is the Dualtron X Limited. It costs $7000, about $300 less than the world's most expensive scooter.
In my opinion, even though this is the second most expensive scooter in the world, it is a strong contender for the best scooter ever made. This is the case for all Dualtron scooters, as they are the absolute top products in the e-scooter industry right now, which is why you will see a few more of them in this article.
The Dualtron X Limited is the world champion when it comes to performance features. It is equipped with a power boost function, innovative dual motor magnet technology, and uses four brake caliper pistons for insane stopping power.
And yes, it is among the top 5 fastest scooters in the world, able to reach speeds of up to 68 mph / 110 kmh.
But that is not even the best part about this scooter. The Dualtron X Limited has the highest-capacity battery I've seen so far, storing 5040 Wh!
This huge battery provides the scooter with a tested range of 105 mi / 170 km on a single charge, which is the second-highest range in the world, only behind another high-end model from the same brand – the Dualtron Storm Limited.
Honestly, I could go on and on about this scooter for hours. It has such an extensive feature package that it would take hours to cover completely. Although it came second on this list, if you ask me, the Dualtron X Limited deserves the top spot in terms of overall quality.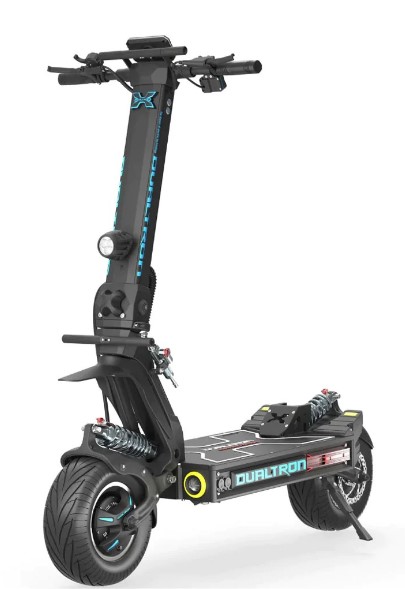 Rion Apex 2
Besides Dualtron and Weped, the only other brand that manufactures scooters above $6000 is Rion. Their most expensive model, the Rion Apex 2, is in fact the third most expensive scooter in the world, priced at $6500.
How do they justify the price of this juggernaut you ask?
Well, for one, The Rion Apex 2 has an official top speed of 70 mph / 113 kmh, making it the second-fastest electric scooter in the world.
It's easy to get accustomed to high numbers when looking through a list like this, but just take a second to let that number sink in. That is the speed at which cars drive on open highways. Imagine going that fast on a small vehicle like this scooter.
The range of the Rion Apex 2 is a bit smaller compared to the rest of the premium models, going up to 50 mi / 80 km on a single charge. Don't get me wrong, it's still a huge range, but it is the only range on this list that's lower than 120 km.
But you will quickly forget all of that when you take a look at the contemporary design of the scooter. I mean, c'mon, just look at that sleek aluminum deck and smooth frame. The Rion Apex 2 will simply stand out and shine away wherever you take it.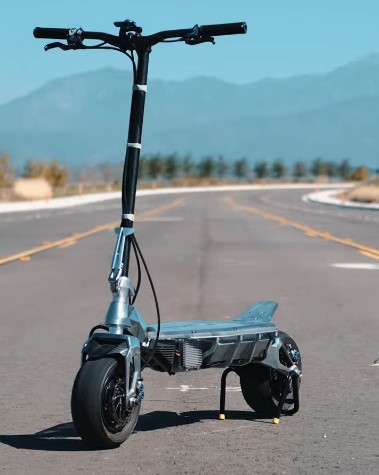 Dualtron X2
You will see a lot of Dualtron models on this list, as they are truly the absolute top manufacturer of premium scooters. Most of their models are really, really expensive, but they provide amazing value for the money.
The next most expensive scooter from this brand is the Dualtron X2. It is priced at $6490 and is an absolute beast of a vehicle.
It has twice the amount of power as the Dualtorn X Limited, providing a peak motor power of 8000W!
That translates into a top speed of 69 mph / 111 kmh, and a 93 mi / 150 km of range. While these numbers are just slightly smaller than its most expensive competitors, the X2 comes covers with a very short charging time – just 8 hours.
This is a scooter made for all terrains. It has large 13-inch wheels, pneumatic tubeless tires with high recommended tire pressure, and dual spring suspension for great riding comfort. I know it can be hard to separate these high-end scooters from each other, but this one is definitely my favorite on this list.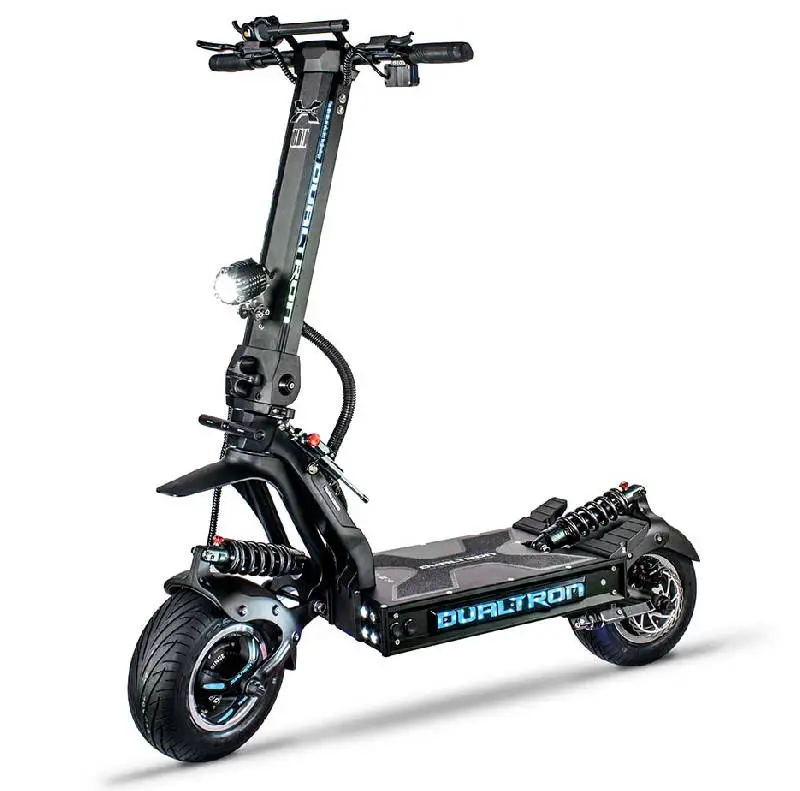 Dualtron Storm Limited
Dualtron Storm Limited is the second limited-edition scooter released by Dualtron, but is the one that really catches the eye.
Its power specs, like speed, climb angle, and torque, are even higher than you might expect.
What makes this scooter special is its battery. The Dualtron Storm Limited hides an enormous 84V battery with 3780Wh capacity, which gives it a range of up to 136 mi / 220 km!
That is the highest range you will see on this list, and by a large margin. I mean, who am I kidding, that's the range of a full gas tank of a car.
And it doesn't even stop there. The Dualtron Storm Limited has a top speed of 70 mi / 112 km, a 37-degree climb angle, comes with foldable handlebars, and a fingerprint lock – a truly feature-complete electric scooter.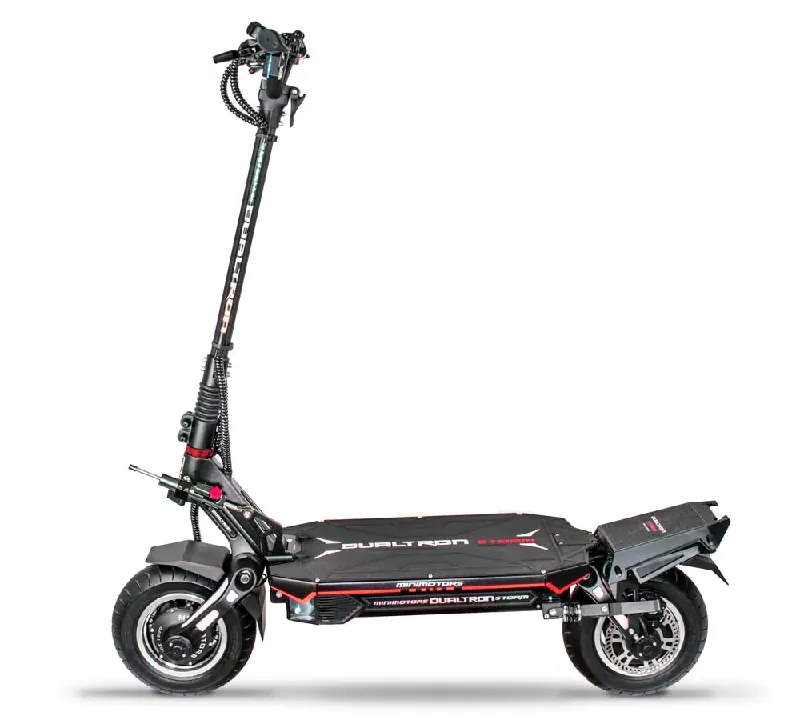 WePed GTR
The price tag of $5300 is well justified for the WePed GTR.
The dual motor with a total peak power of 20000W (yes, you read that right) grants the scooter a top speed of 65 mph / 105 kmh, and a climbing angle of 35 degrees.
Meanwhile, you also get a scooter with a high-end Samsung battery consisting of 180 cells for a combined capacity of 2700 Watt-hours, enough for a range of more than 80 mi / 130 km.
The WePed GTR offers a great balance between range and stability. It comes with a 4-link damping suspension, which along with the wide deck makes for a smooth ride over any kind of terrain.
Part of the reason why it's so expensive is that the scooter is handmade, and only produced in lower numbers. It is truly a scooter for real aficionados.
Nami Burn-E 2 Max
There are several scooters below the $5000 mark that belong in the category of still very expensive scooters with absolutely stellar features but costing a few thousand dollars less than the absolute luxury models above.
The Nami Burn-E 2 Max is leading the pack.
Priced at $4799, it is one of the top challengers to the world's best scooters.
With a top speed of 60 mph / 97 kmh and a range of up to 90 mi / 145 km, its performances are on par with the Dualtron X2, while costing almost $2000 less.
But the Nami Burn-E 2 Max even one-ups its competition in many areas. It's much more portable than the Dualtron X2, weighing 20 kg less, and has superior water protection with an IP67 rating.
Two adjustable hydraulic coil-shock suspensions and heat-treated aviation-grade frame material complete the exceptional feature package of the Nami Burn-E 2 Max, making it arguably the best and most comfortable all-terrain scooter on this list.
If your budget is lower than $5000, your best option, without a doubt, will be the Nami Burn-E 2 Max.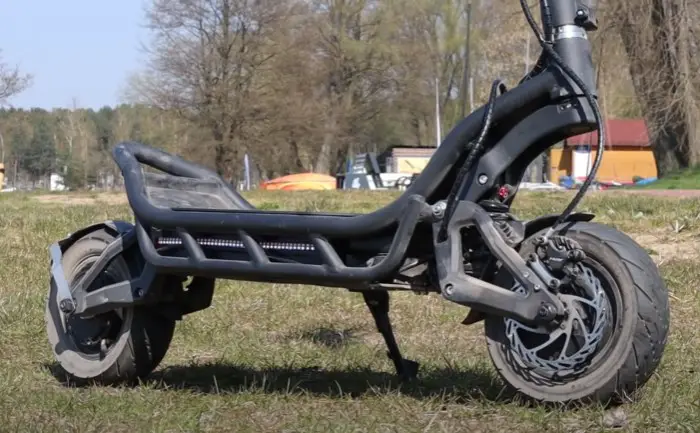 Dualtron Storm
Besides the Limited version of this model, this list also features the base Dualtron Storm scooter, which is about a thousand dollars cheaper than its later version.
The Dualtron Storm is priced at about $4490, and is advertised as the "best scooter to replace your car".
How can that be?
Well, for one, the Dualtron Storm features a removable battery – the best and most expensive Dualtron model with this feature. The battery grants a range of 80 mi / 130 km and can be recharged wherever you want: in your room, in your office, at a cafe you stopped by, all while the scooter waits outside.
It also features a pre-drilled deck ready for you to install a seat if you like.
With dual hub motors with a peak power of 6640W, the Dualtron Storm's top speed is around 50 mi / 95 km, with an acceleration of 0-15 mph in just over two seconds! Pure insanity.
Dualtron Thunder 2
As the last scooter hailing from the Dualtron brand on this list we have the Dualtron Thunder 2 – a $4299 monster.
This is one of the most beloved scooters from this brand.
The main reason for its popularity is that it still provides you with a classic Dualtron look, insane power level, huge range, and a lot of standard Dualtron features, but for almost half the price of the X Limited and the other Dualtron models.
In fact, unless you've got an unlimited amount of money to spend, and are going for the absolute best option, there is no reason why you should pick anything over the Dualtron Thunder 2.
60 mph / 97 kmh top speed, 105 mi / 170 km range, wide deep-threaded tires, and a gripped deck with a nice footrest that doubles as a holding bar, are some of the most important parts of this scooter.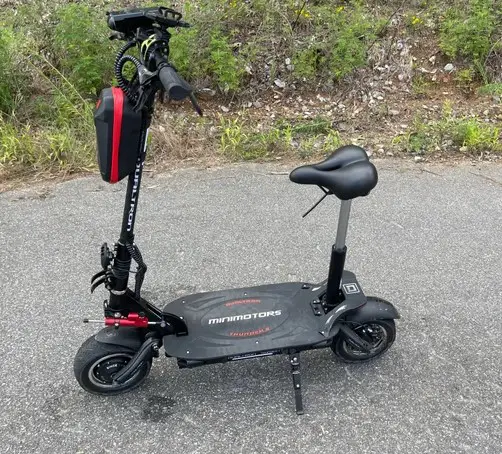 Kaabo Wolf King GT Pro
Kaabo is already an established brand among high-end scooters.
Their most expensive model – the Kaabo Wolf King GT Pro, is also one of the best off-road scooters manufactured to this day. The scooter comes at a price of $3595, and you can expect to take this scooter through thick and thin and not see it even budge.
With a motor with peak power of 7200 Watts and a 2520 Watt-hour battery, it provides an excellent range of 75 mi / 120 kilometers on a single charge, and is able to develop speeds of up to 62 mph / 101 kmh.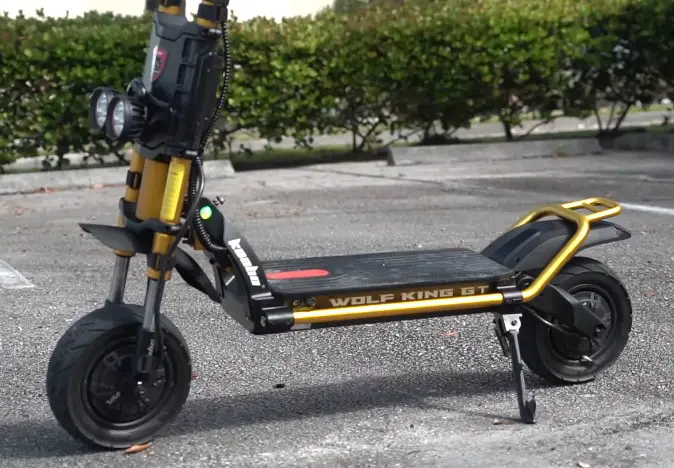 Why are electric scooters so expensive?
The truth is, most electric scooters, especially the ones targeted at the everyday person, are much, much cheaper than the scooters on this list. Looking at this list might give you a false impression – most electric scooters you will ever see will be between $500 and $1000.
While not as expensive as these babies here, it's still a non-trivial amount of money. It is easy to see how many people would describe electric scooters as expensive, and think long and hard about whether they should buy an expensive scooter.
The reason electric scooters may seem expensive is mostly because they are still a new, only partially time-tested, and well-received but not yet fully adopted technology. They've only been used on a massive scale in the last two or three years, and that use has mostly been in big cities. As they get more universal and the technology improves, their prices will go down.
That has been a clear trend so far – the average scooter you get for around $600 today would cost more than double about 5 years ago.
Also, when you think about how much money you will save on not paying bus or metro tickets, or God forbid taxis, while you basically charge your scooter for free at home, they don't even seem that expensive anymore. They're actually a pretty good investment.
Do I have to pay thousands of dollars to get a great scooter?
Of course not.
If your budget is around $600, you can get the Xiaomi M365 Pro, which is likely the most popular electric scooter in the world right now. The Hiboy Max3 is its direct competitor in the same price range, and it is also a very good, battle-tested scooter.
For a few hundred more, you can already get something like the Ninebot Max, which is already able to reach speeds you will rarely use and get you a functioning range.
For about $1500, you can already get an EMove Cruiser or an Apollo Explore, which are among the best scooters for that price.
While it would be great to rock one of those $3000+ monsters and have all the eyes on you, you can easily get amazing scooters for a lot less.
---
---
Liked this article? It really helps if you share it.
Follow @escooternerds on social media for more cool stuff
---