Last Updated on May 17, 2023 by Matt
Just a few short years ago, almost out of the blue, electric scooters appeared everywhere. Everybody was wondering the same thing – are electric scooters here to stay?
Today, we all know the answer to that question. Electric scooters are becoming an increasingly important part of our transport methods.
The stats and the data only confirm that. Let's go over some very interesting pieces of research, statistics, and research, that demonstrate the clear rise of electric scooter popularity.
Electric scooter trip distance and duration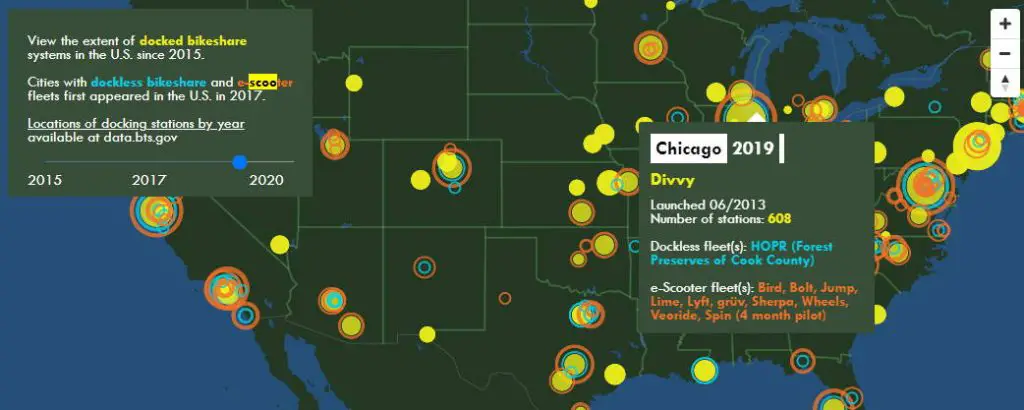 After a scooter-sharing pilot program in Chicago, the city of Chicago released the dataset they've collected from all the trips during the program. We can notice some very interesting data points from the 710.839 total rides.
The average electric scooter trip is 7.45 mi / 12 km long (precisely 11.977 meters), and takes 12 minutes and 2 seconds.
Now, keep in mind that the data had some obvious flaws in it, like the longest trip distance being 134000 mi / 215.653 km, and rides apparently taking 30 hours, and several other unrealistic data points, that clearly indicate some errors in the dataset.
However, in general, the data is solid. The averages don't match one another, since it's hard to believe that the majority of scooterists cross 7.45 mi / 12 km in 12 minutes. That would imply they're riding at 37 mph / 60 kmh on average, which is practically impossible for mostly novice scooter riders using shared electric scooters which are not even capable of those speeds. Still, if we look at the averages independently, they might make a bit more sense.
In fact, after cleaning up the data a bit (removing the trips with a trip distance below 100 meters or a trip duration of less than a minute), the averages still suggest an improbable moving speed, this time of 40 mph / 64 kmh, with the average trip taking 13 minutes and 37 seconds, to cross a distance of 9.07 mi / 14.6 km (14.653 meters).
In a scooter-sharing pilot program in Calgary, Canada, it was found that users have made 1.7 million trips on electric vehicles (90% on scooters), and the total distance traveled has been "85 times to the moon and back". It seems like scooters are getting more popular in Canada as time goes by.
Research on scooter use in urban environments finds that electric scooters are mostly used on roadways (33%), sidewalks (18%), and bike lanes (11%).
Electric scooter trends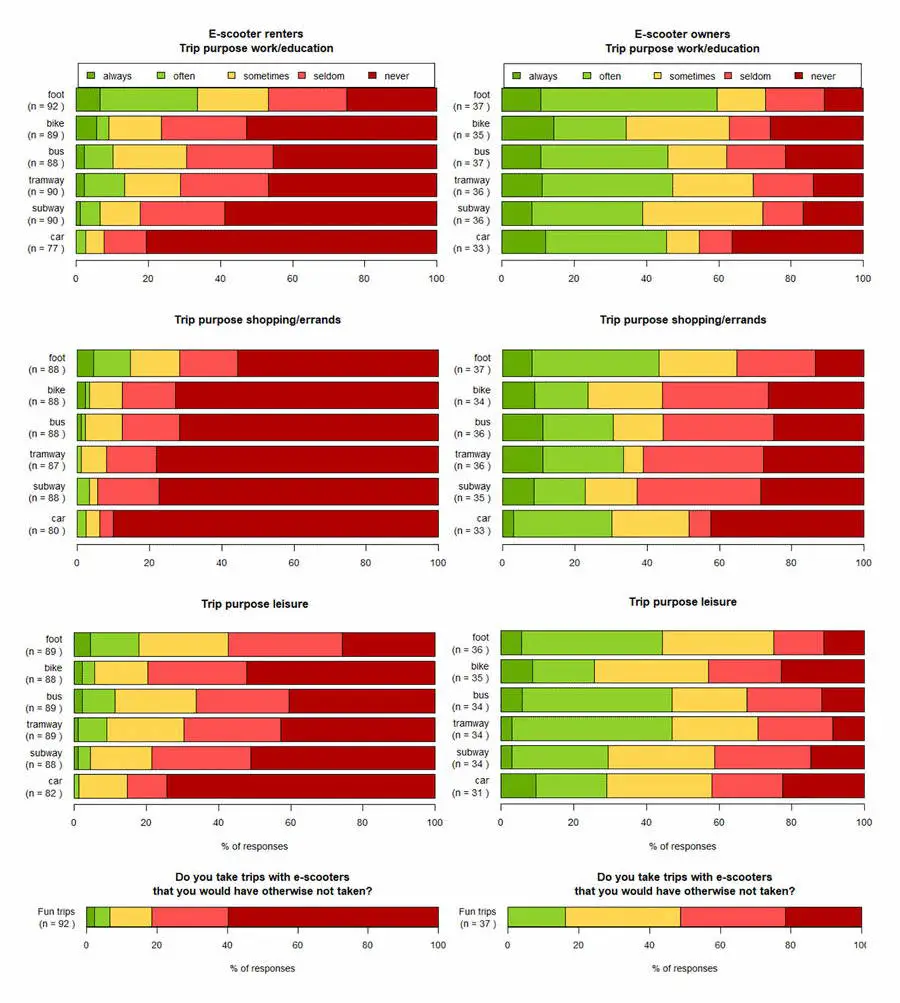 Public opinion on electric scooters has always been a mixed bag, but the trend is slowly moving towards acceptance. The history of electric scooters goes a long way back, and there have been a lot of ups and downs, but in the last few years, scooters have made such a lasting impression that it's almost impossible to believe they will disappear.
The usual trajectory of a person's interest in electric scooters has been to start with astonishment first, followed by criticism and generally unfavorable view of scooters, then followed by curiosity, and finally acceptance, usually after trying an electric scooter for the first time. That same trajectory can be noticed in the general public opinion as well.
Several studies and surveys illustrate that the best.
For starters, a study in Washington DC, done by scooter rental company Bird, finds that 50% of their users use scooters primarily to get to and from work, and 29% of riders use Bird to connect to DC Metro and the bus. Additionally, 23% of Bird rides replaced a ride-hail or taxi trip.
A Nacto study finds that in 2018, in the US alone, there have been 84 million scooter rides, and that's only accounting for shared scooter rides.
Another study by Bird demonstrates the rising popularity of electric scooters, where they've found that in 2019, the number of electric scooter rides has risen to 136 million!
A survey in Hoboken, New Jersey, found that 74.5% of respondents were in favor of electric scooter sharing programs to continue operating in the area, with 67% of the respondents having used electric scooters.
A 2020 survey done by Arizona State University and Ryerson University has found that:
electric scooters are now being used for transport primarily instead of leisure, which was their primary use case in the past
they have begun to replace walking and bicycles for all trip types
the general public increasingly views them as convenient, fast, and cheap modes of transport
A survey of 1553 citizens of Edmonton, Canada, done in December 2020, has found that:
23% of respondents have tried using electric scooters, but more than half believe them to be useful and would probably try using one very soon
69% of respondents believe that scooters are a great mode of transportation
58% of respondents agree that electric scooters help connect people to their city
54% find electric scooters are enjoyable
the main reason why some people haven't tried using electric scooters has been the perceived lack of safety
blocking the travel path, not parked in upright positions and too many e-scooters parked in one location were the most common issues reported around e-scooters parking
non-users believe in stronger enforcement of measures to ensure scooters are used and parked properly
Besides the US and Canada, scooters in Australia are getting big as well. A study in Brisbane, Australia, reports the following:
44% of public transport riders have used Lime scooters to connect to public transit within the last month
18.7% of the riders using Lime reported that they had used a scooter to replace a ride that they would otherwise have been made by car
29.2% of riders reported using a Lime to commute to or from work or school during their last trip, while an additional 37.5% who've used their ride to travel to or from dining or entertainment
when asked how likely they are to use shared dockless scooters for future transportation needs, 3 in 4 survey respondents responded with either "likely" or "very likely"
Another study done by Ryerson university on 1640 adults finds that:
one out of five would consider an electric scooter for their transport needs, were they available in their area
most would replace their walking and transit trips with an electric scooter, while 37% would not replace any current trip taken using other modes
A study from Christchurch, New Zealand finds the following:
71% of respondents have tried an electric scooter, and 75% of them had used a scooter more than once
first-time users were mostly motivated by curiosity, but those that have continued to use scooters later have used them mostly because of their practicality
most of the regular users use scooters for their work commutes, social engagements, and shopping
with repetitive users, 28% of e-scooter trips replaced a trip by private car or van, motorcycle, ride source vehicle, or taxi, while 7% of e-scooter trips were new trips that would not have been made otherwise
One of the most comprehensive surveys about electric scooters was done by a shared mobility program in Calgary, Canada. The survey interviewed 7671 people, almost half of which either owned or have used a ride-sharing scooter. The study uncovers many interesting findings, like:
around 70% of participants agree that electric scooters are a good option for transportation
around 15% believe scooters can reduce car trips
the number of people that have tried a shared electric scooter has almost doubled between 2019 and 2020
almost 50% used scooters for errands and social gatherings
In 2021, private electric scooter ownership has increased, while many shared scooter companies have either suspended operations (156 companies) or closed permanently (35 companies). The data is available at the Bureau of Transportation Statistics.
Probably the biggest reason for the increased usage of electric scooters is the fact that their quality is getting better every year. In a study on electric scooter problems, done by EScooterNerds, it's clear that electric scooter defects are very rare already, and they are only becoming less frequent as scooter design and technology improves. In fact, there's only a 7% chance even for a budget scooter to suffer a serious malfunction in the first year, and this number is steadily declining. Another study by EScooterNerds on electric scooter lifespan also finds that electric scooter quality is increasing over time, and today, 95% of all scooters will easily go a full year without any problems.
Electric scooter demographics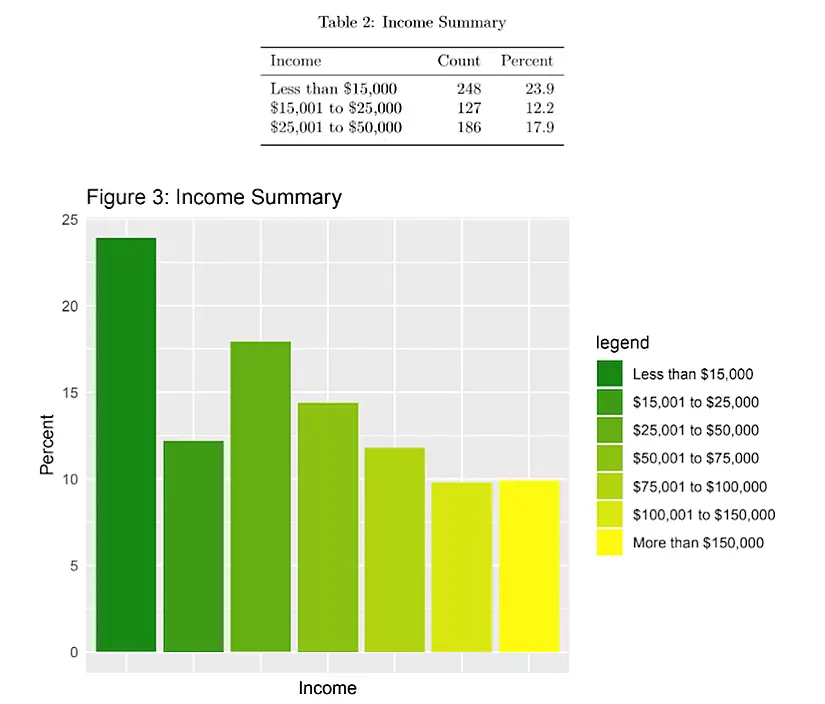 One research study done in December 2019, has found that the majority of electric scooter users were men at that time. However, another research study in July 2020 actually found that women had a more favorable view of electric scooters than men (72% of women viewed scooters favorably, opposed to 67% of men).
A study by Lime in Jun 2019 found that:
54% of Lime users report an annual household income of $50.000 or less
1 in 4 Lime users are 36 years old or older
the average age of the riders is 31 years
The study we mentioned above, the one from the shared mobility program in Calgary, Canada, finds that more than 50% of riders were between 25 and 44 years old, and there were almost as many women using them as men (roughly around 55% men and 45% women).
Electric scooters and the environment
In general, electric scooters are very good for the environment, as they reduce the need to use a car and don't emit greenhouse gases. The combined effect of those two features is very powerful. Cars are emitting greenhouse gases, so removing them from the roads already has a positive environmental impact. Additionally, the fewer cars on the roads, the fewer traffic jams, which also has a meaningful impact on reducing pollution.
A survey of electric scooter users in Vienna, Austria, finds that electric scooters are likely to replace cars for several common types of trips that were previously done predominantly by cars.
A model developed by the Institute of Transportation Studies at the University of California, estimates that electric scooters could replace 32% of carpools and 7.2% of taxi trips.
One study from Portland, Oregon, finds that 47% of scooter users have replaced a car trip with their scooter.
Electric scooter markets
It is more than clear that the electric scooter market is growing rapidly in every corner of the world.
Based on research published on Statista, electric scooter markets in the US and Europe are expected to reach $12 billion, while China's market alone is expected to reach $6 billion. Globally, the scooter market will reach around $32 billion by 2029.
In the period between 2003 and 2019, just the Razor brand has sold more than 13 million electric scooters.
As of August 2020, there are around 145 scooter-sharing systems in the US alone, as this interactive map shows.
Electric scooter injuries
While there are some minor health risks associated with prolonged electric scooter use, in general, electric scooters are very safe, especially when they are used properly and all of the scooter safety riding guidelines are respected. In fact, electric scooters may even provide a few health benefits, which is not something that most people would expect.
One survey of citizens in Bloomington, Indiana reports that out of 122 respondents, 11 have suffered a scooter-related injury.
Electric scooter accidents
In research published by DW, it has been shown that electric scooters are much safer than believed, and they might even be safer than bicycles.
There have been almost 500 scooter accidents in Sweden during 2019. A significant part of them was caused by riding while under the influence of alcohol.
Electric scooter costs
While there are several scooter price categories, most owners choose between several budget models, typically budget commuters, and while their prices can range from $199 to $799, most commuter scooters will cost around $426 on average.
The typical budget electric scooter for commuting will pay itself off in 4-6 months by cutting down your transport costs, especially if you live in a bigger city. You can expect to save between $800 and $1200 per year in the US and other Western countries, and between $400 and $600 in countries with lower standards.
Further, other costs related to electric scooters are almost non-existent, since charging an electric scooter costs almost nothing regardless of geography and electricity cost. If you charge your scooter during off-peak hours, you can expect a full charge for a typical budget commuter like the Xiaomi M365 to cost just 2 cents in the US, 4 pennies in Canada, around 11 pence in the UK and Ireland, and around 7 Euro-cents in the EU on average.
Still, to many people, electric scooters still seem expensive, and while electric scooters are indeed an investment, the cost that goes into research and development, especially for the batteries, is what keeps their prices still relatively high for a lot of potential owners.
---
Want to get
FREE SCOOTER
tips, exclusive discounts and promotions, and unseen scooter hacks? Join the
Scooter Secrets club
.
---
Liked this article? It really helps if you share it.
Follow @escooternerds on social media for more cool stuff
---